Getting Around Paris, a Comprehensive GUIDE
Paris is one of the most beautiful cities in the world, and that's no secret. The City of Light is known for its incredible monuments, picturesque neighborhoods, and, of course, its delicious food. Landmarks like the Eiffel Tower or the Arc de Triomphe beckon tourists from all over the globe.
If you're visiting this wonderful city, you'll want to make the most of your stay and see all it offers. That's why we've penned this article where you'll find everything you need to know about how to get around Paris with the ease of a local. From navigation apps to top tips for taking taxis, we've got you covered.
Fortunately, Paris has an efficient public transportation system that will take you everywhere. Most of these services also provide information in English, making it easier for tourists to use them.
Public transportation in Paris comprises a network of buses, subways, streetcars, and trains covering every corner of the city.
But if you prefer walking or moving around on your own steam, perhaps exploring smaller neighborhoods around your hotel, we will also discuss those options.
Let's get started!
Available Public Transport in Paris
As a grand European capital, Paris offers many means of transport. However, the best way to get around Paris is to use the metro system.
The Metro is a subway train system that covers most of the city. It is fast, efficient, and relatively inexpensive. You can purchase a single-ride ticket, a day pass, or a week pass using a convenient app.
Taking the bus is an option, yet it does not provide the same coverage and speed that the Metro offers.
Trains work very well in some areas. Taxis are also an option but are more expensive. If you're fluent in French, a friendly conversation with taxi drivers can give you incredible local tips. If you plan to stay in the city longer, you can also buy a monthly metro pass.
Each of these options will be discussed in detail below. But first, we need to understand how zoning works in Paris.
Paris Public Transport by Zones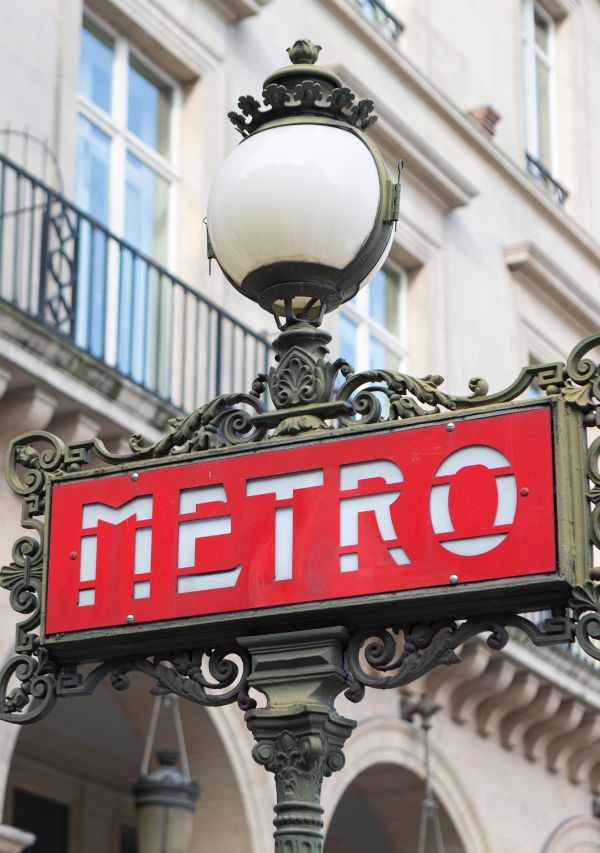 To understand how to move around Paris, we must know that the city is divided into zones and public transport uses a pricing system according to these zones.
This means that the ticket may be more expensive or cheaper depending on the area you choose to visit.
The central areas where most of the main attractions are located are from zone 1 to zone 3. If you visit Paris as a tourist, you will need to use public transportation between these areas; the good thing is that they are the cheapest areas.
On the other hand, zone 5 is where you will transit if you visit the Palace of Versailles, Disneyland Paris, or the two main airports.
In this case, the tickets that include the transfer to zone 5 have a higher price and differ from those used in zones 1 to 3.
Paris Metro, the Best Way to Transport in Paris
The Paris metro is hugely popular with both visitors and locals alike due to its efficiency, affordability, and simplicity. It includes vast amounts of infrastructure, such as 300 stations and 219 kilometers of track, proving that Paris really is large.
Signs indicating a station may bear the inscription Métro, Métropolitain, or just the letter M.
The Parisian metro has 16 lines, which are color-coded and numbered. With these tips and tools at your disposal, the city of Paris will feel like a walk in a delightful park.
These range from 1 to 14; the additional ones are called 3 bis and 7 bis. Among these, you can find various exciting destinations to explore on your journey through the city. Passengers can enjoy the activities that each of the stations has to offer.
If your journey needs to take you to an area not exclusively on the axis covered by the metro, rest assured that the metro integrates seamlessly with the RATP's RER (suburban train) and buses, even using the same ticket.
This makes it easy for travelers to transition from one section of the city to another without having to worry about purchasing separate tickets.
If you want to see a Paris metro map here, I will share one with you. This map can guide passengers on their journey, showing all the possible destinations and routes available.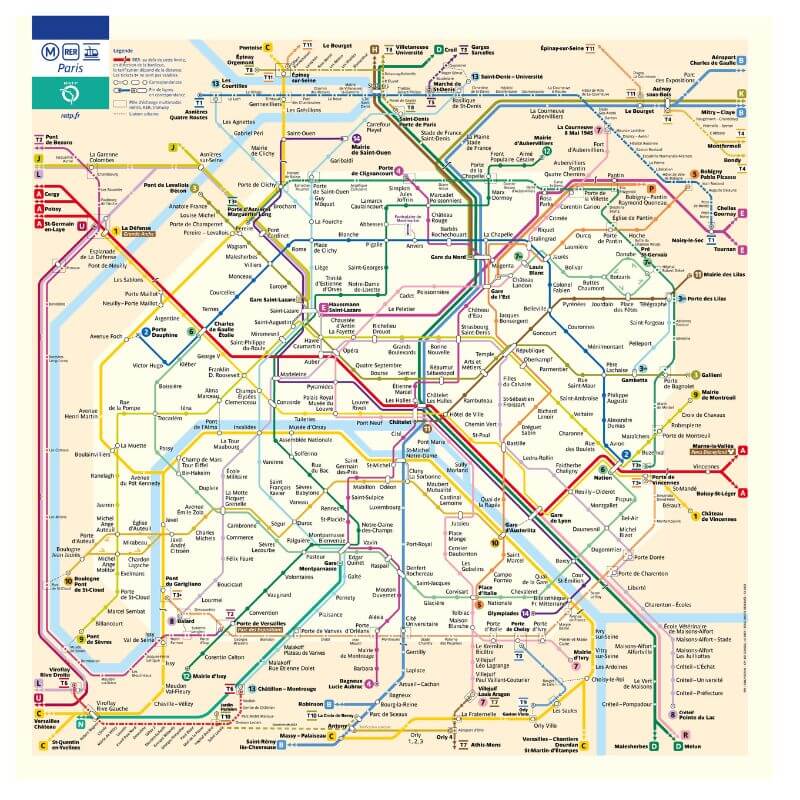 Paris Metro timetables
Monday through Friday, the subway runs from 5:30 a.m. to 1:15 a.m. The early morning start and late close of operations ensure that both early bird travelers and night owl passengers can get to their destinations.
On Friday and Saturday nights and on the eve of holidays, they operate until 2:15 a.m. This extension is designed to cater to passengers participating in nightlife activities or those returning from holiday festivities.
Safety
Although Paris maintains a relatively low crime rate, there have been reported cases of pickpocketing. Particularly in some areas close to high tourist destinations like the Eiffel Tower and major attractions, there are scammers targeting unsuspecting travelers, which I'll detail in another post.
Tourists have reported having their wallets or cell phones stolen on the subway without realizing it. Therefore, it is highly recommended that all passengers stay vigilant and protect their belongings while traveling on the subway.
Additional information
The Eiffel Tower is located in Zone 1 of Paris and has three metro stations nearby: Bir-Hakeim (Line 6), Trocadéro (Lines 6 and 9), and Ecole Militaire (Line 8).
From the Trocadero station, you can take a beautiful walk through the gardens of the Palais de Chaillot before arriving at the Tower.
Printable
Outfit Planner
EXTRA TIP: plan what you will take in advance so you take everything you need and do not have to make extra expenses at the destination. You can download the PDF here; the price is up to you!
Types of Paris Transport Tickets
In terms of journey fares, there are different types of tickets according to the time to be used and the zones included in the pass. The options range from single rides to unlimited passes, each of which will be discussed in more detail below.
It is important to note that the fares mentioned below apply for:
Use all subway lines,
RER (suburban train) lines,
Ile-de-France bus lines (except Orlybus and Roissybus),
Tramway lines
and the Montmartre funicular.
You can buy tickets at ticket vending machines and ticket offices on the subway and RER trains, operated by RATP. Certain bus and tram stops also contain automatic machines for purchasing tickets.
You will be charged a few more cents if you buy the ticket directly on the bus.
The most popular ticket options for public transport in Paris (including RATP's services) are:
Pass Ticket t+
This single or one-way ticket can be purchased individually or in a block of 10 tickets.
Prices are as follows (2023):
The individual trip costs €2.10.
While the 10 single 10 costs €16.90 for the general public.
Children under 4 years of age are free of charge.
Children over 4 years old but under 10 years old pay a reduced rate of 50% less.
Paris Visite
The Paris Visite ticket offers unlimited travel for a specific period of time, which can be 1, 2, 3, or 5 consecutive days. This option is popular among tourists who have many destinations on their itinerary.
This pass allows you to travel freely in Paris (zones 1 to 3) or the Paris Ile-de-France region (all zones, with access to airports including Orlyval, Disneyland Paris, and the Palace of Versailles).
The prices of the Paris Visite pass are as follows:
For zones 1 to 3 (Center of Paris):

1 day costs 13,55€ or 6,75€ (reduced rate).
2 days cost 22,05€ or 11€ (reduced rate).
3 days cost 30,10€ or 15,05€ (reduced rate).
5 days cost 43,30€ or 21,65€ (reduced rate).

For zones 1 to 5 (Paris suburbs):

1 day costs 28,50€ or 14,25€ (reduced rate).
2 days cost 43,30€ or 21,65€ (reduced rate).
3 days cost 60,70€ or 30,35€ (reduced rate).
5 days cost €74.30 or €37.15 (reduced rate).
If you are on vacation and plan to visit places like Disneyland or Versailles, you have to choose the second option, which includes zone 5, where both places are located.
In conclusion, the Paris Visite pass is perfect for you if you want to travel without limits in Paris by all means of transport.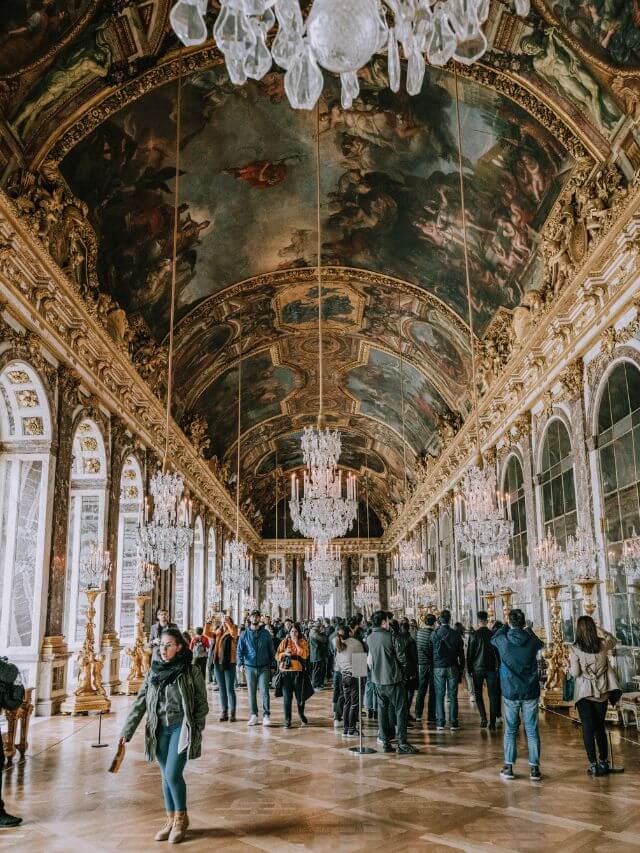 Navigo Pass
The Navigo pass allows unlimited travel in Paris on all public transport (except Orlyval) for a week or a month.
The validity of the weekly pass is from Monday to Sunday, just like the validity of most credit card statements. This makes it easier to plan your weekly tours and trips around the city.
In addition to this choice of time, you can opt for the "all zones" pass, which gives you access to all zones daily. You can freely roam from world-renowned museums to delicious restaurants.
Alternatively, the "2 zones" pass allows you to travel in the chosen zones, perfect for when you want to explore specific neighborhoods or train stations.
The Navigo pass prices for "all zones" are as follows:
For one week 30€.
For one month 84,10€.
If you decide to use it only for "2 zones," the price drops very little, and you can consult it here.
While the prices of the Navigo pass are excellent, the way to get it is more cumbersome than the Ticket t+ and Paris Visite passes.
In this case, you must bring a photo and a card, which is why this pass is mainly recommended for Parisians and residents of Ile-de-France who travel regularly or those people who will stay in the French capital for a considerable period, just like an extended tour.
Paris RER Trains
Paris RER (Réseau Express Régional) trains are regional trains. This extensive rail network connects the center of Paris with the suburbs and complements the metro network.
The RER rail network has 5 lines identified by letters (A, B, C, D, and E) and color, something like a coded guide leading you to your desired attractions or museums.
In addition, if you combine the RER with the metro, you can often use it to replace the metro, and you will be able to move faster since it has fewer stops.
Train service runs from approximately 5:00 a.m. to midnight, perfect for catching those romantic late-night dinners at Parisian restaurants or late tours around the city.
Train service runs from approximately 5:00 a.m. to midnight.
The main places that tourists access with the RER are:
Now you know how to get around Paris by train. If you prefer to avoid the confinement of the metro and see the city from the window, Paris buses are ideal for you, offering a panoramic tour-like experience.
Buses in Paris
Going to Paris by bus is a common way for Parisians and tourists. The city's bus network is extensive, with more than 60 day lines and 40-night lines.
If you prefer to avoid the confinement of the metro and see the city from the window, Paris buses are ideal for you.
Although they work very well, you must remember that there is usually a lot of traffic during rush hour, and bottlenecks can occur. So, if you have a scheduled reservation and choose to take the bus, keep this in mind.
As with the RER trains, the buses complement various metro stops very well, allowing you to make the most of your limited time, even when you have much luggage to lug around.
You can buy the ticket directly on the bus, but in that case, you will be charged a few cents more. Alternatively, you can save those extra cents by paying with your credit card beforehand.
Below, you can find a Parisian bus map, a guide to your city-wide tour.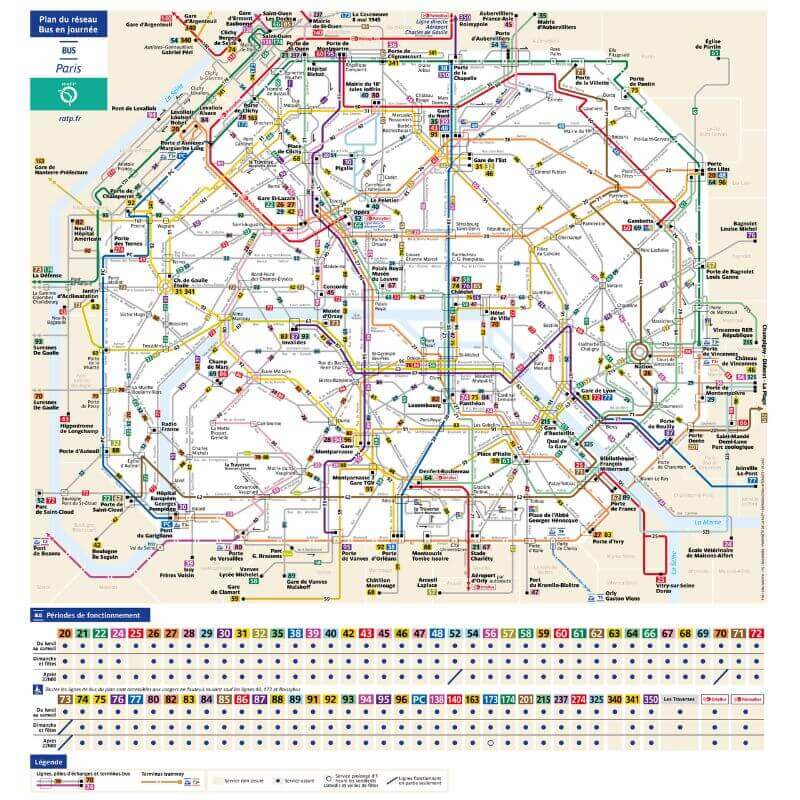 Daytime bus schedules generally run from 7 a.m. to 8:30 p.m., except for the most important routes, which extend past midnight.
Night buses operate between 00:30 a.m. and 7 a.m.
Now you know how to get around Paris by bus, enabling you to travel like a local and feel the pulse of the city.
Montmartre Funicular
In the bohemian district of Montmartre, there is a funicular, which is similar to a tramway, that connects the lower part of the district with the upper part where the Basilica of the Sacré Coeur and the famous Place du Tertre are located.
To get to the top of the neighborhood, you can go traditional and climb more than 190 steps, or take a taxi if you're carrying heavy luggage.
The ticket for the funicular is included in the Ticket t+, Paris Visite and Navigo, making it as accessible and easy as swiping a credit card.
Streetcars, another Public Transportation option in Paris
In recent years, the tramway network in Paris has expanded and now boasts 10 lines connecting the city center and part of the periphery.
Along with the tramways, bus services also adorn the city infrastructure, providing a variety of bus routes that enhance Parisian life and culture, offering unique views and accessibility to various things and places of interest.
From a tourist point of view, the T7 line is the most important as it connects Orly airport with the Villejuif-Louis Aragon metro station. This line also intersects with several bus routes, providing a comprehensive network of transportation options for tourists and residents alike.
The streetcar is a comfortable and practical transport. It encapsulates Parisian culture in a unique way, but it is also easily replaceable with the subway or bus services for the tourist.
In the following link, you can find a map of Parisian tramways.
Taxi and ride-sharing services in Paris
In Paris, while taxi services are plentiful and operational throughout the day, they may not be the most cost-effective option for transportation.
It should also be noted that taxis in Paris are regular cars, lacking a particular shade; the only way to recognize them is by the indicator on the roof that reads 'Taxi.' Within each vehicle, there is a taximeter and registration number.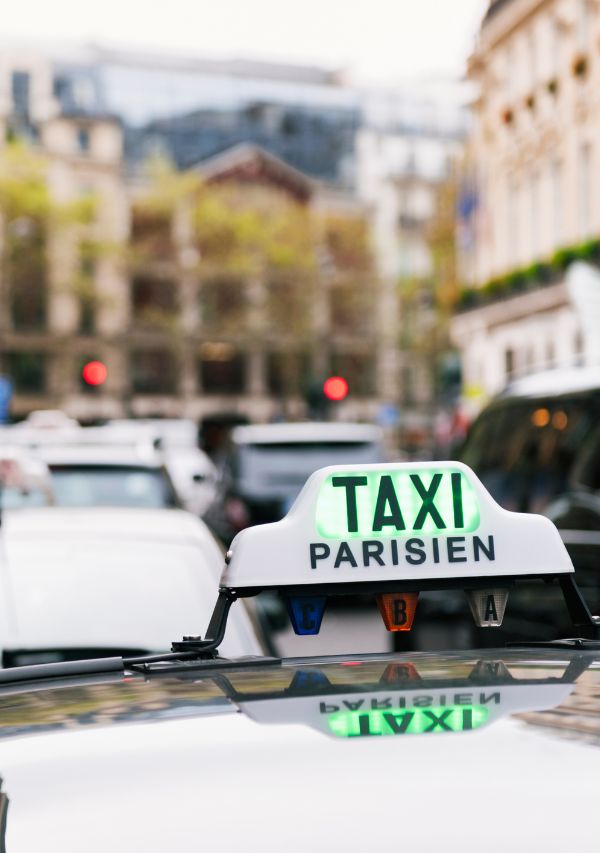 In the city of Paris, Uber is a viable option for transportation that often costs less than the more conventional taxis, especially if you choose the UberPool selection to ride with other people.
How to Get Around Paris by Car
If you decide to visit Paris by car, you will be interested in knowing this website that shows you the parking lots in the city and their prices.
In addition, you can buy full-day passes for a single parking lot or multi-parking so that you can enter and leave as if it were your own parking space. It is a very convenient service if you travel to the city by car.
If you decide to park on the street, the price will depend on the area but can range from 1€ for 15 minutes.
You can use the "Paris Carte" card (purchased at all tobacco shops or Tabac), a bank card, or the PaybyPhone application to pay at the parking meters.
Paris by Bike, a Fun Way to Get Around in Paris
If biking is your thing, you should know that in Paris, there is a public bike rental system called Vélib.
More than 20,000 bicycles, including classic and electric bikes, are scattered throughout the city in more than 1,800 parking spots. The system operates seven days a week and 24 hours a day.
Temporary tickets are for a certain period; you can choose to take just one ride or have the bike for a few days. Subscriptions of up to 12 months are also available for longer stays.
The ticket can be obtained at the stations or parking lots, or you can consult the official Vélib' website.
Paris on Foot, Walking the City of Lights
Paris has so much to see, so touring the city on foot is always a fantastic idea.
You can stroll along the Seine, listen to a street musician in Montmartre, lose yourself in the little stone streets of historic neighborhoods like Le Marais, and enjoy a stop for a croissant before continuing.
Now that you know how to get around Paris by public transport and on your own let's see which are the best tourist routes.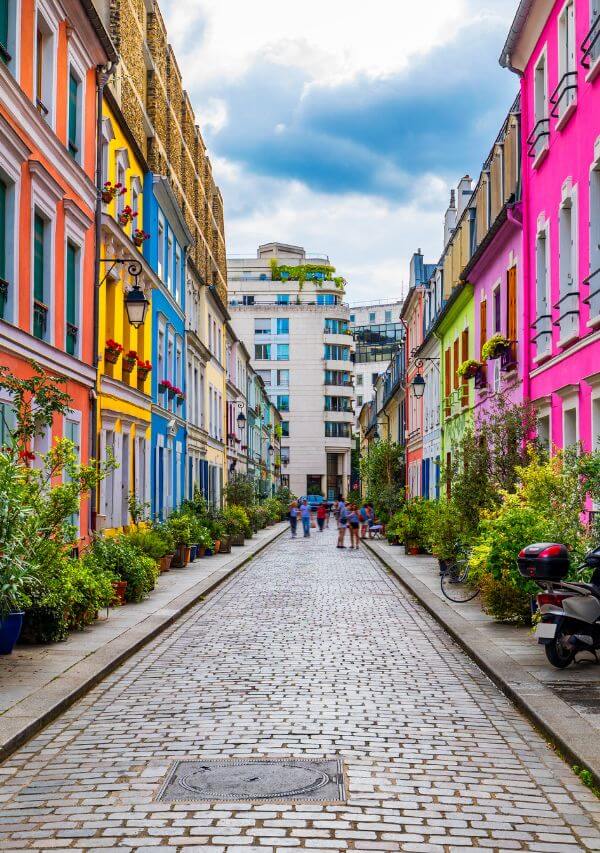 Getting around Paris via Sightseeing Tours
These are some of the best sightseeing tours you can do in Paris:
Sightseeing bus in Paris: This is a convenient way to visit the city, as the bus stops at the main attractions, and you can get on and off as many times as you wish.
Paris tourist boat Batobus sails along the Seine River and hops on and off as many times as you want at each of the strategic stops of the Batobus.
Seine River cruise with gourmet dinner. If you are looking for a romantic plan or an incredible way to experience the city of light, you can't miss this night cruise on the Seine.
We hope this guide on how to get around Paris has been helpful, and we wish you an excellent trip.
Plan Your Trip to Paris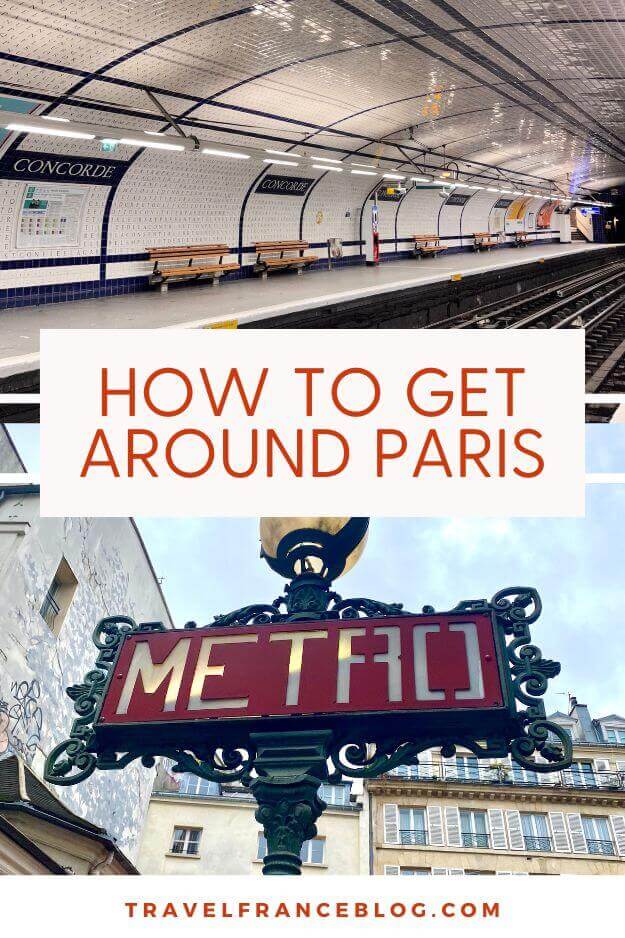 This post may include affiliate links. This means that we will receive a small fee if you make a purchase through our links. It has no additional cost to you. It's a win-win!