How to Go from Charles de Gaulle (CDG) Airport to Paris
Paris has multiple entrances, and points of arrival or departure to visit it. Of these fundamental points, airports occupy a special place. Among the airports, Charles de Gaulle airport stands out as one of the main access routes to the city of light.
Paris' main airport and the second most important airport in Europe in terms of passenger traffic, CDG is a central point for the transit of travelers to the French capital.
Inside the terminal, we will find the three terminals with their departure and arrival areas as well as stores, a supermarket and, of course, numerous transportation options to get to and from its interior.
This last point is the one that concerns us in this post. Hereafter, we will see how to get from this airport to the center of Paris. There is more than one possible path. Take note!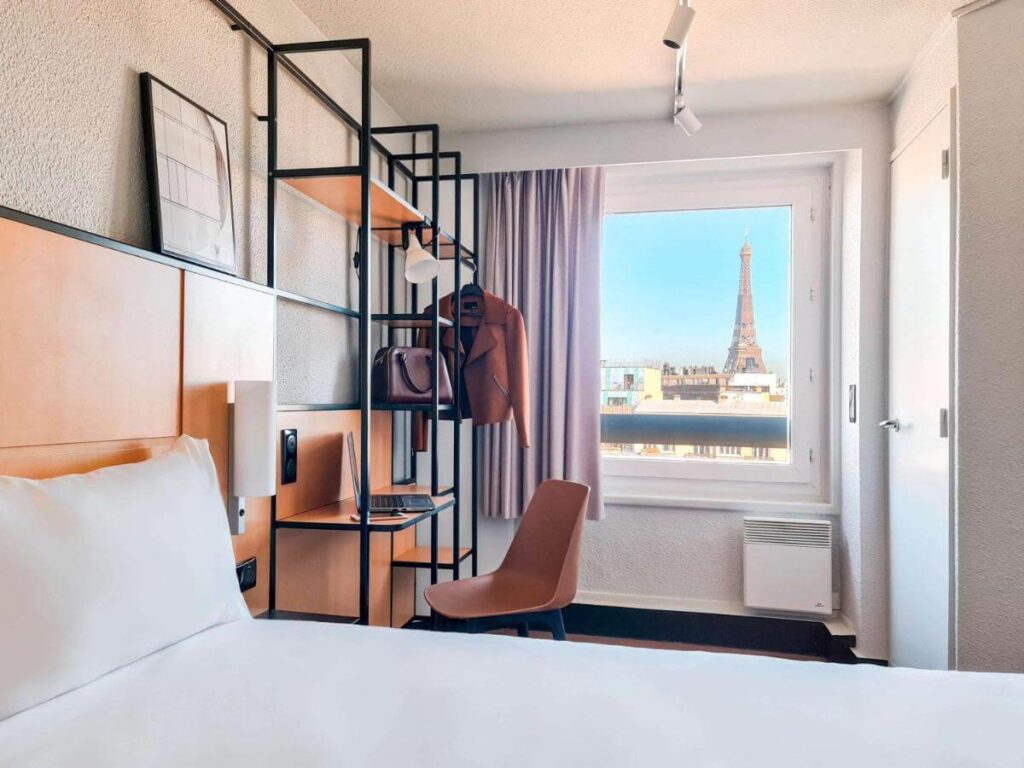 Where is CDG Airport Located?
Paris-Charles de Gaulle International Airport is located near Roissy, in its suburbs, about 25 kilometers from Paris (hence it is also known as Roissy Airport, especially among Parisians).
It is connected to the French capital by various means of transportation, from trains, buses and minibusses to cabs and private transport.
How to Get from CDG Airport to Paris
Option 1: From CDG to Paris by Train
CDG Airport is connected to Paris by the RER B, which runs from there and Mitry-Claye to Saint-Rémy-les-Chevreuse and Robinson, with some 47 stations along 80 kilometers from north to south.
Trains depart every 10 to 15 minutes and run between 5 a.m. (approximately) and midnight.
The advantages of going by train:
Comfort
Ease of use and signage
Connectivity with transportation in the city
Regularly scheduled hours
Speed and, above all, avoiding traffic (which, in large capitals, can be complicated).
Cons:
Although the signage is excellent, we must find our way around the airport and carry our luggage during the trip.
How Much Does the RER B from CDG to Paris Cost?
Tickets cost 10€ in general.
How Long does the RER from CDG to Paris Take?
The RER (Réseau Express Régional: the Parisian suburban train network) takes about half an hour from the airport to the city center.
The most important stops are Gare du Nord (25 minutes), Châtelet-Les-Halles (28 minutes) and Denfert-Rochereau (35 minutes from the airport, respectively).
Where to Buy RER B Tickets from CDG to Paris?
Tickets are available at the ATMs located in the terminal.
Passes accepted: Besides tickets, Mobilis, Paris visite and Navigo easy tickets will allow you to use the RER.
Remember that, when crossing different transport zones in Paris (each with its own fares), you must have tickets that allow you to transit them (a metro or other RER ticket, for example, will not work and you risk a fine, which you are charged on the spot).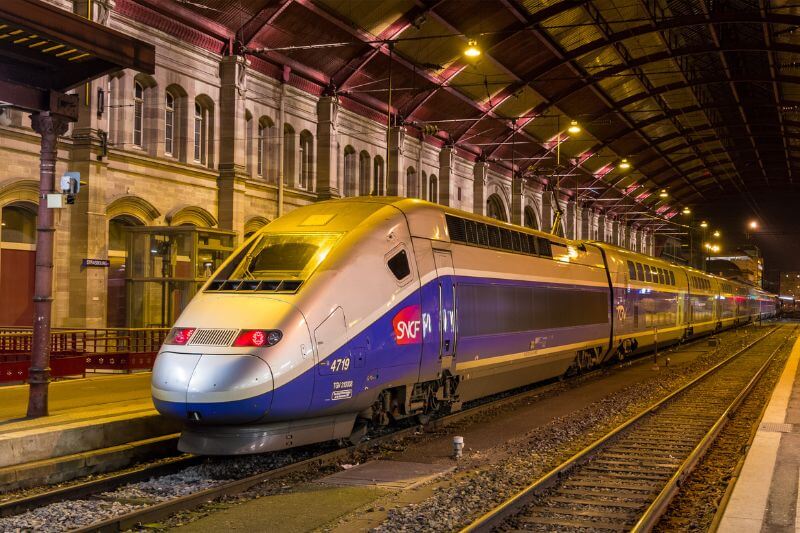 Option 2: By bus or shuttle
One option to consider is the bus or the so-called shuttle services that connect the airport with a central point of the city of light.
Its scheduled timetables, organized service within the airport and direct routes to the city can be an ideal solution for this type of connection.
Day or night buses will offer you possible routes from CDG to the city of Paris, with several stops that should be studied before opting for this means of transport.
As for shuttles, they offer the advantage of going directly from one point to another, so, in case you find the fixed point convenient and useful, you will probably have one of the most convenient means at your disposal.
Roissybus
One of the most popular is the Roissybus, which connects the CDG airport with the Place de l'Opéra in 45 to 60 minutes, depending on traffic. Its service hours are from 5:45 a.m. to 11:00 p.m., with a frequency of between 15 and 30 minutes.
Advantages of taking the Roissybus to Paris:
Easy to find
Direct route
Scheduled service
Regular scheduled hours
Cons:
The Roissybus only goes to the Place de l'Opera.
If you are staying far from this area this transport may not be your best option, since you should combine with subway or bus to get to your accommodation, something that can be uncomfortable even without too much luggage to carry).
Printable
Outfit Planner
EXTRA TIP: plan what you will take in advance so you take everything you need and do not have to make extra expenses at the destination. You can download the PDF here; the price is up to you!
How Much Does the Roissybus from CDG to Paris Cost?
The Roissybus costs around 12 euros.
Where Does the Roissybus Stop in Paris?
In addition to stopping at all airport terminals (except 2G), the Roissybus stops at the Opera, at the corner of Scribe and Auber streets. That is, it has only one stop in the city, so we must evaluate if that point is convenient for us.
How to Pay for the Roissybus?
Tickets for the Roissybus can be purchased at the machines at the airport. These are automatic machines that are generally located next to the bus stops. They can also be purchased at any metro or RER station.
If you have a Navigo or Mobilis ticket for zones 1-5, you don't need to take the ticket from the machine and you can load your Roissybus tickets there.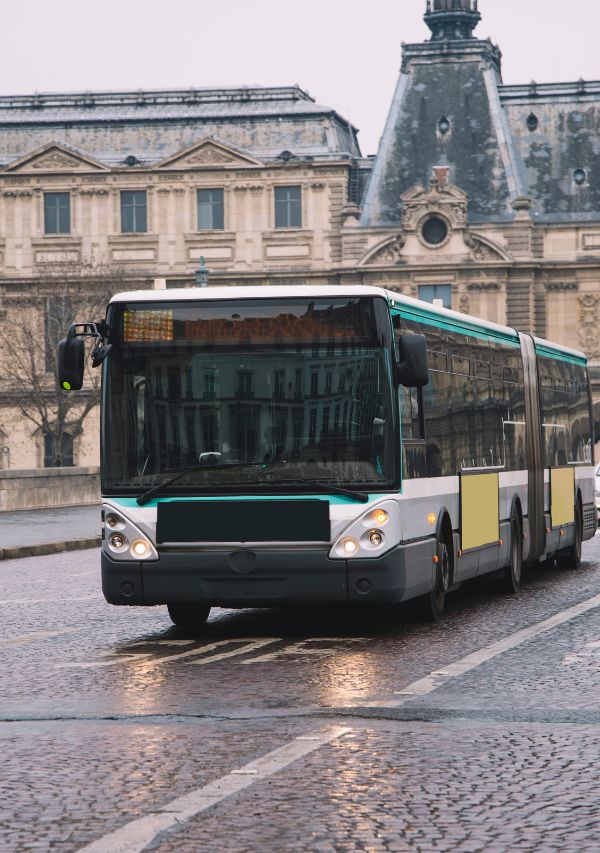 Noctilien night bus
After midnight, the "Noctilien" (night bus) operates. Its hours are from 00:30 to 5:30. These are lines 140 and 143. Both have the Gare de l'Est as their destination, although they also pass through the Gare du Nord.
The trip takes approximately 45 to 60 minutes. They leave every 15 to 30 minutes. In any case, remember that the 143 has almost half as many stops as the 140, so its journey time is shorter.
Advantages of the night bus to Paris:
Solution for late night and early morning hours
Regular departures
Several stops in the city
Easy to find at the airport
Cons:
Being a public line service, we must carry luggage without specific compartments.
The journey may be longer than other means of transport.
How Do You Pay for the Night Bus in Paris?
The Noctilien costs about 8 euros and works with the Ticket t+ (regular metro, bus, and RER).
They can be purchased individually (1.90 euros) or in packs of 10 (14.90 euros) at ticket counters and vending machines at the stations.
When purchasing packs of 10, you can save a good percentage of the total.
Where Does the Noctilien Night Bus Stop in Paris?
Within the airport, the Noctilien lines have stops at each of the three terminals.
After the journey to Paris, which includes several stops along the way, the Noctilien has the following stops within the city of light.
Line 140 stops at: Porte de la Villette, Rosa Parks, Gare du Nord – Lafayette Dunkerque, Gare de l'Est.
Line 143 has the following stops: Saint Denis Porte de Paris, Porte de la Chapelle, Gare du Nord, Gare de l'Est.
Local Bus 350/351
During the day, there are lines 350 and 351. The first one will take us to Gare de l'Est, while the second one goes to Plaza Nation.
Undoubtedly, these are the most convenient options at an economic level. For only 2 euros you can get to the center of Paris on these buses that are part of the public transport service.
Travel time can vary depending on city traffic but, in general, we estimate an average of 1 hour and 15 minutes (which, considering the stops along the way, is not "a lot").
These buses operate from 6:00 am to approximately 10:00 pm.
Advantages of the Local Bus:
More economical option
Regular departures
Easy to find at the airport
Cons:
Increased number of stops
We must carry the baggage
Fixed stops that will be convenient only if we are staying nearby
How Do You Pay for the 350/351 Local Bus
The price for lines 350 and 351 is 3 Ticket t+ (regular metro, bus and RER).
You can purchase these tickets individually (1.90 euros) or in packs of 10 (14.90 euros) at ticket counters and vending machines in metro, RER, bus and streetcar stations.
When purchasing packs of 10, you can save a good percentage of the total.
Where Does the 350/351 Local Bus Stop in Paris?
Both lines 350 and 351 stop at all three terminals of Charles de Gaulle airport.
Then, in addition to the points along the route, once in Paris, each bus has its own stops.
Line 350 stops at the following: Diderot, Michelet-Park des Expositions, Gare de l'Est.
Line 351 has the following stops: Porte de Bagnolet, Porte de Montreuil, Place de la Pte. from Montreuil, Porte de Vincennes, Pyrénées Dr Netter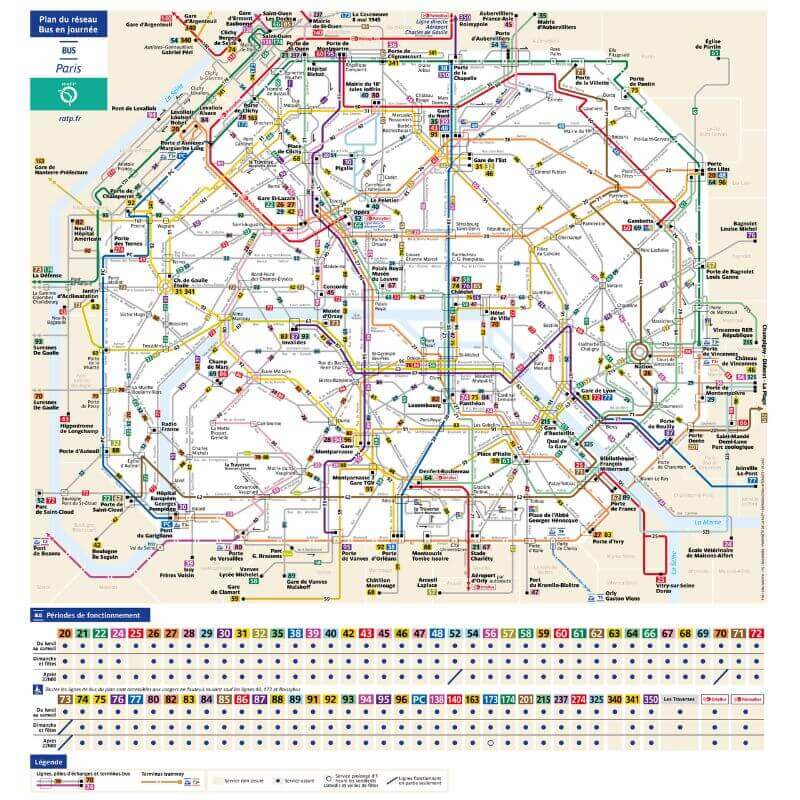 Option 3: Taxi from CDG to Paris
Cabs in Paris can reach really high fares, but they can be a great option to consider in case of traveling in a group since, on the one hand, the fare can be split and, on the other hand, the fare is fixed.
The cab ride can take about half an hour, although this will depend mainly on the traffic with which the French capital greets you. This variable will be conditioned by the day and time of specific arrivals.
Advantages of taking a cab from the airport to Paris:
Direct and personalized travel
Fixed-rate
Comfort and possibility of group travel
Cons:
In case of groups of less than 4 persons, the fare may be high compared to other means of transportation.
How Much Does a Cab from Charles de Gaulle to Paris Cost?
For the CDG – Paris route, the fare is between 60 and 70 euros approximately, depending on the bank of the Seine to which we go and then on the specific point of our destination.
In 2021, the fixed fare was €53 to go from the CDG to the Rive Droite and €58 to the Rive Gauche. This price may have increased in recent years.
How Do You Pay for Cabs in Paris?
In Paris, cabs can be paid in cash or by credit card. All vehicles must have electronic payment terminals and printers to deliver the payment ticket.
Is it Easy to Get a Cab in Charles de Gaulle?
It is easy to get cabs at airports in France in general, and at CDG in particular.
Cabs are usually found at the exits of each airport terminal.
It is important to take only official Parisian cabs, especially to guarantee the official fares and means of payment.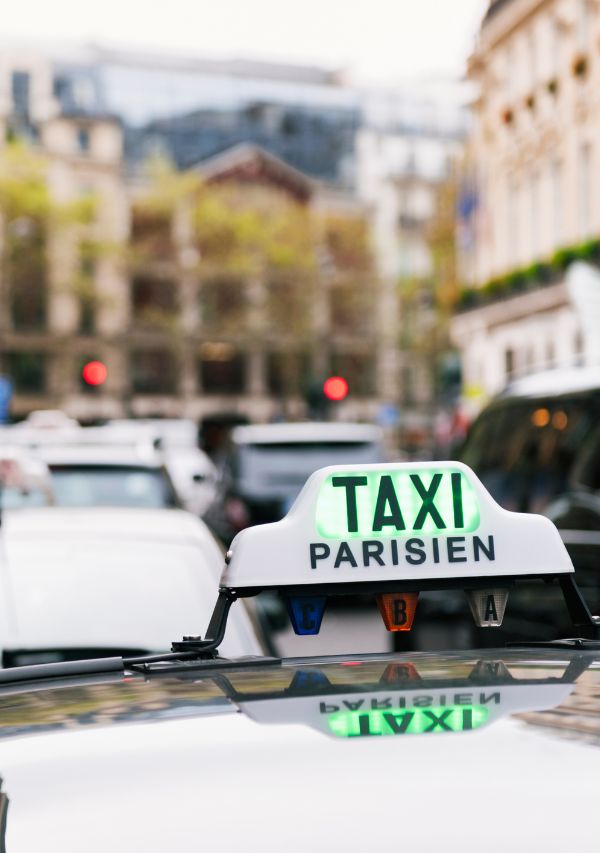 Option 4: By Private Transfers
The prices of private transport are usually around 70 euros, depending on each company or specific proposal.
Of course, they are an excellent option if we arrive in Paris without exclusive transport that will wait for us and take us directly to our destination.
Advantages of taking private transportation to the hotel:
Pick-up service
You can hire one who speaks your language
Comfort, exclusivity
Travel direct to the hotel door
Cons:
The fare may be higher if you are traveling alone or in a very small group.
Option 5: by Shared Transport Applications
A last possible and recommendable option, especially for those travelers who like to socialize, this type of trip in a comfortable and personalized environment is shared transportation.
There are several applications or platforms that offer it. Their fares range from 18 euros to 30 euros approximately, depending mainly on the number of travelers and the trip time.
Advantages of shared transportation:
Pick-up service
Hassle-free transportation
Few stopovers and customized door-to-door to our destination
Cons:
It may be more difficult to find these services at night.
For some travelers, it may be uncomfortable to travel with strangers in cramped transportation.
If you are traveling with several people, there may be baggage limitations.
You may be canceled at the last minute.
About Charles de Gaulle Airport
Every year, it is undoubtedly the most important airport in Paris (and probably in France) and the second busiest in Europe after London Heathrow.
Located in the suburbs of Roissy, the CDG (named after the famous French military officer and statesman) has 3 terminals, between which we can move in a free internal bus.
Extra Time at the Airport?
Because of its importance and extension, the CDG has many stores ideal for making time if necessary. In general, they are open daily from 6:00 am to 10:00 pm.
If you have just forgotten a souvenir or just enjoyed a shopping trip before traveling, you will have right there fashion stores, wine shops, book shops, pastry shops, gift stores, electronics, jewelry stores, etc.
There is even a supermarket in the area connecting terminals 2 A-C and 2 B-D, in the subway part of the terminal.
In other words, if you have enough time to visit the airport, there is no lack of entertainment and general interest.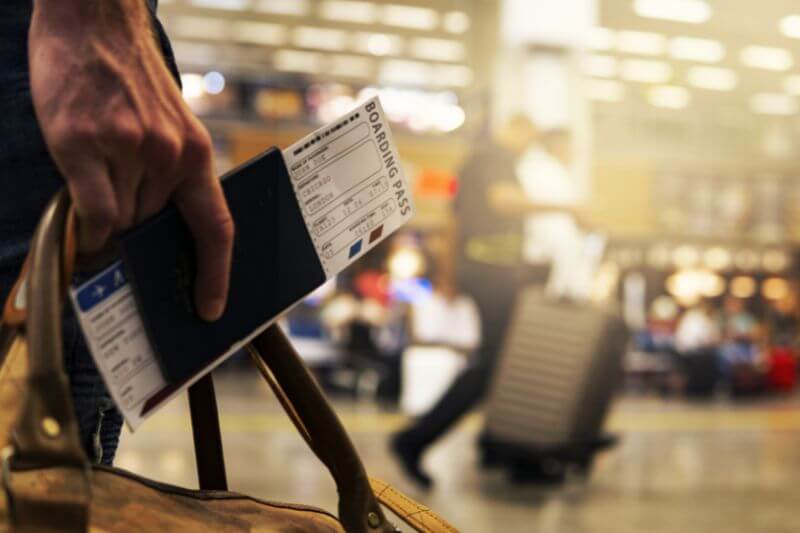 Frequently Asked Questions
What is The Fastest Way to Get from Charles de Gaulle to Paris?
The fastest way to get from the Airport to the city of Paris is by RER train or by Taxi.
In the first case, we will have the advantage of its schedules and scheduled stops and the fact that we will find ourselves beyond the traffic that can crowd the streets of big cities like Paris.
In the second case, we will have the great advantage of going directly and exclusively to our destination, allowing us to save travel time no matter how much traffic there is in the capital.
What is The Best Way to Get from Charles de Gaulle to Paris?
On the overall balance of costs, timetable possibilities, interconnection offers, and predictability and comfort, the best way to get to Paris from CDG airport are by RER train.
Of course, whether or not this option is ideal for each type of traveler will also depend on other particular factors, such as the specific place of accommodation, preferences regarding means of transportation and departure and arrival times, for example.
How Far is Charles de Gaulle (CDG) from the City?
Paris Charles de Gaulle airport is about 25 kilometers from the city center of the French capital.
It may be a prudent or considerable distance depending on the traveler, but the truth is that the quality and varied offer of its transport make the journey a truly accessible one.
Plan Your Trip to Paris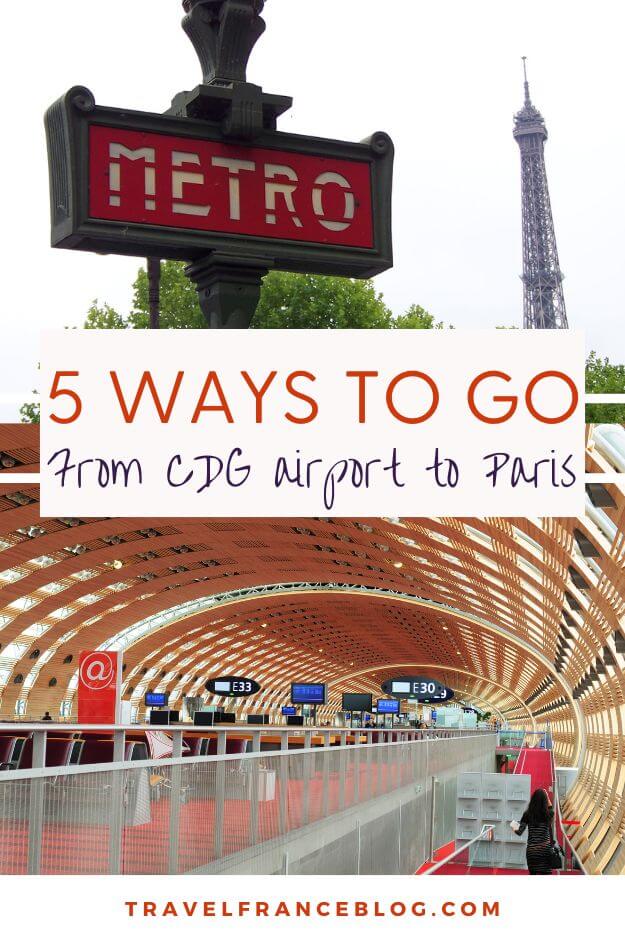 This post may include affiliate links. This means that we will receive a small commission if you make a purchase through our links. It has no additional cost for you. With this, you help us to continue creating free content for you.
This post may include affiliate links. This means that we will receive a small fee if you make a purchase through our links. It has no additional cost to you. It's a win-win!