How to Save Money on a Trip to Paris
Save on travel? When traveling to Paris? Of course it is possible!
Traveling to Paris is not cheap, but it can be cheaper depending on your choices, what transportation you use and where you stay, how and where you decide to eat, and what visits you make.
And, above all, by when you decide to do all of the above.
Paris is one of the so-called "expensive" cities, both to live in and to visit. However, there are a number of tricks that we can pass on and, moreover, recommend so that you can save money.
Here are some of them to keep in mind.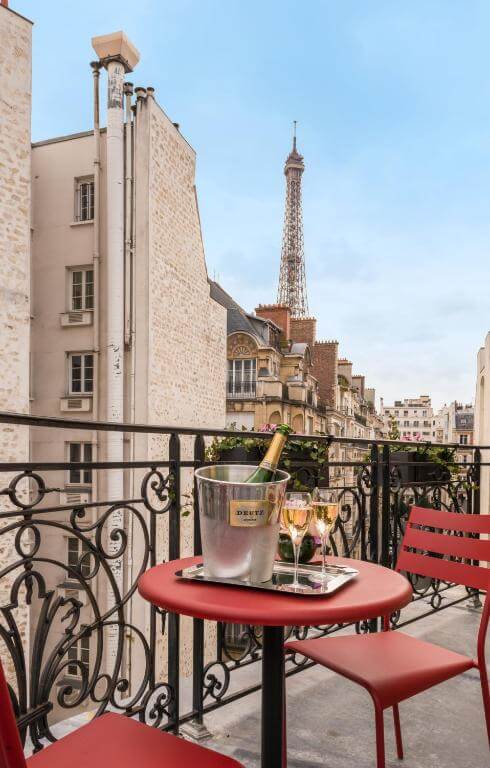 Save Money When Moving around Paris
Transportation in Paris is necessary given the extension of its territory, and can be expensive if you opt (choice or necessity) for cabs or private cars.
The best way to save on transportation is to use the following means of transportation in the city of light:
Metro
The Paris metro covers some 200 km of track. It is a very extensive network (16 lines, 303 stations) that communicate with each other and with the RER (regional or suburban) trains.
There is no doubt about it, the metro is the fastest and most effective way to get from one point in the city to another.
Its service runs from 5:30 a.m. to 1:00 a.m. (arrival time of the last train, so it is not recommended to enter the subway after 00:45 a.m.).
In addition, it is worth mentioning that on Friday and Saturday nights the Parisian metro closes one hour later, at 2:00 am.
As for the tickets, each unit costs 2.10 euros, but in case of buying packs of 10 tickets or more, the savings can be up to 3 euros. This is certainly something to take into account.
Bus
Taking a bus is also an excellent option for getting around Paris.
However, beware: unlike the Metro, you will suffer the traffic of this big city.
There is also the favorable aspect: when traveling by bus, you can see the places you pass through and appreciate different urban landscapes from one point to another.
Paris bus lines are numbered from 20 to 199. Usually, the lines from 20 to 99 run within the city.
Those from 100 to 199 circulate (in general) in the outskirts of the city (sometimes also going into the city).
I have taken the bus occasionally, but I have done it when I have time, so I can enjoy the urban landscape.
Tourist bus
The tourist bus can be an excellent idea if we like to move and observe the streets between the different attractions to visit.
The hop on, hop off mode allows us to use it as a means of transportation for the duration of our ticket.
There are several tour bus services in Paris that will allow you to combine the pleasure of moving around the city with the contemplation and the certainty of not losing your way between the points to visit.
In general, each service covers multiple stops and areas of the city and an audio guide to the places you are visiting.
Book Accommodations in Advance
Accommodations in Paris range from the most economical to the most exorbitant and exclusive.
If the objective is to save costs, there are three accommodations to choose from.
In addition to the accommodation type, the variable that greatly influences its value is usually the location.
The center will always have the advantage of saving travel time and money and being close to the attractions. But, at times, the periphery can offer notable price changes.
Whatever the choice, booking in advance will allow for a significant reduction in rates, which start at 30 euros and can go up indefinitely.
Bed & Breakfast
Bed & Breakfasts offer some particularities that can tip the balance towards them or other types of accommodation, but they are certainly an option to consider if what we are looking for is an efficient place at the economic and hotel level.
Among the advantages to be considered are excellent breakfasts and a generally relaxed atmosphere that allows socializing and learning about local issues or exchanging with other travelers.
Of course, the latter may or may not be favorable depending on the type of trip and traveler involved.
With patience and perseverance, they can be found for 35 euros in tourist areas, even less if you move away from the center but keep a subway nearby.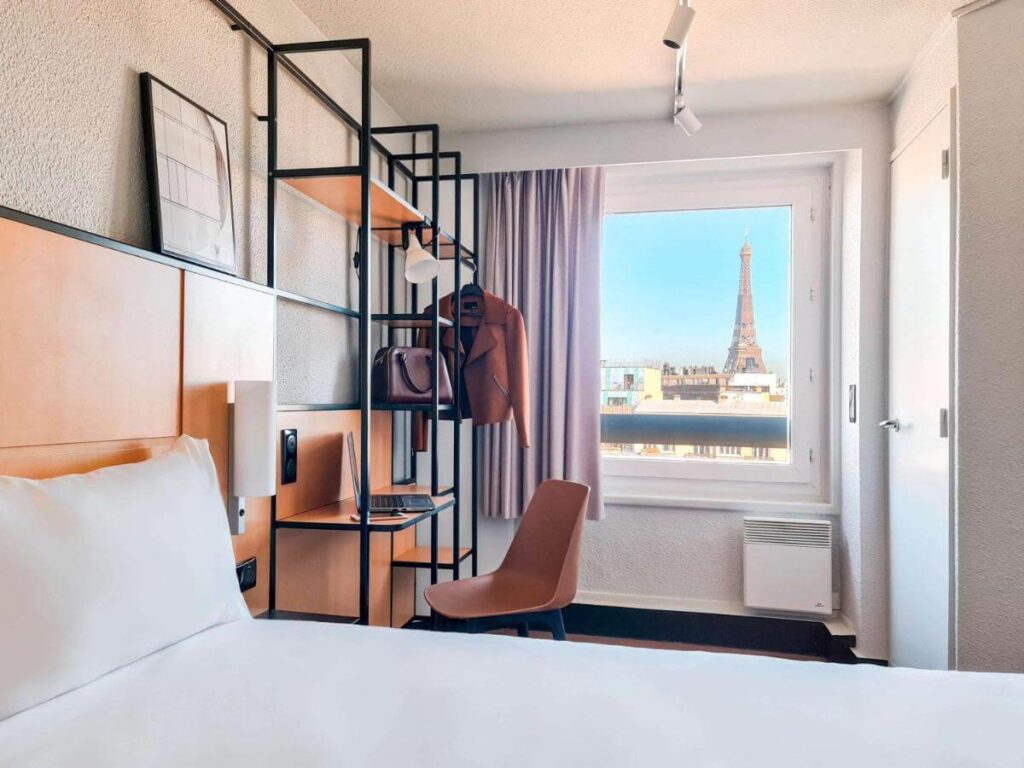 Hostels
Originally thought of as lodging for youth or travelers, this type of lodging has quickly broadened its horizons.
Adults, solo travelers, couples, groups of friends, and others choose it as a place to stay.
Hostels vary significantly in their offer, even within the same establishment, where you can find shared rooms, common bathrooms, or private rooms with en-suite bathrooms.
The price will vary depending on your choice.
Of course, shared spaces are practically always spaces of exchange and socialization.
As for prices, they can be found for 35 euros in central areas.
Airbnbs
One of the main options for those who travel in groups and want to maintain their autonomy, privacy, and private time to relax at their leisure is to rent an "Airbnb", i.e. an apartment or accommodation, most of the time private.
The advantage of this type of lodging is that, in addition to the availability and privacy, one can compensate for the extra fee it may cost with the possibility of eating in the apartment and indulging in a few treats as if you were a local.
As for rates, they usually start at 45 euros for apartments, while private rooms can be found for lower prices.
Receive Alerts for Cheaper Flights
Nowadays, finding promotions or price reductions when buying airline tickets is accessible.
All we need to do is to know how to program the search engines and put the algorithms to work for us. Best of all, it is effortless to do.
For example, in the case of the most widely used search engine in the world, Google, you only need to search on Google flights for the origin and destination we are looking for and click on "track prices" for the chosen date.
In the case of specific flight websites, such as Skyscanner, we will be able to log in with our user and program to "control these prices" in a determined period of time.
We have been using Skyscanner for years, and I recommend you look at it. It is a handy tool to find the best flights and sometimes even destinations you didn't have in mind.
In both cases, when there is a decrease in the prices of the flights you are looking for, you will receive an e-mail alert and be able to decide if it is time to take advantage of the promotion or if you prefer to continue waiting.
Travel to Paris During the Low Season or Mid Season
Visiting Paris in the low season or mid-season is a great tip not only to save on your budget but also to visit without crowds of people.
During the high season (April 1 to October 31), prices rise considerably due to the increase in visitors to the fashionable city.
It is best to schedule these dates to visit Paris: November through the end of March.
In addition, there are some dates that should be taken into account since they increase prices due to their popularity and popularity. Although the dates vary, they are always in particular months.
Dates to consider:
Easter Week (April),
The National Holiday of July 14,
Christmas and New Year's Eve,
International trade fairs and shows, such as the Automobile Show (October),
Agricultural Show (February-March),
Fashion Week,
If you are visiting Paris on those dates, it is best to book as much as possible in advance. Especially in lodging.
We went one day before the fashion week, and there was no accommodation under 150€ for a double room. We stayed at the Celtic Hotel, an old place, but well located and very expensive for what it is.
And if you want to go on Valentine's Day, prepare your wallet or book months in advance.
We went to Paris this Valentine's Day and the double room cost us 170€. And then we wanted to change the reservation to go also on the 13th and there were no more rooms available.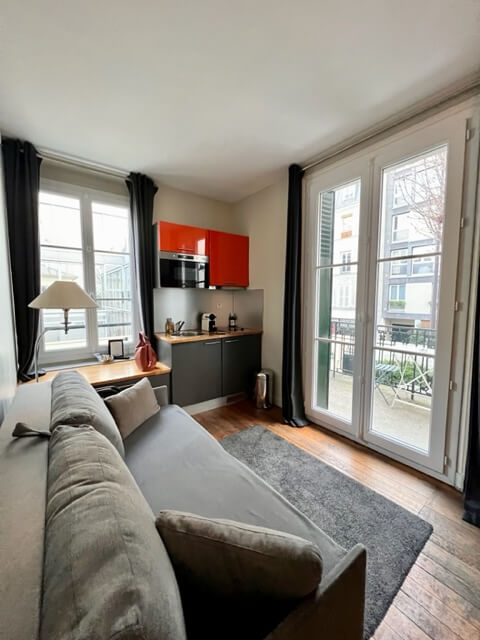 By the way, the hotel we went to is Suites & Hôtel Helzear Montparnasse. Our accommodation was like a small apartment.
It has a small bedroom with a complete bathroom and a kitchen and a small living room with a balcony. It was pretty cool.
Book Tours and Excursions
Being the tourist pole of the caliber that it is, Paris has an enormous variety of tours or group and excursions available at a voluntary price, such as the famous free walking tours that can be found to tour various neighborhoods of the city.
Another option is to plan ahead and research the points that attract us to visit them alone or look for group excursions that include them.
The best thing to do, in any case, is always to plan and reserve your place in advance. Mainly because, as a city with such high demand, vacancies are usually sold out quickly.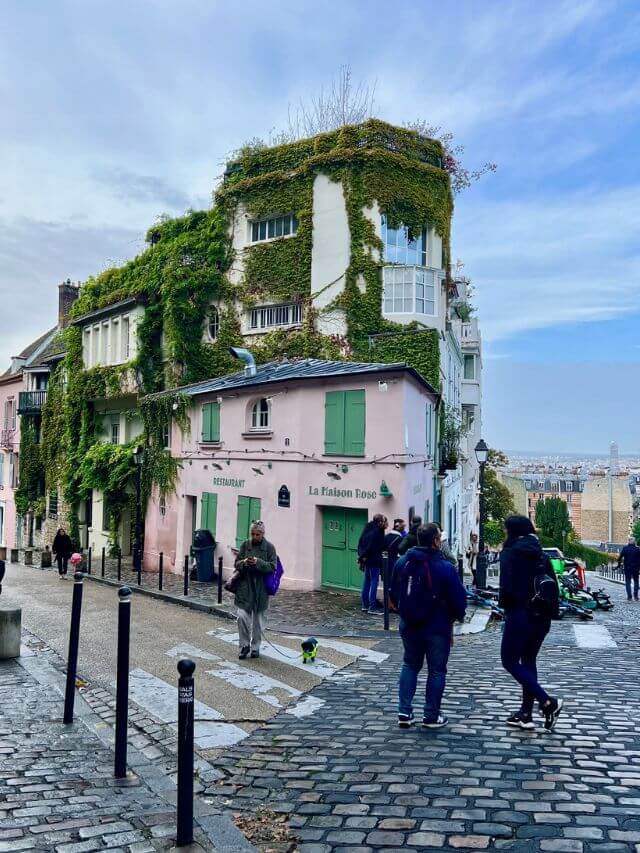 Dining: Inexpensive Restaurants and Street food
Eating in Paris is always a tempting plan, both for the environment offered by the city and the elegance of most of its dining establishments, whether cafes, brasseries, bars, or restaurants.
But beware, eating can be expensive, very expensive, or "little expensive"(pas cher). Symptom or not, in France there is no such word as "cheap", only "not expensive". For this reason, it is always a good idea to keep these tips in mind so as not to deprive yourself of this pleasure.
To eat more economically, it is advisable to order the formule, the "menu of the day" (it costs between 10 and 25 euros in everyday places).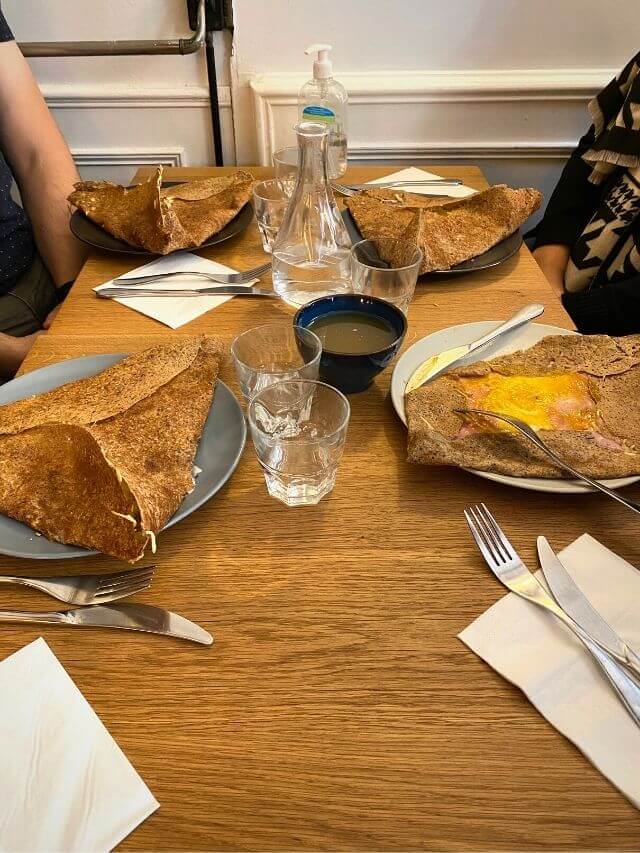 In general, it usually consists of 2 or 3 steps (starter, main course, and dessert) and does not usually include a drink.
Some creperies may include a glass of cider or apple juice.
At the same time, you can also save money by ordering the carafe d'eau (tap water jug) to drink.
Sometimes, it is not even necessary to ask for it, as most restaurants serve it as mandatory. Otherwise, on a le droit (we have the right) to ask for it.
Some cheap places to eat in Paris are Chinese restaurants (not all), the Latin Quarter has formules for all budgets and tastes. Some places include fondue and other typical dishes.
Also, Kebabs and fast food can be well-priced. But before going to Mcdonald's, go to a creperie and ask for a galette! It is a savory crepe typical of Brittany.
There are many different fillings, and the menus are usually well-priced and usually large, like the one pictured.
Get a Paris City Pass
Saving and planning can become practically synonymous. Whether to save money or to save time, Paris city passes or tourist cards are often highly recommended and useful if our expectations are in line with their offers.
Designed for tourism, these cards cover what is most in demand, and their duration is variable for different lengths of stay. If well used, they will allow us to save considerable percentages on entrance fees to points of interest.
It will not be superfluous to remember that from year to year, what each card includes may vary slightly, although in general the options are stable and comprehensive.
Prices vary according to the number of days covered by the card.
Paris City Pass
The Paris City Pass includes admission to more than 80 attractions, as well as discounts on breakfast or snacks at and discounts on breakfasts and snacks at local restaurants.
It will undoubtedly solve many possible visits and itinerary moments, as it covers places that you will surely choose when walking around Paris.
To give you an idea, this card includes a guided tour of the Eiffel Tower, the Hop-on, Hop-off Bus Tour, the Louvre and Orsay museums, Notre Dame Cathedral, Arc de Triomphe, Versailles, Montmartre walking tours… And the list of attractions is just beginning.
Museum Pass
The Paris Museum Pass, as its name suggests, is a card mainly oriented to museums.
It is a short-row credential oriented to access monuments and museums such as the Arc de Triomphe, Notre Dame, Louvre, Rodin, and Pantheon, among many others.
It should be clarified that, in general, it does not include access to temporary exhibitions.
In other words, it is ideal for those who decide to go specifically to see the permanent exhibitions of the cultural institutions that have earned Paris the name "Capital of the 19th century".
If monuments and museums are an objective of the tour, this card can be very useful.
Paris Pass Silver, Gold, and Platinum
The Paris Pass card offers entry to the main tourist attractions of the city, so it can be an option to seriously consider in case of first trips to Paris or recurrent visits to the main attractions.
In addition to the points covered by the Museum Pass, the Paris Pass includes a sightseeing bus, the Palace of Versailles, the Montparnasse Tower, the Arc de Triomphe, guided tour with a climb to the 2nd floor of the Eiffel Tower, and a Seine River Cruise, among other attractions.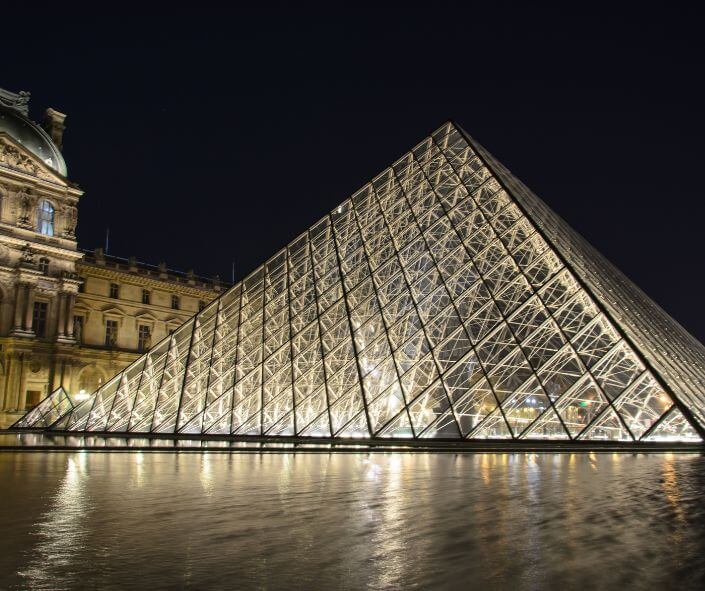 Example of Budget Breakdown
Budget Range 1: 352 euros for 3 days

105 euros accommodation (35 euros per day)
17 euros of transportation by buying groups of metro ticket packages
70 euros museum pass
60 euros lunches (3 for 20 euros)
60 euros dinners (3 of 20 euros)
10 euros free tour
10 euros souvenirs
20 euros extra.
Budget range 2: 387 euros for 3 days
180 euros accommodation (60 euros per day Airbnb)
60 euros tourist bus for two days
60 euros lunches
10 euros free tour
30 euros to buy for dinner in the apartment
17 euros Admission to the Louvre Museum
30€ climb to the Eiffel Tower
Some Extra Tips
Hydrate for free. Paris is a walking city, and walking and sightseeing often makes you thirsty, but mineral waters or drinks, in general, can be expensive in touristy places.
This is where we should pay attention to the Paris fountains where we can fill our water bottles. Something worth taking advantage of.
Coffee in Paris. Coffees in Paris can be very expensive; if you're absent-minded, they can charge you 6 euros for a latte. If you want to have a coffee, the cheapest is the "espresso" (espresso) or "alongé" (long coffee).
Coffee with milk and its varieties, such as cappuccino, latte, etc, can cost you more than 5 euros in any average tourist place.
To make it a little cheaper, drink it at the bar, at the tables, or on the terrace it will be more expensive.
Free museums on the first Sunday of each month between October and March. Just as you read it, on those days, during those months, admission to most of the museums in Paris is free.
Obviously, the influx of people is greater, but if you go first thing in the morning, it will be worth it.
Free points of interest and picnics. Many gardens, parks and monuments in Paris can be visited free of charge and, in fact, become the setting for picnics that are as picturesque as they are inexpensive compared to lunch in a restaurant.
Taking advantage of this combination can be very profitable in both senses of the expression.
Is Paris a Cheap Destination?
No, Paris is not a cheap destination, but it can be affordable. In fact, becoming affordable by having control of the budget.
To make it happen, it is advisable to plan the trip's details in advance. The details of the trip, as well as the means of transportation, accommodations, tourist passes or tickets, and cultural and gastronomic outings, should be planned in advance.
As the saying goes, time is money, so managing these issues in advance will allow you to enjoy the double benefit of saving time and money without affecting your travel experience.
Plan Your Trip to Paris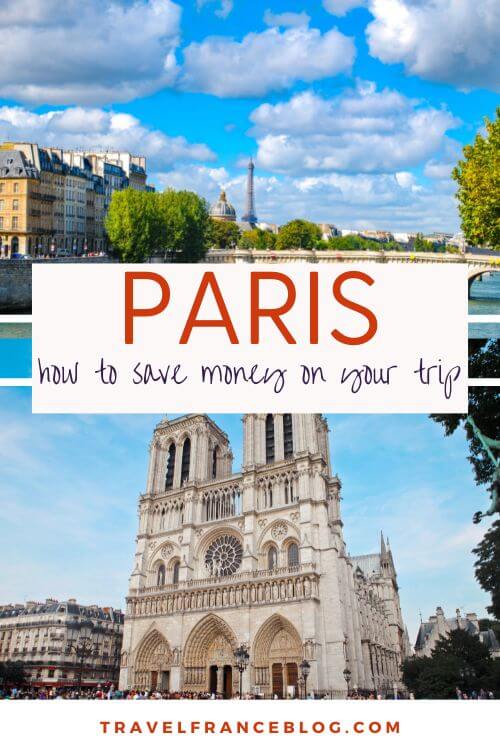 This post may include affiliate links. This means that we will receive a small commission if you make a purchase through our links. It has no additional cost for you. With this, you help us to continue creating free content for you.
This post may include affiliate links. This means that we will receive a small fee if you make a purchase through our links. It has no additional cost to you. It's a win-win!