Where To Eat In Paris On A Budget
Paris can be expensive if you don't know how to manage your travel budget. Besides the accommodations in Paris and destinations, you also need to keep yourself full to keep up with all that traveling. Where to eat in Paris on a budget?
Here are some tips and restaurants to dine at for a French and international culinary experience without breaking the bank!
Check Out: Cheapest Places to Visite in France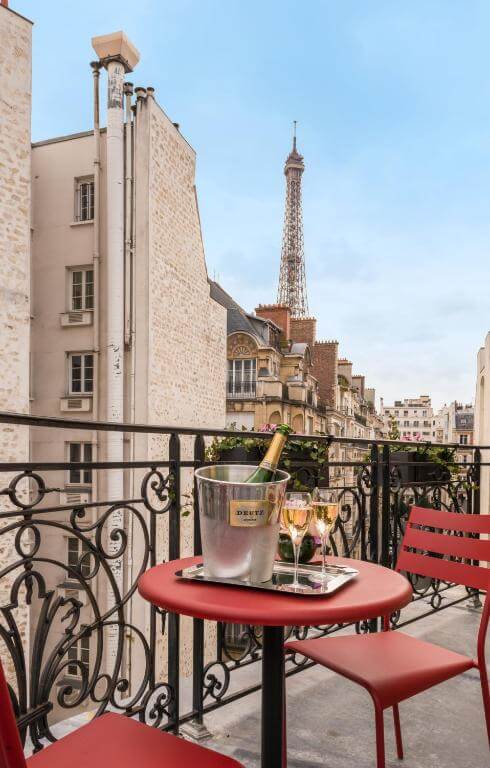 How Much to Budget for Food in Paris?
Spending on food in Paris can be tempting, but you may have a few of your travel budget left to experience more on your trip.
You can get by with 25 € a day with two good meals and sandwiches in between. We do recommend going as high as 30 to 40 €.
To help you with your budget and know where to eat in Paris on a budget, we included a price from our favorite restaurants, bakeries, and creperies.
This way, you can plan your food budget well and enjoy the gastronomical experience of French and international cuisines!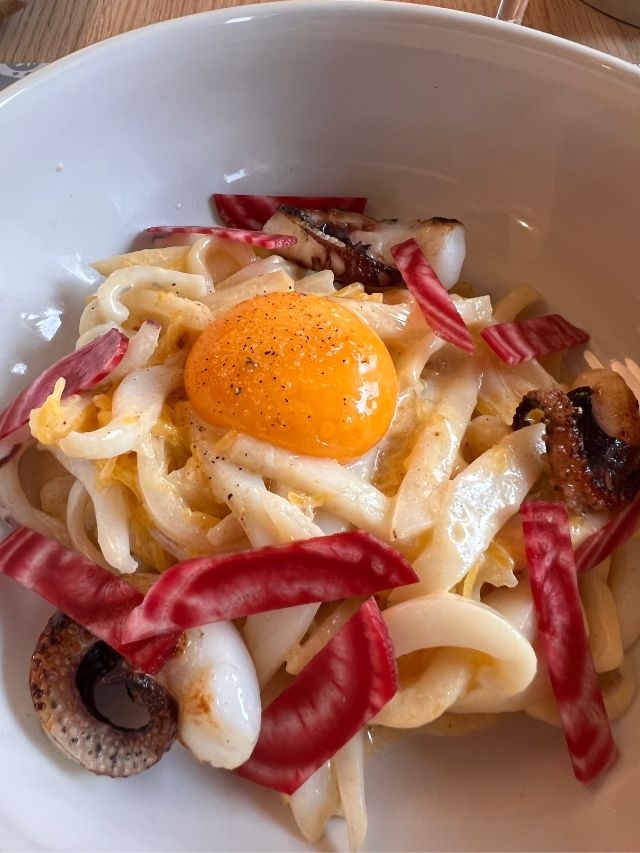 Best French Restaurants in Paris on a Budget
Experience homemade and classic French cuisines on a budget in Paris through these restaurants, bistros, and bakeries. From 7 € to 15 €, you can enjoy the best of French entrees, mains, and desserts.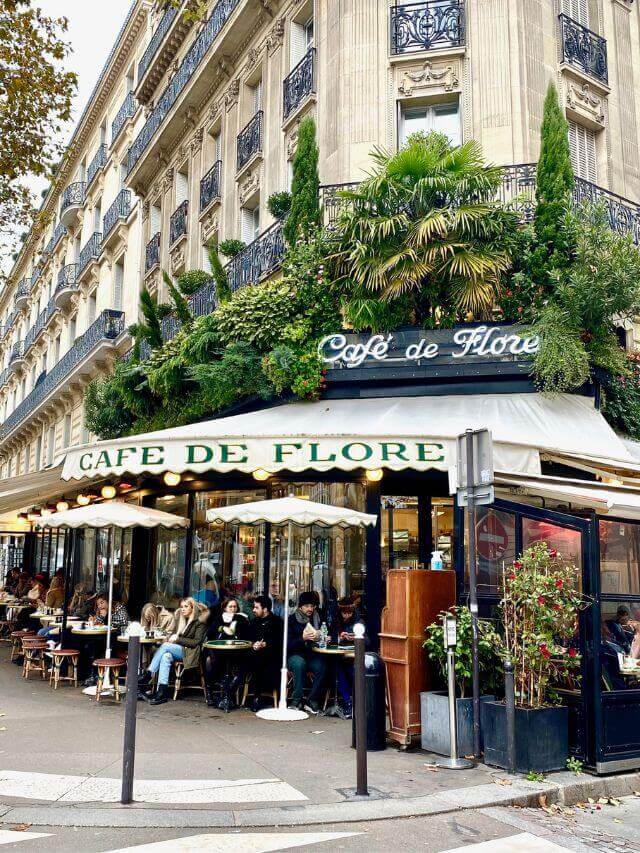 Bouillon Chartier
The Bouillon Chartier seems like a fancy restaurant with an expensive menu, but their dishes cost as low as 7 €. It is the best place to take a romantic dinner of French classics for an affordable price.
Location/s: 7 Rue du Faubourg Montmartre, 9th Arrondissement and 59 Boulevard du Montparnasse, 7th Arrondissement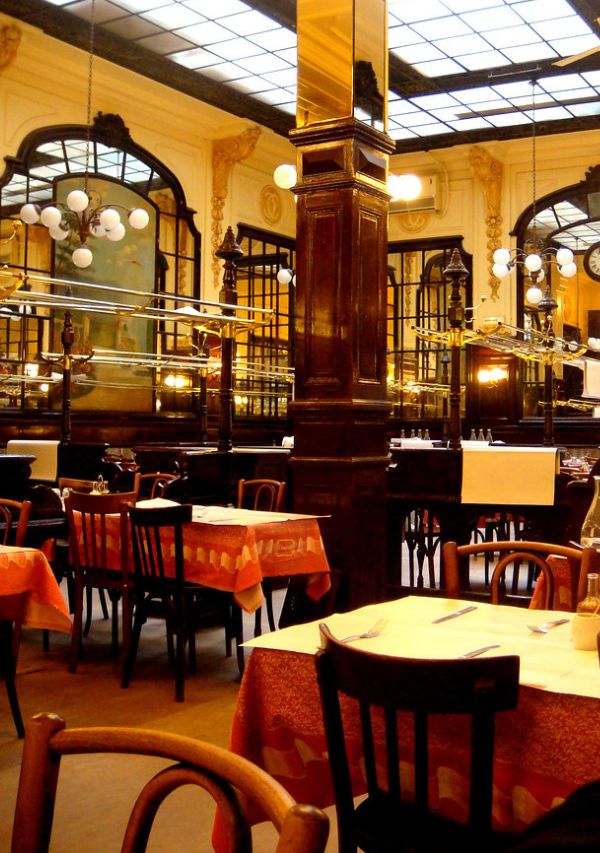 Café Du Coin
They have the most delicious Antipasti de legumes marines starter. Their main dishes cost around 15 € while the starters, desserts, and drinks cost as low as 6 €. They also serve natural wines (without additives).
Location/s: 9 Rue Camille Desmoulins, 75011 Paris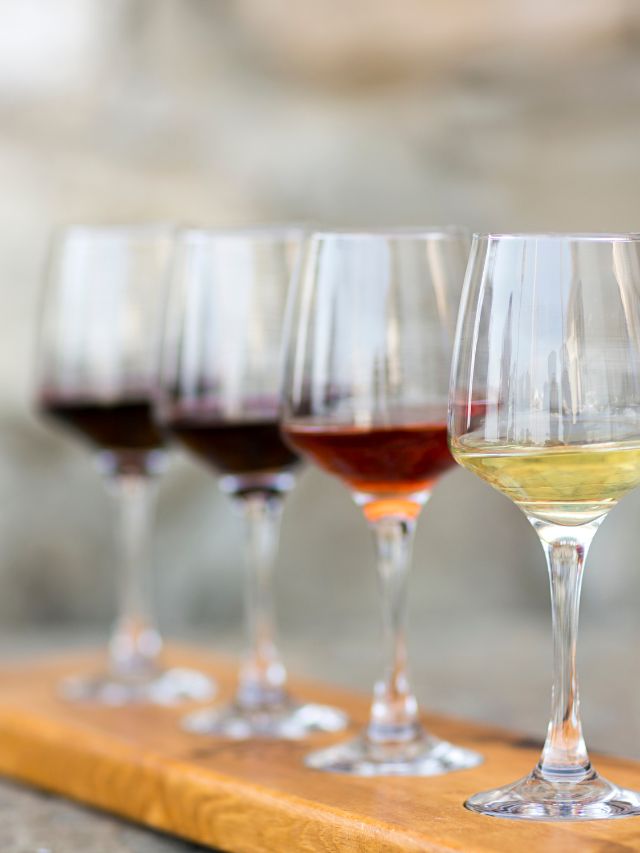 Bouillon Pigalle
Home-cooked meals are always the best, and Bouillon Pigalle is the best place to dine a hearty meal at a low cost.
The French eatery has a retro vibe with colorful decor. They offer duck confit, boeuf bourguignon, and more under 15 €.
Location/s: 22 Boulevard de Clichy, 9th Arrondissement
Le Cornichon
You get dishes to share for under 10 €. They also have a vast selection of entrees, main dishes, and desserts! You have to try their Magret de Canard, a classic French word. It is a popular pick from their menu.
Location/s: 34 Rue Gassendi, 75014 Paris
La Fontaine de Belleville
The La Fontaine de Belleville is a cozy place to eat baked goods and great sandwiches. They also offer American brewed coffee and eat baguettes! If you come every Saturday from 4:30–7:30 pm, you get to listen to jazz music.
Their coffee options start at 2,50 €, and they also offer charcuteries from 5,90 €.
Location/s: 31-33 Rue Juliette Dodu, 10th Arrondissement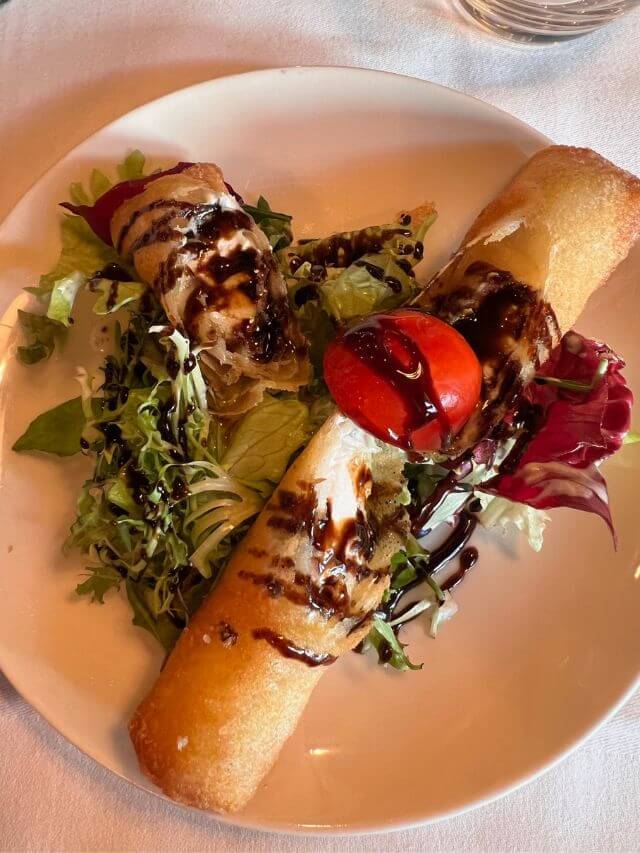 La Petite Rose des Sables
La Petite Rose des Sables has the town's friendliest restaurant owners who cook delicious classic French cuisines like beef stew (beef bourguignon) and Roast Pork (Rotie de Porc).
You can get a homemade French dish for 12 €. The menu is short, but every bite of La Petite Rose des Sables's dishes is delightful! The best part is you can even get a hug from Mamie! But the place is quaint, so you may want to come in early.
Location/s: 6 Rue de Lancry, 10th Arrondissement
Bouillon Julien
Bouillon Julien is one of the restaurants that you may be hesitant to go to because of its lavish decor, but they offer French cuisines for as low as 3,30 €.
If you visit during Valentine's Day, they have 3 course meals at 31 € and A la carte options at 8 €.
Regularly, you can get their mains from 9,90 to 13,40 €!
Location/s: 16 Rue du Faubourg Saint-Denis, 75010 Paris
La Cantine Bretonne
La Cantine Bretonne introduced us to Breton cuisine. We recommend trying their Breton beef (boeuf Breton) too. They also offer crepes, desserts, salads, and cakes! Their main dish starts at 13 € while their desserts are at 4,2 €.
Location/s: 22bis Rue de l'Ourcq, 75019 Paris
Le Grenier à Pain
If you are only stopping by for a quick snack, Le Grenier à Pain has some of the most delicious baguettes, sandwiches, croissants, and eclairs! You can even try their lunch combo for around 7 €.
Location/s: 33 bis rue Saint-Amand, 15th Arrondissement
La Crêperie Josselin
La Crêperie Josselin is our go-to for savory crepes. Their crepes start at 3.50 €, and besides the regular flavors, it is a must to try their specials, like reindeer or ones with smoked salmon. They also have a range of affordable drinks and salads.
Another crepe restaurant you may want to consider is Crêperie Plougastel, offering savory and dessert crepes for 7 to 10 €!
Location/s: 67 Rue du Montparnasse, 75014
Maison Castro
Maison Castro offers a mix of Mediterranean and additions of meats and cheeses from other countries in their baguette sandwiches! You can get their sandwiches for 4,90 € and pasta options for 3,90€.
Just around 15 minutes from Main Castro is Pain Pain. They also offer eclairs, tarts, and baguette sandwiches!
Location/s: 9 Rue Cadet, 75009
47 Rue des Moines, 75017
15 bis rue Alexandre Parodi, 75010
114 rue de Belleville, 75020
Chez Alain Miam Miam
Their Miam Miam sandwich was not the light snack we hoped for; instead, it was like a full meal. One Big Miam Miam sandwich got us so full that we did not even think about having lunch. It was our lunch!
Their small sandwich costs 9,50 € while their big option is 12,50 €. They also have cold and hot drinks.
Location/s: 26 Rue Charlot, 75003 Paris
International Restaurants in Paris on a Budget
If you are looking for international flavors, Paris has affordable restaurants serving delicious cuisines from east to west! The price often starts from around 7 € up to 12 €.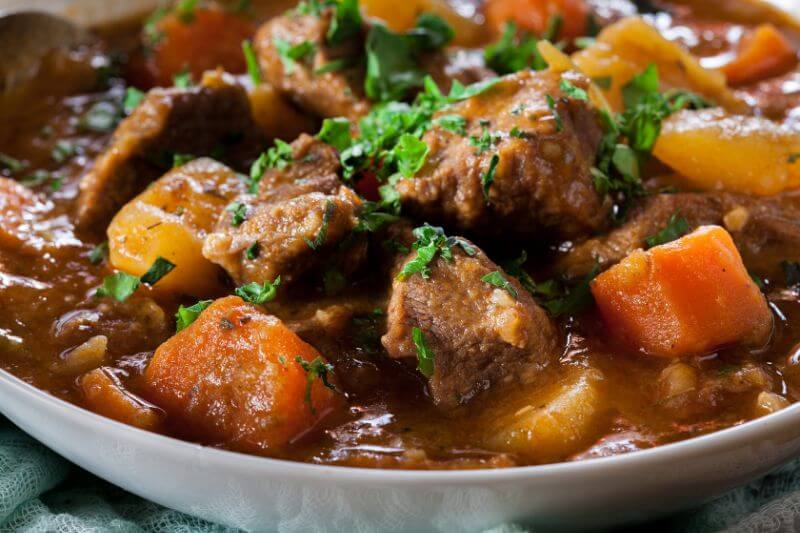 Ravioli Nord-Est
Whether it is steamed or fried dumplings, Ravioli Nord-Est has them all! The Chinese restaurant also offers meat or vegetable options for their dumpling fillings. The best part of the restaurant is that each dumpling is made with homemade wrappers.
You can add some chili oil to add spicy flavors or bring frozen dumplings from Ravioli Nord-Est for 16 to 30 €. Each dumpling orders cost 7 €, while their Chinese salad selections start at 4 €. Their soups are flavorful and affordable, at 3 € per order.
Location/s: 115 Rue Saint-Denis, 1st Arrondissement
My Noodles
Like the name itself, you can get homemade Chinese noodles and dumplings! The noodles cost 10,80 € while pieces of dumplings start at 7,50 €. Their noodle selections are vast, so I suggest reading their menu here.
Location/s: 129 boulevard du Montparnasse, 75006
Oui Galette
Oui Galette is one of our favorite bakeries in Paris. They offer Lebanese bread and pita sandwiches filled with tomatoes, garlic, and meat, with prices starting at 7 €.
Location/s: 1 Rue Brantôme, 75003 Paris
Bululu Arepera
Bululu Arepera offers one of the best dishes in the northern region of South America: Arepas. The restaurant offers 6 arepas selection for 9 €. To complete your meal, order a beverage or cocktail, entree, and dessert from 4,5 €.
Location/s: 20 Rue de la Fontaine du But, 75018
La Table
La Table is one of Chef Sébastien Gravé's restaurants. You get to eat a course meal of Basque cuisines for 24 €, which includes a starter, dish of the day, and a dessert. If you want the 6 course option, it only costs 60 €.
Location/s: 38 Rue de Sèvres, 75007 Paris
Urfa Dürüm
Their bread is homemade, and you can even witness how they cook their skewers. With their affordable prices (from 8 €), delicious sandwiches, and a positive remark from Anthony Bourdain, Urfa Dürüm is packed with tourists and travelers, especially at dinner time.
Location/s: 58 Rue du Faubourg Saint-Denis, 75010
El Nopal
Paris is a hotspot for international cuisines, but it was a little bit hard for us to find our favorite Mexican food. El Nopal is our favorite restaurant for great Mexican food!
You can get the classics like burritos, tacos, quesadillas, and picadillo! We recommend getting their vegetarian burritos. It was so flavorful that we were satisfied even without meat.
Location/s: 3 rue Eugène Varlin, 75010 Paris
5 rue Duperré, 75009 Paris
Buono Sano Bello
Another international recommendation is Buono Sano Bello, home of exquisite Italian cuisines. You must try their casarecce pesto and ragù for 10 and 11 €. Don't forget to try the tiramisu too for only 7 €!
Location/s: 4 rue de la Villette, 75019
Budget Vegan Restaurants in Paris
We have been in a few vegan restaurants during our trips to Paris. Some of them were a bit expensive, but we found these beautiful restaurants offering affordable and delicious vegan food from 5 €.
Hank Burger
Going to Paris to eat a burger may be different from the culinary experience you were hoping for, but Hank Burger offers more than your regular fast food experience.
They offer five variations of vegan burgers! The Hankburgers cost 8,50 € each, and if you want them to use gluten-free bread, you just have to add 2 €.
For 13 to 15€, you get a complete set of a burger, a side, a beverage, and a dessert. You can also order them separately, costing only 3 to 5€. We suggest surprising yourself with the Le Touriste burger!
Location/s: 55 rue des Archives, 75003
8 Rue Marguerite de Rochechouart, 75009
Tien Hiang
Tien Hiang Vegetarian Restaurant is another affordable vegan restaurant in Paris. If you want a hearty meal, you can order food for as low as 6€!
Everything is vegan, even those labeled with chicken, beef, pork, or duck in the description, except for their Tien Hiang Cooking Pot (it has cheese).
Don't forget to cool yourself off with their ice cream mochis! Check their English menu here.
Location/s: 4 rue Bichat, 75010
By Tourist Attractions
We have been to Paris many times and learned that eating at restaurants and bistros near popular tourist attractions can be expensive. But there are several spots where your snack and meals only cost from 6 € to 15 €.
Cheap Restaurants near Eiffel Tower
The closer you are to the Eiffel Tower, the more expensive the food can be. But if you are stopping at the Eiffel Tower, we found these restaurants perfect for budget travelers!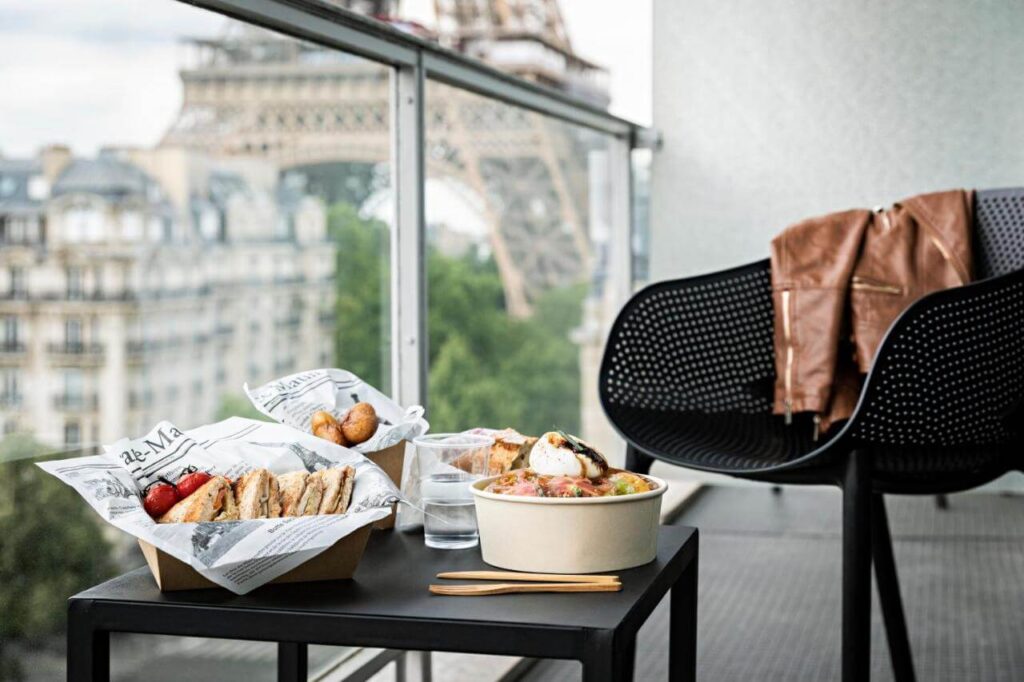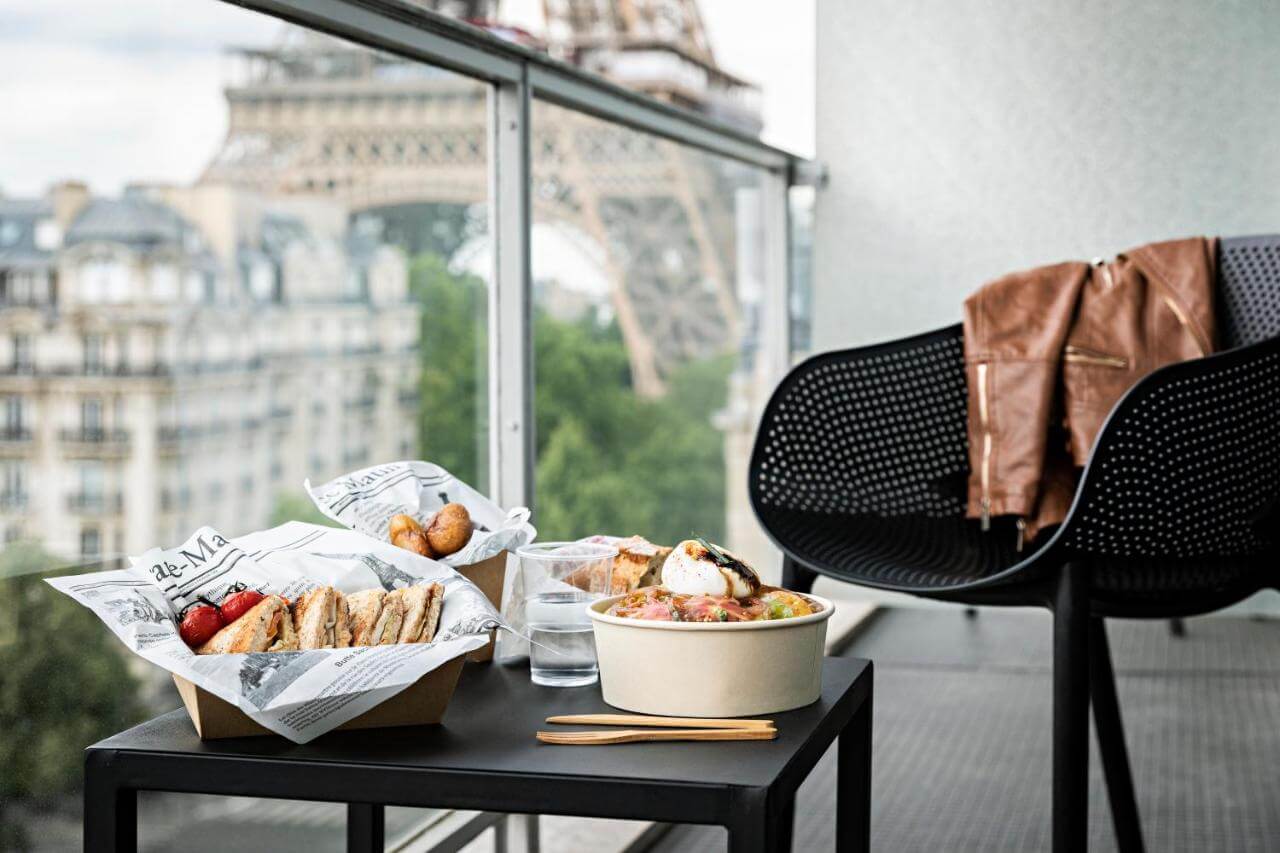 I'm sure you don't want to be in the most romantic place in the world just to eat hotdogs or fast food. But Schwartz Hot Dog is perfect for a quick and affordable snack.
They had 9 hotdog toppings during our visit, costing around 4 to 6,50 €!
Location/s: 5 rue des Archives, 75004
If you want to dine for lunch or dinner near the Eiffel Tower, we suggest going to Le P'tit Troquet for some French cuisine. They have a wide array of food and with some even gluten-free!
This small bistro offers dishes for as low as 15 €! But if you want to save more and eat more, we suggest getting their course meal from 25 to 30€. You have a starter, a main, and a dessert, making the courses more affordable than buying a starter or a main separately.
Le P'tit Troquet is also kind enough to put food allergens and gluten symbols on its menu to keep customers safe. See their menu here.
Location/s: 28 Rue de l'Exposition, 75007 Paris
Cheap Restaurants near Notre Dame Paris
With many historical and religious artifacts in Notre Dame, who would not include it as a top destination? Even we wanted to see it when we first came to Paris. The best part about being at Notre Dame is being surrounded by affordable food from 6 €.
Chez Gladines is one the gems near Notre Dame that offers charcuteries to Basque food.
They have an affordable list of Basque cuisines and other French classics for as low as 12 €. If you want to try something new, try their snail dishes.
Location/s: 30 Rue des cinq Diamants, 75013 Paris
Be sure to taste the best crepes in Paris, savory or sweet, at Breizh Café! Their most popular branch is at Le Marais, but you can go to their cafes in Paris and taste a different menu of crepes.
You can head to Breizh Café for a snack break before heading to Notre Dame or after! A crepe starts at 7 € up to 12 €.
Location/s: 109 Rue Vieille du Temple, 3rd Arrondissement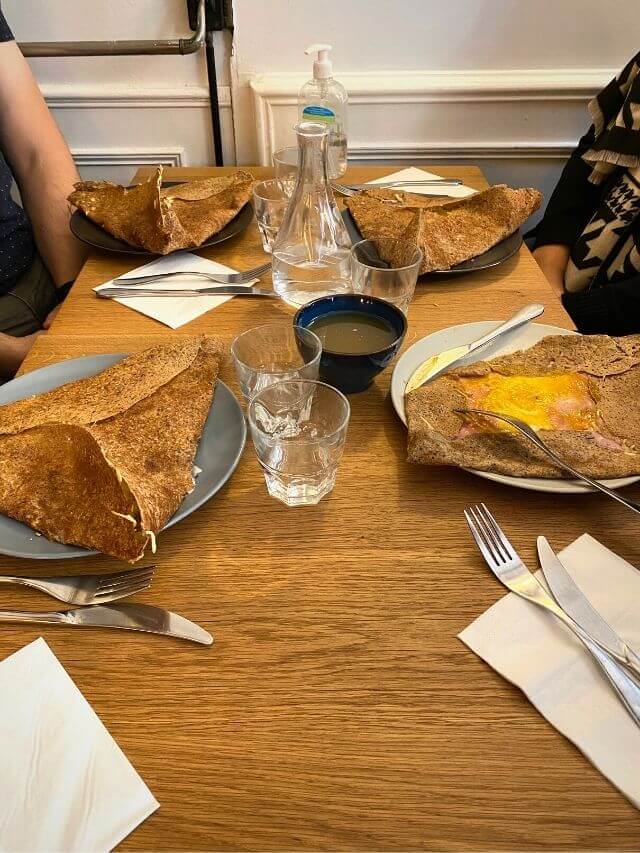 L'as du Fallafel is a restaurant loved by Parisians and travelers! What makes them so special? Besides their extensive menu, people keep coming back for their falafel sandwiches!
You can buy their falafel and shawarma sandwiches for as low as 6.50 € and 8 €. You can also go for a hearty middle eastern meal at L'as du Fallafel starting at 16 €.
Location/s: 32-34 Rue des Rosiers, 3rd Arrondissement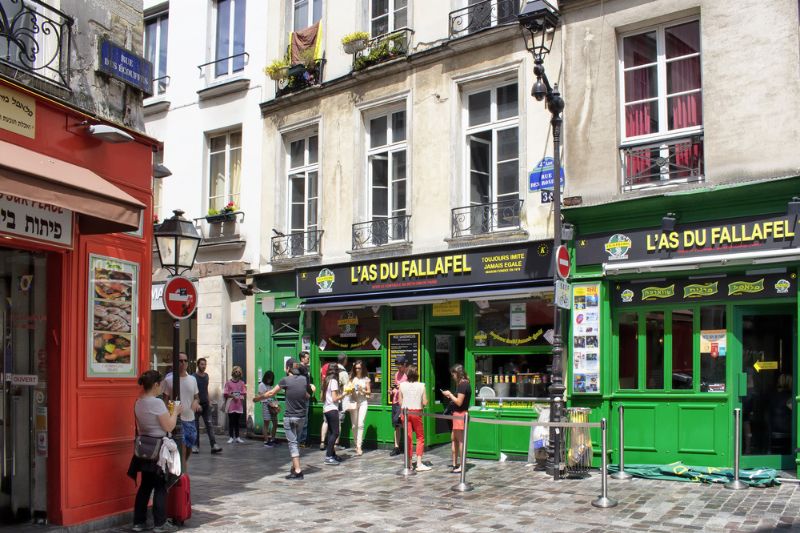 Chez Janou offers a vast menu of Southern French cuisines. The restaurant also has the most elegant decorations that keep you relaxed after a long day walking along La Marais.
While their entrees go as low as 10 €, their mains start at 19 €. Compared to other restaurants nearby, Chez Janou's dishes still cost lower.
Location/s: 2 Rue Roger Verlomme, 3rd Arrondissement
You can grab a quick snack at Cosi. They serve the most delicious sandwiches that cost as low as 5,50 €! You can find Parisians queuing in different branches of Cosi across Paris.
Location/s: 5 Rue des Filles du Calvaire, 75003
54 Rue de Seine, 75006
Looking for the perfect bowl of ramen in Paris? You can eat the best ramen in town, costing only 13,50 € to 14,50 €. You can choose from 6 types of ramen and add any topping among the 9 options. So it's like you have a ramen for your own preference!
You can even chow down on their affordable entrees starting at 4,00 €.
Location/s: 29 Rue Mazarine, 6th Arrondissement
If you are looking for spicy options, does Sichuan spice sound like a treat? If so, Deux Fois Plus de Piment is a must-place to eat! The dishes are SPICY but flavorful, and the best part, the food is affordable too.
You should try their Sichuan pork dumplings. It's a quick snack, and it only costs 5,50 €!
Location/s: 33 Rue Saint-Sébastien, 75011 Paris
If you are just stopping by for a quick snack, head to the Saveurs de Pains, a french bakery with varieties of freshly baked pastries and sandwiches! Most selection is under 10 €.
You can even bring a piece of bread to your hotel in Paris, and it will still be flaky and crispy!
Location/s: 32 Rue Vieille du Temple, 3rd Arrondissement
Miznon in Paris boasts Israeli dishes with a French twist, and we love the unique flavors! Dine and spend starting at 5 €.
Location/s: 22, Rue Des Ecouffes, 75004 Paris
3, Rue de la Grange Batelière, 75009 Paris
37, Quai de Valmy, 75010 Paris
CheZaline is the home of the ultimate sandwiches! We suggest getting a gourmet sandwich and eating it elsewhere. The place is small and exudes a retro feel. The sandwiches will keep you full in the morning or late afternoon.
The fresh ingredients make your every purchase worth it! Everything is under 10 € during our last visit.
Location/s: 85 rue de la Roquette, 75011 Paris
Cheap Restaurants near Louvre Museum
Other destinations travelers want to see are the Mona Lisa, Virgin of the Rocks, and more paintings and sculptures.
You can find the best artworks in the Louvre Museum. If you love appreciating these works of art, grab a snack or dine at these affordable restaurants!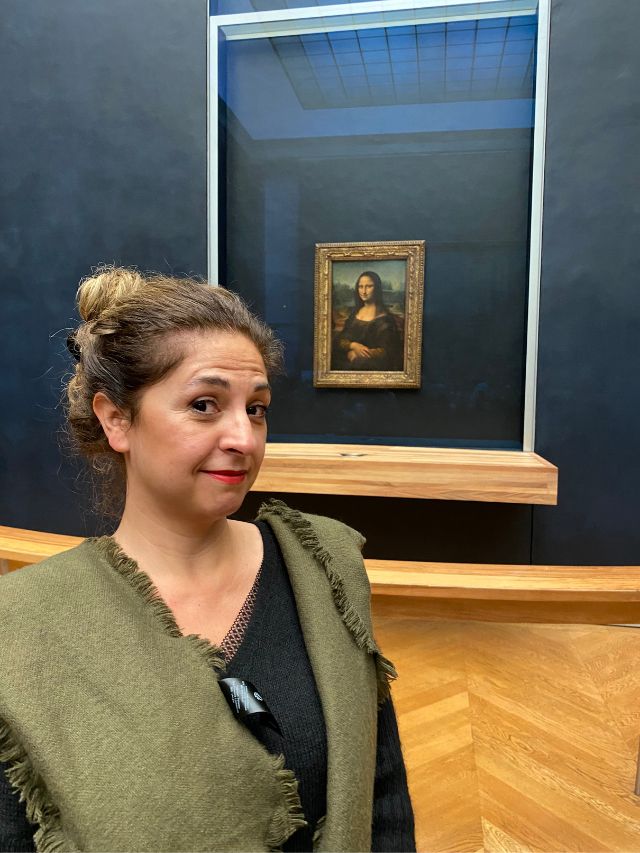 Nos Grands-mères ont du Talent
Are you missing your grandma's touch in your food? Well, Nos Grands-mères ont du Talent lets you in on a three course meal that only costs under 12 €.
The best part of the experience is the menu. It changes every week, but the cost remains almost the same. You will surely like the desserts made with love if you are a sweet tooth.
Location/s: 43 Rue des Petits Carreaux, 2nd Arrondissement
Bistrot Victoires might look like an expensive place to dine but don't let the fancy decor prevent you from coming in. The bistro offers a dish of the day and entrées with meat or fish.
Pick any delightful French classics such as crème brûlée, duck confit, and more. If you want to try French cuisine under 12 €, Bistrot Victoires is the best place near Louvre Museum.
Location/s: 6 Rue de la Vrillière, 1st Arrondissement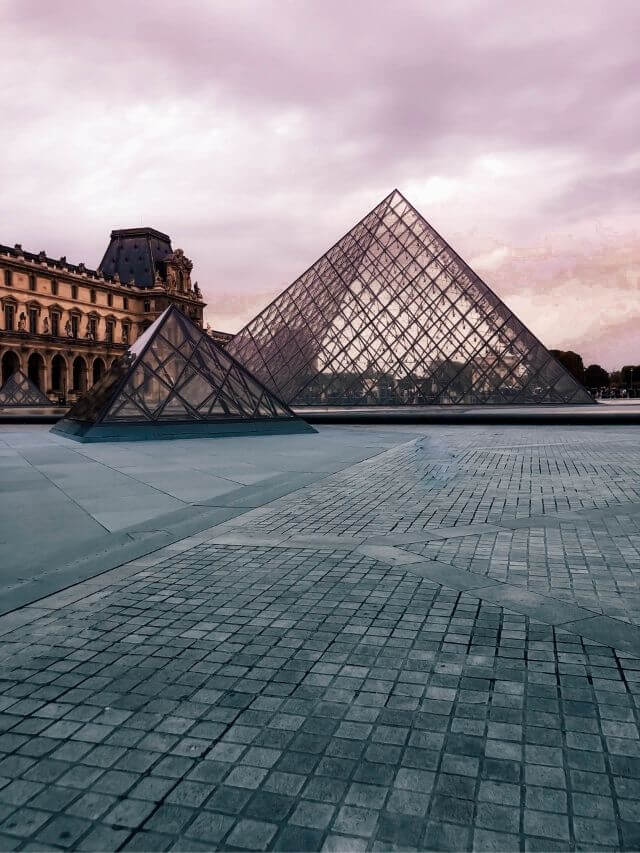 Looking for the best pho in town? Parisians will recommend Pho 14! The quick service for a large bowl of pho, who would not want to dine here, especially for people who are really hungry and need a hearty meal fast.
You can get a large bowl for as low as 9 €. Also, don't be afraid of getting a good bowl of pho with the long lines. Besides Parisians, experienced travelers also head to Pho 14 because of the great reviews.
Location/s: Quartier Chinois 129 avenue de Choisy, 75013
Near the Louvre Museum is another Japanese restaurant called Kunitoraya. They have the best udon varieties in Paris. Also, don't miss out on their Japanese fried chicken (karaage). With udon bowls as low as 10 €, it is the perfect go to for a warm meal in a rainy season.
Location/s: 5 rue Villedo, 75001 Paris
Another Japanese food stop is Higuma. With fresh ramen only at 8 to 11 €, Parisians and travelers wait in line. But don't let that stop you, too, since they serve ramen fast! They also serve rice-bowl dishes (donburi), Japanese curry, and stir-fried meals (itamemono).
Location/s: 32bis Rue Sainte-Anne, 75001 Paris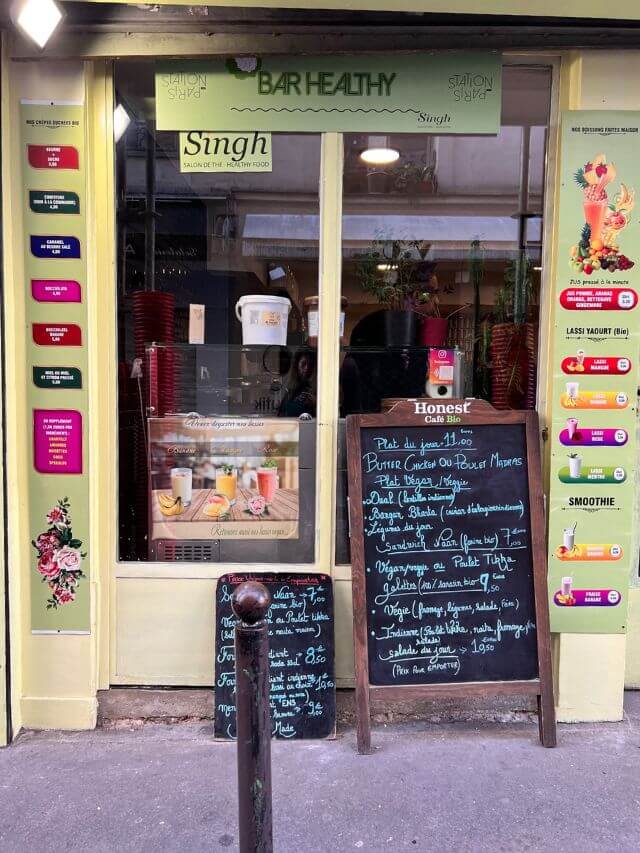 Bien Bien is your go-to stop for Thai food near Louvre Museum. From spring rolls to hot pot, you can get affordable Thai dishes for as low as 7,50 €. It is one of the best Thai restaurants in Paris, perfect for travelers on a budget.
You need to move fast when you want to dine here since it is a popular restaurant even among locals. But you can always eat at Bien 2, which has the same menu but is 19 minutes away.
Location/s: 30 bis, rue Bergere, 75009 Paris
Les Pâtes Vivantes is an affordable Chinese restaurant near Louvre Museum. How fresh are their noodles? You can actually watch the chef create fresh noodles near the windows.
Their two course meal cost as low as 13 € and other dishes are under 10 €. Their menu is vast! With so many options, I suggest checking out their menu and finding out what you want to order.
Another idea you should consider is the season. The Les Pâtes Vivantes often have special dishes over the winter. You may want to spend a lot with all the tasty-looking pictures of their meals here.
Location/s: 46 Rue du Faubourg-Montmartre, 9th Arrondissement
3 Rue de Turbigo, 1st Arrondissement
The place is packed with Parisians; believe me, it is a good sign that the food tastes good here. They have daily specials for as low as 18 € with their starter costs as low as 8 €. The bistro also has a great selection of salads, desserts, and wines!
Location/s: Rue des Capucines, 75002 Paris
Sandwiches were our go to when we traveled to Paris for the first time, and to tell you the truth, there are a lot of places that sell them. But one that stuck in our memories is the Italian sandwiches at Mmmozza that cost around 5,50 €.
They also offer wines, coffee, pasta, and a charcuterie plate! Get the charcuterie plate and a sandwich for a picnic or when you want to eat outdoors.
Location/s: 57 rue de Bretagne, 75003 Paris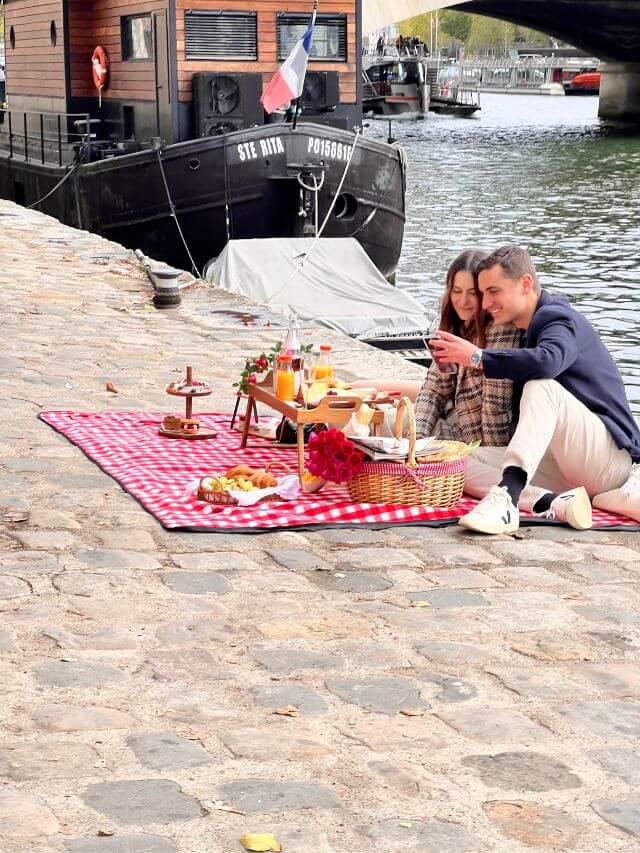 How to Eat Good and Cheap in Paris?
It is hard to balance a great food and tourist experience when in Paris on a tight budget. If you have finished reading our recommendations, here are other ways for you to eat good and cheap in Paris!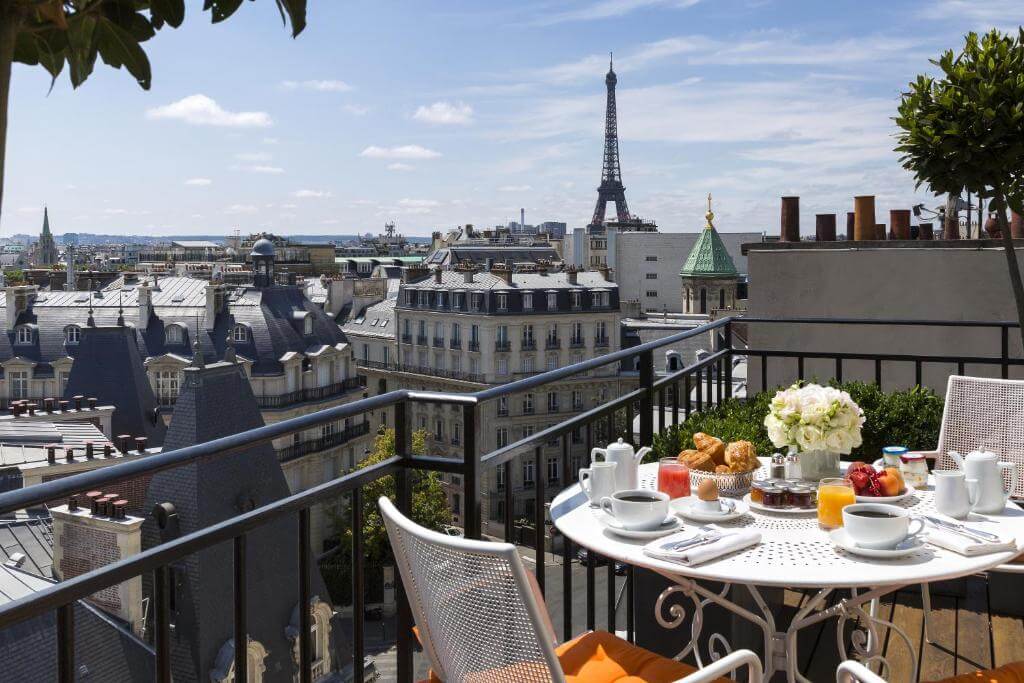 Get accommodation in Paris with breakfast or rent a space with a kitchen. Hotels with breakfast or B&Bs save you time looking for a place to eat and get you full in the morning.
Eat breakfast like a Parisian. Make your breakfast simple with slices of baguette and butter. If you want something savory, go for crepes!
Eat out during lunchtime. We all want to experience a romantic dinner in Paris. You can try to do it on your last day. Lunch menus are cheaper than dinner menus.
Go for a formule. While you can always pick an entree, main course, and dessert separately, one thing we learned after visiting Paris is their set menu. Usually, they offer less flexibility with the choices. Restaurants often have 2 to 3 courses and some options for changes.
Choose À Emporter. Not all restaurants offer this option. When they do, most of the time, the food to go is cheaper.
Go to local favorites or try street food. They are cheaper and often have long lines, but the menus are often written in French.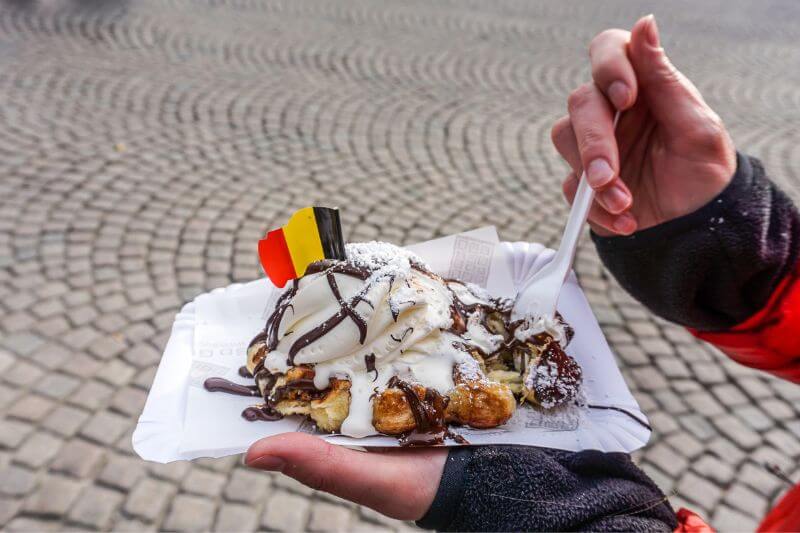 Check your destination and the streets you will be passing by. If you want to try a good mix of affordable food, map your destination and look for the restaurants you will see along the way.
Always check for promotions. Once you list your preferred restaurants, always look for discounts and other promotions. This way, you can spend less by getting more. You can stay connected online when you get a French sim card at Holafly!
Where To Eat Cheaper In Paris?
The 7th and 9th Arrondissements have the most affordable restaurants in Paris. You can walk along these famous streets in Paris and have a budget food tour and eat deliciously!
If you are a student, you have to go to Rue Mouffetard, there you can find "formule" starting at 5€. Cheaper than that, you can't find anything!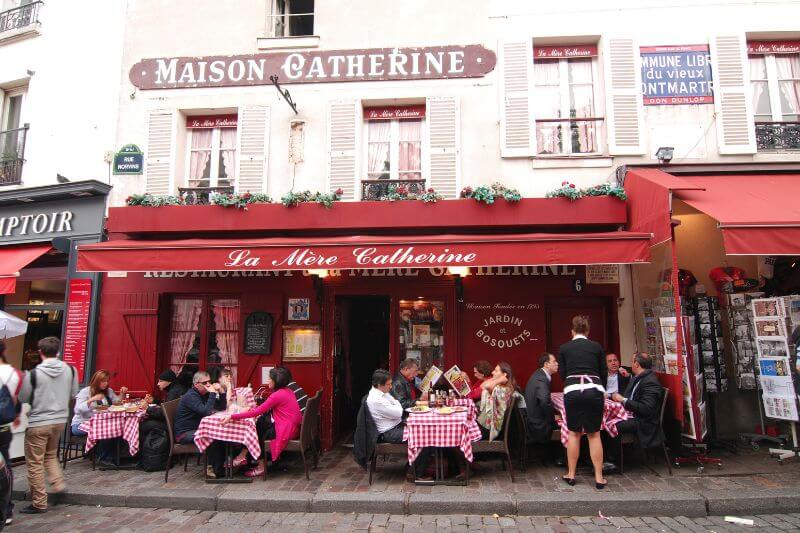 If you are looking for where to eat in Paris on a budget, you can check out these affordable restaurants. Hope you found restaurants from our guide that you can pass by going to your destination.
Plan Your Trip to Paris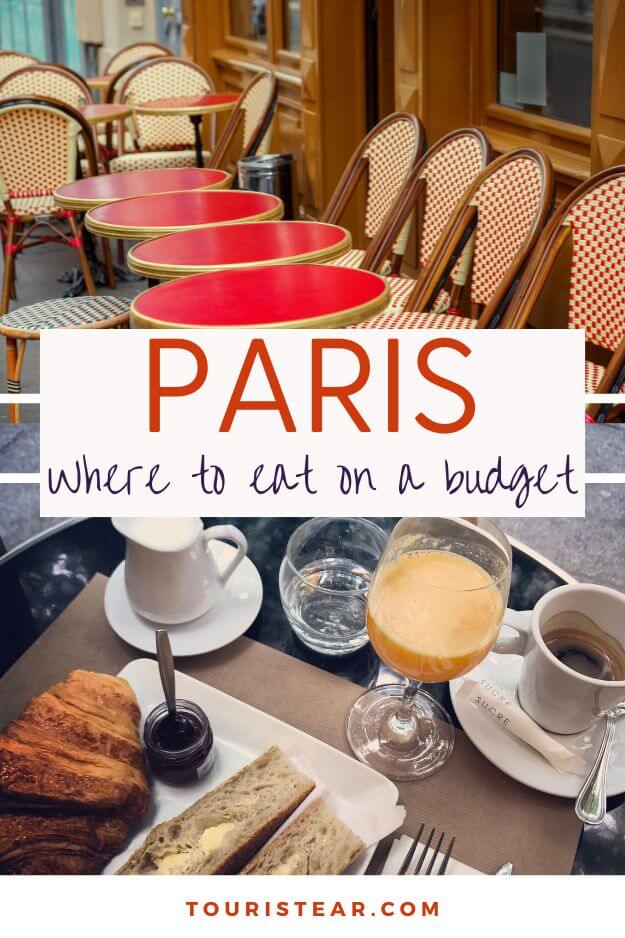 This post may include affiliate links. This means that we will receive a small fee if you make a purchase through our links. It has no additional cost to you. It's a win-win!