Cheapest Places to Visit in France: Budget-Friendly Destinations
When planning a trip to France, you might be surprised to find there are many affordable destinations to explore.
This beautiful country is known for its rich history, exquisite cuisine, and stunning landscapes – and many of its lesser-known cities and regions offer these experiences without breaking the bank account.
In this article, we will introduce you to some of the cheapest places to visit in France, helping you make the most of your travel budget.
You can still enjoy a memorable French vacation while staying in cities often overlooked by tourists. Places like Montpellier, Bordeaux, Nancy, and the Lorraine region offer a more cost-effective way to experience the beauty and culture of France.
By venturing off the beaten path, not only will you save money, but you will also get to discover the diverse regions of France, each with its own unique charm.
Believe us when we tell you that your French adventure doesn't have to be that limited by your budget. With some careful planning and a willingness to explore lesser-known destinations, you can have a fulfilling and affordable trip.
So pack your bags and get ready to uncover the hidden gems of France at a fraction of the cost.
Best Time to Visit France on a Budget
Visiting France during the off-season or shoulder season can help you save money and enjoy a more affordable vacation.
The off-season, typically from November through March, is when many hotels significantly reduce their rates, allowing you to experience the beauty of France on a budget.
While the weather can be chilly, especially in Paris and northern France, the advantage of this period is that tourist attractions are much less crowded.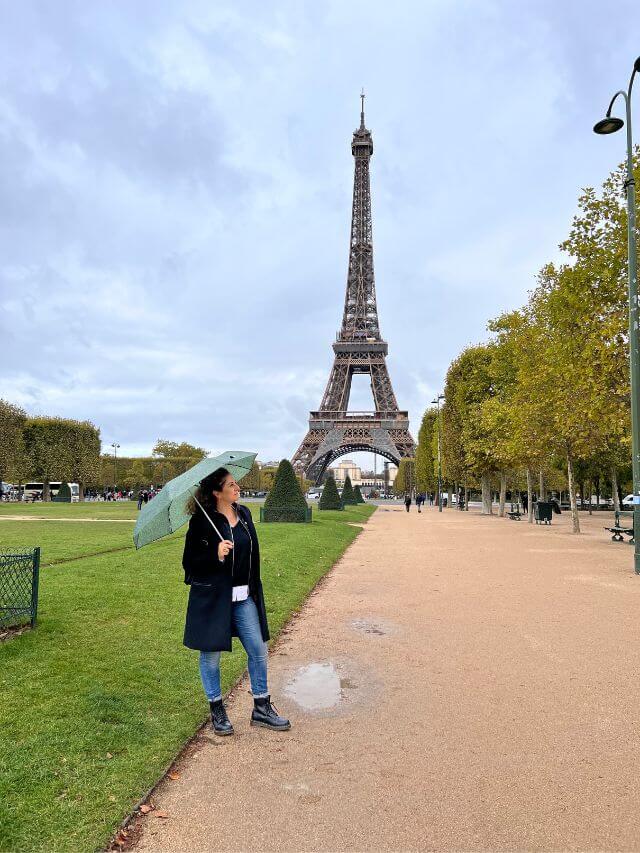 On the other hand, the shoulder season falls between the peak season and the off-season, which is typically during the months of April, May, September, and October. These months offer a balance between more moderate weather and lower prices.
Many travelers find the shoulder season more comfortable for exploring, as the temperature and humidity are often more bearable than during the peak summer months.
Here are some tips to help you make the most of your budget travel to France during the off- and shoulder seasons:
Accommodations: Look for off-season hotel discounts and consider staying in guesthouses or renting apartments to get the best deals. Also, book in advance, and check out if there aren't events, such as Fashion Week, Roland Garros, Film Festival, etc.

Transportation: Book your flights, train tickets, and car rentals in advance to take advantage of early bird discounts. Traveling by bus (Flix Bus or BlaBlaBus) is another cost-effective alternative, as well as sharing car (covoiturage in French) apps like BlaBlaCar. Actually, sharing a car is cheap, well accepted, and promoted by the government by giving an extra amount of money to the car owner who shares their car with others. 

Attractions: Many museums and attractions offer discounts during the off- and shoulder seasons. Research in advance to find the best deals and make a list of must-see places. But be careful, during the months of November, December, or January some attractions can be closed, check in advance.

Activities: Explore the outdoors during the shoulder season with picnics in parks, nature walks, cycling, or hiking, which can be more relaxing and enjoyable without the summer crowds.

Dining: Eating out in France can be pricey, obviously always depending on the restaurant, but as a general rule, you will not eat in a restaurant for less than 20 euros and if you like wine it can easily rise to 40 or 50 euros. You can save money though by shopping at local markets and preparing your meals or opting for budget-friendly bistros and sidewalk cafes.
Remember to consider your own preferences and interests when deciding when to visit France, as the best time will vary depending on the activities you want to experience and the level of comfort you desire.
By planning your trip wisely, you can enjoy France's beauty and culture without breaking the bank.
Printable
Outfit Planner
EXTRA TIP: plan what you will wear in advance so you take everything you need and do not have to make extra expenses at the destination. You can download the PDF here; the price is up to you!
Top 10 Affordable Cities and Regions
Paris
Let's be honest; Paris is expensive, period. However, there are ways to enjoy the city on a more affordable budget.
For accommodation, consider staying in a hostel or a budget hotel outside the touristy areas.
You can search in Nanterre, Rueil Malmaison, or the southwest, we strongly advise against staying in certain areas like St Denis, and the arrondissement of the northeast (north of the 18th, 19th, and 20th).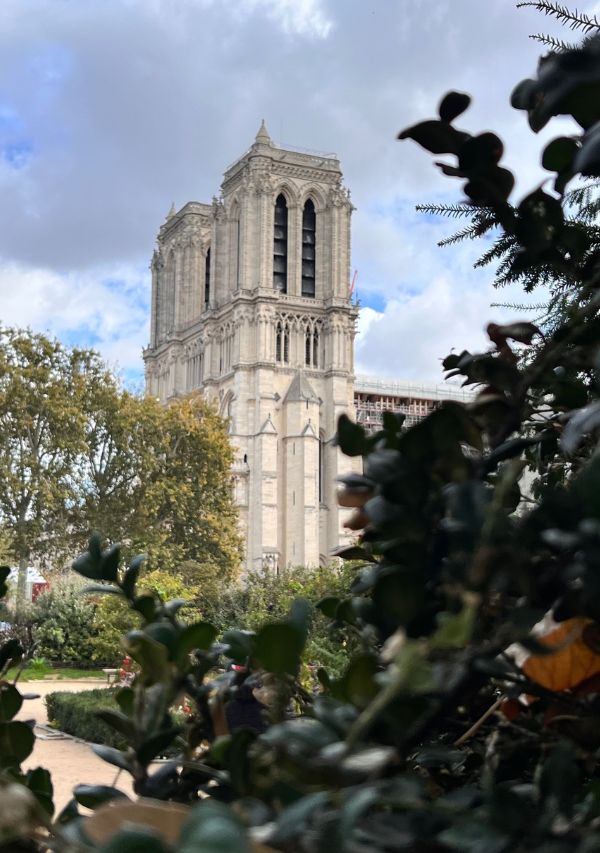 You can save on transportation by walking or using public transportation in Paris. The city invested a lot of money in bike lanes in 2022 and 2023, so rental electric bicycles are a great way to know the city and move around. Be careful with the traffic, it is a bit crazy in Paris.
Regarding electric scooters, Parisians have voted against electric scooters for rent, and they are going to be retired from the streets gradually.
Discover free attractions such as the outside Notre Dame Cathedral, Montmartre, Trocadero, Champs de Mars, Les Invalides, or the Luxembourg Gardens.
Visit museums with free entry, or plan your trip to coincide with the first Sunday of the month when many museums offer free admission including the Louvre Museum or Orsay Museum.
Nice
Nice offers many affordable accommodations, and hostels are concentrated in the Old Town area.
You can find as well some affordable rooms or bed & breakfasts. The last time we visited Nice we stayed in a room in a Bed & Breakfast in the old town of Nice, and it was great for less than 70€.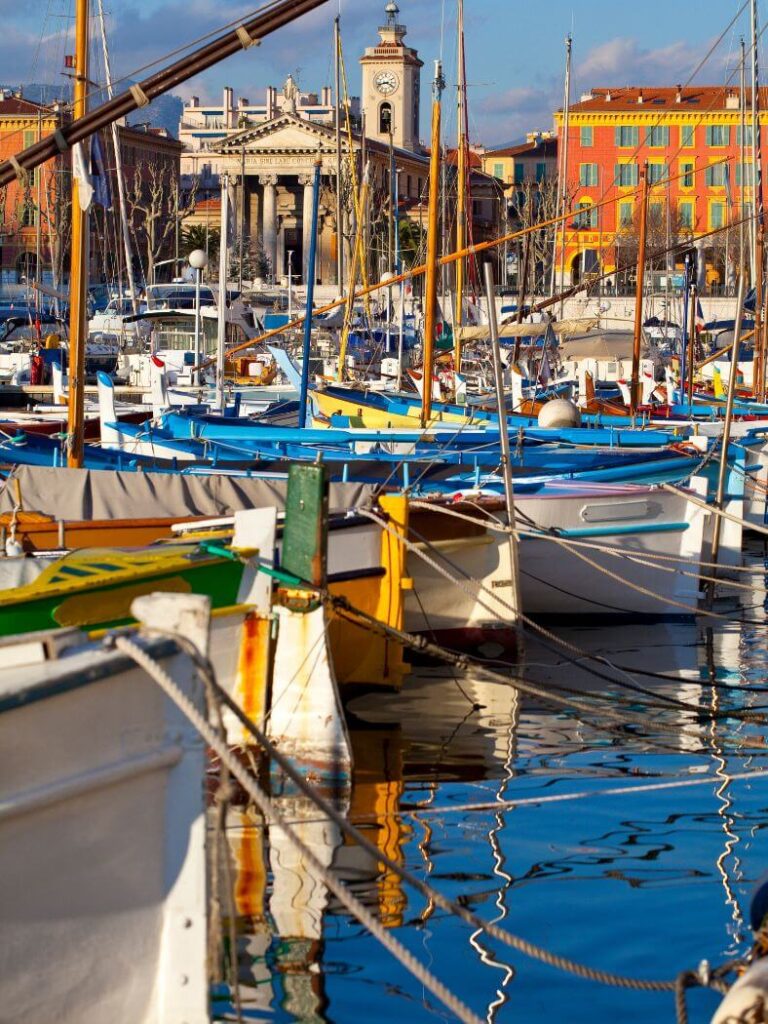 Enjoy the beach without paying for a sunbed by bringing your own towel and visiting the public beaches.
Don't miss the chance to stroll along the Promenade des Anglais or explore the local markets which offer a great variety of tasty and budget-friendly food.
Bordeaux
In Bordeaux, timing is key. In September a room, even if it's a hostel will not cost less than €100 per night and in October you can find places to stay for €40 or €50 per night.
Take advantage, of the beautiful downtown and its world heritage circuit for free, and enjoy beautiful places such as the Monument to the Girondins, the cathedral St-André, the Miroir d'Eau or La Place de la Bourse.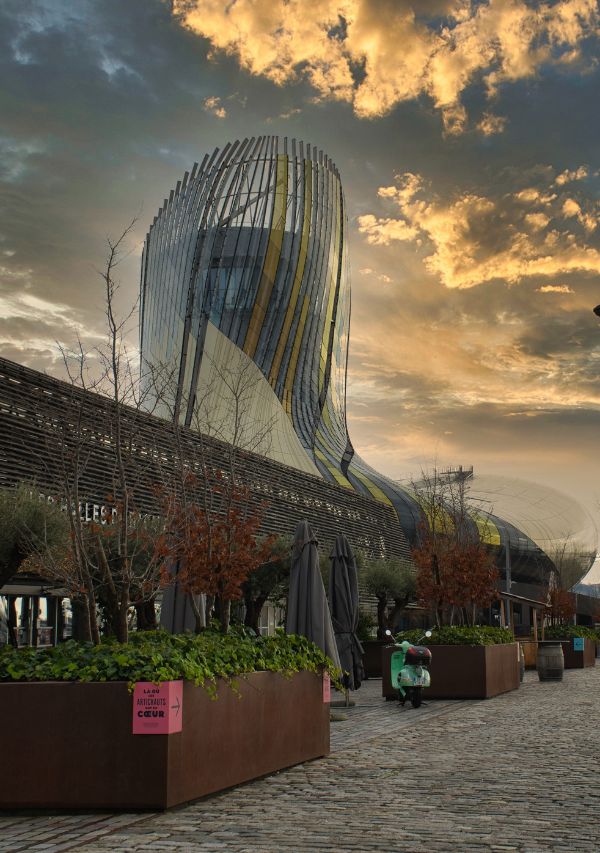 If you don't fancy a restaurant, you can go to the Bordelais Public Garden where you can unwind and have a picnic.
By the way, you can explore the city on foot easily. No need for a taxi or any other way of transportation.
Lyon
Despite Lyon is one of the biggest cities of France it still can be affordable and offers a range of hostels and budget hotels for every budget.
Flying to Lyon from other airports in France or Europe is cheap and the train connection is really good as well but you can use Blablacar if you want to save money.
Food in Lyon is a culture itself, you can visit a "Bouchon" which is the typical restaurant of Lyon and it is not that expensive. If you don't have the budget, you can always grab a sandwich or a salad from local bakeries (boulangerie).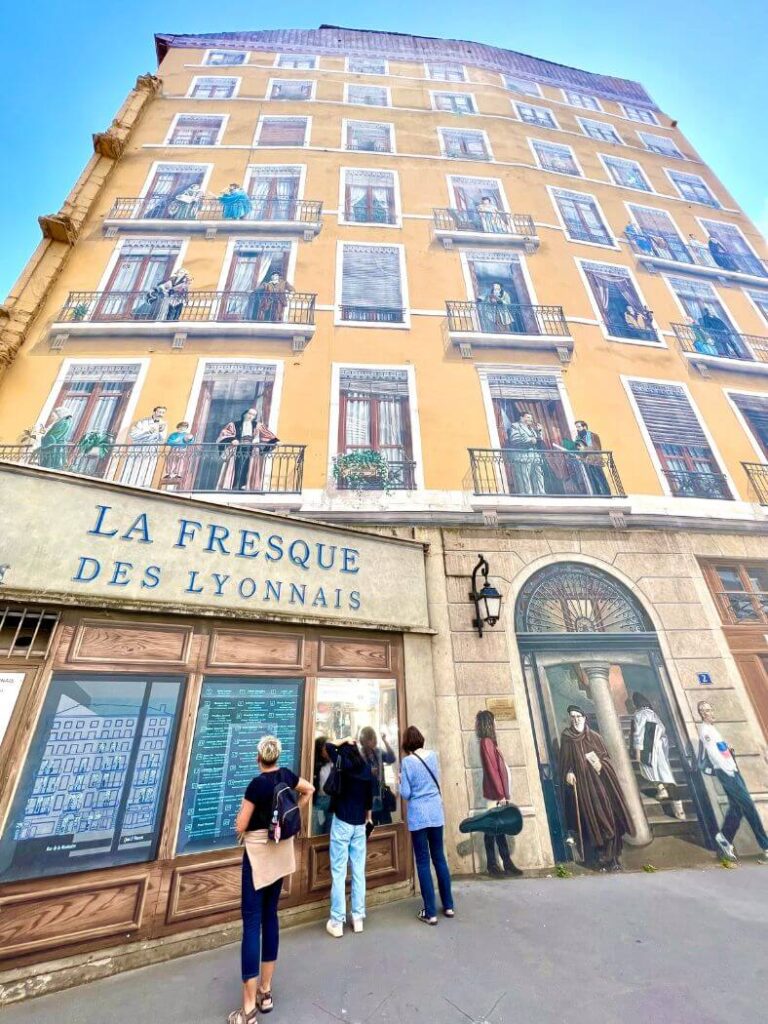 Boulangeries are an institution in France, you can always have multiple options of Sandwiches with a drink for less than €6.
Don't forget to explore the picturesque local neighborhoods, like La Croix-Rousse, which offers free access to its fascinating traboules, the Cathedral, the Basilica of Notre Dame de Fourvière, the famous murals (the most famous is The Fresque des Lyonnais) and Bellecour square.
You can book a free walking tour with a local guide who speaks English.
Marseille
In Marseille, finding budget accommodations in the city center or near the Old Port it's not difficult; just depends on the month of the year.
Explore the historic Le Panier district with its narrow streets, colorful houses, and unique shops. Enjoy free attractions, such as the Basilique Notre-Dame de la Garde, and the scenic Calanques National Park (the best moment is the sunset), accessible by public transportation.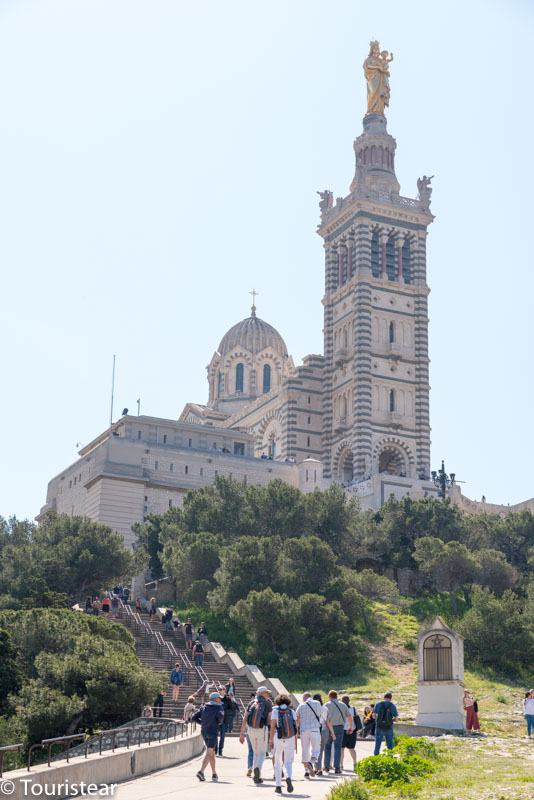 Also, you can book a free walking tour, rent a bike or get the Marseille City Pass.
Loire Valley
The Loire Valley is a great option on a budget, with its many affordable accommodations like guesthouses and B&Bs.
Loire Valley is a very large region so you will need to decide where you want to go.
Nantes is a very good option if you want a side trip to Mount St Michel, and if you want to enjoy the Machines of Jules Verne.
Tours is a fascinating option that allows you to visit the charming local towns, villages, and castles, or rent a bike to explore the peaceful countryside.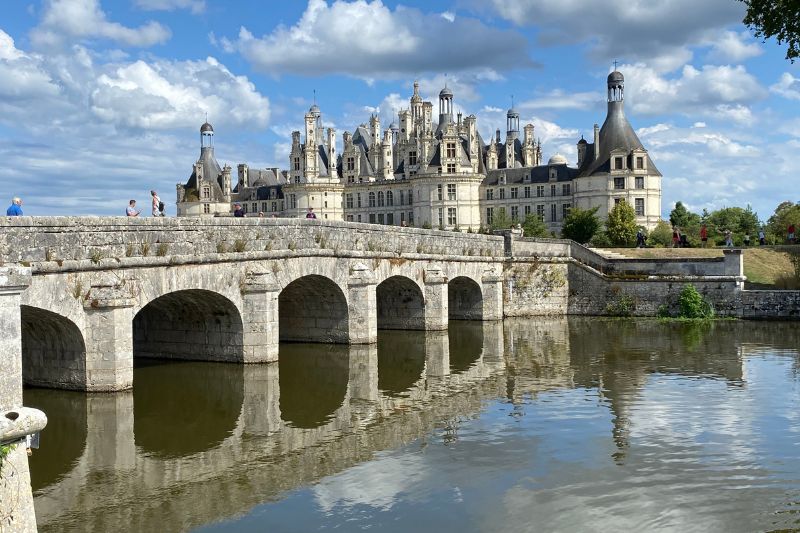 You will have several castles near Tours, the most famous are Chambord and Chenonceau, but they are not the only ones. The Chateau of Azay-le-Rideau or the Chateau of Clos-Lucé where Leonardo da Vinci passed his last days are also a fantastic plan.
Normandy
Normandy is a fantastic region to visit and know France better without suffering the high costs of Paris.
Normandy is a huge region, with a lot of things to do and places to visit, for starters, you have Mount St Michel in the west limit of Normandy.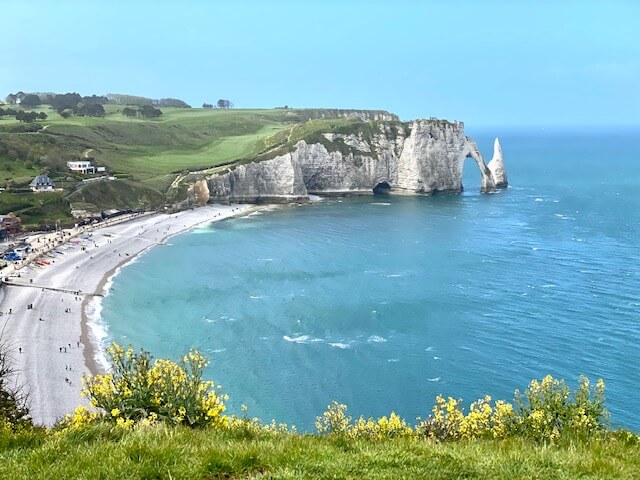 Visiting Mount St Michel is free; you will have parking fees if you go by car and pay a ticket to visit the monastery on the top.
You can visit the D-Day beaches, or Caen and Rouen, passing through Etretat one of the most beautiful towns of France, or Honfleur with its beautiful port.
If you love cheese, this is one of your favorite regions and you can visit the town of Camembert, Livarot, Pont-l'Eveque, or Neufchatel, the 4 world-known cheeses of Normandy and France, of course.
Alsace
Alsace is not an affordable region to visit, but you have many places to enjoy for free. Browse the charming local markets and try the local cuisine at a variety of budget-friendly restaurants.
Visit the region's scenic villages and vineyards, and explore the city of Strasbourg on foot or by using public transportation.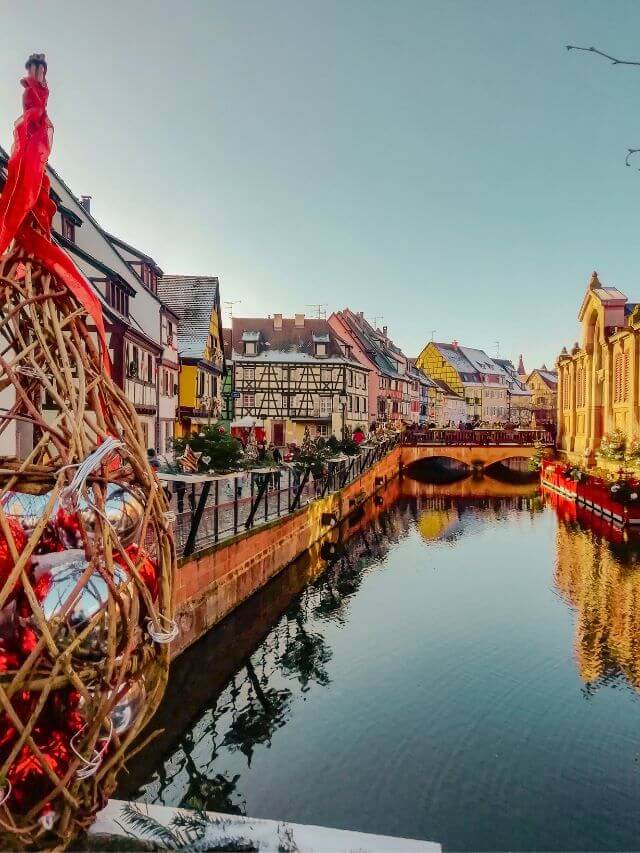 You can book a free walking tour in Strasbourg or Colmar, and walk around one of the most beautiful villages in France, Riquewihr. Visit many towns as you can and if you can afford it, make a wine tour.
Toulouse
Toulouse is a beautiful city located in the south of France and it has many things to do for free, like visit the old town and Place du Capitole. You can admire the beautiful architecture and people-watch, and soak up the lively atmosphere without spending a penny.
Walk along the Garonne River, stroll through the Jardin des Plantes, or explore the historic city center. Visit interesting museums, such as Les Abattoirs, which offer free admission on the first Sunday of each month.
Visit the Basilica of Saint-Sernin: This ancient Romanesque church is a UNESCO World Heritage site and is free to enter. Explore its impressive interior and learn about its history and significance.
Discover the street art in Toulouse: Toulouse is known for its vibrant street art scene. Take a self-guided tour through the city and admire the colorful murals and graffiti art adorning the walls.
Visit the Musée des Augustins: This art museum is housed in a former Augustinian monastery and offers free admission on the first Sunday of each month. Explore the collection of medieval and Renaissance art, including sculptures and paintings.
Experience the local markets: Explore the bustling markets of Toulouse, such as the Victor Hugo Market or the Saint-Cyprien Market. You can browse through fresh produce, local delicacies, and unique crafts, even if you don't make a purchase.
Enjoy a picnic in a park: Toulouse has several parks and green spaces where you can relax and have a picnic. Bring along some local goodies and soak up the sun while enjoying the surroundings.
I can keep going talking about this awesome city, but I think you have an idea of what you can do here without breaking the bank!
Montpellier
Montpellier offers plenty of affordable and enjoyable activities that won't empty your wallet. You can start by exploring the city's historic center, known as the Ecusson. Wander through its narrow streets and admire the beautiful architecture, from medieval buildings to elegant mansions.
Take a relaxing stroll in the Promenade du Peyrou, a park located on a hill offering stunning panoramic views of the city. You can also visit the nearby triumphal arch, Porte du Peyrou, and the impressive Saint-Clément Aqueduct.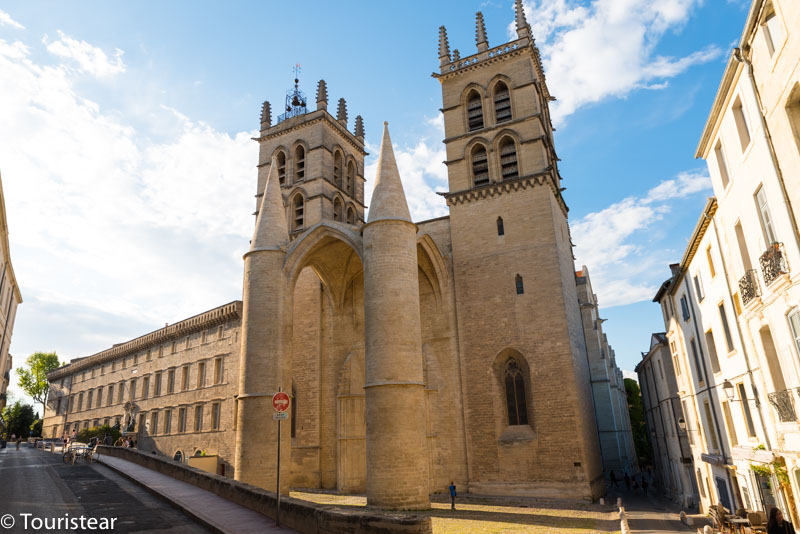 For art enthusiasts, the Musée Fabre is a must-visit. On the first Sunday of each month, admission is free. The museum houses an extensive collection of European art, including works by famous artists like Delacroix, Courbet, and Rubens.
Another great way to immerse yourself in the local culture is by visiting Montpellier's vibrant markets. The Marché des Arceaux, held on Tuesday and Saturday mornings, is a lively place where you can find fresh produce, local products, and delicious street food.
The Marché du Lez is also worth a visit, with its trendy atmosphere and various stalls selling vintage items, crafts, and organic products.
If you're a nature lover, head to the Jardin des Plantes, a botanical garden with free admission. It's a peaceful oasis where you can relax, take a leisurely walk, and admire the diverse plant species.
In the summertime, the city comes alive with festivals and outdoor events. Keep an eye out for free concerts, performances, and cultural celebrations happening around Montpellier.
From music festivals to open-air movie screenings, there's always something happening that won't cost you a fortune.
Lastly, don't forget to take advantage of Montpellier's proximity to the Mediterranean Sea. You can hop on a tram or bus and reach the nearby beaches like Palavas-les-Flots or Carnon. Spend a day sunbathing, swimming, or simply taking in the coastal scenery.
Budget Accommodations
When exploring France on a budget, you'll want to find affordable and comfortable accommodations that suit your needs. Here are some options to consider:
Hotels
Finding affordable hotels in France doesn't have to be a challenge. You can stay in budget hotel chains such as B&B Hotels, which offers good rooms at great value prices with 232 hotels all over France.
Prices for a double room in a budget hotel usually start around 60 EUR per night and include free WiFi and air-conditioning.
Also, you can find the F1 hotels, they are awful, but they are the cheapest hotels I have found in France, but let me be clear, they are awful. We stayed there once, the first time we visited Bordeaux, and it was the worst hotel I have ever stayed in but the cheapest.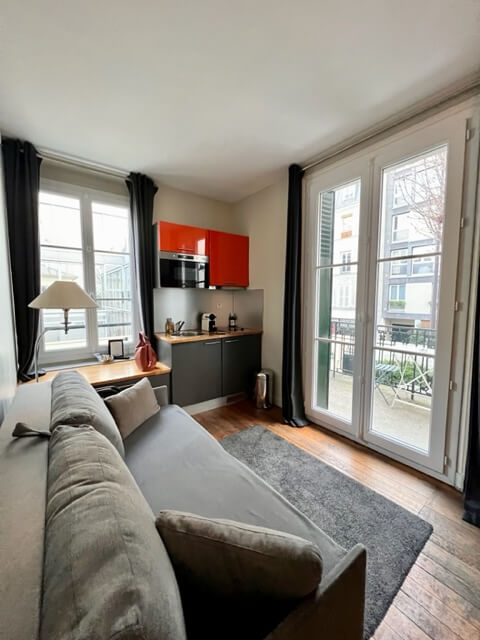 Bed and Breakfasts
Bed and Breakfasts offer a more personalized experience and can be an affordable alternative to hotels. Some characterful and affordable B&Bs are scattered across France, ensuring you find something that fits your taste and budget.
Airbnbs and Apartments
Renting an apartment can provide you with options for entire apartments, private rooms, or shared living spaces.
This can offer a more authentic experience while staying within your budget. Prices vary depending on the location and type of accommodation, but plenty of affordable options exist throughout France.
Check on booking.com, and book a few months in advance if you can.
Camping
For a more adventurous and cost-effective experience, camping is a great option. France has numerous well-maintained campsites, ranging from simple tent pitches to fully-equipped caravan parks.
You can either bring your own camping gear or find places that offer pre-setup accommodations.
Choose the accommodation that best suits your preferences and enjoy your time in France without breaking the bank.
Cheap Eats in France
In France, you can find plenty of budget-friendly options for food, without compromising on taste or quality. Here are some great ways to satisfy your hunger during your travels.
When looking for affordable restaurants, consider trying the local crêperies serving delicious crêpes and galettes. These versatile meals can be reasonably priced, often around €5 to €10, in almost every city and town.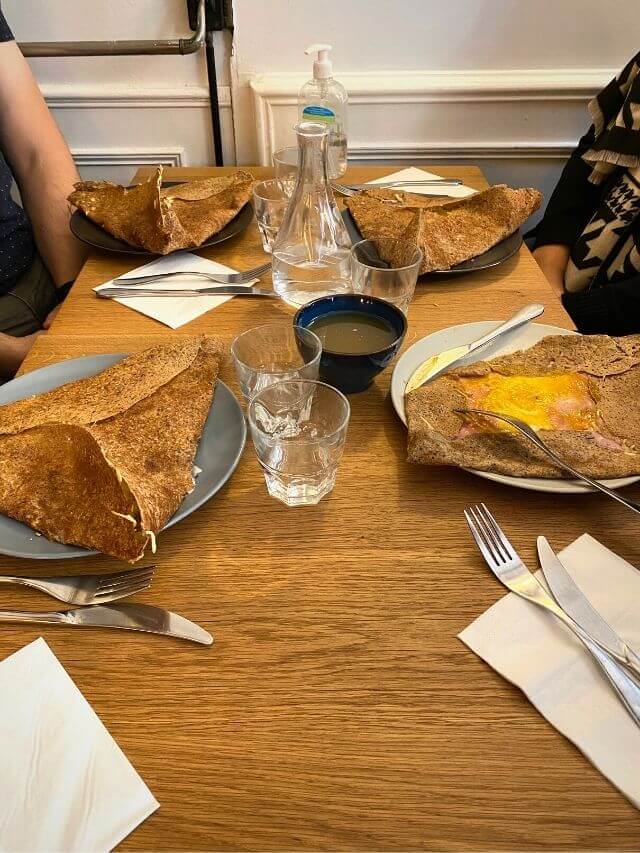 Markets are another great option for cheap yet high-quality food. France is well-known for its local markets, offering fresh products, cheese, bread, and pastries.
Stock up on these items and have a picnic in a park or scenic spot. You can also visit specialty shops to create your own cheese platter, a beloved French tradition.
If you prefer cooking your own meals, book accommodations with an equipped kitchen. This will enable you to shop at local markets and grocery stores, where you can find fresh ingredients to create delicious and budget-friendly meals.
Planning meals ahead and purchasing local and seasonal ingredients will help you save even more.
In Paris, you can find many budget-friendly eateries like street food vendors, delis, and bakeries, where you can enjoy a tasty meal for less than €10.
Look for ethnic restaurants, particularly in more diverse neighborhoods, which often offer affordable and delicious meals.
Tips and Tricks for Saving Money
When planning your budget holiday in France, there are several ways to save money while still enjoying the stunning coastlines, historical sites, and beautiful towns. Here are some tips to make the most of your trip:
Choose affordable destinations: Some regions in France can be quite expensive, but others offer great value for your money.

Travel during the low season: To avoid peak season prices, plan your trip during the off-peak months. Not only will you save on accommodations and transportation, but you'll also experience fewer tourists in popular destinations like Avignon and the D-Day beaches.

Take advantage of free activities: Many attractions in France offer free admission or discounted rates on certain days. For example, some museums have free entry on the first Sunday of the month. Be sure to research your destinations in advance to find out about these deals.
Use public transportation: France has an extensive public transportation network, so consider using it to travel between cities and towns. Trains and buses can be significantly cheaper than renting a car or taking taxis.

Stay in budget accommodations: Cut your accommodation costs by choosing budget options like Logis, which are family-run hotels found throughout France that offer reasonable prices and unique experiences.

Eat wisely: Savor French cuisine without spending a fortune by opting for prix fixe menus, which offer a set price for a starter, main, and dessert. Avoid eating in touristy areas and try local bakeries and markets for fresh and affordable food.

Skip designer boutiques: If shopping is on your agenda, avoid high-end stores and focus on local markets and vintage shops where you can find unique items at lower prices.
By following these tips, you can have an unforgettable experience in France without straining your budget. Enjoy your travels and soak up the rich culture and history the country has to offer.
I'm going to expand this article to help you find the best place at the best price in France. If you have any questions, write a comment below!
Plan Your Trip to France
This post may include affiliate links. This means that we will receive a small fee if you make a purchase through our links. It has no additional cost to you. It's a win-win!