Visit the Calanques National Park Cassis Marseille
Today we drive to the Côte d'Azur. Specifically, we will talk about the Calanques National Park located south of the city of Marseille.
This place was declared a National Park in 2012, and since then, it has become a tourist attraction for thousands of visitors.
What to Know about Calanques?
This extensive natural Park of more than 8,500 hectares of land and 43,500 hectares of aquatic area makes it a unique place in Europe.
The combination of giant mountains, small fjords, and estuaries throughout the three municipalities that comprise this Park makes it a magical place that you could never have imagined.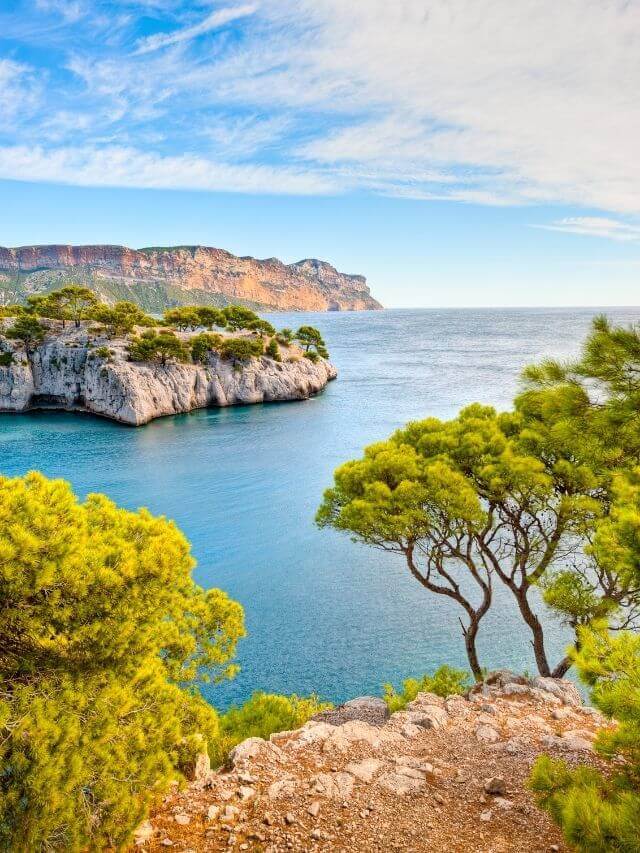 The color of the stone from the mountains surprises with that light grayish color, almost white, that shines on sunny days and contrasts with the turquoise color of the sea.
Calanques is a place where the biodiversity of flora and fauna prevails, and that is why there are more than 100 protected species in its land area (animals and plants).
And 60 protected marine species that include some types of dolphins and sea turtles.
It is surprising to see puffins and even some kind of eagle as you pass through the paths of these coastal massifs that remind us that you are in a natural and wild place.
Calanques is made up of rock, sea, and vegetation. A curious fact is that this natural beauty was formed about 120 million years ago in the Cretaceous era, just after the extinction of the dinosaurs.
That is why it has that type of limestone that is very difficult to find in other parts of Europe but easy to find in some coastal areas of the Mediterranean.
The sea is a calm sea reserved from the winds thanks to the large massifs that hug the coast.
This favors a lot of marine life where countless protected species reproduce and create a unique marine ecosystem on the coast of France.
The Park's flora includes more than 900 different species, including types of vegetation that survived the ice age.
Although some describe this landscape as arid, the truth is that most of the Park has a striking green where large trees, shrubs, and some plants capable of living on the coast and surviving the concentration of salt stand out.
Risk of Fire
We recommend not visiting the Park in August because some parts are closed every year due to fire risk on these dates.
High temperatures at certain times of the summer have caused some fires in the past.
However, the entire Park is usually open for the rest of the year, and you can swim even in the most remote cove.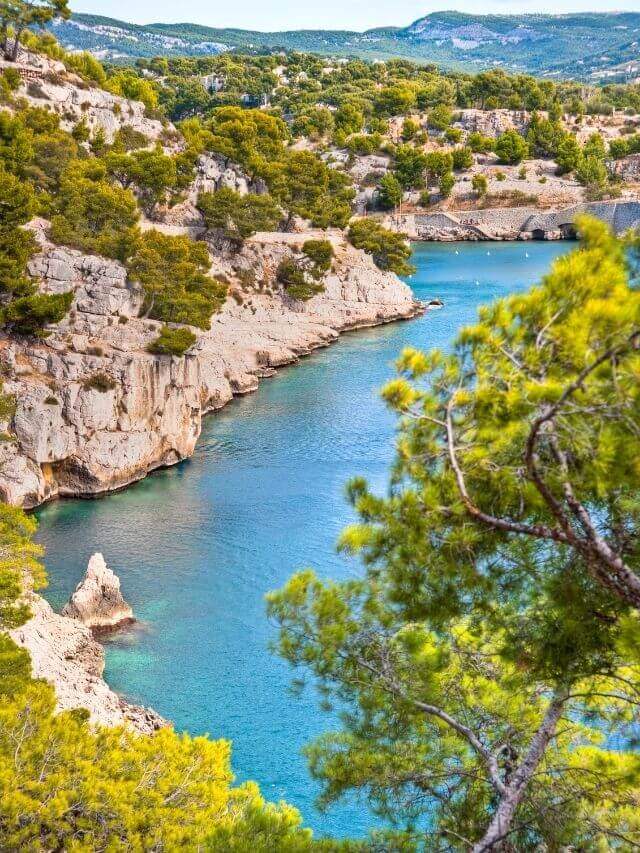 How to Get to Calanques
The Calanques park is located on the outskirts of Marseille, which makes it a very accessible place for any visitor.
Marseille Airport is not far away, and the city of Nice is also quite close and has an airport that is very well connected to many points in Europe.
Once in France, we recommend renting a car to visit Calanques and other parts of Provence, which are easier to get to with your own vehicle, although we must say that many tourist spots are very well connected by trains.
However, renting a car gives you more flexibility in planning your trip.
How to Go to Calanques from Marseille
Getting to Calanques from the center of Marseille will take no more than 35 minutes.
We recommend getting to the Park early, specifically to the Cassis area where there is more parking, to find a good place to leave the car and enjoy the place with few visitors, even for a few hours.
Keep in mind that parking is a bit expensive and we always have to pay for a few extra hours since there are several paths and so many coves we can get lost or even take longer due to the heat that it does in some periods of the summer.
However, there are other ways to reach the Calanques massif.
One of the options is to go by bus. From the old port area, it is possible to take bus number 83, which runs through the maritime area, and get off at the La Plage stop.
Once there, you must take the number 19 to Port de la Madrague. And finally, once you are at this last stop, minibus number 20 will be waiting for you, which will be the one that enters the Park and takes you to the Port de Callelongue.
Your bus trip ends here, and you will have to start walking along a path until you reach the Marseilleveyre cove, one of the best known in the entire Park.
The bus trip is quite long and tiring because, on the way back, you have to do the same itinerary in the opposite direction to get to Marseille. However, it allows you to enjoy good views throughout the entire trip.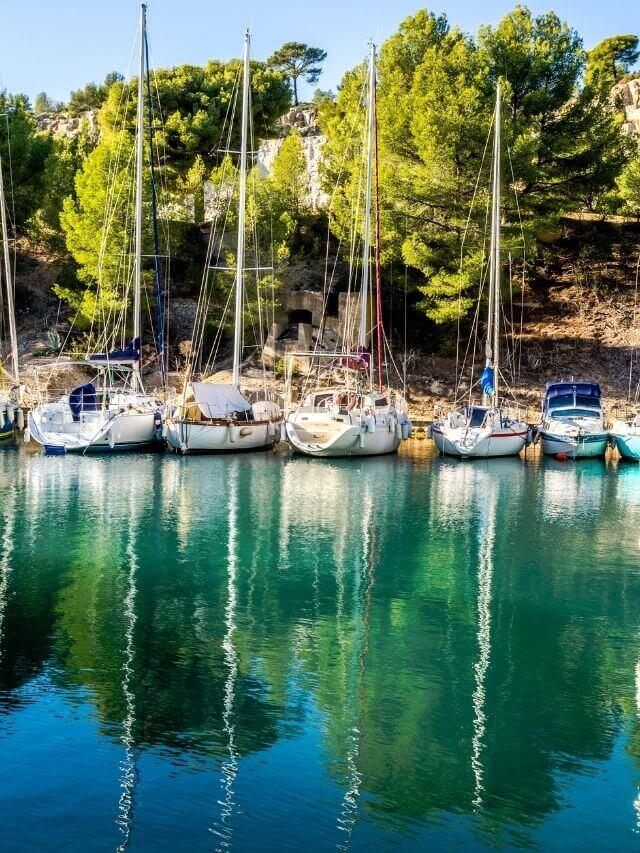 Excursions from Marseille
There are also organized Tours by some private companies that take you to the Park and follow a route of trails to enjoy the most beautiful coves of Calanques park.
If you go with tight time and stay in Marseille, this option is the most recommended since the prices are not exorbitant and it is really worth visiting the Park, even if it is for the morning.
How to Get from Cassis to Calanques
If you decide to make the trail from Cassis, we recommend doing the entire route on foot. Visit Port Miou, Calanque Port Pin and Calanque d'En Vau.
The road is not easy and lasts from 3 to 4 hours, depending on the stops you make and the pace you take.
It is very worth making this trail just for the beautiful views that you will see throughout the entire journey.
Tips for Visiting the Park
If you are thinking of taking a spectacular bath in one of the coves of Calanques, do not go so fast that I have to tell you something.
Some trails are not easy at all, so you must make sure you wear closed and comfortable shoes. Preferably mountain shoes.
Some tourists visit Calanques in flip flops, and many times they suffer or cannot reach some of the coves.
You will need to help yourself with your hands on some paths since you will have to climb a rock or take a small jump.
We want to invite you to bring the necessary luggage to not have a bad experience on your trek to Calanques.
Remember that none of the following things can be missing from your checklist:
Water: Make sure to bring a large amount of water. The weather changes very quickly in this area of the blue coast, and in some summer periods, the heat is almost unbearable, so try always to be well hydrated.
Comfortable clothes: Comfortable t-shirts that do not cause chafing to walk and good socks that do not hurt your feet since you will have to walk a lot on this adventure.
Sun cream: Even though the sun is not out, you should always use sun cream. The weather is quite ambiguous in this area, and the sun in places like this can be hazardous for an unprepared hiker.
Camera: The mobile camera, your reflex or go pro, any camera is worth immortalizing the beautiful landscape that Calanques gives us.
We invite you to take beautiful photos for yourself and not pay for a poor-quality tourist postcard that will end up in a stored drawer.
Garbage bag: It is essential not to forget to bring a bag to deposit all the garbage that we generate on our excursion.
Just as a traveler must enjoy this beautiful natural Park, it is also a responsibility to keep it clean so that others find it just as attractive as the visitors who were before.
Where to Sleep
In Cassis, you can find several accommodations, although prices skyrocket in the high season of tourism.
Therefore, if you only want to make a one-day visit, we recommend looking for accommodation in Marseille, which has a wide range and is well connected to Calanques park.
If you are touring the south of France by car, you can look for a campsite in the Cassis area or its surroundings to spend the night.
This second option is the most chosen by many young adventurers who only go to Calanques to enjoy the experience of sleeping near the Park and enjoying a sunrise with the Calanques park as a setting.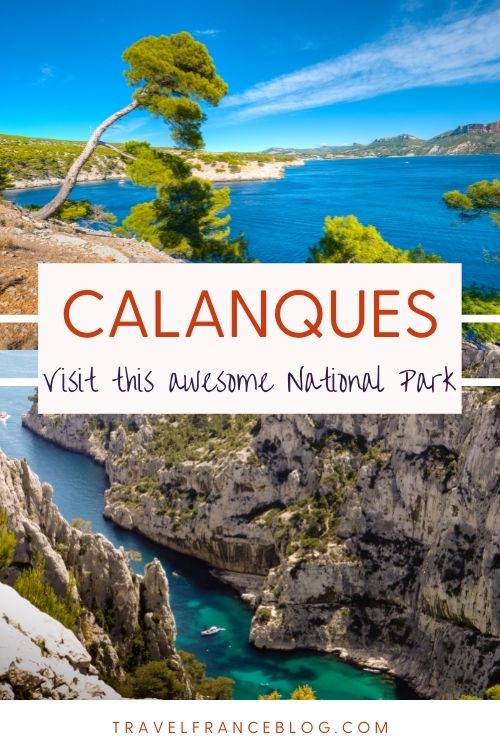 Activities to Do in Calanques
The Calanques National Park is full of beauty and invites tourists to do thousands of different activities.
As we mentioned before, there are day trips to the Park that leave from Marseille by bus, but you can also visit the Park by yacht or, a cheaper option, by sailboat.
It is quite an expensive activity, but if your pocket allows it, you will be amazed by the view of the fjords from the boat.
You can also rent a kayak in some Calanques coves. This activity is great fun for children and adults who love the sea.
The surface is beautiful, but the Calanques seabed is also beautiful, so we invite you to snorkel from the shore or from the kayak, where you will surely see some type of fish that you have never seen before.
Diving is also a very popular activity in this area. Many French people practice diving here because it is a protected and safe area due to the few currents.
This tranquility of the sea favors the practice of diving in this place that has a lot of marine life and even some sunken ships that we can visit if we go down to the depths.
Do not miss the opportunity to visit the Calanques National Park because it is a beautiful place to discover. The turquoise water will light up your eyes, and you will enjoy a full day full of exercise, relaxation at sea, and adventure.
Plan Your Trip to the South of France
This post may include affiliate links. This means that we will receive a small fee if you make a purchase through our links. It has no additional cost to you. It's a win-win!