Best Things to Do in Caen, France: A Quick Guide
Nestled in the heart of Normandy, Caen offers a perfect blend of rich history and modern culture, making it an ideal destination for your next trip or day trip from Paris.
As you stroll through its charming streets, you'll be captivated by the numerous attractions that showcase Caen's eventful past and vibrant present.
Delve into Caen's fascinating history with a visit to the Mémorial de Caen, where you can explore an underground bunker used during World War II.
Then, make your way to Caen Castle to admire the stunning architecture and take in the impressive collections at the Musée des Beaux-Arts and the Musée de Normandie. 
Don't forget to soak in the serene atmosphere of the city's beautiful churches, such as the Church of Saint-Georges.
Whether you prefer historical tours, cultural experiences, or simply enjoying the sights and sounds of this captivating city, Caen has something to offer for every traveler.
So pack your bags, and get ready to create memories that will last a lifetime as you explore the best things to do in Caen, France.
Historical Attractions
Chateau de Caen
When in Caen, you can't miss the Chateau de Caen, a castle built by William the Conqueror in the 11th century. As you stroll through its grounds, imagine the Viking influence on its architecture and the roles it played during the Norman Conquest.
Today, the castle houses two museums – the Musée des Beaux-Arts (Fine Arts Museum) and Musée de Normandie (Museum of Normandy) – showcasing regional history, culture, and artwork from the Middle Ages to the 20th century.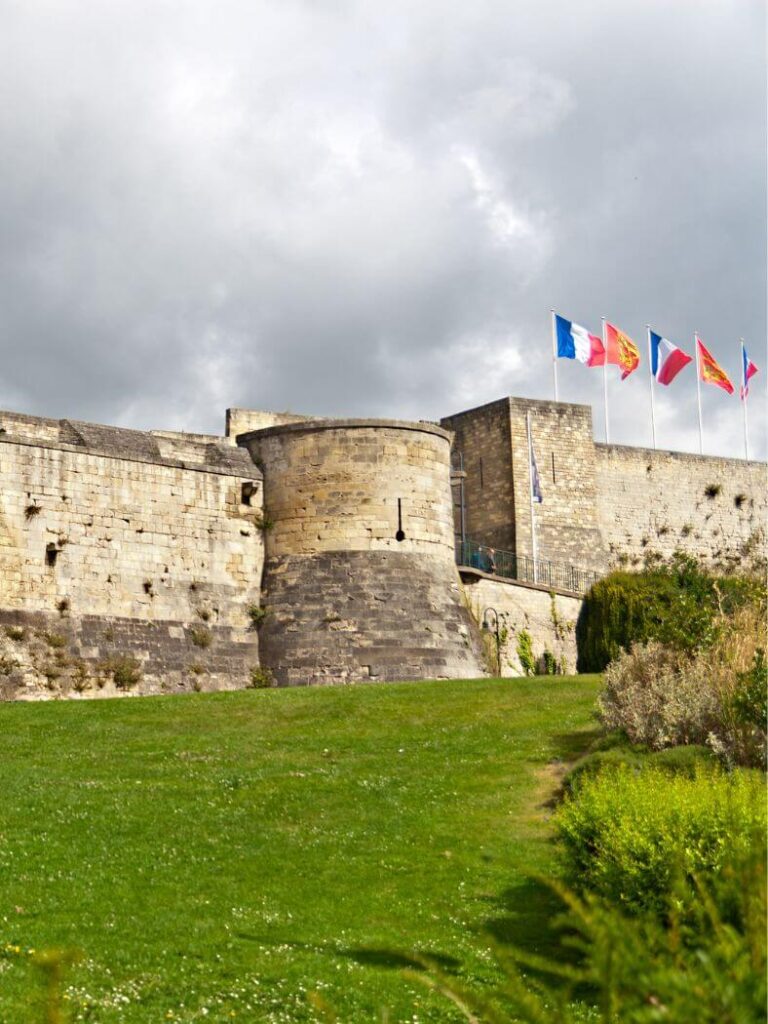 Abbaye Aux Hommes
Next, pay a visit to the Abbaye Aux Hommes, a Romanesque abbey founded by William the Conqueror in the 11th century. As you explore the monastery, marvel at its stunning architecture and the role it played during the Middle Ages.
Make sure to visit the Church of Saint-Étienne, where you'll find the tomb of William the Conqueror, the man responsible for the Norman Conquest of England in 1066.
Abbaye Aux Dames
Don't forget to stop by the Abbaye Aux Dames, another Romanesque abbey dating back to the 11th century and founded by Matilda, William the Conqueror's wife.
Within its grounds, you'll discover beautiful architecture and the final resting place of Matilda, who played a significant role in Norman history. Take a moment to appreciate the intricate details of the church and learn about its significance throughout the Middle Ages and beyond.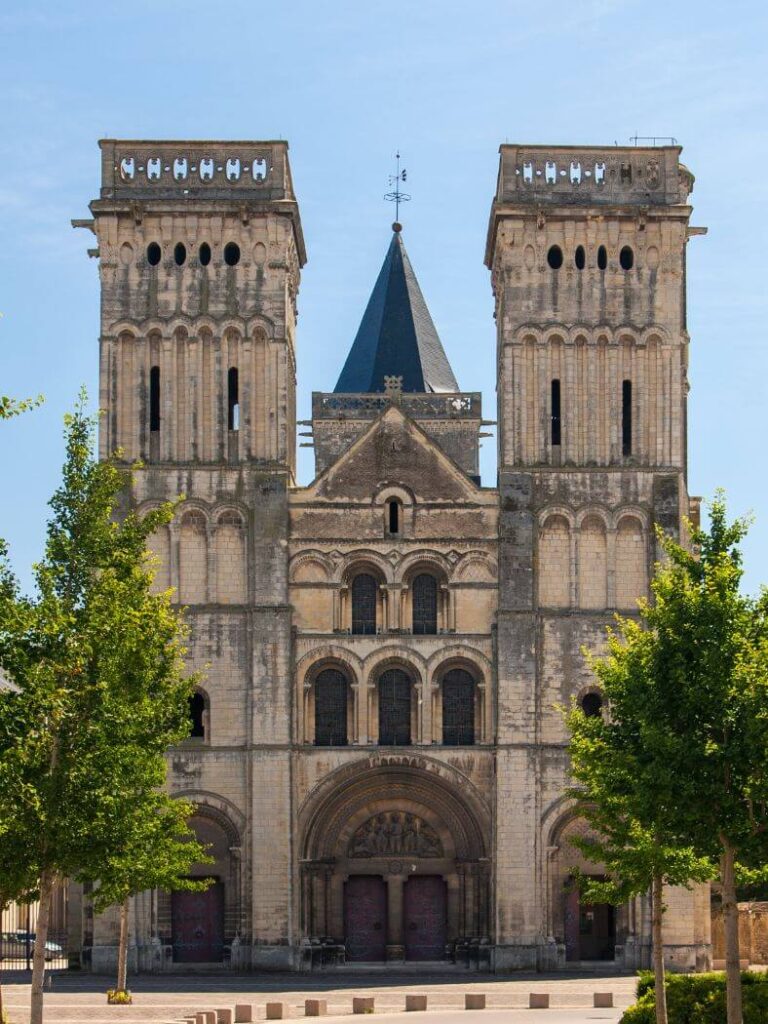 Tomb of William the Conqueror
While visiting the Abbaye Aux Hommes, remember to pay your respects to one of history's most influential figures, William the Conqueror, at his tomb.
As you stand in front of his simple grave marked by a marble slab, let your thoughts wander back to the time of the Norman Conquest, as this legendary ruler changed the course of history and shaped the Normandy region during his reign.
As you visit these landmarks in Caen, immerse yourself in the rich history of Normandy, and appreciate how its past has shaped its present. Embrace the historical atmosphere and let your imagination travel through centuries of fascinating events and stories.
Printable
Outfit Planner
EXTRA TIP: plan what you will wear in advance so you take everything you need and do not have to make extra expenses at the destination. You can download the PDF here; the price is up to you!
Museums and Exhibitions
Mémorial de Caen
When you visit Caen, the Mémorial de Caen is a must-see World War II museum. This incredible museum brings history to life with gripping D-Day exhibits and other displays that tell the story of WWII.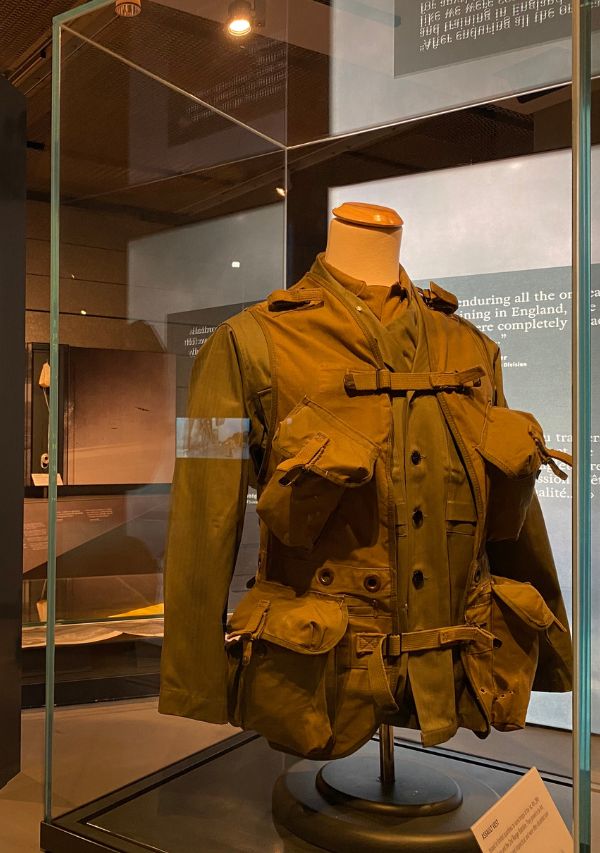 As you walk through the galleries, you'll gain an understanding of the causes and consequences of this major conflict. After browsing the exhibits, explore the grounds or relax in the cafe.
Make sure to allocate enough time for this comprehensive experience, as there's a lot to see and learn.
Museum of Beaux-Arts
Would you like to appreciate fine art during your visit to Caen? The Museum of Beaux-Arts, located inside the Caen Castle, offers a fantastic opportunity to explore both history and art dating back to the 15th century.
As you wander through the museum, you'll find impressive collections featuring paintings, drawings, and sculptures. Some of the exhibitions include works by renowned artists like Rubens, Bellini, and Monet. Don't miss the chance to appreciate these masterpieces up close.
Musée de Normandie
Situated within the Caen Castle as well, the Musée de Normandie is another must-visit history museum.
Here, you'll explore Normandy's rich and diverse cultural heritage through exhibits ranging from prehistoric to modern times. 
The engaging displays include archaeological artifacts, everyday objects, and folk art, providing you with a fascinating insight into the region's past. Some points of interest include:
Ethnography exhibits
Artifacts from the Celtic era
Medieval room with stunning architectural elements
Traditional Norman costumes and crafts
As you explore these exceptional museums in Caen, you're sure to have an unforgettable experience immersing yourself in the city's rich history, culture, and art. Enjoy your journey into the past!
Parks and Gardens
Caen offers several beautiful parks and gardens for you to explore during your stay. In this section, we will guide you through three popular spots which are perfect for a leisurely stroll and a break from bustling city life.
Jardin des Plantes
Botanical Garden
Rose Garden
Jardin des Plantes
Take a walk through the Jardin des Plantes, where you'll find a variety of flora and fauna set against a picturesque backdrop. This park is known for its well-maintained, manicured garden spaces that showcase beautiful flowers, lush vegetation, and serene walking trails.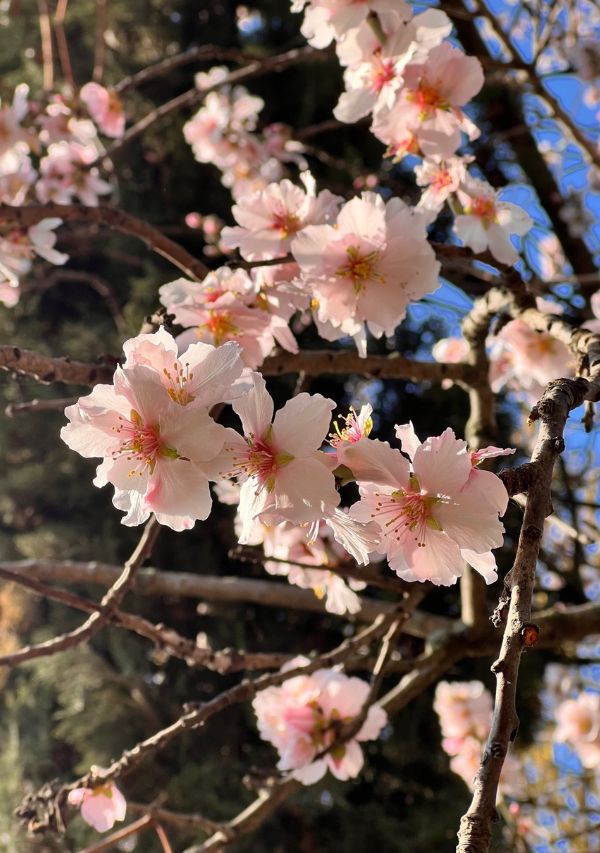 Make sure to check out the fern garden, which has an impressive collection of fern species. If you visit with children, they'll be delighted to discover the park's playground area, perfect for letting off some steam. 
There are picnic tables scattered throughout the park, creating an idyllic setting for outdoor lunches or snacks.
Botanical Garden
Next, head over to the Caen Botanical Garden, which boasts an extensive array of plant species from around the world. As you meander through the garden, you'll come across a range of themed areas, including a Garden de France and an animal park. 
Feel free to push your bike along the paths and enjoy the stunning sights. With its diverse displays and plentiful green spaces, the Botanical Garden is a prime location for nature lovers and plant enthusiasts alike.
Rose Garden
Finally, make your way to the enchanting Rose Garden at La Colline aux Oiseaux. This space is dedicated to showcasing the beauty of roses through a collection of different varieties and colors.
The aroma of blooming flowers fills the air, making it a sensory delight for all visitors.
Don't forget to bring your camera, as the Rose Garden offers numerous opportunities for capturing memorable photos with a stunning floral background.
As you explore Caen's parks and gardens, remember to take your time and appreciate the natural beauty that awaits you at each location. Enjoy!
D-Day and Military Sites
D-Day Beaches
While visiting Caen, you should definitely explore the historic D-Day Beaches. The Calvados region played a crucial role during World War II, and you can experience the history by visiting these beaches. 
Take a stroll on Juno Beach, where Canadian soldiers stormed the sand dunes on D-Day, and visit nearby museums and memorials dedicated to the brave soldiers who fought for freedom.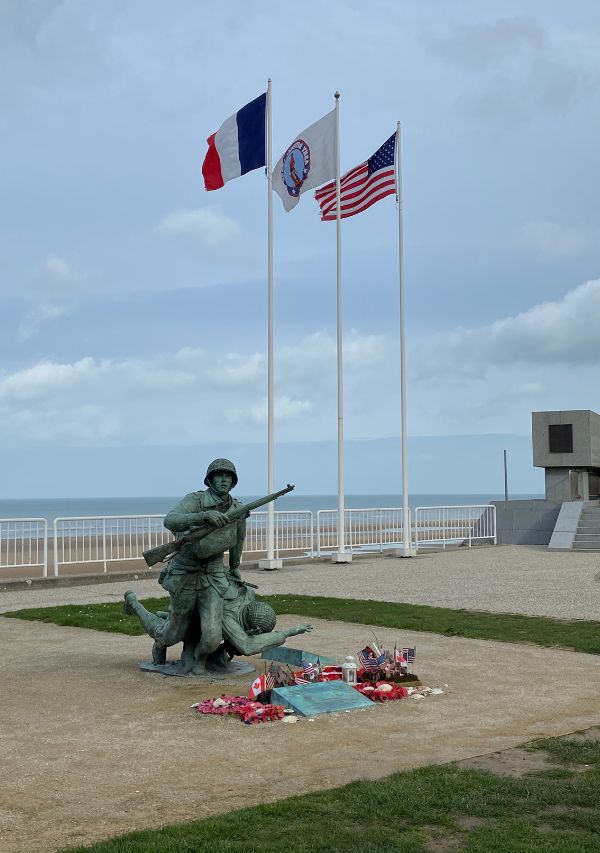 Bayeux Tapestry
Next, make your way to the Bayeux Tapestry, an 11th-century masterpiece that narrates the story of the Norman Conquest of England. This intricate embroidery is a significant piece of art and an invaluable historical source. 
Spend some time admiring its detailed scenes, and learn about the events that have shaped European history.
Juno Beach
Finally, don't miss the opportunity to pay your respects at Juno Beach, where the Canadian Army made significant sacrifices during the D-Day landings.
Visit the Juno Beach Centre to learn about the stories of the soldiers who fought and lost their lives in this crucial battle. As you explore the now tranquil beach, take a moment to reflect on the history and appreciate the freedom you enjoy today.
American Cemetery
The American Cemetery in Normandy is a solemn and deeply moving memorial dedicated to the brave soldiers who fought and sacrificed their lives during the Allied invasion of Normandy in World War II.
Located near historic Omaha Beach, the cemetery is a final resting place for over 9,000 American soldiers who gave their lives for the liberation of Europe.
As you walk through the rows of perfectly aligned white crosses and Stars of David, you can't help but feel a profound sense of gratitude and reverence. The beautifully landscaped grounds, meticulously maintained, provide a serene atmosphere for reflection and remembrance.
Standing atop the cliff, overlooking the beach where so many lives were lost, you are reminded of the immense courage and sacrifice that shaped history.
It is a place of solemnity and tribute, a poignant reminder of the price of freedom and the enduring legacy of those who fought for it.
Food and Drink
Local Restaurants
When in Caen, be sure to experience its food scene by visiting some popular local restaurants. You can savor typical Norman dishes, along with the region's famous cheeses, like Camembert and Livarot. 
If you're feeling adventurous, try Belle-Mère cheese, a traditional French cheese produced in nearby Saint-Benoit d'Hébertot.
Cafés
Your trip to Caen won't be complete without indulging in some café culture. Grab a cup of coffee or tea along with delectable French pastries at a cozy boulangerie. 
Take your time to savor your food and immerse yourself in Normandy's picturesque ambiance.
Bars
After a day of exploring and sightseeing, what better way to unwind than at a local bar in Caen? Sample locally brewed beers, ciders, and Calvados – an apple brandy specific to the region.
From vibrant pubs to sophisticated wine bars, you're sure to find a spot that suits your mood. So, raise your glass and toast to your unforgettable journey in this charming French city!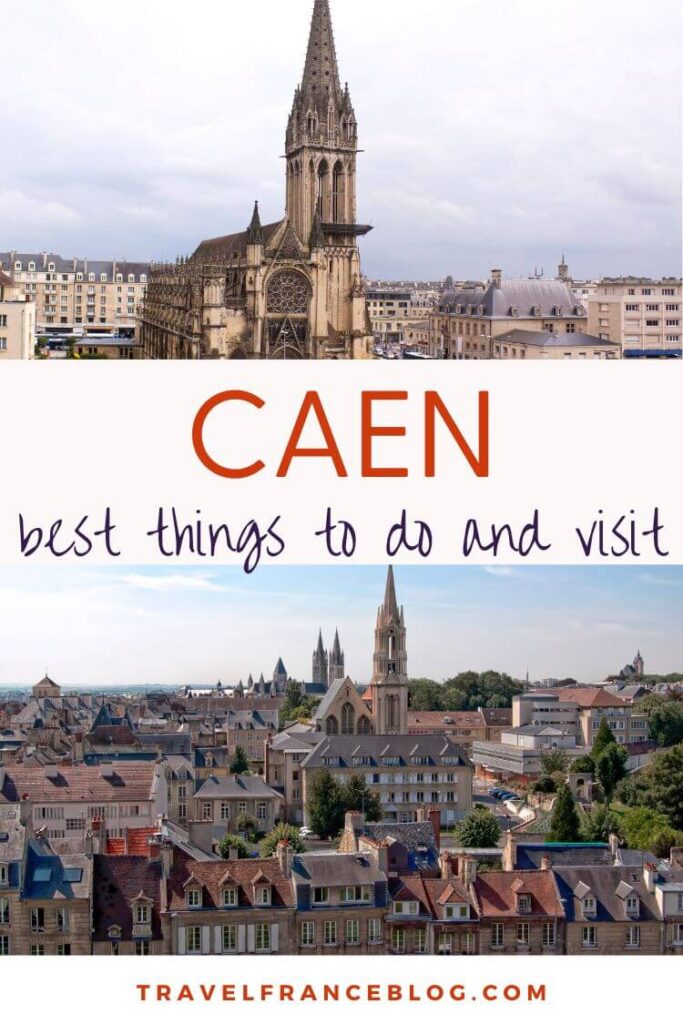 Plan Your Visit to Normandy
This post may include affiliate links. This means we will receive a small commission if you purchase through our links. It has no additional cost for you. With this, you help us to continue creating free content for your trips.
This post may include affiliate links. This means that we will receive a small fee if you make a purchase through our links. It has no additional cost to you. It's a win-win!