12 Road Trip Ideas in France
For the lovers of tourism on wheels, today we bring you 12 Road Trips Itineraries in France.
The Gallic country is an ideal territory to explore by car since the roads are in excellent condition. Moreover, it is easy to find accommodation in any small village you discover along the way.
In addition, if you travel by motorhome or van, you will find free and paid areas to spend the night and camp.
Tips Before Traveling to France
Before starting any road trip, we recommend you ensure you have everything you need for the road.
Check the weather conditions and have a good plan of where to make your stops so that you do not drive for long hours and that your trip is safe and smooth.
From this blog, we want to give you a few tips that we believe may be useful before starting your trip.
The first piece of advice is to consider paying for the full insurance of the car, all risks, to avoid surprises like a scratch.
Remember that you will be on the road for many days and never know what can happen.
The second tip is to make sure you have access to the Internet.
If you live in the European Union, your carrier should include it in your data plan, but if you don't live in the EU, I recommend you buy a French prepaid SIM card or look at Holafly's services.
This way, you will not have internet connection problems if you get lost.
If you have to work while traveling (or you are hooked on a Netflix series) and need a 4G connection, here's the 4G coverage map in France. Keep this in mind when planning your stops.
The third tip is to learn a few words in French to ask for directions, ask for help, or be able to interact more easily with the locals.
The locals always appreciate the effort of speaking their language; if you try, it will be easier for them to help you and get you out of trouble.
Check out this page with some phrases in French.
And finally, we advise you to do a brief search for parking close to your accommodations, as this will save you a lot of time, especially on those days when you arrive late and are super tired and want to go to bed.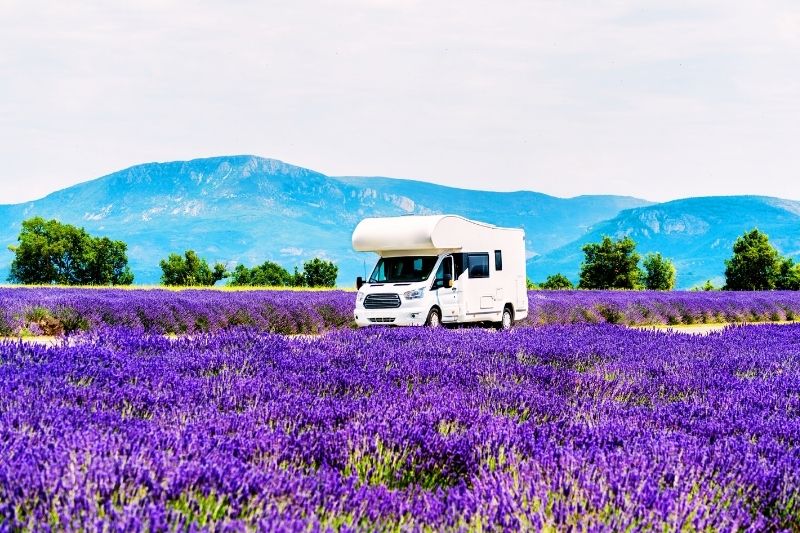 If you are traveling in a camper van or motorhome, I recommend checking the Camping Park Night website or the Park4night App to find designated sleeping areas. Many are free of charge.
If you are going to sleep in your vehicle, the best thing to do is to find where you will spend the night before it gets dark.
Before you discover the list we have prepared, you should know that road trips give you some flexibility.
For this reason, we have planned certain itineraries with estimated days, many of which can be done faster or slower, depending on your pace and interests.
Without further ado, here is the list of the best Road Trips you can do in France.
1. Alsace Wine Route
Travel distance: 170 km
Duration: 5 days
Suggested route: Mulhouse- Colmar and surroundings- Strasbourg
Region: Alsace
If you are passionate about small and picturesque villages but you are also a wine lover, we invite you to take the Alsace wine route.
This legendary route runs through 170 km of grape growing fields where hundreds of wineries are located, where you can discover how they process the product and, of course, taste the elixir of Alsace, which is the main objective of this road trip.
Your first stop will be Mulhouse, a beautiful city that deserves a good walking tour.
In this city, you will find ancient and modern paintings along the city's facades and the beautiful Protestant church of St. Stephen that captivates all visitors.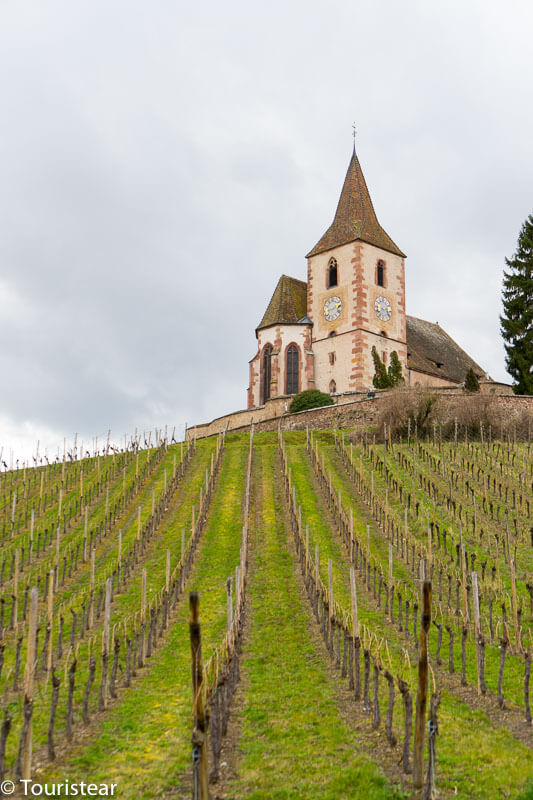 If you are looking for museums to visit, you can find them in Mulhouse:
The Automobile Museum has a vast collection of classic cars.
The Train Museum has some examples of the first locomotives.
On the second day, visit Colmar, which will also serve as a base camp to see the surrounding villages.
You can do your first wine tasting in Colmar at the Karcher Cellars or the Wolfverger Boutique.
The third day can be spent visiting the villages of Riquewhir, Egusheim, and Kayserberg, less than 15 km from Colmar.
These medieval villas are located in the middle of vineyards and have some museums where you will discover the secrets of the wines of this region.
Some of the most attractive tourist attractions in the area are:
The Museé du Vinogle et des Vins d 'Alsace at Kayserberg
The Domaine DOPF AU Molin winery in Riquewhir.
To end the route, visit the beautiful city of Strasbourg. This city is one of the most beautiful in France.
Despite having a similar appearance to the towns previously visited, Strasbourg has a unique charm.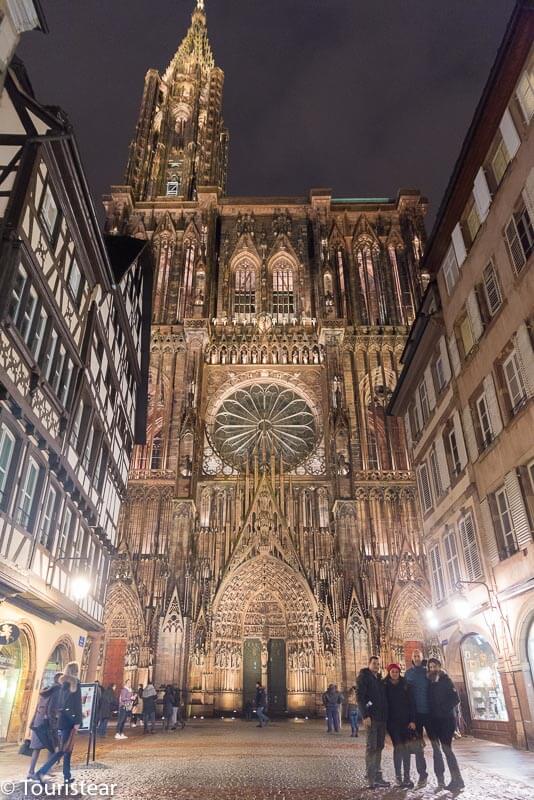 If you have the opportunity, I recommend you take a boat ride through the city's canals, where you can see the old fishermen's quarter of the city.
Today, it has become the most acclaimed place for visitors to Strasbourg.
Undoubtedly, you have to visit this city day and night. The lighting gives it a special charm.
Note: If you are not interested in doing a wine tour in Alsace, I recommend visiting the area, as it is beautiful, especially at Easter and Christmas.
2. Road Trip across the Champagne Region
Travel distance: 357 km
Duration: 4 days
Suggested route: Paris- Reims- Epernay- Troyes- Provins
Region of France: Grand Est, Ile de France
The following route we propose is through the Champagne region, which starts in the beautiful city of Paris and ends in Provins.
The route can be done in only four days, but we suggest that if you have never visited Paris before, you add at least two, or better 5 or 6 days, more for sightseeing in the fantastic French capital.
This road trip is perfect for those who love sparkling wine as it is a tour of the most emblematic sites in France that produce the famous Champagne, but also for lovers of places with history and picturesque villages.
The sparkling wine invented by the monk Dom Perignon in 1920 has become part of the popular culture of some regions of France.
This route perfectly combines landscape, historical heritage, and enology. The first stretch will take you from Paris to the city of Reims.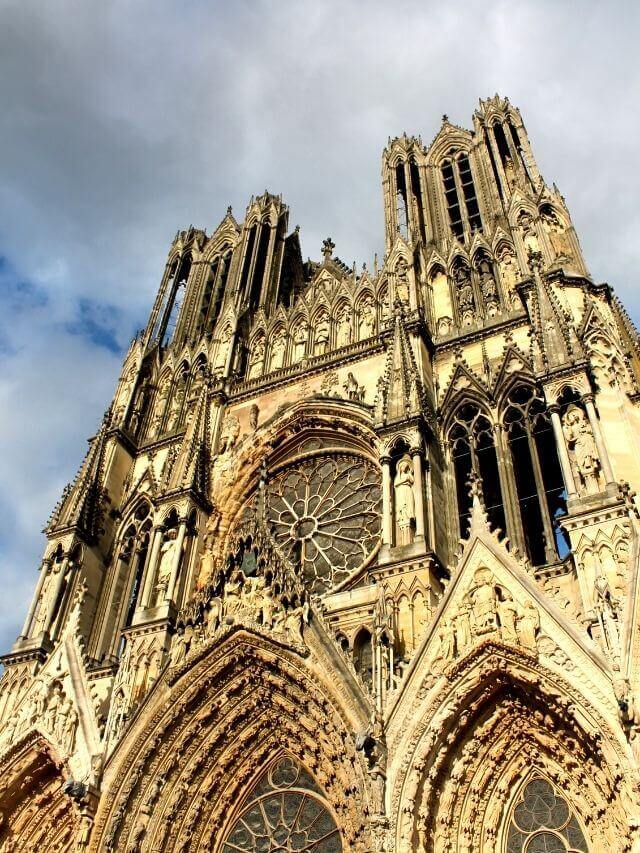 On the way, make a brief stop at La Ferté sous Jouarre. This small town, and its Abbey, house two wonderful 7th-century crypts worth visiting.
After this short stop, you will reach the capital* of Champagne, Reims, full of historical heritage and beauty in equal parts.
The city is well known for its impressive Gothic cathedral, the coronation place of most of the kings of France.
(Don't tell me it doesn't look like Notre Dame de Paris. This has an explanation, but we'll leave it for another post).
We recommend that you visit Reims for at least one day. Here you have to visit:
The cathedral
The city's subway galleries
The Museum Hotel Le Vergeur
The Museum of Fine Arts
*Capital of the northern part of the Champagne – Ardennes region, as well as the economic capital of the region.
The second day in the direction of Eperney, the capital of Champagne (the beverage). On the way, we recommend you visit two picturesque villages with a tradition of sparkling wine production.
Town of Verzy
Village of Mutigny (UNESCO World Heritage Site)
Epernay is known as the capital of champagne wines.
Here is a post with everything you can do in Epernay and options to visit it if you are short of time.
Not far from Epernay is the Abbey of Hautvillers, where Dom Perignon is buried.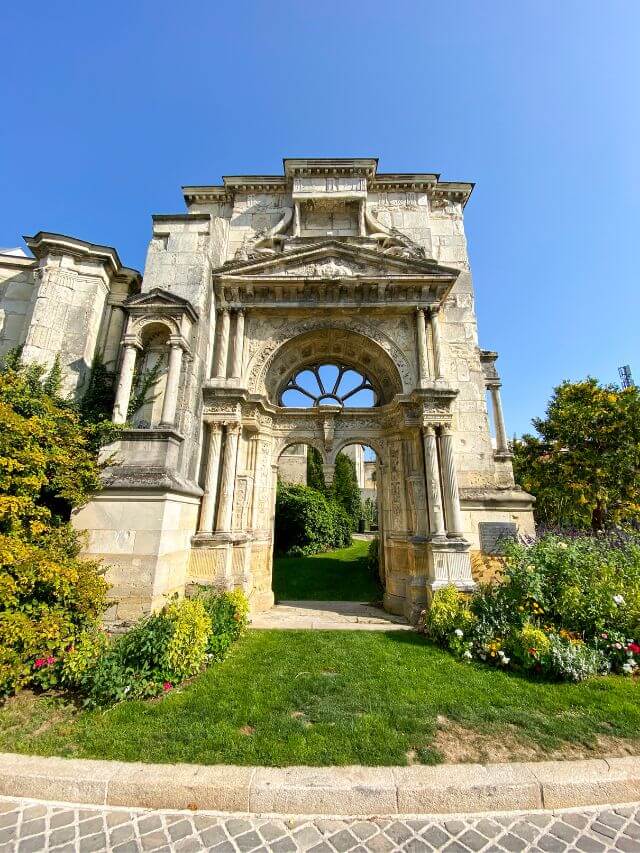 Because he spent much of his life in a local monastery researching and testing viticultural production methods.
You can spend the night in either of these two cities, they have a good hotel offer for their size.
But if you are looking for something more special, I have three recommendations:
Royal Champagne Hotel and Spa
Castel Jeanson
Château de Rilly
On the third day of the trip, head for Vertus, known as "la Côte des Blancs."
Passing through Mont Bernon via Chouilly, you will descend to Pierry (castle and cellars of the 18th century) to discover the church of Chavot-Courcourt (12th century).
It is like a small island in the middle of an ocean of vines.
Then continue your way to Sézanne; on this stretch between Vertus and Sézanne, you will find castles, abbeys, and even dolmens. You have to make a stop at the following:
Vertus
Étoges
Allemant
Tallus Saint Prix
Sezanne
On the third day of this Champagne road trip, I recommend you visit Troyes.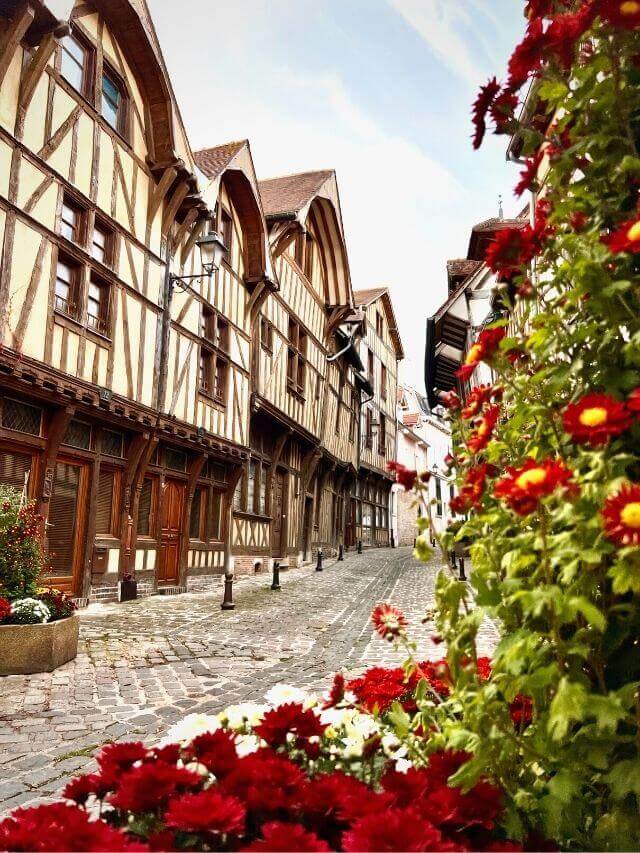 This city has beautiful and well-preserved "pan de bois" architecture. The center of Troyes has gorgeous half-timbered buildings inherited from the Middle Ages.
Saint Pantaléon Church – Hôtel de Vauluisant
Maison de l'Outil and de la Pensée Ouvrière
Place du Marché au Pain
Lili la dame au chapeau
Cathedral of Saint Pierre Saint Paul
Le Cœur de Troyes
Basilique Saint Urbain
Hôtel de Ville
Tourelle de l'Orfèvre
Ruelle des Chats
Église Sainte Madeleine
Maison Rachi
After exploring Troyes, you have two options, if you like the plan, you can spend the night here, or if you prefer, you can drive to Provins and spend the night there.
Provins is the last town you visit before returning to Paris. This city is known for its medieval festival in June and for its subway city, a vast network of tunnels and passages from the 13th century connected all the houses.
In addition, Provins is a UNESCO World Heritage Site. Discover the Caesar Tower, the Grange aux dîmes, the Saint-Ayoul Priory, the museum, the ramparts, etc.
You can visit the wall for free all year round.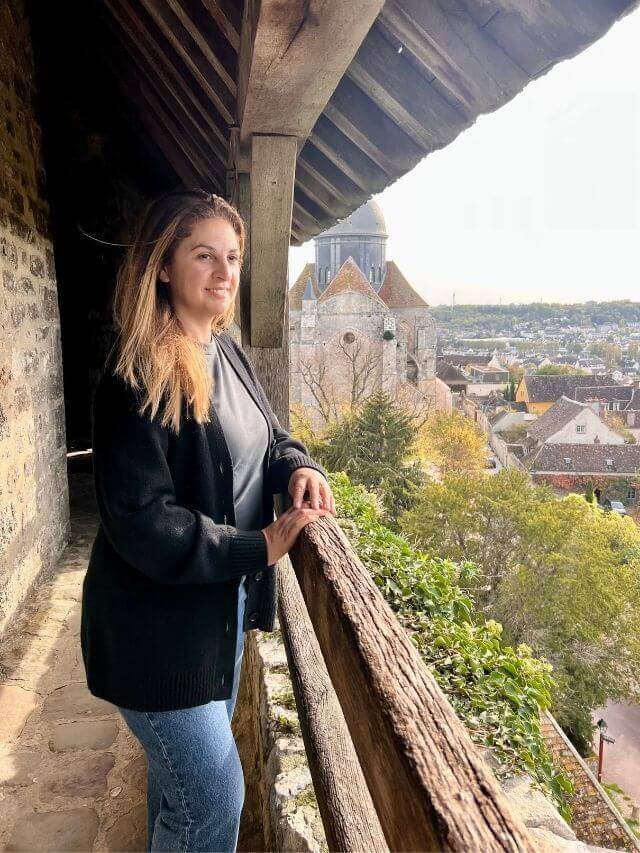 3. Alabaster Coast Road Trip
Travel distance: 140 km
Duration: 4 days
Suggested itinerary: Le Treport, Dieppe, Veules-les-Roses, Saint-Valery-en-Caux, Saint-Pierre-en-Port, Fécamp, Etretat, Le Havre
Region of France: Normandy
I propose you this itinerary along the French Alabaster coast. It is a route along the white cliffs of Normandy. You will pass through picturesque villages and beautiful white limestone cliffs.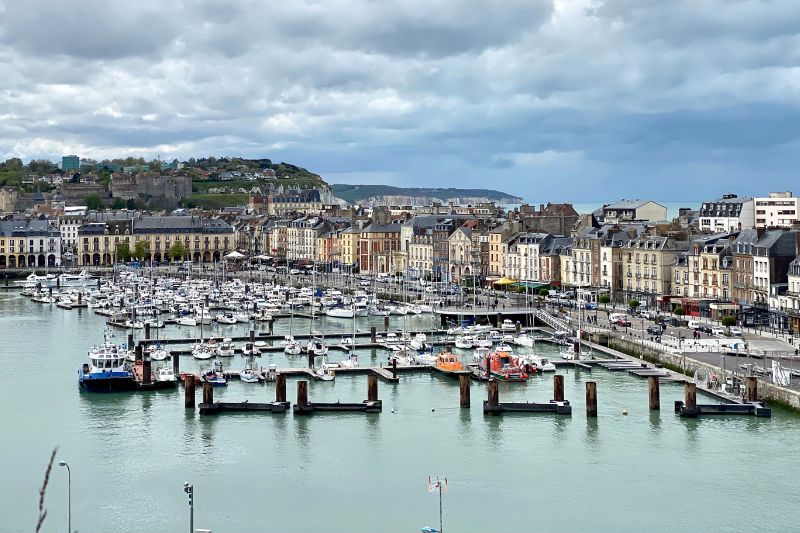 We did this route in 5 days because we traveled in a camper van, which travels more slowly. Also, we made some hiking trails to the cliffs.
If you like this plan, visit Veules-les-Roses and, of course, Etretat. But you can do it even in 2 days if you want, but you would miss the details.
These Normandy cliffs have inspired painters such as Monet or Pizarro, and today they dazzle every visitor who comes to contemplate them.
In our case, we chose to go to the farthest point and then go closer to home, but you can do it in either direction.
I recommend you visit a maximum of two of these places per day.
Some of the stops you will make will be in various coastal towns such as Etretat, Fécamp, Dieppe, and Le Treport.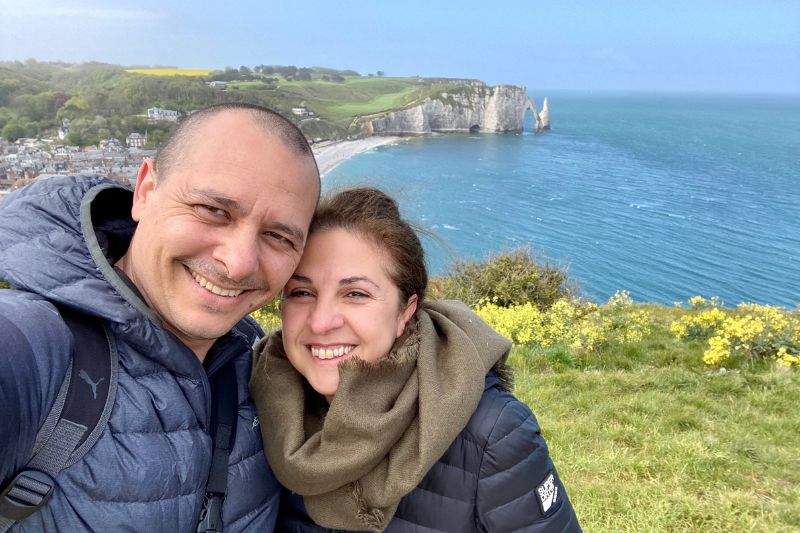 These fishing villages are beautiful for their unique architectural style and the cradle of good food serving the most exquisite seafood.
Le Havre, a UNESCO heritage site, may not be the most beautiful city on the route, but it has a lot of history and deserves at least a half-day visit.
Another of the best things to do on this trip is to take a boat trip along the coast to see the immense cliffs from a different perspective.
One of the best views of the cliffs is from Cape Fagnet, and to see Etretat, you have several options.
From the pebble beach, where everyone goes. There is also a good view from the gardens of Etretat, but I think the best is from the other side, you have to walk and climb a little, but it's worth it.
4. Road Trip through Brittany, France
Travel distance: 153 km
Duration: 5 Days
Suggested Itinerary: Dinan, Cap Fréhel, Saint Malo, Cancale, Mont St. Michel
Region of France: Brittany
This 5-day road trip through Brittany from Dinan to the bay of St. Michel. covers two French departments (Côtes d'Armor and Ile et Vilaine) and will take you through some of the main sights of French Brittany.
This itinerary through Brittany is a good combination of natural landscapes, small picturesque villages, and good food.
For this road trip, we recommend wearing comfortable shoes and a raincoat (just in case) to enjoy the trails along the route to the fullest.
Start by visiting the town of Dinan and then start with the stops, we recommend the following:
Visit Cap frehel
Saint-Malo
Cancale
and finish your route with a golden brooch at Mont St Michael (Normandy), undoubtedly one of the most beautiful sites in France.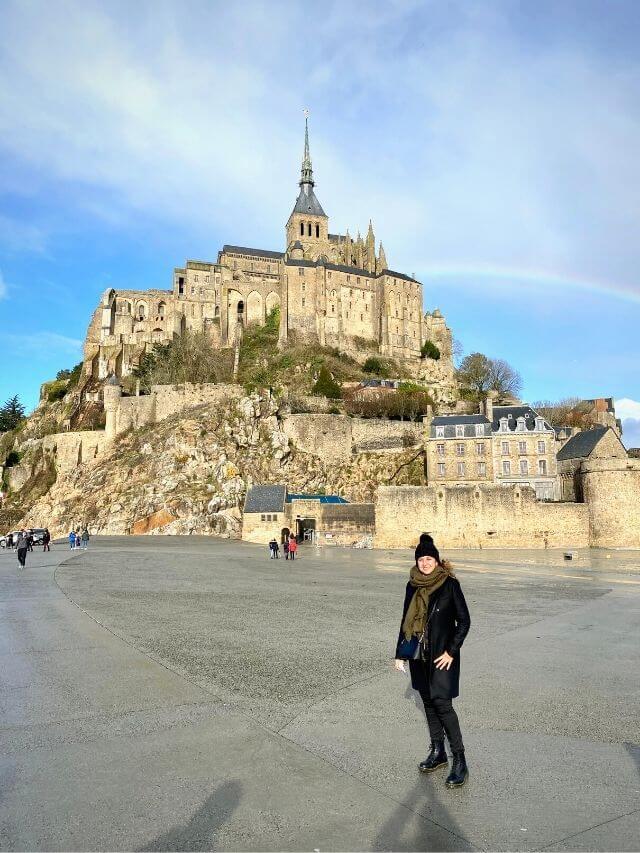 This Abbey overlooking the sea gives us a beautiful postcard since it looks like a movie landscape with a kind of castle on the coast, indeed a place to visit at least once in life.
5. Road Trip through the Loire Valley
Trip distance: 178 km
Duration: 5 days
Suggested Itinerary: Orléans, Blois, Amboise, Chinon
Region of France: Centre-Val-de-Loire
This 5-day trip is designed for those who love castles. This route runs through the central part of France, which is characterized by lush forests and huge, elegant castles.
Throughout the trip, you will find several villages where you can taste typical local food and wine. The wines of Val de Loire are soft and perfect for drinking with cheeses at any time of the year.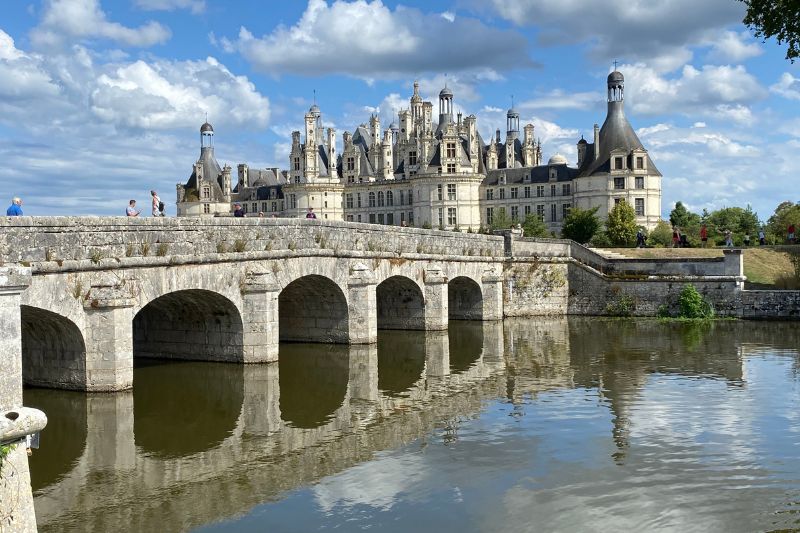 Some of the must-see castles in the area are:
Chambord Castle, a Renaissance masterpiece with a double helix staircase, is the largest in the Loire Valley and is attributed to Leonardo Da Vinci.
Château Royal d'Amboise, a castle with a rich history, is located atop a hill overlooking the Loire River.
The Castle of Chenonceau is known as the Château des Dames. This beautiful castle is located on the Cher River and has fabulous gardens!
Blois Castle, an impressive castle that was home to several French kings and is known for its beautiful Gothic architecture.
Château de Villandry: a Renaissance castle known for its impressive gardens, including formal gardens and orchards.
6. Road Trip through Les Corniches (from Nice to Monaco and Menton)
Trip distance: 42 km
Duration: 3 days
Suggested Itinerary: Nice, Eze, Monte Carlo, and Menton
Region of France: Provence Alpes-Maritimes and Monaco
This 3-day road trip itinerary is ideal for those who want to discover the Côte d'Azur quickly. The first day can be spent in Nice, which is full of cultural and leisure attractions.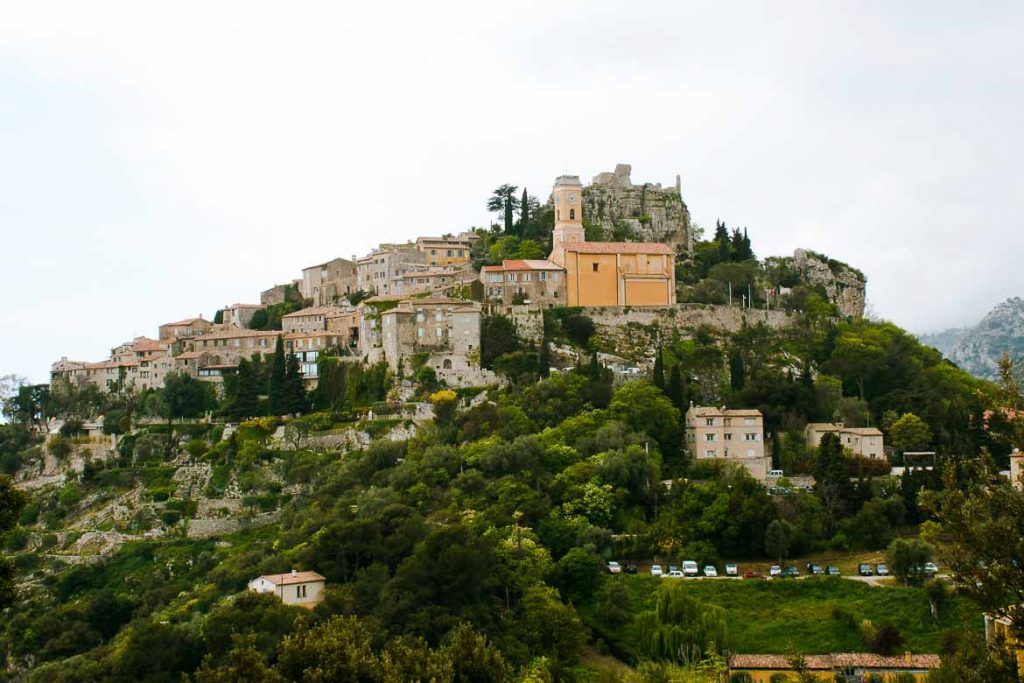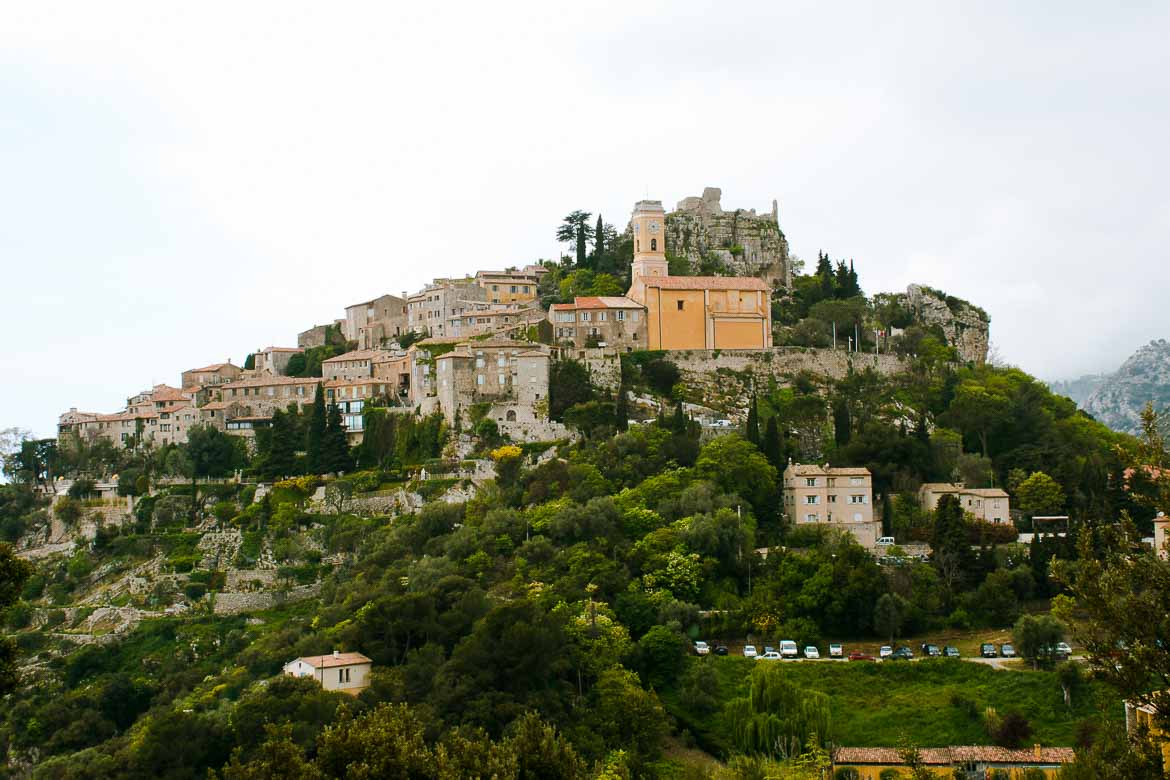 On the second day, visit the medieval hanging village of Éze. From here, you will have one of the best panoramic views of the Mediterranean on the entire route.
In the afternoon, drive to Monte Carlo, the capital of the Principality of Monaco.
There you can spend the morning seeing the harbor area, which is one of the most striking things about Monte Carlo, and then retake the car to the last destination, Menton.
7. Road Trip to the French Riviera
Distance of the route: 34 km
Duration: 6-7 days
Suggested Itinerary: Marseille, Cannes, Antibes, Nice
Region of France: Provence, Alpes-Maritimes, Côte d'Azur
Marseille or Cannes is an ideal place to start this road trip. Unlike the other ideas, this trip has a different approach. The French Riviera itinerary is designed for personal enjoyment and relaxation.
Marseille, Cannes, Antibes, and Nice offer many leisure activities and a climate suitable for spending time in the sun.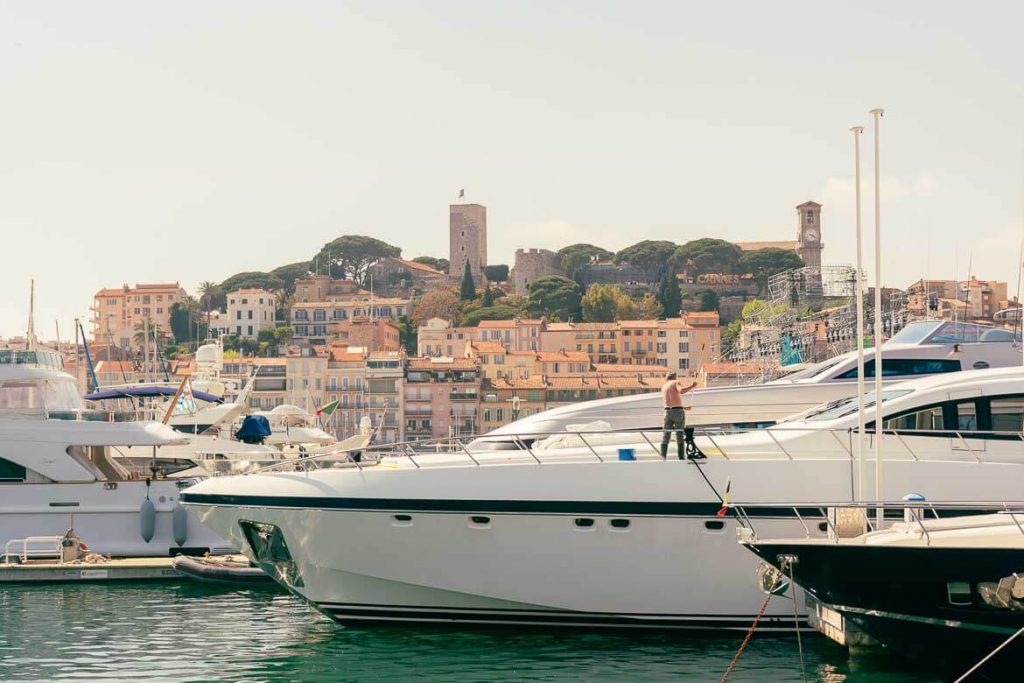 Distribute the days in each city as you wish, bearing in mind that Antibes is perhaps the most peaceful area to stay in.
Although these cities focus on luxury tourism, they also welcome cultural and sun and beach tourism with a wide range of prices and hotels for all types of tourists.
On this road trip, relax and enjoy a nice swim in the blue coast's turquoise waters without considering the time or what your next stop will be.
8. Road Trip in Provence
Duration: from 3 to 10 or 15 days
Suggested Itinerary: Aix en Provence- Valensole- Verdon
Region of France: Provence-Alpes-Côte d'Azur
This Itinerary will take you through the most striking scenery of Provence.
To begin with, spend 2 days in the city of Cézanne, Aix en Provence, discovering the historical heritage of the city and the Provençal market that takes place every morning in the city center.
The second-day visits Valensole and its endless fields of lavender which are in bloom in the months of July, August, and early September.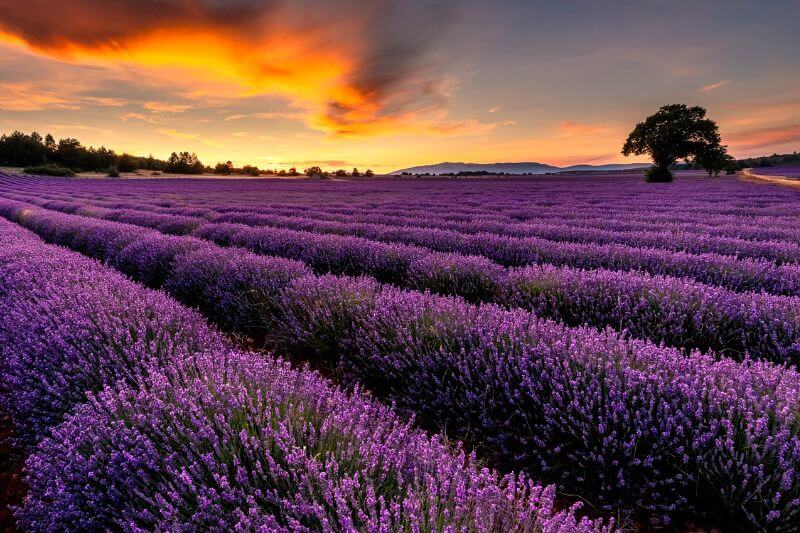 To finish your road trip in Provence, you will visit the grand French canyon, Gorges Du Verdon.
If you are an adventurous person, this is the place for you in France because it offers one of the most enjoyable activities in Provence.
Gorges Du Verdon is where many come to practice kayaking or rafting for its turquoise river waters full of cliffs, so go ahead and try to follow the course of the river; you will have a great time!
If three days in Provence is not enough, read this 10-day road trip itinerary.
Here is another 3-day alternative for a road trip in Provence, France:
Day 1:
Visit the historic city of Avignon and tour the Pope's Palace
Explore the charming village of Gordes
Visit the Abbaye de Senanque, a 12th-century Cistercian monastery surrounded by lavender fields.
Visit the famous town of Roussillon, known for its ochre cliffs and vibrantly colored houses.
Day 2:
Drive to the village of Saint-Remy-de-Provence
Visit the ancient Roman ruins of Glanum
Day 3:
9. La Route des Grandes Alpes
Travel distance: 684 km
Duration: 5 days
Suggested route: Haute-Savoie- the Chablais – Beaufortain – Vanoise- Cerces- Queyras – Ubaye – Mercantour massifs
Region of France: Auvergne – Rhône – Alps
The route of the Great Alps will take you through four national parks where you will enjoy dreamlike views of lakes and valleys. The best time to do this route is between June and October.
Along this route from the highest to the lowest point in Menton, you will find cozy villages where you can stay and recover your energy.
We recommend doing this route in 5 days to avoid rushing and be able to walk some long trails to get into the beautiful valleys of the landscape.
This route is designed to get in touch with nature and to enjoy views such as that of the Mont Blanc glaciers or the view of the Ecrins Massif.
10. Paris – Normandy
Travel distance: 282 km
Duration: 4 days
Suggested route: Paris- Rouen- Etretat- Honfleur
Region of France: Normandy
The itinerary from Paris to Normandy is a route that combines relaxing walks, history, and nature in its purest form.
Departing from Paris, you will pass through Giverny, where the house and gardens of the painter Monet are located.
Taking advantage of the proximity, you can visit the noble Gaillard Castle, built in the 13th century and still in a good state of preservation.
The next day visit Rouen, which has the largest medieval historical heritage in France.
In the following days you will visit Etretat's white cliffs and Honfleur's coastal town.
11. Road Trip through the Cathar Countries
Travel distance: 197 km
Duration: 5 – 6 days
Suggested route: Carcassone- Mirepoix- Minerve- Carcassone
Region of France: Occitania
Unlike the previous ones, the Cathar road trip is a circular route that can be done in 5 or 6 days.
For those who love medieval times and the crusades with the Cathars, this is probably the best road trip you can take to increase your knowledge of this period.
Stay in Carcassonne to enjoy the wonders of this walled city that will be like an appetizer for your trip.
Carcassonne was one of the cities with the highest concentration of Cathars during the 13th century.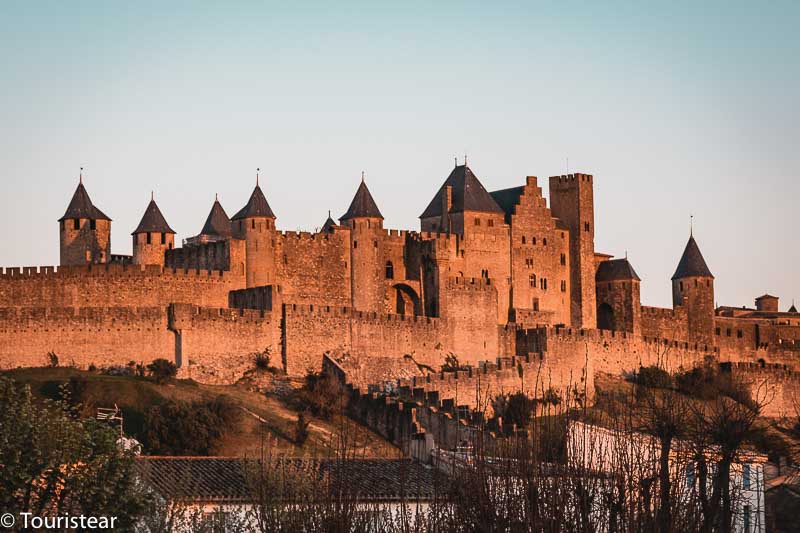 During the second day, visit Mirepoix and the Castle of Monségur where apparently the last Cathars who did not surrender were burned alive.
On the third day, you can visit the two most important fortresses for the Cathars; Castle Peyrespertuse and Castle Queribus.
On your fourth day, visit the Abbeys of Fontroide and Saint Mary of Orbieu, which played a very important role during the Crusades.
On the fifth day, we recommend visiting Minerve. In this small medieval village, you will see replicas of catapults and several castles before undoing the road to the point of origin, Carcassone.
12. Road Trip through Burgundy
Travel distance: 60 km
Duration: 4 days
Suggested itinerary: Beaune- Vougeot- Dijon
Region of France: Burgundy
The Burgundy itinerary is the ideal route for wine lovers. The most famous wine fields in France are located between Beaune, Vougeot, and Dijon and it is, therefore, possible to do thousands of activities related to wine tourism in the surrounding area.
If you like castles, you must visit the Château Clos de Vougeot, a must on any wine route through Burgundy, as it is a symbol of the region.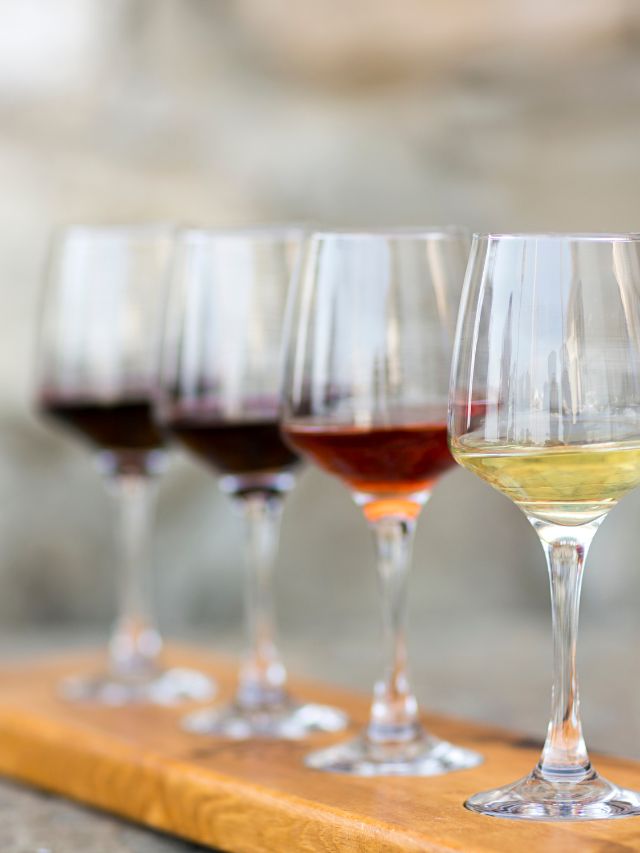 Very close to Burgundy is the village of Gevrey-Chambertin, which has some of the best wine-tasting places in the region.
Throughout the different villages, you can taste multiple varieties of wine, among which dry white and rosé wines stand out.
The last stop will be the iconic city of Dijon, where the Dukes of Burgundy lived.
Dijon has a fascinating cultural and architectural heritage, and it is possible to visit it by following the owl trail that will take you to the city's most important monuments.
Example 2 of a 6-day itinerary in Burgundy
Day 1:
Arrival in Dijon, check-in at the hotel.
Explore the historic center and visit the Palace of the Dukes of Burgundy.
Visit the Museum of Fine Arts and the Museum of Natural History.
Enjoy a wine tasting in the afternoon.
Day 2:
Drive to the nearby town of Gevrey-Chambertin, another famous wine-producing town.
Drive to Nuits-Saint-Georges, a town famous for its Pinot Noir wine.
Visit local wineries and taste their wines.
Day 3:
Drive to Beaune and visit the famous Hospices de Beaune.
Explore the city, known for its medieval architecture and wine production.
Visit the Burgundy Wine Museum and taste some local wines. The museum is located in the former Hôtel de Ducs de Bourgogne.
Day 4:
Drive to Meursault, a town famous for its white wine.
Visit local wineries and taste their wines.
Drive to the nearby town of Puligny-Montrachet, another famous white wine-producing town.
Day 5:
Drive to Chablis, a town famous for its Chardonnay wine.
Visit some local wineries and taste their wines.
Drive to the nearby town of Auxerre to explore its historic center and visit the Abbey of Saint-Germain.
Day 6:
Return to Dijon and spend the morning exploring the city.
Return the rental car and depart to your next destination.
Note: The itineraries are only an example and can be adjusted according to personal preferences.
Plan Your Road Trip in France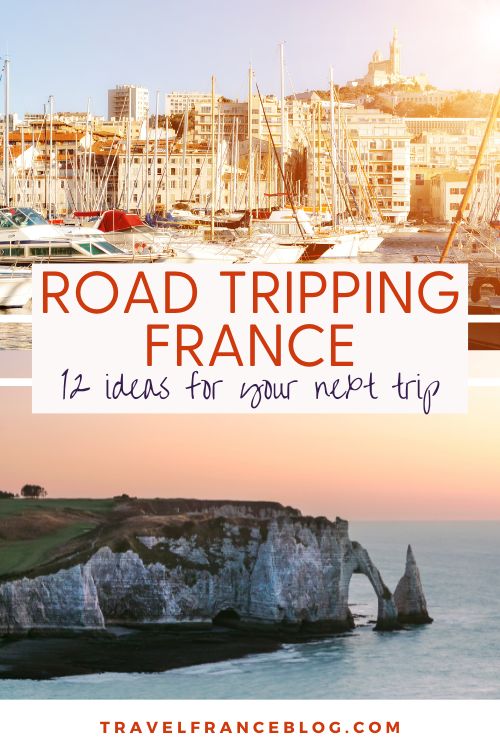 This post may include affiliate links. This means that we will receive a small commission if you make a purchase through our links. There is no additional cost to you. With this, you help us to continue creating free content for you. Thanks for your support!
This post may include affiliate links. This means that we will receive a small fee if you make a purchase through our links. It has no additional cost to you. It's a win-win!