Best Things To Do in Aix-en-Provence
If you are thinking of visiting the Côte d'Azur, you cannot miss a stop in Aix-en-Provence in your planning. This city of approximately 143,000 inhabitants is an ideal place to discover due to the wide tourist offer it presents.
You can find various natural attractions such as limestone mountains or wine fields to cultural attractions such as the Aix Cathedral or the Granet Museum. In addition, there is a room dedicated to the painter Cézanne.
Join us in this article, and we will teach you in-depth what things you can see and do in Aix-en-Provence and give you a few tips on how to get to this city or what kind of food you should try.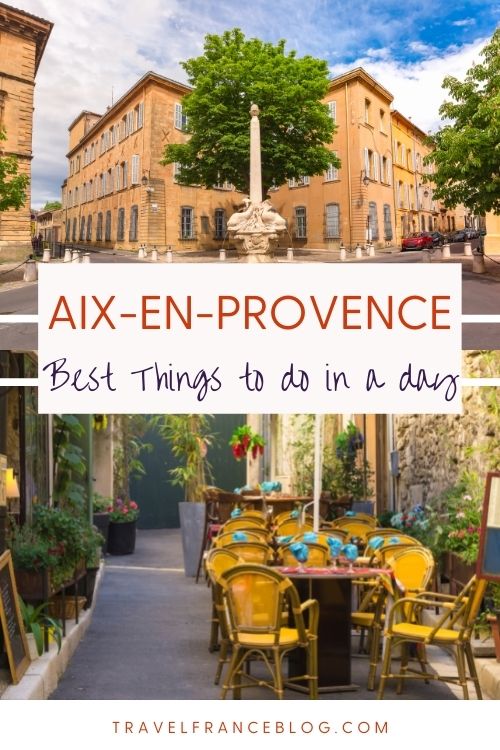 A Brief History of Aix-en-Provence
To begin with, we would like to tell you a little about the history of this city. However, a bit of context is necessary to appreciate the true cultural richness of this French city.
We recommend choosing a tour to tell you the story as you go through the city. You have them from free to private.
Aix-en-Provence is a city that was founded around 123 BC by the Roman Gaius Marius Sextheus, who baptized this city with the name Aqua Sextiae.
Later, a series of epic battles would take place in the history of the Roman Empire.
It is said that the Roman Consul defended these lands from the Germans, who doubled their number of soldiers and won using the Roman claw in just 3 days.
In the year 431, the city would be occupied by the Visigoths, and in the year 731, it would be destroyed by the Arabs. This caused the fortified town with almost 39 towers to lose much of its strength, and currently, we can only enjoy one of its towers.
This tower is known as Tourreluquo, from the 14th century and is located northwest of Aix.
During the Middle Ages, Aix-en-Provence would become the capital of Provence and a place of flourishing art thanks to the King d'Anjou, who settled in Aix and attracted many Italian and Flemish painters to these lands.
This caused the economy to grow enormously and establish itself as a privileged city by establishing the parliament of Provence in this city in the year 1501.
However, despite all this rich history, most people know Aix-en-Provence because of the popularity of one of its favorite sons, the painter Paul Cézanne, whom we will talk about a little later.
Now that you have read the history lesson let's see what we can do in this magnificent city.
Walk Through the Historic Center
Walking through the center of this lively and colorful city is a sheer pleasure.
You will find buildings of great architectural value and museums and cultural centers on your way.
Take the free tour of Aix to discover all the corners of this picturesque city. (It's free).
You also can do a sidecar tour of Aix and another, which goes beyond the city, through the lavender fields. I find it super fun, and ideal for traveling with your partner.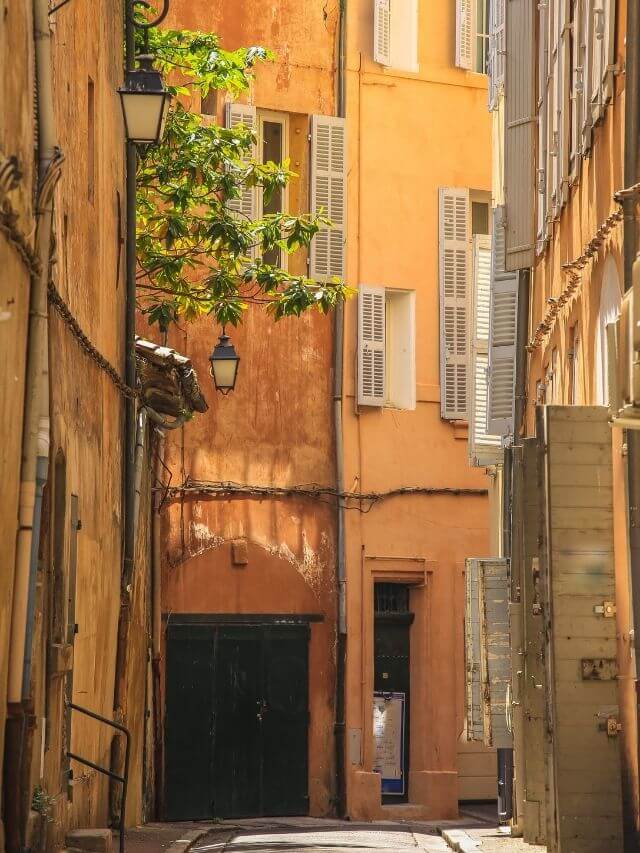 Joseph Sec Mausoleum
It is an old Jesuit college that preserves some original statues dating from the 1600s.
In addition, it was a place of significant Masonic influence and great symbolism for the city.
Cathedral Saint Saveur
The Cathedral presents an infinite richness of styles. You can find the Baroque, Romanesque and Gothic styles, among others.
Despite not being a huge church, it requires a lot of attention to observe the diversity of architectural styles and details that are shown in it.
Admission is free, and they also offer free tours to tell you all the secrets of this beautiful Cathedral.
Without a doubt, it is worth visiting this Cathedral just for the opportunity to see one of the most beautiful paintings in the city of Aix, The Burning Bush Triptych by Nicolás Froment.
Caumont Art Center
The former residence of the Marquises de Caumont has become an artistic and cultural landmark for visitors since 2010.
This place not only shows the beauty of the building and the areas where the old Marquises lived, but there are also artistic exhibitions by French painters, as well as gardens or a small room to watch a short documentary by the local painter Paul Cézanne.
There are four types of rates depending on what you are interested in visiting:
€13 (art center + exhibition)
€10 (reduced admission to the art and exhibition center)
€8.5 (art center)
€6.5 (reduced ticket art center)
Church Saint-Jean of Malta
This beautiful Gothic church was the first built in this style in the Provence region.
It is undoubtedly one of the most beautiful things in the city.
Its entrance is free, and its interior will make you fall in love. As soon as you enter, you will be surprised by its vaults, and you will be welcomed by a beautiful huge blue stained glass window.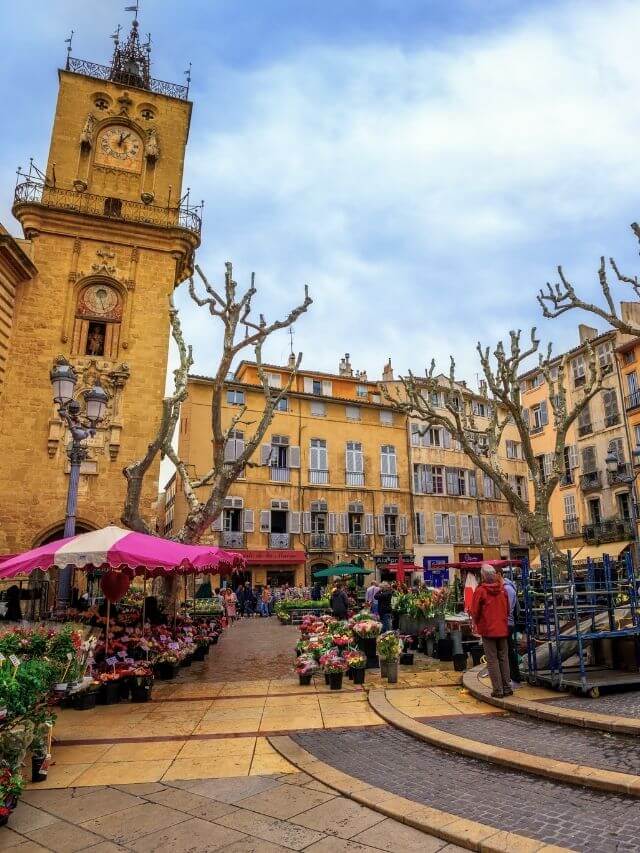 Aix-en-Provence Markets
In this region, it is very common to visit the Provencal markets where local products such as cheeses, sweet nougat, or the famous Calisson are sold.
It is always advisable to inquire about what things we can find in this type of market and get an idea of the gastronomy that we can enjoy in the place or what raw materials are the most used by the locals.
You can buy rich local wines and cheeses or sweets in these markets.
In addition, another curiosity about these markets is that they sell many products that come from lavender, a local star product, and local fruit and handcrafted pieces.
Visiting a market in Aix is practically mandatory. You can do it on your own or with a guided tour where they tell you about the local delicacies and curiosities, and you learn in another way about the local gastronomy.
In Aix-en-Provence, several markets are located in different parts of the city.
Textile, craft, and second-hand objects market
Tuesday, Thursday & Saturday
Cours Mirabeau
Rue Thiers
Place Verdun
Fish Market: Every day
Food market: Tuesday, Thursday, Saturday
Place Verdun
Place des Precheurs
Cezanne's Route
As we have said before, Paul Cézanne is the protagonist of this city, and we want to dedicate this section only to him since if you like this artist in this city, you have thousands of things to see related to his work.
The famous impressionist painter Paul Cézanne was born in Aix in 1839 and spent much of his life in this city until he died in 1906.
His oeuvre includes nearly 900 paintings and 400 watercolors, many of them inspired by his own environment, Aix-en-Provence.
The Aix-en-Provence Tourist Office has created an itinerary "in the footsteps of Cézanne" that allows you to discover the places where the famous painter has left his mark.
You will see golden nails with a "C" marking the route on the ground.
Cezanne's Workshop
The entrance is priced at 6.5 euros and allows you to buy an audio guide for only 3 extra euros.
Hours are from 9:30 a.m. to 6:00 p.m. in summer and in winter from 9:30 a.m. to 1:30 p.m. and from 2:00 p.m. to 5:00 p.m.
This workshop was the last one the artist had, and it was almost like a home for Cézanne in his last 4 years of life.
The Sancta Sanctorum workshop is located north of the city, away from the urban core. In a quiet place surrounded by trees.
Inside this workshop house, we can feel the presence of Cézanne since everything is intact, from the materials he used to objects that we have seen embodied in some of his works.
View of Sainte Victoire
Leaving the workshop, walking for just 15 minutes, we can see another postcard that the author loved, the Sainte Victoire mountain that has been portrayed in some of his oil paintings. It is worth going there to enjoy the scenery.
Bibemus Quarries
This place also dazzled the artist who dedicated several works to this stone mountain.
You can get there by bus or by car from Aix, and it is worth it just to contemplate the views from the viewpoint that Cézanne liked the most.
Bastide du Jas de Bouffan
The mansion of the Cézanne family for more than four decades is another of the most visited places in Aix.
Vasarely Foundation
Cézanne is not the only artist who has given Aix. A Hungarian also settled in this city who is as much from Aix as the impressionist painter, and his name is Vasarely. This author is the father of modern art and the optical art movement.
In the seventies, he designed the building that now displays many of his works. It is very close to Cézanne's house, and it is a super exciting place to visit and fun to see.
The visual games that you perceive make you feel in another dimension and generate an authentic experience for the visitors.
Granet Museum
The Granet Museum is one of the essential things to see in Aix-en-Provence and one of the most important in the region.
It has been hosting painting and sculpture exhibitions since 1838. Its permanent collection brings together paintings from the 14th to 20th centuries, including ten paintings by Cézanne, a sculpture gallery, and an archaeological section.
Cours Mirabeau
After a museum tour, nothing better than walking around the city and having a drink. Between the main fountain and the statue of King Rene, there are only 450 meters which are the busiest in the city.
Many restaurants and cafes are ideal for taking a break on this avenue.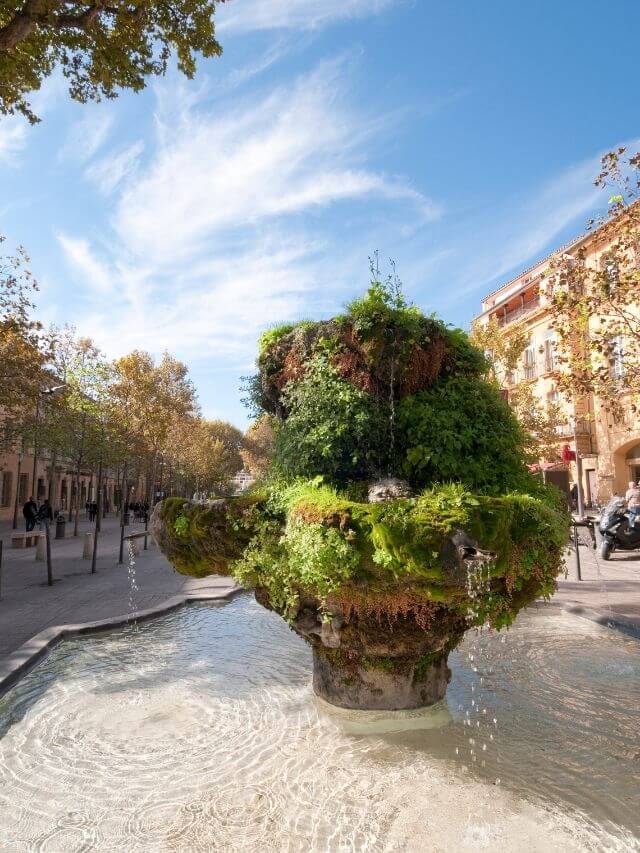 Thermal Baths of Aix-de-Provence
Before ending our visit, we recommend you relax in one of the natural hot springs in Aix-en-Provence.
This city was built in a Roman town, and the Romans were the kings of building aqueducts and the kings taking care of their bodies.
In Aix, you can enjoy a relaxing bath to rest from so many visits to museums.
Surroundings of Aix-en-Provence
Lavender Fields
If you have the opportunity to travel by car, we recommend you go to some nearby Lavender fields.
The entire region is full of plantations of this flower, which symbolizes this part of France.
Lavender is a plant with a rich violet scent, but it also has healing and antiseptic properties.
If you are fascinated by flowers, you cannot miss a visit to the lavender fields.
You can visit the lavender fields on your own or with a group. In addition, there are some tours like the one to discover the lavender fields and the vineyards by sidecar, which I find very fun and highly recommended.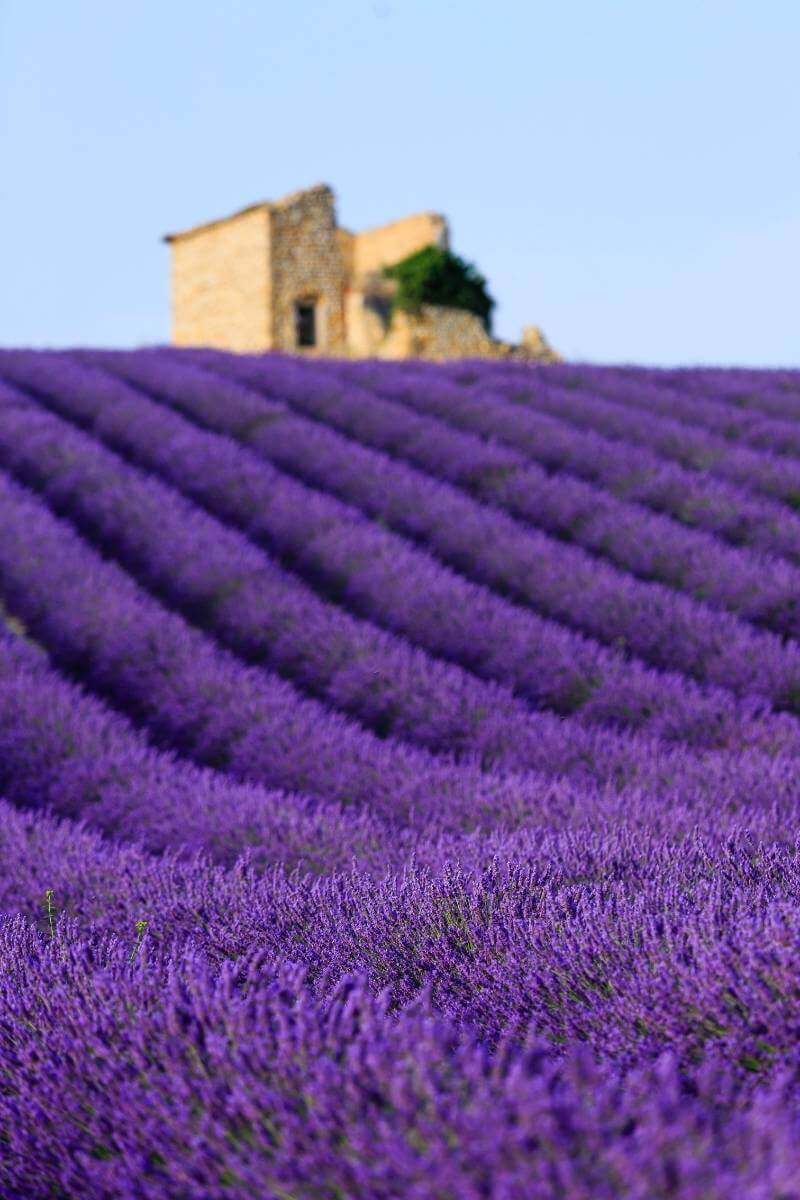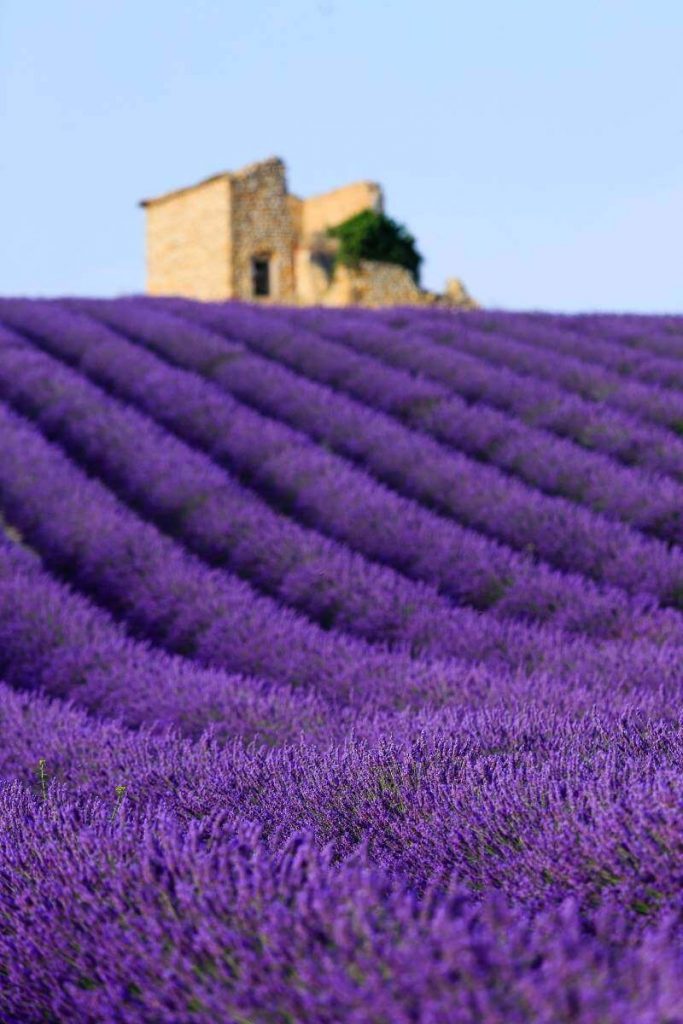 Excursion to the Verdon Natural Park
As I mentioned above, Aix-en-Provence is surrounded by nature. And one of the typical excursions you can do is visit the Verdon Natural Park.
You can do this visit on your own or with a guided group.
You will go through the canyons of this natural park, and you will see charming villages, the lavender fields of Valensole, and more surprises.
I'm sure you'll love it. A must.
Mont Sainte-Victoire Wine Tour
On this tour of Mont Sainte-Victoire, you will learn to distinguish one wine from Provence from another. Without a doubt, it is a fantastic tour for wine lovers.
But in addition, you will go through the fields of Cézanne and enjoy wonderful views just like the famous painter.
And of course, you are going to visit different wineries and do tastings in each of them. Therefore, this visit is good to do with a tour. Because that way you don't have to worry about driving. Unless you have a car with a driver or you, don't drink 😉
Calanque National Park
Very close to Aix is the Calanques National Park, which offers you a beautiful landscape of sea and mountains that invite you to explore each of its paths.
On a sunny day, the color of the water is totally turquoise and crystal clear, which creates an incredible picture to be able to observe and photograph.
How to Get to Aix-en-Provence
Those who do not use their own or a rental vehicle can use the train network to reach Aix-en-Provence.
From Marseille, many trains leave from Saint Charles; it takes about 40 minutes if you go by slow train and about 10 minutes by high-speed train.
In addition, there are connections with many other French cities such as Avignon, Cannes, Nice, and Monaco.
Take a look at rental car prices here.
Hotels in Aix-en-Provence
In the center of Aix-en-Provence, we can find various types of accommodation, from luxurious hotels to more modest ones, but with the necessary comforts to rest.
Search engines like Booking help you find the best option for you and your pocket.
We recommend staying near the center to easily get to know the city on foot.
For example:
Hotel des Augustins is located on the famous Cours Mirabeau, in the historical center of Aix-en-Provence. It has all the comforts of the modern world in a former 12th-century convent.
Odalys City Aix en Provence L'Atrium is an aparthotel located 10 minutes on foot from the city center. It is ideal if you are touring France by car or with your pet. Since it has parking and accepts your furball.
Aix is sunny for most of the year and is a dynamic city worth walking around, so you don't have to spend much time in your accommodation.
Where to Eat
In the center of Aix, you can find an infinity of restaurants where you can taste good French cheeses and wines, but there is much more.
In Aix-en-Provence, hiring a tour to try different food is possible, but you can also do it on your own.
Here we leave you some of the typical dishes that you should try during your visit:
Olive pate (tapenade)
Socca: Flatbread seasoned with spices
Nizarda salad: a typical dish of Nice and Aix due to its proximity
Ratatouille: vegetable stew that is a current icon of French gastronomy
Pisto soup: cold pasta and vegetable soup
Sweet and savory pancakes
Calisson d'Aix: local artisan sweets with a marzipan texture made with almonds.
If what we have told you about Aix-en-Provence sounds interesting to you, do not hesitate to plan your trip to enjoy the city that inspired the great Paul Cézanne and welcomes thousands of tourists every year.
This city is full of cultural attractions, and gastronomic wealth is a point that you have to visit if you are touring the Côte d'Azur.
Also, if you are lucky enough to go on summer vacation to this city, you can enjoy different festivals held every year, such as the opera festival.
Take the opportunity to get to know this medieval city of Provence that we guarantee will not disappoint you.
Plan Your Trip to Provence