Visit Sault Provence: A Charming Escape You'll Love
Discover the hidden gem of Sault, a village nestled at the foot of Mont Ventoux in Provence. As I wandered through its winding streets, the enchanting scent of lavender filled the air, immersing me in the true essence of Sault Provence.
The charm of this hilltop town and its vibrant local culture captivated my heart. Join me on a journey to Sault Provence, where history, breathtaking landscapes, and the undeniable allure of Provencal life await, ready to create memories that will last a lifetime.
Discover the History of Sault Provence
As you wander through its narrow streets, you can't help but feel a sense of wonder at the centuries of history that have shaped this place. From the Counts of Toulouse in the 11th century to the artisans of the Renaissance, Sault's past comes alive before your eyes.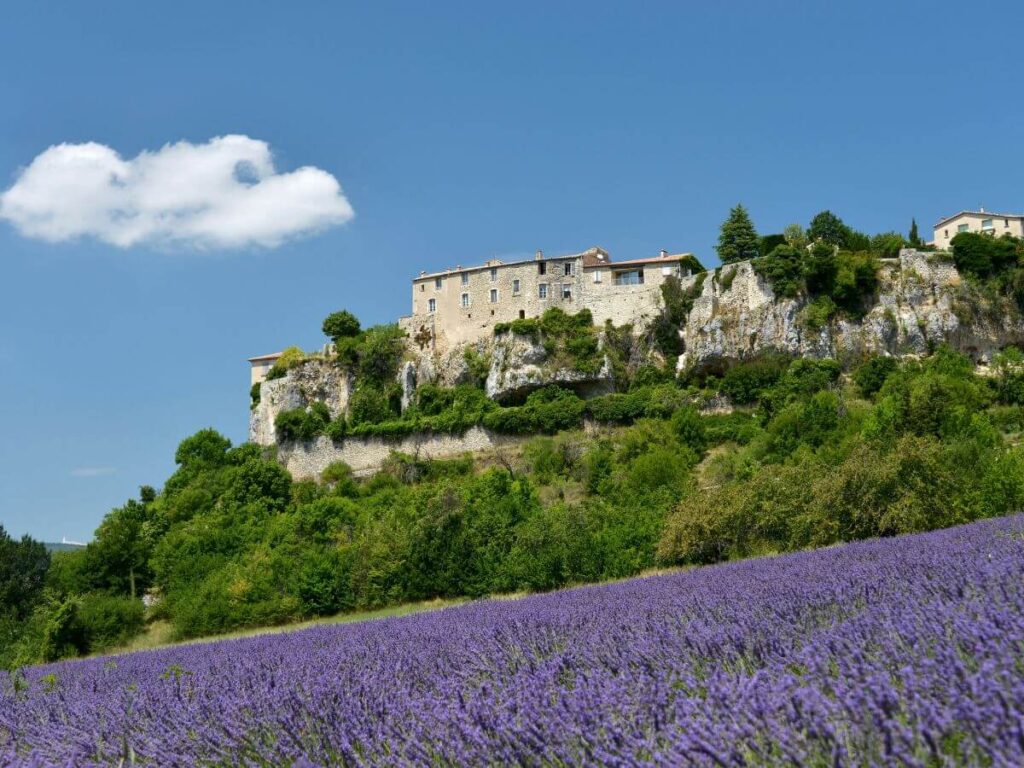 Imagine yourself transported back in time, standing amidst the thriving wool and silk industries of the Renaissance era. The skilled craftsmen of Sault left an indelible mark on the town, and their work still echoes through its charming streets.
In the 18th century, the enchanting lavender fields of Sault, France became the hallmark of the town.
During World War II, Sault en Provence played a role in the resistance movement, standing defiant against the occupation.
A silent witness of this resistance is the memorial to "Maquis Ventoux" where more than 1000 maquisards were commanded and organized by Colonel Beyne known as D'Artagnan
You can't help but feel a sense of pride as you learn about the bravery and determination of these people who fought for freedom in this area.
Weather and Climate in Sault Provence
During the summer months of June to August, temperatures range from 25°C to 30°C (77°F to 86°F). Spring and autumn bring mild temperatures, with averages ranging from 15°C to 20°C (59°F to 68°F).
Winters in Sault are generally mild, with temperatures averaging around 10°C (50°F).
Altitude and Vaucluse Department
Sault is situated at an elevation of approximately 765 meters (2,510 feet) above sea level. Thanks to Sault's location, the area features a stunning scene, dramatic cliffs of the Southern Alps, and plains filled with olives, sunflowers, and lavender, like Val de Sault.
The village is part of the Vaucluse department, where you'll find a variety of historical and tourist monuments such as chapels, churches, old houses, castles, and manor houses.
Top Attractions in Sault Provence
Discover the charm of Sault, Provence, through its captivating attractions. Explore lavender farms at Distillerie du Vallon des Lavandes and enjoy the essential oils of lavender, admire the stunning Eglise Notre Dame De La Tour;
If you're curious about the cool history of the village, you need to follow the signpost « Une heure sur les pas du loup » (An hour in the footsteps of the wolf) trail. It's a great way to start exploring!
You'll see three of the old medieval castle towers and stroll through some sweet streets with fun names like Rompe-Cul which literally means butt breaker.
Check out the Church of Notre Dame de la Tour, which was built way back in the 1100s and is very important in the history of the town. It is of course, a historical monument.
If you fancy outdoor adventures this is a great place with beautiful countryside and fantastic places to enjoy the views and hike.
Ubiquitous in Sault, lavender blooms from the beginning of July.
Distilleries, gardens, and farms welcome you to discover the world of plants and scents. Various visits and workshops are offered to discover the world of this emblematic plant of Provence, from the field to the finished products, without forgetting its uses and history.
In addition to the Provencal market every Wednesday morning since 15h15, the summer period in Sault is punctuated by many events, festivals, and garage sales, the highlight of which is the unmissable lavender festival on August 15
Eglise Notre Dame De La Tour
Eglise Notre Dame De La Tour, located in Sault, Provence, is not an architectural masterpiece itself but, it is classified as a historical monument due to its cultural and historical importance.
As you step inside, you'll be transported back in time, feeling the presence of centuries gone by. I was captivated by the church's rich history, which dates back to its construction between 1150 and 1180.
You can't help but admire the Romanesque style and the square bell tower that dominates the skyline of Sault. The church, dedicated to the Virgin Mary, holds a special place in the hearts of the locals, providing solace and refuge during tumultuous times.
As you explore the interior, you'll be greeted by the soft light filtering through exquisite stained glass windows casting colorful patterns.
Eglise Notre Dame De La Tour has stood the test of time, bearing witness to significant historical events and welcoming notable figures like Jean-Baptiste Gassendi.
Today, it continues to serve as a pillar of the community, hosting religious ceremonies and cultural events that bring people together.
The Museum of the city of Sault
The museum of the city of Sault is one of the oldest in the province and opens its doors in the summer.
In the manner of cabinets of curiosities, it exhibits treasures as heterogeneous as they are interesting: an original copy of the encyclopedia of Diderot and d'Alembert, numismatic and Egyptian collections -including a mummy-, lapidary inscriptions, a herbarium, minerals, and fossils.
Les Pastilles Sonores
There are many shops that dot the village: crafts, souvenirs, producers, useful shops, cafes, restaurants, tea room, food products, etc.
A large number of them offer a musical and unusual discovery of their activity in collaboration with the Milieu.
In 2020, the company Le Phare à Lucioles initiated a project to commission singers, sound artists and composers to compose small pieces related to businesses in the village of Sault.
The principle is simple: an artist spends a day in a village shop. The people gathering, the atmosphere of the place, the life of the trade, or the in situ recordings give the main material allowing the artist to compose, write and record a small sound piece of 2 to 3 minutes.
The audio badge is then recorded on a listening platform and accessible via a QR code displayed on each façade of participating businesses.
Tour the Distillerie du Vallon des Lavandes in Sault Provence
At Distillerie du Vallon des Lavandes in Sault, Provence, you'll have the opportunity to indulge your senses in the lavender fields.
As you wander through the fields, you'll be swept away by the purple hues and the gentle breeze carrying the soothing aroma of lavender.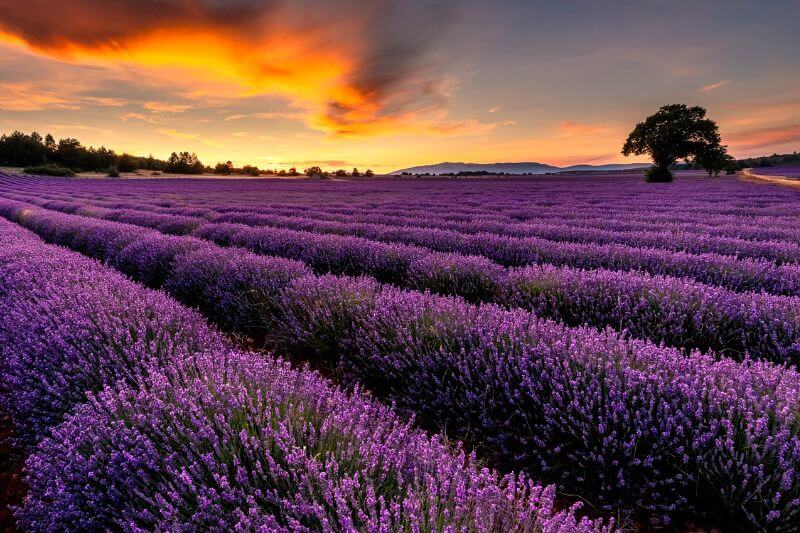 Don't miss the chance to explore the small on-site shop, where you'll discover a range of unique and locally made lavender products. You'll be delighted by the variety, from fragrant essential oils and handmade soaps to culinary treats.
What sets Distillerie du Vallon des Lavandes apart is its peaceful and picturesque setting. Here, you'll experience the lavender fields in all their glory.
Visit the Mont Ventoux and Gorges de la Nesque
When you visit Sault in Provence, you simply cannot miss the opportunity to explore two picturesque spots: Mont Ventoux and Gorges de la Nesque.
As an adventurous traveler, you have the chance to embark on a thrilling bike ride or hike up the Mont Ventoux. Feel the satisfaction as you conquer the challenging slopes. The panoramic views from the top will take your breath away.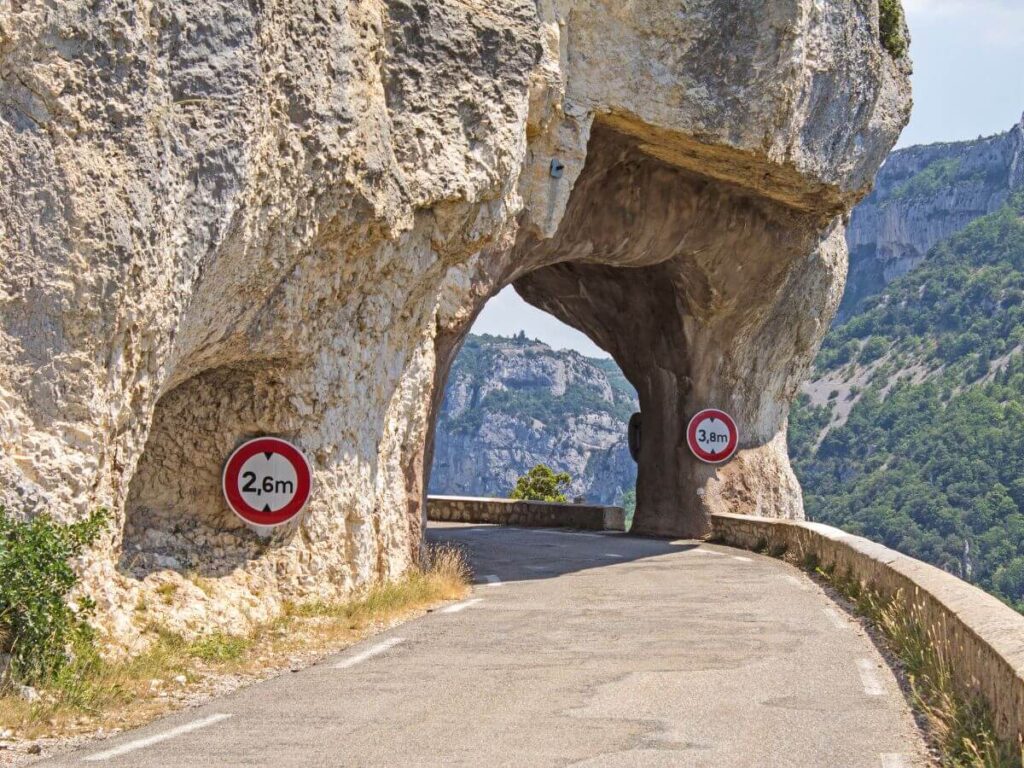 For a change of scenery, the breathtaking beauty of Gorges de la Nesque is a perfect choice. Whether you choose to drive along the winding roads or embark on a serene hike, you'll be rewarded with awe-inspiring views at every turn.
Beyond Mont Ventoux and Gorges de la Nesque, Sault opens the door to even more natural tourism. The Toulourenc Valley invites you to dip your toes in its refreshing waters and then peacefully enjoy one of the best traditions in France, the picnic (pique-nique).
The Lure Mountain beckons with its picturesque trails and stunning viewpoints, offering you moments of tranquility in nature's embrace. And don't forget to explore the Albion plateau, where expansive landscapes and charming villages await your discovery.
Discover the Gordes and Luberon
I highly recommend exploring the enchanting Gordes and Luberon area. As you wander through the charming streets of Gordes, you'll be captivated by the stone houses and narrow alleyways creating an atmosphere of timeless beauty.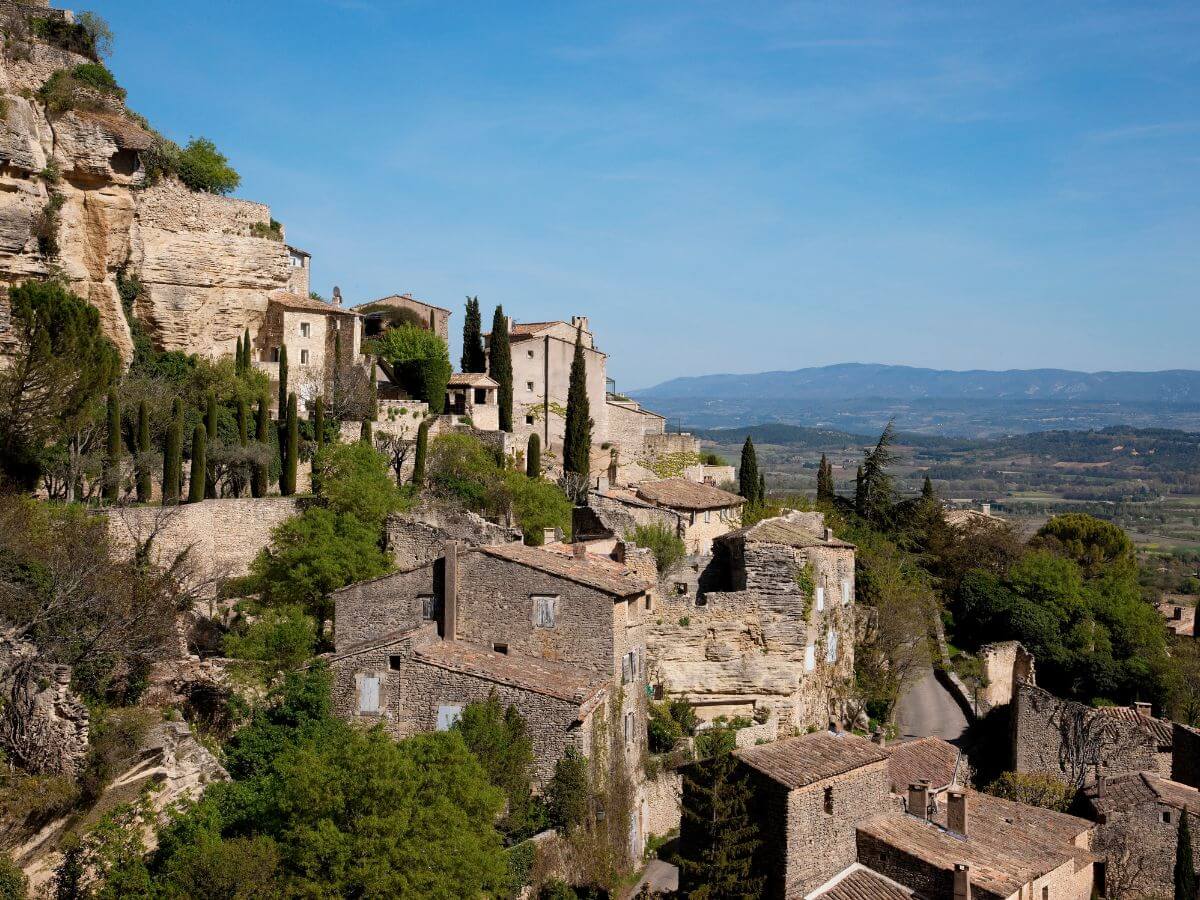 Venturing beyond Gordes, the Luberon region reveals its hidden treasures. It's a place where you can truly immerse yourself in the Provençal way of life. You'll discover quaint villages nestled amidst the breathtaking scenery.
Picture yourself strolling through the ochre cliffs of Roussillon or getting lost in the medieval charm of Ménerbes.
Gordes and the Luberon region are a testament to the timeless beauty of Provence. They offer a perfect escape from the hustle and bustle of city life. So, as you plan your journey through Sault, remember to explore these captivating destinations.
Abbaye de Sénanque
When you visit Sault, I highly recommend taking the time to explore the Abbaye de Sénanque, a place of remarkable historical significance. Founded in the year 1148 by a group of Cistercian monks, the abbey holds over eight centuries of history within its walls.
As you approach, you'll be captivated by the beautiful and well-preserved medieval architecture that stands as a testament to the abbey's rich heritage. The Cistercian monks, known for their dedication to simplicity and devotion, chose this location to establish their monastery.
As you explore the grounds, don't forget to venture outside and discover the beautiful lavender fields that surround the abbey.
The Abbaye de Sénanque and its Cistercian monks played a significant role in the history of the region. They lived a self-sufficient life, cultivating the land and practicing various crafts.
So, when you visit Sault, I encourage you to immerse yourself in the rich history and serene beauty of the Abbaye de Sénanque. Capture the essence of the lavender fields in your photographs, and allow yourself to be transported to a place where history, spirituality, and natural beauty intertwine.
Dentelles de Montmirail
During your trip, I encourage you to visit the captivating Dentelles de Montmirail. These rock formations hold a rich history that spans millions of years. As you hike through this natural wonder, you'll be amazed by the patterns carved by time and nature.
The Dentelles de Montmirail has witnessed the passage of time and the rise and fall of civilizations. In the 14th century, during the Avignon Papacy, they served as a strategic location with fortifications and small communities.
Today, these majestic cliffs offer more than just breathtaking landscapes. Outdoor enthusiasts can enjoy rock climbing, birdwatching, and other activities. Take a moment to relax with a picnic amidst the serene surroundings.
The Dentelles de Montmirail invite you to experience their geological marvels and connect with nature's grandeur. Explore these ancient formations, immerse yourself in their historical significance, and create unforgettable memories in this majestic landscape.
Things to Do in Sault Provence
Discover the beauty of Sault, Provence with its abundance of activities. Embark on hiking and walking trails that showcase the stunning landscapes. Explore charming villages like Aurel, Brantes, and Montbrun-les-Bains, each offering their own unique charm and experiences to make your visit truly unforgettable.
Hiking and Walking Trails in Sault, France
One of the best ways to immerse yourself in the natural beauty of Sault is by exploring its scenic hiking and walking trails. In addition to the 5km Lavender Road, there are several other trails that offer captivating experiences.
For a longer adventure, consider the GR4 trail, which stretches over 110km and takes you through the heart of the Regional Natural Park of the Luberon. This trail rewards you with breathtaking vistas of the countryside and allows you to discover charming villages along the way.
Another notable trail is the Sentier des Ocres, located near the village of Roussillon. This trail meanders through vibrant ochre cliffs, creating a stunning contrast against the blue sky. It's a sensory journey that will leave you in awe of the natural beauty.
If you're up for a challenge, the ascent of Mont Ventoux is a must. This iconic mountain offers various hiking routes, each with its own level of difficulty. Reaching the summit rewards you with panoramic views that extend as far as the eye can see.
No matter which trail you choose, each step will unveil the wonders of Sault's countryside, from lavender fields to rolling hills and charming villages. Lace up your hiking boots, breathe in the fresh air, and embark on a memorable adventure in the heart of Provence.
See the Stone Houses of Aurel
During your visit to Sault Provence, I highly recommend taking the time to explore the charming village of Aurel. Just 8km away from Sault, Aurel is an excellent starting point for a variety of walking trails in the area.
As you wander through its narrow streets and admire the traditional stone houses, such as the Maison Rousselle, you'll feel a connection with the village's rich history. You can't help but imagine the generations of residents, including historical figures like the Marquis de Sade, who have called Aurel home.
As you stroll through the village, take a moment to step inside the beautiful 17th century church, Église Saint-Pierre, and appreciate its architectural beauty. Allow yourself to be immersed in the timeless charm of Aurel and create your own cherished memories in this enchanting village during your visit to Sault Provence.
Stroll along the Brantes Village
This idyllic village has a rich history that dates back centuries. From its humble beginnings as a medieval settlement to its prominence during the Renaissance, Brantes has witnessed the passage of time and the rise and fall of civilizations.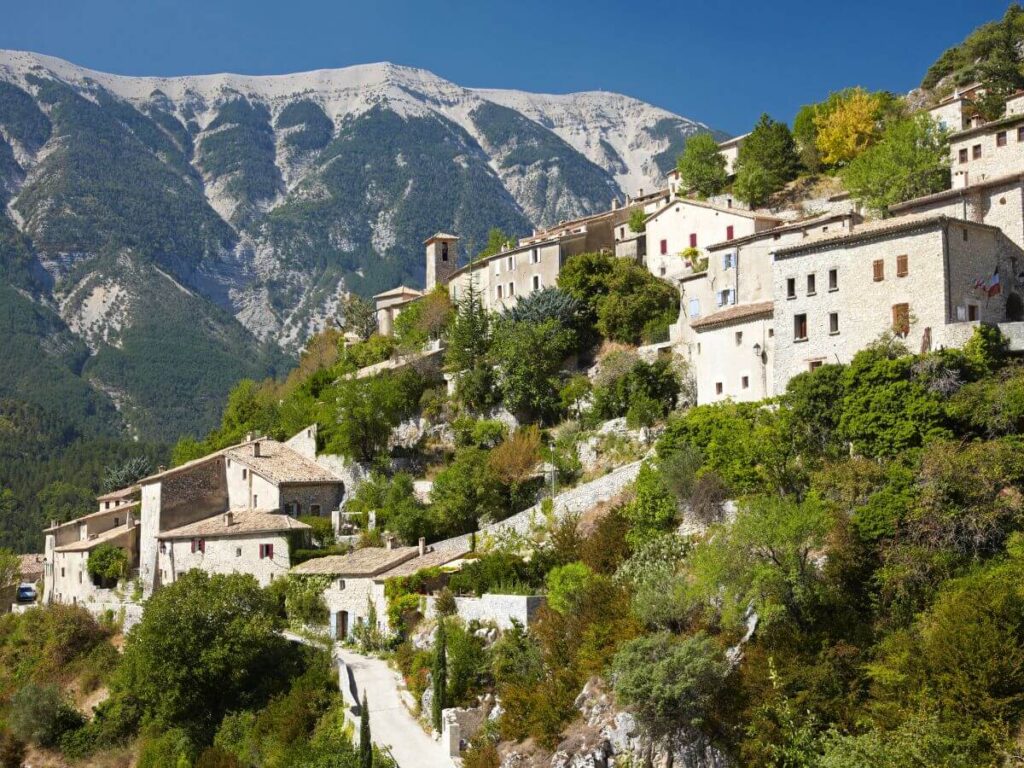 Brantes has been home to many historical figures who have left their mark on the village. One notable resident was Jean-Baptiste Grenier, a renowned painter from the 19th century whose works captured the beauty of the Provençal countryside.
Strolling through the streets of Brantes of the traditional stone houses, cobblestone streets, and picturesque squares create a sense of tranquility and authenticity. Take a moment to sit at a local café, savoring a cup of coffee or a glass of wine, and immerse yourself in the relaxed pace of village life.
Brantes is nestled on the slopes of Mont Ventoux, offering breathtaking views of the surrounding landscape. As you hike the trails that wind their way through the countryside, you'll be rewarded with stunning vistas of rolling hills, vineyards, and olive groves.
Explore Montbrun-les-Bains in Sault Provence
As you explore Montbrun-les-Bains, you'll discover a charming hilltop village with a rich history and breathtaking natural surroundings. Founded in the 12th century, Montbrun-les-Bains has welcomed merchants and travelers along its trade route throughout the ages.
The village is steeped in history, with notable figures like the Marquis de Brancas leaving their mark on its development in the 17th century. As you wander through the narrow cobblestone streets and marvel at the well-preserved stone houses, you'll be transported back in time.
The ruins of the Château des Hospitaliers serve as a reminder of the village's medieval past. Surrounded by forests, olive groves, and lavender fields, the village offers a range of hiking trails catering to different skill levels.
For the adventurous, Montbrun-les-Bains provides opportunities for horse riding, rock climbing, and paragliding. Indulge in these exhilarating activities while taking in the breathtaking vistas.
Discover Avignon and Carpentras
During your time in Sault Provence, I encourage you to explore the captivating cities of Avignon and Carpentras. Immerse yourself in their rich history and marvel at their architectural wonders.
In Avignon, you can step back in time as you visit the magnificent Palais des Papes, which served as the residence of popes during the 14th century. Wander through the winding cobblestone streets and feel the spirit of the city as you admire the iconic Pont d'Avignon.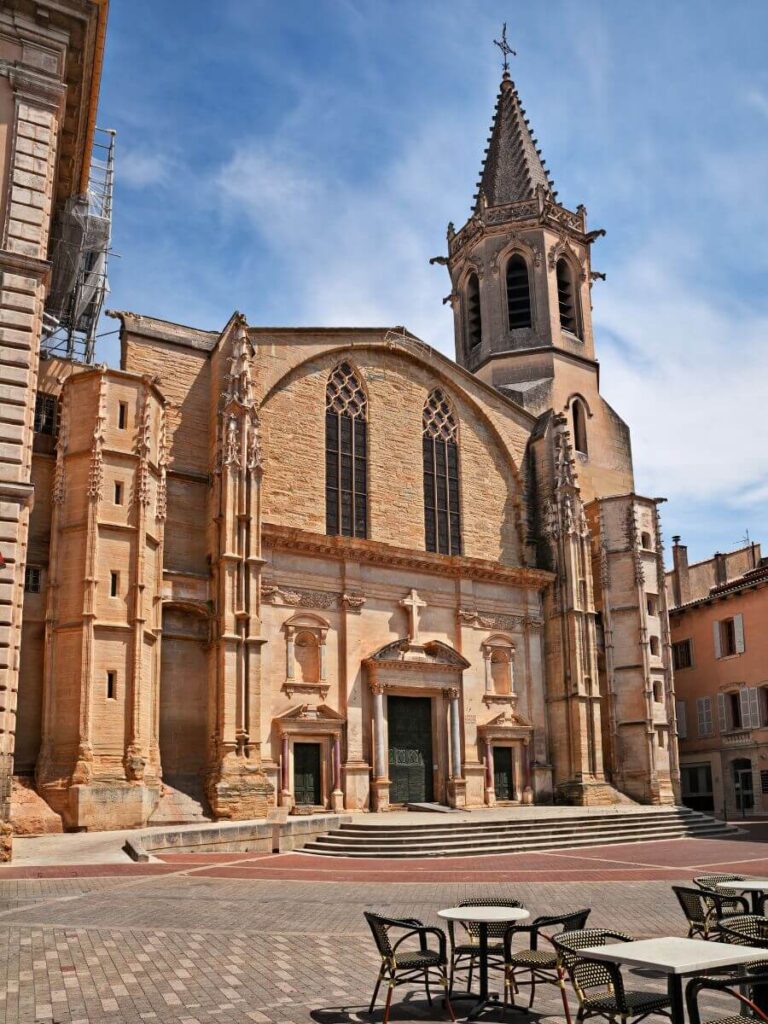 In Carpentras, you'll be enchanted by the city's Cathédrale Saint-Siffrein, a testament to its medieval past. Don't miss the opportunity to visit the impressive Gothic synagogue, a symbol of the city's historical Jewish community.
Take a stroll through the vibrant Provençal market, where the sights and scents of fresh produce and local delicacies will awaken your senses.
Visit the Nearby Sault Museums
When exploring Sault, I encourage you to delve into the rich cultural heritage of the region by visiting its museums. In Sault itself, you can start your journey at the Distillerie du Vallon des Lavandes, a unique museum located within a working lavender distillery.
Here, you can gain insights into the production process of lavender and discover the fascinating history behind this iconic plant in the area.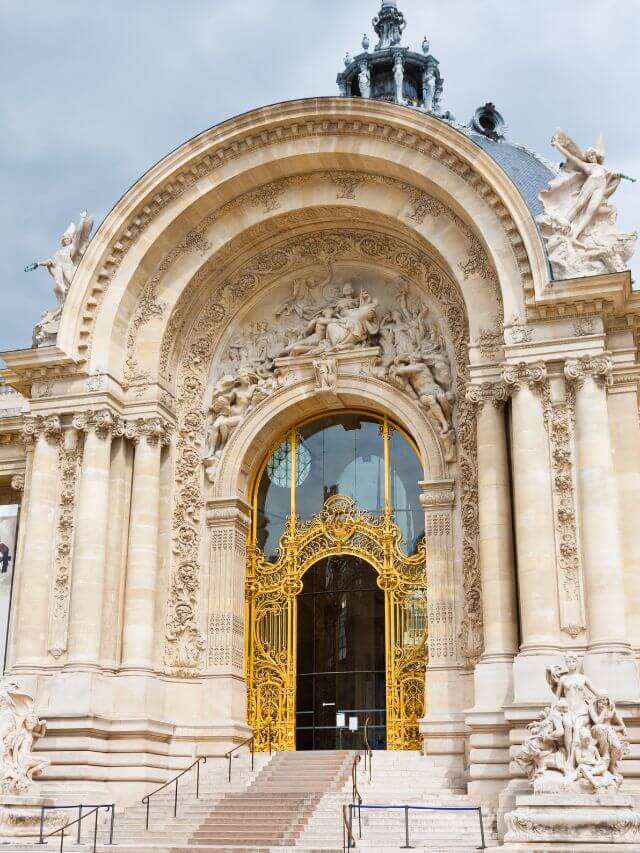 For a broader artistic experience, I recommend a visit to the Musée du Petit Palais in Avignon, a short distance from Sault. This museum houses an extraordinary collection of Italian and French Renaissance paintings, showcasing masterpieces by renowned artists like Botticelli and Carpaccio.
One of the prominent museums in the area is the Musée Calvet in Avignon. Founded in 1810 by Esprit Calvet, a physician and art collector, this museum houses an extensive collection of artworks spanning various periods. Here, you can admire masterpieces by renowned artists such as Nicolas Poussin and Jean-Baptiste Greuze.
For those with an interest in natural history, the Musée Requien in Avignon offers a captivating exploration. Established in 1838 by naturalist Esprit Requien, this museum displays a remarkable array of fossils, minerals, and taxidermy specimens, providing insights into the diverse flora and fauna of the region.
In Carpentras, the Musée Comtadin-Duplessis invites you to delve into the history and heritage of the Comtat Venaissin region. Housed in the former Hôtel-Dieu, this museum showcases a range of artifacts, including archaeological finds, decorative arts, and religious objects.
Take a Quiet Escape at the Chapel of the Penitents Blancs
This captivating chapel, dating back to the 17th century, holds a significant place in the village's history. As you step inside, you'll be transported to a bygone era, where the devout congregated to worship and seek penance.
The Chapel of the Penitents Blancs is a testament to Provençal architecture, with its unassuming yet striking façade that reflects the region's religious heritage. The interior is equally enchanting, with a wooden ceiling that exudes warmth and craftsmanship. Adorning the walls are exquisite Baroque-style altarpieces, showcasing the artistry of the era.
Throughout the years, this chapel has served as a spiritual haven for the community, witnessing countless religious ceremonies, processions, and moments of reflection. It stands as a symbol of faith and devotion, preserving the stories and traditions of generations past.
As you enter the chapel, you'll be greeted by a serene ambiance, inviting you to pause, reflect, and appreciate the historical significance of this sacred space.
Local Products and Souvenirs
When visiting Sault in Provence, make sure to explore the local products and souvenirs that this charming region offers. Among the most prized items are lavender soaps and essential oils, as well as the famous nougat.
Lavender Soaps and Essential Oils in Sault Provence
As you wander through the fragrant lavender fields surrounding Sault, be sure to visit the Lavender Boutique, a charming store that offers a wide selection of lavender products.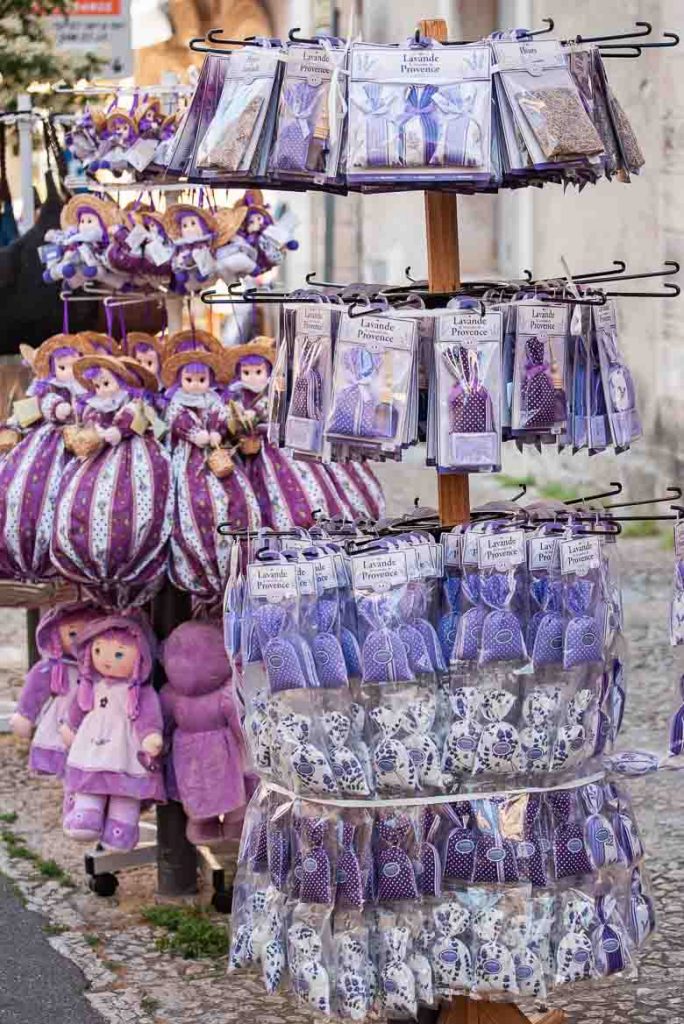 Here, you can find an array of lavender soaps and essential oils, crafted with care using locally grown lavender. From luxurious soaps infused with lavender oil to therapeutic essential oils renowned for their calming properties, there's something for everyone.
The Lavender Boutique prides itself on sourcing the finest lavender from the region, ensuring the highest quality and authenticity. The prices for these products typically range from €5 to €15.
Sault's Nougat
As you explore the charming town of Sault in Provence, be sure to immerse yourself in the rich tradition of nougat. For years, Boyer Nougat Factory has been perfecting the art of nougat-making, using the finest ingredients and time-honored techniques.
During your visit, you have the opportunity to take a tour of their nougat-making and packaging workshops, where you'll witness the meticulous process from start to finish.
The factory is open year-round, except in February when they take a short break. If you're planning to visit with a group larger than 15, it's advisable to book an appointment in advance.
Indulge your taste buds as you sample their exquisite white and dark nougat, along with other delightful creations such as macaroons and spelled galettes. The harmonious blend of flavors and the irresistible texture will leave you craving more.
Not only can you enjoy the nougat yourself, but you can also consider purchasing some as a thoughtful gift for your loved ones. The Boyer Nougat Factory's nougat makes for a truly special and flavorful souvenir of your visit to Sault in Provence.
Where to Eat in Sault, France?
When it comes to dining in Sault, France, you have a range of options to satisfy your taste buds. For a budget-friendly meal, head to the charming Le Petit Jardin. Indulge in their delicious Ratatouille or Lavender Honey Glazed Duck Breast.
If you're looking for a mid-range option, L'Oustau de la Font is a family-run restaurant that offers French and Mediterranean cuisine. Try their Grilled Lavender-Marinated Lamb Chops or Bouillabaisse for a flavorful experience.
For a fine dining experience, Les Lavandes is a Michelin-starred restaurant known for its innovative dishes. Treat yourself to their Pan-Seared Scallops with Lavender Beurre Blanc or Lavender Crème Brûlée.
Where to Stay in Sault Provence?
When it comes to finding the perfect place to stay in Sault, Provence, I have a few recommendations for you. For those on a budget, Hôtel Belvue offers comfortable rooms and a great location starting at €60 per night.
If you're looking for a mid-range option, I suggest Hôtel D'Albion, which combines modern amenities with a touch of Provencal charm starting at €90 per night. And for a truly luxurious experience, you can't go wrong with Le Mas des Aires, where you'll enjoy elegant rooms, a refreshing swimming pool, and breathtaking views starting at €150 per night.
No matter which one you choose, these accommodations in Sault will provide a wonderful home base for your exploration of this picturesque region.
Getting to Sault, France
Getting to Sault in Provence is convenient and offers various transportation options. Renting a car is a popular choice, allowing you to have the freedom to explore the region at your own pace.
Alternatively, you can take a train to Avignon or Carpentras, the closest major train stations, and then catch a local bus or taxi to reach Sault. Cycling is another eco-friendly option, as you can rent bicycles locally and enjoy a scenic ride through the countryside.
For those traveling from further away, Marseille Provence Airport and Avignon Provence Airport are the nearest airports, providing domestic and international flights. Book flights in advance here.
From there, you can rent a car or take a train or bus to Sault.
Getting Around Sault Provence
Getting around Sault in Provence is best done with a rental car, allowing you to easily explore the charming village and its surrounding areas. With a car, you'll have the flexibility to visit nearby attractions, such as the lavender fields and the Mont Ventoux region, at your own pace.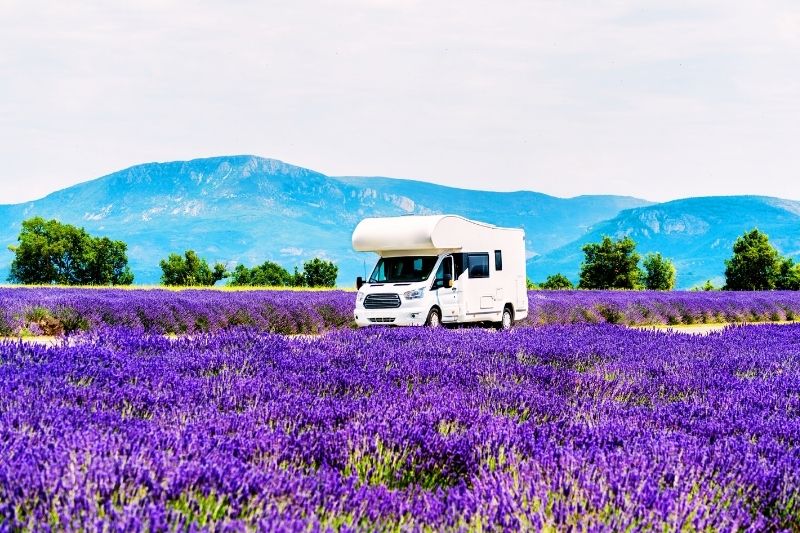 Alternatively, you can also use local buses or taxis to navigate within Sault. The village is small and walkable, making it convenient to explore on foot. Additionally, cycling is a popular option for getting around, and you can rent bicycles locally.
Frequently Asked Questions of Sault, Provence
What Are the Best Hiking Trails in Sault, France?
The best hiking trails in Sault, France offer breathtaking views and varied terrain. I highly recommend exploring the Lavender Road for a leisurely walk or challenging yourself with the Mont Ventoux hike.
Are There Any Lavender Festivals or Events in Sault?
Yes, Sault hosts vibrant lavender festivals and events that celebrate the beauty and fragrance of this iconic flower. One example of a lavender festival in Sault is the Fête de la Lavande, held annually in July
What Is the Best Time of Year to See the Lavender Fields in Bloom in Sault?
The lavender fields in Sault are at their most vibrant and fragrant from mid-June to mid-July. This period is perfect for witnessing the purple-hued landscapes in full bloom.
What Are Some Family-Friendly Activities to Do in Sault?
Sault offers a plethora of family-friendly activities to enjoy. Take your little ones on a bike ride through the lavender fields, have a picnic in the scenic countryside, or embark on a treasure hunt in the charming streets of the village
Plan Your Trip to Provence, France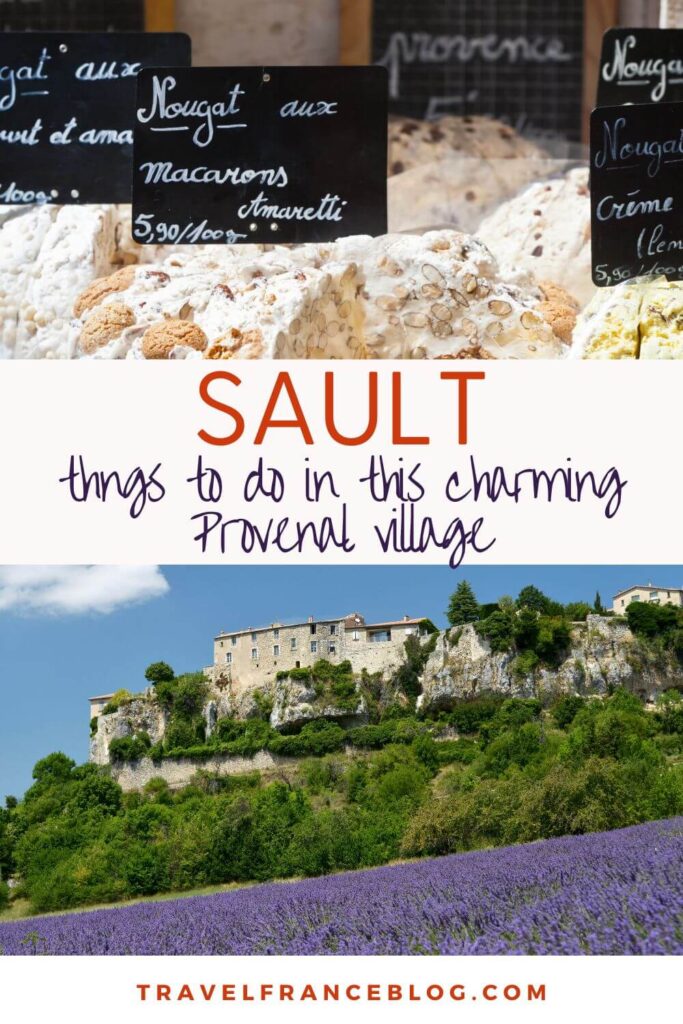 This post may include affiliate links. This means that we will receive a small commission if you make a purchase through our links. It has no additional cost for you. With this, you help us to continue creating free content for you.
This post may include affiliate links. This means that we will receive a small fee if you make a purchase through our links. It has no additional cost to you. It's a win-win!