Best Fashion Museums in Paris: From Coco Chanel to Christian Dior
Planning a trip to Paris? Don't miss the chance to explore the city's fashion scene! Paris, the epitome of style and elegance, houses iconic museums like the Fashion Museum in Paris.
Immerse yourself in the genius of legendary designers, glamorous garments, and exquisite textile art.
Beyond these renowned institutions, you will discover other fashion and design museums celebrating Parisian heritage.
As a fashion enthusiast or simply curious traveler, these museums, including the Paris Fashion Museum, promise an unforgettable experience that truly embodies the essence of Parisian style.
Must-Visit Fashion Museums in Paris
Let me guide you through the vibrant world of fashion museums in Paris. Prepare to be amazed by the Palais Galliera, the Musée des Arts Décoratifs, and the Musée Yves Saint Laurent.
These iconic fashion museums in Paris offer a glimpse into the city's rich fashion history. Let's embark on this journey together in the heart of fashion history in Paris, the Pallais Galliera.
Printable
Outfit Planner
EXTRA TIP: plan what you will wear in advance so you take everything you need and do not have to make extra expenses at the destination. You can download the PDF here; the price is up to you!
Palais Galliera
This legendary Parisian fashion museum holds a special place in my heart. Built-in 1879 within the magnificent palace of the Duchess of Galliera, it has transformed over time into a must-visit destination for fashion enthusiasts like us.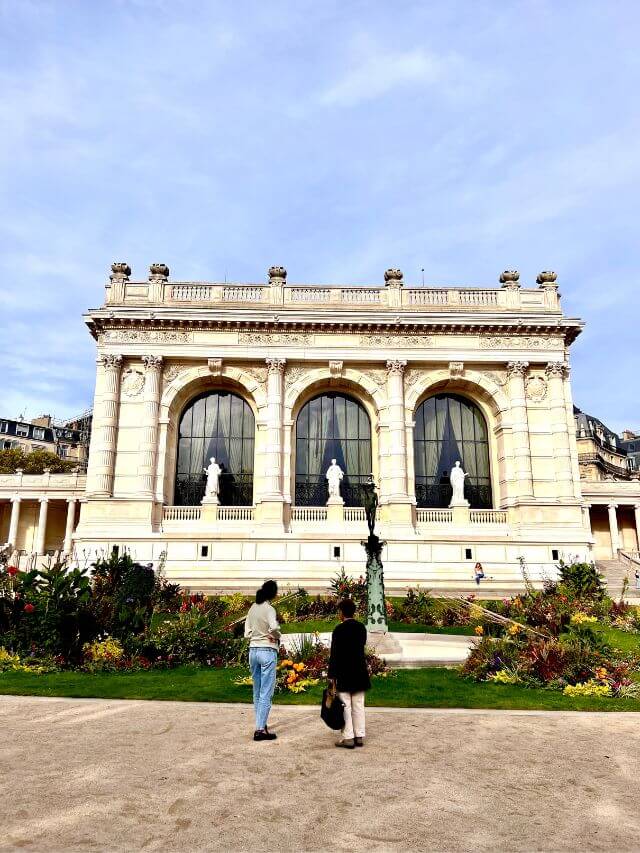 Once inside, prepare to be captivated by the intricate tapestry of fashion history, where each period and style tells a unique story. What I love most about the Palais Galliera is that its exhibitions are ever-changing, guaranteeing a sense of excitement and endless discoveries.
So, mark your calendar from 10:00 AM to 6:00 PM and grab your entry ticket for just €12. Get ready to immerse yourself in a treasure trove of iconic designer creations and rare vintage pieces.
You will dive into the stories behind each exhibit in the Palais Galliera, gaining a deeper appreciation for the artistry and craftsmanship that make fashion timeless.
Musée des Arts Décoratifs
You can continue your fashion journey at the "Musée des Arts Décoratifs," nestled near the iconic Louvre Museum. With a rich history dating back to 1905, this museum is a testament to French culture and craftsmanship.
Each piece is a testament to the boundless creativity and impeccable craftsmanship of artisans throughout history. From thought-provoking displays to thematic exhibitions, the Musée des Arts Décoratifs is a treasure trove that will inspire your own personal style journey.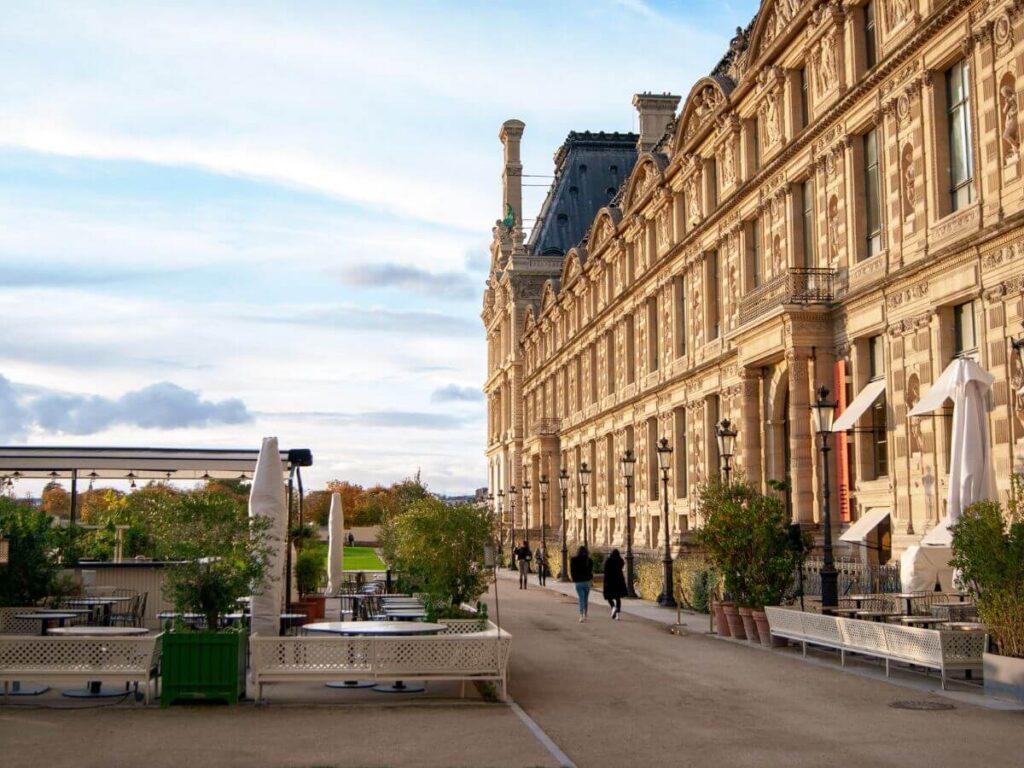 Be sure to check the opening hours, as the museum welcomes visitors from 11:00 AM to 6:00 PM. To experience this cultural gem firsthand, secure your entry ticket priced at €14 for adults.
If you prefer an affordable choice, you can get the Paris Museum Pass and visit more museums along with Musée des Arts Décoratifs.
Musée Yves Saint Laurent
Step into the extraordinary Musée Yves Saint Laurent, a museum that pays homage to the iconic French designer Yves Saint Laurent. It opened its doors in 2017, and you can find it conveniently located in the 16th arrondissement, just across from the majestic Eiffel Tower.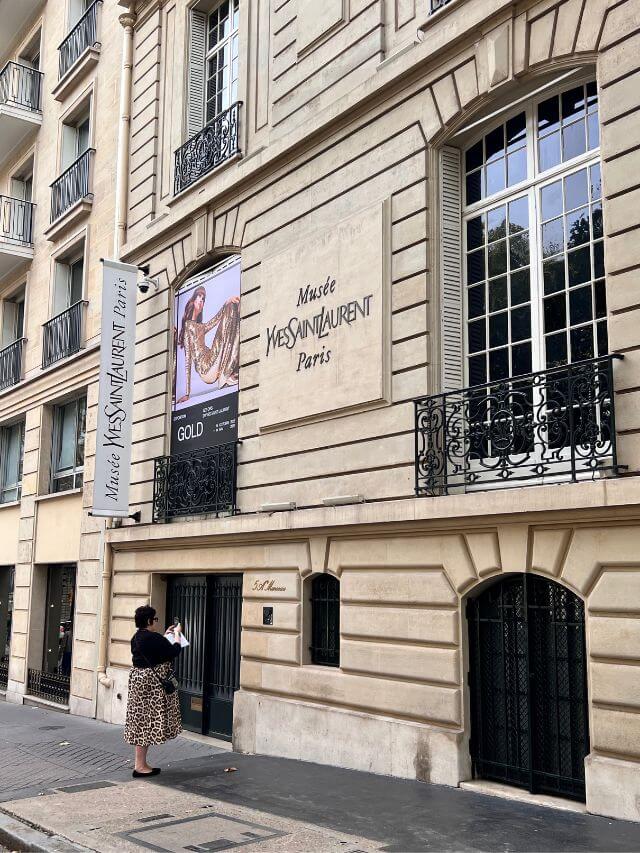 Once inside, you'll feel an immediate connection to the creative process and unique designs of YSL.
As we explore this beautifully curated space, we'll have the privilege of an intimate and exclusive look at the models, sketches, and iconic pieces that shaped Yves Saint Laurent's prestigious career.
Before you visit, it's important to check the opening hours, which typically run from 11:00 AM to 6:00 PM. Keep in mind that schedules may change, so it's always a good idea to verify beforehand.
To gain entry to this remarkable museum, you'll need to purchase an entry ticket. The cost is €10—a small investment for the extraordinary experience that awaits you. It's worth every penny. You can book a guided tour to make your experience informative!
Louis Vuitton Museum
The museum's history traces back to 2006 when Bernard Arnault, the chairman and CEO of LVMH, envisioned a space that would celebrate contemporary art and foster creative expression.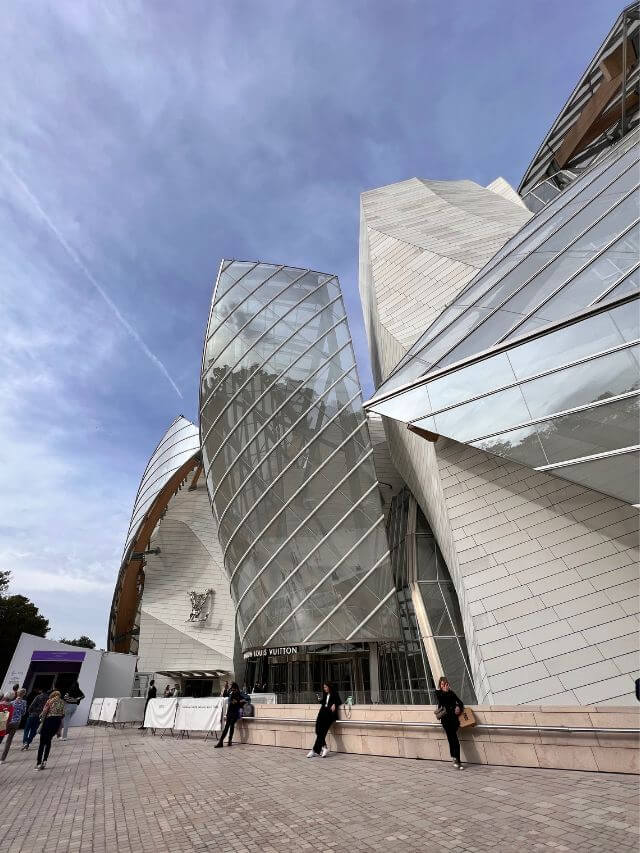 Since its opening in 2014, the Louis Vuitton Museum has become a captivating destination that merges art, architecture, and fashion. While it primarily focuses on contemporary art, it also embraces the world of fashion, showcasing temporary fashion exhibitions.
These exhibits have often featured the works of visionary fashion designers, collaborations between artists and fashion houses, or delved into the artistic inspirations behind fashion collections.
Stepping inside the Louis Vuitton Museum is like entering a realm where art and fashion seamlessly intertwine. Get this skip the line ticket for a regular entry and temporary exhibitions.
La Galerie Dior
For a fashion enthusiast, explore the legacy of Christian Dior and the creative vision of Maria Grazia Chiuri. Stepping into this exquisite gallery felt like stepping into a dream.
The history within La Galerie Dior is palpable. From Christian Dior's iconic New Look that revolutionized fashion to Maria Grazia Chiuri's contemporary designs, every exhibit tells a story of timeless elegance, where past and present intertwine.
When planning your visit, keep in mind the opening hours of La Galerie Dior, typically from 10:00 AM to 6:00 PM. The ticket prices are accessible, around €8 for adults, offering incredible value for the experience that awaits.
Why should you visit La Galerie Dior? It's more than just a fashion museum; it's a celebration of artistry, craftsmanship, and the enduring influence of Dior. For anyone seeking to navigate deeper into the world of haute couture, La Galerie Dior is an absolute must-visit.
Musée de l'Éventail
This museum, built with love and passion in 1993, holds a special place in the hearts of fan enthusiasts.
It was created by individuals who recognized the unique beauty and cultural significance of fans, and it opened its doors to tourists eager to share the magic within.
Fans have long been considered a symbol of elegance and refinement, intricately tied to the world of haute couture and personal style. They have adorned the hands of fashion icons and graced the runways of renowned designers.
While exploring the Musée de l'Éventail, don't miss the opportunity to visit the adjacent Atelier Anne Hoguet. This atelier, founded by the talented fan maker Anne Hoguet, offers a unique insight into the craftsmanship behind these exquisite accessories in the Boulevard de Strasbourg.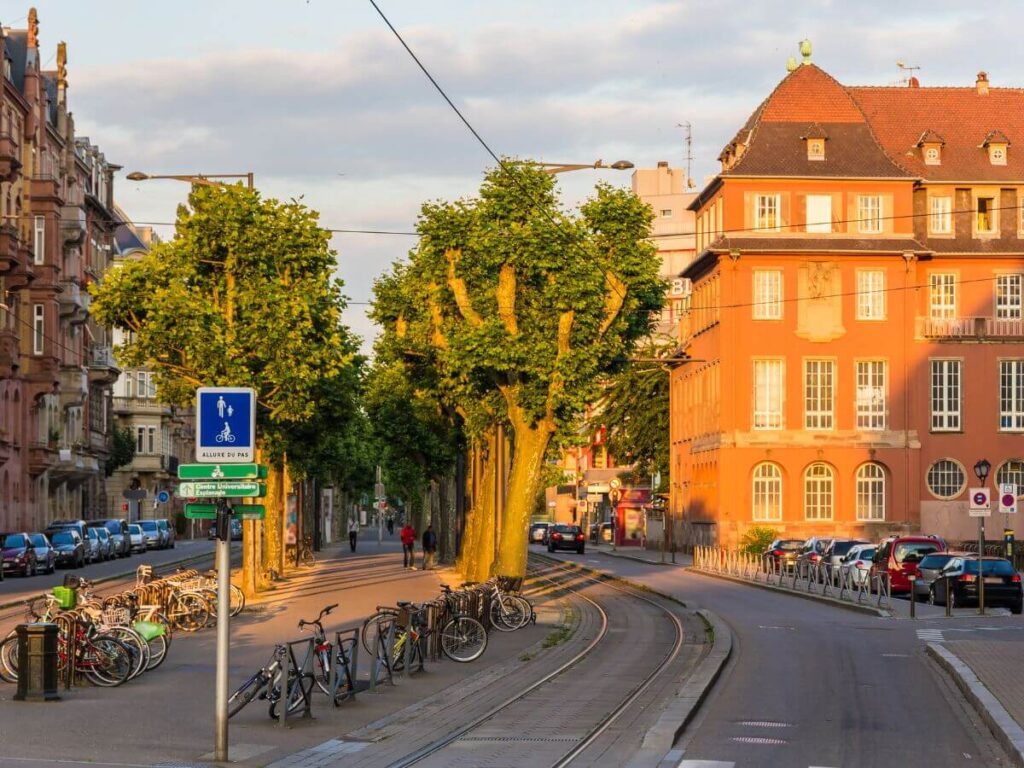 Step inside and witness the meticulous process of fan creation firsthand as Anne Hoguet and her team bring together delicate materials, intricate designs, and precise techniques to craft stunning fans.
The Atelier Anne Hoguet is a true hidden gem within the museum, allowing visitors to witness the artistry and dedication that goes into making these timeless treasures.
From selecting the finest materials to executing each delicate fold, you'll gain a profound appreciation for the intricate workmanship that makes every fan a work of art.
Unfortunately, like the Musée de l'Éventail, the Atelier Anne Hoguet is currently CLOSED. I really hope Paris opens this museum again.
Exploring the Exhibits in the Fashion Museums in Paris
Let me share with you the perfect fashion museums in Paris to immerse yourself in the world of haute couture and legendary designers. Prepare to be captivated by the artistry and craftsmanship that define these exceptional exhibits.
Haute Couture and Designers Guide
When exploring the exhibits of haute couture and designers in Paris, it's hard to know where to start. If you're a fan of Yves Saint Laurent, begin your journey at the Yves Saint Laurent Museum.
It's a true homage to the iconic designer, offering a deep dive into his incredible designs and sketches that defined an era.
Next, make your way to the Museum of Decorative Arts. Here, you'll discover the creative works of fashion luminaries like Elsa Schiaparelli, Jeanne Lanvin, and Azzedine Alaïa.
Marvel at their avant-garde designs and innovative approaches to fashion, gaining a newfound appreciation for their contributions to the industry.
And for the ultimate Chanel and Dior experience, head to La Galerie Dior. It's a sanctuary for fashion enthusiasts, where the masterpieces of Christian Dior and Maria Grazia Chiuri take center stage.
From the iconic silhouettes of Dior to the contemporary interpretations by Chiuri, you'll be captivated by the elegance, innovation, and timeless beauty.
Remember, there's no right or wrong order to explore these fashion museums. Follow your passions and interests, allowing the exhibits to guide you on an unforgettable journey through the world of haute couture and designers.
So, lace up your walking shoes, immerse yourself in the glamour of Paris, and embark on an adventure through the captivating fashion museums that await you.
Textiles and Jewellery in Fashion Museums in Paris
When exploring the world of haute couture and designers in fashion museums in Paris, don't miss the intricate realm of textiles and jewelry. The Louvre features historical textiles dating back to the Middle Ages, showcasing sumptuous brocades, delicate lace, and opulent velvets.
Alongside these textiles, you'll find stunning jewelry pieces adorned with sparkling diamonds, lustrous pearls, and vibrant gemstones. In fashion exhibitions throughout the city, you'll encounter unique textile patterns and adornments that define haute couture.
Marvel at intricately embroidered fabrics, exquisite beadwork, and meticulously crafted lace motifs. These details reflect the meticulous artistry and attention to detail that go into creating every fabric and accessory.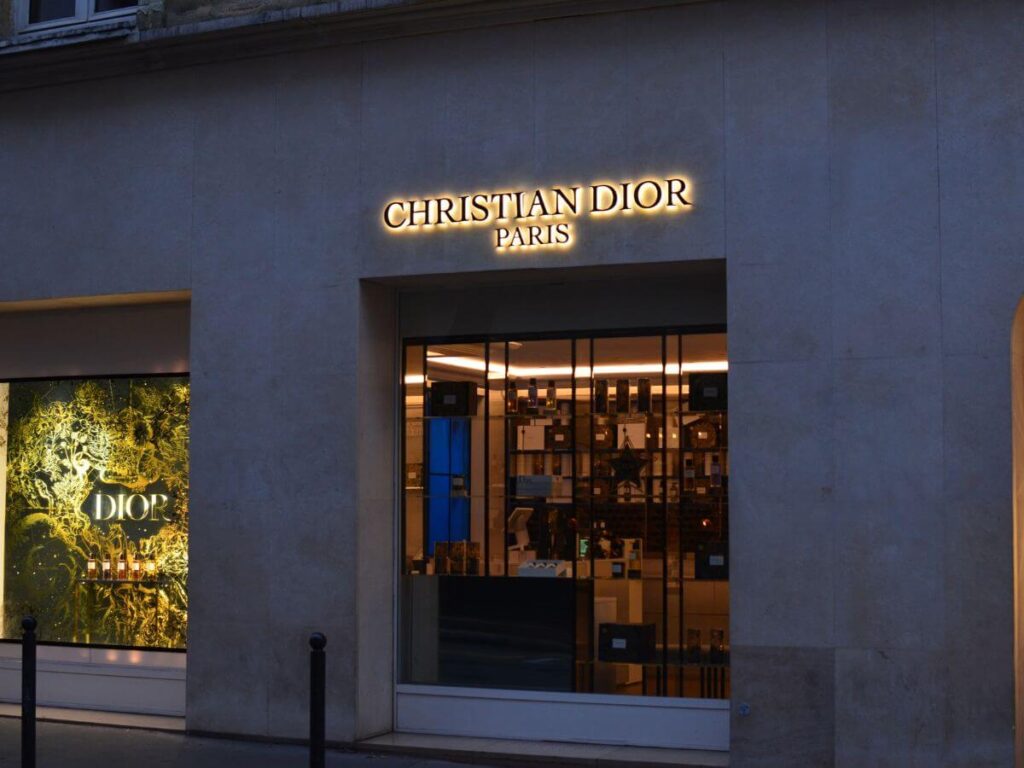 Imagine gazing at a Renaissance gown, its fabric adorned with intricate gold-thread embroidery, or marveling at a Dior dress embellished with shimmering sequins and Swarovski crystals. These are just glimpses of the breathtaking textiles and jewelry that have graced the world of haute couture.
Historical Collections in Paris Fashion Museums
Finally, take a step back in time as you explore historical collections at these Parisian fashion museums. The Palais Galliera houses a collection of over 250,000 pieces of clothing and accessories dating back to the 18th century.
Wander through its beautifully curated exhibitions featuring works from legendary fashion designers. The avant-garde creations of Martin Margiela and the iconic style of Frida Kahlo spoke to my soul, igniting your creative spirit.
Amidst the historical collections, the Art Nouveau pieces stood out like gems, with their intricate details and timeless beauty.
And when I stepped into the museum's serene garden, it was as if I had momentarily stepped into a tranquil oasis that provided a perfect sanctuary between the exhibits.
Palais Galliera not only showcased fashion but also revealed the stories of the people who wore those garments, the cultural shifts they represented, and the dreams they embodied. It was an intimate glimpse into the past, where fashion was elevated to an art form.
Discovering Fashion Districts and Areas
Discover Paris's fashion districts and areas as you stroll through its streets. Don't miss the legendary Palais Galliera, a museum showcasing French haute couture within the Duchess of Galliera's palace.
Immerse yourself in the creative world of Yves Saint Laurent at the dedicated Musée Yves Saint Laurent, offering insights into the iconic designer's life and work.
Unveil the fashion secrets hidden within these districts, experiencing the essence of Parisian style and the profound influence of legendary designers.
16th Arrondissement and Fashion Museums of Paris
When exploring Parisian fashion, the 16th Arrondissement holds a special allure. Discover the Musée Yves Saint Laurent, a museum dedicated to the iconic designer, offering a glimpse into his extraordinary life and creative process.
As you meander through the elegant streets, you'll be captivated by the high-end boutiques, designer shops, and charming cafés that define the area. Immerse yourself in the sophisticated world of Parisian haute couture and let the 16th arrondissement enchant you.
I encourage you to read about the museum in the 16th arrondissement, where I delve deeper into the fashion wonders of this upscale neighborhood.
Cité de la Mode et du Design
In addition to the fashion museums in Paris, a must-visit destination for fashion enthusiasts is the Cité de la Mode et du Design.
The Cité de la Mode et du Design in Paris was built in 2008 as a collaborative effort between architects Jakob + MacFarlane.
This architectural gem is situated on the Quai d'Austerlitz, offering a striking presence along the banks of the Seine. It was envisioned as a space dedicated to celebrating contemporary fashion, design, and creativity.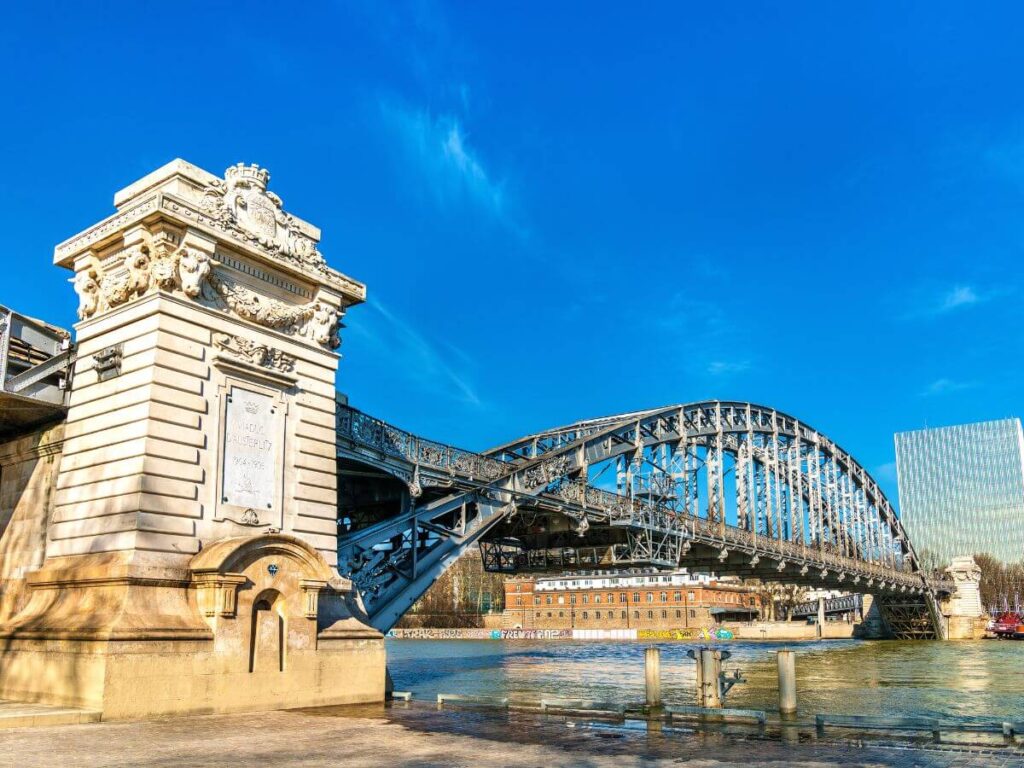 Its ever-changing exhibitions showcase the works of established and emerging designers, offering a glimpse into future trends and innovations. Don't forget to visit the rooftop for a stunning panoramic view of Paris.
It's the perfect spot to take a break and soak in the city's inspiring atmosphere. By exploring both the 16th arrondissement and the Cité de la Mode et du Design, you'll experience the richness and diversity of Paris's fashion scene, from historical roots to cutting-edge expressions.
If you want to enjoy a cruise while you are going to the Cité de la Mode et du Design, Join the Batobus hop on and off cruise!
Experiences Beyond Fashion Museums in Paris
Discover the enchanting world of Paris beyond its fashion museums. Immerse yourself in the vibrant streets, exquisite cafes, and hidden gems that exude style and elegance.
From strolling through charming neighborhoods to indulging in culinary delights, embark on unforgettable experiences that capture the essence of Parisian culture and allure.
Paris Fashion Week
Attending this prestigious event would be a dream come true. Dating back to 1945, Paris Fashion Week has solidified its position as the ultimate fashion showcase, where designers from around the world gather to unveil their latest collections.
The history surrounding Paris Fashion Week is rich and captivating. It all began when the Chambre Syndicale de la Haute Couture was founded, establishing an official platform for French fashion.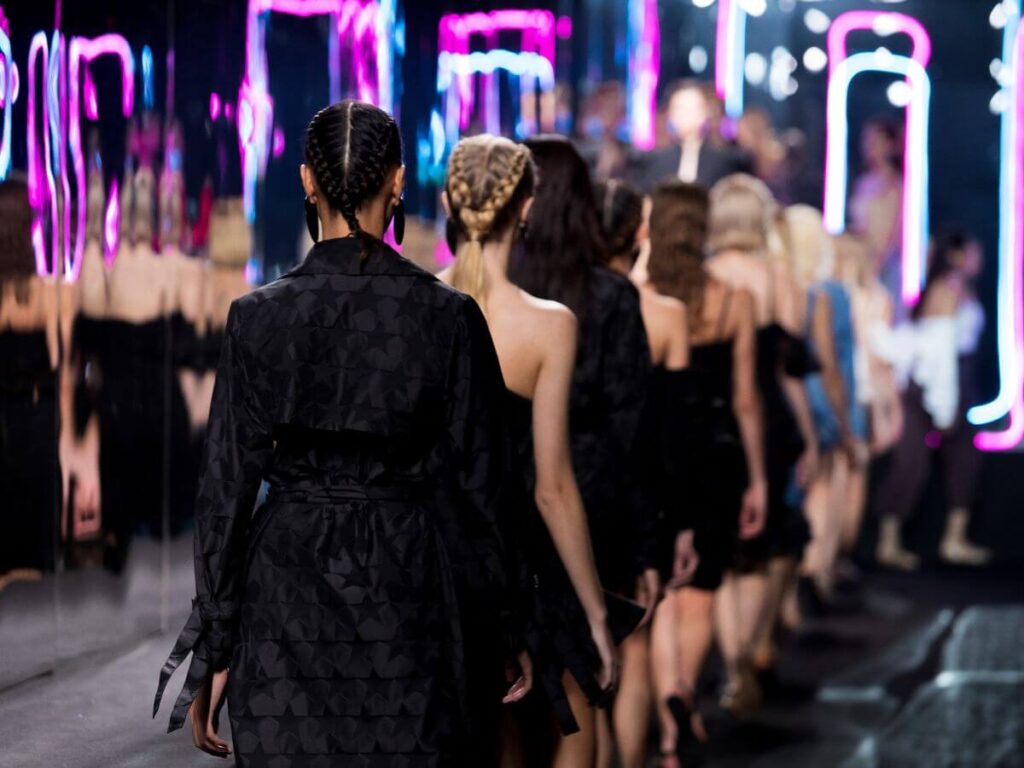 Since then, this biannual event has become a global phenomenon, setting trends and dictating the course of the industry.
During the fashion week, no doubt that you will need to Stay online with an internet sim to know the latest schedule and events for the Paris Fashion Week.
During Paris Fashion Week, the city transforms into a glamorous runway. The streets are alive with fashion insiders, renowned designers, celebrities, and fashionistas.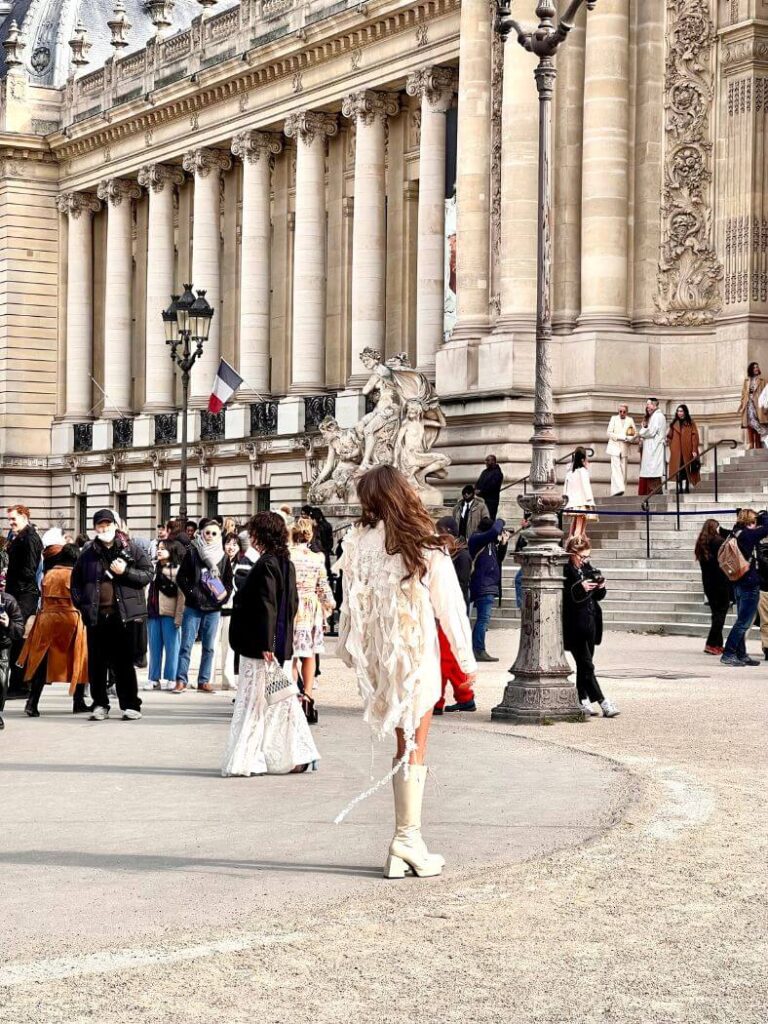 From iconic venues like the Grand Palais to hidden gems scattered throughout the city, each fashion show is a work of art, captivating the senses and leaving a lasting impression.
Paris Fashion Week is a celebration of style, creativity, and innovation. It's an opportunity to witness the birth of trends, connect with fellow fashion enthusiasts, and feel the pulse of the industry.
Restaurants and Cafés in Fashion Districts and Nearby Paris Fashion Museums
After immersing yourself in the world of haute couture and visiting the renowned fashion museums in Paris, indulge in the culinary delights of the city's chic fashion districts.
There's a huge amount of cafes where you can treat yourself to a delicious breakfast, savoring a freshly baked croissant paired with a perfectly brewed café au lait or why not a healthy salad or a vegan sandwich.
Some options that are fantastic and a safe bet are soeurs, spok cantines or cafe 52 inside the Hotel Grand Powers.
For lunch, obviously, it depends on your tastes and what you fancy, but you have countless options, Plein Terre, Le Maxan, Le cinq or 6 new york won't disappoint you.
As the day winds down, you can relax while you enjoy an unforgettable dessert experience at Angelina, where you can relish their famous Mont-Blanc pastry and indulge in their rich, velvety hot chocolate.
Luxury Shopping Destinations
After immersing yourself in the world of fashion at the museums in Paris, it's time to indulge in luxury shopping experiences. With your travel card, you can shop for everything you want to have a complete Parisian look!
Embark on a stroll down the renowned Avenue Montaigne, where you'll find a treasure trove of high-end designers and prestigious fashion houses. From iconic brands to emerging talents, this avenue is a haven for fashion enthusiasts seeking the epitome of elegance.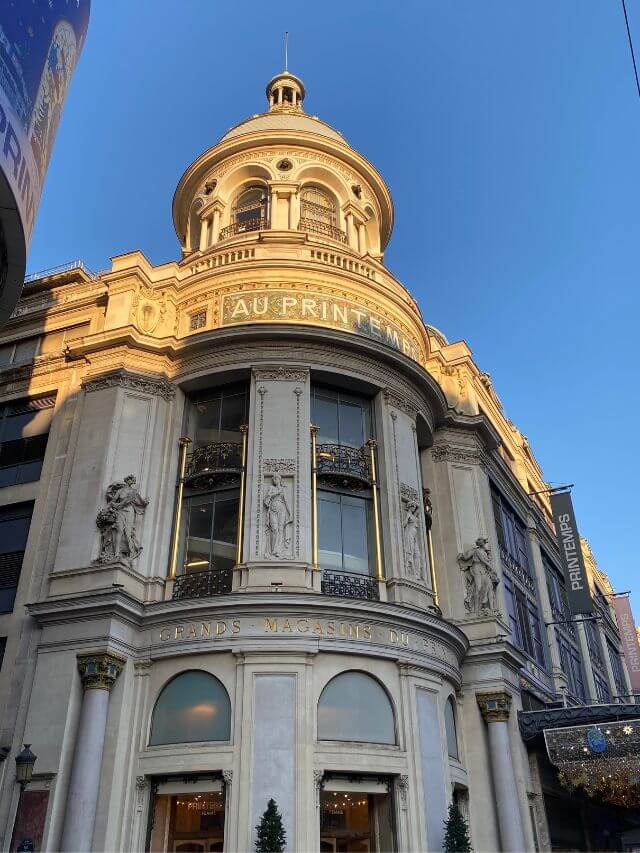 For a true shopping experience, head to Galeries Lafayette and Printemps, two exquisite department stores that go beyond retail therapy. Not only do they offer an impressive selection of luxury brands, but they often host temporary fashion exhibitions.
In your quest for unique finds, don't overlook the artisanal boutiques scattered throughout the city. These hidden gems showcase the creativity and savoir-faire of local craftsmen, offering a chance to own a piece that embodies the essence of Parisian craftsmanship.
FAQ of Fashion Museum of Paris
Why Is Paris Famous for Fashion?
Paris is famous for fashion because it has been a longstanding hub of creativity and style. The city's rich history, vibrant culture, and influential designers have shaped the fashion industry worldwide, making Paris a mecca for fashion enthusiasts seeking inspiration and innovation.
Which Is the Best Fashion Museum in Paris?
While all fashion museums in Paris are remarkable, the Palais Galliera stands out for its extensive collection, showcasing the evolution of fashion throughout the centuries.
From legendary designers to stunning garments, Palais Galliera offers an unforgettable journey into the artistry and history of fashion.
Which Town Has a Fashion Museum?
One town known for its fashion museum is Paris, the fashion capital of the world. With iconic institutions like the Musée de la Mode, Musée Yves Saint Laurent, and Palais Galliera, Paris is a treasure trove of fashion history and a must-visit destination for fashion enthusiasts.
What Is the Most Famous Fashion Street in Paris?
One of the most famous fashion streets in Paris is the Avenue Montaigne. It exudes luxury and elegance, housing prestigious fashion houses and renowned designers.
Strolling down this iconic street offers a glimpse into the glamorous world of haute couture and a true Parisian fashion experience.
Plan Your Trip to Paris
This post may include affiliate links. This means that we will receive a small commission if you make a purchase through our links. It has no additional cost for you. With this, you help us to continue creating free content for you.
This post may include affiliate links. This means that we will receive a small fee if you make a purchase through our links. It has no additional cost to you. It's a win-win!