The Best Beaches in Cannes, Côte d'Azur, France
If you are a lover of the sun, the blue sea, festivals, fashion, and spectacular scenery, you have to read this post with the most beautiful beaches of Cannes, one of the most visited places on the French Riviera.
Cannes is internationally known for hosting the European international film festival.
Weather in Cannes
Cannes has a Mediterranean climate with 12 hours of sunshine to enjoy the summer from May to September, with ideal temperatures from 20.4° to 25.9° Celsius.
If your chances of traveling are during the winter period from December to February, don't worry! The climate is temperate, with little rainfall in October and November.
Now, let's start planning your next adventure.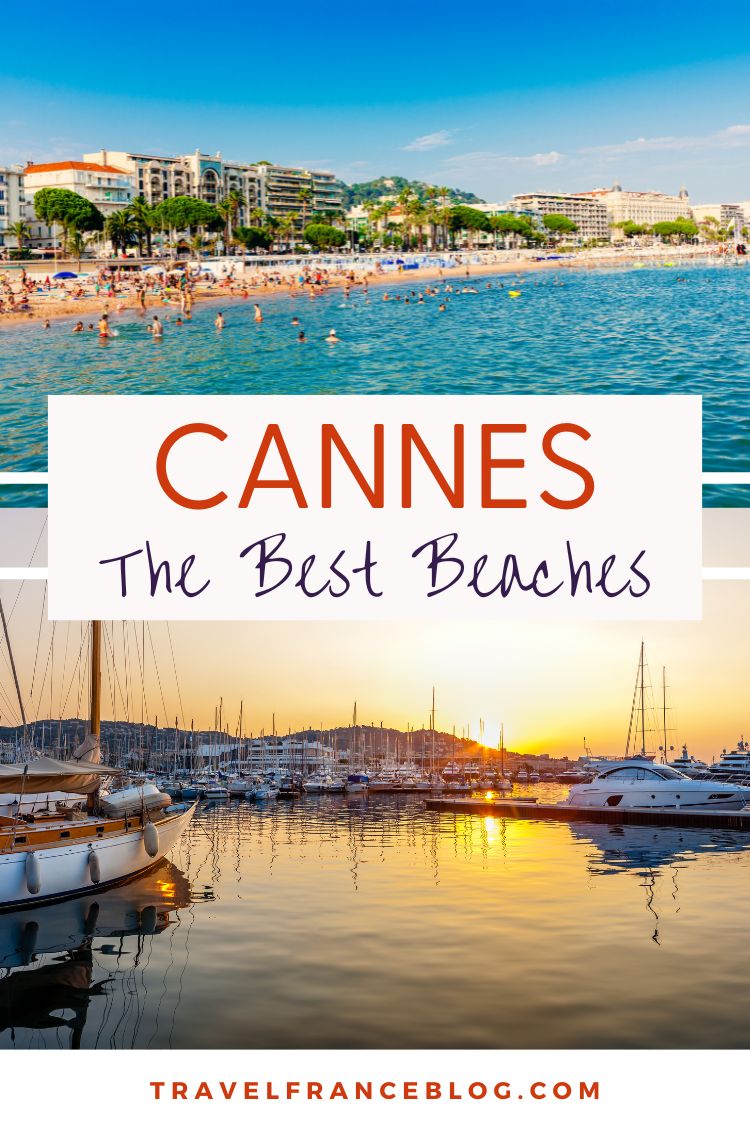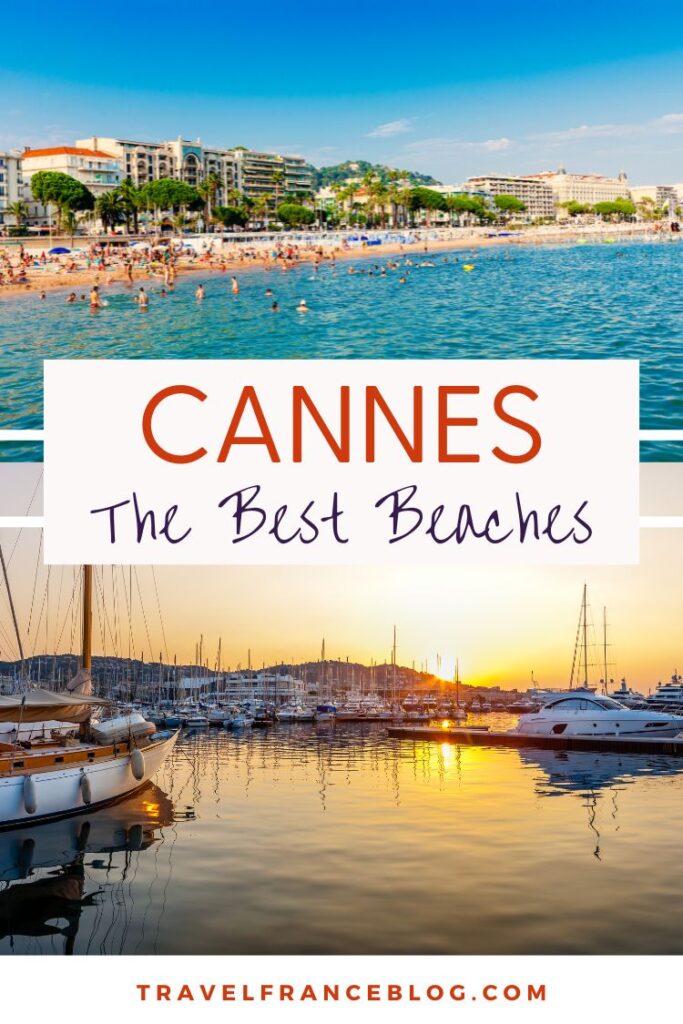 What Currency is used in Cannes?
The currency in Cannes, France, is the Euro (EUR). You can exchange money using your WISE account or at the exchange offices in the city.
I recommend that you do not change money at the airport, where conversion rates are less advantageous, and commissions are higher.
How Much Money do You need to Travel to Cannes?
Depending on the type of trip you want to make will be the cost per day. Remember that this budget is approximate:
ACCOMMODATION 🛏️ – FOOD🍽️ – TRANSPORTATION🚍 – WALKS/TOURS 🎭.
If you like to enjoy nature to the fullest and at low costs, this option is for you:
LOW-COST Budget
🛏️ From 53 EUR FOR 2 PERSONS
From 15 EUR PER PERSON
🚍 6 EUR PER PERSON
🎭 FREE ACTIVITIES
If you want a more comfortable trip, you can opt for this plan:
MEDIUM Budget
🛏️ From 79 EUR FOR 2 PERSONS
36 EUR PER PERSON
🚍 17 EUR PER PERSON
🎭 12 EUR PER PERSON
But if you want a more top-notch stay, this is your choice: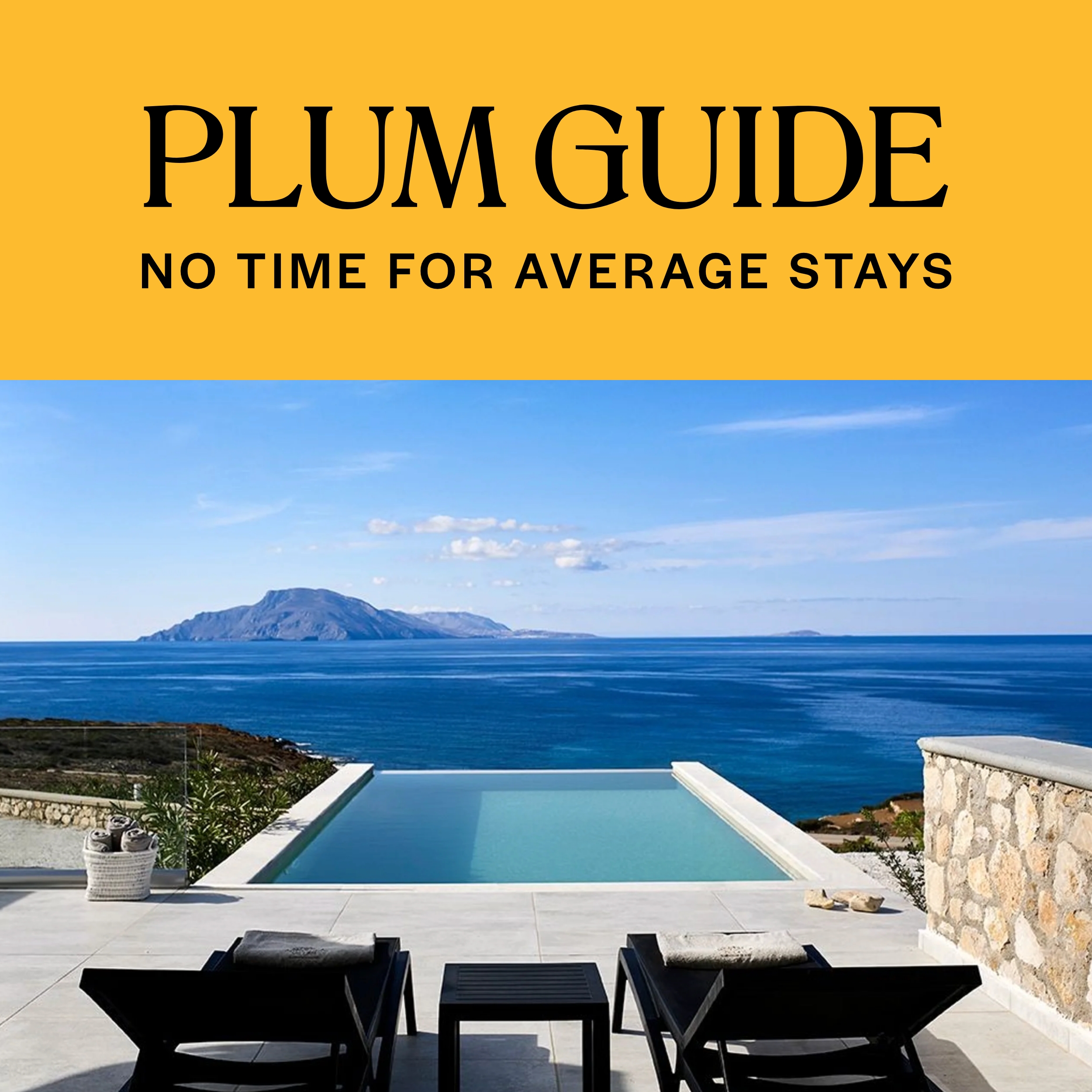 PREMIUM, what is a Budget?
🛏️ From 111 EUR FOR 2 PERSONS
🍽️ 60 EUR PER PERSON
36 EUR PER PERSON
🎭 24 EUR PER PERSON
Guided Tours and Day Trips
TheBest Beaches of Cannes
La Croisette
Cannes boulevard surrounds the bay with a wide pedestrian promenade 2 kilometers long by the Mediterranean and in the shade of pine trees along the beach.
Known worldwide for the Cannes Film Festival and the Palais des Festivals where you will find the best hotels in town, luxury stores, promenades, museums, local markets, and casinos.
It is a bustling spot at any time of the day, especially during the festival season.
You will find:
Bars and restaurants by the beach
Ideal hotels for a short visit to the city.
Fine sand beach, the rose garden, the port, and its gardens.
Boulevard up to Zamenhof Street.
Restaurants near La Croisette – Gastronomy:
La Villa by David Guez- Japanese food, sushi, Pub, and restaurant.
La Mome Plage – Mediterranean, French, European, Vegetarian.
Mademoiselle Gray Plage Barriere – Mediterranean, Vegan, Vegetarian Food.
C Beach – French, Mediterranean, European, Vegetarian, Vegan.
Armani/Caffe – French and Vegetarian Food.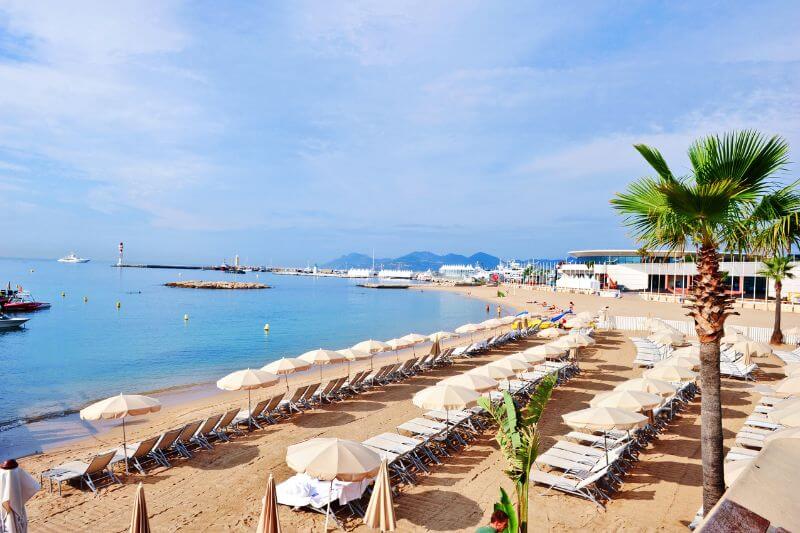 Attractions:
(0.00KM) Columbus Yacht: Yachts.
(0.01km) Club des Dauphins Cannes: Swim with the Dolphins.
(0.01km) Star-Studded floor: Star-Studded floor: "Star handprints" walk. Like Pedro Almodovar and Penelope Cruz, among others, at the gate of the festival site next to the casino.
(0.01km) Cannes Tourist Office Guided Tour: By the sea.
(0.01 km) Plage Macé: Public beach near the airport
Public Beaches of Cannes, France
La Plage du Palais du Festival
It is located next to the Palais des Festivals and the port, 150 meters of sand, close to the city center.
The most central, depending on the season, you can witness events such as the film festival or the electronic beaches in July and August.
People of different nationalities: Asians, Eastern Europeans, Americans, Spaniards, and Italians. A clean beach with golden sand and clear water.
You will find:
Three free public showers
Bathrooms
"Food and beverage kiosk
Palais du festival parking lot
Restaurants
Hotels
Wheelchair-accessible entrance.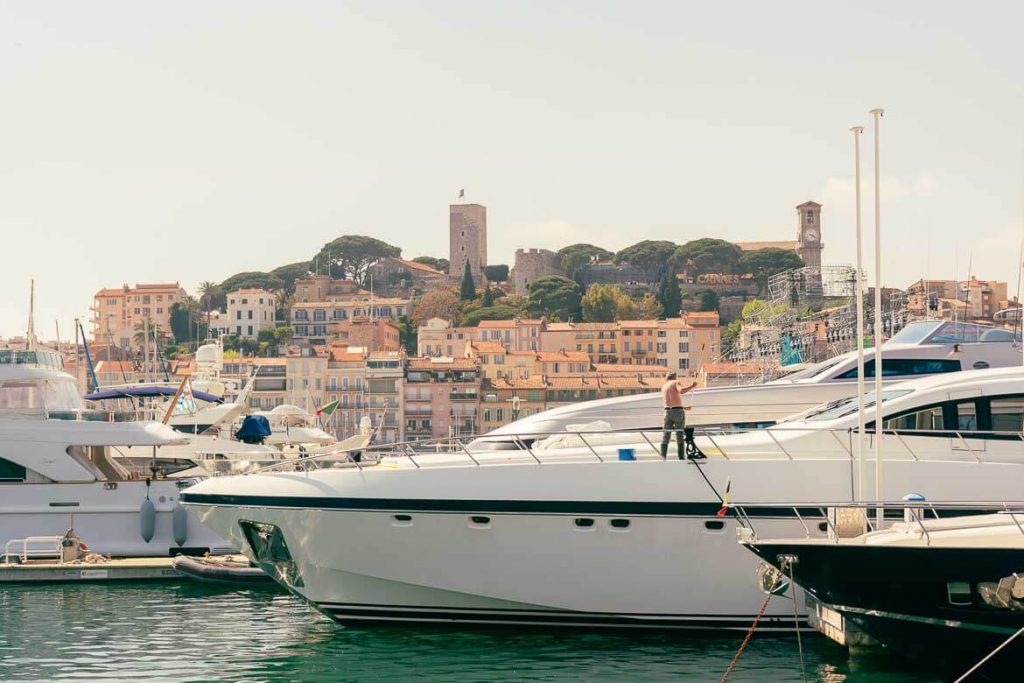 Restaurants near La plage du Palais du Festival – Gastronomy:
(0.2 km from La Croisette) Plage du Festival – Lunch, dinner and drinks.
(0.5 km from La Croisette) Chai Dee – Asian, Thai, and Healthy Food
(0.3 km from La Croisette) Le Bouche a Oreille (BÁO) – French and Mediterranean food, bar, and wines.
(0.5 km from La Croisette) L'Expérience – Wine bar, French food, and beer.
(0.7 km from the Croisette) Café Brun – Italian, French, Mediterranean, Spanish, healthy food and drinks.
Plage des Palmiers
With a length of 6 kilometers, fine white sand is comfortable for bare feet. Gentle descent from the sea, flat and sandy bottom, clear and transparent water.
Popular for surfing and kitesurfing.
You will find:
Sun loungers and umbrellas for rent
Showers and toilets
Restaurants
Hotels
Bars.
Bijou Plage
2.2 km from Cannes, the main city of the Nice region (26.1 km). Urban area.
The beach has easy access and fine golden sand, perfect for swimming. Near the highway. Spacious, with few boats, it invites you to relax.
You will find:
Rental
Kayaks
Paddle-surf
Parking
Beach loungers
Bars
Showers
Bathrooms
Shaft and zone protection
Restaurants with seasonal bistro cuisine, and vegan options.
Restaurant rental for private events.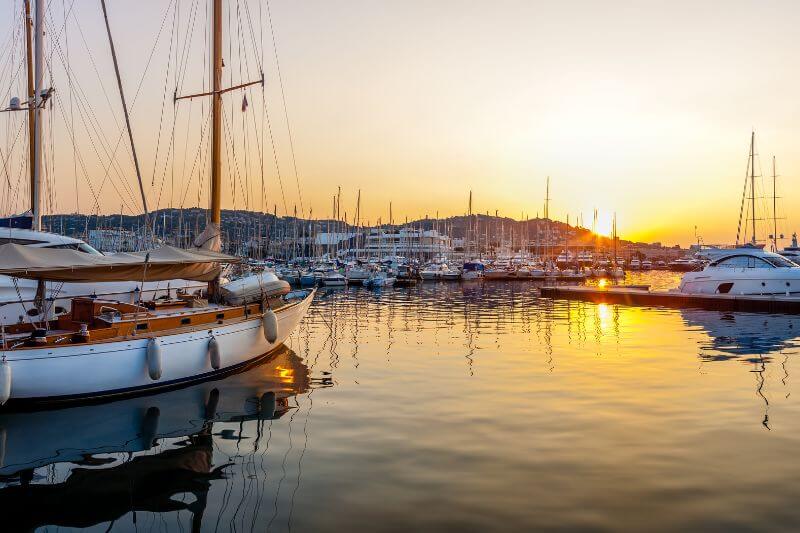 Plage du Midi
1 km from Palais des Festivals and 0.9 km from Cannes. Beach-equipped, crowded, turquoise sea with several bays. Easily accessible.
You will find:
Beach volleyball
Showers
Bathrooms
Lifeguards
Narrow width
Proximity to the highway
Parking
Fine sand bottom
Bars
Casino Beach
Near downtown Saint Quay Porter, behind the casino, offers a beautiful view of Harbour Island.
It has two artificial pools with seawater. They are not visible during high tides due to the diving platforms. There is no seaweed, and the beach is small but wide.
Stable and high waves, ideal for water sports.
You will find:
Nearby golf course, mini golf.
kayaks
Wheelchair accessible
Family atmosphere
Diving
Rafts
Playground
Showers
Beach houses
Lifeguards
Bars and Restaurants
Nightclubs and stores
Clubs
Private Beaches of Cannes
For those who want a dose of Dolce Vitta. The private beaches of Cannes offer super-luxury, fail-safe stays.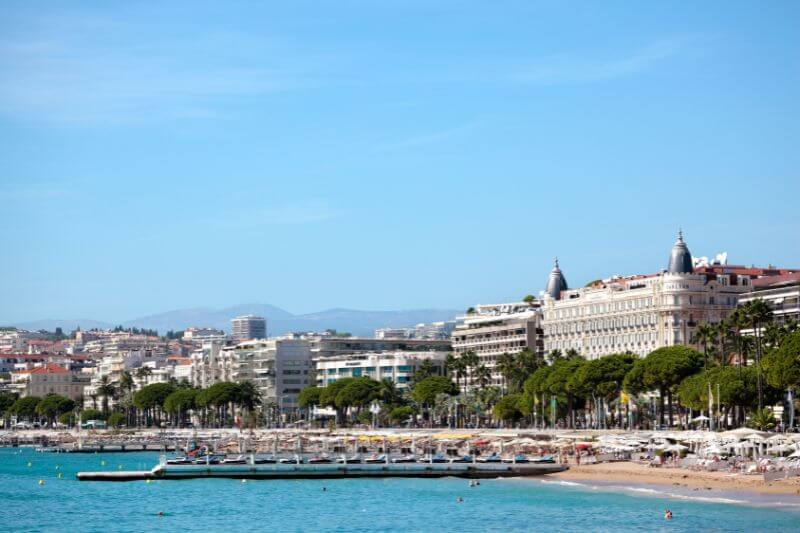 Carlton Cannes
5-star hotel built in 1911 on the shores of the Mediterranean Sea on the Promenade de la Croisette in Cannes. It has been declared a historical monument.
343 rooms, including 39 suites and 7 panoramic suites ranging from 200 to 400 square meters on the seventh floor.
You will find:
Rooms equipped with television, air conditioning, espresso coffee maker, minibar, bathrobes and slippers, complimentary bottled water, among other amenities, and ocean view.
Free lodging for children
Restaurant
Beach bar
Skydiving and water skiing
Business center open 24 hs – meeting room, computers, conference area.
Private beach with direct access to the Promenade de la Croisette.
Massage cabin, beauty treatment, cardio room.
Read more: Luxury hotels to stay in the South of France
Bfire by Mauro Colagreco
On the plage, Le majestic and its sizeable shaded terrace, with the possibility to eat on the sun loungers. A menu signed by Mauro Colagreco with wood-fired and grilled flavors is waiting to surprise you.
Fun and unique dining experience with a view of the Mediterranean and a natural and relaxed decor.
You will find:
Dishes cooked over a wood fire
Argentinean-Italian gastronomic fusion
Gourmet food
Special beach menu.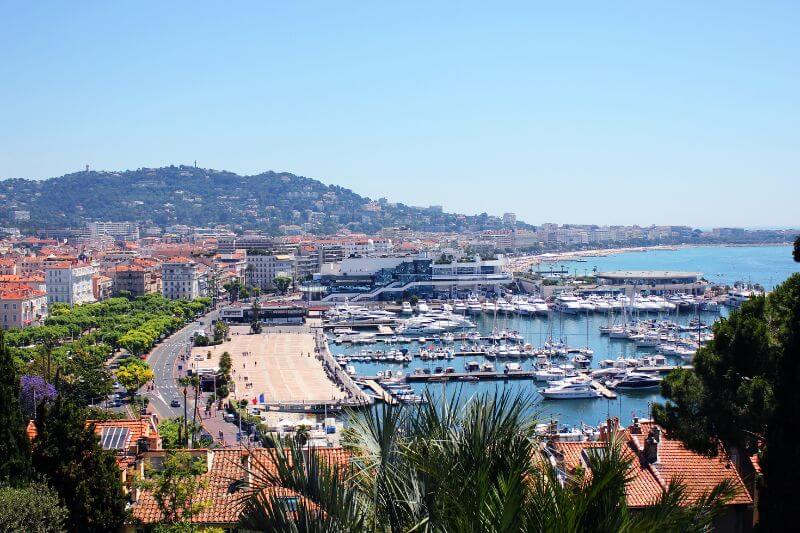 Martinez Beach
The 5-star Hotel Martinez is located on La Croisette Avenue and has a private beach available for an additional cost.
You will find:
Restaurants
Bar Martinez has a great variety of cocktails and gin and tonics.
Le Jardin du Martinez, terrace in the shade of palm trees and cypresses.
Theme parties
Restaurant La Palme d'Or has two Michelin entries, cinema-inspired cuisine, and a view of La Croisette.
Restaurant La Plage du Martinez on the beach with Mediterranean food, seafood, and fresh local products.
Fitness center
Spa for massages, body and facial treatments.
Have you already chosen your favorite beach in Cannes? You can see that you can choose between private and public beaches. Each has a different service and activities.
Plan Your Trip to the South of France
This post may include affiliate links. This means that we will receive a small fee if you make a purchase through our links. It has no additional cost to you. It's a win-win!