10 Best 5-Star Hotels in Provence for a Luxury Trip
This region is one of the most touristic in France, so there is an excellent offer of 5-star and luxury hotels all over Provence.
Let's see which are the best 5-star hotels to stay in Provence.
Related: Hotels in UNESCO towns in Provence
The hotel is opposite the beach in the village of Bandol. Its rooms have sea views. The hotel has a terrace and a Turkish bath.
Not only does it have an ocean view, but it also has a direct exit to the beach. That is why it is one of the best luxury hotels in Provence.
And if the day is not suitable for going to the beach, you can use the indoor swimming pool inside the hotel.
Inside the Splendid, you will find a bar, a gym, a lounge, and beautiful gardens.
It has only 7 rooms, and they are all magnificently decorated.
Around the hotel are some hiking trails that you could follow to take a beautiful walk and see the area's scenery.
Design and decoration are present in every detail of Château de la Gaude, from its impressive gardens to its signature dishes.
The hotel's amenities include its sauna, room service, and continental breakfast.
You can enjoy the view of the garden and fountains from the terrace and the dining room.
The pool is huge and surrounded by a beautiful park.
The decoration of the rooms is classic and elegant. There are different types of buildings, so the room layouts also change.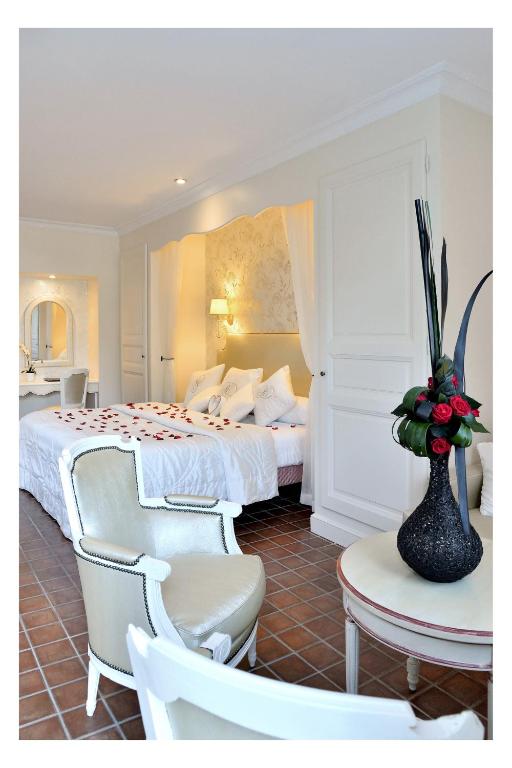 This hotel is housed in a typical provencal house garden just 2 kilometers from Avignon.
Each hotel's rooms and restaurant are luxuriously decorated without losing elegance.
The food served in the restaurant is exquisite, and you will surely want to take more than one picture of it because of the presentation with which it is served. All dishes are prepared with local products.
The hotel and spa have an indoor pool, fitness area, terrace, steam bath, sauna, chromotherapy shower, and hydro-massage beds.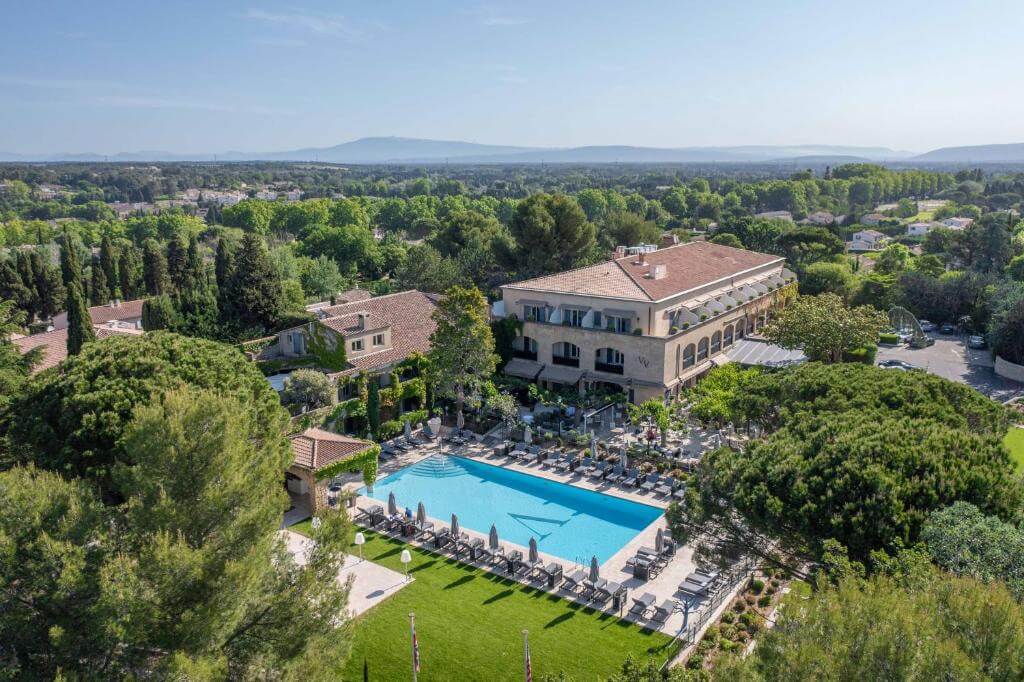 Le Vallon is located on a huge plot of land and houses exceptional villas, suites, and rooms.
It also has a gourmet restaurant, a bistro, an outdoor swimming pool, and a splendid 550-square-meter spa.
The hotel is located 10 kilometers from the village of Les Baux-de-Provence. Les Baux-de-Provence. Some of the rooms have a terrace overlooking the Alpilles national park.
Although the hotel has many plus points, its guests enjoy the spa most.
You will find an indoor heated swimming pool, whirlpool, sauna, Turkish bath, a small counter-current training pool, and a fitness room.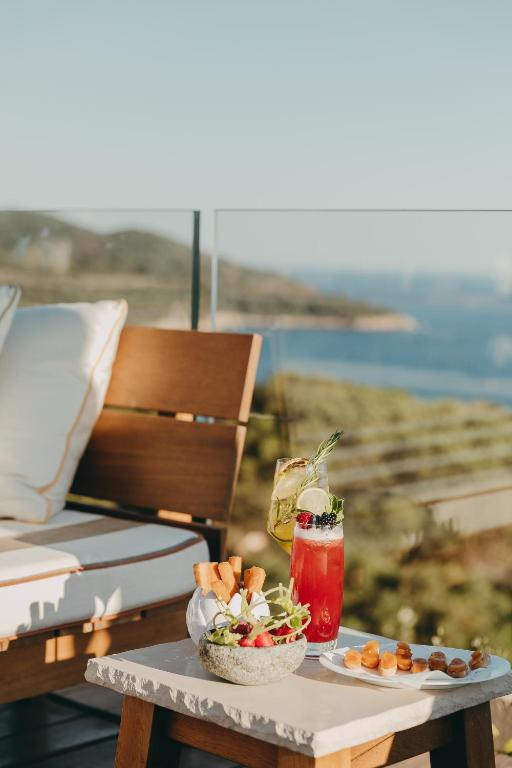 Located in La Croix-Valmer, this hotel is ideal for relaxation. It has two swimming pools, a spa, a bar, and a fitness center. All this is just a few meters from the sea and overlooking the bay.
The spa has many services, making you feel in paradise. A continental breakfast is offered daily.
The rooms are very spacious and comfortable. In addition, they are decorated in a modern and elegant style.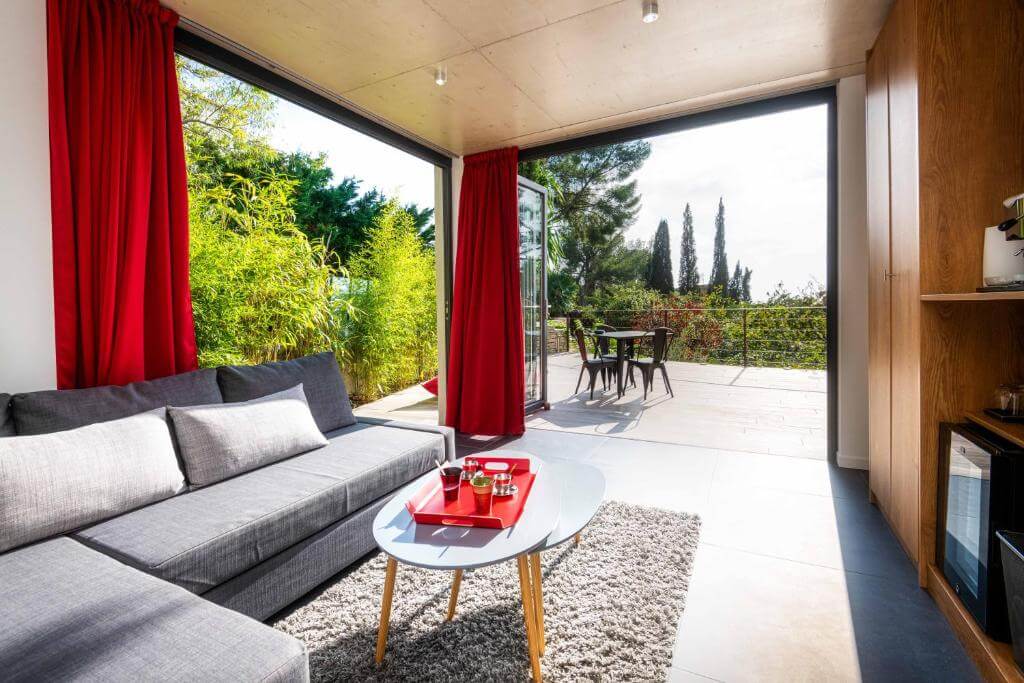 This hotel in Cassis is 1 kilometer from Bestouan and has splendid views. From the rooms' terraces, you will have views of the gardens, the pool, and the sea. These rooms invite you to meditate.
The rooms are modernly decorated with cheerful color schemes.
It is a boutique hotel, so it has only 5 rooms.
There are several vineyards near the hotel, so you can easily explore them.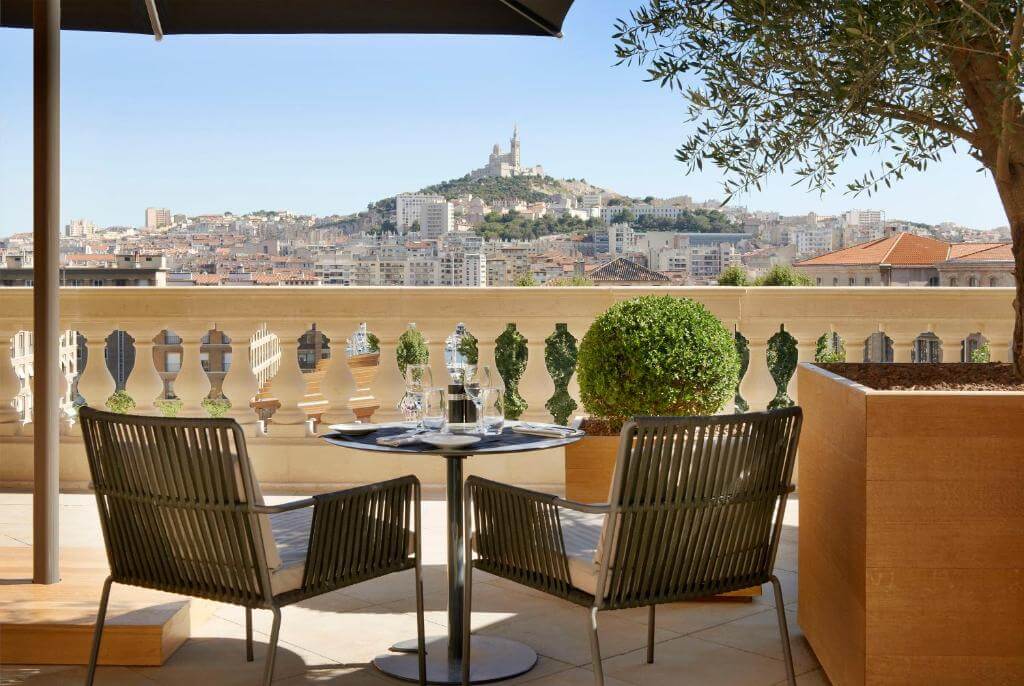 We close the list with this beautiful hotel in Marseille.
It is located in a majestic 18th-century building within the city's historic center and 350 meters from the Old Port.
The building is gigantic, and houses 194 deluxe rooms, many with private terraces, and the decor of the hotel and its rooms combine contemporary touches with historical details.
The spa offers saunas, UVA rays, hammams, a gym, and an indoor pool.
Another great advantage of the InterContinental Marseille hotel is its location. It is very close to the city's most exciting places, so you can visit the best places in Marseille on foot.
Hôtel B Design & Spa
Immerse yourself in the epitome of modern elegance at the B Design & Spa, a quintessential 5-star retreat nestled amidst the serene Alpilles. This sanctuary of contemporary luxury showcases exquisite design across its rooms and suites, set against the tranquil backdrop of a verdant olive grove.
Indulge in a sanctuary of relaxation at the B Design Spa, where the wellness area awaits to soothe your senses. Treat yourself to a blissful escape with the exclusive Olivier Claire beauty treatments, or unwind in the comprehensive spa facilities, including a steamy hammam, a bubbling whirlpool, and a refreshing cold water walk.
For those seeking a prestigious venue for meetings or smaller gatherings, the hotel provides a well-appointed seminar room along with a dedicated sub-commission room, ensuring every event is both memorable and productive.
Baumanière in Les Baux De Provence
Tucked away between historic art regions and serene Romanesque architecture, Baumanière lies beneath the ancient cliffs of Les Baux. This idyllic estate comprises five distinct dwellings with 53 rooms and suites, a spa, a boutique, a chocolate shop, and two restaurants.
The esteemed L'Oustau de Baumanière, graced with three Michelin stars, showcases Chef Glenn Viel's culinary artistry, embracing tradition and ingredient integrity. For a more casual, Provençal experience, La Cabro d'Or offers Chef Michel Hulin's relaxed gastronomy to enjoy among friends.
The Baumanière Spa provides a peaceful retreat, blending into the natural beauty of Provence, with treatment rooms opening to secluded garden spaces, perfect for open-air massages under the shade.
Coquillade, Provence
La Coquillade Village is a haven for those who cherish the rustic charm of Provence and the Luberon, connoisseurs of fine wines, and seekers of tranquility, natural beauty, and active leisure pursuits, all in pursuit of tranquility and well-being in a picturesque setting.
Perched atop a hill, this estate spans 36 hectares dedicated to the appreciation of wine, offering breathtaking vistas of the Luberon and the iconic Mont Ventoux. The retreat boasts a beautifully restored Provençal village with luxurious rooms and suites.
Guests can indulge in a culinary adventure at its gourmet restaurant, delight their palate at the wine cellar, and explore the rolling landscapes with the latest electric, road, or mountain bikes from the on-site BMC Cycling Center.
For relaxation and rejuvenation, the sprawling 2,000-square-meter spa sanctuary is dedicated to your well-being and fitness.
In a region where the blending of luxury and nature is rarely so harmoniously balanced, La Coquillade Village stands out with its commitment to environmental stewardship.
The use of renewable energy, natural gas, and geothermal technology underlines an architectural and ecological respect for the surroundings, making this concept a pioneering approach in Provence, designed for the ultimate comfort and well-being of its guests.
Plan Your Trip to Provence
This post may include affiliate links. This means that we will receive a small fee if you make a purchase through our links. It has no additional cost to you. It's a win-win!