18 Most Beautiful Villages in Provence
France is an amazing country wherever you travel; there is so much to visit that it can be overwhelming when planning a trip. For this reason, in this post, we have prepared a list of the most beautiful villages in Provence.
These villages are included in the official list of the most beautiful villages in France. Thus, when you travel through this beautiful southeast region, you can choose your favorites and which ones catch your attention and visit them.
In the comments, let me know which one you like the most.
Ansouis, Provence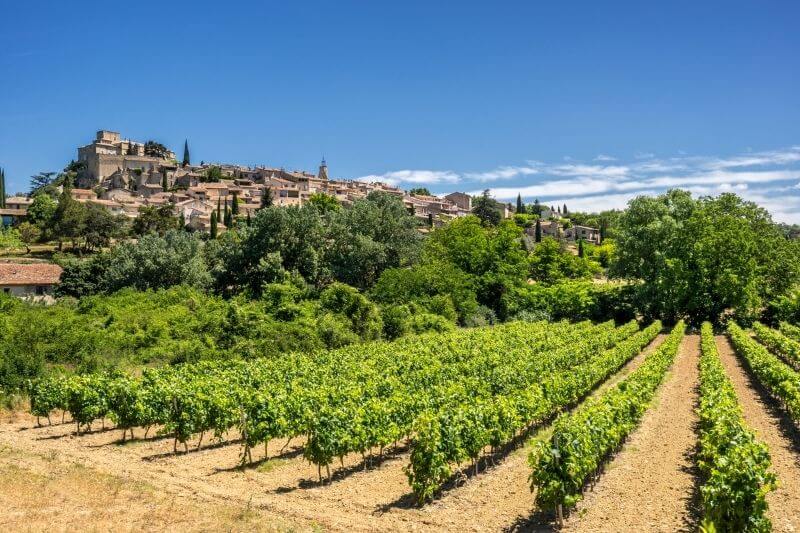 Ansouis is one of the most beautiful villages in all of France, located just 30 km from the city of Aix-en-Provence.
Ansouis can boast of cultural heritage since as we walk through its streets, we can immerse ourselves in its history and discover the most emblematic places of this beautiful town.
Ansouis is crowned by a beautiful 14th-century castle that, despite its modifications, still retains much of its original furniture and decoration.
This museum can be visited throughout the year, and if you still want to do some other activities, we recommend that you not miss the Ansouis Museum of Arts and Wine.
There is a large sample of tools used to make wine in the 15th century and a collection of old bottles and other rather curious glass objects in this museum.
Moustiers-Sainte-Marie
In the middle of two large rocks that act as guardians, this beautiful village in the Provence region is located near the Alps.
This medieval town full of narrow streets and colorful houses enjoys a magnificent geographical position, which is why beautiful views can be seen from this town.
In addition to its beauty and the visitors who come to this town every year.
Moustiers-Sainte-Marie is known worldwide for its pottery. However, the fine fayence pottery made in this town is unique in the world and is so striking and exciting that it has an entire museum dedicated to this local art.
Tourtour
Tourtour is a picturesque village in Provence and is an ideal place to spend a few days on vacation.
Tourtour has the true essence of a Provencal village. Narrow streets and houses from the 14th century are still preserved, and a well-cared-for historic center with numerous fountains and olive trees decorates its squares.
This village is one of the most beautiful in France. It is a magnificent place to visit at any time of the year, but if you like traditions and village festivals, we recommend visiting Tourtour on the first weekend of August.
On this date, you can enjoy a 4-day party full of traditional dances, Provencal markets, and cultural activities related to this town.
The historic center is another of the main attractions, ideal for strolling and having a drink in the Place des Ormeaux, where there are many bars and restaurants with terraces where you can have a good time with family and friends.
Bargeme
The sublime village of Bargème sits high in the Var mountains at 1,097 meters.
From this villa, we can see magnificent views of the valley. Bargème is charming and represents what a feudal city of the past was like.
Despite having its castle in ruins due to the wars that have taken place throughout history, Bargème still has a great heritage intact. This is a beautiful place to discover for all those who love stones and ruins.
The town still maintains its old doors, towers, and some rural chapels of what was the feudal town, such as:
St. Petronille
St. Laurent
St. Antoine is one of the oldest in the Var region.
Gordes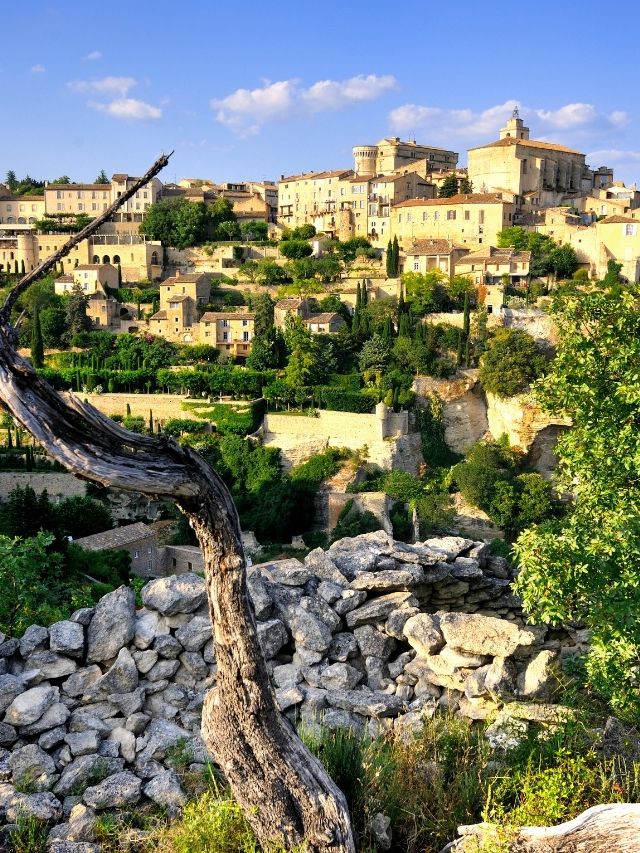 Gordes is just 30 minutes from Avignon and just over 45 minutes from Marseille.
This medieval village in the shape of an Acropolis is one of the most attractive villages in the Luberon. Its white stone houses merge with the natural rock and give rise to small streets within the rock itself that do not leave tourists indifferent.
These passageways are the main attraction of Gordes since they are very curious and striking.
In addition to this, Gordes presents a very picturesque picture with its medieval architecture and its 10th-century castle on the top of this French acropolis.
Culturally, Gordes is a place of reference, given that many artists such as Vasarely or Pol Mara have contributed to its fame. Because of this, festivals and major events are held every year in this magnificent feudal city.
Lourmarin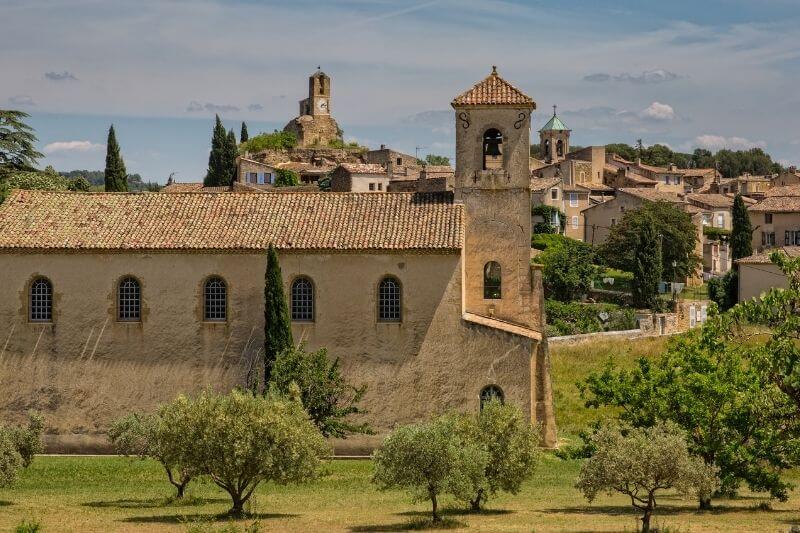 Very close to the Luberon National Park is another of the most beautiful villages in France. Lourmarin is another medieval town that captivates tourists.
Surrounded by olive and almond trees, this pretty village is characterized by its typical Mediterranean narrow alleys, beautiful shaded squares, and fountains.
Through the work of Albert Camus, we can learn a little more about Lourmarin since this writer, Nobel Prize for Literature lived and wrote part of his work in this town.
However, this place is not only about beauty and culture. Gastronomy is the main course of this town because it has many restaurants that serve traditional food from Provence and has two restaurants in the area in the Michelin Guide.
Roussillon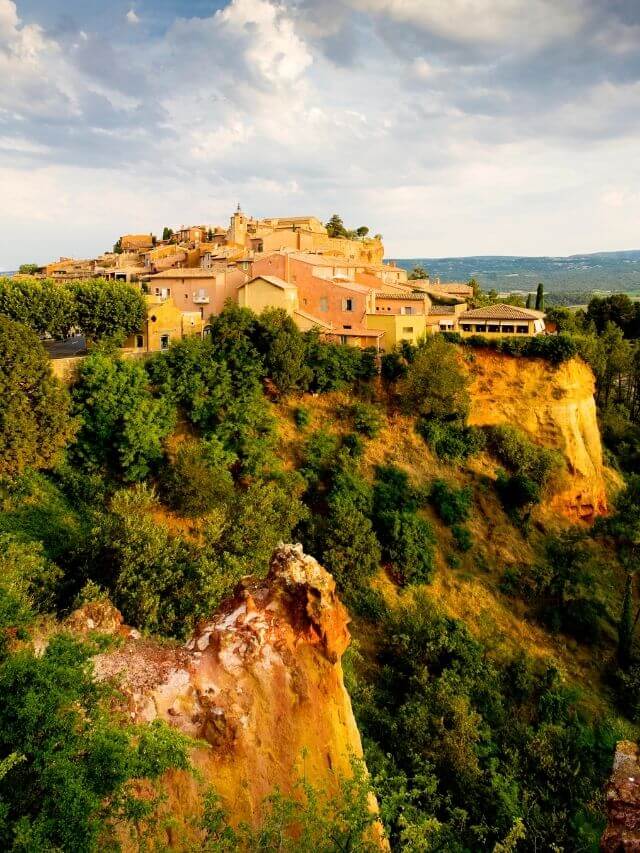 Located in the Luberon National Park, this town should be at the top of your list of villages to visit in France.
At the foot of the Vaucluse mountains rises this reddish mound that supports the beautiful village of Rousillon.
The first thing that surprises me is its ocher color. It depends on where the sun is located; it produces some tones or others.
This red landscape is a gift of nature that is not very easy to explain. Still, Rousillon contains a mineral called Goethite that occurs in the depths of the sea, and Luberon was located under the sea millions of years ago.
You can learn more about this pigmentation at the Conservatoire des Ocres just outside of town.
However, Rousillon also stands out for its natural charm and tranquility in the place. This town is magical to get lost in its alleys and observe the panoramic view of the valley.
Perhaps for this last reason, many French artists throughout history have been inspired by the beauty of this town in the Luberon.
Seillans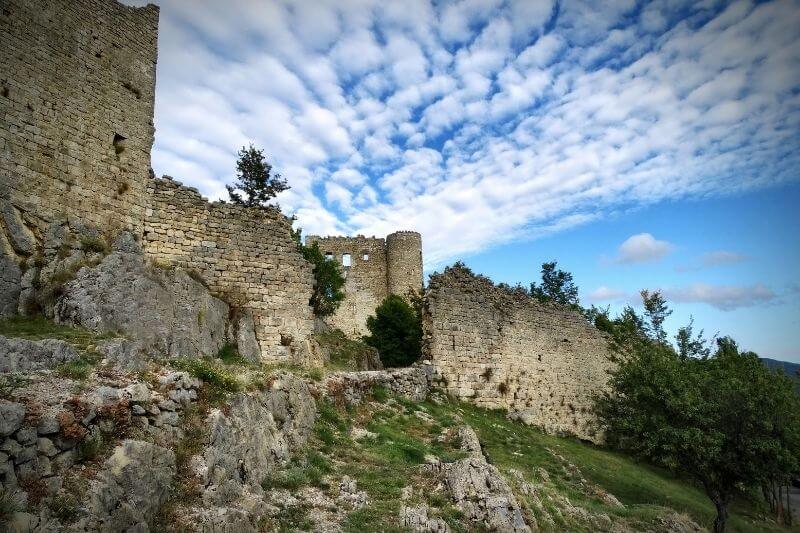 Seillans adds to the list of leaning medieval towns in France. However, it is curious that given the slope of some areas, the village's historic center is only accessible on foot.
Walking Seillans is an absolute pleasure since it is a setting that has many old houses, small squares, and pretty fountains that romanticize this town.
An example of this is the Place du Thouron, an emblematic point of Seillans, ideal for dining with your partner.
Another attraction of Seillans is the nature that surrounds it. Many trails start at Seillans, including the trail to Lake Meaulx and the path to La Pigne for those who are fitter.
Menerbes
Menerbes is located in the Vaucluse department, very close to the artist town Lacoste. This town was, in ancient times, the scene of the Religious War of the fifteenth century.
This fortified town enjoyed the reputation of being impregnable. However, after many attempts, they managed to besiege it and made it the capital of Protestantism for five years.
Today, it is known for its architecture and its cultural heritage.
Its cobbled streets invite you to explore this ancient city with some remains of an ancient Roman villa and probably the cemetery with the best views in Europe.
And although this sounds strange, it is entirely true; the cemetery is located on top of the citadel, which gives it an impressive panoramic view.
Menerbes has always been a place of passage for many artists who have left their legacy in the town.
Currently, there are references in Menerbes to artists such as Nicolas Stael or Picasso, who had properties in this town and still have their plaques on the buildings they owned.
The surroundings of Menerbes are beautiful and well known by lovers of wine and truffles since Menerbes has a museum on the outskirts of the town dedicated to these two delicacies.
However, it is not the only activity to be carried out in the area.
For those who love bizarre things, Menerbes has something to offer since it has a corkscrew museum with more than 1,200 different pieces of this instrument, which a French man created one day, although an English man holds the patent.
Venasque
To the east of Avignon is this small town that has been inhabited since prehistoric times.
Venasque is a medieval stone town located at a strategic point during the Middle Ages, for which it has undergone many changes. However, much of the heritage remains intact.
An example of this is the 6th-century baptistery that can still be visited today.
Venasque is a Vaucluse town that cannot be overlooked. Like other medieval towns in the area.
Venasque has steep streets and pretty squares, but in addition, it has an esplanade in the upper part of the town from where you can admire the natural beauty of Mont Ventoux.
The cherry fields characterize this town, and you can only see them in Venasque, which is economically supported thanks to this fruit.
The surroundings of Venasque are full of trails that allow you to immerse yourself in nature and see these immense fields of cherry trees up close.
Séguret
To speak of Séguret is to talk about wine, cobbled streets, and the smell of roses. This town welcomes many tourists in summer who seek to enjoy the tranquility and beauty of this medieval town.
It still has some original historical monuments that give the town a unique charm despite being restored.
However, the town's main attraction is the wine produced in the area, which is the architect of attracting lovers of this drink to Séguret.
The denomination of origin of this area of Provence is recognized nationally and internationally because they are young wines (rosé or red) with a fruity flavor that is very pleasant.
Gourdon
Visiting Gourdon is an adventure. First, you must go through narrow roads with cliffs over 700 meters high to reach the town.
Before arriving, I recommend stopping at the Saunt du Loup waterfall, which is almost to the village, where visitors can cool off and prepare to walk uphill through this medieval village.
Gourdon perches like an eagle on the edge of a stone and seems to hang from the mountain. This feature makes it a unique site for lovers of photography and adventure.
Gourdon is a very visited place, and proof of this are the numerous artisan shops that you find in the town's alleys.
Many tourists come to visit the 13th-century castle that looks like something out of a fairy tale due to its good state of preservation.
In addition, it must be said that Gourdon has impressive views of the French Riviera, and perhaps that is what makes this town different; the pleasure of eating from the top of the town and observing the Côte d'Azur.
Gassin
Gassin is among one of the most beautiful villages in the south of France. Located very close to the famous city of Saint-Tropez, about 200 meters above sea level.
Gassin has been inhabited since the Neolithic.
Thanks to the development of beach tourism and the installation of a railway, the town began to see amazingly increased visits.
Today, it is known both for its beautiful natural surroundings and the incredible monuments in the old town.
Allow yourself the luxury of taking a walk along the medieval avenue (Promenade Dei Barri), where you will find cute restaurants and enjoy beautiful views. But, of course, you won't find a better place to stop for lunch.
Gassin is a small town, but wandering through its ancient narrow streets is a delight.
Here is Rue l'Androuno, known for being the narrowest street in the world.
In Gassin, you cannot miss a visit to the chapel of Notre Dame de la Compassion, built-in 1582.
But, if you don't just visit the place for the monuments, you have several activities available.
In addition to walking and enjoying various water activities, in Gassin, you can also enjoy its golf and polo fields.
The oldest art gallery in the area, Galerie deï Barri, is also located in Gassin, a highly recommended visit if you are passionate about art.
Les Baux-de-Provence
A few minutes drive from Arles is Les Baux-de-Provence. The town that concentrates all the charms of the villages of Provence in one.
Narrow streets, terraces, markets, crafts, and good weather are synonymous with this medieval town visited by thousands of travelers every year.
This town nestled on a rocky plateau has an incomparable heritage as it has 22 protected architectural monuments that give this town a priceless historical value.
The castle is the attractive protagonist of the town. This massive fortification with 360-degree views served as protection during multiple wars.
In addition, it still retains much of its structure, and you can still see some weapons used back then, such as the three giant catapults that are on display around the castle.
Saint-Véran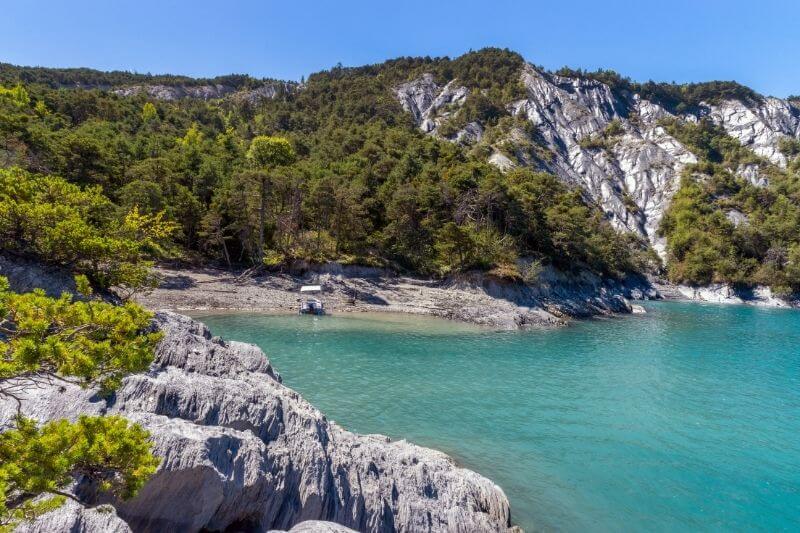 Saint Veran is the highest village in Europe and one of the most beautiful in France.
This beautiful and cold town is located 2042 meters high, almost above the clouds.
During your visit to Saint Véran, do not miss the visit of the Banal Four, once used by the families of the village to make their bread.
The place is tiny, it will only take you a moment to observe it, but I think it is really worth imagining how people lived at that time for a few seconds.
If you come in summer, the locals fire up the oven again during the Saint Véran bread festival. If you are at the right time, get informed to come and see it in operation!
Coaraze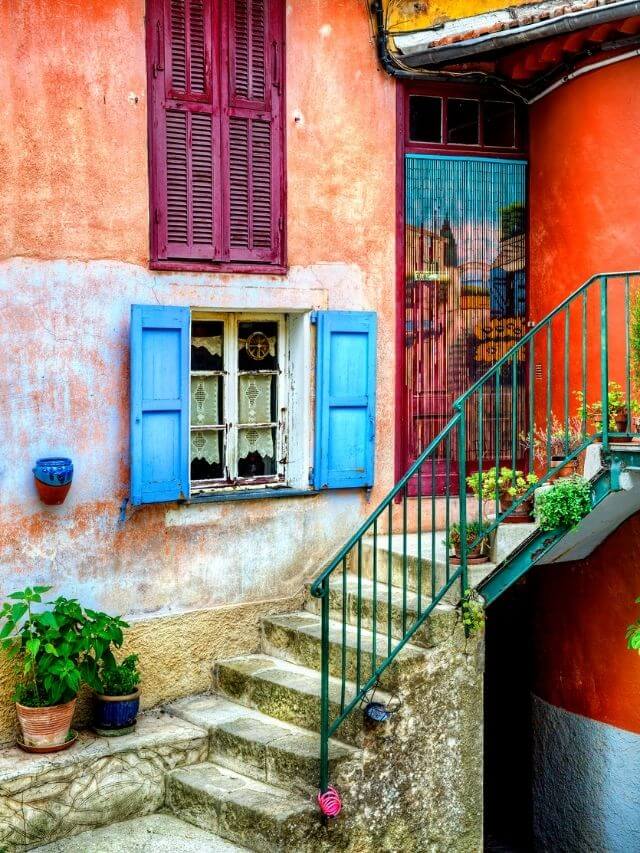 Coaraze is located 45 minutes by car from Nice, and unlike many of the other towns on the list, the road that takes you to Coaraze makes it a not very visited village.
Visiting Coaraze, you will be tempted to let your imagination run wild. The town winds around itself.
The narrow and winding streets take the visitor to another dimension of time. The entire panoply of medieval architecture is found here:
cobbled streets,
arched passageways,
flowery squares,
vaults,
lintels
and gates that allow a glimpse of the valley,
Renaissance fountains and frescoes with a good handful of artists' workshops.
However, thanks to the artists who have visited the area throughout the ages, the visitor will always know what time of day it is simply by looking at the sundials created by modern artists such as
Cocteau,
Valentin,
Ben,
Mona Christie,
Doukine,
Ponce de Leon,
Henri Goetz
They adorn the town hall, the school, the churches, and the square at the town's top.
La Grave
La Grave is a small traditional mountain village, located at an altitude of 1,500 m, with an extraordinary view of La Meije, a mythical mountain in the Ecrins massif.
Its ski area La Grave La Meije, is a unique off-piste in the Alps, with a single slope on the glacier and up to 2150 m of an off-road drop from the high mountain to the river at the bottom of the valley.
This ski resort is the main attraction of this small town.
Freeride skiers and fans of powder skiing come worldwide to enjoy this unique resort where the mountain is left in its natural state.
The sunny terraces of La Grave resonate in many languages. In ski season, you are just as likely to come across an American as a German because La Grave is a legendary setting in the freeride world.
Sainte-Agnes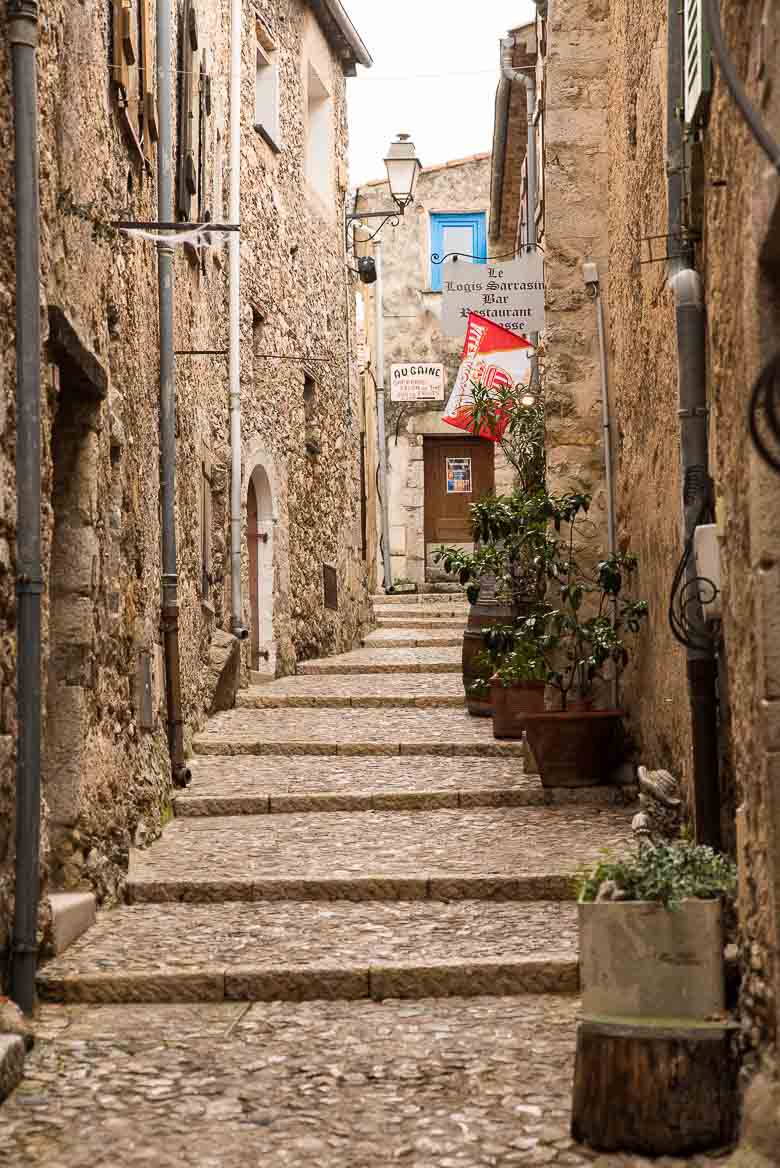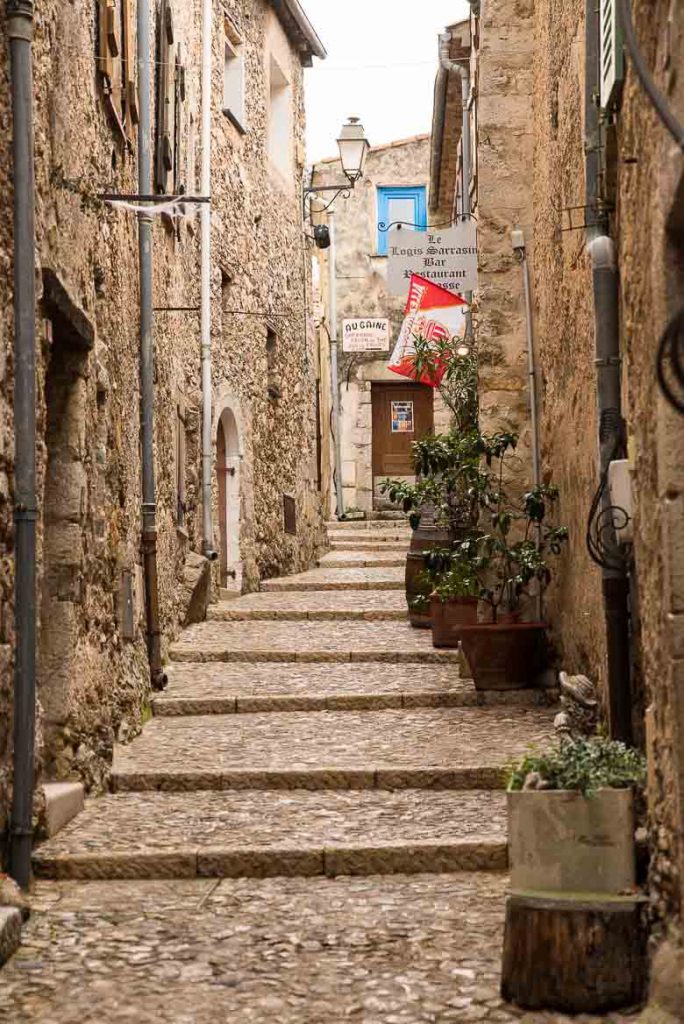 Ranked among the most beautiful villages in France, Sainte-Agnès, at 780 meters above sea level, is also the highest seaside village in Europe.
Its strategic position in the hinterland of Menton made Sainte-Agnès a stronghold in the 16th century.
Later, during World War II, the Ouvrage Sainte Agnès, an extension of the Maginot Line dug into the cliff, allowed the region's defense against the Italian army. Today, this fort is a museum open to the public.
But let us not forget that Sainte-Agnès is first and foremost, an old and charming Provençal village much loved by its 1,169 inhabitants, mostly people who have recently moved to the countryside and have bought and restored the old stone houses.
And it is that few can resist the charm of this medieval town that allows you to see the mountains on one side and the Mediterranean Sea on the other.
Plan Your Trip to the South of France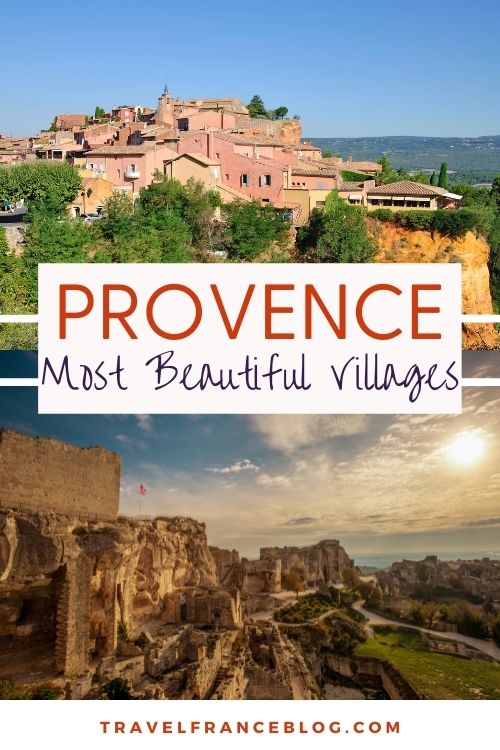 Pueblos más bonitos de la Provenza
Ansouis
Moustiers-Sainte-Marie
Tourtour
Bargeme
Gordes
Lourmarin
Roussillon
Seillans
Menerbes
Venasque
Seguret
Gourdon
Gassin
Les Baux-de-Provence
Saint-Veran
Coaraze
La Grave
Sainte-Agnes
This post may include affiliate links. This means that we will receive a small fee if you make a purchase through our links. It has no additional cost to you. It's a win-win!