Best Things To Do in Lacoste, The Artist Village of Provence
Perched atop a hill in the heart of Provence, Lacoste entices with its medieval charm and artistic flair.
This enchanting village, cradled in the embrace of the Luberon mountains, is a canvas of history, culture, and creativity.
Cobblestone streets wind through a labyrinth of limestone buildings, each exuding the timeless elegance that has drawn artists, thinkers, and dreamers to its embrace for centuries.
As the whispering vines sway in the Provençal breeze and the scent of lavender mingles with the warm embrace of the sun, Lacoste unfurls a story that transcends time and invites visitors into a world where inspiration flows as freely as the wine from its vineyards.
Join us on an immersive journey through the cobbled streets and hidden ateliers as we unveil the magic of Lacoste, an artist's haven steeped in the essence of Provencal splendor.
About Lacoste
Nestled in the shadow of its ancient castle ruins, Lacoste owes its renown to the remarkable limestone sourced from its quarries and its flourishing 19th-century community, sustained by a harmonious blend of agriculture and industry.
With its steep, history-laden streets and medieval legacy, the village offers a vantage point overlooking the picturesque Luberon and the majestic Vaucluse mountains, a sight that has continued to ignite artistic inspiration across the ages.
Some historical data about Lacoste:
Ancient Origins: Lacoste has ancient roots dating back to Roman times. It was originally known as "Lacus," which means lake in Latin, possibly due to the presence of natural springs and water sources in the area.
Medieval Period: In the 11th century, Lacoste became a feudal domain and was ruled by various noble families over the centuries. The castle, which still stands in ruins today, was constructed during this period.
Marquis de Sade: Lacoste is perhaps most famously associated with the notorious French writer and libertine Donatien Alphonse François, also known as the Marquis de Sade. He acquired the Château de Lacoste in 1768 and lived there for several years. The castle served as a residence and place of exile for him.
French Revolution: During the French Revolution, the state confiscated the castle and its estate. The Marquis de Sade was imprisoned, and the castle fell into disrepair.
19th Century: In the 19th century, Lacoste experienced a period of revival. The village thrived due to its stone quarries, which provided high-quality limestone. The combination of agriculture and industry led to a prosperous community.
Modern Times: Lacoste has become known as an artist's haven in recent decades. It's been frequented by painters, writers, and other creatives drawn to its scenic beauty and historic charm.
Educational Institution: Lacoste is also home to an international arts program, the Savannah College of Art and Design (SCAD) Lacoste. This program offers students the opportunity to study art, design, and other creative disciplines in the inspiring surroundings of the village.
Cultural Heritage: The village has preserved its medieval heritage, with narrow, winding streets and historic buildings. The ruins of the castle remain a prominent feature, offering panoramic views of the surrounding countryside.
Fun Things To Do in Lacoste
This summer, we had the pleasure of exploring the captivating village of Lacoste and many others that I'll tell in other articles.
Instantly, we were enchanted by the area's unique blend of artistic expression and historical charm. The numerous galleries and ateliers dotted throughout the village offered a delightful immersion into local creativity.
Despite its small size, Lacoste proved to be a treasure trove of experiences. In just half a day, we meandered through its cobbled streets, discovering hidden corners and absorbing the rich heritage that graced each corner.
It quickly became evident that comfortable footwear was a must, as the village's steep inclines added an adventurous twist to our journey.
With its galleries, winding streets, and panoramic views, this village had etched itself into our hearts, leaving an indelible mark of Provencal magic.
Here you have the Best things to do in Lacoste, from the parking / Tourism Office starting point to the castle and the parking again.
Stopover the Church of Saint-Trophime de Lacoste
Experience the enchantment of Lacoste, Provence, through a visit to the Church of Saint-Trophime—a historic marvel among things to do in the area. Founded in 1123, this Romanesque treasure offers a serene haven of spiritual grace.
Remnants from the Romanesque era still bear witness to its ancient origins, while the present-day entrance stands as a testament to meticulous 17th-century reconstruction efforts.
Delicately carved arches and sculptures showcase ancient artistry. Reflect on the church's historical significance and its dedication to Saint-Trophime, the first bishop of Arles.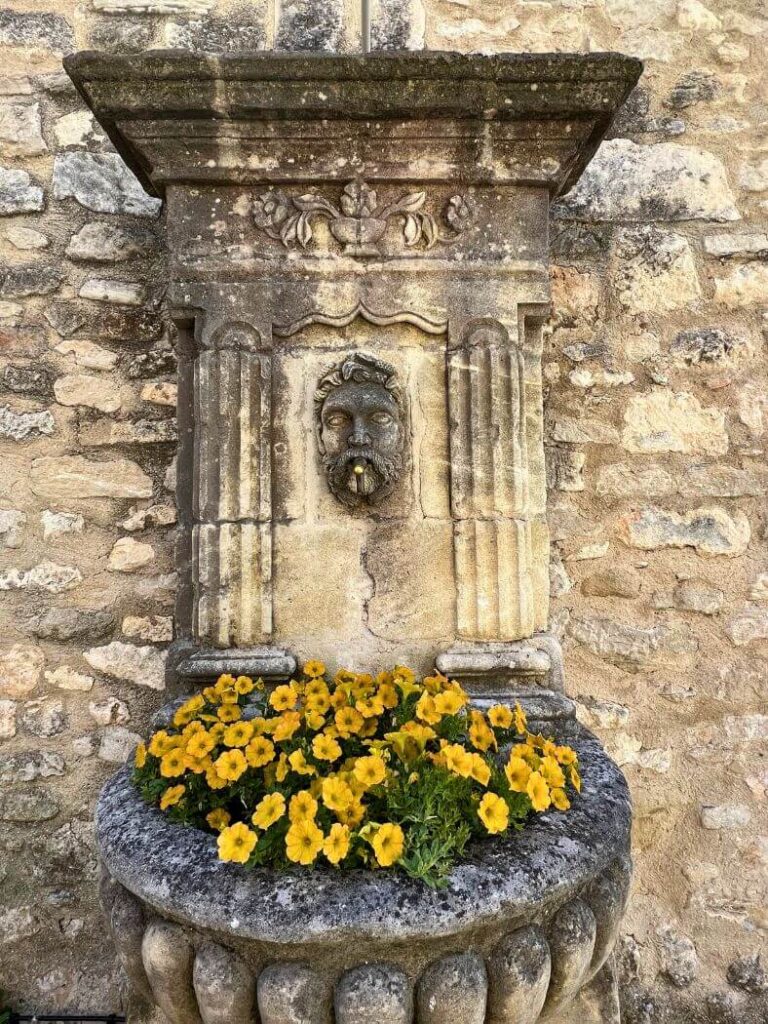 Walking around the Old Town
Start walking to the old town and cross under the "Portal de la Garde" build it in medieval times around the 14th century. This gate is the entrance to the heart of Lacoste village.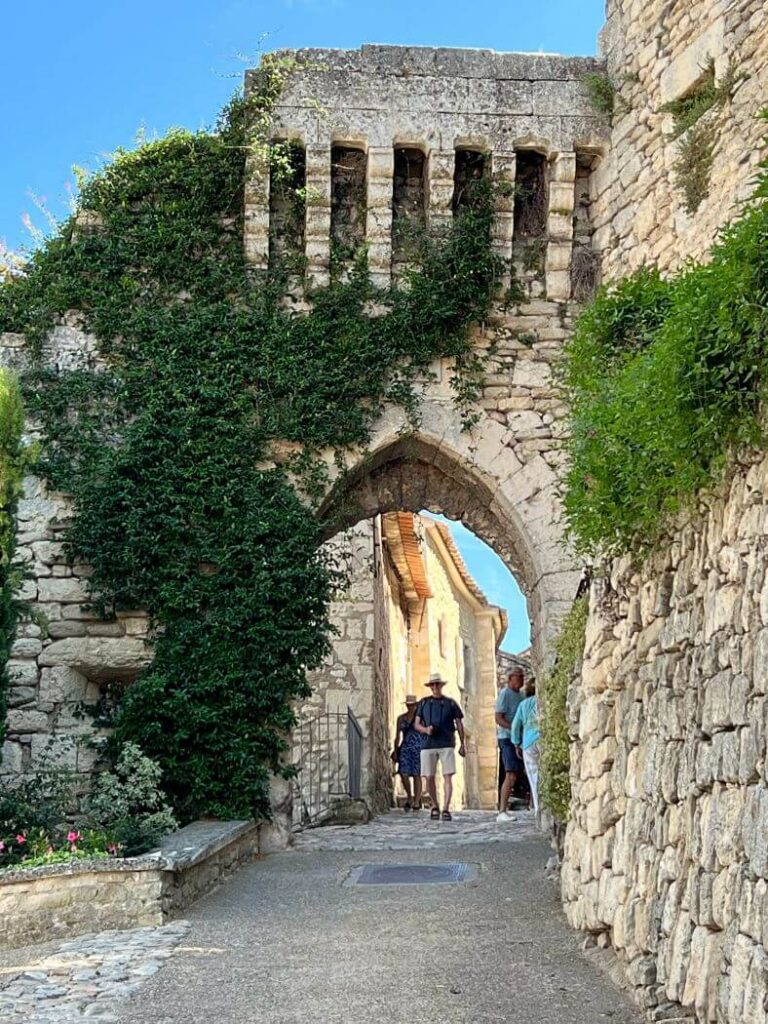 Continue walking and visit SCAD. During the 1970s, American painter Bernard Pfriem established an art school in Lacoste. S
ince 2002, this institution has evolved into the French campus of the esteemed American university Savannah College of Art and Design. Today, it opens its doors to a diverse community of students, professors, and a myriad of accomplished artists.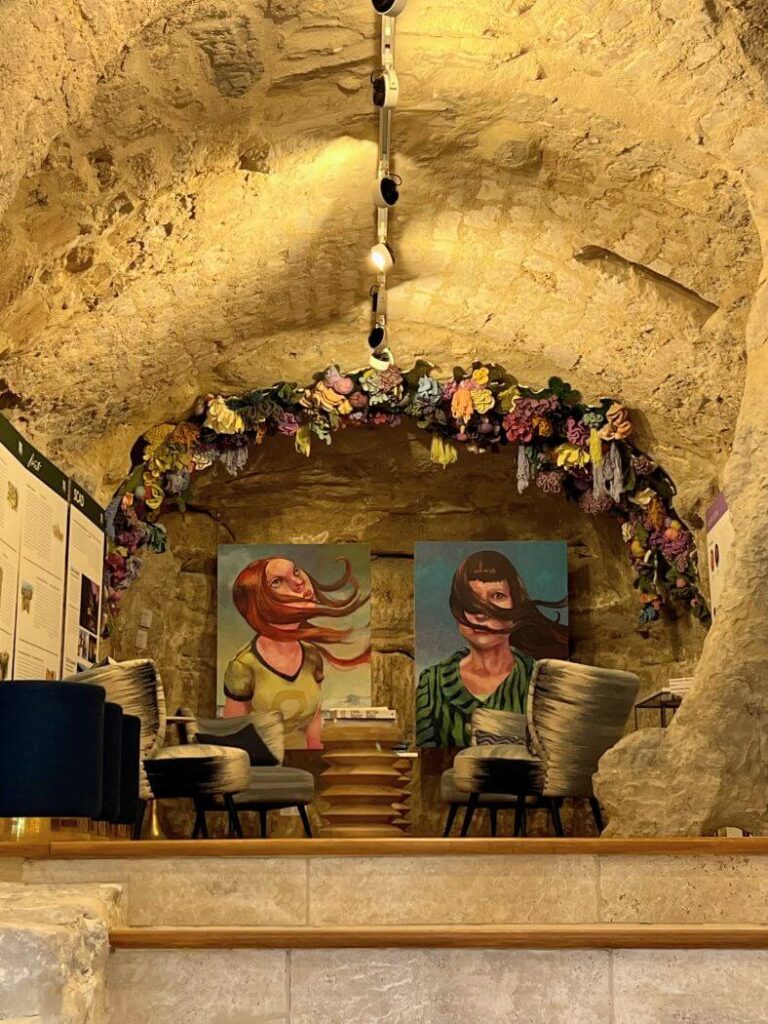 Go up till "Maison Forte", this building was used in the middle ages by the notables of Lacoste, and like the castle, is part of the castral core with its own enclosure.
Before getting to the chateau, you'll see the Beffroi and its Campanile. This place marks the entrance to the lordly space.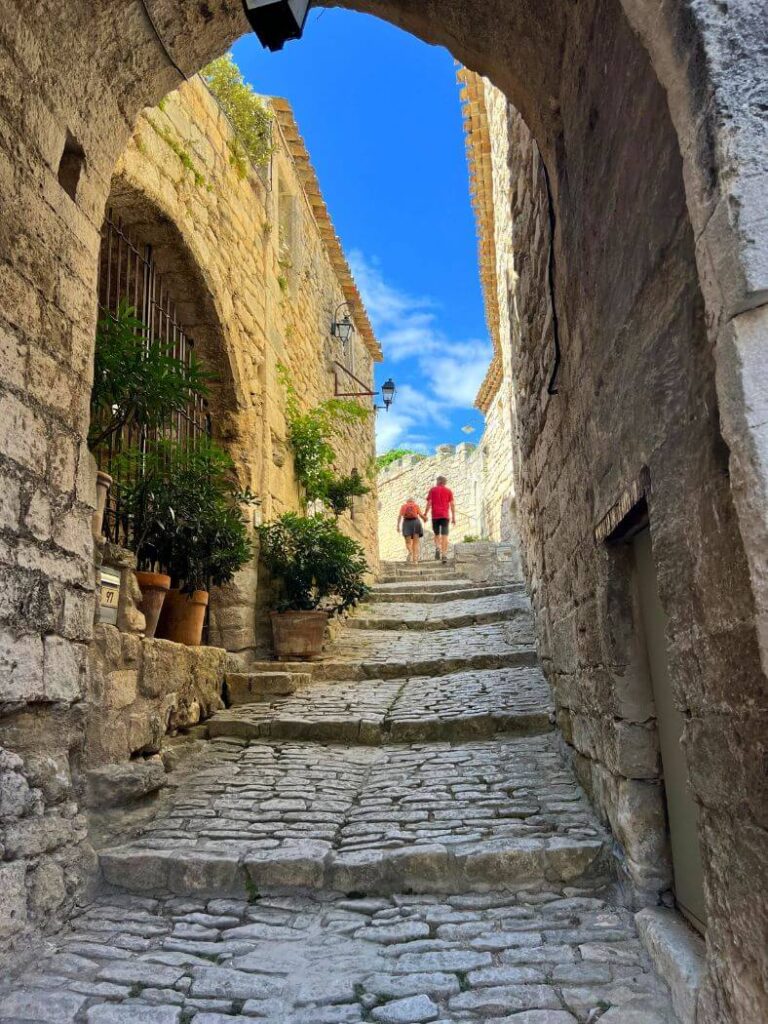 Château de Lacoste's ruins, dating back to the 11th century, whisper tales of Marquis de Sade's intriguing presence in the 18th century. Reach its heights for panoramic countryside views, a living artist's canvas.
After visiting the Chateau, go to the Portail des Chevres from 16th century and to the temple from 19th century.
And to treat yourself, go for a coffee or a drink at Cafe de France. Here, you can enjoy wonderful views while you rest a little.
So, grab your camera from your travel bag, eager to capture each winding alley and a hidden corner. As you embark on this journey, you know the enchanting streets of Lacoste hold treasures beyond measure.
Continue your Lacoste village exploration with a leisurely afternoon of shopping. Wander through local craft shops lining the cobblestone streets, offering a diverse selection of regional treasures.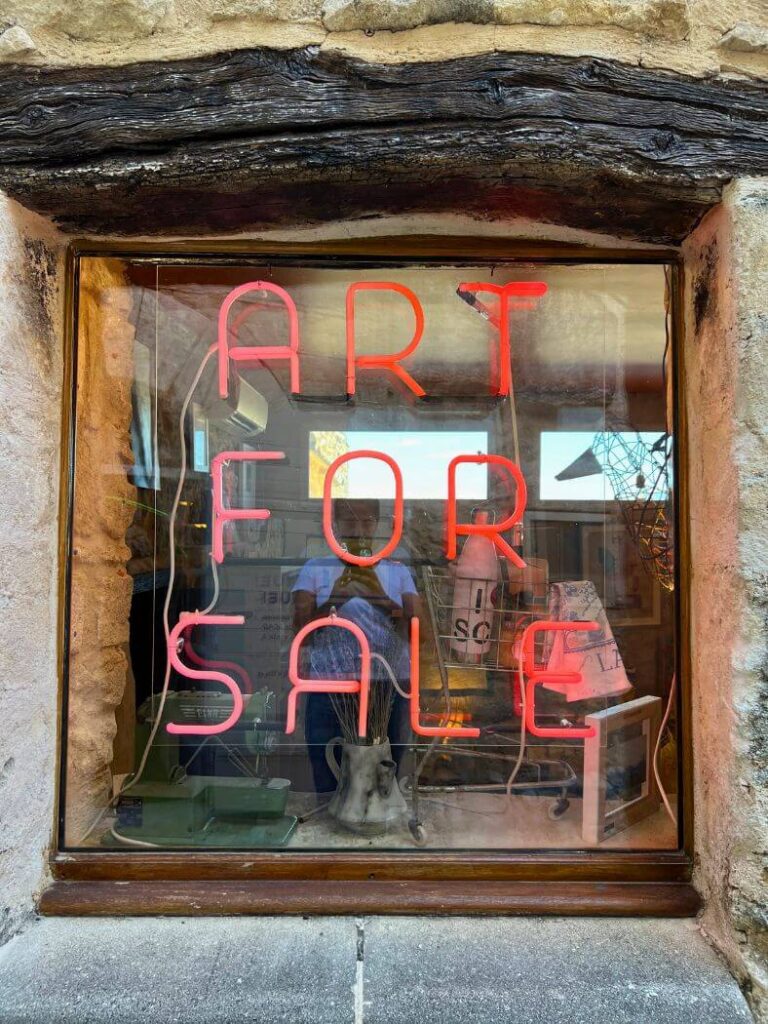 Indulge in its eclectic art, reflecting the area's artisanal spirit. Engage your senses with lavender products, evoking the fragrant essence of Provence's landscapes. Discover unique items from the different galleries that blend craftsmanship and style seamlessly for a touch of elegance.
These shops provide a chance to carry a piece of Lacoste's charm back home with you. Each purchase becomes a tangible memory, encapsulating the village's character.
Visiting the Chateau de Lacoste (Lacoste Castle)
Step into a realm of magic and history at the mesmerizing Castle of Lacoste! This was once home to the infamous Marquis de Sade, a figure of controversy, his libertine lifestyle and daring writings etched into the walls in the 18th century.
Dating back to Gallo-Roman times, the Chateau de Lacoste held residence under the ownership of the Simiane family in the 16th century, followed by the notorious Marquis de Sade.
Ravaged and reduced to ruins during the Revolution, it met its fate on the market, its stones finding new purpose in the construction of village homes.
It wasn't until 2001 that the esteemed fashion designer Pierre Cardin acquired and safeguarded this historic site.
Now, the Lacoste Castle is a haven for photography aficionados to seize breathtaking moments and for history aficionados to plunge into Lacoste's captivating chronicles.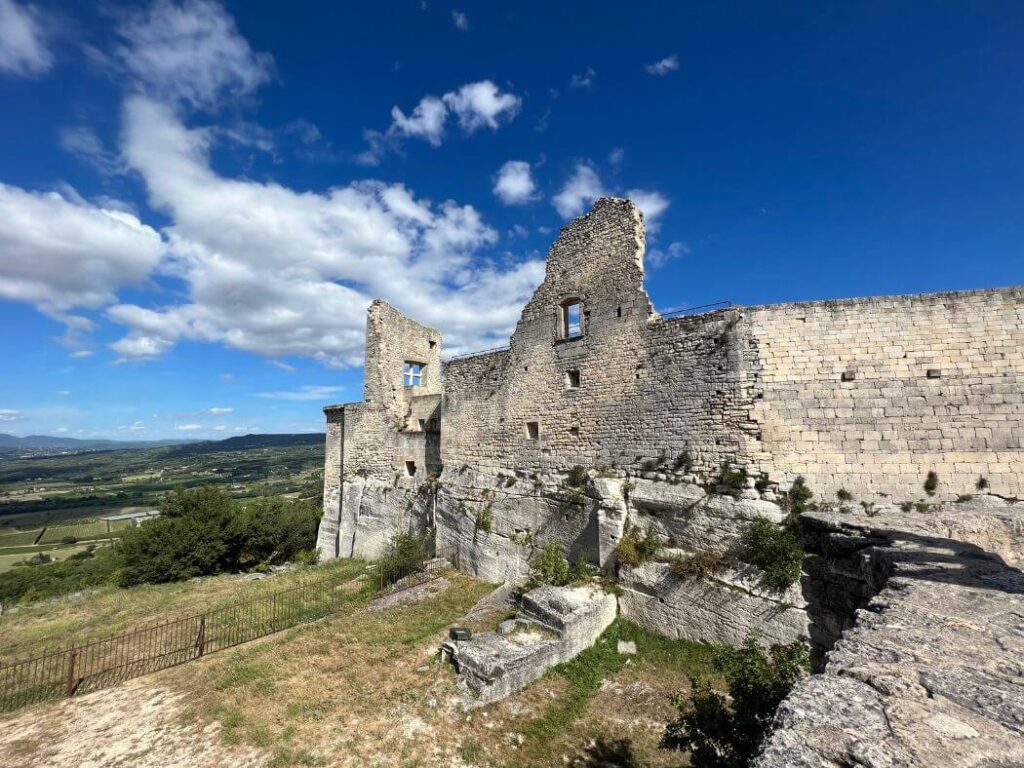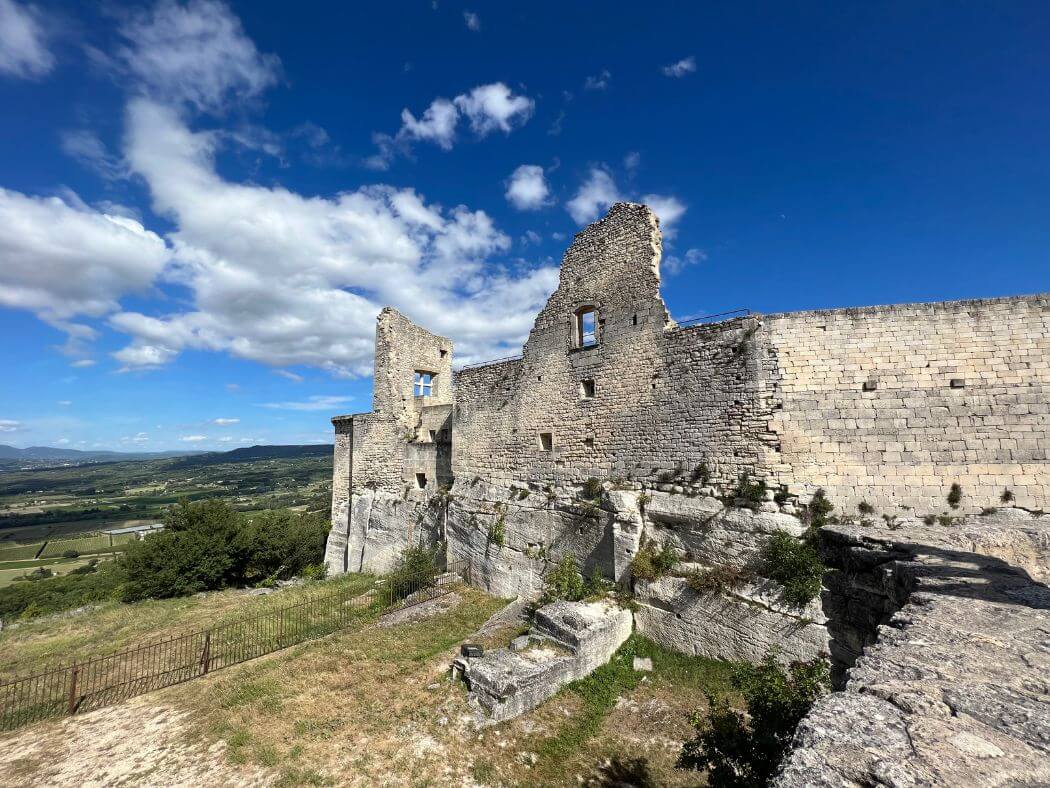 Open Dates and Hours:
Monday to Saturday: 10AM to 1PM and 2 PM to 7PM
Sunday: 2PM to 6PM
Admission:
Adults: €10
Children (10-17): €5
Students: €5 (with valid student ID)
Children under 10: Free
Adult group rate (10+ people): €8
For more updates, you can check the Lacoste website.
Hiking Trail Idea: "Foret des Cèdres"
If you want to experience this beautiful area, you can go to the parking lot of Forêt des Cèdres du Petit Luberon, Bonnieux.
The hiking difficulty is easy; it is 3.2 km (around 2 miles), and the duration is around 1.15 hours.
This place is a cedar plantation and is composed of Cedrus Atlantica planted in 1861.
Also, you can hire a guided tour to uncover the wonders of Lacoste, France, and its surroundings, like this captivating biking tour.
Lace-up your adventure shoes, or in this case, hop onto an e-bike for a full-day journey through the picturesque Luberon region.
Energized and rejuvenated, embark on a ride to viewpoints that unveil Château de Lacoste's 11th-century allure, the Abbey of Sainte Hilaire, and the village of Bonnieux (the village is in front of Lacoste).
Walking around the Vineyards
Step into a journey that indulges your senses, uncovers the history, and lets you savor the true spirit of Luberon vineyards—one of the most exceptional things to do around Lacoste, France.
Embark on a delightful journey as you take a leisurely stroll around the vineyards of Lacoste, France, discovering one of the most captivating things to do in the region—exploring its picturesque vineyards.
Don't miss the opportunity to learn about the winemaking process and the region's rich viticultural heritage from friendly local vintners through the heart of Provençal wine country.
Explore Domaine de Font Léale in Lacoste, embrace the Cave de Bonnieux, founded in 1920, and savor the essence of La Cidadelle. Engage in conversations that reveal the secrets behind each bottle, gaining insight into centuries of winemaking tradition.
Experience the essence of Lacoste, France, through a scenic drive. Savor wine tastings at two wineries. Then, explore Lacoste village and the Marquis de Sade's castle through this day trip and wine tour from Avignon!
Sunset Viewing in Lacoste
If you're in Lacoste for the sunset, you'll be able to witness the mesmerizing colors of the evening sky over Bonnieux, the quaint village just opposite.
However, if you wish to capture a panoramic shot of Lacoste at its most enchanting, we recommend doing so at dawn. It's during this magical moment when the sun's golden rays bathe the village, giving it a unique radiance and truly special atmosphere for your photograph.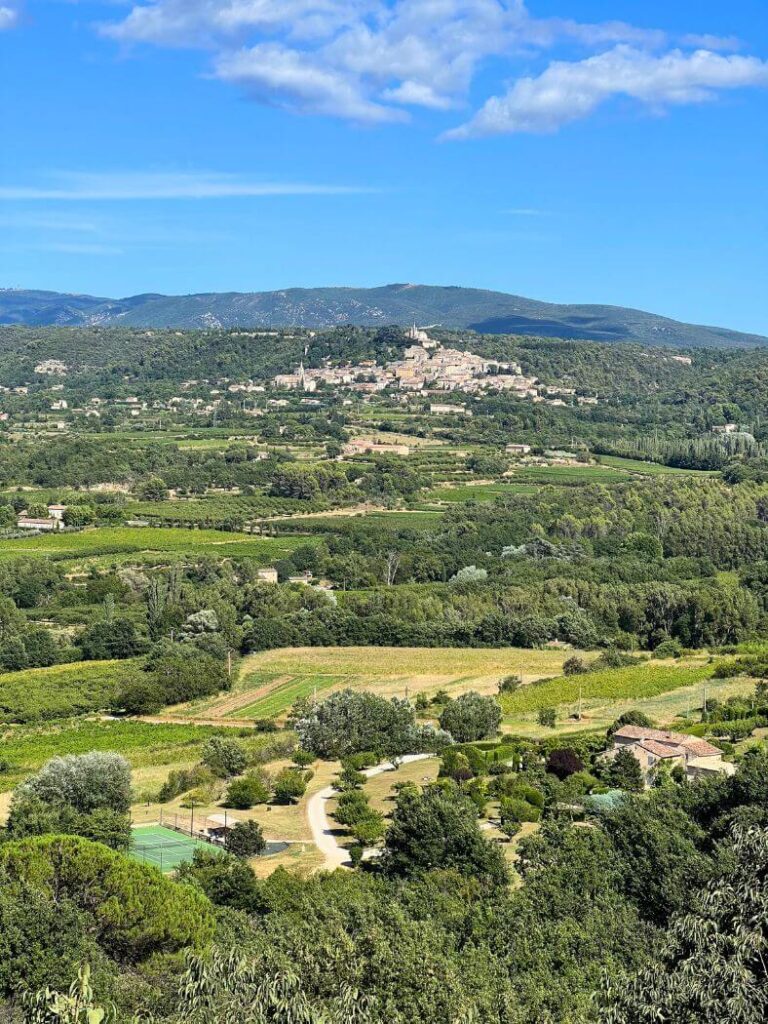 The Weather in Lacoste
The weather in Lacoste offers delightful conditions almost all over the year. The region enjoys a Mediterranean climate characterized by mild winters and warm summers.
Spring and fall provide comfortable temperatures, making them ideal times to visit. During summer, temperatures can reach around 25-30°C (77-86°F), ensuring a pleasant outdoor experience.
If you also want to visit the lavender fields of Provence, travel to this area in the first weeks of July. That's when the lavender is in full bloom.
Where to Stay in Lacoste, France
With a range of accommodations to choose from, you can find the ideal place to stay while enjoying the enticing things to do in Lacoste.
You can stay at Café de France, which offers rooms with views and is just a few steps away from the historic center of Lacoste.
For mid-range to high-end options, there are charming boutique hotels like Les Cabanes de la Fontain, which offers accommodation with a pool. Perfect for a weekend getaway.
How to Get to Lacoste, Provence
Getting to Lacoste is a delightful journey, especially if you have your own vehicle. This offers you the freedom to explore the beautiful Provencal countryside at your own pace.
There are two convenient free parking areas in Lacoste, making it easy for visitors to park and explore the village.
For those traveling from nearby cities, Avignon is approximately 48 kilometers (30 miles) away, making it an easily accessible starting point.
Marseille, another significant city in the region, is around 97 kilometers (60 miles) from Lacoste. If you're coming from the capital city, Paris, it's approximately 687 kilometers (427 miles) away.
Lacoste is also RV-friendly. We traveled the Provence region in our campervan and can comfortably enjoy the journey and take in the scenic beauty along the way.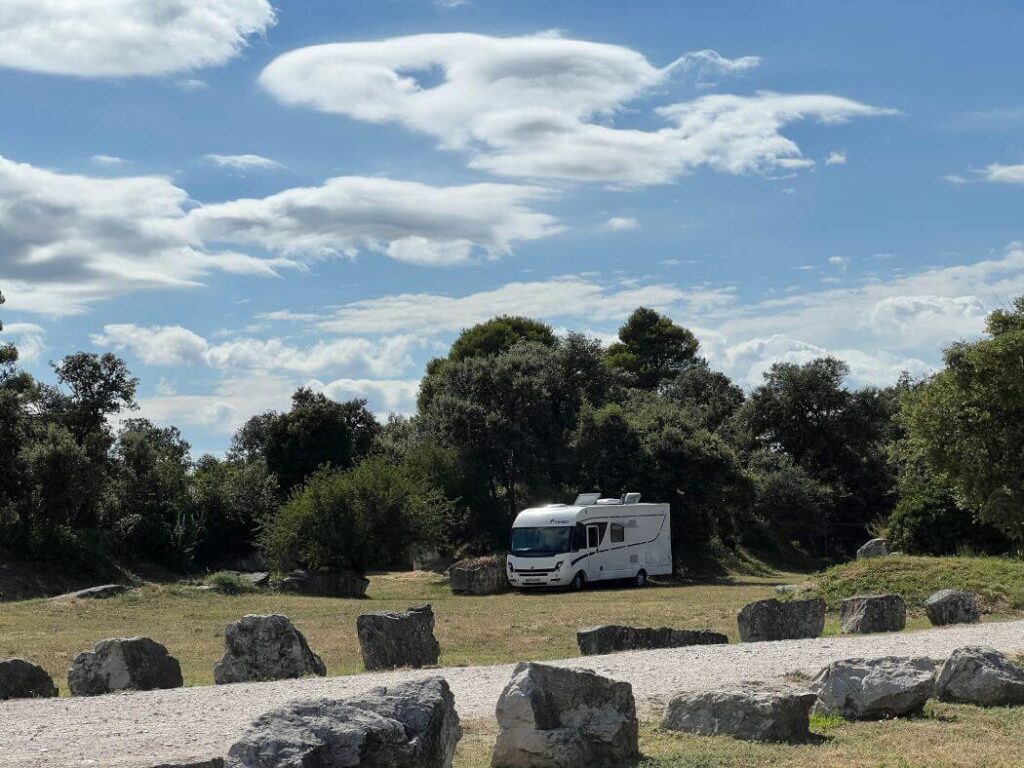 Frequently Asked Questions about Things to Do in Lacoste France
Plan Your Trip to Provence–Alpes–Cote d'Azur
This post may include affiliate links. This means that we will receive a small fee if you make a purchase through our links. It has no additional cost to you. It's a win-win!