Best Things to Do in Valensole Provence France
Discover the best things to do in Valensole, Provence, France! France is not only Paris but there's also a plethora of small picturesque villages and towns that will show you a completely different country.
Plunge yourself in the beauty of this charming village, nestled in the heart of southeast rural France. Explore the historic streets, shop at local boutiques, and live a friendly ambience.
Don't miss the breathtaking lavender fields in full bloom. Take a guided tour, savour the local delicacies, and create unforgettable memories in this Provençal gem. Get ready to experience the captivating allure of Valensole—your next dream destination awaits!
History of Valensole Provence France
In the Gallo-Roman era, 100 to 500 years AD, many settlements were established in the valleys of the plateau, at Conches, Arlane, Riou and Marges where Valensole is located.
The town of Valensole, built as an amphitheatre, perched like a swallow's nest on the side of a hill that shelters it from the Mistral, above the valley and stream of Notre Dame, dates from the 8th – 9th century AD.
Invaded by the Barbarians, Burgundians and Saracens, the population then took refuge around the fortified castle of Lord Fulque.
As I explored the maze of narrow streets, I discovered that many of the traditional stone houses and colorful painted shutters have stood for centuries, with some dating back to the 16th century.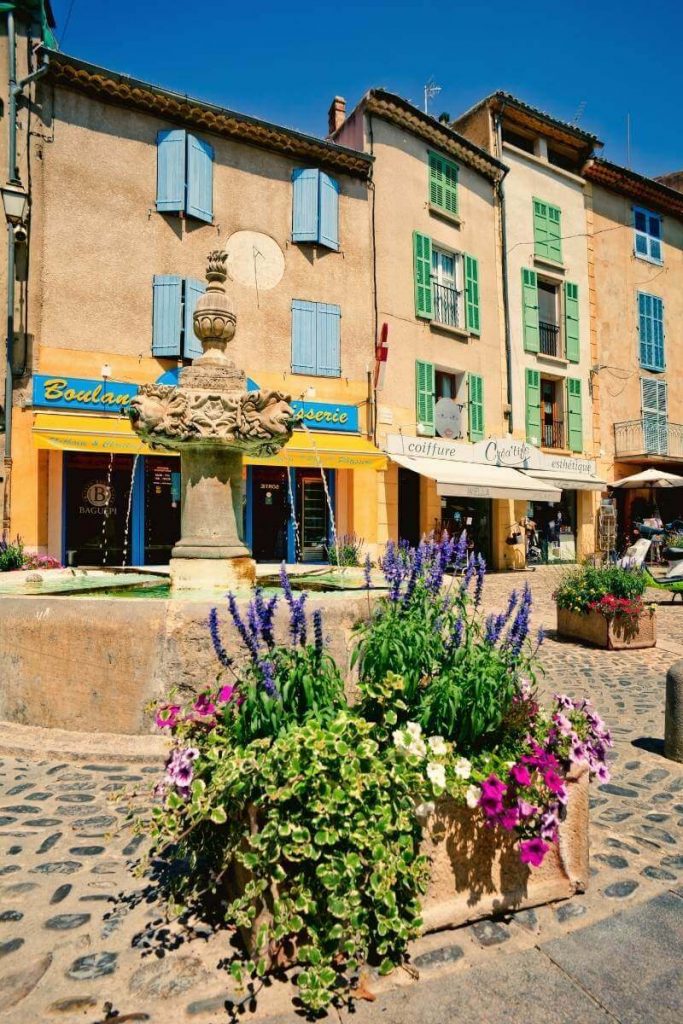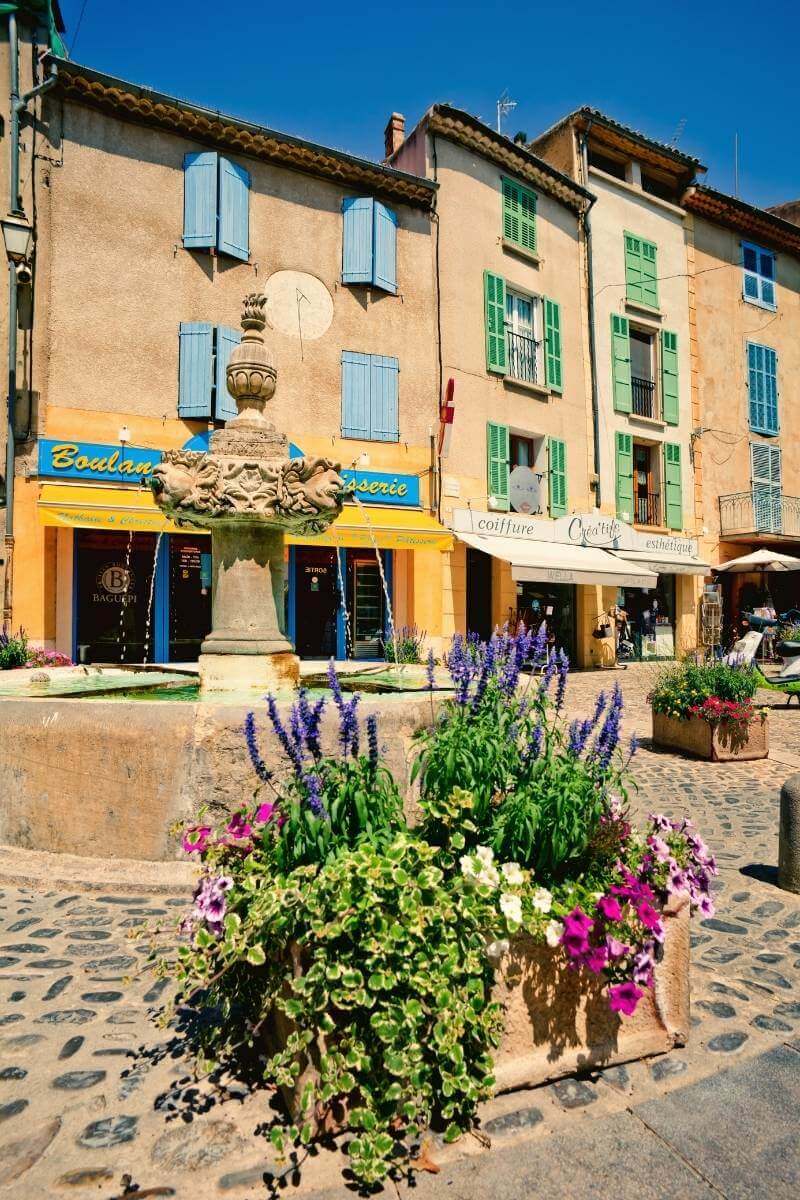 One of the most famous historical figures associated with Valensole is Frédéric Mistral, the Nobel Prize-winning Provencal poet who was born in nearby Maillane. Visitors can learn more about his life and works by visiting Maison de Frédéric Mistral, where he spent his later years and died in 1914.
The town's connection to the lavender fields dates back to as early as the 18th century. Lavender has always been essential to the local economy and continues to be the primary source of income for the community.
In fact, the annual Lavender Festival, held every third Sunday of July, is a celebration of the town's love of the fragrant purple flower. This event has been celebrated since the late 1920s and has become a staple in the town's cultural calendar.
The town is known for its production of lavender honey, which is a unique and delicious local delicacy. And let's not forget about the truffles, olives, and almonds, which have been a staple of Provencal cuisine for centuries. The local markets are a great place to sample these delights and bring home some souvenirs.
Attractions and Things to Do in Valensole Provence France
From Lavender fields to renowned architectural wonders of the Valensole Provence in France, here are the best destinations and iconic landmarks and monuments in the South of France.
Plateau de Valensole in Provence, France
Valensole and its plateau, which is nearly 12,700 hectares in size, is one of the largest communes in France.
Situated in the Provence area, the region attracts visitors from all over the world who want to experience the natural beauty of the French countryside.
The Plateau of Valensole is a charming destination, famous for its stunning lavender fields that bloom during the summer months, starting in July.
The Plateau de Valensole offers vast stretches of flatlands, meandering hills, and rolling terrain, creating the perfect environment for people to explore during the refreshing morning light.
Named "the breadbasket of the region," its 800 square kilometer plateau is primarily dedicated to the cultivation of lavender and cereals.
It takes on different aspects throughout the seasons: the snow-capped peaks of the Alps and the almond trees in bloom in March give way in July to the many blues and purples of the lavender undulating in alternation with the gold of the wheat and sunflowers.
In November, the ochre of the plowed fields stands out against the purity of the blue winter sky.
The lavender fields at Plateau de Valensole are breathtaking, especially when morning dew covers them, creating an almost otherworldly view that you won't forget anytime soon.
The Valensole plateau is today one of the most important places for the growth of lavender.
The Romans perfumed their baths and clothes with lavender, and they even put lavender sachets in their closets as a sign of love.
Introduced to France by the Phoenicians, lavender found its ideal land in Provence thanks to the climate that favors its culture.
Besides the lavender, the Plateau de Valensole is also home to a diverse range of bird species, making it a paradise for bird watchers during the morning hours.
Explore the Town of Valensole Provence, France
Valensole is a lovely old-world village, perfect for leisurely strolling through its winding streets, walk by the historic doorways, wrought-iron balconies, and colorful shuttered windows. Chat with the friendly locals while soaking in the authentic Provencal atmosphere.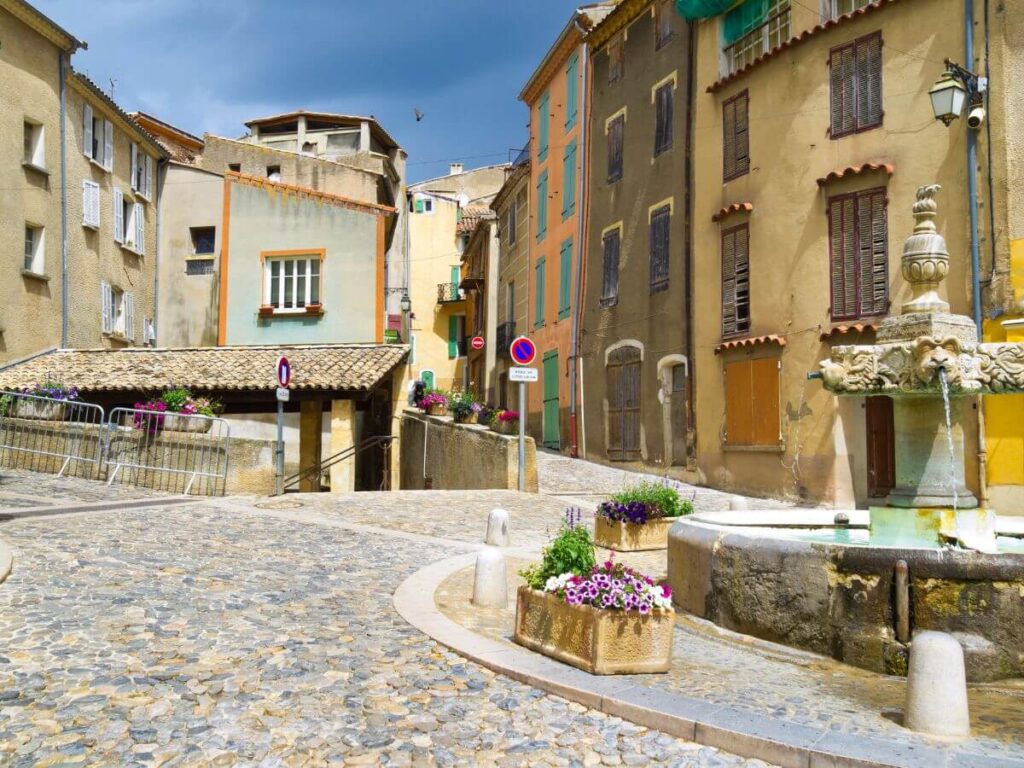 I highly recommend traveling by car as it is the easiest and most convenient way to get there. If not, a shuttle bus is also available from Aix-en-Provence or Marseille.
There are as well organized tours for Marseille or Aix en Provence that will simplify your life and are much easier for you.
This town has a rich history that dates back to Roman times and is linked with various historical figures such as Nostradamus, who was born in Saint-Rémy-de-Provence and spent much of his time in the area during the 16th century.
Take on a Lavender Fields Tour in Valensole Provence, France
Valensole Provence's lavender fields and farms have a rich historical background that dates back first to the Romans and then to the Middle Ages.
In the 16th century, lavender was used for medicinal purposes, and it wasn't until the 19th century that the commercial lavender industry took off in the area.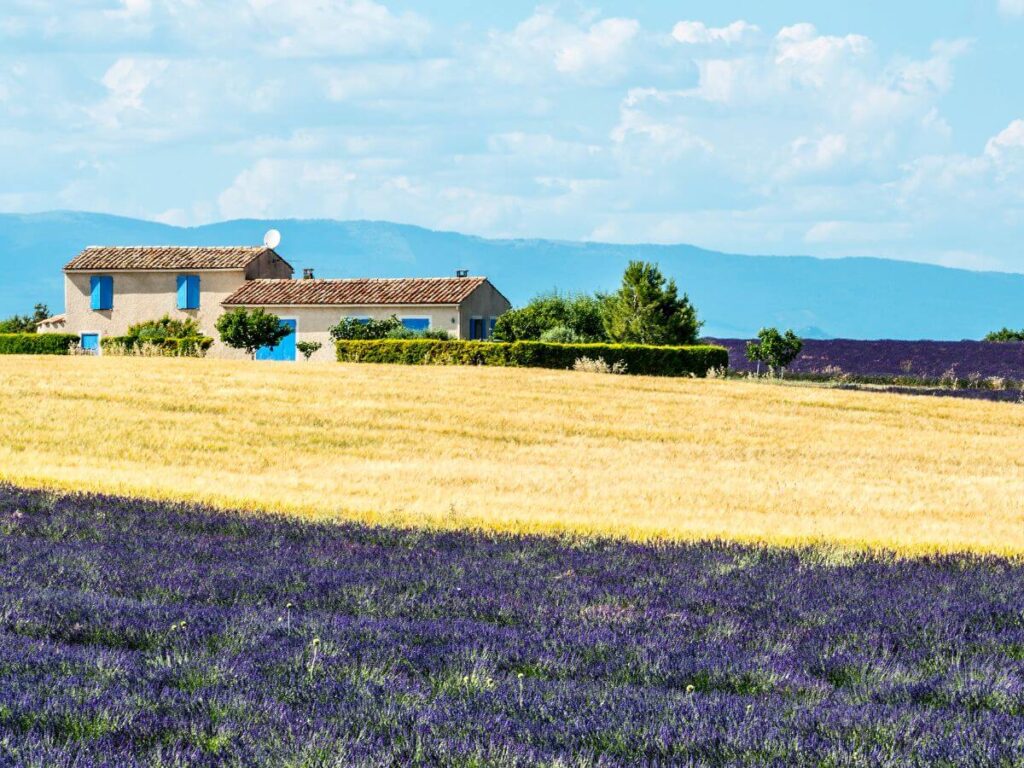 One of the most well-known producers of Lavender and distiller of lavender is Angelvin. You can visit the Angelvin Fields from March to November.
When visiting Angelvin Field, it's important to note that the lavender fields have been a part of the property since many years ago. The organic nature of the fields is important to their livelihood, and it's crucial that visitors treat the area with respect.
Valensole, the Hill of Purple is also steeped in history. Between the 1st and 5th centuries, the area was home to a Roman fort that was built to protect the region from invaders. Later on, during the French Revolution, the hill was used as a lookout point by local soldiers.
Today, it remains a popular destination for tourists looking to experience the beauty and history of the Provence and lavender fields.
Visit the Historical Landmarks of Valensole Provence, France
The town is home to the unique Château du Grand Jardin, a stunning 18th-century castle that features an impressive French-style garden.
The castle was built for the Fresse de Monval family, a prominent family in French politics during the 1700s. You can even book a room!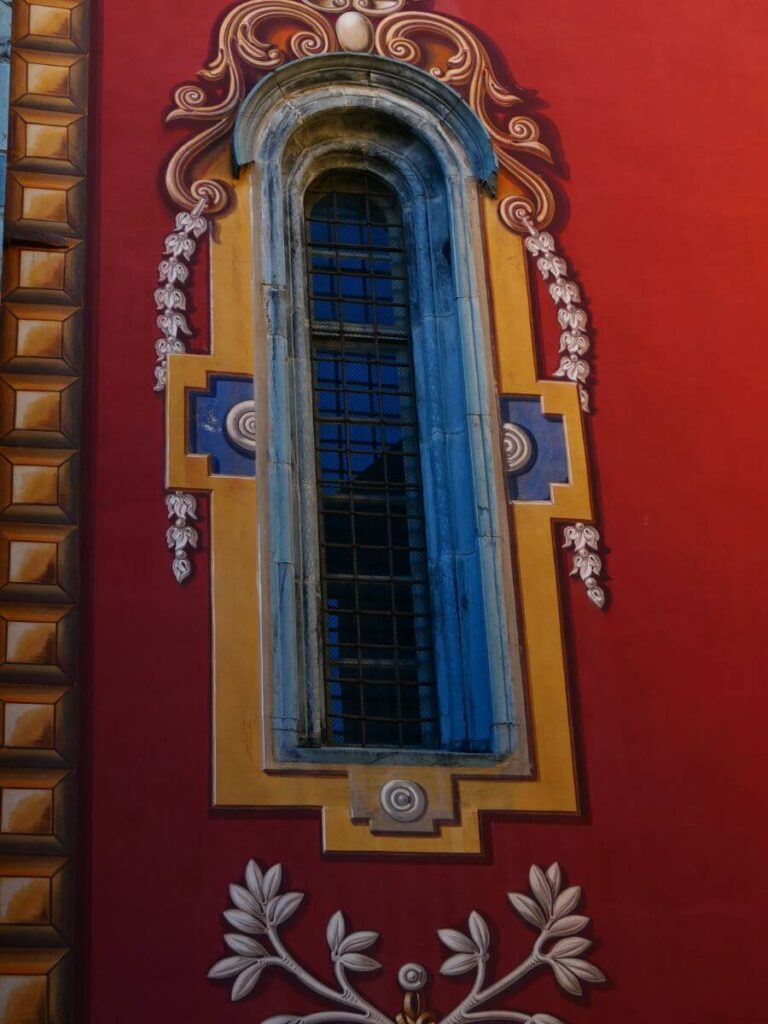 Close to Valensole, you find two interesting landmarks; the first one is the Collegiate Church of Notre Dame-de-l'Assomption in Riez.
This Gothic church was built in the 15th century and features beautiful stained windows and vaulted ceilings.
The church has played a significant role in the town's history, including serving as a hiding place for residents during World War II.
The second one is the Museum of Prehistory of the Gorges du Verdon in the village of Quinson, which houses an extensive collection of artifacts and exhibits relating to the early history of the region.
The museum includes a replica of a Neolithic village, which provides a glimpse into the Stone Age.
Do Market Shopping
When it comes to shopping in Valensole, the local markets are the perfect place to start. You'll find a wide variety of products, ranging from artisanal foods to unique souvenirs.
One of the most significant shopping options is the selection of local lavender products. The markets are dotted with market stalls pedaling an array of lavender-infused goods, like lavender honey made from the town's lavender fields, costing €8 for a 250-gram jar.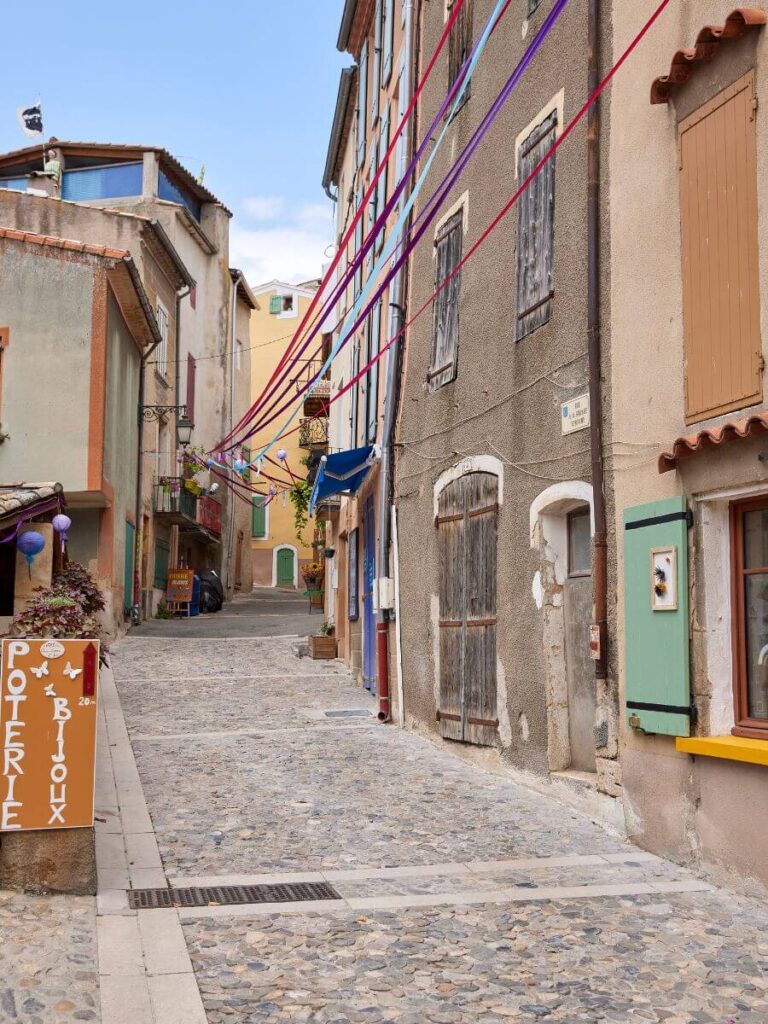 If you are looking for unique souvenirs, be sure to visit some of the area's specialty gift shops. Le Atelier Créa-Terre Et Feu is a charming little shop that features a variety of Provençal-themed gifts, such as handmade pottery, painted tiles, and embroidered linens.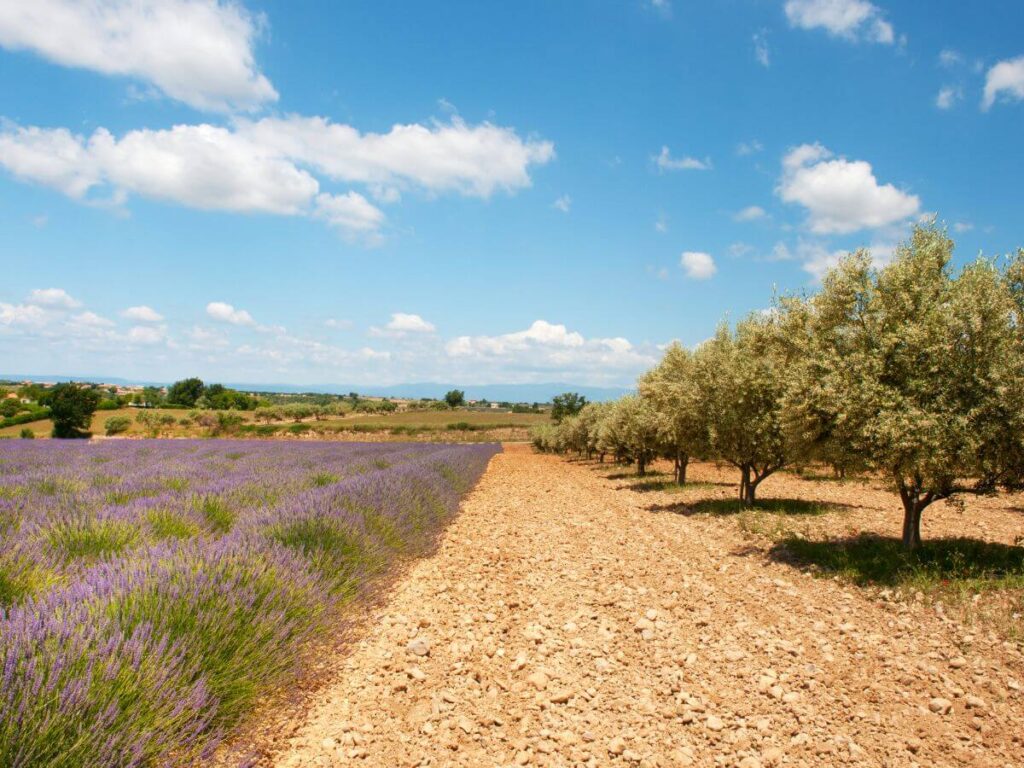 At La Fontaine à Vin et produits de pays, you'll find an assortment of local wines, pottery, and lavender products that make perfect gifts.
Prices for these items vary around €10-€25 for a bottle of wine, €10-€15 for a jar of specialty jam or conserve, and €15-€30 for a bottle of high-quality olive oil.
Indulge in Food and Local Delicacies
The local cuisine in this part of Provence is renowned for its fresh, natural ingredients sourced directly from local farmers and producers. And what better way to experience the local flavors than by sampling some of the region's irresistible delicacies?
Drizzle lavender honey over your breakfast yogurt or spread it onto warm bread for a delicious snack. You'll find jars of lavender honey from the markets or served at restaurants or B&Bs in Valensole.
Valensole is also known for its quality produce, from juicy tomatoes to sweet melons. Head to the local markets to stock up.
Be sure to grab a crusty baguette or some fougasse from one of the local bakeries, too — the perfect accompaniments to your gourmet spread.
And let's not forget the cheese and wine! Provence boasts an incredible range of artisanal cheeses, from creamy goat's cheese to pungent sheep's milk varieties. Pair them with a glass of local wine, and you're in for a real treat.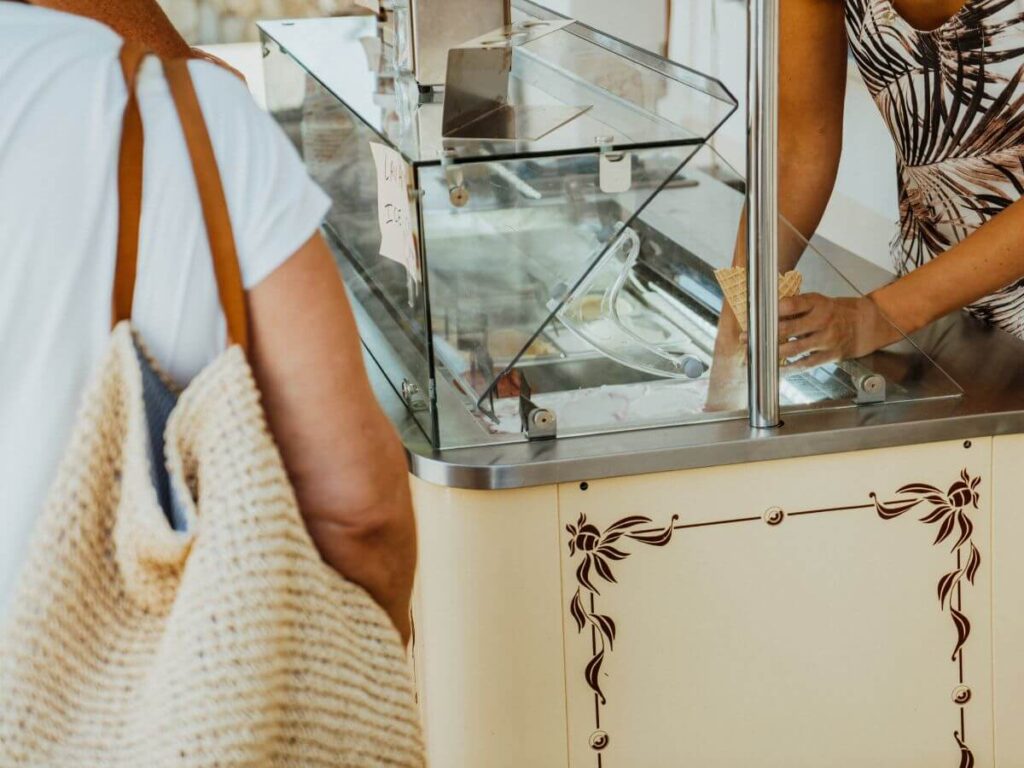 When it comes to dessert, look out for the local specialty: lavender ice cream. Yes, you read that right! This bright purple ice cream has a distinctive floral flavor that's perfect for sunny days.
One of our top picks is Le Glacier De Valensole, which sells scoops for about €4. You could even try it with toppings such as lavender honey and almonds for an extra indulgent treat.
One restaurant that we would highly recommend is Le Jardin de Celina. This charming restaurant has a menu that, using their own words, is a simple, daring, and surprising cuisine mixing different cultures with provençal terroir, showcasing the best of the region's ingredients.
A relaxing place with an amazing selection of wines and a beautiful and refreshing swimming pool!
Expect delicious dishes such as French beef fillet with ratatouille and potatoes with St Felicien cream or confit lamb shank 5 hours with creamy polenta and almonds. Prices here range from around €20-30 for a main course.
Best Time to Visit Valensole Provence, France
When planning your trip, one of the most important decisions you'll need to make is when to go. Keep in mind that the peak season to visit Valensole is between mid-June to mid-July.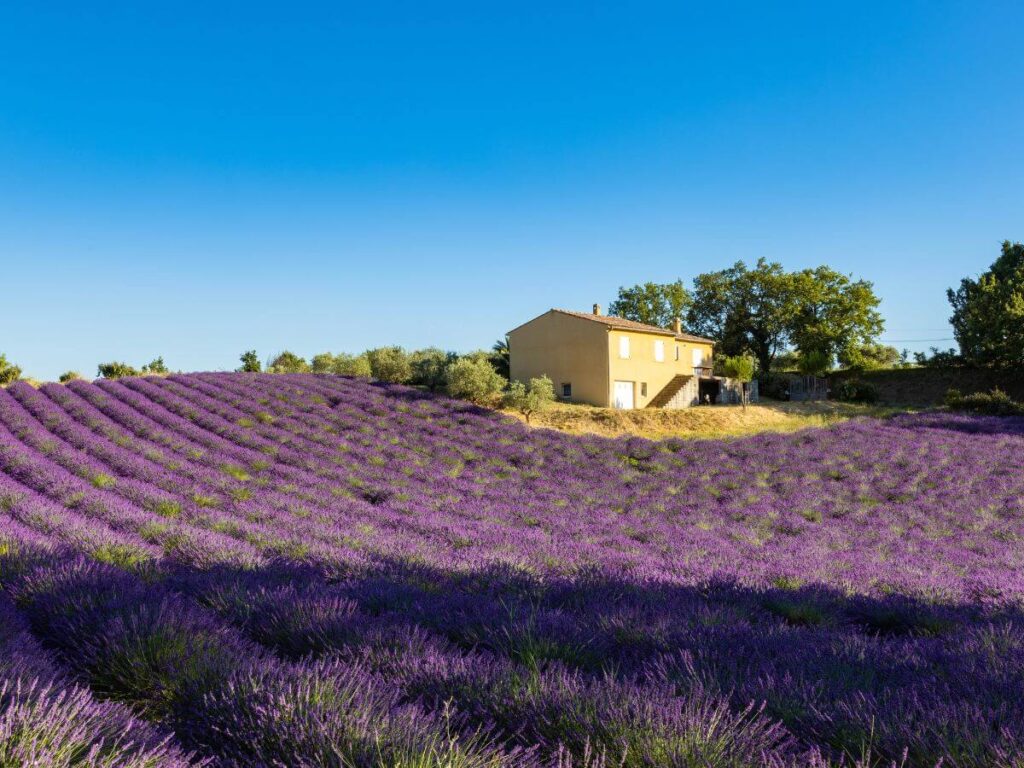 If you don't mind making your way through hordes of tourists, then this might be the best time for you. Just be sure to book your accommodation and get tours well in advance to avoid any disappointments.
Alternatively, if you're more of a laid-back traveler and don't want to worry about crowds, then spring might be the perfect time for you to visit. The weather in spring is mild and comfortable, with temperatures usually ranging between 12-18°C (54-64°F).
There are always plenty of beautiful wildflowers to discover on your nature walks.
Where to Stay in Valensole
If you're looking for an affordable option, we highly recommend Gites Lou Lambert, a charming bed & breakfast located outside Valensole in the middle of nature.
It's just 5 minutes drive from Valensole. With prices starting at just 100 euros per night, you can enjoy a comfortable stay surrounded by lush gardens and stunning scenery.
For mid-range options, consider Le Spa perché de Valensole. Is a magnificent B&B with superb views and outstanding notation from the customers. It offers a cozy room with access to a jacuzzi Spa with prices around 200 euros per night in high season.
You can stay as well in the Chateau du Grand Jardin and live for one or two days like the provençal nobility! Prices are between 150€ and 180€ per night.
For those who are looking for luxury accommodations, we highly recommend Le Couvent des Minimes.
Situated in Mane, just a short distance from Valensole, this former convent-turned-hotel offers stylish rooms and suites with prices starting at 250 euros per night.
With its gourmet restaurant, beautiful gardens, and stunning views of the surrounding hills, Le Couvent des Minimes is sure to provide you with an unforgettable experience.
Another luxury option is Le Mas de la Rose, a stunning hotel located in Orgon, not too far from Valensole. You can enjoy a superb stay surrounded by a 20-hectare park planted with pine trees, olive trees, and lavender, a stunning scenery.
This renovated 17th-century hamlet features a restaurant, terrace, and hot tub. The amazing outdoor swimming pool boasts a waterfall.
Valensole Day Trips and Activities
Looking for a day trip from Valensole? Aix-en-Provence is a charming city filled with history and lively market squares. Take a guided tour to learn about its picturesque surroundings. Or, for a more adventurous experience, visit the breathtaking Gorges du Verdon.
Aix-en-Provence Tour
If you're looking to take a break from Valensole for a day, why not head over to Aix en Provence? Wander around and you'll find plenty of photo opportunities at the ancient doorways, wrought-iron balconies, and painted shutters.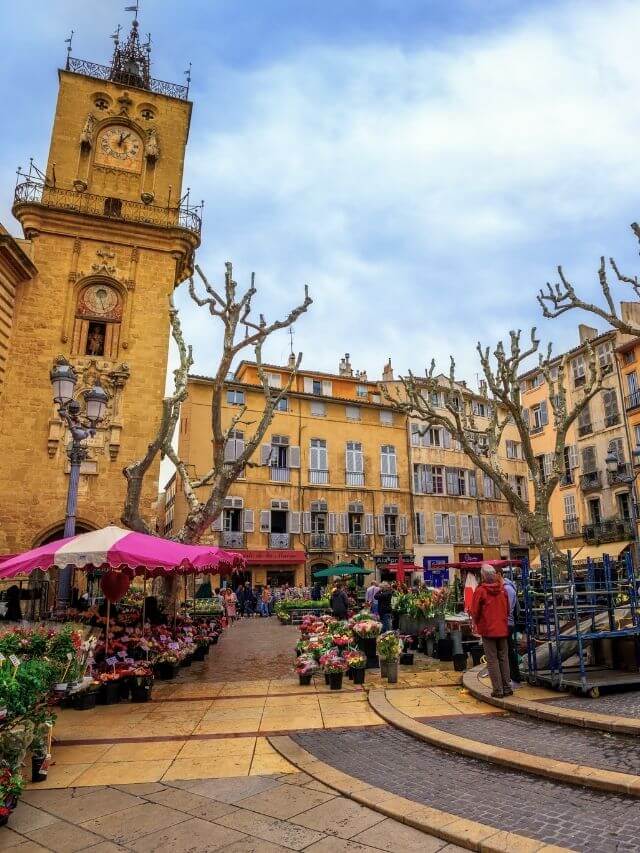 If you really want to get a feel for the city, I recommend taking a guided tour to learn more about its rich history and picturesque surroundings.
Some specific tours you might enjoy are the Small-Group tour of Aix-en-Provence and Cassis, or the Classic Historical and Gourmet Walking Tour of Aix-en-Provence – both of which are led by knowledgeable and friendly guides.
Gorges du Verdon Adventure
But if you're looking for something more adventurous, head over to the breathtaking Gorges du Verdon – often called the "Grand Canyon of Europe."
This natural wonder features a stunning turquoise river surrounded by dramatic limestone cliffs and is an outdoor enthusiast's paradise.
For those of you who like to kayak, hit the water and paddle down the turquoise river, taking in the stunning views as you go.
If you'd rather go for a hike, there are numerous paths for all skill levels which lead to various viewpoints or secluded spots where you can dip your feet in the cool river water.
One of the tours to consider for the Gorges du Verdon is the Verdon Canyon: Canoe or Stand-up Paddleboard Rental.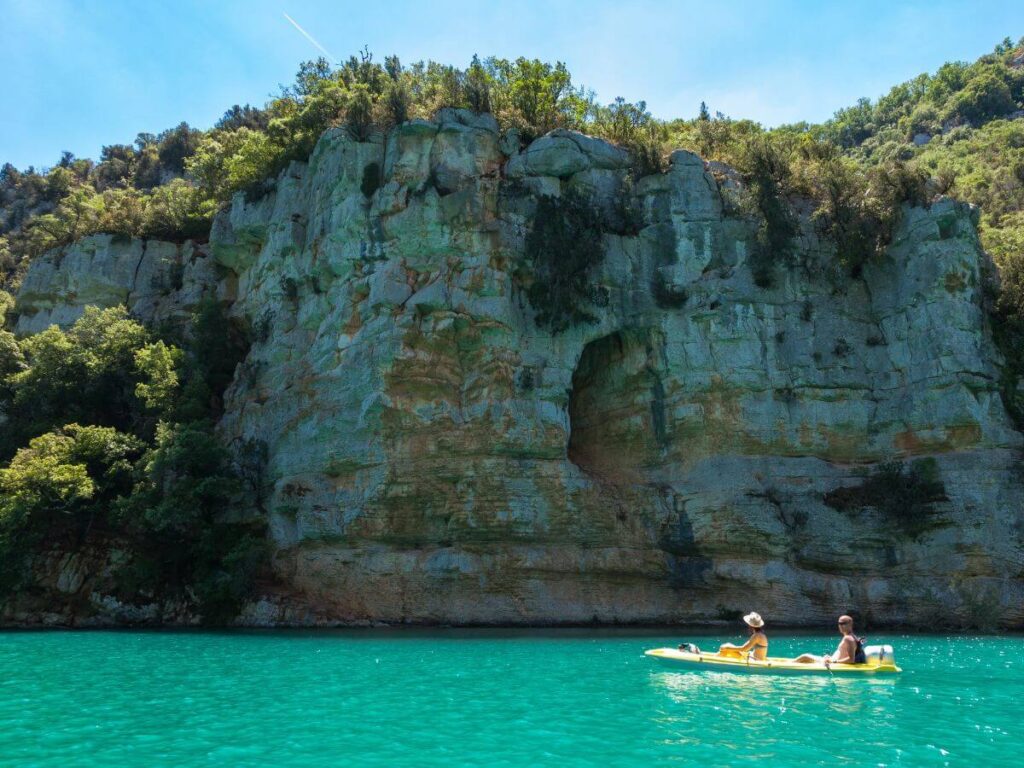 Make sure to bring your camera, as the Gorges du Verdon boasts some truly jaw-dropping vantage points. Keep your eyes peeled for locations like Point Sublime and Route des Crêtes for some seriously awe-inspiring views.
Europe Grand Canyon and Lavender Fields Small Group Day Tour
Are you looking to explore the picturesque Valensole lavender fields in Provence, France? There are plenty of tours available to suit your needs and preferences.
One option is the Grand Canyon of Europe and Its Lavender Fields Small Group Day Tour, which takes you on a scenic route through the Verdon Gorge before exploring the lavender fields. Prices for this tour start at around €125 per person.
Sunset Lavender Tour in Valensole
For those staying in or around Marseille, the Sunset Lavender Tour in Valensole is a great choice. This tour allows you to experience the stunning lavender fields at sunset and includes transportation to Valensole. Prices begin at around €70 per person.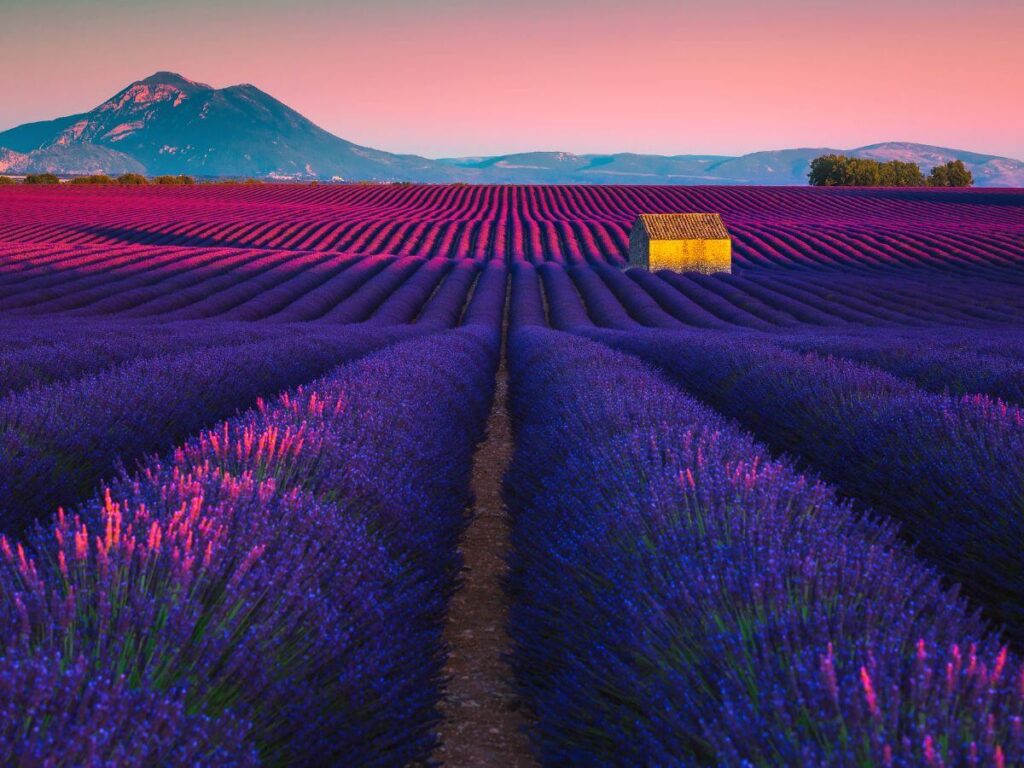 Provence Lavender Fields Tour in Valensole
If you're looking to dedicate your entire trip to the lavender fields, the Provence Lavender Fields Tour in Valensole is perfect for you. This tour will take you on a beautiful journey through the fragrant purple fields, with prices starting at around €135 per person.
Lavender Fields Tour in Valensole from Aix-en-Provence
For a shorter trip, the 4-Hour Lavender Fields Tour in Valensole from Aix-en-Provence is a good option. This tour allows you to explore the lavender fields without spending an entire day on a tour, with prices beginning at around €85 per person.
Bus Tours in Valensole
If you prefer to travel by bus, there are guided bus tours available, like the Provence Lavender Fields Tour from Aix-en-Provence. Prices range from €75 to €125 per adult.
Visitor Tips in Valensole, France
Valensole is the perfect destination for travelers who seek a unique and unforgettable experience in Provence. Here are some tips to make the most of your visit.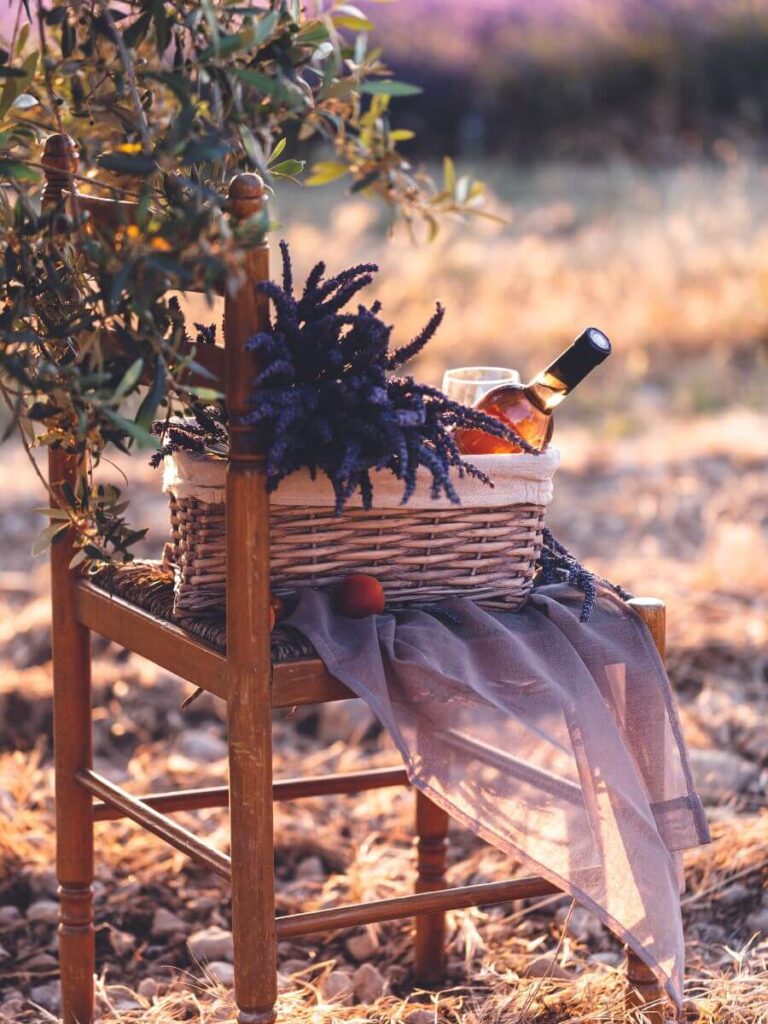 Frequently Asked Questions about Valensole Provence
What Is Valensole Known For?
Valensole is known for its stunning lavender fields, creating a picturesque landscape that enchants visitors with its vibrant colors and captivating fragrance.
When to Visit Valensole Lavender Fields?
The best time to visit Valensole's lavender fields is during the summer months of June and July when the flowers are in full bloom, creating a breathtaking sight you won't forget.
What Are Some Other Activities to Do in Valensole Besides Visiting the Lavender Fields?
Valensole offers a variety of things to do beyond the lavender fields. You can visit the Pope's Palace in Avignon for an impressive historical experience.
There are also two beautifully listed gardens, the Clos de Villeneuve and the Château du Grand Jardin, where you can take a peaceful stroll. Wander the charming streets and enjoy the local cafes and restaurants!
Is Valensole Worth a Visit?
Located in Provence, France, it offers a delightful experience with its enchanting lavender fields, picturesque landscapes, and charming villages.
Exploring the lavender fields, indulging in local cuisine, and immersing in the Provençal culture are some of the delightful things to do in Valensole Provence, France.
Plan Your Visit To Provence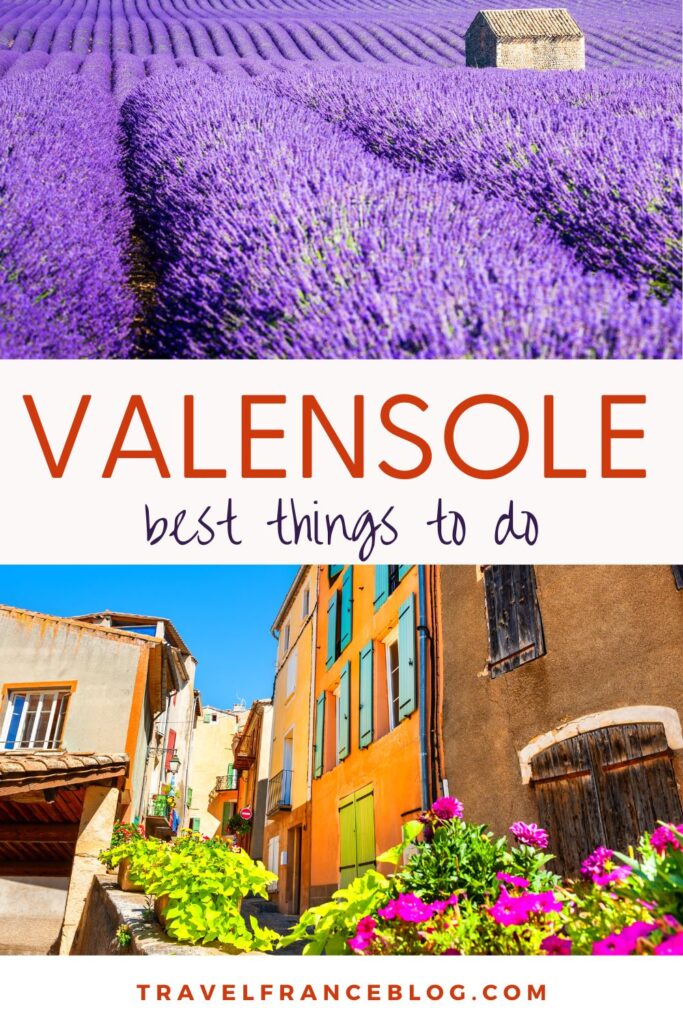 This post may include affiliate links. This means that we will receive a small commission if you make a purchase through our links. It has no additional cost for you. With this, you help us to continue creating free content for you.
This post may include affiliate links. This means that we will receive a small fee if you make a purchase through our links. It has no additional cost to you. It's a win-win!