Best Things to Do in Paris in September: Events + Travel Guide
Visiting Paris in September is a fantastic idea. This time of the year is an incredible moment when the city comes alive with a mix of events, culture, and the return from vacations.
From art exhibitions and fashion shows to outdoor festivals, you will enjoy the magic of Paris.
What Is the Weather Like in Paris in September?
The weather in Paris in September is quite pleasant, and it's probably one of the best months to visit the city, following the spring, which is my favorite time of the year.
During this period, you'll encounter enjoyable temperatures and a mix of sun and occasional drizzles.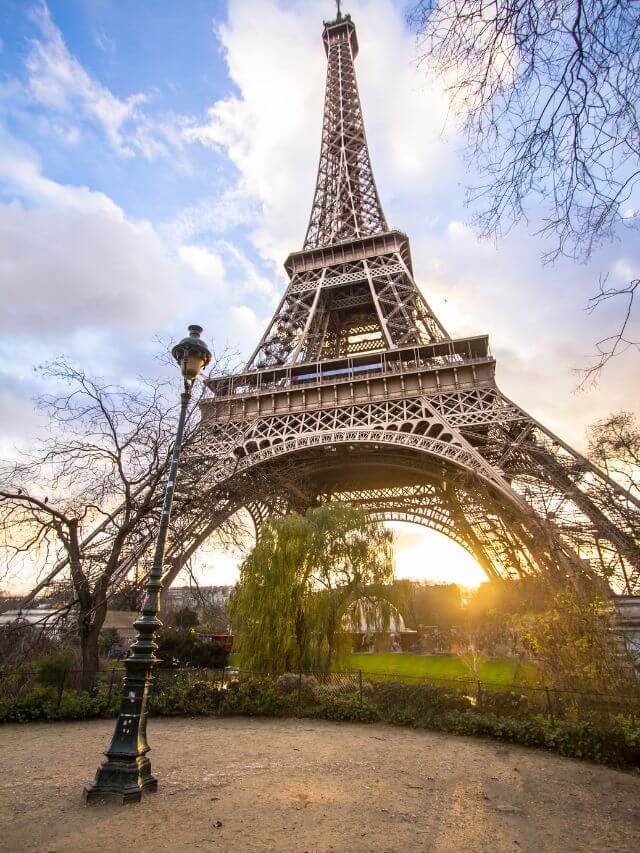 It's the perfect balance that creates a refreshing atmosphere for your trip. Just imagine strolling along the picturesque Parisian streets, feeling the warmth on your skin and the light drizzles, adding a touch of romance to the city.
Moreover, photos with the wet cobblestones look really cool. Just be sure to wear shoes that won't slip!
Is Paris Warm in September?
The weather in Paris in September brings a touch of warmth and comfort, with average high temperatures ranging from 20 to 23 degrees Celsius (68 to 73 degrees Fahrenheit).
Mornings and evenings can be a bit cooler, with averages around 12 to 15 degrees Celsius (54 to 59 degrees Fahrenheit).
With such mild and pleasant temperatures, it's the perfect month to explore the streets, enjoy outdoor cafes, and immerse yourself in the charm of Paris.
Printable
Outfit Planner
EXTRA TIP: plan what you will wear in advance so you take everything you need and do not have to make extra expenses at the destination. You can download the PDF here; the price is up to you!
Best Things to Do in Paris in September
In September, get ready to enjoy the charming Parisian atmosphere, cultural events, and hidden gems that make this month truly special.
Seine River Cruises
One of the most relaxing things to do in Paris is to embark on a Seine River dinner cruise. Picture yourself gently gliding along the iconic Seine River, savoring a delectable meal as you admire the breathtaking views of the city's landmarks.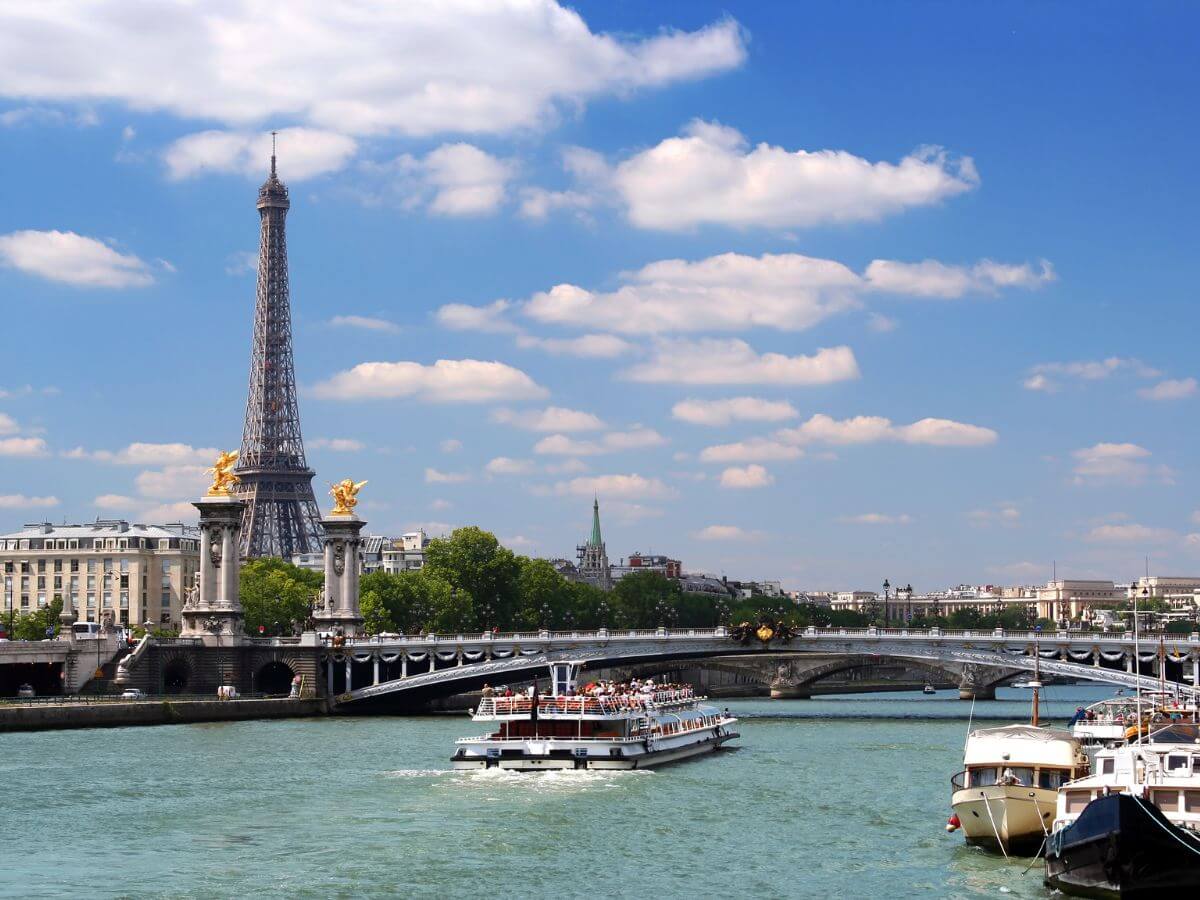 In September, Paris provides the perfect backdrop for this enchanting experience. With mild weather and the city dressed in autumn colors, you can indulge in the romance of Paris while savoring a delicious dinner.
Montmartre and the Sacré-Cœur Basilica
The neighborhood of Montmartre is one of the most picturesque areas in Paris. It boasts the famous Basilica of the Sacred Heart, its streets filled with artists, and a little further, the Moulin Rouge.
But if you visit at the end of September, you might be lucky enough to enjoy the Montmartre Grape Harvest Festival.
Yes! This hill used to have many vineyards in the past, and now only a small one remains, but the neighborhood comes alive with color during this festival.
The exact dates may vary, but it usually takes place either at the end of September or the beginning of October.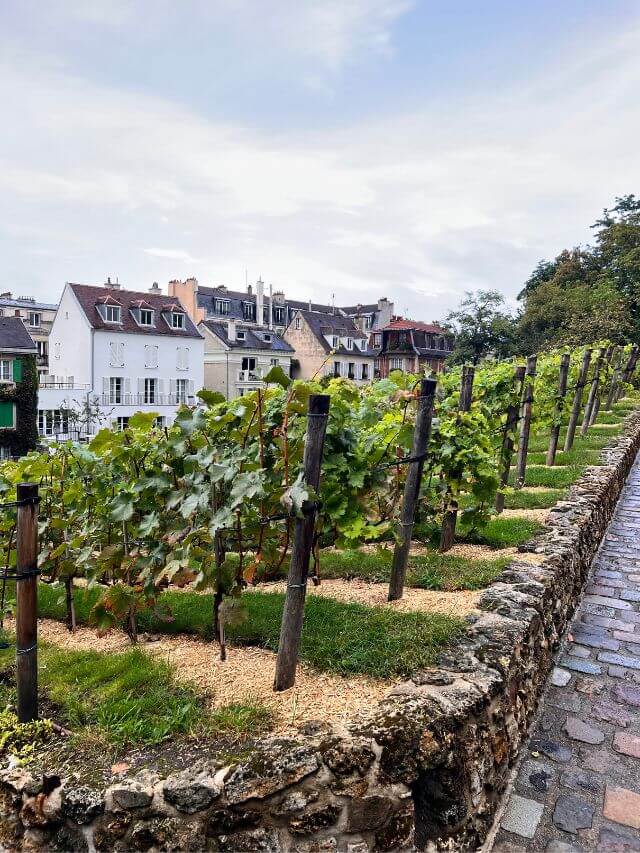 Indeed, the Basilica of Sacré-Cœur is truly impressive. Completed in 1914, it offers breathtaking panoramic views of the city from its location atop the hill.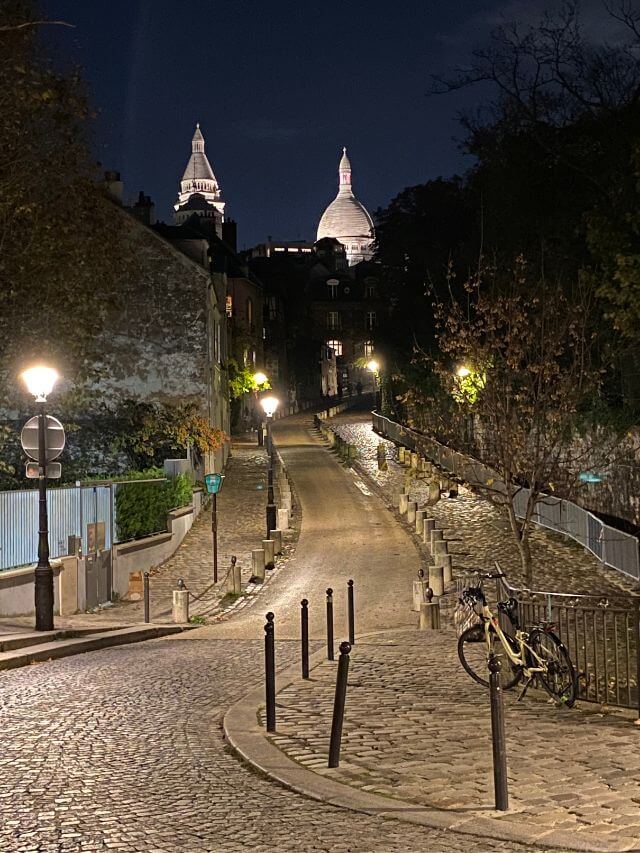 As you wander through the cobblestone lanes filled with charming cafes, lively art studios, and a rich history that has inspired artists like Pablo Picasso and Vincent van Gogh.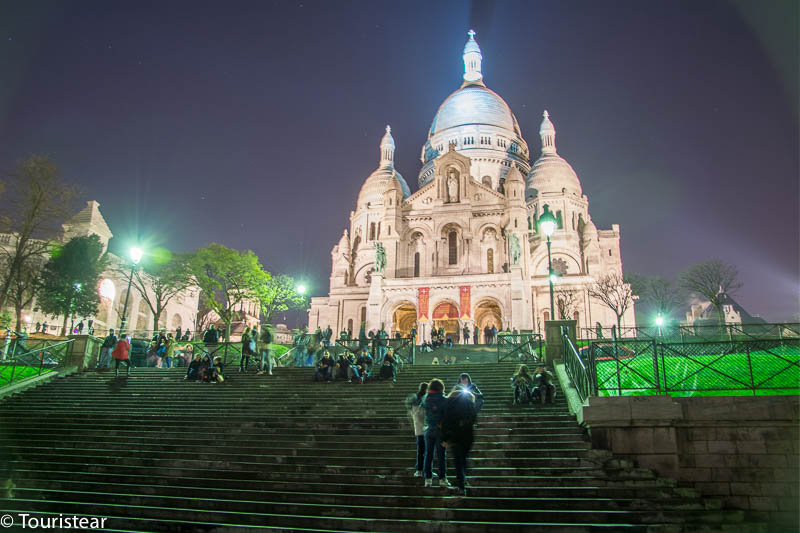 September is the perfect time to explore Montmartre and the Basilica of Sacré-Cœur as the weather is not too hot, making it ideal for enjoying the outdoors and strolling through this picturesque neighborhood.
The comfortable temperatures create a delightful atmosphere for wandering around the charming streets and taking in the beauty of the area, including the stunning views from the Basilica's elevated position.
Père Lachaise Cemetery
When visiting Père Lachaise Cemetery in Paris, you'll step into a place steeped in history. Established in 1804, this iconic cemetery is the final resting place of many notable individuals.
From literary figures like Oscar Wilde and Marcel Proust to renowned musicians like Frédéric Chopin and Jim Morrison, Père Lachaise Cemetery is a sanctuary where the legacies of great minds and talents endure.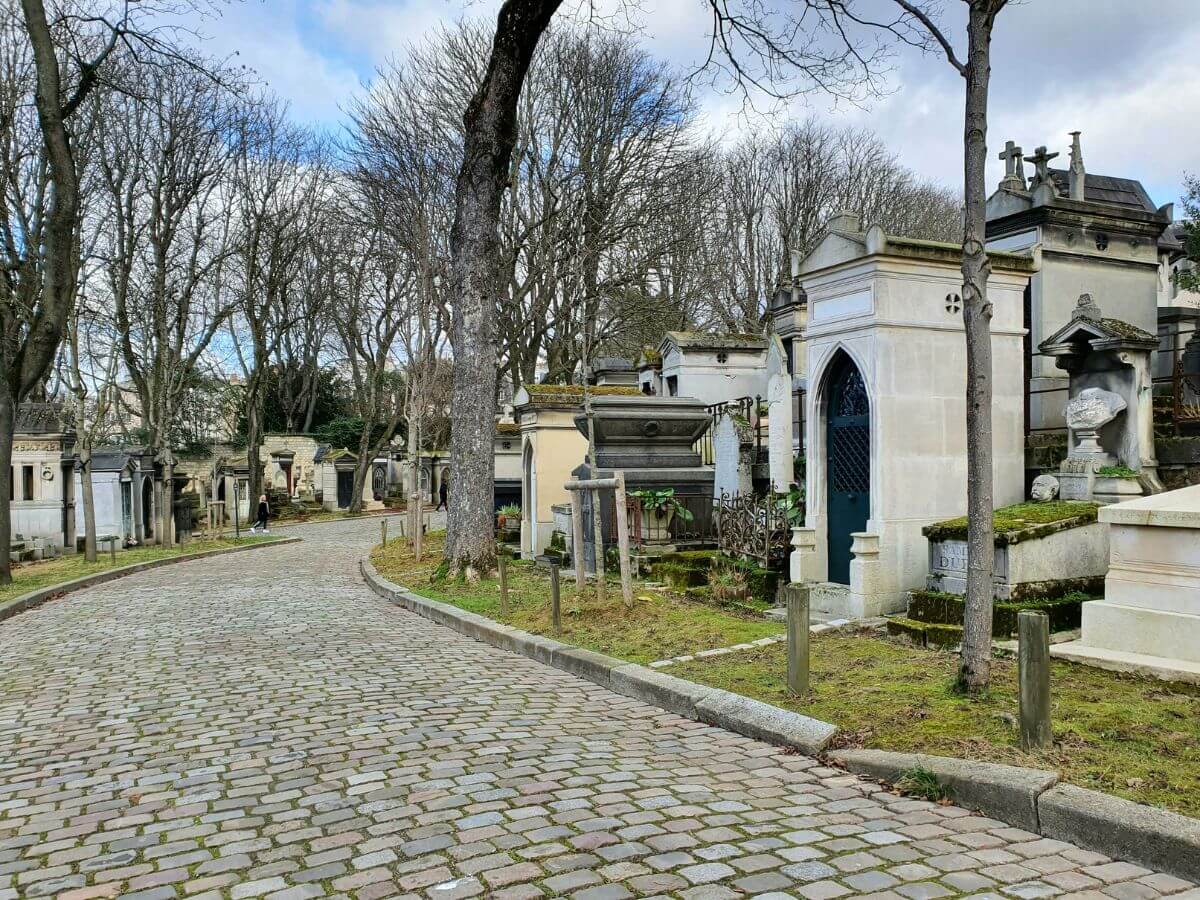 As you stroll through the cobblestone paths, take a moment to appreciate the rich history and artistic beauty that surrounds you.
So, put on your comfortable walking shoes and immerse yourself in the stories of the past at Père Lachaise Cemetery, all while enjoying the pleasant September weather in Paris.
Palace of Versailles
When it comes to grandeur and opulence, the Palace of Versailles is a world-renowned museum that leaves visitors in awe. As you step into this magnificent museum, you'll be transported back in time to an era of lavishness and extravagance.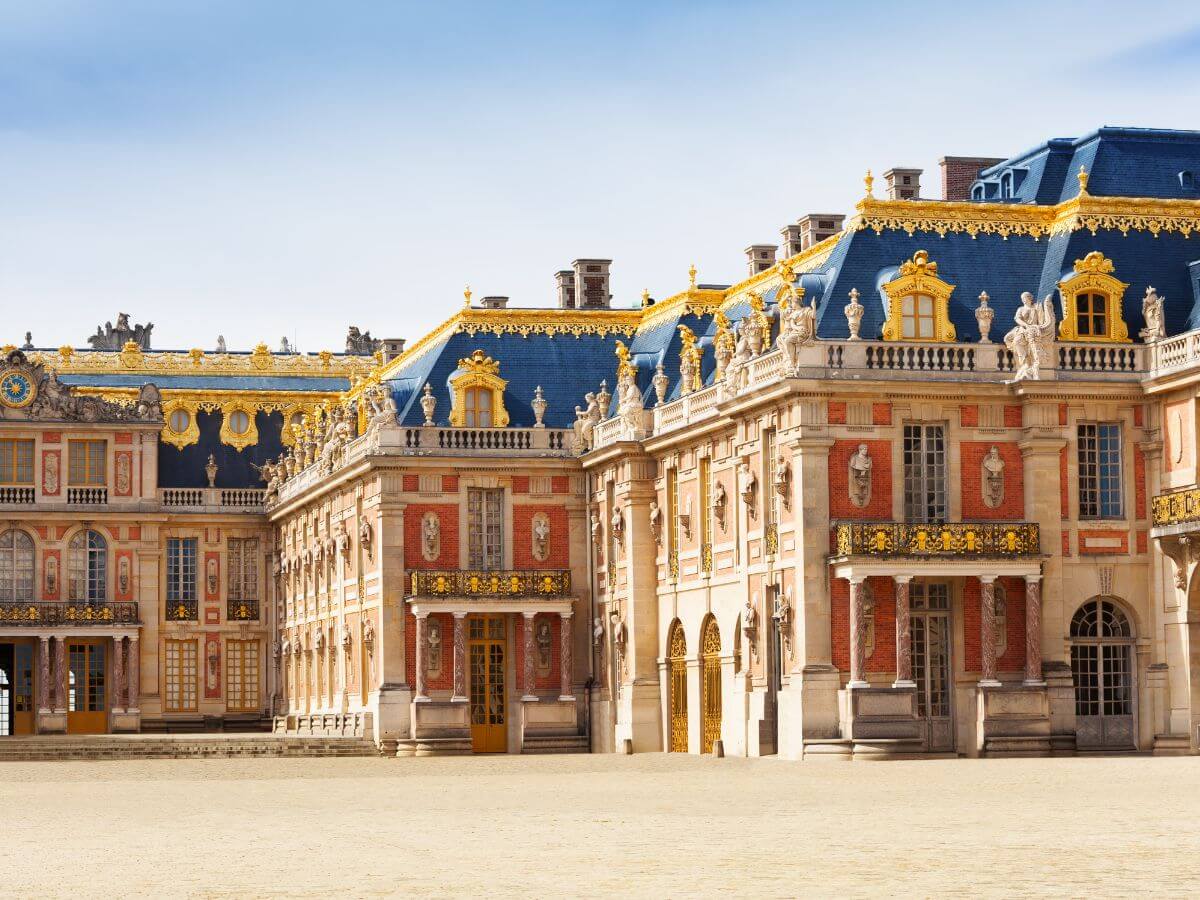 The Palace of Versailles, also known as the Versailles Palace, is a true testament to the grandeur of French royalty. From the ornate Hall of Mirrors to the meticulously manicured gardens, every corner of this palace museum exudes splendor and beauty.
You can book entry tickets here.
While spring is often considered the best time to visit the palace, don't miss the opportunity to go in autumn as well. The colors of the trees during the fall season add a special touch to the gardens, creating a beautiful and picturesque setting around the palace.
The autumn foliage can turn the surroundings into a mesmerizing sight, making it a worthwhile experience for you during this time of the year. Whether in spring or autumn, the palace and its gardens offer unique and enchanting experiences throughout the year.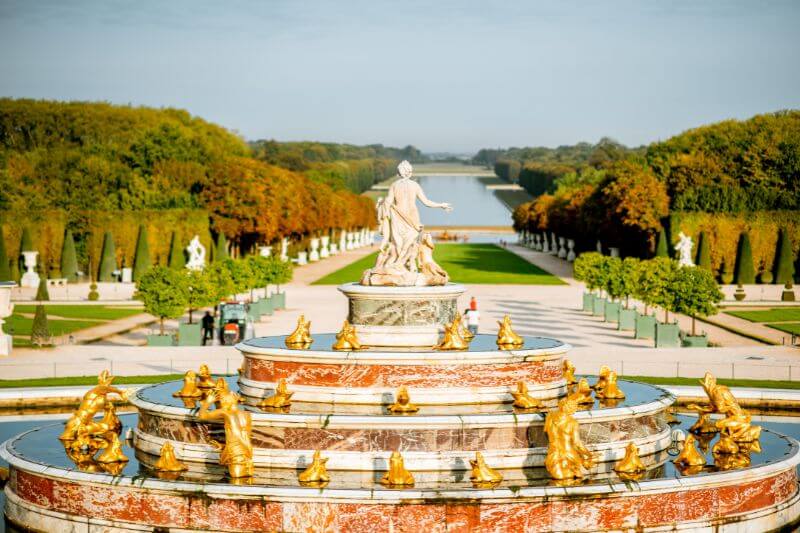 Exploring the Palace of Versailles from Paris allows you to delve into history and witness firsthand the architectural wonders and artistic treasures that make it one of the most famous iconic landmarks in the world.
The opulence and grandeur of Versailles were symbolic of the power and wealth of the French monarchy.
However, the extravagance and the vast disparities between royalty and the common people contributed to growing tensions and dissatisfaction among the French population.
Ultimately, these factors played a significant role in the events leading to the French Revolution, which ultimately led to the downfall of the French monarchy.
Visiting Versailles provides not only an appreciation of its beauty but also a glimpse into the historical context that shaped the course of France's history.
Here are some of our favorite Palace of Versailles day trips:
Notre Dame Cathedral
Notre Dame Cathedral is a true icon of Paris in September. Constructed in the 12th century, this majestic masterpiece showcases stunning Gothic architecture and intricate details.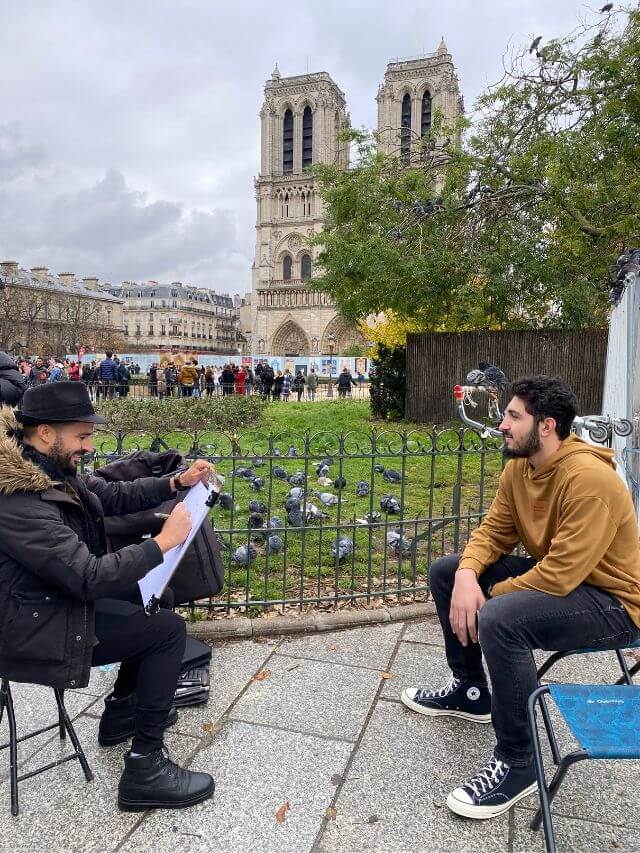 Throughout history, it has witnessed significant events, including Napoleon Bonaparte's coronation in 1804 and inspiring Victor Hugo's "The Hunchback of Notre Dame."
The cathedral's crypt houses archaeological remains and artifacts, allowing you to delve into its rich history.
Paris in September provides the perfect backdrop to visit Notre Dame. With mild weather and an enchanting autumn ambiance, you can explore the cathedral's underground chambers, connecting with its past.
The cathedral is still closed to the public due to the fire, but each day brings us closer to being able to visit it again. On the outside, you can take photos without any problem; they look really cool from the bridge.
Eiffel Tower
When visiting Paris, one landmark that you simply cannot miss is the iconic Eiffel Tower. As one of the most recognizable structures in the world, it offers breathtaking views and an unforgettable experience.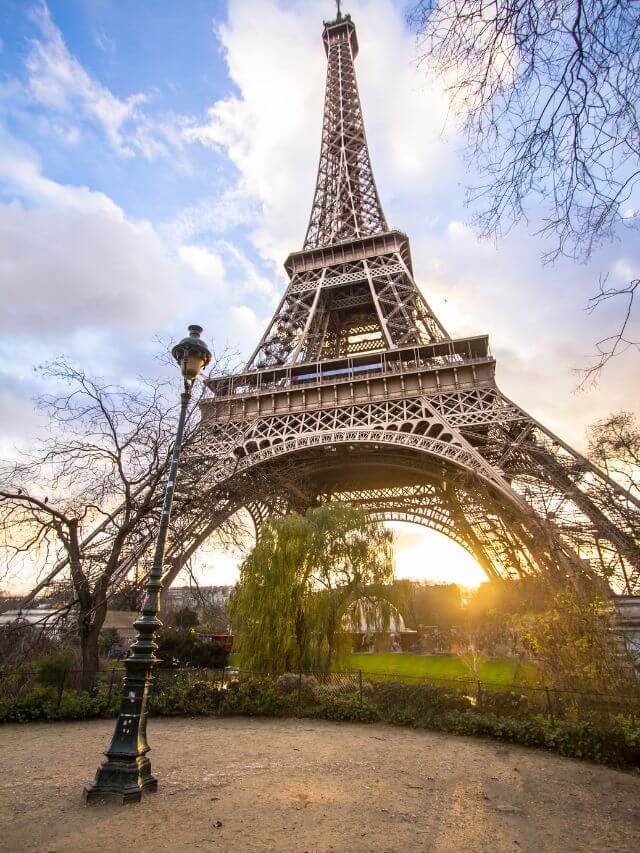 In September, visiting the Eiffel Tower becomes even more magical. As you ascend the tower, you'll be greeted by panoramic views of Paris, showcasing its beauty from a unique perspective.
Whether you choose to take a guided tour or simply admire its grandeur from the ground, the Eiffel Tower is a must-see attraction that will leave you in awe.
So, embrace the charm of Paris in September and embark on a journey to the top of the Eiffel Tower, creating memories that will last a lifetime.
Saint-Germain-des-Prés
This historic district, known for its artistic and intellectual legacy, has been a gathering place for renowned figures like Jean-Paul Sartre and Simone de Beauvoir.
In September, as the summer crowds disperse and the weather remains pleasant, Saint-Germain-des-Prés becomes even more enchanting.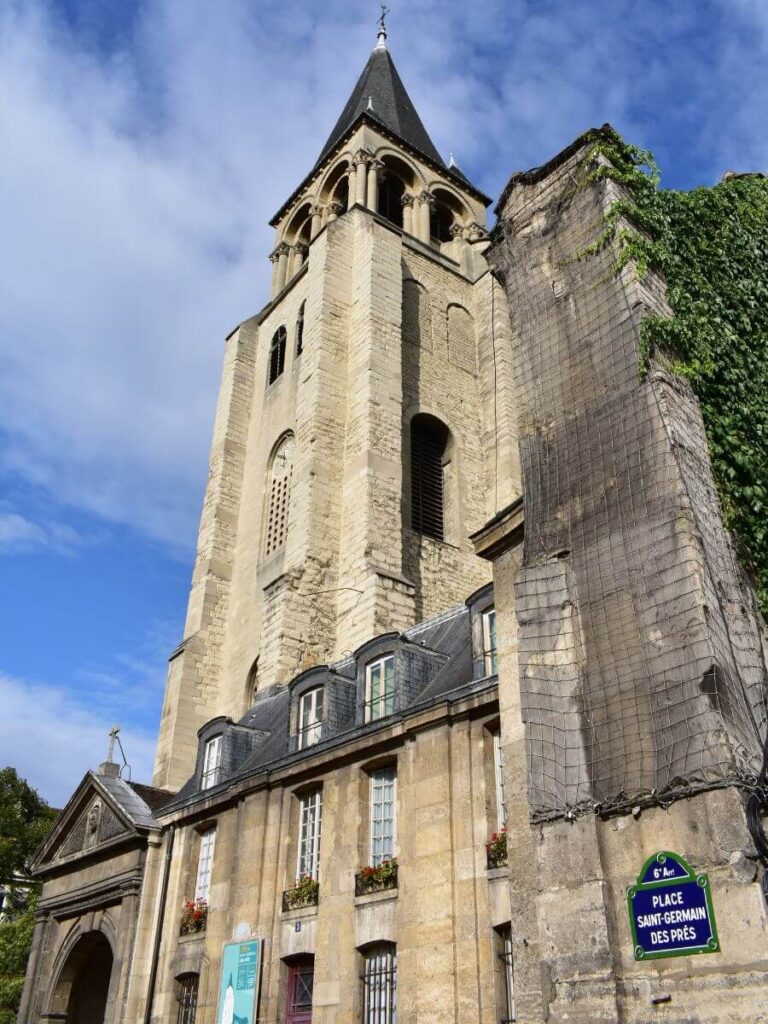 From the Saint-Germain-des-Prés Church, which dates back to the 11th century, to the charming squares like Place Furstenberg, you'll be immersed in history and beauty.
If you're looking for a must-do in Paris in September, Saint-Germain-des-Prés is the perfect destination. Let the captivating history and enchanting atmosphere of this neighborhood make your trip to Paris truly unforgettable in a guided tour.
Louvre Museum
The Louvre Museum is a must-visit when you're in Paris, no matter the season! As one of the most famous museums in the world, it offers an incredible collection spanning centuries of art and history.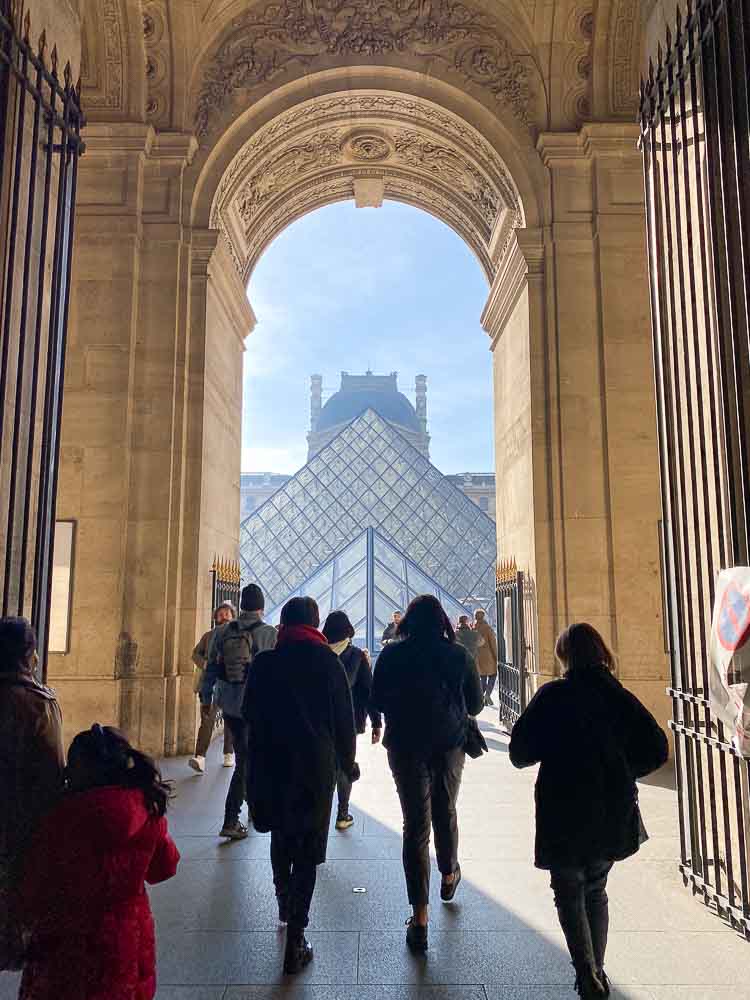 As you step inside the Louvre, you'll be transported back in time, surrounded by masterpieces from renowned artists like Leonardo da Vinci's "Mona Lisa" and the ancient Greek statue of "Venus de Milo."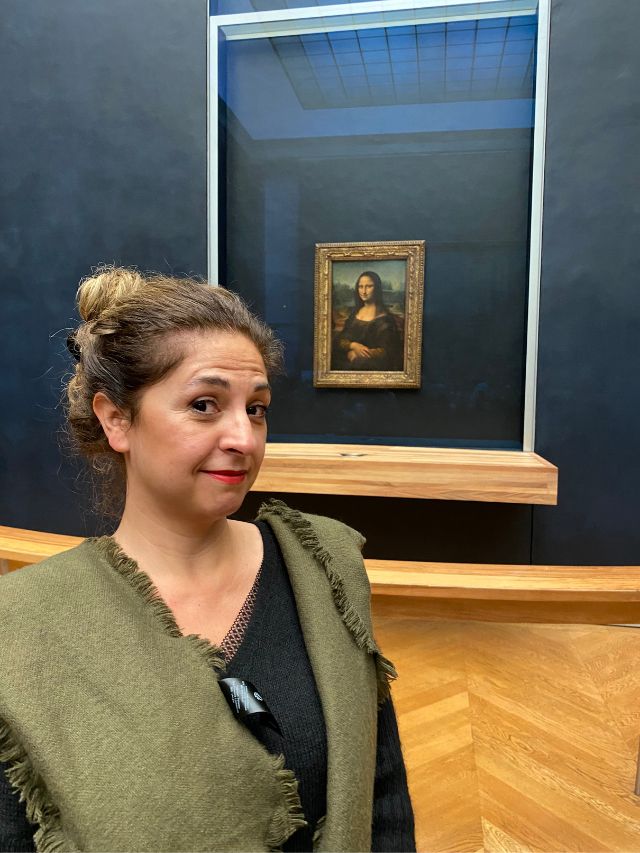 With the Paris Museum Pass, you can enjoy skip-the-line ticket access and explore the Louvre Museum and many other attractions in the city. It's the perfect way to make the most of your time and see everything that Paris has to offer.
Gardens in Paris in September
Jardin du Luxembourg and Parc des Buttes-Chaumont are two must-visit destinations for nature lovers. These enchanting gardens offer a tranquil escape from the bustling city.
Jardin du Luxembourg, established in 1612, is a true oasis in the heart of Paris. Stroll along the tree-lined pathways with an audio tour, marvel at the beautiful flowerbeds, and relax by the picturesque Medici Fountain.
It's the perfect place to unwind and enjoy a peaceful moment.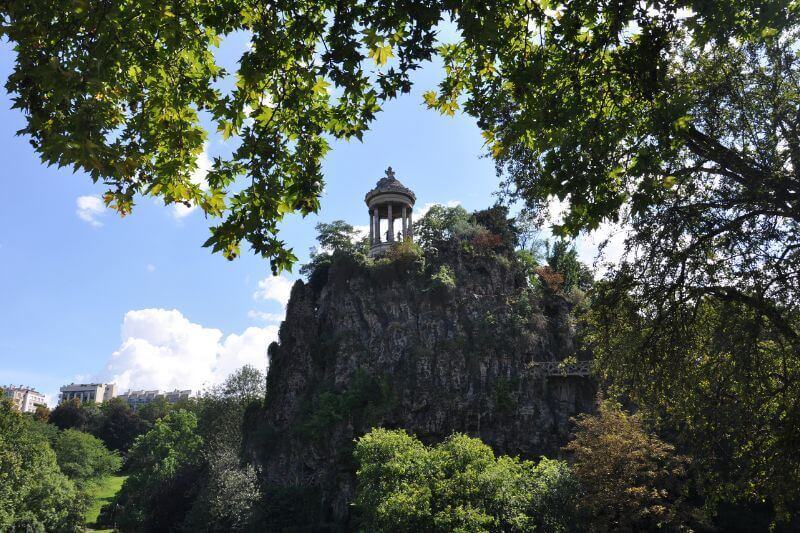 Parc des Buttes Chaumont, dating back to 1867, is a Paris hidden gem with its lush greenery and stunning landscapes. Take a leisurely walk around the lake, climb to the top of the Belvedere for panoramic views, and discover the enchanting Temple de la Sibylle perched on a rocky island.
In September, these gardens of Paris offer an ideal setting with pleasant weather and fewer crowds. It's the perfect time to embrace the serene ambiance, soak up the beauty of nature, and create cherished memories.
Champs-Élysées
This famous avenue has been a symbol of elegance and grandeur since it was first established in the 17th century. As you walk along the wide boulevard, you'll be following in the footsteps of historical figures like Napoleon Bonaparte and Charles de Gaulle.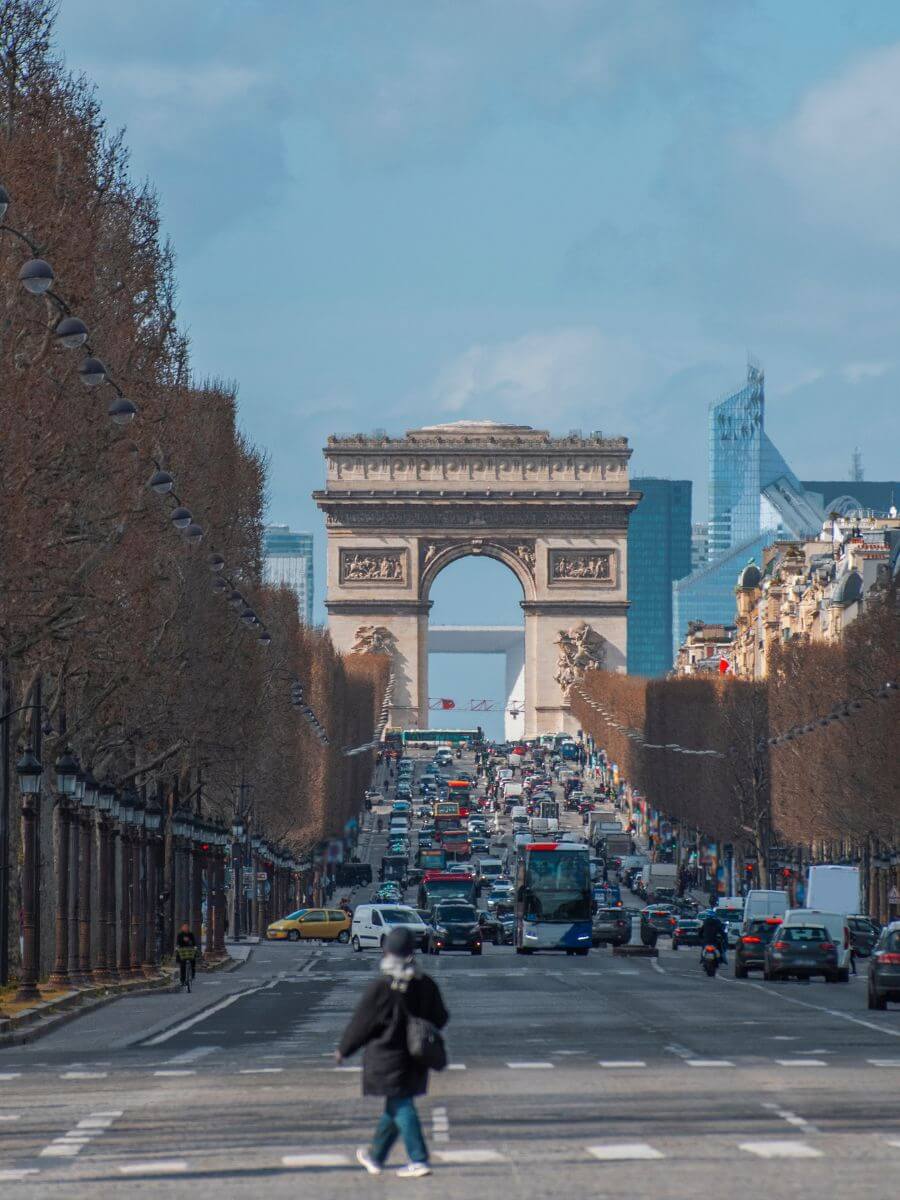 In September, the Champs-Élysées take on a special charm. The avenue is adorned with colorful autumn leaves, creating a picturesque setting for a leisurely stroll. You can explore the luxury shops and indulge in delectable pastries at charming cafes.
Events in Paris in September
The pleasant Paris September weather hosted renowned events for centuries. Let me guide you through this enchanting month filled with memorable experiences.
From art exhibitions and fashion shows to live performances, the city comes alive with an array of exciting happenings in Paris events in September.
Paris Design Week
During the month of September, Paris becomes a global hub for creativity and design as it hosts Paris Design Week.
This annual event, taking place from September 8th to 16th, showcases the latest trends and innovations in design, attracting designers, artists, and design enthusiasts from around the world.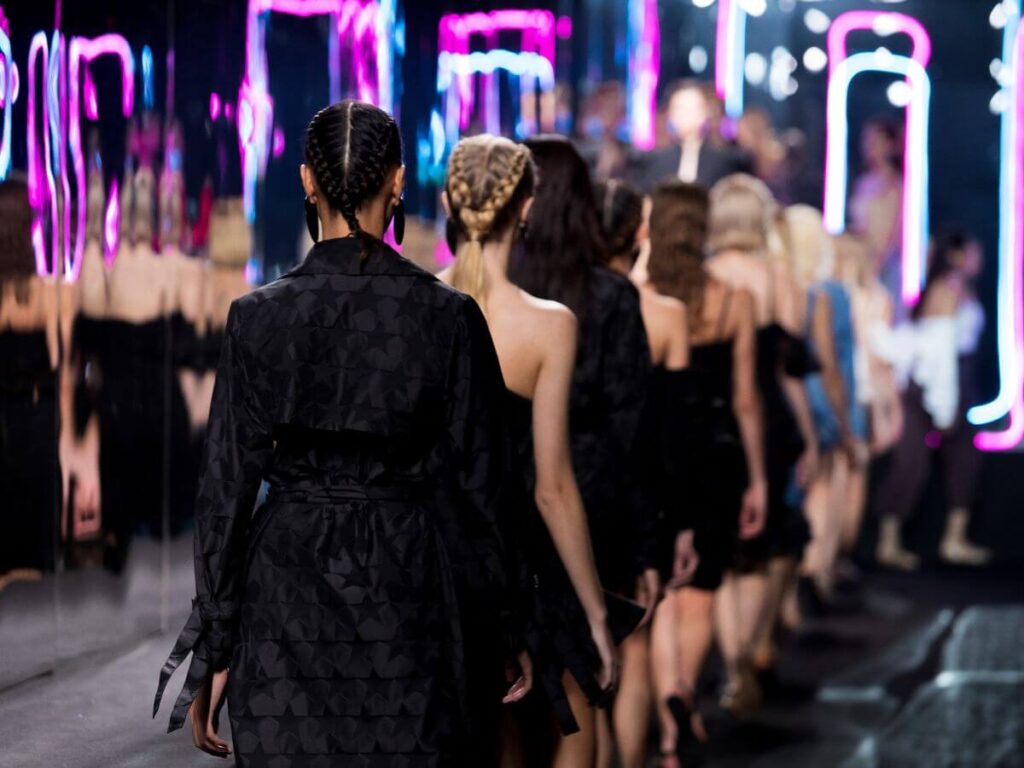 You'll encounter a plethora of exhibitions, installations, and workshops that celebrate the power of design. From renowned design studios to emerging talents, Paris Design Week offers a diverse range of experiences that ignite inspiration and spark creativity.
Whether you're a design enthusiast, a professional, or simply curious about the world of design, Paris in September is the perfect time to experience the exciting energy and innovation of Paris Design Week.
European Heritage Days Paris
Paris, in late September, celebrates its rich history and cultural heritage during the annual European Heritage Days. This extraordinary event, held on September 17th and 18th, offers a unique opportunity to explore the city's most iconic landmarks, hidden gems, and historical sites.
From grand palaces to charming museums, you can step back in time and witness the stories that have shaped Paris throughout the centuries.
If you travel to Paris during the European Heritage Days, you'll have the opportunity to visit many places for free. During these special days, numerous cultural sites and museums open their doors to the public without charging admission fees.
However, in some cases, they may require advance reservations to manage the influx of visitors. To secure your spot, you can visit the website of the museum or activity that interests you and make a free reservation.
It's a fantastic opportunity to explore and experience the rich cultural heritage of Paris and its surrounding areas.
Music Events in Paris in September
From the soulful melodies of Jazz à la Villette (September 1-13) to the electrifying beats of Techno Parade (September 18), there's something for every music lover.
Immerse yourself in the captivating sounds and rhythms that fill the air as renowned artists take the stage at iconic venues like Palais Garnier and Philharmonie de Paris.
Capture the spirit of these unforgettable moments with your camera as the music intertwines with the art of photography.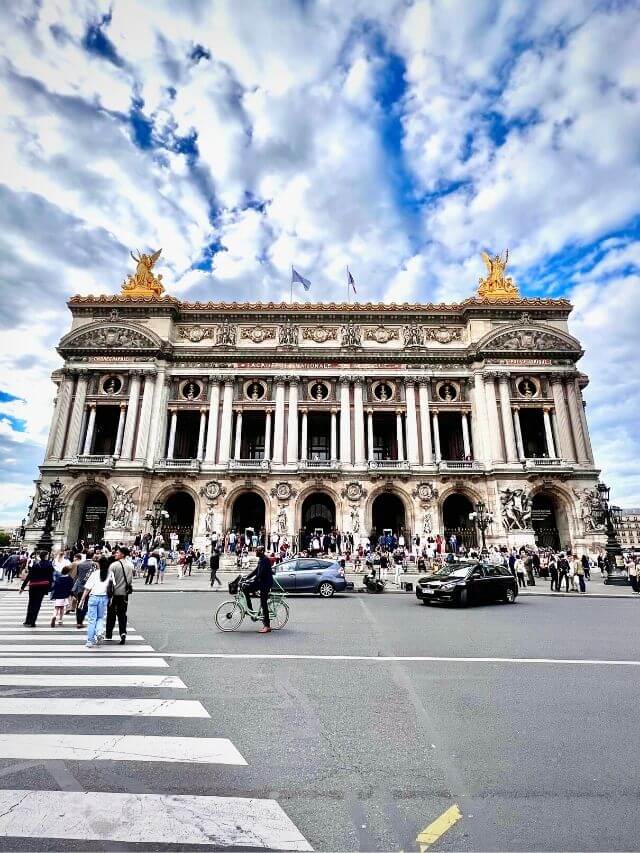 Sports Events in Paris in September
Paris comes alive with thrilling sports events, and one of the highlights is the Paris-Versailles Run. Lace up your running shoes and join thousands of participants in this iconic race, which has been a celebrated tradition since 1978.
The Paris-Versailles Run takes you on a scenic 16-kilometer journey from the Eiffel Tower in Paris to the historic Palace of Versailles. Experience the exhilaration of running through the picturesque streets, surrounded by the beauty of the city and its landmarks.
Feel the adrenaline rush as you push yourself to achieve your personal best. Whether you're a seasoned runner or a first-time participant, this event offers an unforgettable experience that combines athleticism and the rich history of Paris.
How to Go to Paris in September?
If you're traveling from abroad, you can easily book a flight to one of the city's international airports, such as Charles de Gaulle Airport or Orly Airport. From there, you have various transportation choices to reach the heart of Paris.
Getting Around Paris in September?
When getting around in Paris, you have several transportation options available:
Taxi: You can easily find taxis throughout the city, and they provide a convenient door-to-door service.
Ride-sharing services: Popular ride-sharing apps like Uber are also available in Paris, providing an alternative to traditional taxis.
Public transportation: Paris has an efficient and comfortable public transportation system, including trains (RER and Metro) and buses. The Metro is a particularly popular and convenient way to travel within the city.
Using public transportation in Paris is a great way to explore the city and its many attractions, as it's well-connected and relatively affordable. It's also a sustainable option that helps reduce congestion and pollution in the city.
Another option is to travel by train if you're coming from within Europe, as Paris is well-connected to major cities by rail.
What to Eat in Paris in September?
Make sure to indulge in some iconic French cuisines. Start your day with a buttery croissant or a pain au chocolat from a local bakery. For lunch, you can try a classic French bistro dish like coq au vin or steak frites.
As the weather starts to cool down in September, warm up with a bowl of comforting French onion soup.
And, of course, no trip to Paris is complete without savoring some delectable pastries. Indulge in a macaron from Ladurée or an éclair from a local boulangerie.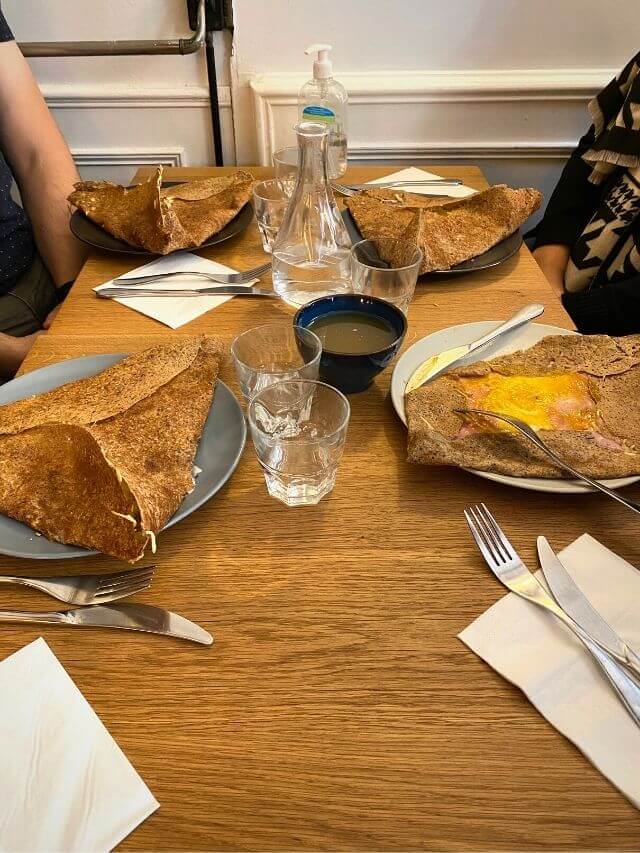 Don't forget to pair your meals with a glass of French wine or a refreshing café au lait. Whether you're dining at a Michelin-starred restaurant or enjoying a casual street crepe, the culinary scene in Paris will leave you craving for more.
Where to Stay in Paris in September?
Luxury: Hôtel Plaza Athénée is the epitome of luxury, situated on Avenue Montaigne. With lavish rooms and top-notch amenities, including Michelin-starred restaurants and a spa, it offers an unforgettable experience. Prices start at €800 per night.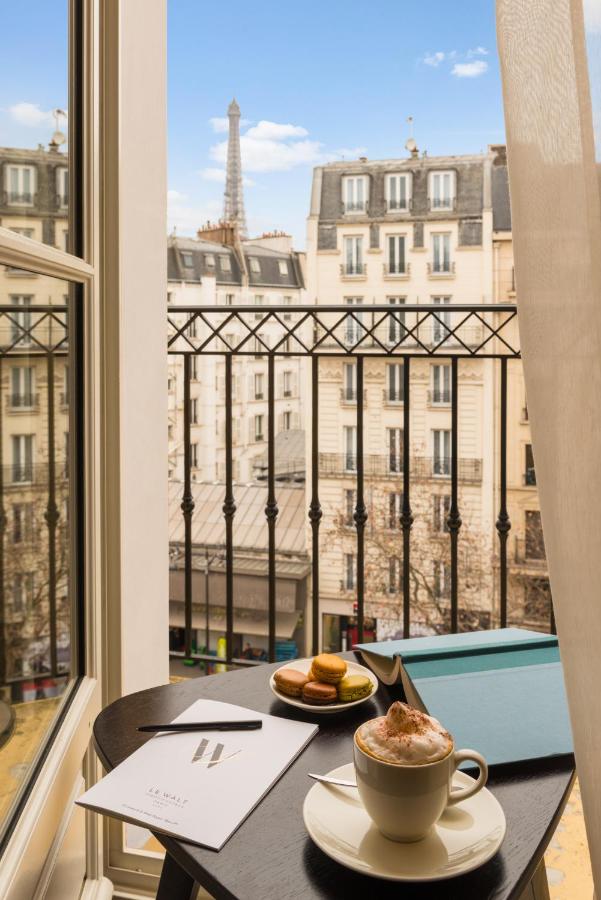 Mid-Range: Hotel Le Walt Paris in the prestigious 7th arrondissement is a 4-star boutique hotel. Its stylish rooms, inspired by Gustave Klimt, provide modern comforts. Prices start at €180 per night.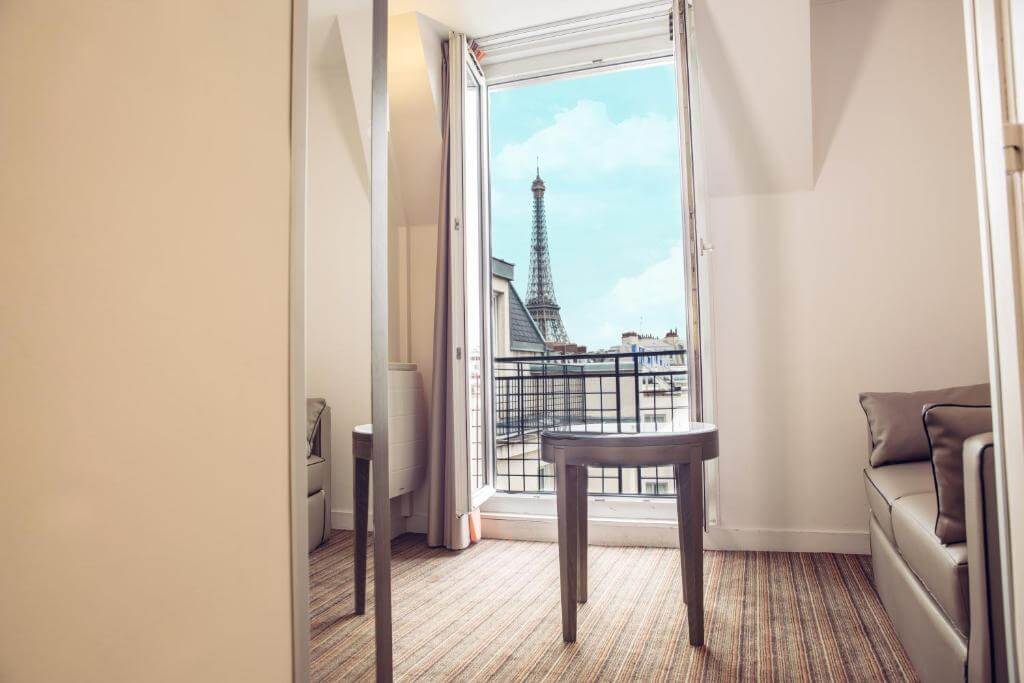 Affordable: Timhotel Tour Eiffel is a budget-friendly choice near the Eiffel Tower. Its 3-star accommodations offer essential amenities and a convenient location. Prices start at €80 per night.
Frequently Asked Questions about Paris in September
Is Paris Busy in September?
Paris in September can be quite busy, with tourists and locals alike enjoying the pleasant weather and various events happening throughout the city.
Is There Paris Fashion Week in September?
Yes, September is the month when Paris Fashion Week takes place, showcasing the latest trends and attracting fashion enthusiasts from around the world.
Can You Wear White in Paris in September?
Absolutely! White is a versatile color that can be worn in Paris in September. It's a great way to add a touch of elegance to your outfits while exploring the city.
Printable
Outfit Planner
EXTRA TIP: plan what you will wear in advance so you take everything you need and do not have to make extra expenses at the destination. You can download the PDF here; the price is up to you!
Is September a Good Time to Visit Paris?
September is an excellent time to visit Paris. The weather is usually mild, and the city is less crowded compared to peak tourist season. You can enjoy the attractions and experience the Parisian charm more relaxedly.
Is Paris Better in September or October?
Both September and October have their unique charms in Paris. September offers pleasant weather and various events, while October brings beautiful fall foliage. It ultimately depends on your preferences and what you'd like to experience in the city.
Plan Your Trip to Paris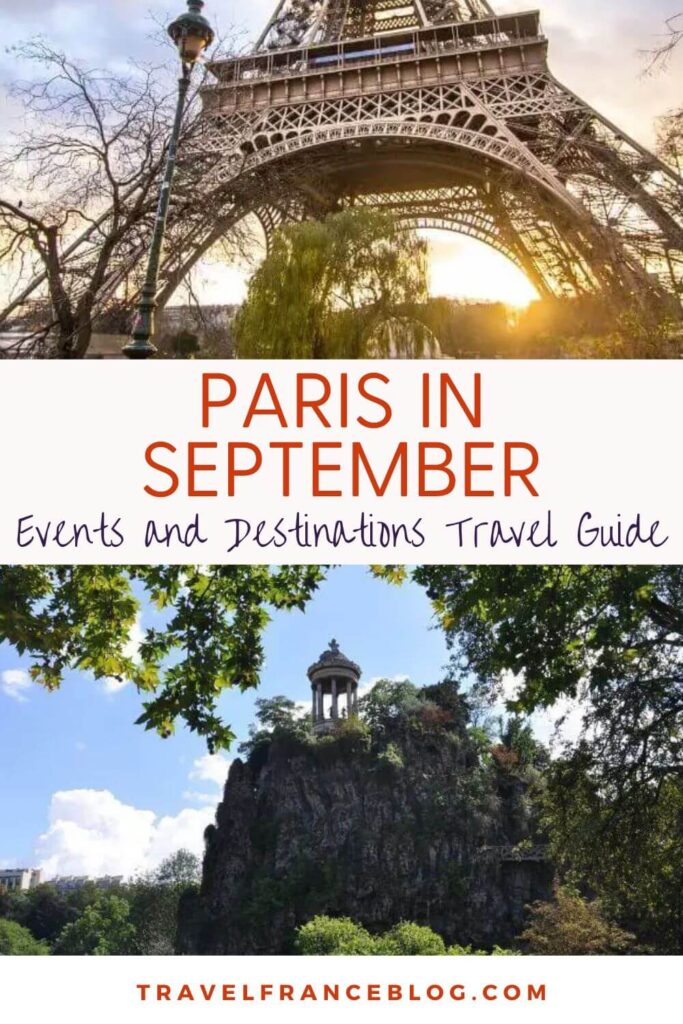 This post may include affiliate links. This means that we will receive a small commission if you make a purchase through our links. It has no additional cost for you. With this, you help us to continue creating free content for you.
This post may include affiliate links. This means that we will receive a small fee if you make a purchase through our links. It has no additional cost to you. It's a win-win!