Best Things To Do in Les-Baux-de-Provence, South of France
A few minutes drive from Arles is Les Baux-de-Provence. The village that concentrates all the charms of the villages of Provence in one.
Narrow streets, terraces, markets, handicrafts, and good weather are synonymous with this medieval village that thousands of tourists visit yearly.
Les Baux de Provence is nestled on a rocky plateau with unparalleled heritage, with 22 protected architectural monuments that give priceless historical value to this village.
The castle is the main attraction of the town, a vast fortification with 360-degree views that served as protection during multiple wars.
However, Les Baux de Provence has much more to offer. Let's go! Come with me to discover the attractions of this beautiful medieval village.
Castle of Les Baux de Provence
On the south side of the Alpilles, perched on the top of the rock, are the ruins of what was once the majestic castle of the Lords of Baux.
Covering an area of 7 hectares, this site was the political and cultural epicenter of Les Baux de Provence between the 11th and 17th centuries when Richelieu had it demolished.
The Lords of Baux built the castle in the 11th century and was attacked several times, especially during the Baussenque wars.
This caused some modifications in the castle, but not too many since this construction was of great strength with great walls that some points reached 40 meters high and made this place a difficult fortress to besiege.
Although today only remnants remain, it is possible to walk around and imagine what this fort was once like.
We can even see parts of the castle that are preserved almost intact as the keep of the thirteenth century and the remains of a chapel.
The entrance to the site is priced between 8 and 10 euros, more than reasonable considering the beautiful place where we are.
During the visit, you'll have an audio guide that will tell you in detail the castle's history and will take you back to the age of knights and minstrels.
However, it is not only the history that attracts the attention of this place but the beautiful 360-degree panoramic views that we can get from the top of the rock where this castle is crowned.
Carrières de Lumières
In the basement of the Villa is the best-kept treasure of Les Baux de Provence, a place full of mystery and beauty in equal parts.
Les Carrieres de Lumierès is a space of approximately 9000 square meters filled with white and yellow limestone corridors with rectilinear passageways and high ceilings.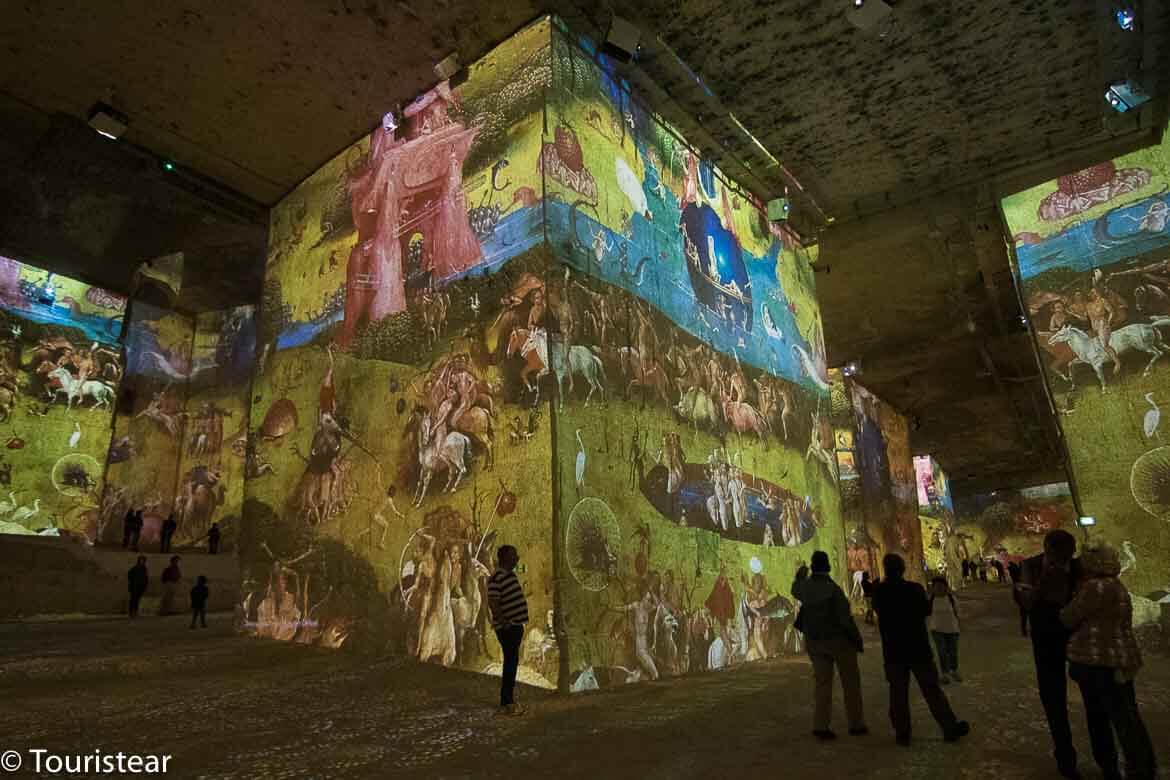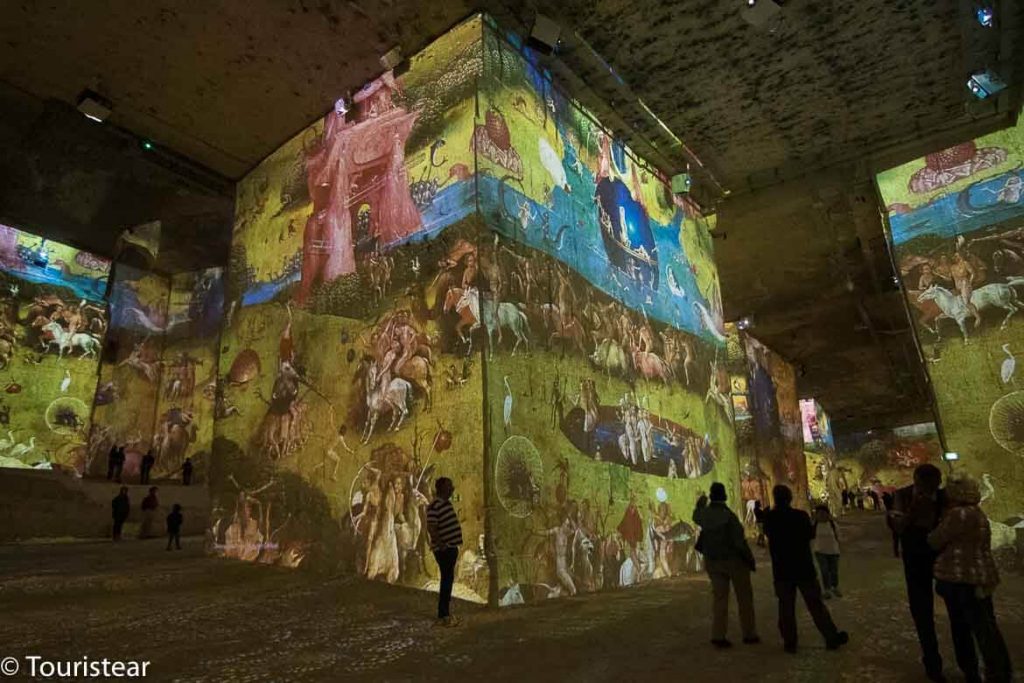 In this magical place for the locals, many marine fossils have been found, and many legends are told about Les Carrieres; however, today, this place is known worldwide as the Cathedral of Images.
In 1960 some movies were shot here, but it would not be until 2012 that it would begin to gain the fame it has today.
Today, more than 10,000 projectors are located inside the venue that projects various art exhibits to provide a unique visitor experience.
Some of the most successful have been the exhibitions of El Bosco (the one we saw), Cézanne, and Van Gogh, where the play of light has amazed visitors.
This activity is not only one of the most recommended in Les Baux de Provence but also Provence as a whole.
This magnificent natural museum is unique worldwide for its beauty and the incredible exhibits presented there.
The entrance fee is about 14.5 euros, including a tour and an immersive exhibition.
Lavender Fields
The Lavender fields cover thousands of hectares throughout Provence, and one of the most beautiful Lavender routes in the region is the one that passes through Luberon Park.
Here are the three most beautiful areas to enjoy the beauty of blue gold.
Sault
Sault is situated on a rocky outcrop. It is a beautiful village that lives from its wheat, spelt, and lavender crops.
This municipality is also known for its rich gastronomic products, such as lamb and goat cheese.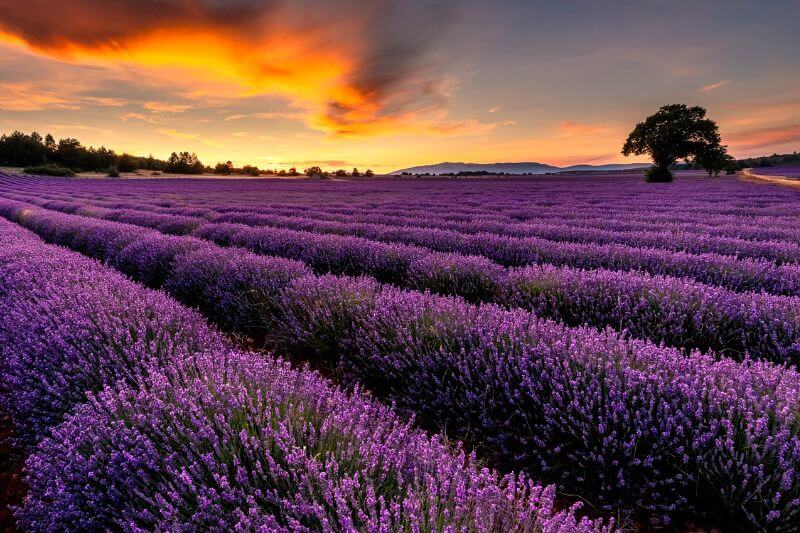 In addition, in Sault, you can find an Egyptian mummy in its municipal museum and prehistoric remains found in the area.
If you wonder what else you can do in Sault. You should not miss a visit to the Aroma Plantes distilleries.
It is a large production distillery that still preserves the oldest methods for treating lavender.
These distilleries are characterized by preserving the traditional way of lavender oil production.
There, you will be able to see the whole process of this product, increase your knowledge about blue gold and also take home some high-quality souvenirs.
You can do the guided tour in English or French, and you will enjoy a unique experience.
Apt
Apt is located in the heart of the Luberon, 50 km from Avignon and Aix en Provence.
This village is surrounded by lavender fields and vineyards, offering a stunning summer landscape.
Apt is also known for the ochre quarries that have allowed the development of local crafts and its famous pottery.
In Apt, as in any other village in Provence, the Provençal market is held where all kinds of local handicraft products are sold.
As we mentioned before, the fame of this place comes from the Lavender fields.
Apt organizes guided tours of lavender producers, where you can learn the secrets of the transformation of the plant into essential oil and even pick the lavender yourself, distill it and obtain your own essential oil.
Ferrasières
Ferrassières has a lavender festival on the first Sundays of July.
Here you can stroll through the lavender fields, watch distillation demonstrations, see exhibits on lavender cultivation and harvesting, and even take a lavender culinary workshop.
You will find everything related to lavender here at Ferrasières.
Guided Tours
From Les Baux, many excursions depart daily to different attractions near this village, organized by various companies that offer transportation and guidance, giving unforgettable experiences to tourists.
Here is a list of some of the things you can do during your stay in Les Baux de Provence:
Wine tour in Les Baux de Provence
Santons Museum: learn about local craftsmanship
Despite being a small village, Les Baux de Provence has a more varied cultural offer.
If you are in the area for a few days, we recommend visiting the Santos Museum, where the town's history is shown through figures.
The Santos museum is a large exhibition of a Christmas nativity scene staged in the village of Les Baux de Provence, where there is no room for any detail.
This model shows the old medieval houses of the village and the different daily scenes that were seen in ancient times, such as craftsmen working in the street or women cleaning clothes in the laundry.
Undoubtedly, it is a curious and entertaining activity for visitors of all ages who want to learn a little about the town's history in a pleasant and fun way.
Admission: 5 euros
Yves Brayer Museum
The Yves Brayer Museum is another of the museums that we recommend visiting anyone who goes to Les Baux de Provence.
This center displays an extensive collection of the artist obtained by the Porcelet family, which has made this project possible.
Yves Brayer was a renowned French painter born in Versailles, who lived in France, Italy, and Spain but had a great affection for Provence, and that is why his museum is located in this French region.
Throughout the visit, you can admire some of his great works showing postcards of Provence, such as the village of Les Baux de Provence itself.
The museum is open every day except Tuesdays and has an entrance fee of about 8 euros.
However, from here we encourage you to buy a combined ticket for the castle, Les Carrieres Lumieres and this museum itself as it costs 20 euros and is well worth visiting these three places.
How to Get to Les Baux de Provence
By road:
From Avignon: A7, exit 24 Avignon Sud – via Noves and Saint-Remy de Provence. 40 minutes
From Marseille: A7 direction Lyon – A54 direction Arles, exit 11 Saint Martin de Crau, via Maussane-les-Alpilles. 1h 10 minutes
From Nimes: A9 – A54, exit Arles number 7, via Fontvieille. 50 minutes
Nearby airports: Marseille
Best time to visit Les Baux de Provence
Les Baux de Provence is a place to visit all year round. However, we recommend that you visit in winter, autumn or spring as these are the seasons when the town is at its most beautiful.
However, the time when most visitors come to the village is summer, since this is when the lavender is in bloom.
Les Baux de Provence is halfway along the lavender route, which is the main reason to stop here.
On the other hand, we want to tell you that in summer this town is scorching and crowded with tourists, making it difficult for you to find an affordable place to stay.
It will also be challenging to experience the tranquility enjoyed during the rest of the year.
Best Things To Do Near Les Baux de Provence
Aix en Provence
Enjoy a day (or several) in Aix-en-Provence.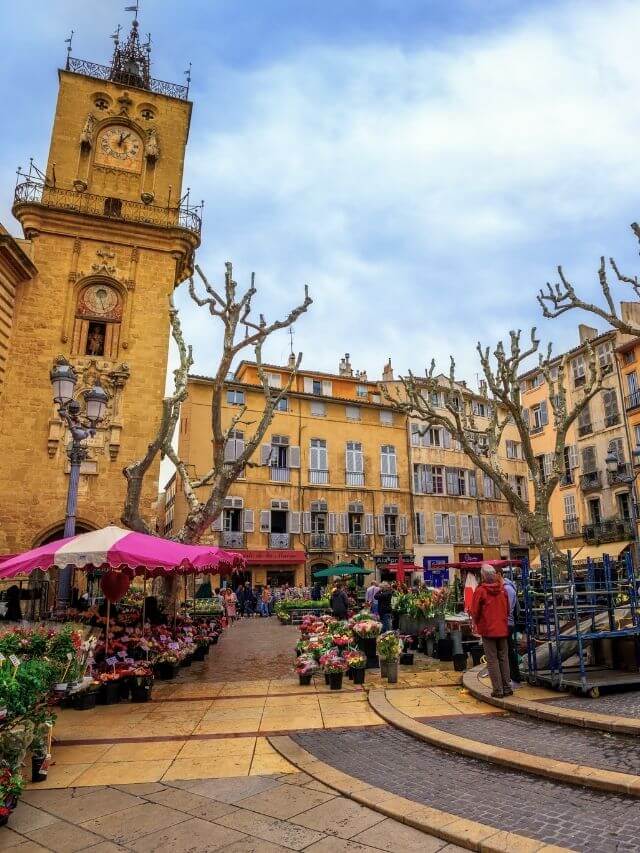 Very close to Les Baux is another point not to be missed on your itinerary in Provence.
Aix en Provence, the region's ancient capital, is a city full of history and beauty. Aix en Provence is a city full of history and beauty that opens its doors to those curious about art and architecture.
Aix-en-Provence was a Roman walled city founded in 123 BC, of which very little remains today.
However, it still retains a tremendous medieval heritage from the city's golden age when celebrities such as King D'Anjou and many Italian and Flemish painters moved to the area and made Aix a privileged city.
Today you can relive the city's history by strolling through the town's colorful streets, enjoying the beautiful facades of the buildings and the city's museums.
You will enjoy great city postcards along your walk, such as the Saint Saveur Cathedral, the Saint Jean de Malta Church, and the Roman Baths.
But that's not all; after a short break for a drink on the Cours Mirabeau avenue, don't forget to meet the city's favorite sons, Cézanne and Vasarely.
These two artists from different eras honor the locals with their works and museums that attract thousands of tourists each year.
Pont du Gard
The Pont Du Gard, 26 km from Avignon, is one of the tourist attractions you should not miss.
The Pont Du Gard is one of Europe's most important Roman aqueducts. It is the second best preserved after the Segovia aqueduct.
Avignon
Located on the banks of the Rhone river, Avignon is one of the cities not to be missed. near Les Baux de Provence.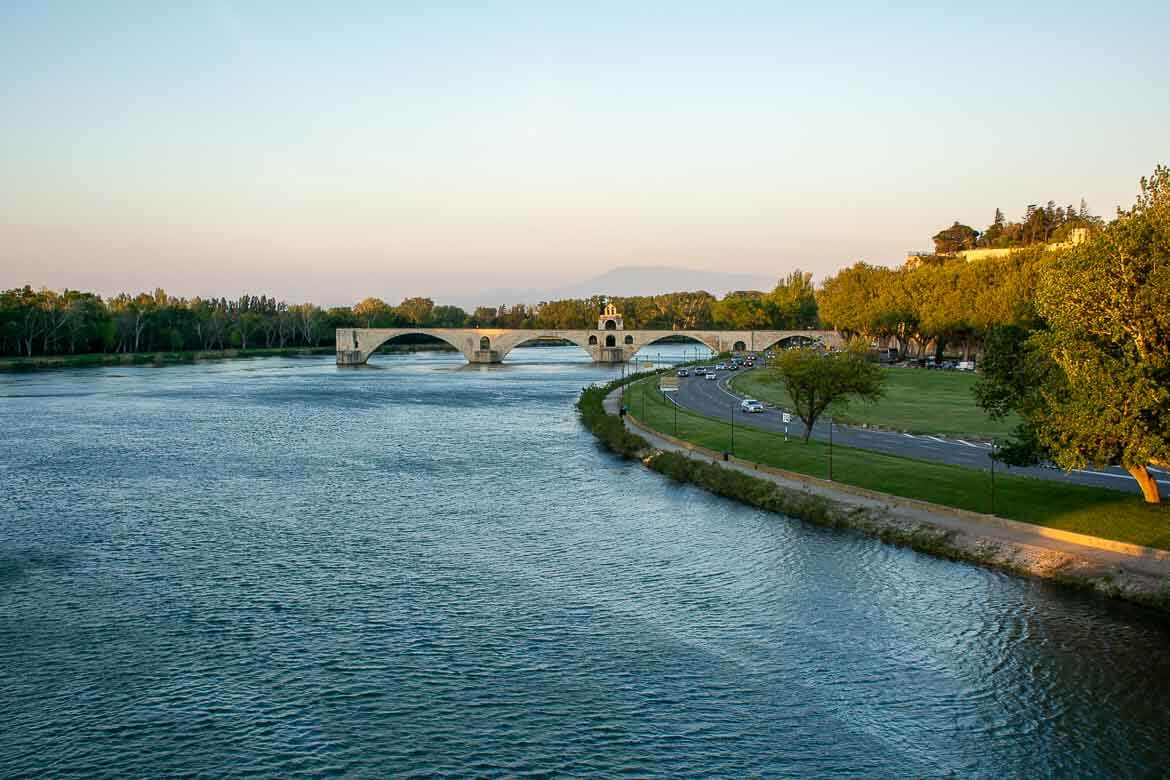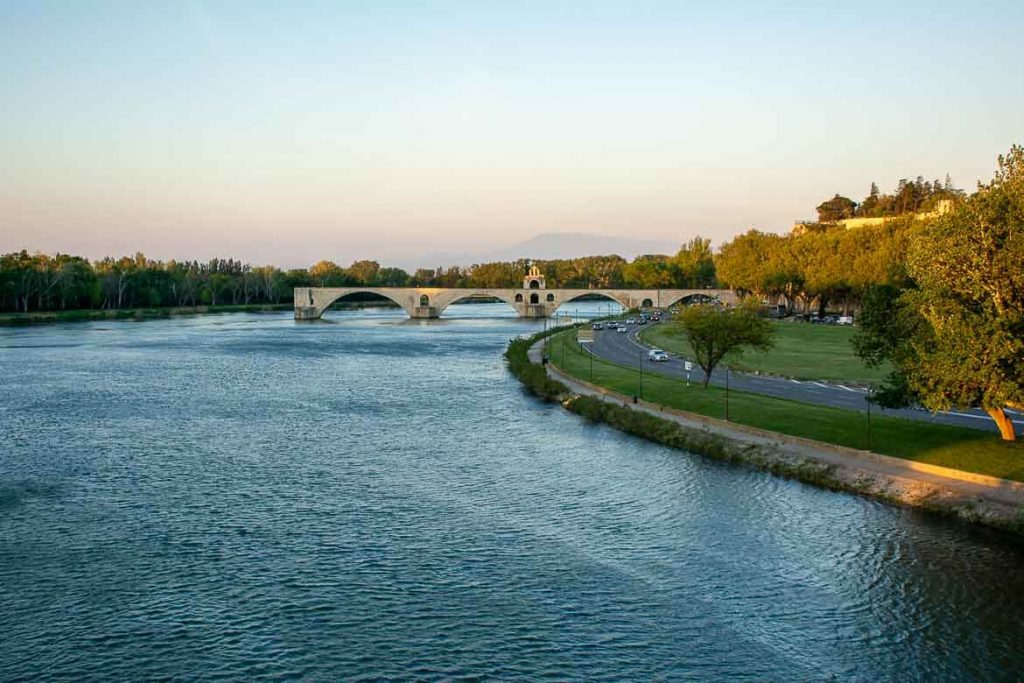 For those who have not yet heard of this city, Avignon was the papal see from 1309 to 1377, making it the most powerful in Europe and generating a great architectural and cultural heritage that has remained in good condition to this day.
Enjoy the opportunity to walk the streets of Avignon, contemplating the city's attractions such as the Papal Palace, the Avignon Bridge, its squares, the Cathedral of Notre Dame des Doms and all its streets until you get to see the remains of the ramparts.
And after a long walk, I am sure you will agree that Avignon is undoubtedly one of the most beautiful cities in the south of France.
Arles
The beautiful city of Arles is located in the southeast of France, just 30 minutes from the town of Les Baux de Provence.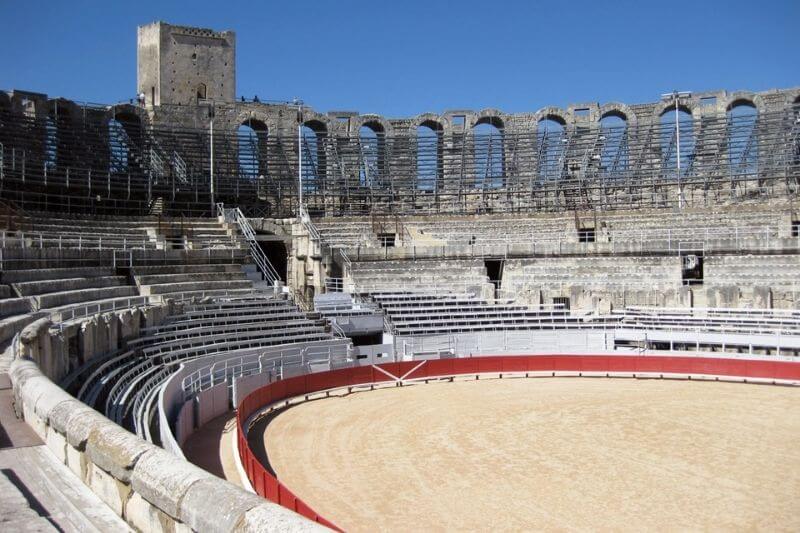 In its architecture, you can see the great Roman heritage present in this city and for which it has been declared a World Heritage Site by UNESCO.
Among its most interesting monuments are Les Arenes de Arles, the Baths of Constantin, and the Theater of Arles.
Where to Stay in Les Baux de Provence
Les Baux de Provence has a good selection of accommodation to suit all budgets.
However, if you travel in the high season, i.e., summer, you should expect prices above 80€ per room.
Plan Your Trip to the South of France