Best Things To Do in Gourdon, French Riviera
Gourdon is one of the beautiful villages of Provence, and as we love this region, we want you to discover it with us.
Gourdon is one medieval village that attracts many tourists and locals, mainly because of its beautiful views from its perched position in the high mountains.
To get to Gourdon, you can go by car from Nice o Cannes, and the journey takes only one hour.
The city of Gourdon is located in the department of the Alpes-Maritimes. Therefore, it is one of the most beautiful balconies in the Mediterranean in this region.
This destination is ideal for rural tourism, where getting to know the history and nature of the place is at the top of your list of things to do.
However, we know that leisure is also important, and Gourdon offers good places to eat and some places to shop.
You can find delicious French perfumes and souvenirs, so you don't return home empty-handed.
In this article, we want to tell you about the places you should not miss during your visit to Gourdon.
Among its attractions is a 13th-century castle and a very picturesque historic center through which we want to guide you so that you do not miss any detail of the beautiful medieval village of Gourdon.
Best Panoramic Views of Gourdon
As we have already mentioned in our introduction, one of the things you can not miss for anything in the world of Gourdon are its panoramic views of the Mediterranean.
Let your gaze fall on the vast green valley ending in the Mediterranean Sea is a pleasure.
Getting to the top will cost you a bit, but enjoying the views and taking some snapshots will be well worth it.
Saint-Paul de Vence
Saint-Paul de Vence is another must-see attraction near Gourdon.
Just 26 minutes away, we can discover this small medieval village famous for inspiring many artists, which is why it receives many painters and sculptors every year.
Throughout history, great names have walked its narrow streets, such as Picasso, Dufy, and Matisse, among others.
If you decide to visit this town, you will see the heritage of these artists in the city's day-to-day life, and you will find multiple art galleries and museums that will surprise you.
We recommend taking a stroll and observing the beautiful fountains of the village, as well as visiting the Maegth Foundation, which displays an admirable collection of contemporary art.
Saut du Loup Waterfall
The waterfalls of Saut du Loup are a beautiful place for a day of adventure in the surroundings of Gourdon. A short hike will take you to enjoy this beautiful natural setting.
You will only have to pay 1 euro for parking, and if you visit it in the weeks close to heavy rains, you will be amazed by the beauty of this enclave.
Gorge du Loup
The surroundings of Gourdon are pure nature, so put on your hiking boots and visit Gorges du Loup. It's a must!
A beautiful trail surrounds Gourdon and guides you along a hilly route that passes close to the river, full of narrow paths and waterfalls that will leave a lasting impression on your memory.
What to see in Roussillonone of the most beautiful villages in France
St. Pons' Chapel, the Chapel of Santa Catalina
Gourdon's entrance has a small chapel surrounded by a well-tended garden. This chapel was once used for treading wheat and landscaped with wide varieties of Mediterranean plants.
St. Pons' Chapel is tiny, and its harmonious architecture dates back to the 12th century.
The interior is visible from the outside as a simple wrought iron gate marks the entrance but can be glimpsed through the bars.
Also, in the heart of the village, you will find the Sainte-Catherine store. It is located on the site of the former chapel of the castle of Gourdon, which naturally gave it its name.
In 1980 he opened this store, a true family business full of Provençal products. There you will find homemade products such as flavored oils or jams.
But also many Provençal products from producers and artisans of the Nice region (cheeses, terrines, basketry, olive wood, pottery, etc.).
The 11th-century St. Vincent's Chapel and church
The surroundings of Gourdon are full of trails, and if you take the so-called "Chapel Trail," you will reach the humble chapel of St. Vincent.
Although it was built in the 11th century and is not used today, it is a place appreciated by locals who visit it regularly.
On the other hand, in the center of the city is the church of St Vincent, located very close to the tourist information point.
This is the church most frequented by the parishioners of Gourdon. It has a beautiful facade, and you can visit its interior without any problem.
Gourdon Castle and its gardens
The castle of Gourdon is one of the best-preserved in the Provence region. It was built in the tenth century and rebuilt around the seventeenth century and, as a result, has had many modifications in its architecture.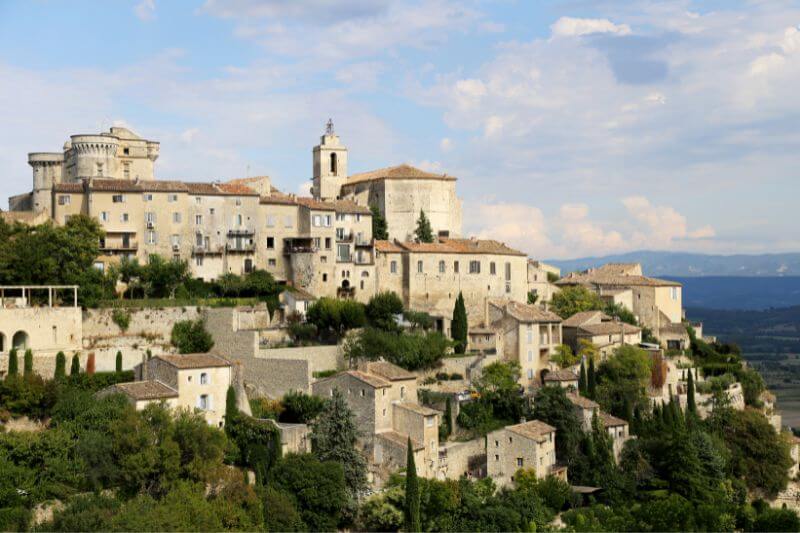 However, these changes have enriched the beauty of the place and made it today one of the most exciting places to visit in the entire department of the Maritime Alps.
Visitors are enchanted by its walls and manicured gardens with idyllic views of the Mediterranean.
It remains of a Roman camp with a double wall and oppidum.
Just 30 minutes from Gourdon in Le Rouret is an ancient Roman settlement (Camp Romain) that still retains part of its walls and the facade of the old camp.
To discover it, you only need to take a short hike that is very well signposted and will lead you easily to this curious place.
Read: Best things to do in French Riviera in Winter
Prehistoric Caves of Garagai, on the road to Grasse
On the road to Grasse, you'll find some prehistoric caves, the perfect hike for mountain lovers. Maybe a little tricky if you are not used to hiking in the mountains.
However, if the mountain is your gym, we recommend visiting them as they are not frequented and are very beautiful.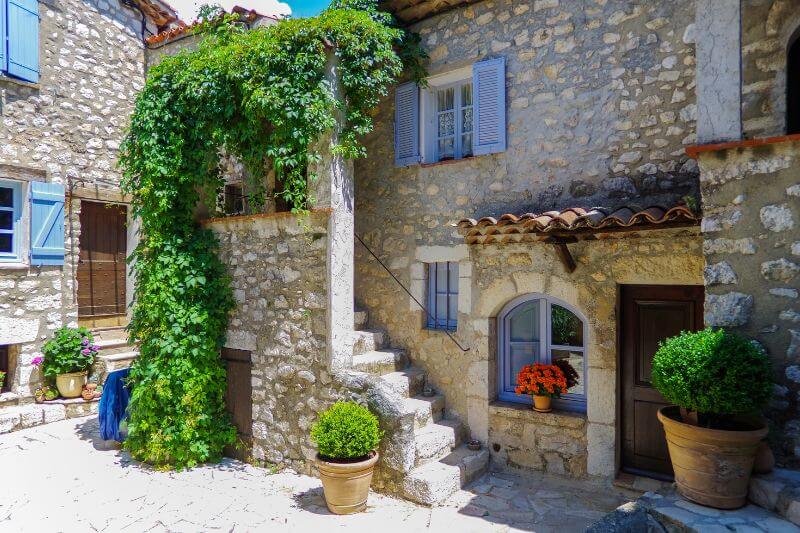 The Caves of Cougnac
The Cougnac Caves are composed of 2 caves 200m apart. The first cave was discovered in 1949.
It contains a very rich density of concretions: a freezing rain of thousands of stalactites falling from the ceiling and curtains.
Three years later, in 1952, a few dozen meters from the first cave, Lucien Gouloumes, René Borne, Jean Mazet, Roger, Maurice Boudet, and Alphonse Sauvant discovered a second cave.
This time, together with the concretions, several traces left by our Upper Paleolithic ancestors appear in alcoves.
However, prehistoric people cleaned the concretions before beginning their work as artists.
They used the relief of the cave walls to paint animal figures: large deer (megaceros), ibex, mammoths, and human figures (mainly wounded men).
The guided tour of the Cougnac caves costs €9.50 and provides a better understanding of how the artists who expressed themselves here interacted with the cave walls.
Printable
Outfit Planner
EXTRA TIP: plan what you will wear in advance so you take everything you need and do not have to make extra expenses at the destination. You can download the PDF here; the price is up to you!
Maison Du Piage
In addition, for those interested in the prehistoric period, a visit to the Maison du Piage can help them learn more about our ancestors.
North of Gourdon is this museum tucked into the rock of a cliff that helps us to understand many things about the Neanderthals and Cro-Magnons.
The museum offers a guided tour of the past, taking you to manipulate flint and bone objects from the different cultures of the Upper Paleolithic.
Near Gourdon, you can also enjoy beautiful cities like Cannes or Nice. Although summer is crowded, the rest of the year are charming cities for sightseeing.
Plan Your Trip to Provence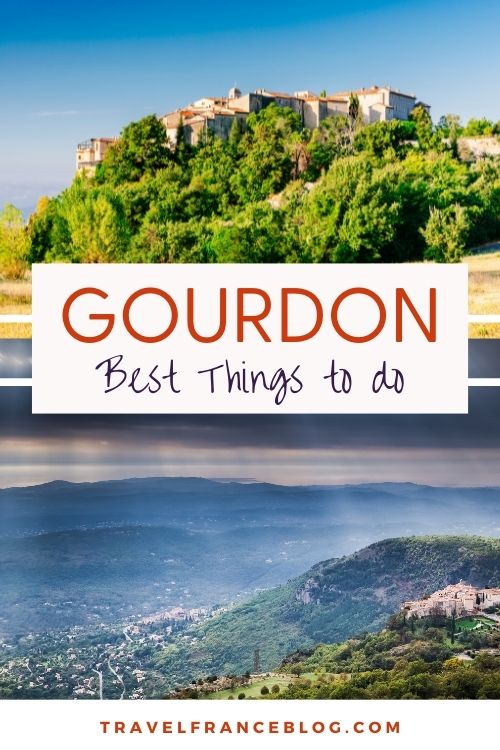 This post may include affiliate links. This means that we will receive a small fee if you make a purchase through our links. It has no additional cost to you. It's a win-win!