Discover the Best Places to Visit in France in Winter
Are you ready to embark on a winter adventure in France but feeling overwhelmed with choices? Fear not! Let's explore the best places to visit in France in winter and create memories that will warm your heart for a lifetime!
As much as we love the South of France as an all-year destination, the country boasts enchanting winter towns and cities. Get ready for snow or cold breeze from the best destinations!
Best Places to Visit in France in Winter
While Paris enchants with its festive lights, the French Riviera beckons with sunny warmth, and the French Alps offer thrilling winter sports. France has a plethora of delightful destinations perfect for a winter escape.
The City of Lights of Paris: Best Place to Visit in France in Winter
If you're looking for the best places to visit in France in winter, let me tell you about a destination that'll steal your heart – Paris, the City of Lights!
Trust me, this place is truly magical and romantic during the Christmas season, and you wouldn't want to miss it for the world.
Eiffel Tower
First up on your Parisian adventure is the Eiffel Tower. This iconic landmark is an absolute must-see! Picture this: During the winter evenings, the tower sparkles with enchanting lights, creating a fairytale-like atmosphere.
Oh, and here's a pro tip – take a tour to the top for a breathtaking view of the city. You won't be able to resist capturing the moment with your camera!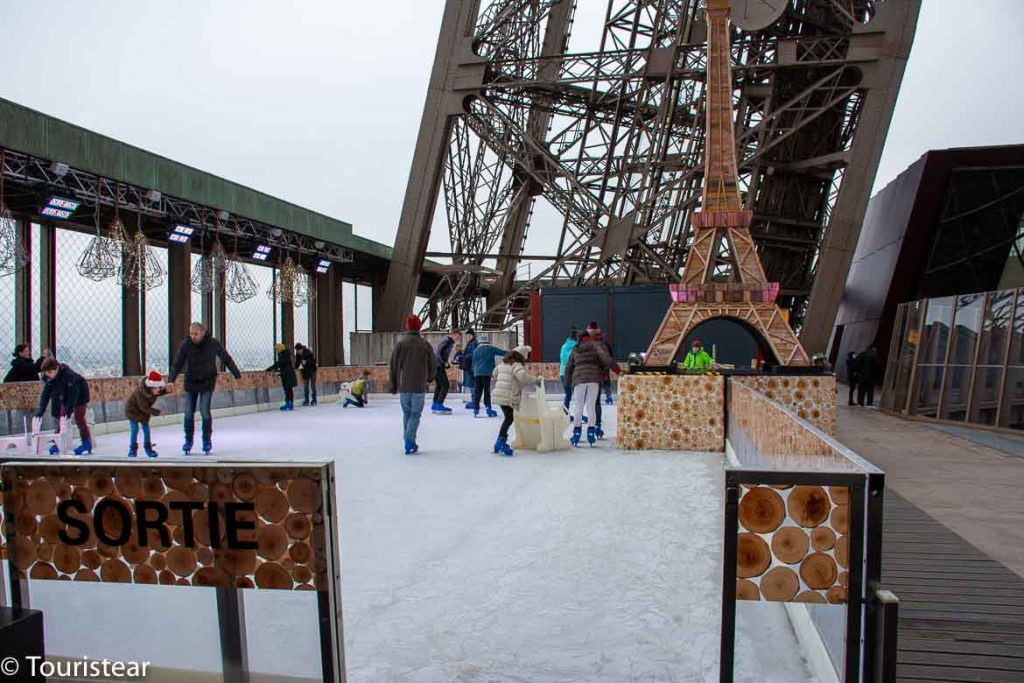 Louvre Museum
Next, we have the Louvre Museum, a home of art and history. From the Mona Lisa's enigmatic smile to countless other masterpieces, this place is a dream come true for art enthusiasts.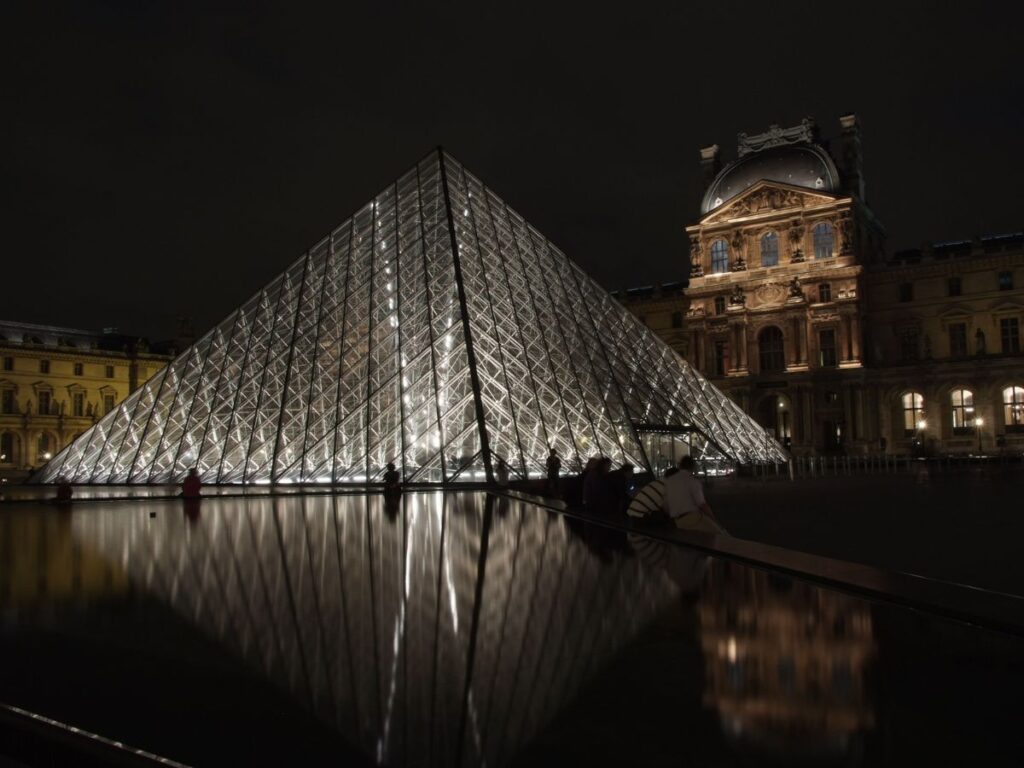 And guess what? During the Christmas season, the museum puts on its festive best with dazzling lights and decorations. It's like stepping into an art wonderland!
Seine River
Feeling like you need some calm and tranquility amid all the excitement? No worries! Hop on a cruise along the Seine River, and you'll get to see the city from a whole new perspective.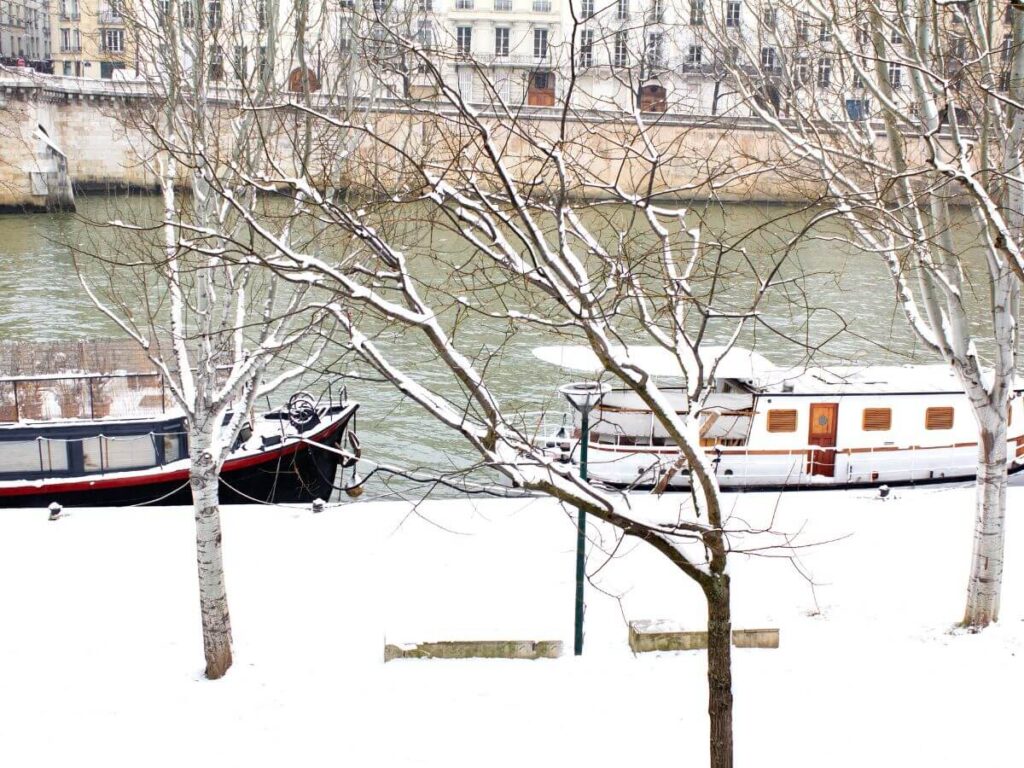 The winter vibe makes the river even more serene, and it's the perfect opportunity to take a leisurely stroll while soaking in the scenic beauty of one of the best places to visit in France in winter.
The Winter Wonderland Place of the French Alps
If you're searching for the best places to visit France in winter, look no further than the French Alps.
With snow-capped mountains, world-class ski slopes, and charming alpine towns, the French Alps are the perfect destination for winter sports enthusiasts and anyone looking for a cozy winter getaway.
Skiing in Chamonix
Oh, Chamonix – it's like stepping into a winter paradise! This ski resort is legendary and rightly so. With over 100 ski runs catering to all levels, from beginners to seasoned pros, Chamonix is a true haven for skiers and snowboarders alike.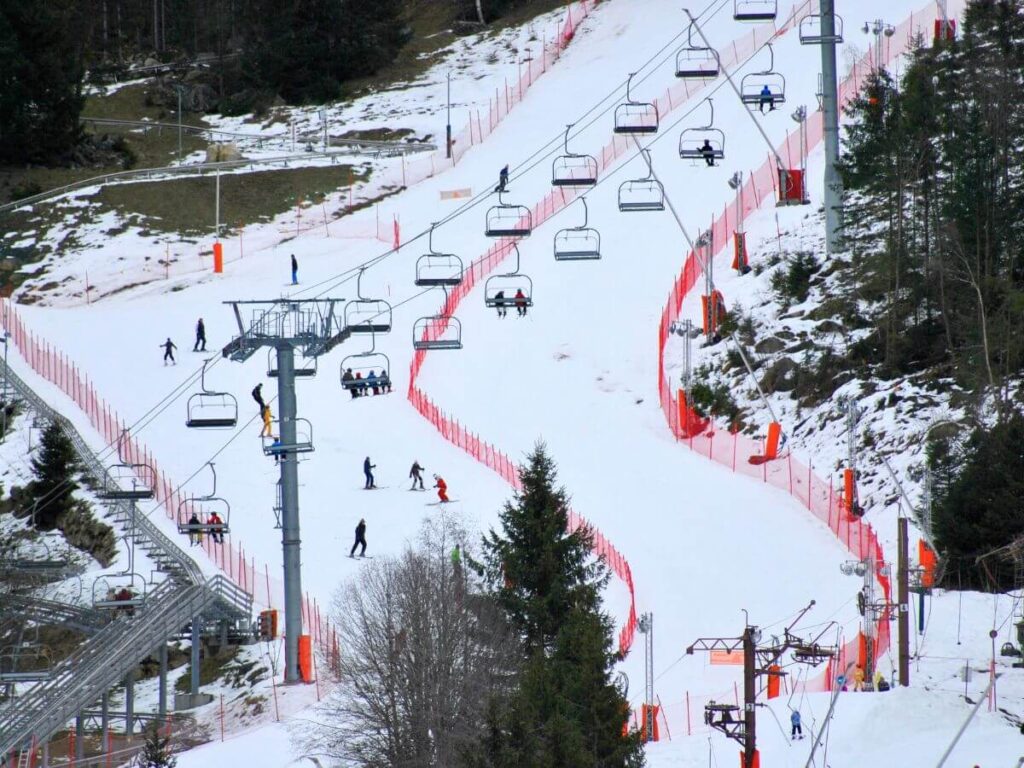 You've got the gentle slopes of Les Houches perfect for some easy-going glides, and then you've got the exhilarating challenge of Grands Montets that'll excite your heart!
Fun Fact: Did you know that Chamonix played a pivotal role in the history of winter sports? It proudly hosted the first-ever Winter Olympics in 1924, putting itself on the map as one of the premier ski destinations worldwide.
1-Day Ski Pass: around €60 (Get access to all the amazing ski areas in Chamonix)
Ski Equipment Rental: Starting from €30 per day (So you can hit the slopes with the right gear!)
Mont Blanc Adventure
If you're up for an unforgettable winter adventure, brace yourself for Mont Blanc! The highest peak in the Alps, Mont Blanc promises jaw-dropping views and a thrill like no other if you dare to conquer its summit.
Fun Fact: Back in 1786, two daring individuals, Jacques Balmat, and Michel-Gabriel Paccard, achieved the first recorded ascent of Mont Blanc, marking a major milestone in the history of mountaineering. Talk about an epic feat!
But even if you'd rather not scale to the top, there are loads of fantastic ways to experience Mont Blanc's majestic beauty – try snowshoeing or dog sledding, and you'll still feel like you're on top of the world!
Annecy: The Venice of the Alps
Annecy is your ticket to wonder if you're in the mood for a more laid-back winter getaway. This charming town nestled on the shores of Lake Annecy transforms into a winter fairy tale during the colder months.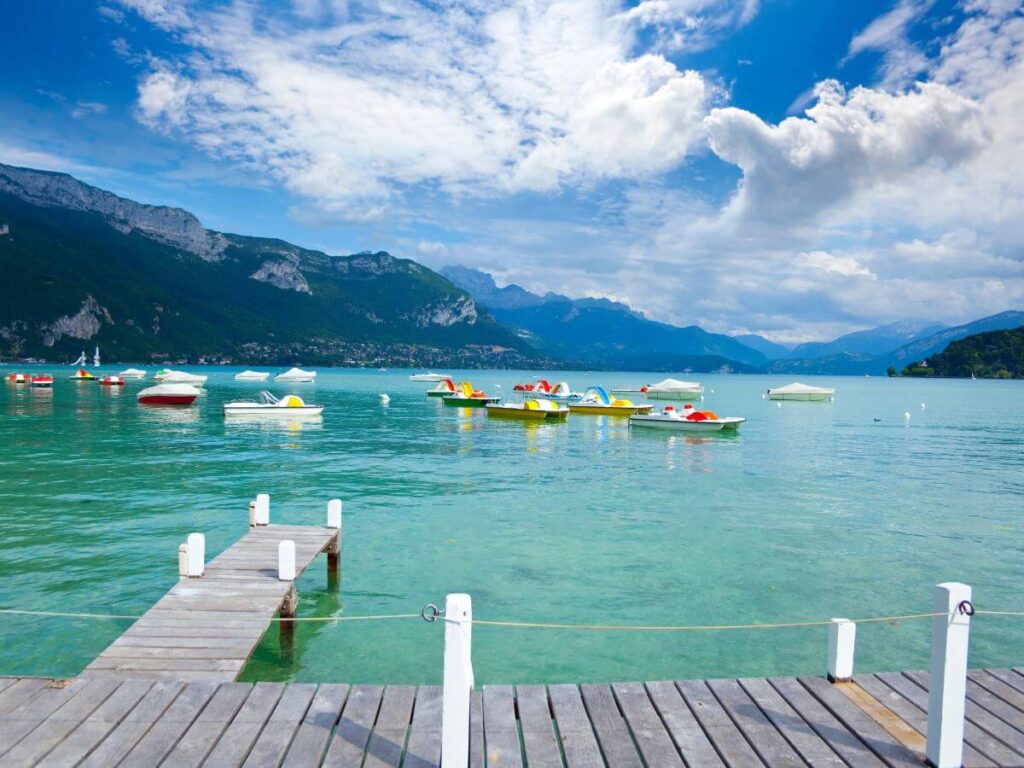 You can glide gracefully on the ice while ice skating on the lake, or if you fancy exploring, cross-country skiing in the picturesque surrounding hills is an absolute treat.
And when the chill starts to get to you, cozy cafes and restaurants will warmly welcome you with hot drinks and scrumptious delights.
Annecy's medieval charm goes way back to the 14th century. Those lovely canals that weave through the town's heart? Originally designed for defensive purposes, they now add a touch of enchantment to the winter ambiance.
Ice Skating on Lake Annecy: around €8 (Includes skate rental, so you can gracefully glide across the frozen water)
Segway Tour in Annecy: Guided tour for €60 (Complete with a trip to the bordering lake gardens and the Imperial Palace.)
The Winter with Mediterranean Charm of Nice
Trust me, this city on the Côte d'Azur will steal your heart with its warm and charming allure, making it a perfect winter getaway. Get ready for mild weather, stunning architecture, and vibrant culture that'll leave you in awe in one of the places to visit in France in winter.
Nice Carnival
Now, one of the winter highlights in Nice is the world-famous Nice Carnival. In February, the city comes alive with a burst of colors, lively music, and mesmerizing dance performances.
The roots of the Nice Carnival go back to the 13th century when it started as a pagan festival. Fast forward to the 19th century, and the carnival was revived in grand style with extravagant parades and elaborate floats, turning it into the spectacular event it is today.
The Nice Carnival has been a beloved tradition for over a century, and if you're visiting during the winter months, you simply can't miss it!
Entrance Ticket: around €15 (Get access to the carnival parade and festivities)
Grandstand Seat: Additional €20 (For a prime view of the parades and performances)
Promenade des Anglais
Oh, and speaking of charm, no visit to Nice would be complete without a leisurely stroll along the Promenade des Anglais. This iconic seaside promenade stretches for miles, offering breathtaking views of the sparkling Mediterranean Sea.
Back in the early 19th century, the Promenade des Anglais was a brainchild of the British aristocracy, who wanted a picturesque promenade along the coast. Little did they know that it would become one of the most famous waterfronts in the entire world!
Whether you're taking a leisurely walk or hopping on a bike for some fun, the Promenade des Anglais is the perfect way to immerse yourself in the Mediterranean magic of Nice.
Old Town Exploration
Now, prepare yourself for a journey through time as you step into the charming Old Town of Nice. Its narrow streets, colorful buildings, and vibrant markets will whisk you away to another era.
The Old Town of Nice holds a treasure trove of history that traces back to ancient times when it was founded as a Greek colony.
It embraced various cultures throughout the centuries, from the Romans to the Italians, resulting in a unique blend of architecture and traditions that make it so special.
Wander through the winding alleys with a guide and discover delightful spots like the Place Rossetti, a picturesque square that beckons with its cozy cafes and gelato shops.
Winter Gastronomic Capital of Lyon: Must Visit in Winter in France
If you're a lover of all things delicious and looking for places to visit in France during winter, Lyon is your ultimate destination – known as the "Gastronomic Capital of France."
Prepare your taste buds for a culinary adventure like no other! But that's not all Lyon has to offer; this city has a captivating history and culture, making it a delightful winter getaway with plenty to see and do.
Festival of Lights
Lyon comes alive with a breathtaking display of lights during the Festival of Lights, or Fête des Lumières. Held every December, this dazzling event attracts millions of visitors from across the globe.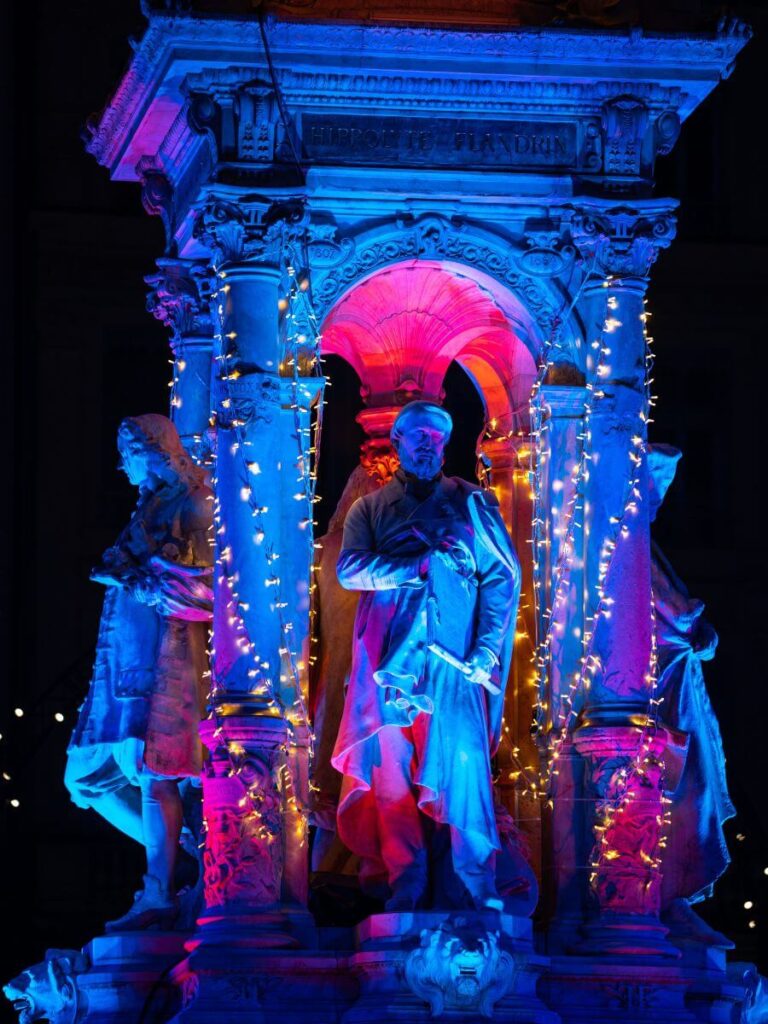 The Festival of Lights in Lyon has a touching origin. It began in the 19th century when the people of Lyon lit candles in their windows to pay tribute to the Virgin Mary, whom they believed had saved the city from the plague.
Over time, this tradition evolved into the magnificent festival it is today. The city is adorned with stunning light installations, and the air is filled with the joy of concerts, parades, and various other delightful events. Most of the light installations and public events are FREE to attend!
Bistros or the famous "Bouchons"
Ah, the cozy bouchons of Lyon – a true winter delight! These charming restaurants are ideal for warming up on chilly days while savoring traditional Lyonnaise cuisine.
You must try some local favorites like quenelles, a delightful type of dumpling, saucisson brioché, a mouthwatering sausage wrapped in brioche, and coq au vin, tender chicken cooked in red wine.
Coffee Shops
Lyon's coffee shops have your back when you need a cozy spot to unwind and escape the winter chill! These delightful cafes serve up scrumptious pastries and treats that'll warm your soul.
Embrace your sweet tooth and revel in the charming atmosphere of coffee houses like Le Comptoir de l'Est, Mokxa, and Le Bistrot de l'Épicerie.
Christmas Capital of France of Strasbourg: Top Place in France in Winter
This enchanting French city transforms into a magical Christmas capital and one of the best France places to visit in winter, complete with twinkling lights, enchanting Christmas markets, and so much more.
Christmas Market of Strasbourg
Welcome to one of the oldest and largest Christmas markets in Europe – the Strasbourg Christmas Market! With over 300 chalets scattered throughout the city center, it's a treasure trove of handmade crafts, delightful local food, and heavenly drinks.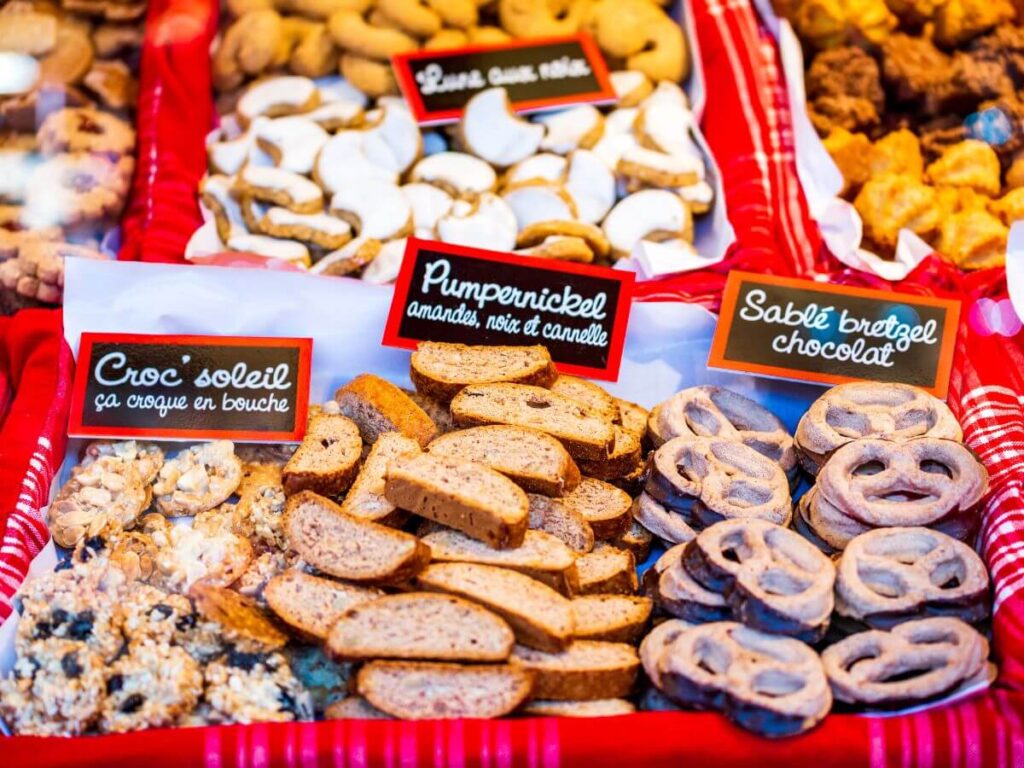 You simply must indulge in Alsatian specialties like gingerbread, spiced wine, and foie gras. Plan your visit between late November and late December to immerse yourself in the festive spirit!
The Christmas market is open to all, and you can wander through the charming chalets with a guide or by yourself without any admission fee!
Fun Fact: Strasbourg has been hosting Christmas markets since 1570, making it one of the oldest in the world. The tradition has deep historical roots and has continued to captivate both locals and visitors for centuries.
Botanical Garden
For a tranquil escape from the bustling city, head to the Botanical Garden in Strasbourg. During the Christmas season, the garden transforms into a magical wonderland, with thousands of twinkling lights and delightful decorations.
Take a leisurely stroll through the illuminated paths and marvel at the stunning Christmas tree. Don't miss the greenhouse, where tropical plants and exotic birds add an extra touch of enchantment.
The Strasbourg Botanical Garden, established in 1884, has a long history of preserving and showcasing diverse plant species. During winter, it turns into a serene paradise of lights, bringing joy to all who visit.
The Winter Fairy Tale Place in Colmar, France
This picturesque town in the Alsace region will steal your heart with its enchanting beauty and captivating charm and is one of the places to visit in France during winter. As you step into Colmar, you'll feel like you've stepped into a winter fairy tale.
Christmas Markets of Colmar
Colmar boasts some of the most delightful Christmas markets in the region, and they are sure to fill you with festive cheer.
Wander through the cobbled streets adorned with lights, play a game, or explore the chalets filled with handcrafted ornaments and delicious treats.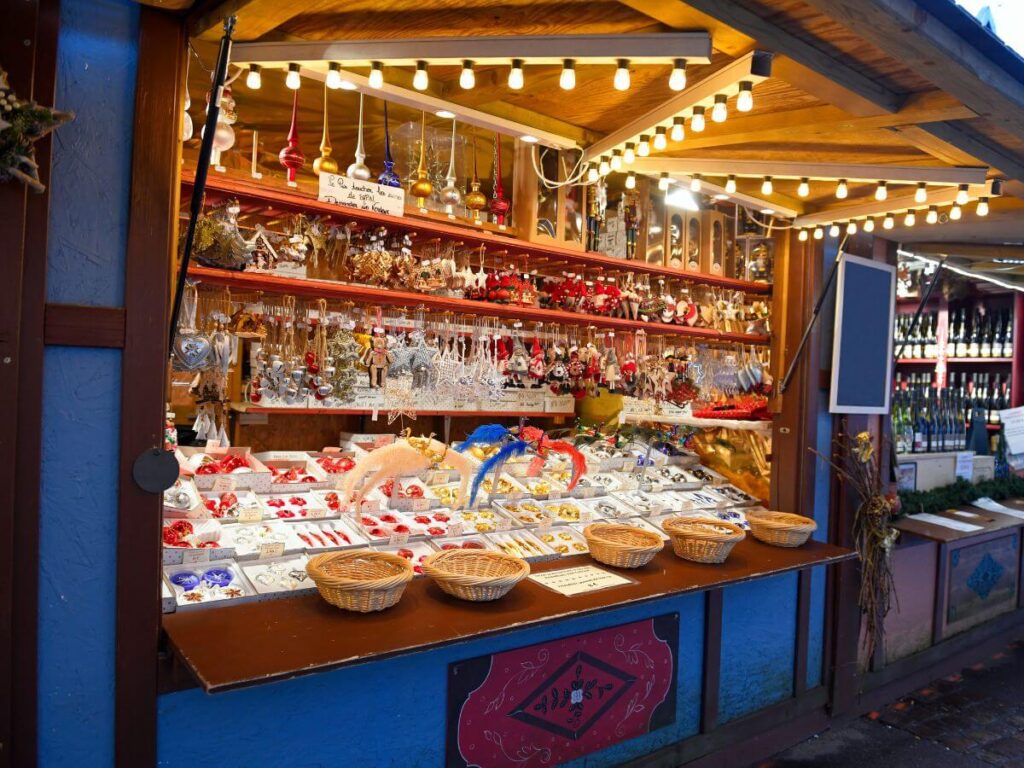 Colmar's Christmas markets have a history dating back to the Middle Ages when they were held to celebrate the season of Advent. Over time, these markets evolved into the enchanting spectacles they are today, attracting visitors from far and wide.
Each market has its unique theme, such as the medieval-inspired market in Place des Dominicains or the romantic market in Place de l'Ancienne Douane.
Don't forget to try some delectable Alsatian delicacies like spiced wine, gingerbread, and bredele cookies – the flavors of Christmas.
Colmar's Winter Wonderland
Colmar takes on a magical aura during the winter months. The colorful half-timbered houses are adorned with wreaths and decorations, and the canals that run through the town add a touch of romance to the snowy landscape.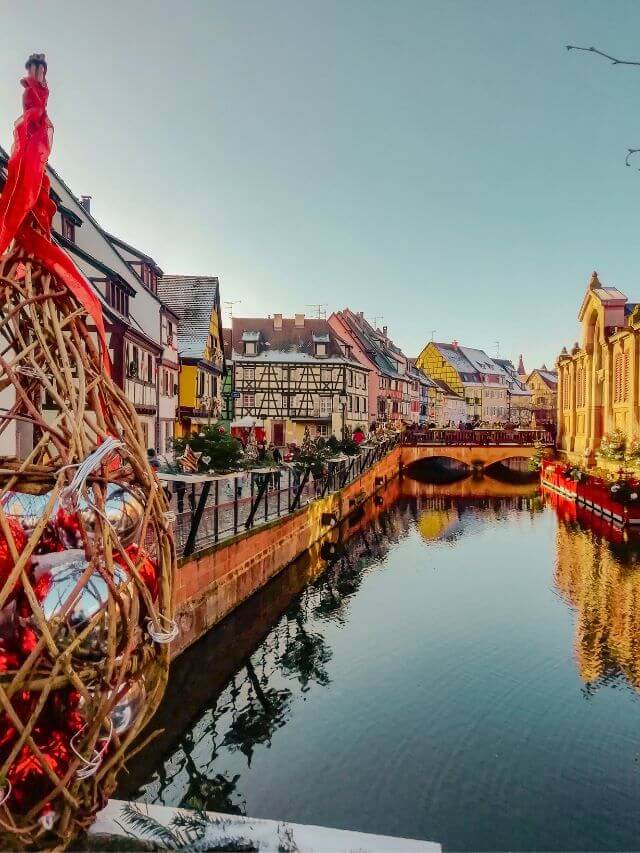 Take a leisurely stroll through the quaint neighborhoods and embrace the cozy ambiance that surrounds you.
Little Venice of Colmar
One of the most charming parts of Colmar is the "Little Venice" district. The area is characterized by picturesque canals lined with beautiful houses and adorned with flowers.
Colmar's Little Venice district gets its name from the resemblance it bears to the Italian city of Venice. It's a lovely place to explore, with bridges, cobblestone streets, and a sense of tranquility that makes it a favorite spot for visitors.
During winter, the scene becomes even more enchanting as the canals reflect the twinkling lights, creating a scene straight out of a postcard.
A Medieval Winter Wonderland of Riquewihr
Looking for more places in France to visit in winter in the Alsace region? This picturesque village nestled amidst rolling vineyards and surrounded by medieval walls is a fairytale destination that exudes old-world charm and captivates visitors year-round.
During winter, Riquewihr becomes an enchanting winter wonderland that will transport you back in time.
Medieval Charm
Step into Riquewihr, and you'll feel like you've entered a storybook setting. The well-preserved medieval architecture, with colorful half-timbered houses and cobblestone streets, creates a magical ambiance.
Riquewihr's history dates back to the 8th century, and its medieval appearance has remained remarkably intact over the centuries, making it a precious gem in the Alsace region.
During winter, a dusting of snow enhances the charm, making it a perfect destination for a cozy winter escape. Take a private guided tour around the city during winter!
Christmas Markets and Festivities in Riquewihr
The Christmas markets of Riquewihr are a sight to behold. The village's main street, Rue du Général de Gaulle, transforms into a bustling market filled with delightful stalls selling handmade crafts, artisanal gifts, and delicious local treats.
Riquewihr's Christmas markets have been a tradition for centuries, and they continue to celebrate the spirit of the season in a quintessentially Alsatian way. The aromas of mulled wine and freshly baked gingerbread waft through the air, creating a festive atmosphere that warms the heart.
Riquewihr's Wintry Vines
The vineyards surrounding Riquewihr may be dormant during winter, but they still add to the beauty of the landscape. Take a tour of the snow-covered vineyards against the backdrop of the Vosges Mountains creating a mesmerizing scene that photographers and nature enthusiasts will adore.
The Winter Timeless Beauty of Eguisheim Place of France
Eguisheim, another jewel of the Alsace region, is a village straight out of a fairy tale. The circular layout and concentric streets make it one of the most unique and charming places in France. And during winter, Eguisheim becomes even more enchanting.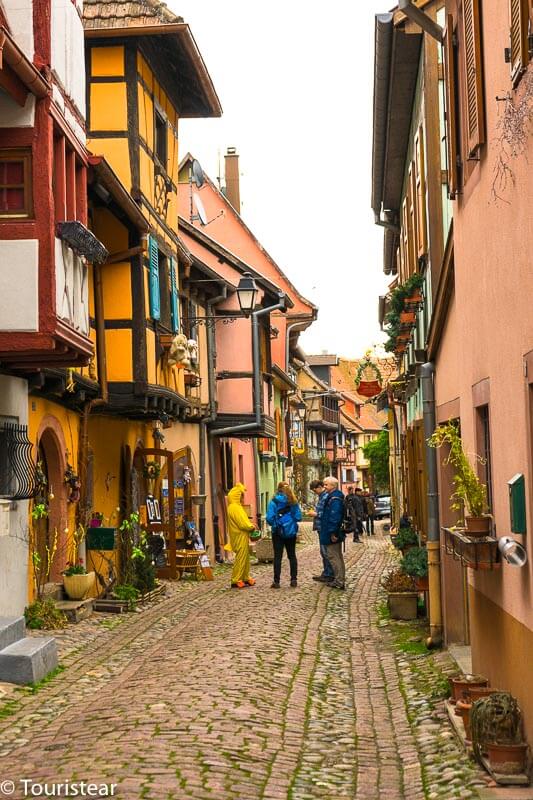 Alsace's First Christmas Market
Eguisheim proudly holds the distinction of hosting the first-ever Christmas market in the Alsace region. This historical event dates back to 1496 when King Maximilian I granted the market official authorization.
The Christmas market in Eguisheim is steeped in history and heritage, making it a truly authentic and magical experience. Today, Eguisheim continues this time-honored tradition with its mesmerizing Christmas market.
Festive Illuminations
Eguisheim's half-timbered houses are adorned with festive illuminations during winter, creating a warm and welcoming atmosphere.
Eguisheim's well-preserved architecture reflects centuries of history, and the village has been recognized as one of the "Most Beautiful Villages in France."
The narrow streets, lined with beautifully decorated houses, are a joy to explore. Take a leisurely stroll through the village and immerse yourself in the timeless beauty of Eguisheim.
Alsatian Culinary Delights
Indulge in the delectable flavors of Alsatian cuisine while in Eguisheim. From hearty stews to savory tarte flambée, the local dishes will warm you up and leave your taste buds delighted.
The Citrus Festival Menton: A Must-Visit Place in France in Winter
In search of the most charming places to visit in France during winter, Menton is an absolute treasure! Tucked away on the French Riviera near the Italian border, this enchanting town will steal your heart with its gentle climate and breathtaking citrus groves.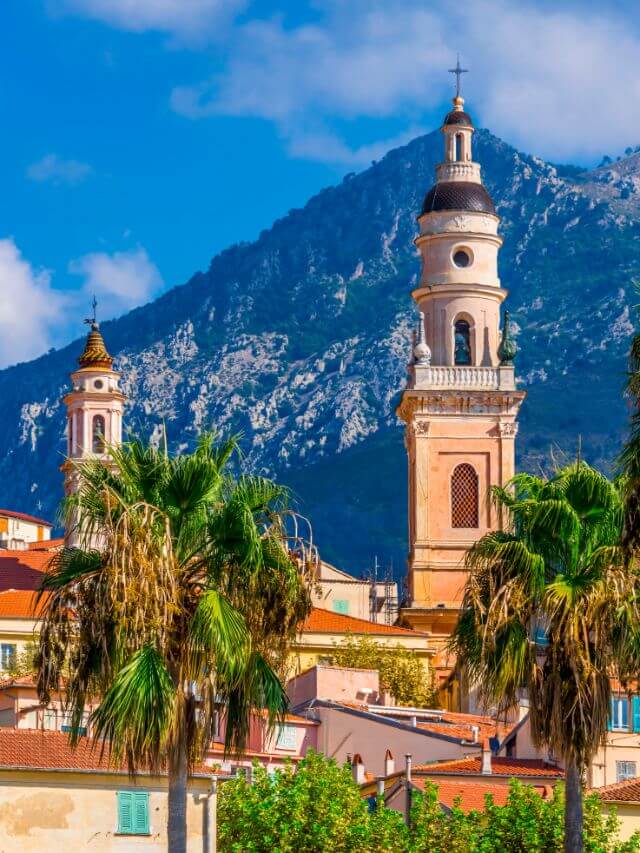 Fête du Citron
Now, let me tell you about Menton's crown jewel during the winter season – the Fête du Citron, or Citrus Festival!
From mid-February to early March, Menton transforms into an awe-inspiring citrus wonderland. Imagine walking through the town center, surrounded by massive sculptures of lemons and oranges that will leave you truly mesmerized.
Can you believe that Menton's Citrus Festival has roots dating back to the 15th century? Back then, the abundance of citrus fruits in the town led to the creation of floral displays during religious processions.
Over time, these displays evolved into the dazzling and spirited festival we now adore. And that's not all – the festival's lively parade is a sight to behold!
Floats decked out with thousands of citrus fruits joyously dance through the streets, filling the air with the sweet fragrance of citrus, and the vibrant colors bring the whole town to life.
Border Towns of Ventimiglia and San Remo
Ready for more winter magic? Menton's proximity to the Italian border makes it the perfect launchpad for exploring some charming Italian towns and villages. Take a delightful day trip to Ventimiglia, a town renowned for its bustling market and charming old town.
Feeling adventurous? Venture a bit further to San Remo, a picturesque coastal town boasting a lively promenade and stunning architecture. The best part? Menton's unique blend of French and Italian influences ensures you get the best of both worlds during your winter escapades.
The Vibrant Port City of Marseille: A Place to Visit in Winter in France
This bustling port city, nestled in the Provence region, offers a treasure trove of attractions and activities that'll keep your spirits high throughout your visit. Marseille is a vibrant destination in France during the winter months.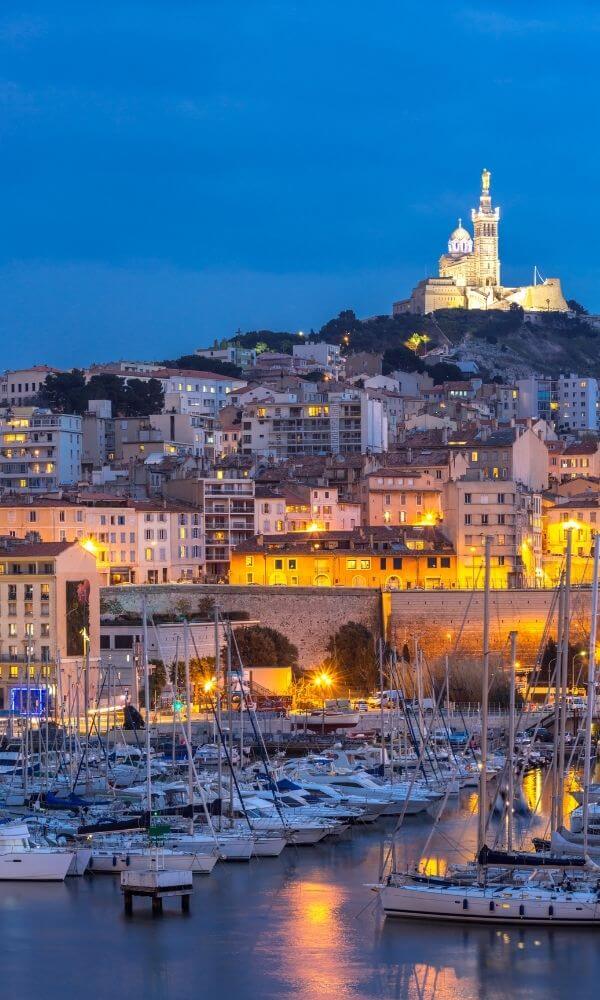 Old Port
Heart and soul of Marseille, the Old Port has been a bustling center of activity for over 2,600 years – now, that's a lot of history to soak in!
As you stroll along the waterfront with a guide, you'll be captivated by the lively fish market, charming restaurants, and cafes that beckon you in. And oh, the picturesque harbor filled with boats of all shapes and sizes, it's a sight to behold! Want a dose of history with a view?
Explore the nearby Fort Saint-Nicolas and Fort Saint-Jean, and you'll be rewarded with breathtaking vistas that'll leave you speechless.
Calanques National Park
Nature lovers, rejoice! Just a short drive from Marseille, you'll find the captivating Calanques National Park.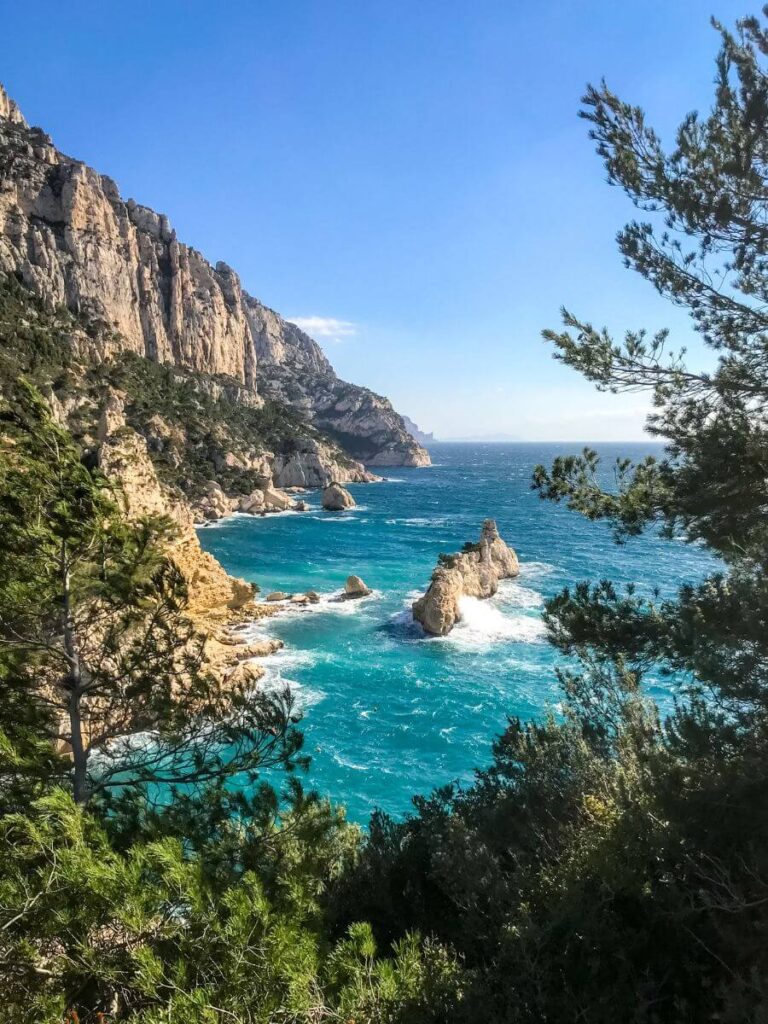 Rocky cliffs and coves hug the Mediterranean coast, offering you breathtaking vistas and endless outdoor adventures. Soak up the beauty as you hike along the trails, cool off with a refreshing swim in the turquoise waters, or sail the waters to savor the serenity that surrounds you.
Whether you're a history buff, a nature enthusiast, or just seeking a vibrant atmosphere, Marseille has something for everyone. Don't miss out on this lively and charming destination during your winter travels in France!
The Winter Wine Capital of Bordeaux in France
Calling all romantics and wine enthusiasts! Bordeaux is here to warm your heart and delight your senses during your cozy winter getaway. This enchanting French city wears the crown as the wine capital of the world, spoiling you with the finest wines and cuisine France has to offer.
Vineyards and Wineries
Ah, Bordeaux – surrounded by the world's most beautiful vineyards, each one a dream come true. During winter, these wineries open their doors to visitors, offering tours and tastings that'll take you on a journey through the art of winemaking.
Savor the flavors of exquisite wines as you learn about their meticulous crafting process. Don't miss your chance to visit esteemed vineyards like Château Margaux, Château Lafite Rothschild, and Château Palmer – each sip is a blissful voyage for your taste buds!
The Hidden Winter Gem of Corsica
Seeking an extraordinary winter destination in France? Look no further than Corsica! This Mediterranean island, known for its rugged landscapes and pristine beaches, takes on a new charm during winter.
Calvi Christmas Market
The Christmas market tradition in Calvi has deep roots dating back to the Middle Ages when locals gathered to celebrate the holiday season with festive markets and merriment.
Calvi, one of Corsica's most enchanting towns, hosts a delightful Christmas market that'll warm your heart. Stroll through the charming stalls adorned with twinkling lights, where you'll find local crafts, artisanal gifts, and delicious treats that embrace the flavors of the island.
The majestic Calvi Citadel, perched on a hilltop, provides a breathtaking backdrop for this winter wonderland.
Corte's Mountain Majesty
For a winter view like no other, venture to Corte, nestled amidst Corsica's mountainous interior. The snow-capped peaks and verdant valleys paint a stunning picture, making it an ideal destination for winter hiking and immersing yourself in the island's natural beauty.
Corte has been an important town in Corsica's history, serving as the historic capital and a significant cultural center since the 18th century.
A Wild Winter Haven of Camargue National Park in France
If you're yearning for a unique and wild winter experience, head to Camargue National Park. This vast wetland, located in the southern region of France, boasts a diverse ecosystem teeming with wildlife.
Flamingo Spotting
During the winter months, Camargue becomes a paradise for birdwatchers. Keep an eye out for the majestic pink flamingos during a safari that graces the marshes, along with a wide variety of other migratory birds that call this park home during the colder months.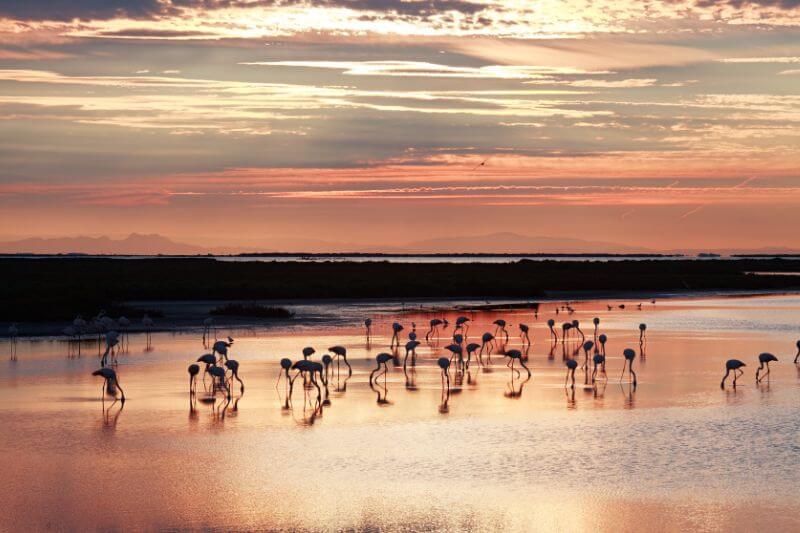 White Horses and Wild Bulls
As you explore Camargue's untamed landscape, you'll encounter the famous white Camargue horses, known for their strength and beauty. And if you're lucky, you might catch a glimpse of the indigenous Camargue bulls, a symbol of the region's cultural heritage.
Winter's Timeless Elegance of Perigord and Dordogne, France
Step back in time and bask in the timeless elegance of Perigord and Dordogne during winter. This region, renowned for its medieval towns, castles, and gastronomic delights, will transport you to a bygone era.
Medieval Magic in Sarlat-la-Canéda
Sarlat-la-Canéda, with its well-preserved medieval architecture, becomes an even more enchanting place in France in winter.
Explore its narrow cobbled streets with a guide and charming squares, and don't forget to sample the rich foie gras and truffles that the region is famous for.
Sarlat-la-Canéda's medieval heritage dates back to the 9th century, and its architecture has been carefully preserved, making it a beloved destination for history enthusiasts.
Castles of the Dordogne
The Dordogne River Valley is home to a plethora of majestic castles, such as Château de Beynac and Château de Castelnaud. During winter in France, take a tour of these impressive fortresses that stand tall against the wintry landscapes, providing a truly captivating sight.
A Regal Winter Retreat at the Loire Valley Castles, France
Embrace the regal charm of the Loire Valley castles during winter in France, as these architectural marvels don a coat of snow, exuding an air of elegance and history.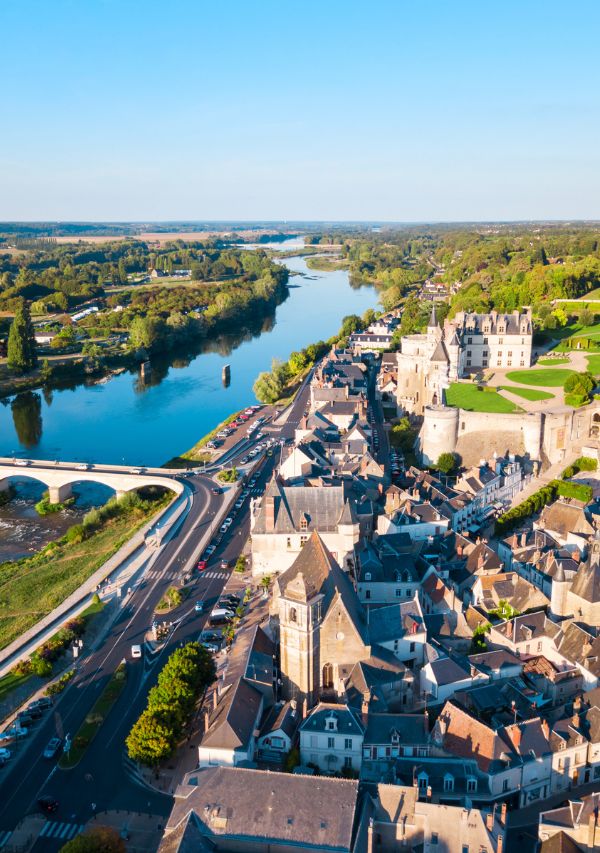 Château de Chambord's Frosty Grandeur
Château de Chambord, with its iconic French Renaissance architecture, looks straight out of a fairytale during winter in France Explore its opulent rooms and venture into the sprawling estate grounds for a winter view you'll cherish.
Château de Chenonceau Over the Cher River
Château de Chenonceau, gracefully poised over the Cher River, offers breathtaking places in France in winter. The castle's reflection on the tranquil waters creates a picture-perfect view that'll leave you in awe.
A Winter Wonderland in Provence, France
Discover Provence's captivating beauty in a different light during winter. While the lavender fields may be dormant, this region is one of the places to visit in France in winter, and offers its own unique charm and allure.
Avignon's Winter Glow
Avignon, with its medieval city walls and majestic Palais des Papes, retains its allure during in France in winter. The city's streets come alive with festive lights and charming Christmas markets, where you can savor the region's delectable truffles and wines.
Gorges du Verdon's Snowy Splendor
Venture to Gorges du Verdon, known as the "Grand Canyon of Europe," for an equally awe-inspiring winter view. The turquoise waters of the Verdon River, surrounded by snow-capped cliffs, create a striking contrast that's simply breathtaking.
Explore the best places to visit in France in winter – enchanting holiday markets, cozy cafés, and breathtaking landscapes.
Pack your warmest clothes and consider renting a car to uncover hidden gems. Embrace the joie de vivre in this delightful season! Bon voyage!
Best Places to Visit in France in Winter: FAQs
Is It Worth Visiting France in Winter?
Absolutely! France in winter offers unique charm with Christmas markets, cozy bistros, and fewer crowds. The winter wonderlands of Alsace, the lavender fields of Provence, and the snow-kissed castles in the Loire Valley make it truly magical.
What Is the Best Winter Month to Visit France?
Mid-December to February is ideal for a winter visit. Experience the festive spirit of Christmas markets, enjoy winter sports in the Alps, and savor the coziness of French towns.
What Is the Snowiest Month in France?
January is often the snowiest month in France, especially in the mountainous regions like the French Alps and Pyrenees, making it perfect for skiing and winter activities.
What Is the Coldest Part of France in Winter?
Eastern France, especially the Alsace and Lorraine regions, experiences colder temperatures in winter, with chances of snowfall, creating a winter wonderland.
Where Is the Warmest Part of France in Winter?
The French Riviera, particularly cities like Nice and Menton, boasts a mild winter climate due to its Mediterranean location, making it a warm and inviting winter destination.
Plan Your Trip to France in Winter
This post may include affiliate links. This means that we will receive a small fee if you make a purchase through our links. It has no additional cost to you. It's a win-win!