Best Things To Do in Paris in October: Weather, Festivals, and More
In Autumn, Paris turns into a cozy scene of colorful leaves and orange shades. The City of Lights becomes a calm haven for locals and visitors alike. And I have to say, Paris in October is one of the times I love the most.
Best Things to Do in Paris in October
As the weather cools and Paris gets its fall colors, October adds a special touch to the city. Here's my list of top things to enjoy in Paris this season.
Explore the Louvre Museum in October
As you look for fun things to do in Paris in October, there's something really special you shouldn't miss: visiting the Louvre Museum. This famous place is not only about art; it's like traveling through time.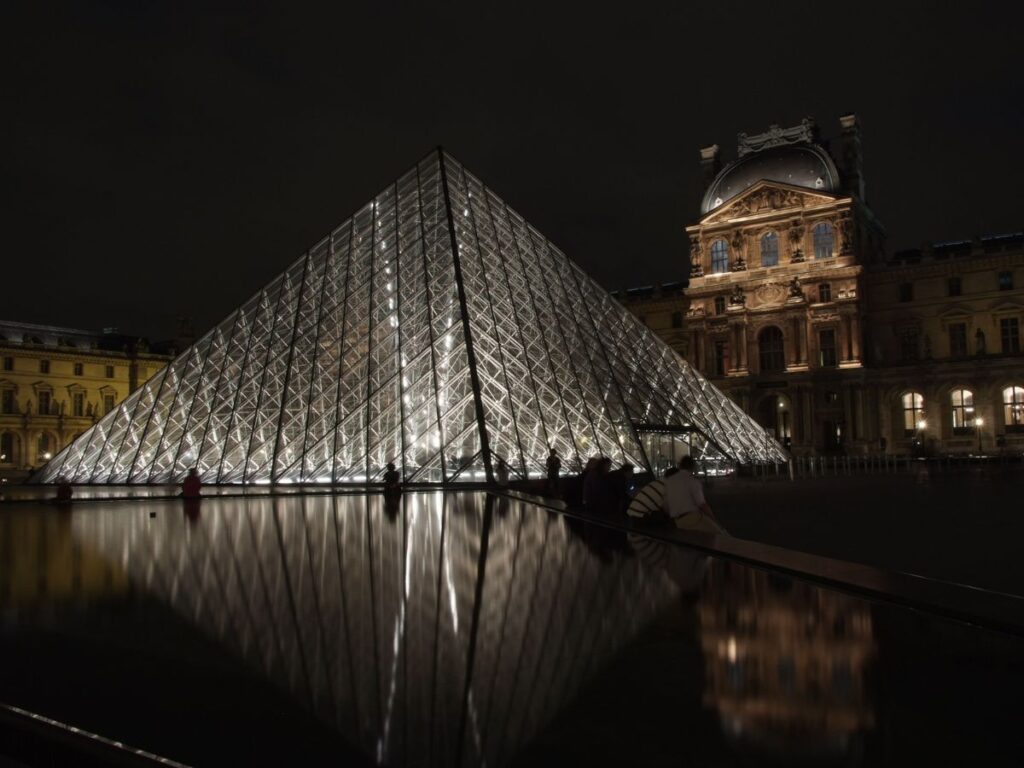 A long time ago, in the 12th century, the Louvre was a strong castle. Later, it turned into a royal palace, and now it's a fantastic museum. Inside, there are more than 380,000 things to see, showing how people's creativity changed from really old times to the 1800s.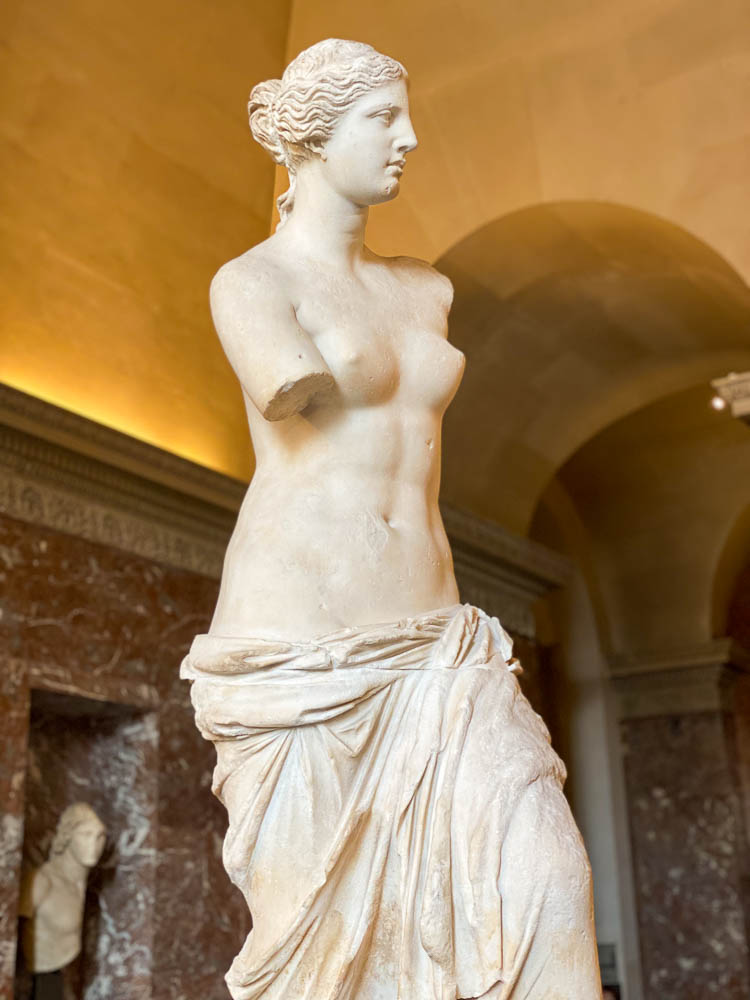 You might know about the Mona Lisa painting and the Venus de Milo statue. These are just two of the amazing things you can find there. So make sure to buy skip the line tickets online!
Going to the Louvre in October is great because there are fewer people around. Plus, the leaves on the trees are turning beautiful colors, making everything even nicer.
Take a guided tour to make the visit worthwhile.
But the Louvre isn't just interesting because of the art. It's also amazing to look at. There's a special glass pyramid at the front, which was put there in the 1980s. This pyramid mixes old and new styles.
Wander through Montmartre
This artsy neighborhood is a must on your list of things to do in Paris in October and trust me, you won't want to miss it.
Montmartre wasn't always like this, though. Once upon a time, it was a simple village, but then something magical happened. It transformed into a haven for creative souls in the late 19th and early 20th centuries.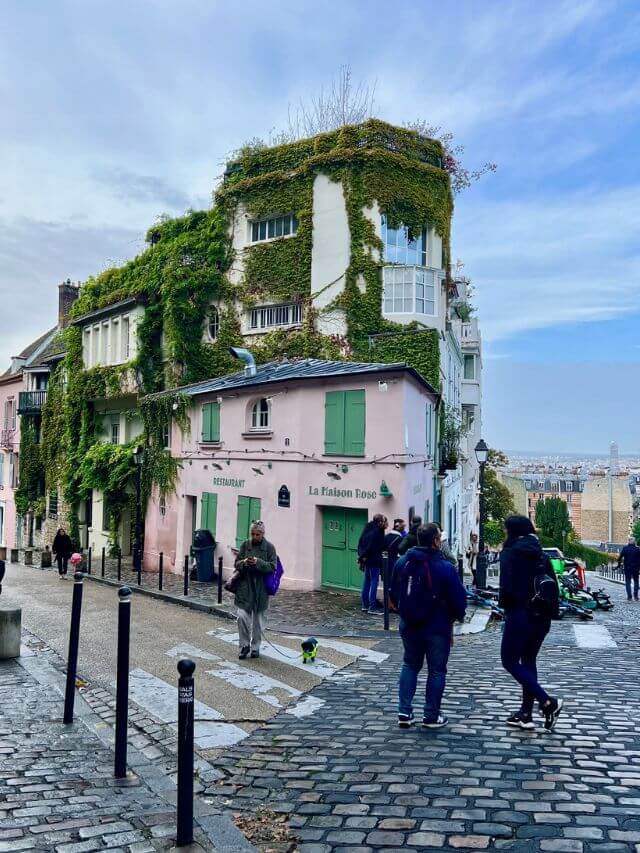 Now, here's a gem you've got to discover in Montmartre: Place du Tertre. Back in the day, legends like Picasso and Utrillo painted their dreams on this very spot. It's like walking through history, feeling the echoes of their artistry still in the air.
But that's not all. Perched high on the hill is the Sacré-Cœur Basilica. Imagine standing there and gazing out at panoramic views that have inspired countless artists.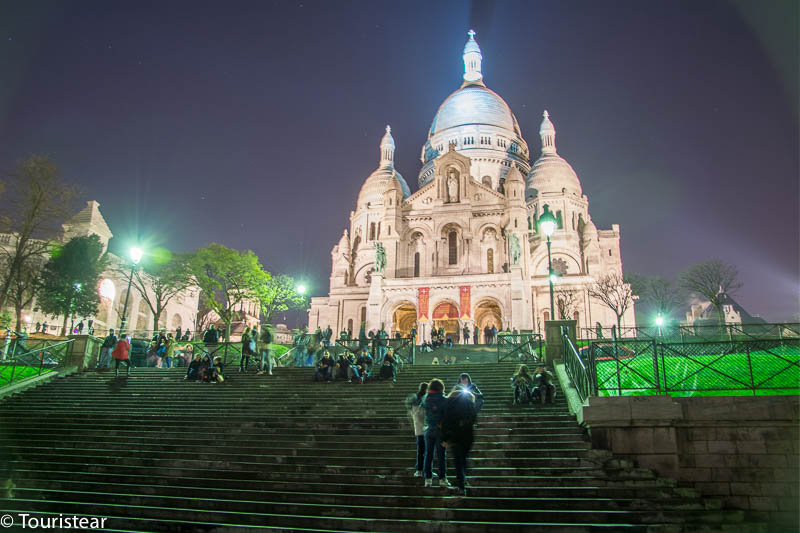 Did you know that Montmartre played a role in the birth of cinema? Yep, the Lumière brothers, those pioneers of motion pictures, hosted the world's very first public film screening right here in 1895.
As you soak in the creative vibes and storied past of Montmartre in October, make sure to choose comfy yet Paris-October outfits. Those cobblestone alleys deserve a fashion-forward touch.
Oh, and for your footwear, I've got a brilliant suggestion: the Canyon shoes. They're the perfect blend of comfort, style, and practicality—ideal for exploring Montmartre's charming streets.
Climb the Eiffel Tower
The Eiffel Tower, Paris's heart since 1889, once faced doubters at its World's Fair debut. This 324-meter iron wonder defied time and criticism, standing tall as a masterpiece by Gustave Eiffel.
Imagine October in Paris, a canvas of warm hues. Picture ascending the Eiffel Tower against this backdrop. The view unfolds, revealing shifting seasons like nature's art show—you're part of this living canvas.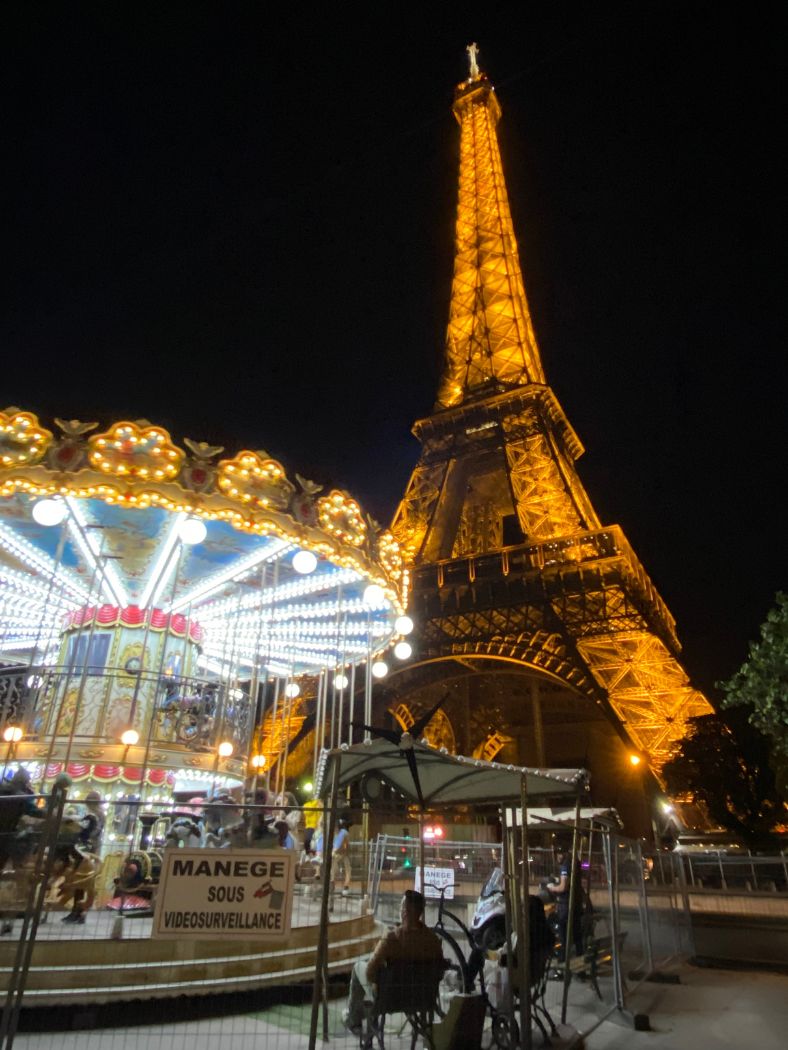 For the adventure seeker, two routes to the top await the elevator or the classic climb. Either way, a Paris panorama awaits, leaving you speechless.
The Eiffel Tower holds history. In World War II, its metal beams aided radio transmissions, saving Paris from German control.
Now, speaking of Paris in October and what to wear, let's dive in. As the weather cools mildly, layering becomes your ally. Start with a cozy sweater and top it off with a stylish jacket.
And if a night tour under the stars calls your name, throw on a base layer to keep the evening chill at bay.
Embark on a Disneyland Adventure in Paris
Visiting Paris in October brings a special surprise: Disneyland Paris gets all dressed up for Halloween! The park combines American and European traditions to make a mix of spooky and fun that's really exciting.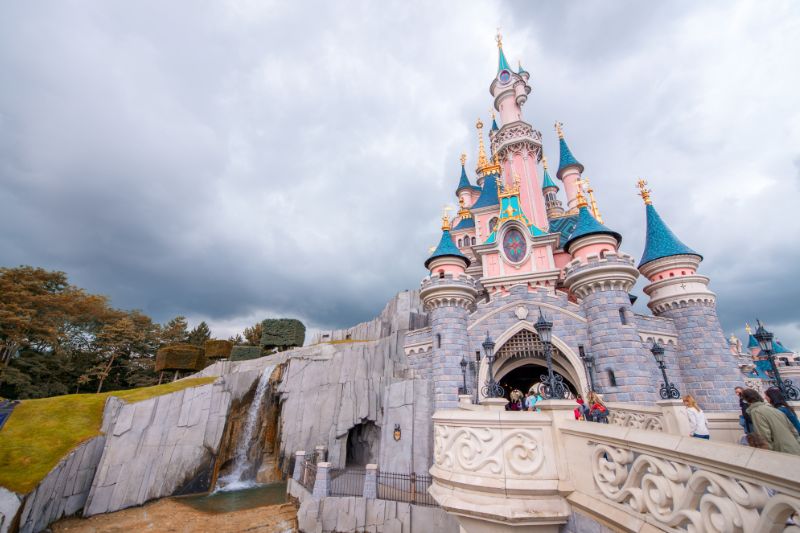 When you go in, you'll see Halloween decorations, costumes, and things to do that are just for this time of year. It's like stepping into a whole new world of Halloween fun!
Disneyland Paris's Sleeping Beauty Castle looks taller than castles in other Disney parks. They use a trick called forced perspective to make it seem bigger, even though it's not as big as it looks.
So, while you meet your favorite characters and go on exciting rides, remember that the magic isn't only in the costumes—it's in everything around you. Buy tickets to experience the fun!
Stroll along the Champs-Élysées
If you're planning to visit Paris in October, don't forget to walk along the Champs-Élysées. It's called "the most beautiful avenue in the world." This famous street in Paris has a really long history. It started as a royal garden and now it's a busy avenue we all like.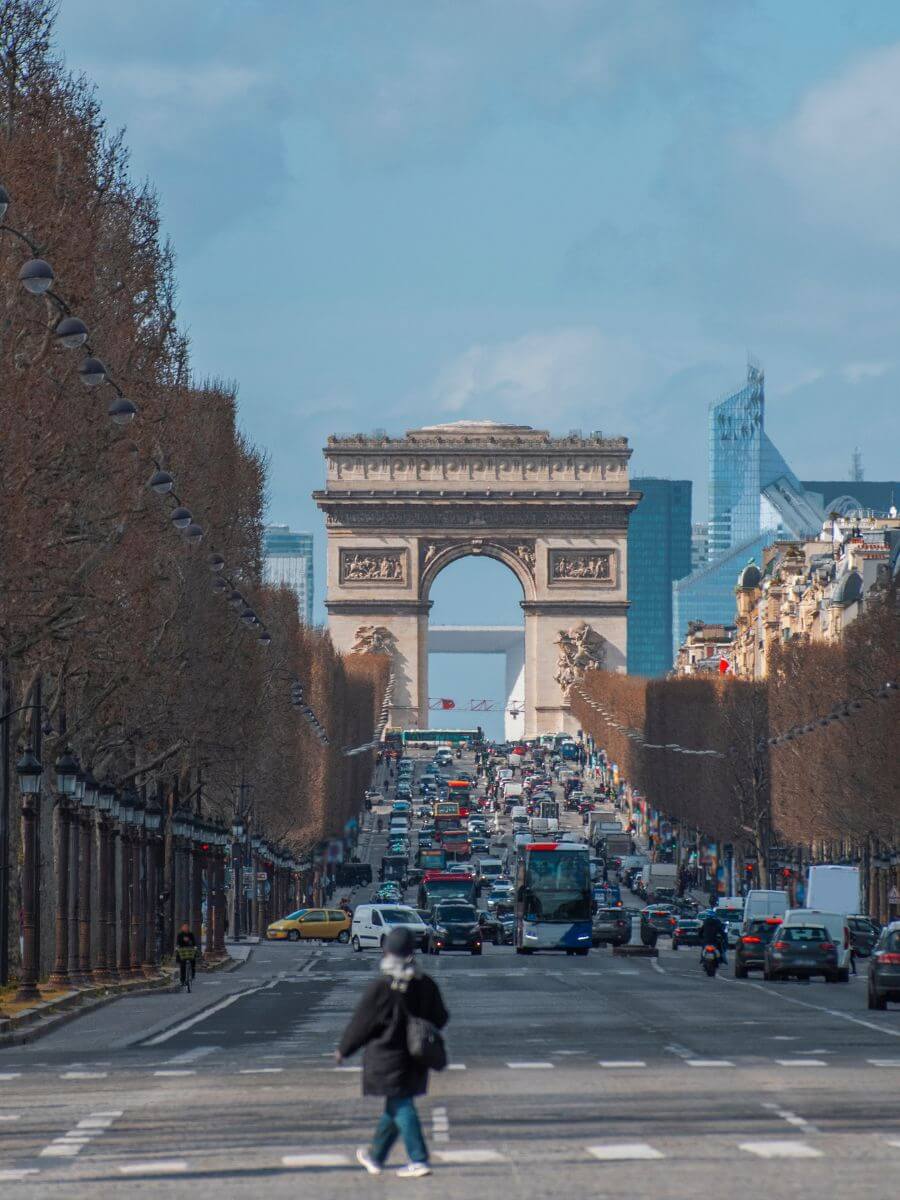 October comes, and the trees on the avenue change their leaves to pretty autumn colors. It looks like a scene from a fairy tale.
So, if you're exploring Paris, make sure to visit the Champs-Élysées. It's not just a street; it's like taking a trip back in time with the pretty fall colors. And it has cool stories too! Enjoy its beauty and hear its history.
Take a Cruise on the Seine River
Paris in late October is just imagining the magic! The Seine River becomes something special. It's like a star in a fairy tale that's waiting for you to discover.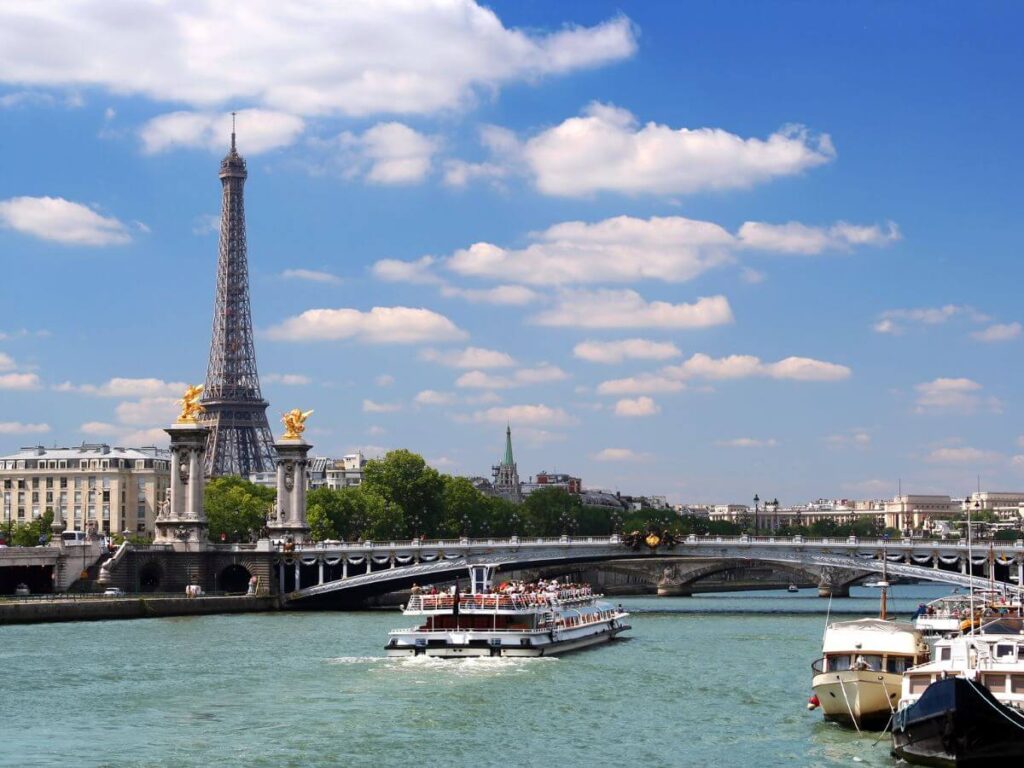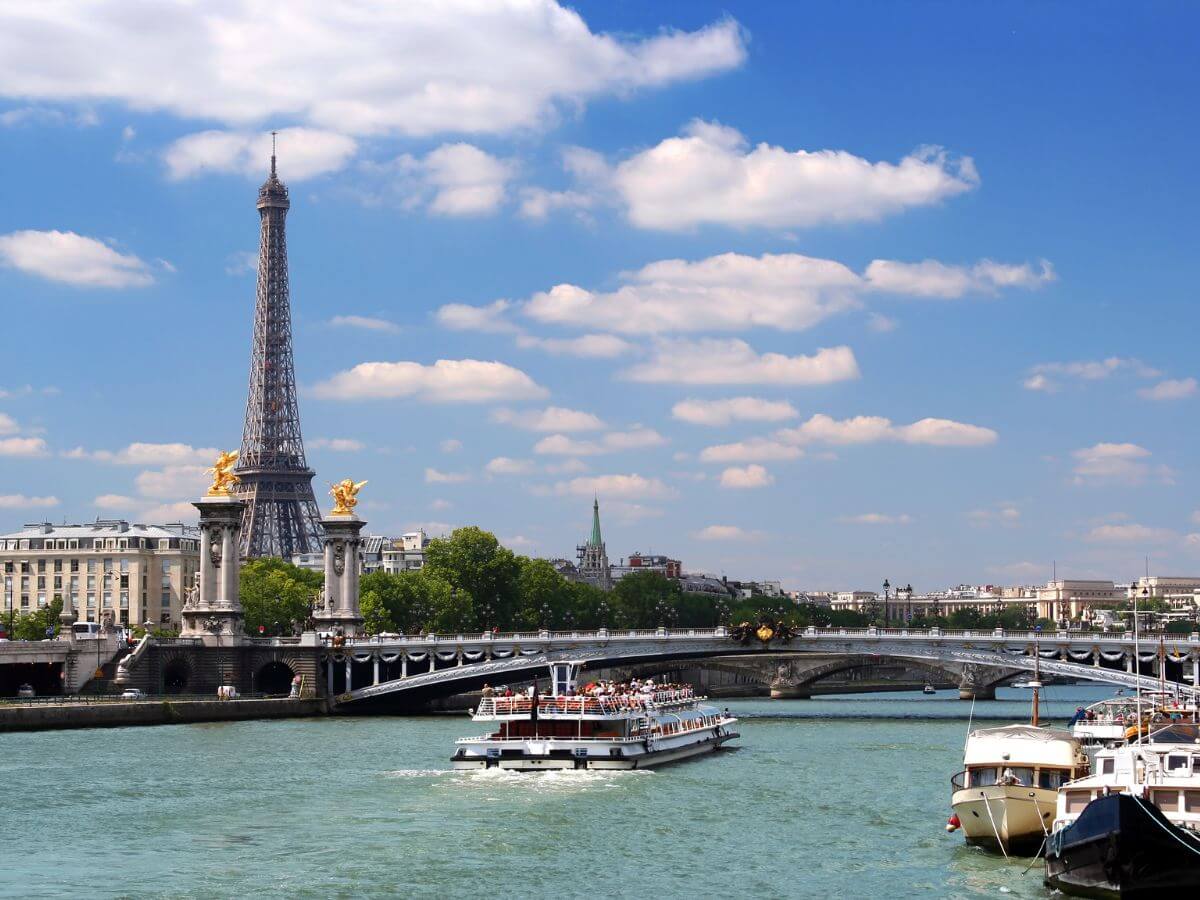 The sun goes down, and the lights in the city start to sparkle. You're on a boat, floating on the Seine at night, and in front of you, there's the Notre Dame Cathedral, the Louvre, and the Eiffel Tower, all shining bright.
The Seine River has 37 bridges. Each one has a story from a long time ago. It's like going back in time while you're on the water.
There's a statue called "Zouave" on a bridge called Pont de l'Alma. This statue helps tell if there might be a flood. When the water gets close to the statue's feet, it's like a sign that there could be a lot of water coming.
So, if you're lucky enough to be in Paris in late October, make sure to take a boat ride on the Seine River. It's like going on a trip through time, with the lights of the city showing you the way.
Experience the Moulin Rouge
Paris at the end of October—just the right time to discover something special at the Moulin Rouge. This place has a story that goes way back to 1889 when it brought all the elegance and excitement of the Belle Époque era to life.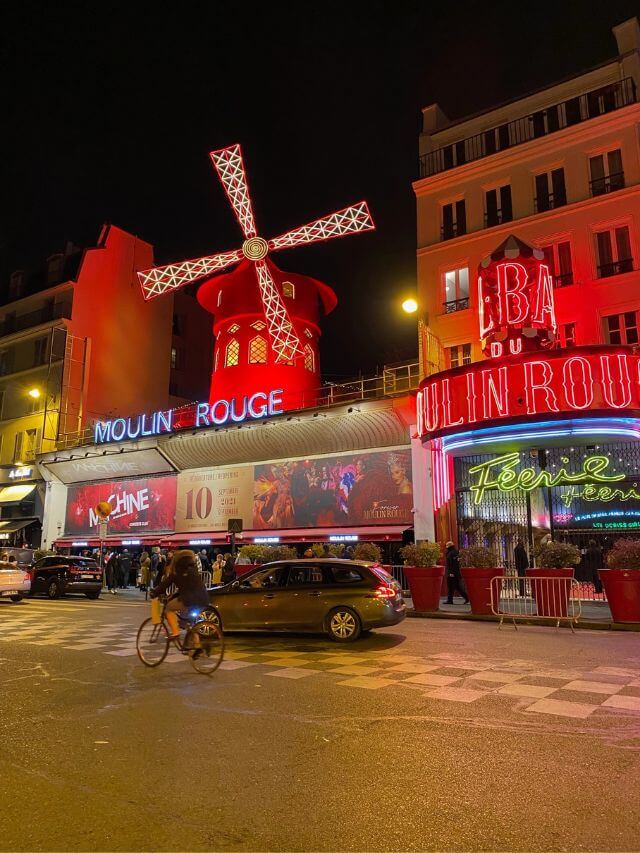 The Moulin Rouge wasn't just about dancing—it changed things up. It introduced the can-can dance, making a splash and breaking the rules of its time. And that red windmill on top? It's like a sign of Paris's nightlife and the power of art.
During World War II, the Moulin Rouge had a secret job. It became a meeting place for the French Resistance, the people who stood up against bad things.
When you're in front of the Moulin Rouge, remember that you're in a place where history happened. It's more than just a show—it's a part of Paris's past and today, a reminder of doing what's right. Watch a cabaret show when in Paris!
Discover Musée d'Orsay
Let's chat about a special spot that's like a time machine for art and history, especially if you're in Paris in early October—the Musée d'Orsay. Imagine walking into a big, fancy train station that's not just a building.
From the years 1848 to 1914, you can see amazing paintings. It's like going back in time as you look at really important paintings by famous artists like Monet, Renoir, and Van Gogh. Each brushstroke on the canvas tells a story from a long time ago.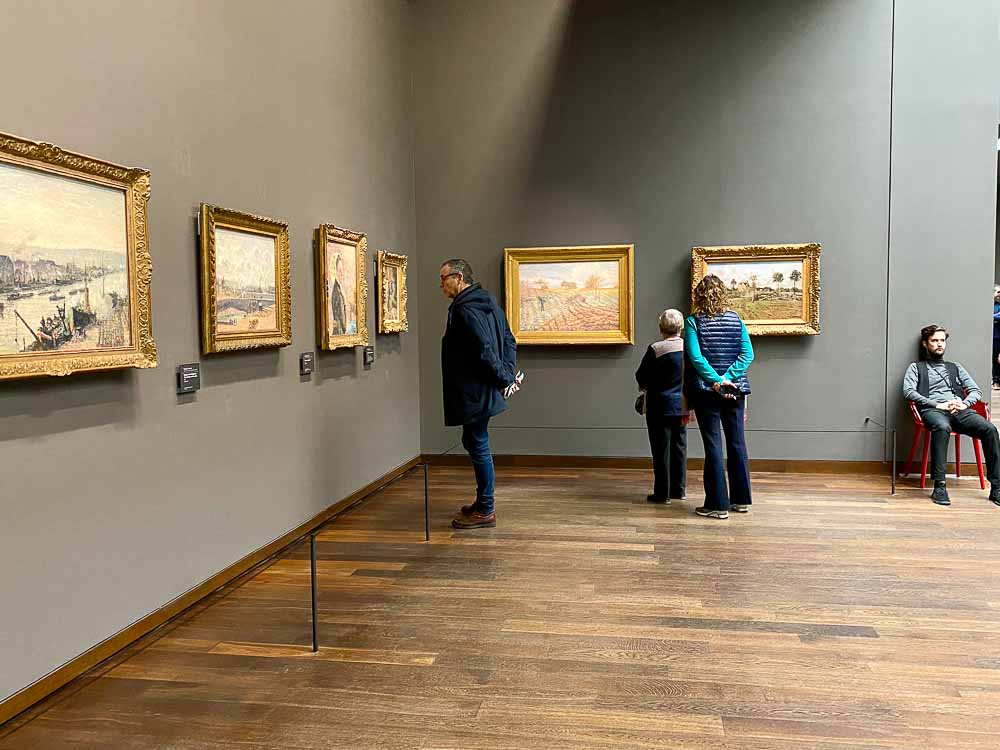 But here's something cool. The Musée d'Orsay isn't just about paintings—it's also a part of history itself. Before, it was a train station where people traveled to France and Spain.
Now, it's a place for art that still keeps the cool design of the old station. Get a skip-the-line ticket to witness the amazing interior of the museum and its masterpieces!
Explore the Catacombs of Paris
Under the busy city streets, there's a hidden world full of history and mystery. Visiting the Catacombs of Paris is like stepping into a totally different place.
Way back in the 18th century, the Catacombs became the resting spot for about six million people. Their remains were moved from crowded cemeteries to this underground maze. So, as you explore these passages, you're stepping into a spot that holds a piece of Paris's past.
There's more to the story. During World War II, the Catacombs were secretly used by the French Resistance. They used this hidden space to hide and plan their missions.
As you check out the Catacombs, it's not just about being spooked—it's a deep dive into history that's exciting and a bit mysterious.
Cycle along the Petite Ceinture
Paris in October is the perfect time for a unique adventure: exploring the Petite Ceinture. A former railway line that used to encircle the city, is now transformed into a playground for curious souls.
As you pedal along its paths, get ready to be amazed. You'll come across old train stations that time has forgotten, tracks embraced by nature's growth, and charming spots of greenery that have taken over this once-forgotten space.
But there's more to the tale. Cycling the PETITE CEINTURE isn't just an adventure—it's like unwrapping layers of Paris's history. Every rail and overgrown path whispers stories of the past, living proof of how the city has evolved over time.
Join a Ghost Tour
Think of ghost tours that take you on a journey through stories of the past, filled with legends, mysteries, and supernatural tales. It's like entering a different world within the city—a world of mystery.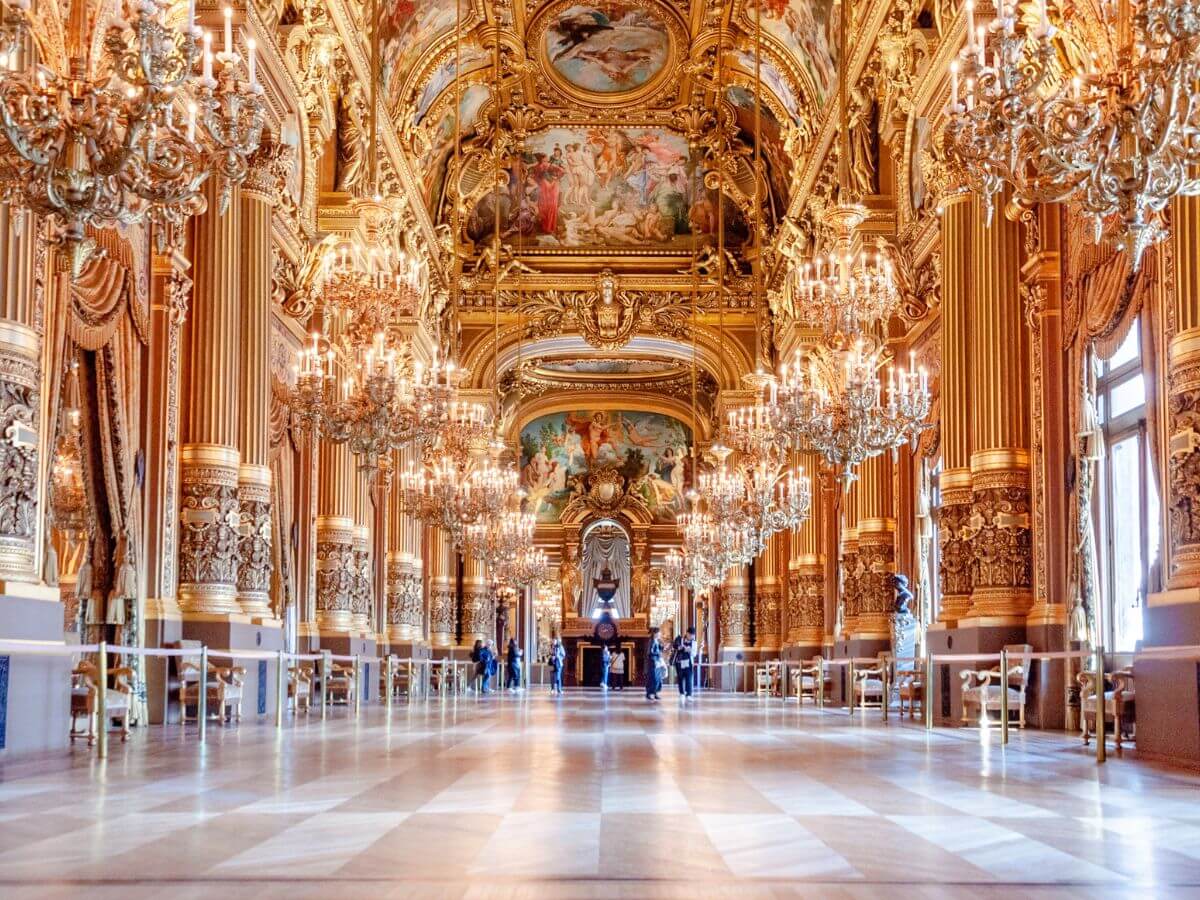 The Grand Opéra Garnier isn't only a place for shows. Some say it has its own phantom, the same one that inspired "The Phantom of the Opera." As you wander through its beautiful halls, you might feel the phantom's presence lingering. Buy entry tickets online.
So, if you're looking for exciting things to do in Paris in October, a ghost tour is a must. It's more than just a walk; it's a chance to uncover the city's hidden side, where spooky stories come alive!
Visit Père-Lachaise Cemetery
If you're in Paris during October, you've got a chance to step into history at the Père-Lachaise Cemetery started way back in 1804.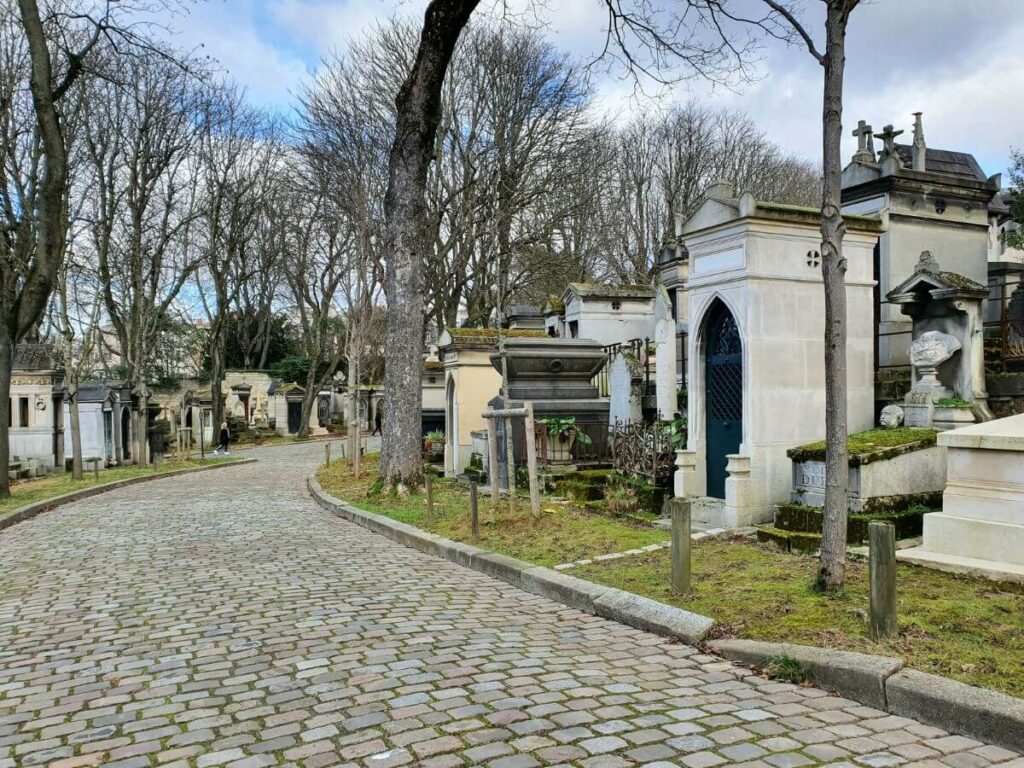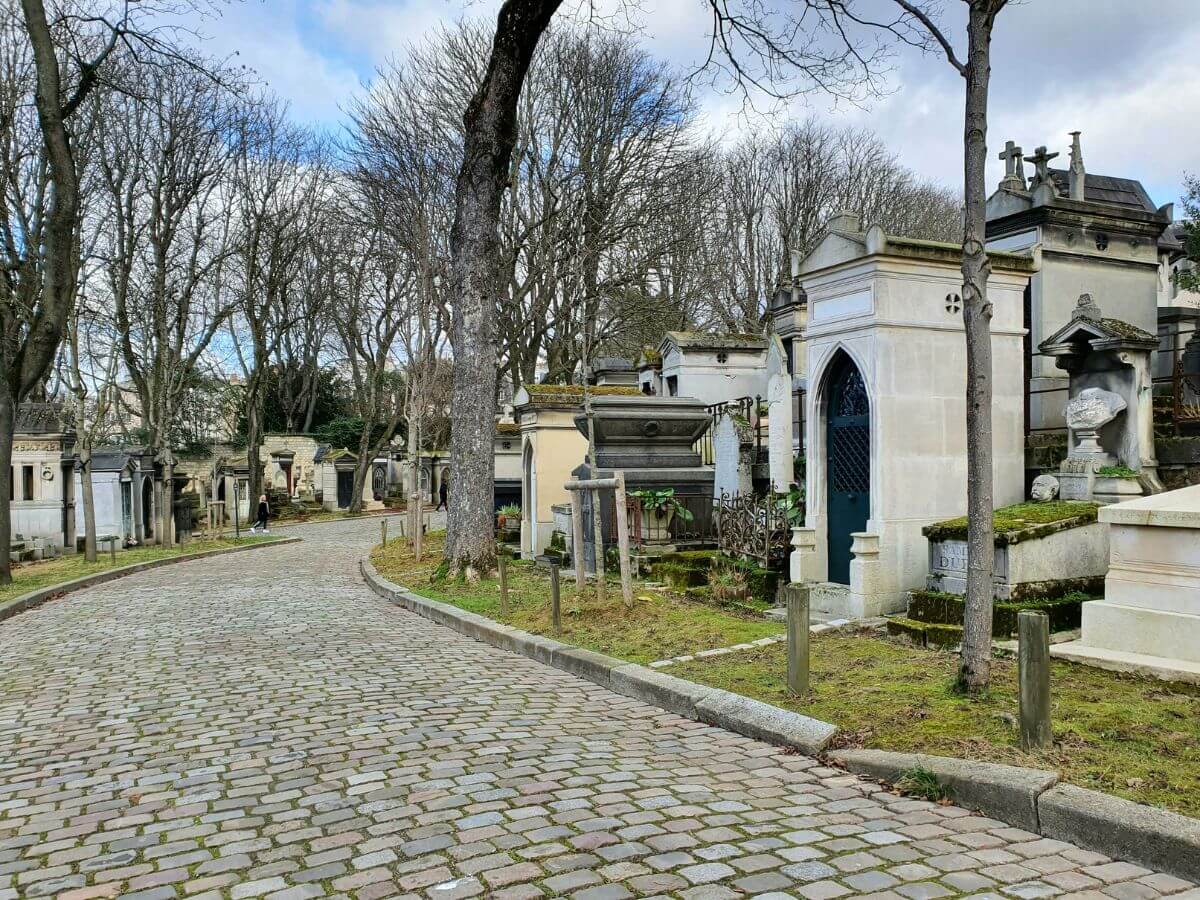 As you explore with a guide, you'll find the spots where really famous people are buried. Just imagine standing by the graves of big names like Oscar Wilde and Jim Morrison. It's almost like you can feel their importance in the air.
The Père-Lachaise Cemetery also has something called the Mur des Fédérés. It's a wall that remembers the Paris Commune from 1871, like a tribute to the city's strength and the stories of regular folks who became part of history.
Make the Most of the Museum Pass
Hold onto a special key—the Museum Pass. It's like a magic ticket to history and art. With this pass, doors swing open to amazing places.
One gem unlocked by the pass is the Rodin Museum. It's all about sculptures by the genius Auguste Rodin. But there's more magic—this museum lives in the Hôtel Biron, a fancy mansion from way back.
You can hop from the Grand Palace of Versailles to other hidden gems. Each spot is a thread weaving the story of Paris. So, if Paris in October is your plan, don't miss this pass.
October Events in Paris
October in Paris is a whirlwind of excitement and culture, with a lineup of events that'll keep you entertained throughout the month. Here's your guide to some incredible happenings:
1. Nuit Blanche (White Night) – October 2, 2023
The city comes alive as art takes over the streets during Nuit Blanche. Imagine wandering through illuminated installations and performances that transform Paris into a breathtaking open-air gallery.
2. Jazz Sur Seine – October 11-24, 2023
For music lovers, Jazz Sur Seine is a treat. From cozy clubs to iconic venues, the city resonates with smooth melodies during this jazz festival. It's an opportunity to discover new talents and immerse yourself in the soulful rhythms of jazz.
3. Foire Internationale d'Art Contemporain (FIAC) – October 20-23, 2023
Art enthusiasts, get ready for FIAC, a prestigious contemporary art fair that gathers galleries and artists from around the world. The Grand Palais becomes a hub of creativity, showcasing cutting-edge works that challenge and inspire.
4. Paris Fashion Week – October 25 – November 2, 2023
Fashionistas, Paris Fashion Week is your chance to witness the latest trends and designs from renowned designers. From iconic runways to chic after-parties, the city becomes a runway itself, celebrating style, elegance, and innovation.
Take a guided fashion history tour.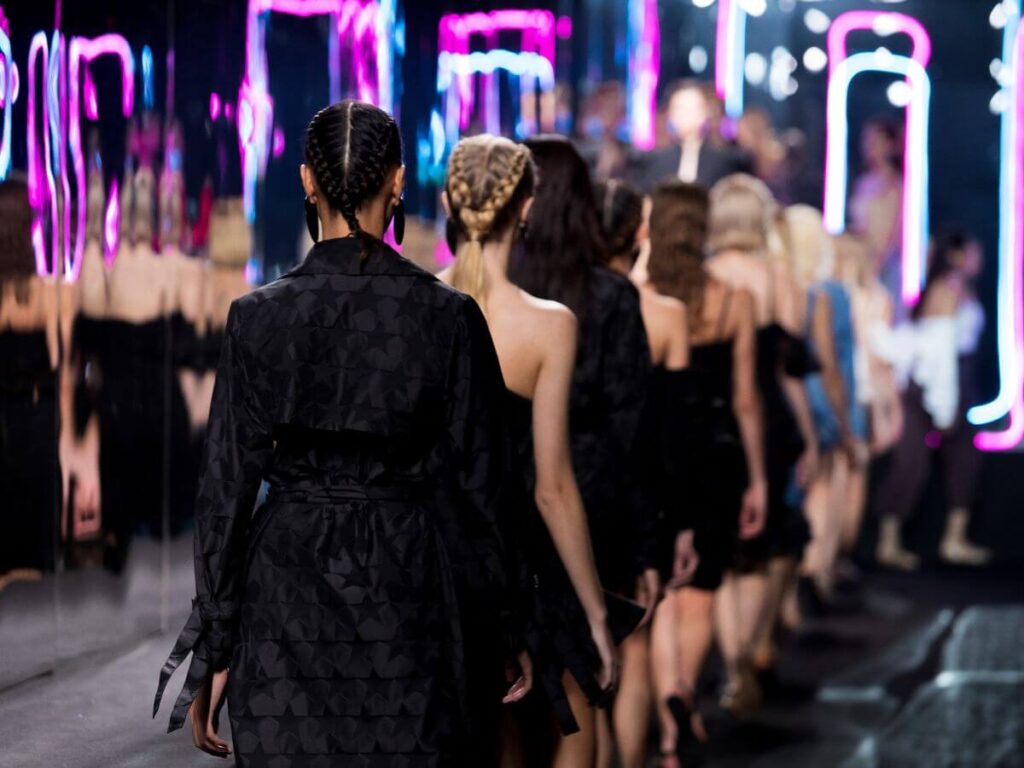 5. Salon Du Chocolat – October 27 – November 1, 2023
Calling all chocolate lovers! The Salon Du Chocolat is a paradise of cocoa creations, where chocolatiers showcase their finest treats. Imagine indulging in exquisite chocolates, attending workshops, and exploring the delicious world of chocolate.
6. Halloween – October 31, 2023
Spooky vibes take over on Halloween. While not as deeply rooted in the French tradition, you'll find themed parties and decorations around the city. It's a fun opportunity to embrace the spirit of Halloween, Parisian style.
7. Fête des Vendanges (Wine Harvest Festival) – October 4-8, 2023
Head to Montmartre for the Fête des Vendanges, a joyful celebration of the wine harvest. With parades, tastings, and street performances, this festival offers a vibrant glimpse into Paris's wine culture.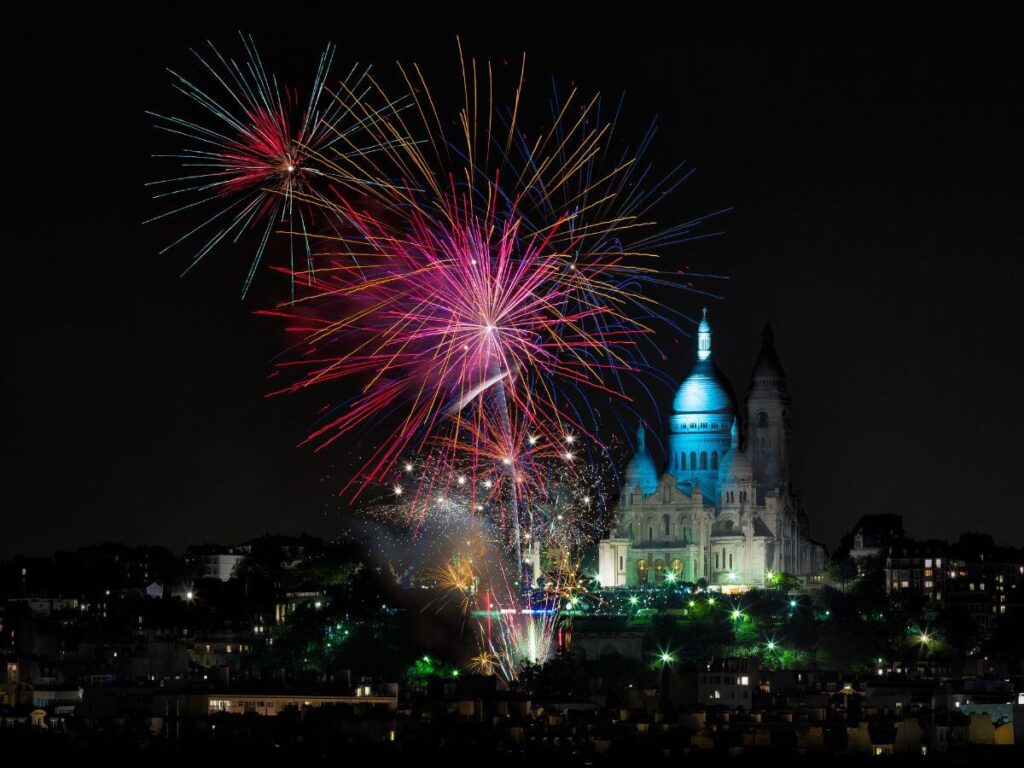 8. Festival d'Automne – Throughout October
For art and performance lovers, the Festival d'Automne offers a diverse program of contemporary arts. From dance to theater to visual arts, the festival showcases a range of creative expressions that'll leave you inspired.
Best Tips for Visiting Paris in October
Absolutely, visiting Paris can be an amazing experience. To make the most of your trip, here are the 10 best tips to consider:
Plan Ahead and Book Flights Early: Book your flights well in advance can help you secure better deals and avoid last-minute price hikes. For payments, use a Wise card or create an account for online payments.
Travel Insurance: It provides peace of mind in case of unexpected events like flight cancellations, lost baggage, or medical emergencies. Buy a travel insurance before your trip and get 5% off!
Weather Preparation: Paris weather in October can be unpredictable, ranging from mild to chilly. Pack layers, a light jacket, and a travel umbrella to stay comfortable no matter the conditions.
Consider a Rental Car or Train: While Paris has excellent public transportation, renting a car can be useful for exploring nearby regions. Alternatively, the efficient train system can take you to charming destinations like Versailles or the Loire Valley.
Get a Travel Card: Consider purchasing a Paris Visite Pass or a Navigo Découverte card for unlimited travel on the city's public transportation network.
Stay Connected with an Internet SIM: To stay connected on the go, get an internet SIM card or portable Wi-Fi device. Having reliable internet access makes navigation, communication, and sharing your experiences much easier.
Enjoy Smaller Crowds: October is a less crowded time to visit, compared to the peak tourist season. You'll have a chance to explore attractions without long lines and savor a more relaxed Parisian atmosphere.
Experience Fall Foliage: Witness the city's beautiful transformation as autumn colors paint the streets and parks. Iconic Paris gardens like Champs de Mars and Tuileries Garden offer picturesque settings for leisurely strolls.
Sample Seasonal Delights: Indulge in the fall flavors of Paris. Head to patisseries for seasonal pastries, enjoy warming cups of hot chocolate and savor French cuisine featuring autumn ingredients.
Attend Local Events: Keep an eye out for local events, like wine festivals, art exhibitions, and jazz concerts. These cultural happenings allow you to immerse yourself in Parisian life and make lasting memories.
Weather in Paris in October
Ah, let's talk about the average temperature in Paris in October hovers between 10°C to 15°C (50°F to 59°F).
It's a mild embrace from Mother Nature. Days are pleasant, blending sunny moments with a sprinkle of rain now and then. As the month rolls on, temperatures gently dip, and evenings carry a cozy chill, around 8°C to 10°C (46°F to 50°F).
Where to Stay in Paris
Wondering where to stay in Paris this October? With autumn's beauty painting the city, let me guide you to the coziest and most convenient accommodations for your memorable stay.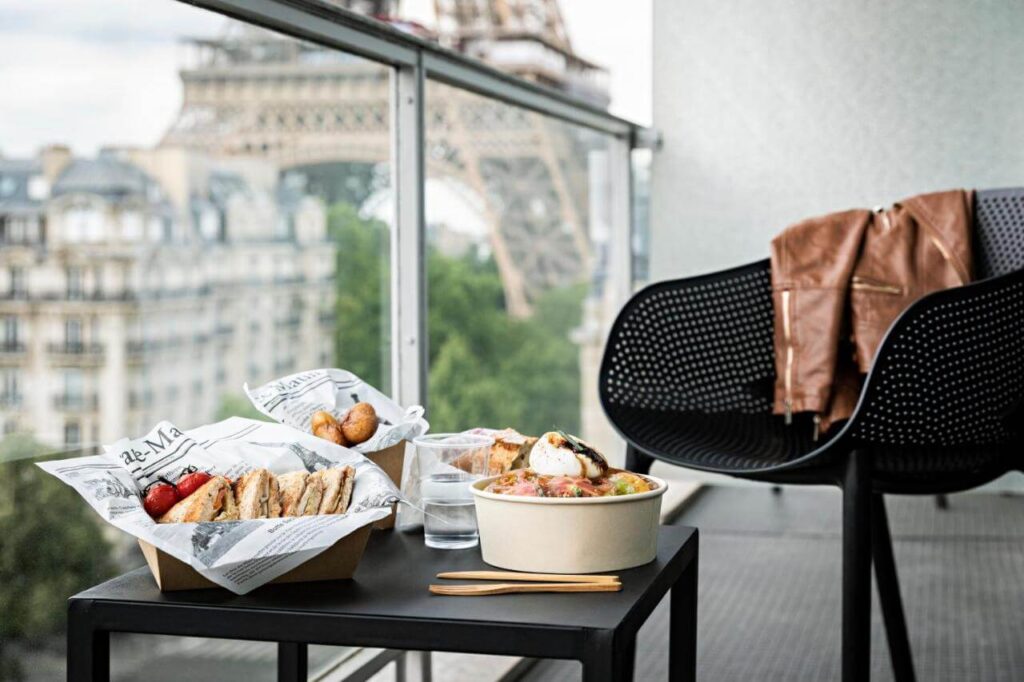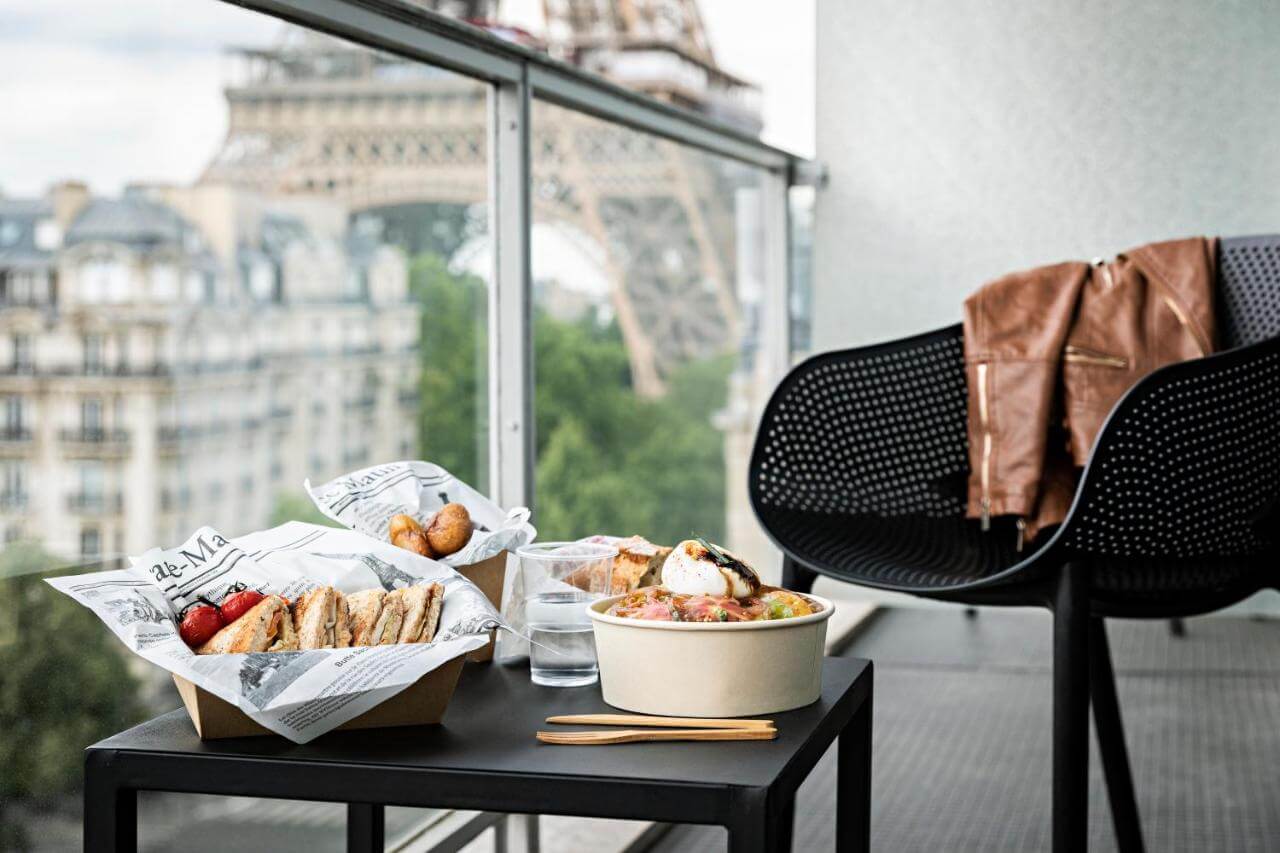 Hotel Pullman Paris Tour Eiffel: This hotel is a great choice if you're looking for a modern and comfortable experience with a view of the Eiffel Tower. It's close to various attractions and offers amenities like a fitness room, bar, and restaurant.
Hôtel Plaza Athénée: If you're seeking a luxurious and elegant stay, Hôtel Plaza Athénée offers a prime location and a beautiful setting. The hotel's upscale amenities, including multiple restaurants and an ice skating rink in winter, make it an excellent option.
Shangri-la Paris: For those looking for a combination of Asian-inspired luxury and spectacular views, Shangri-la Paris is an outstanding choice. With its listed palace status, Michelin-starred restaurants, and exceptional views of the Eiffel Tower, it offers a truly opulent experience.
Frequently Asked Questions
Is October a Good Time to Go to Paris?
Yes, October is a good time to visit Paris, with mild weather, fewer crowds, and beautiful fall foliage.
Is Paris Better in September or October?
Both months offer pleasant weather and fewer tourists. September has slightly warmer days, while October features vibrant autumn colors.
What to Wear in Paris in October?
Pack layers: light sweaters, jackets, and scarves. Comfortable shoes for walking, as temperatures range from cool mornings to mild afternoons.
If you're visiting Paris in October, you're in for a treat. The city welcomes you with a comfortable climate, inviting you to explore every nook and cranny while basking in the autumnal charm. Get ready to fall in love with Paris all over again, surrounded by its cozy embrace.
Plan Your Trip to Paris
This post may include affiliate links. This means that we will receive a small commission if you make a purchase through our links. It has no additional cost for you. With this, you help us to continue creating free content for you.
This post may include affiliate links. This means that we will receive a small fee if you make a purchase through our links. It has no additional cost to you. It's a win-win!