Christmas Food in France: a Guide to Traditional Delights
Christmas in France is a truly magical time of year, and the food that graces tables across the country is an integral part of the holiday celebrations.
French cuisine is known for its rich flavors and elegant presentations, and during the holiday season, these culinary delights take center stage. Traditional dishes and regional specialties showcase the art and diversity of French gastronomy.
In France, Christmas is known as Noël. Typically, families gather on Christmas Eve, starting around 8 p.m. and continuing late into the night.
This holiday allows families and friends to get together and enjoy some of the country's most delicious dishes.
From roast turkey with chestnut stuffing and cranberry sauce to luxurious cheese platters with truffle-dusted Brie or Brillat-Savarin with triple cream, the French Christmas menus are meticulously selected to offer guests a truly unforgettable dining experience.
Christmas Tradition in France
Christmas (or Noël) is a time to gather with family and friends and enjoy delicious meals in France. The main focus of French Christmas is the sumptuous dinner, "Le Réveillon" (New Year's Eve dinner is also called the same).
The Réveillon menu usually includes a variety of seafood, such as lobster tails, oysters, and snails. These delicious dishes are the cornerstone of French Christmas celebrations, which happen, as they all do, once a year: time to be permissive with the food and try these wonders!
In addition to the emphasis on seafood, various types of meat are also served, including boeuf bourguignon, a succulent stew made with beef, red wine, and vegetables. This dish is a favorite among many French families and is often enjoyed on Christmas Day when they continue to feast together.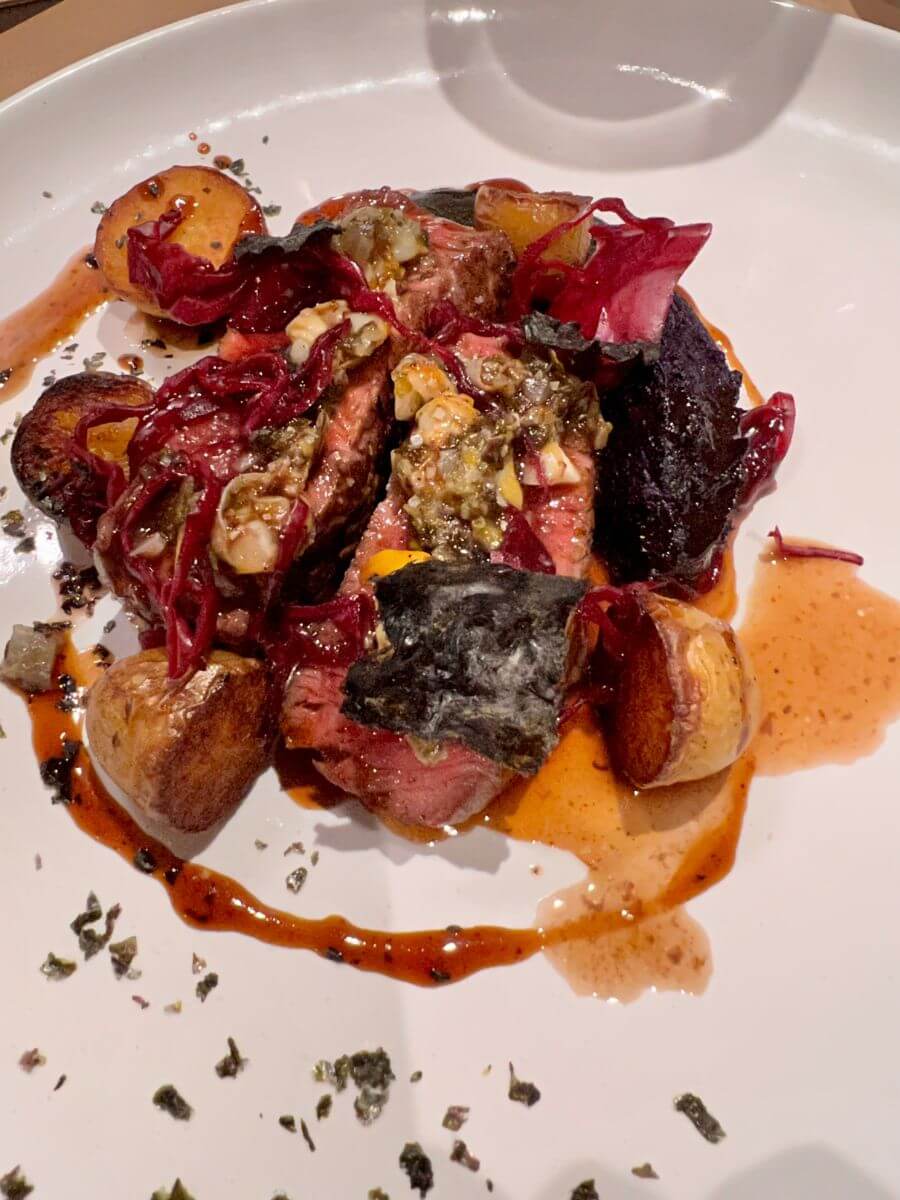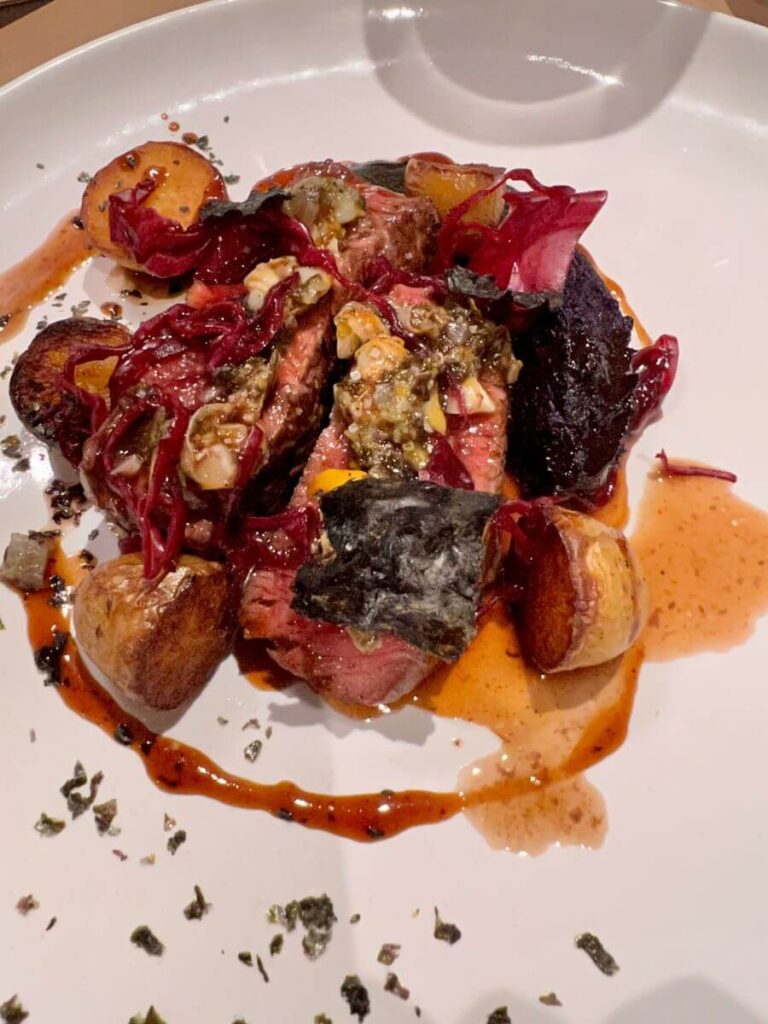 In addition, foie gras is a must in a Réveillon de Noël. It is usually served on a platter with other gourmet dishes, which adds a luxurious touch to the Christmas Eve meal.
If you are in France, from December onwards, you will see in the supermarkets, full shelves of different types of foie gras. The best is the "entier", which means that it is from a single liver and not a mixture of several.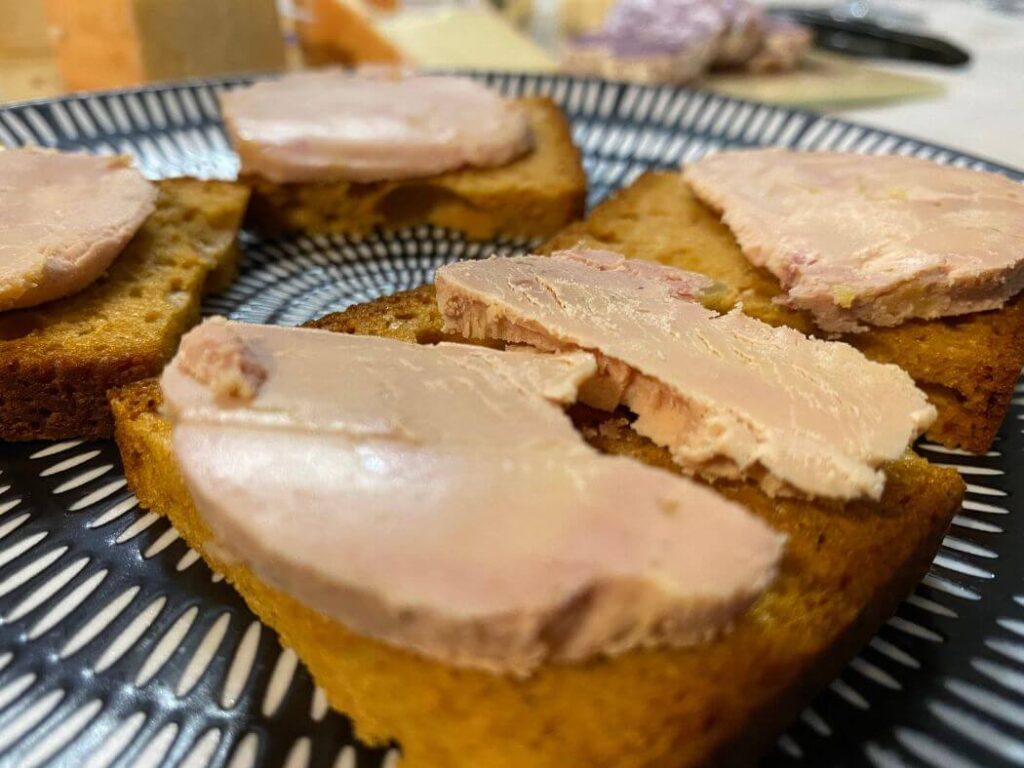 Of course, French Christmas desserts are a must. Traditional sweets include the bûche de Noël, a log-shaped cake made of chocolate sponge cake and buttercream, and the galette des rois, an almond cream-filled cake enjoyed around Epiphany.
Finally, it is worth mentioning the special seasoning of any meal and holiday: there is no Christmas without music, walks, or loved ones. France, in this respect, has its seasonal sounds and places.
French carols, festive Christmas markets, or strolls through beautifully decorated streets complement, along with the company we choose to share the significant date, the Christmas spirit of the festivities.
The Appetizer: The Beginning of the Celebration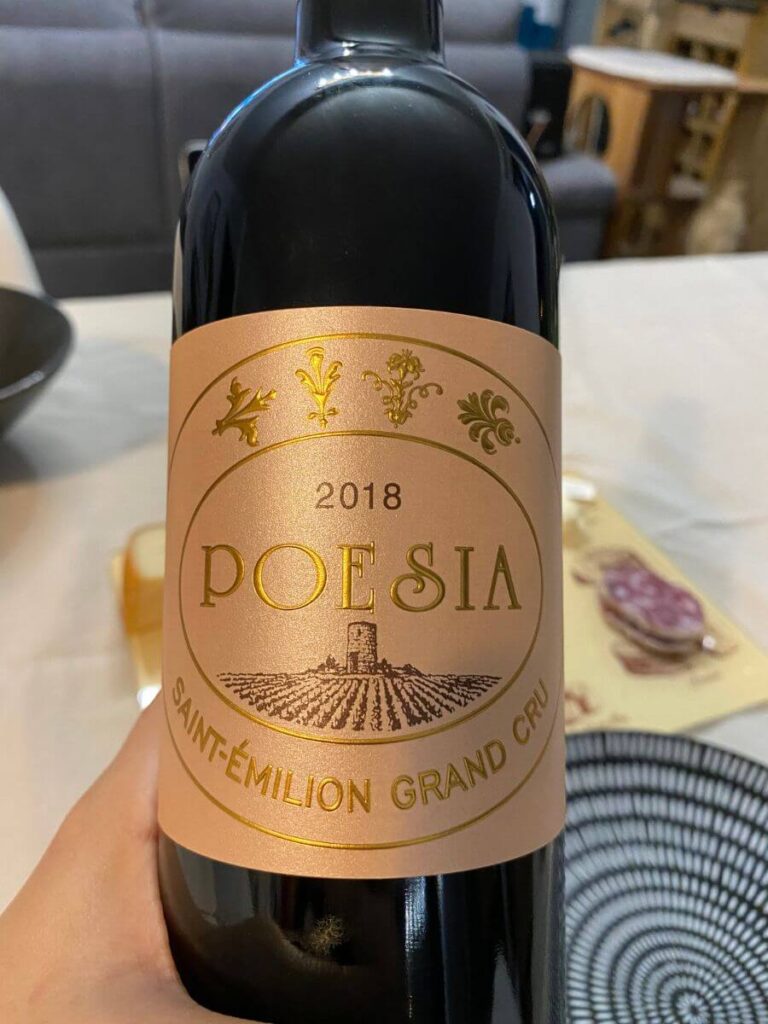 In France, Christmas celebrations often begin with a cherished pre-dinner tradition known as Apéritif (L'Apéro). It is a time when loved ones gather to enjoy small bites, drinks, and casual conversation before the main meal.
Drinks during the aperitif (L'Apéro) are usually kir, cocktails, beer or wine. According to the taste of each one. For those who do not drink alcohol, something typical here is water with mint syrup, cassis, grenadine, etc. (It is also added to beer…).
Kir is a mixture of crème de cassis liqueur and white wine, although there is also the more festive Kir Royale, a tasty cocktail made with syrup and champagne, or the Breton kir, which is made with a cider base.
As for the canapés served, these are small appetizers consisting of a base such as bread or crackers, topped with a variety of ingredients such as cheese, smoked salmon, or other savory delights.
Cheese and charcuterie platters, foie gras and spiced bread (pan d'epice) are also served.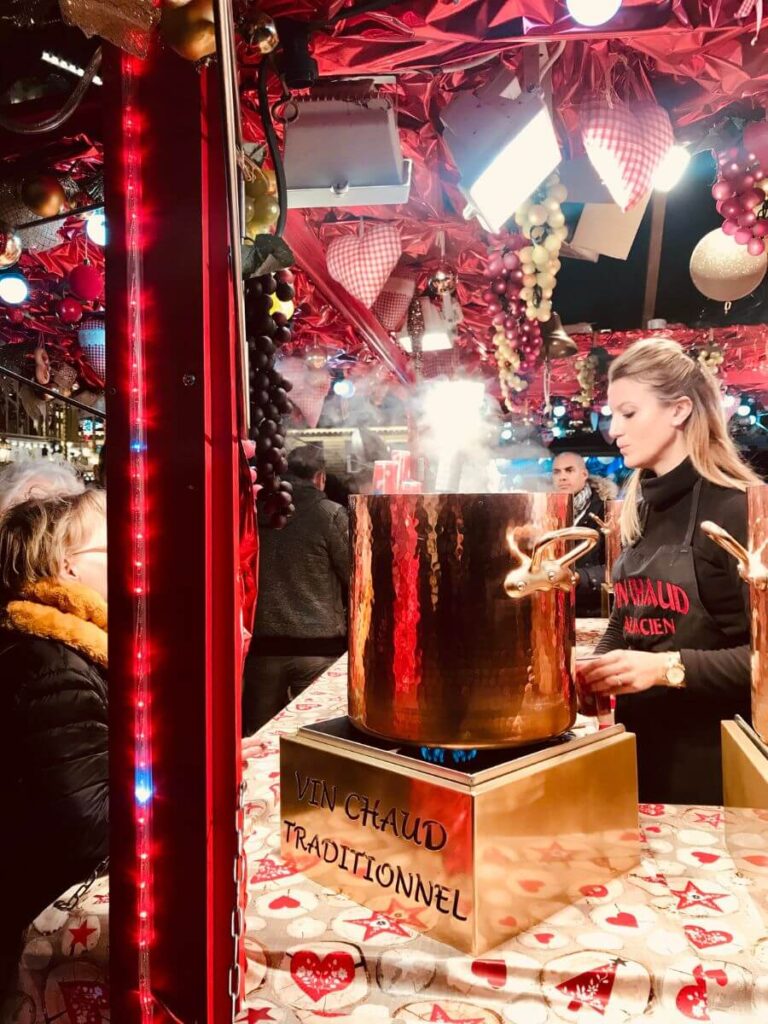 It's worth noting that both the canapés and the later dishes are often not only delicious but also visually appealing, and add a festive touch to the overall holiday experience. As they say, food is enjoyed with all the senses!
Appetizers and Small Bites
What to eat and drink as an aperitif? Here are some classic options to delight the Christmas palate.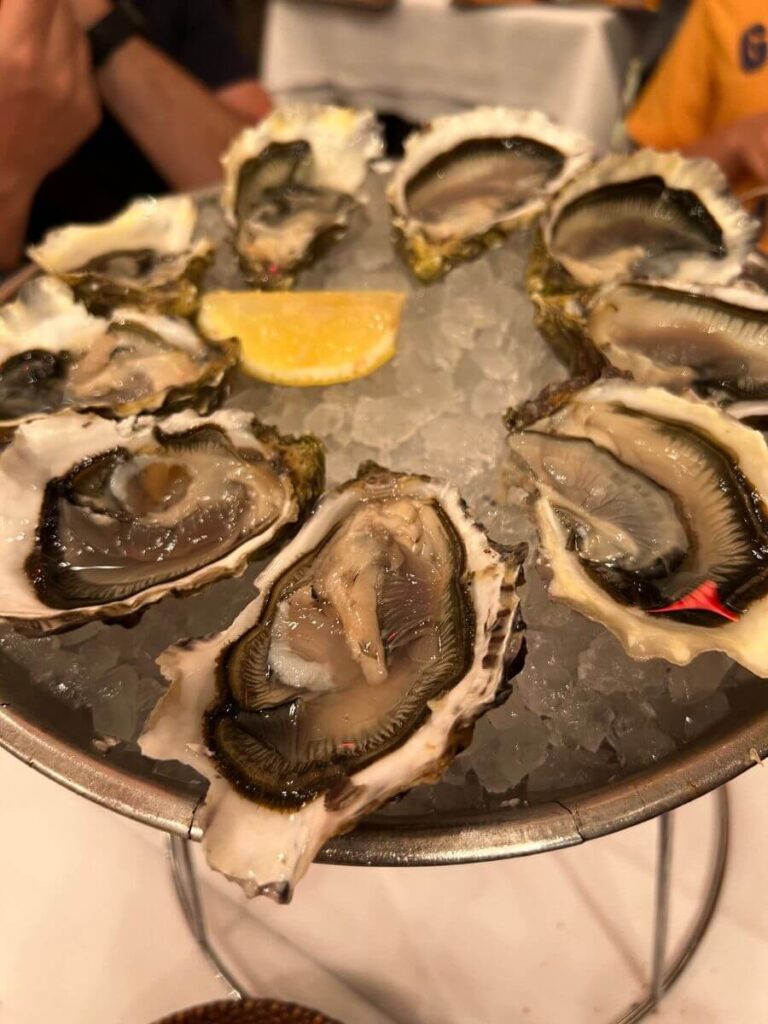 Oysters are a traditional French appetizer, especially during the festive season. Known for their aphrodisiac properties and luxurious flavor, oysters are generally enjoyed raw on the half shell, served with a squeeze of lemon and perhaps a dash of red wine vinegar and shallots.
Foie gras is an essential French delicacy, with its smooth, rich flavor and velvety texture. Foie gras can be served on toast, sliced baguettes or spiced bread.
The experience offers a range of varieties by combining foie gras with sweet fruits, nuts, spices, or a pinch of coarse sea salt for a taste sensation that combines sweet and savory in every bite.
Caviar is synonymous with elegance, and at Christmas, it is all about making a unique experience. In France, caviar is often served on top of miniature blinis with a spoonful of crème fraîche.
A beautifully decorated cheese board is a must on any French Christmas table (and on any French table in general).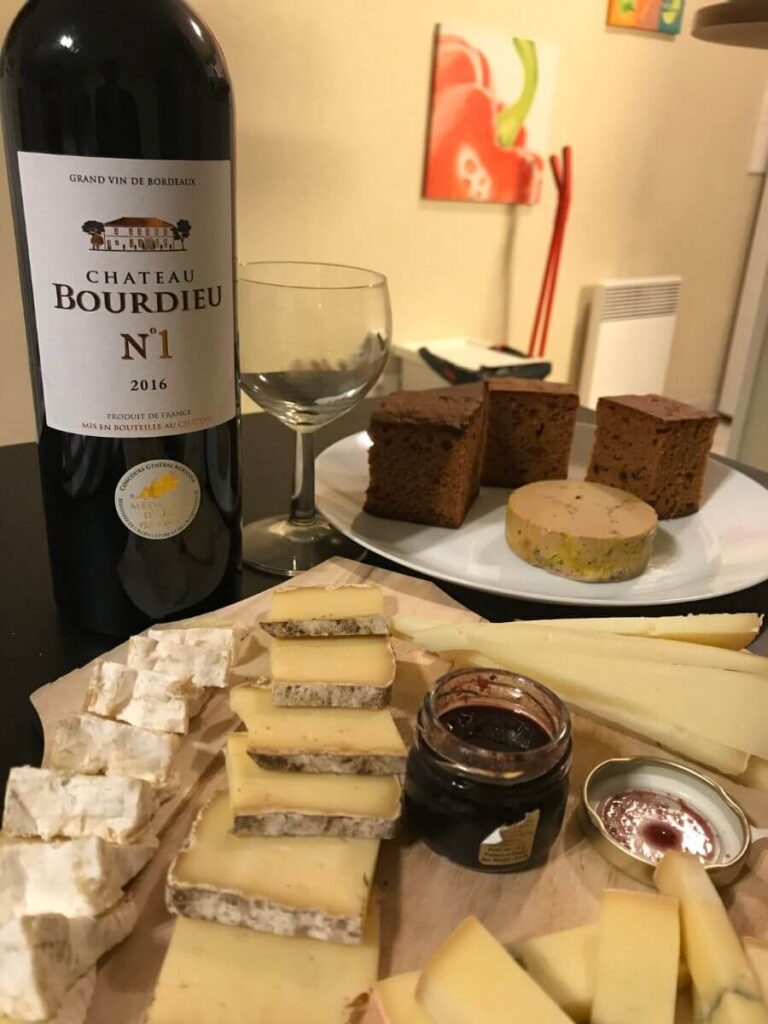 The wide variety of cheeses allows you to choose between the soft Brie, the more pronounced Comté, the strong Roquefort, the creamy Camembert, to name only the most popular.
The cheeses are usually accompanied by a selection of artisanal crackers, sliced baguette and a variety of fresh and dried fruits, nuts and honey.
The smoked salmon adds a touch of elegance to the appetizer. Delicate slices of smoked salmon on small toasts or cucumber slices (or, again, blinis), garnished with a little dill and a squeeze of fresh lemon, are often presented as miniature bites that pair perfectly with various aperitif drinks.
Adding these elegant and delicious appetizers to your French holiday menu guarantees that your guests will be impressed with your culinary experience and appreciate the care and attention you have put into creating a memorable gathering.
Main Courses: the Heart of the French Christmas Dinner
When it comes to main dishes for a French Christmas dinner, there are a variety of options to choose from. These festive dishes often feature the best meats and seafood that France has to offer.
A popular choice is roast duck, goose, or capon. These tasty birds are usually stuffed with delicious fillings such as chestnuts, fruits, or tasty herbs. In some regions, the Dinde de Noël, a French Christmas turkey, also takes center stage.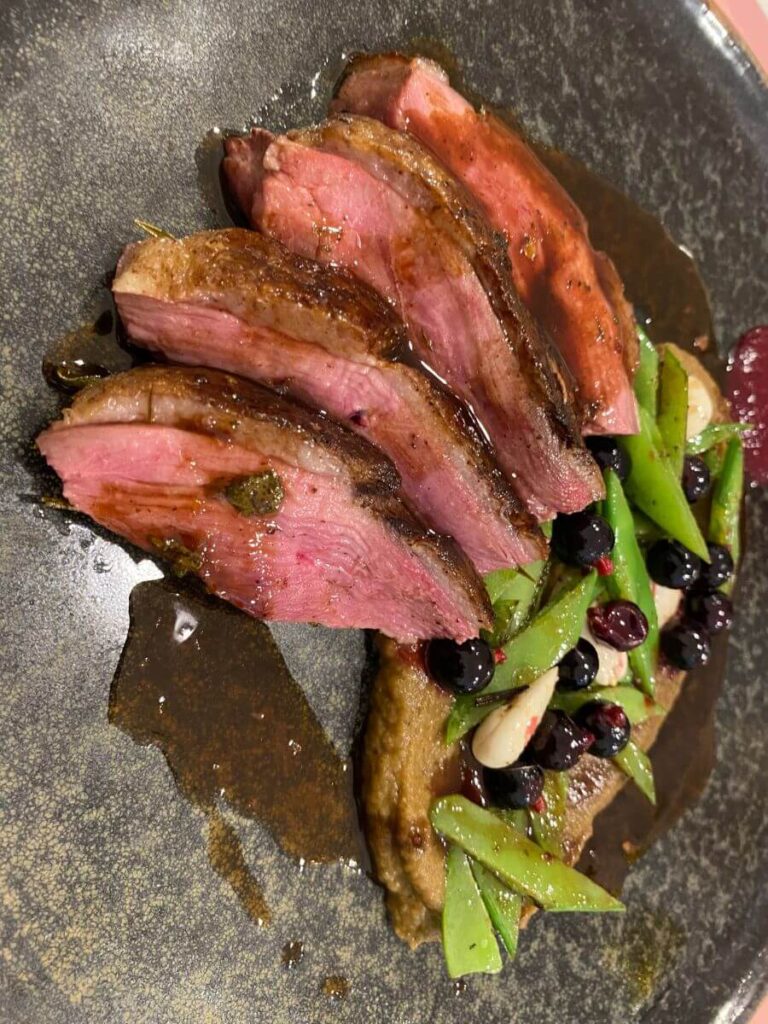 This dish, typically filled with chestnuts, mushrooms, and savory herbs, is a delicious centerpiece of your holiday meal.
For those who prefer red meat, beef is a popular choice. Beef a la Bourgogne, known as Boeuf Bourguignon in French, is a classic dish that includes tender beef slowly braised in a rich red wine sauce with mushrooms and pearl onions. Luscious and potent, it is perfect for warming up on cold holiday nights.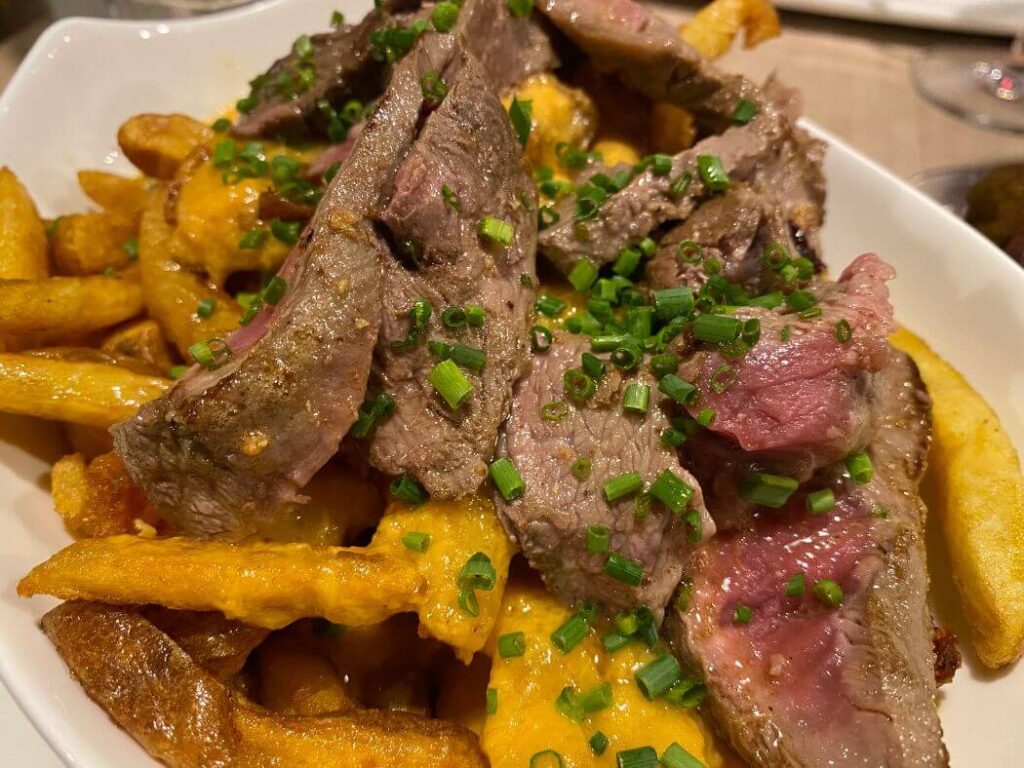 Seafood lovers will be delighted with the selection of fish and seafood dishes commonly served during a French Christmas dinner. From tender monkfish to delicate lobster, there is no shortage of delicious seafood dishes to enjoy.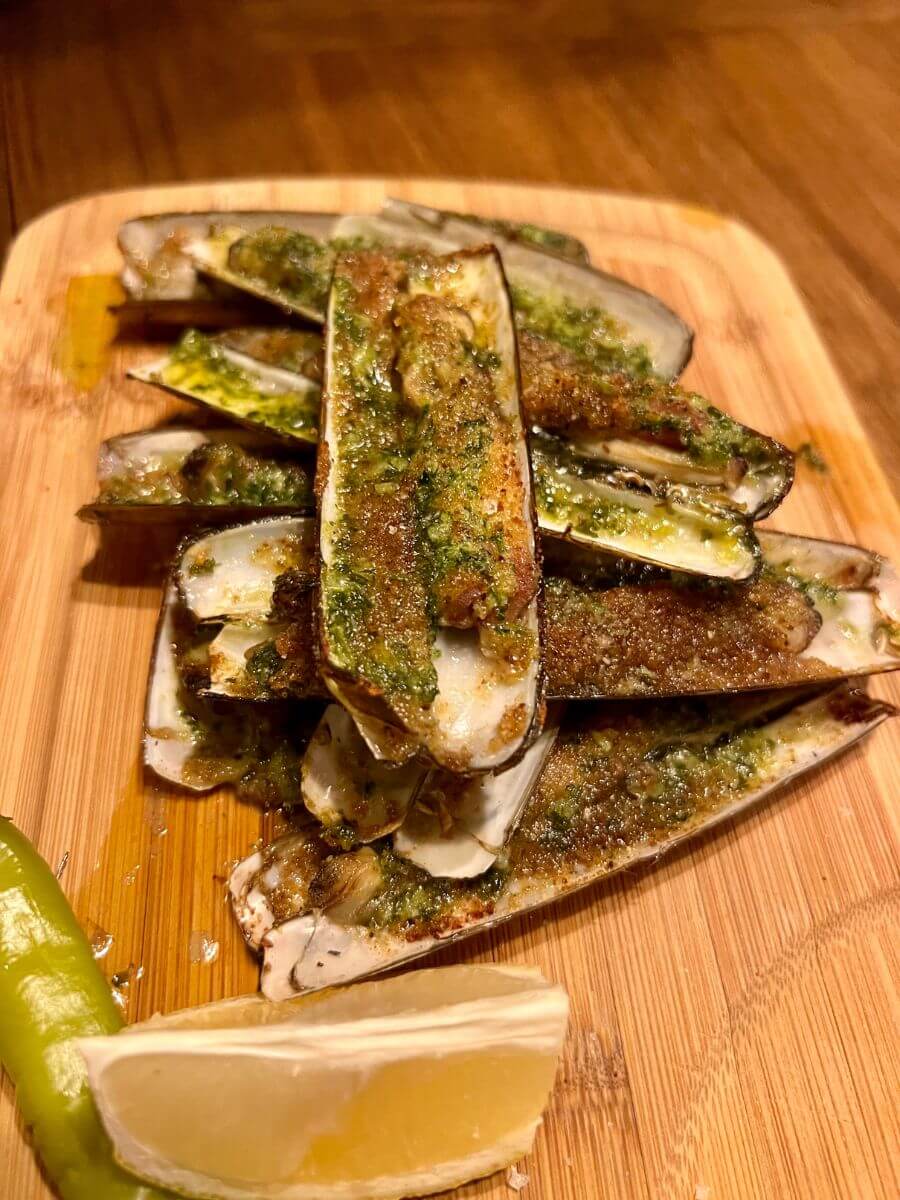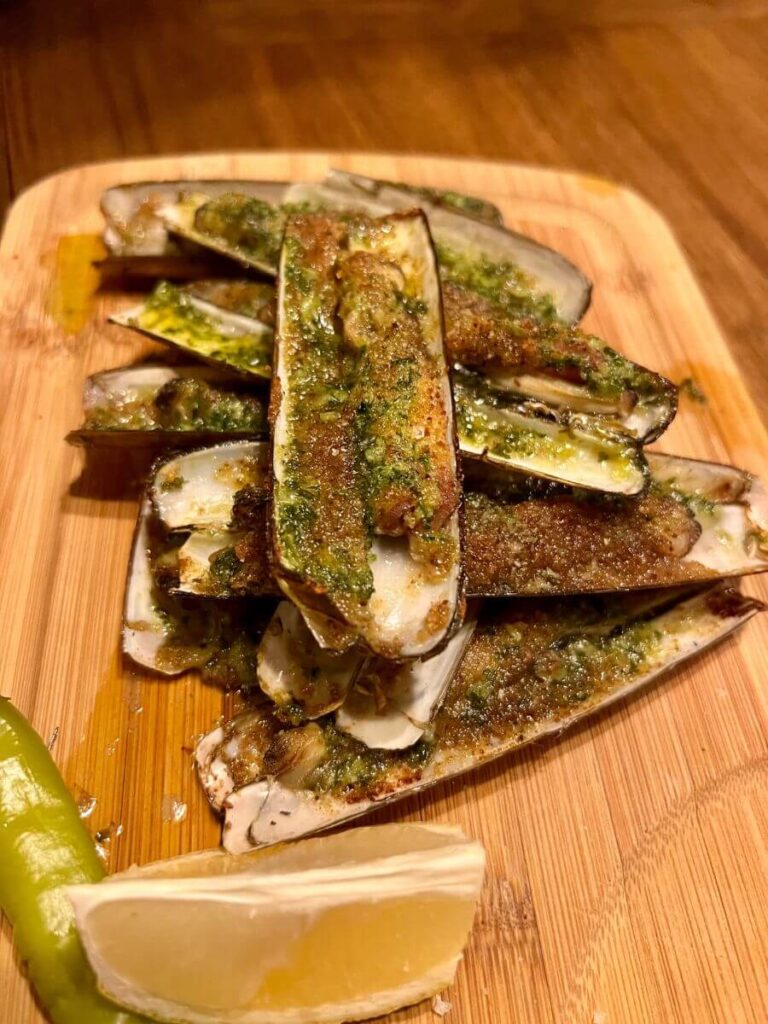 Coquilles Saint Jacques, a sumptuous dish consisting of scallops in a creamy sauce topped with a mixture of breadcrumbs and cheese, is another option you must try.
Pork dishes, such as glazed Christmas ham, are also common on many French festive menus. A well-seasoned and perfectly cooked Christmas ham not only looks spectacular on the table, but also tastes great.
Garnishes: Salty Complements
For a truly tasty French Christmas, side dishes play a crucial role in complementing the main course.
Here are some classic French side dishes that not only taste delicious but also add a touch of elegance to your holiday table.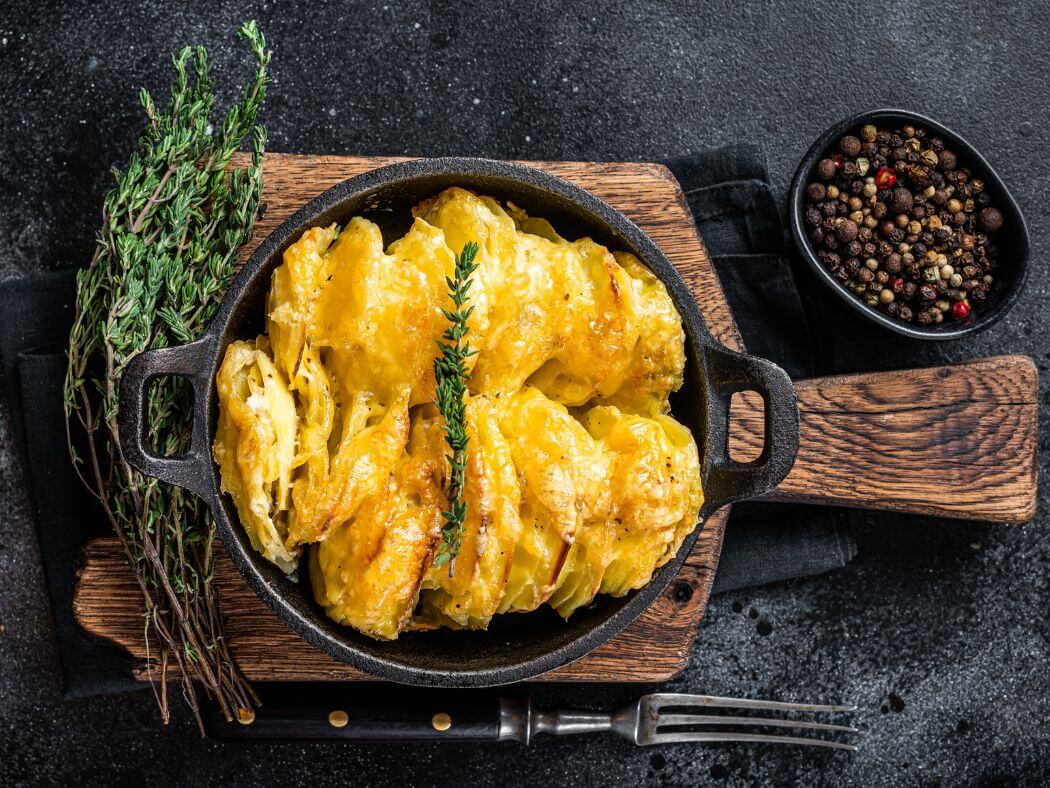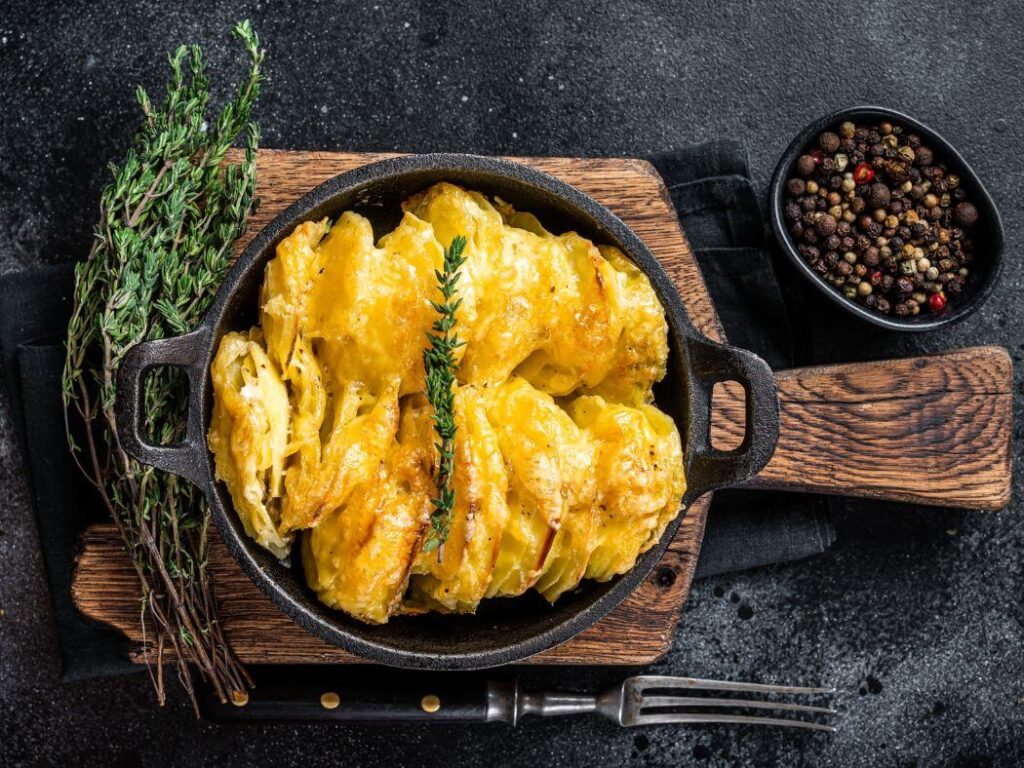 Gratin Dauphinois: this creamy and indulgent potato dish is made with thinly sliced potatoes, garlic, and cream baked to perfection.
To prepare this dish, place the thinly sliced potatoes in an ovenproof dish, season with garlic, salt, and pepper, pour in the cream, and bake until golden brown and bubbling.
Another must is to include a variety of vegetables in the holiday feast. Traditionally, French households serve a colorful mix of roasted or steamed vegetables, such as green beans, carrots, and Brussels sprouts.
Chestnuts play a prominent role in French Christmas cooking and chestnut stuffing is often used to stuff poultry or served as a garnish. To prepare it, chestnuts are cooked with onion, garlic, celery and breadcrumbs, and seasoned with herbs, salt, and pepper.
Another popular side dish to consider is Boudin Blanc, a delicate white sausage made from pork, chicken, or veal.
Often flavored with herbs, spices, and a touch of truffle, Boudin Blanc is an ideal complement to any festive meal. To prepare it, the sausage is fried or grilled until it is well cooked and slightly caramelized.
Finally, you can add a touch of French extravagance with a portion of snails. These tender snails loaded with garlic butter are a classic French delicacy.
To prepare them, bake the shelled snails in a mixture of garlic, butter, and parsley, and serve them hot straight from the oven.
Cheese: an indispensable part of French food
When it comes to Christmas in France, cheese is an essential part of the meal. It is generally enjoyed after the main course and before dessert and allows you to explore a variety of flavors unique to French gastronomy.
With over a thousand types of French cheese, preparing a cheese plate for the holiday meal can be an exciting yet overwhelming task. Here is a brief guide to choosing some classic French cheeses to enhance your holiday dinner.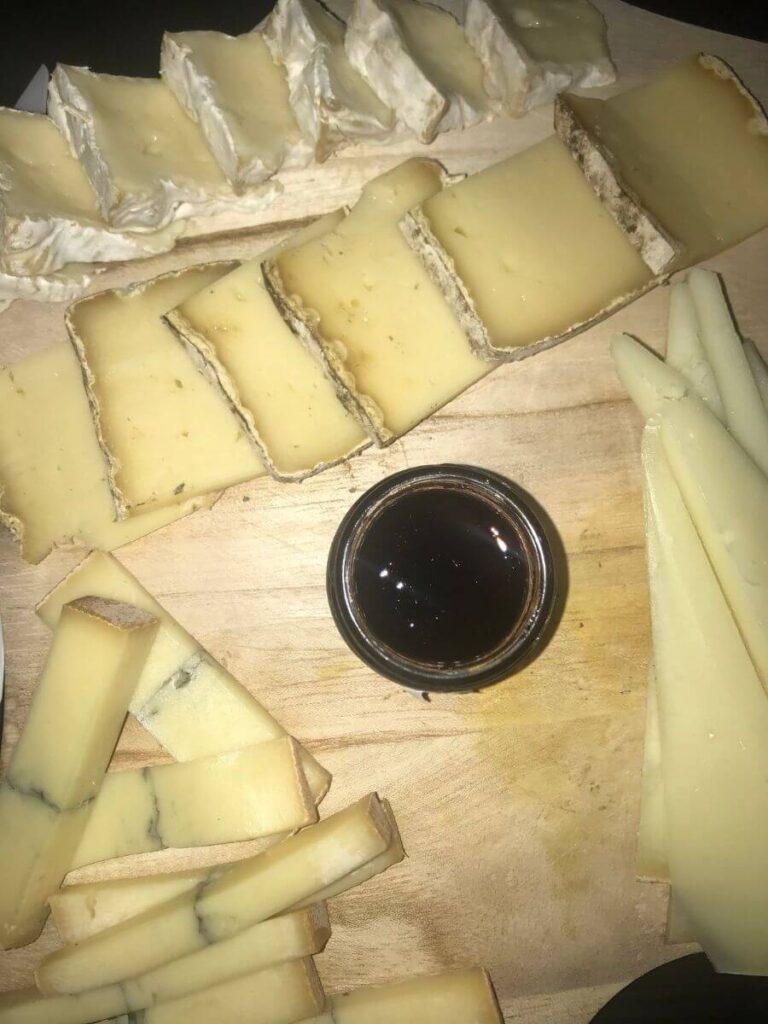 Camembert: Famous for its softness and edible crust, Camembert is a classic on French Christmas tables.
Brie: Similar to Camembert but with a milder, creamier flavor, Brie is another holiday favorite.
Roquefort: This powerful, tangy blue cheese is a staple on cheese boards for those who enjoy more intense flavors.
Comté: A hard cheese with a complex, nutty flavor, Comté is excellent for cheese boards or as an appetizer.
Reblochon: A soft and creamy cheese, perfect for fondues or to enjoy alone with a piece of crusty bread.
Munster: With a strong flavor and distinctive aroma, this soft-textured cheese is often a favorite for cheese lovers.
Époisses: Recognized for its strong smell and rich flavor, this mild cheese is for palates that prefer intense flavors.
Fourme d'Ambert: A milder blue cheese than Roquefort, with a creamy and balanced flavor.
Chèvre (Goat Cheese): French goat cheeses come in a variety of shapes and flavors, from fresh and tangy to aged and robust.
Saint-Nectaire: A semi-hard cheese with a subtle, earthy flavor, it is an excellent and lesser-known addition to a holiday cheese plate.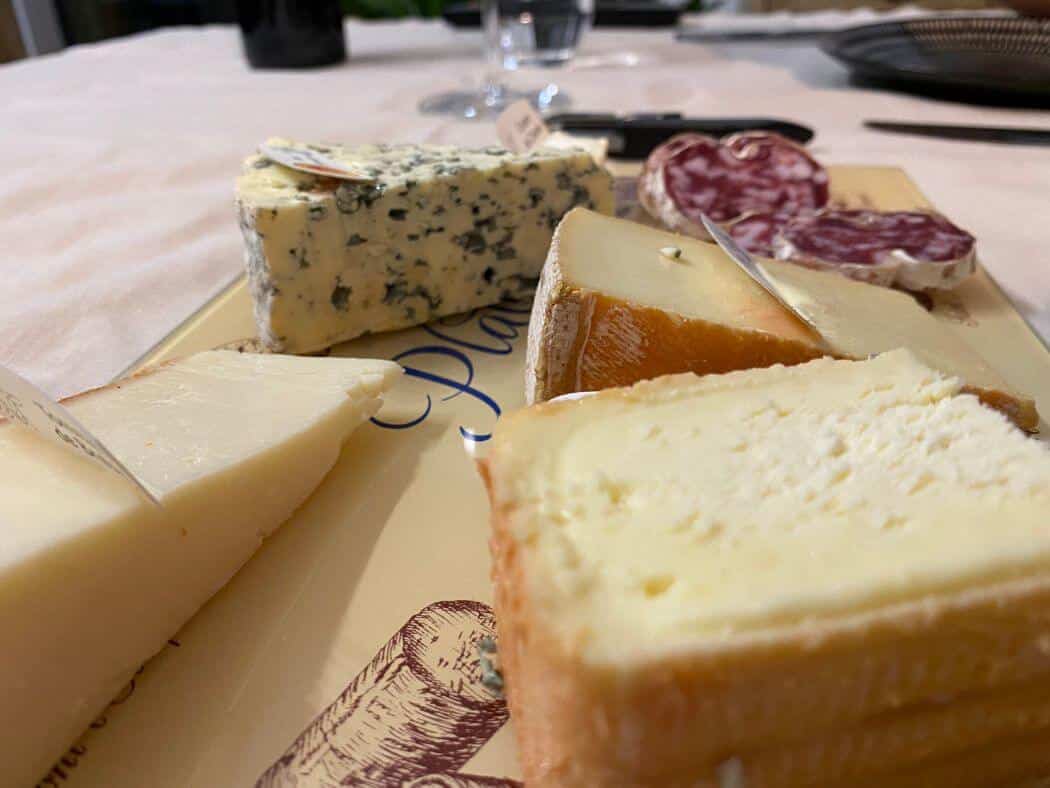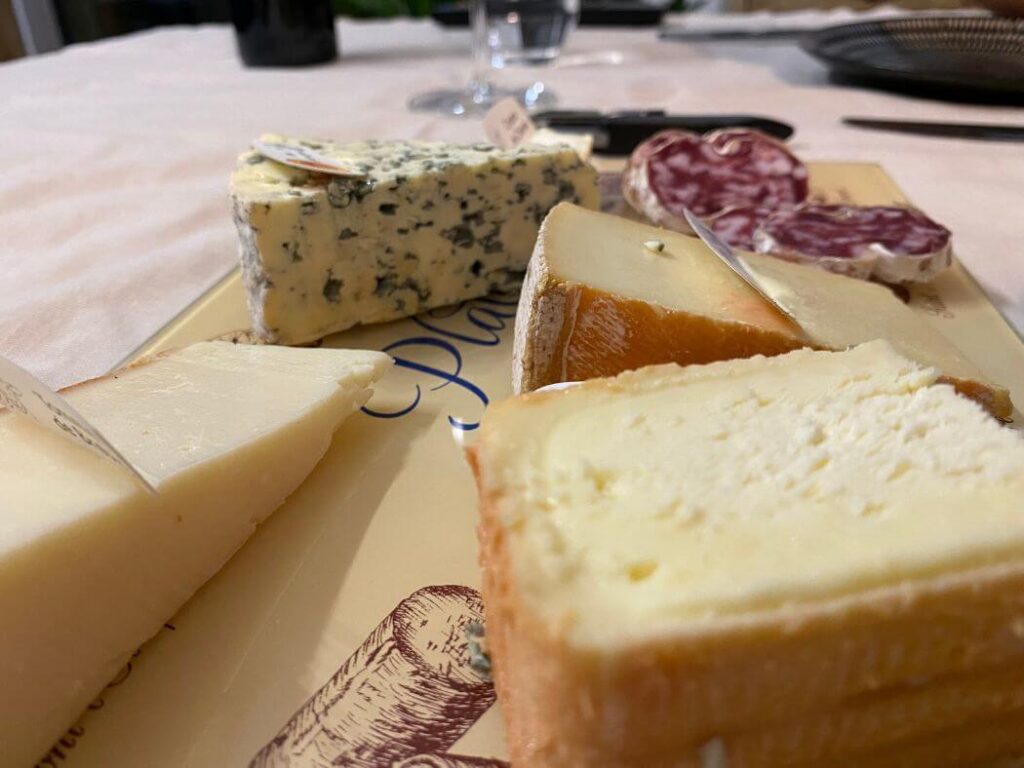 These cheeses are just a sample of the incredible diversity of cheeses enjoyed in France during the Christmas season. Each region may have its own specialties and preferences, so this list may vary from place to place.
If you go to a dinner party in France, don't be surprised if they bring out the cheese for dessert!
Desserts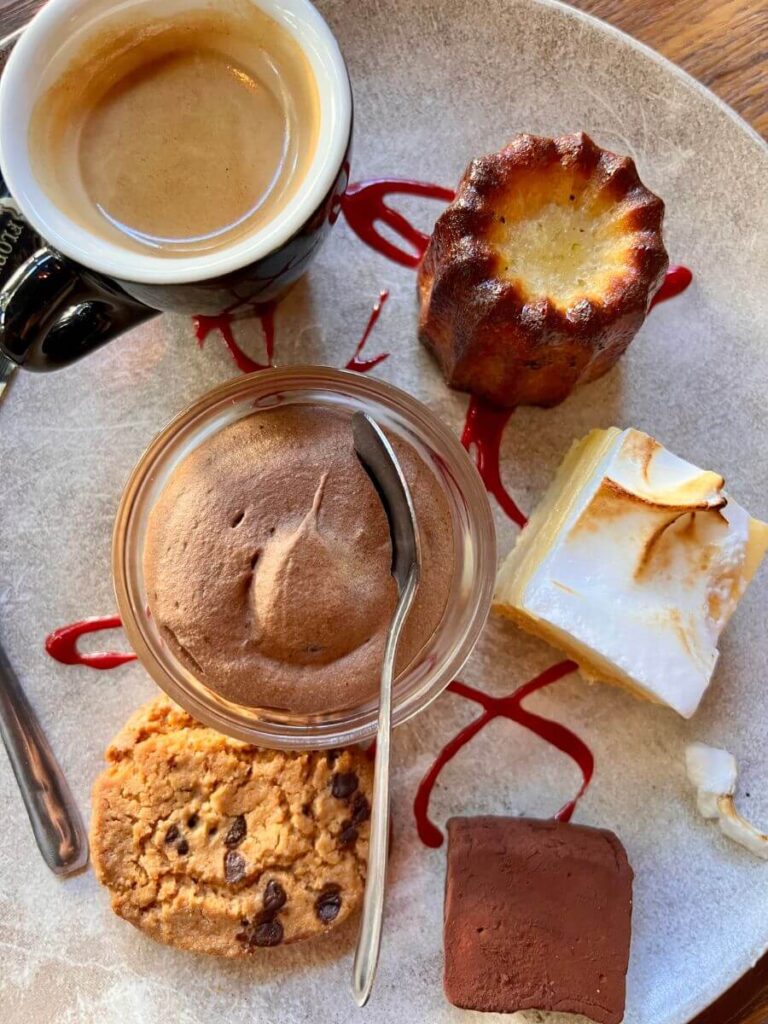 Thinking of Christmas in France brings to mind its delicious desserts. The French are famous for their excellent pastries and cakes, which are especially delicious during the festive season.
During Christmas celebrations, the wide variety of sweet endings seek to highlight the joyful end of the holiday.
One of the most emblematic French Christmas desserts is the Bûche de Noël. This delicious treat is made of a cream-filled sponge cake, rolled into a log shape, and covered with chocolate ganache.
With its striking decoration, resembling a wooden log, the Bûche de Noël is a tasty dessert and a beautiful centerpiece for your holiday table.
For an authentic French Christmas experience, enjoy the Thirteen Desserts or Les Treize Desserts de Noël.
The 13 Desserts represent Jesus and the 12 Apostles, a unique tradition originating in the Provence region. These sweets are usually served together and include the following:
Four Beggars: Referring to the four religious orders, these are composed of almonds, hazelnuts, raisins and dried figs.
Pain d'Épice: A deliciously spiced gingerbread made with honey, cinnamon and cloves.
Pompe à l'Huile: A sweet brioche flavored with orange blossom and olive oil.
Assorted cookies: a variety of traditional French cookies such as calissons and navettes.
Nougat: usually in two varieties: white nougat (soft) with almonds and black nougat (hard) with honey and walnuts.
Fresh and dried seasonal fruits and regional specialties such as candied fruits and marzipan.
And, of course, a variety of fine chocolates, including truffles, chocolates, and bonbons.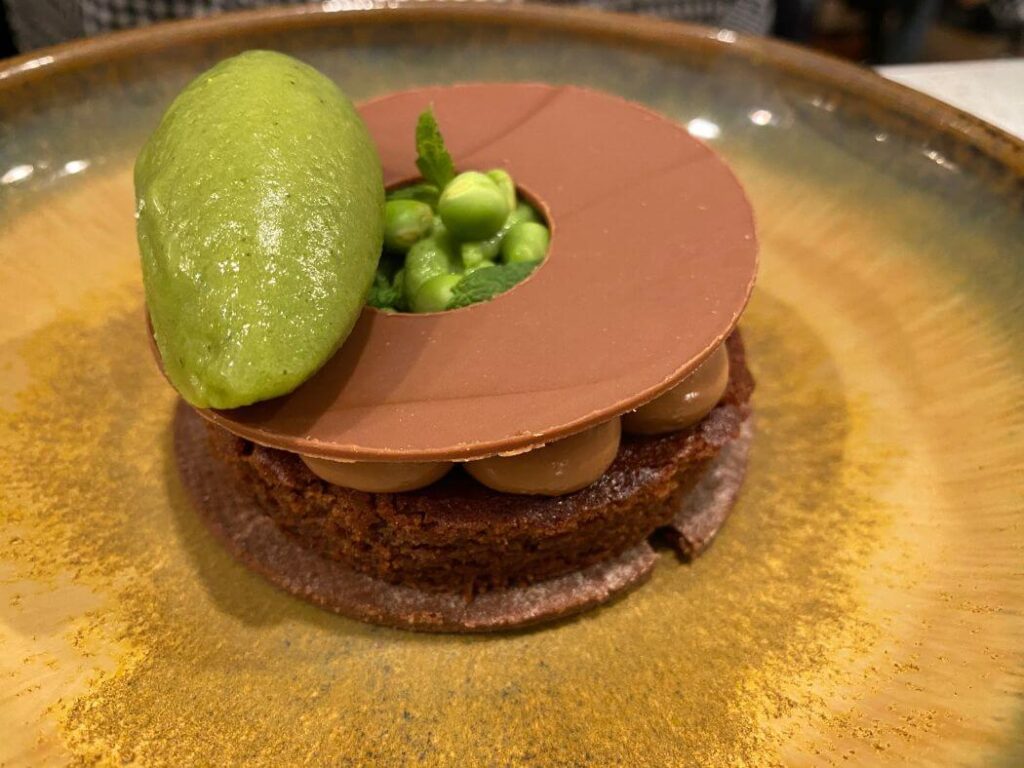 As a general recommendation, beyond the deliciousness of the food, it is worth remembering the importance of leaving room for these exquisite desserts.
Whether you choose to savor the classic Bûche de Noël, delve into the traditional Thirteen Desserts or sample a variety of sweets from around the country, these delicacies are perfect for sweetly closing the evening.
Typical Christmas drinks
During the festive season in France, there are a variety of beverages to savor and complement the holiday meal. Traditional French drinks not only add to the celebratory atmosphere but also provide a beautiful accompaniment to the meal.
Wine is an essential part of any French celebration. Red and white wines are likely to be served during the Christmas festivities.
Red wines provide a rich, bold flavor that can complement hearty main dishes, while white wines offer a lighter, more refreshing contrast to hearty holiday fare.
Champagne is another popular choice for Christmas celebrations in France. This classic, effervescent drink is often served on special occasions and adds a touch of elegance to the French Christmas meal.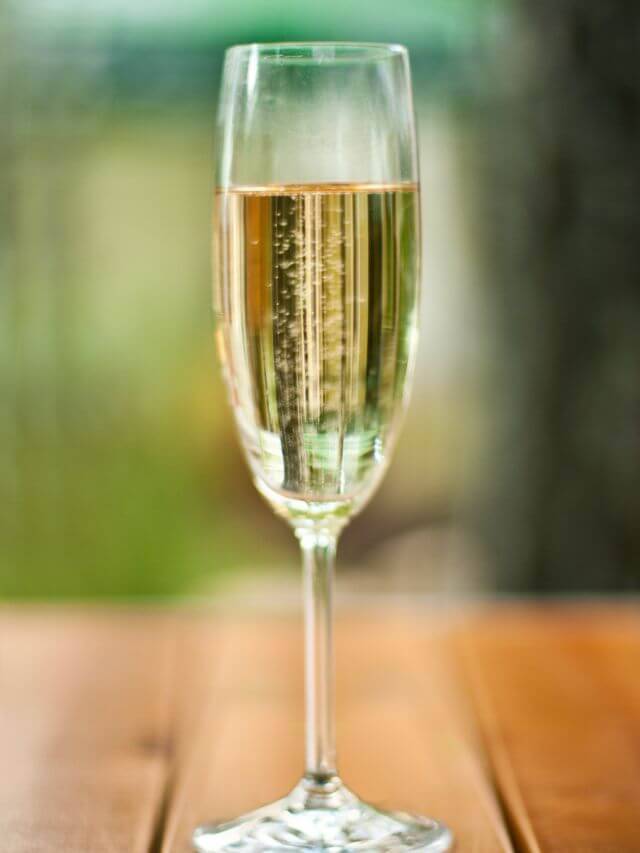 The aforementioned Kir Royale adds a touch of elegance with its ruby color. This sparkling wine cocktail is a perfect aperitif to enjoy before a meal.
For those looking for a non-alcoholic option, Champomy is a popular choice. It is a sparkling drink based on apple juice that offers the festive sensation of champagne but without alcohol.
It is a great alternative for children and for anyone who refrains from consuming alcohol during the celebration.
For those who enjoy a sweet after a meal, it is advisable to enjoy a glass of Sauternes. This delicious dessert wine pairs excellently with foie gras, another French Christmas favorite.
Regional Specialties
France is known for its diverse and delicious culinary traditions during the Christmas season. Each region offers unique and delicious dishes that make the holidays truly special.
In this section, we will explore some of the regional specialties of French Christmas cuisine.
In Provence, the holidays are typically celebrated with the aforementioned "13 Christmas desserts". This tradition includes a variety of sweets and fruits, representing the 13 participants in the Last Supper.
Some popular products include nougat, calissons and candied fruits. In addition, Provençal families also enjoy various fish dishes and daube, a veal stew simmered with wine and herbs.
To the east, the Alsace region is famous for its festive Christmas markets and hearty, rustic cuisine. During the Christmas season, you can enjoy traditional German shepherd dishes such as choucroute garnie, a sauerkraut dish loaded with smoked sausages and other meats.
German shepherds also like bredele, a variety of small, tasty cookies made with butter, sugar and almonds.
In Burgundy, one of France's most famous wine regions, the Christmas table showcases the area's exquisite products.
Boeuf bourguignon is a popular Christmas Eve or Christmas Day dish, in which beef is simmered in red wine with vegetables, resulting in a rich and tender stew.
Many Burgundian families also enjoy Coquilles Saint-Jacques, a dish of baked scallops served in a creamy sauce, to start their festive feasts.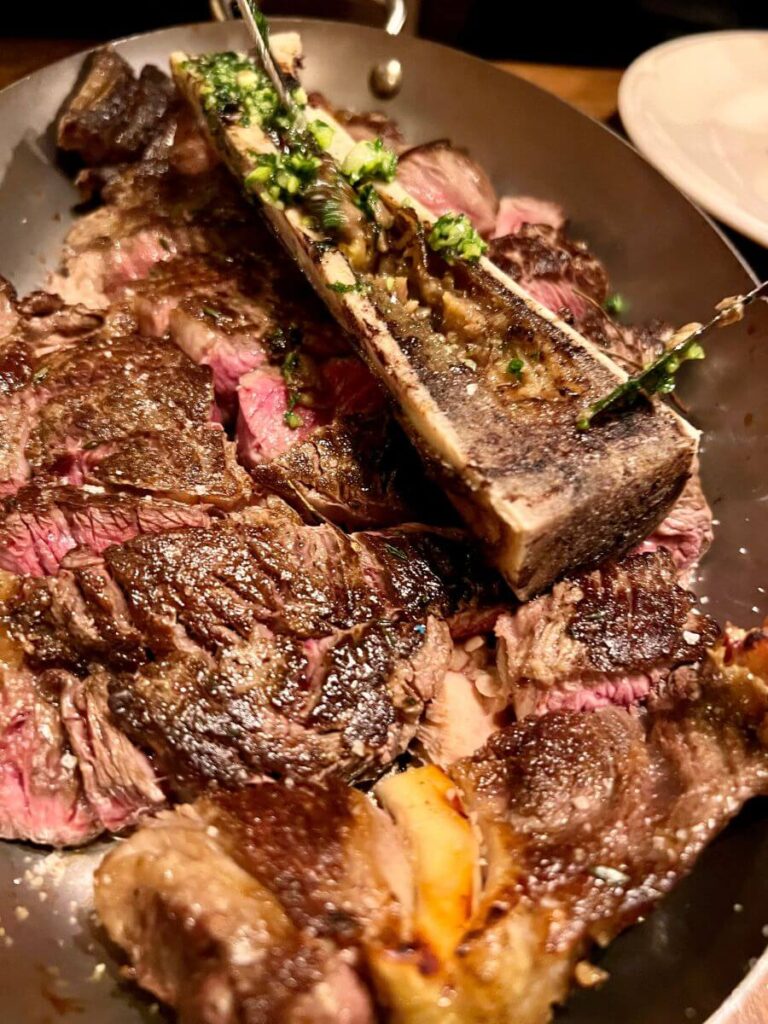 French-influenced dishes also appear on holiday menus throughout the country. Foie gras, a luxurious buttery liver pâté, is often served as an appetizer along with smoked salmon, while game birds and big game are popular choices as main courses.
Oysters are another Christmas favorite you can find at a French Christmas party, particularly in Paris and the coastal regions.
No matter what region of France we find ourselves in during the holiday season, we are sure to enjoy delicious and unforgettable French food, full of culture, heritage and flavor.
Plan Your Trip to France
This post may include affiliate links. This means that we will receive a small fee if you make a purchase through our links. It has no additional cost to you. It's a win-win!