35 Top Attractions in Paris: Must-See Sights and Landmarks
Discover 35 top attractions in Paris in this concise guide. From historic landmarks to breathtaking parks, we've curated the must-visit sights for an unforgettable Parisian experience. Dive in and make the most of your journey in the City of Light.
The Top 35 Attractions in Paris based on Traveler Reviews and bookings are as follows:
Each attraction varies in terms of hours of operation, crowd levels, and accessibility, so it's always best to consider booking in advance or hiring a guided tour to ensure you get the most out of your trip to Paris!
1. Eiffel Tower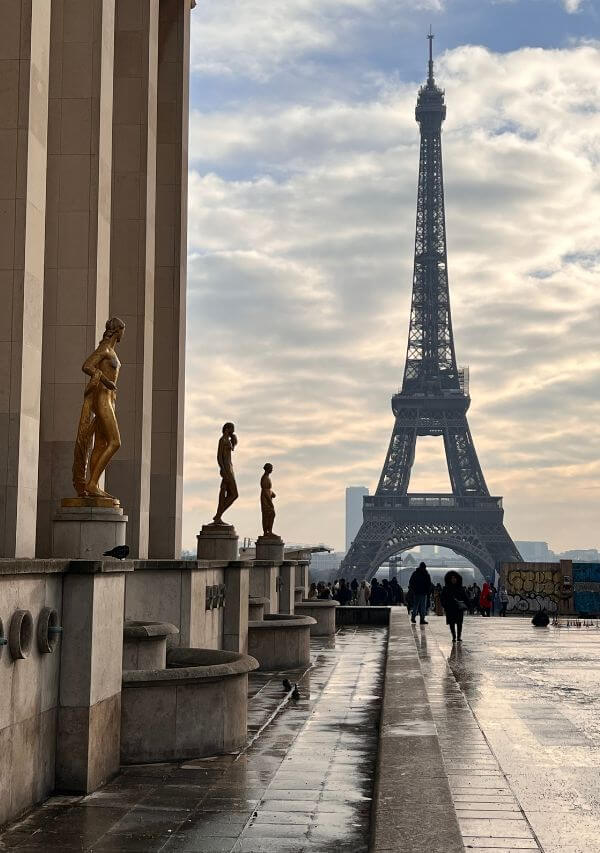 The Eiffel Tower, a globally renowned structure, was originally a temporary exhibit for the 1889 Exposition Universelle.
From its top, you can see all of Paris, and its iconic silhouette is visible from most parts of the city.
The tower boasts a glass floor from 2014, a champagne bar on the third floor, a brasserie, and a Michelin-starred restaurant. The Eiffel Tower sparkles hourly at night, reminiscent of a fairy-lit Christmas tree.
Experience dining at the Michelin-starred Jules Verne by Alain Ducasse on the second floor.
2. Louvre Museum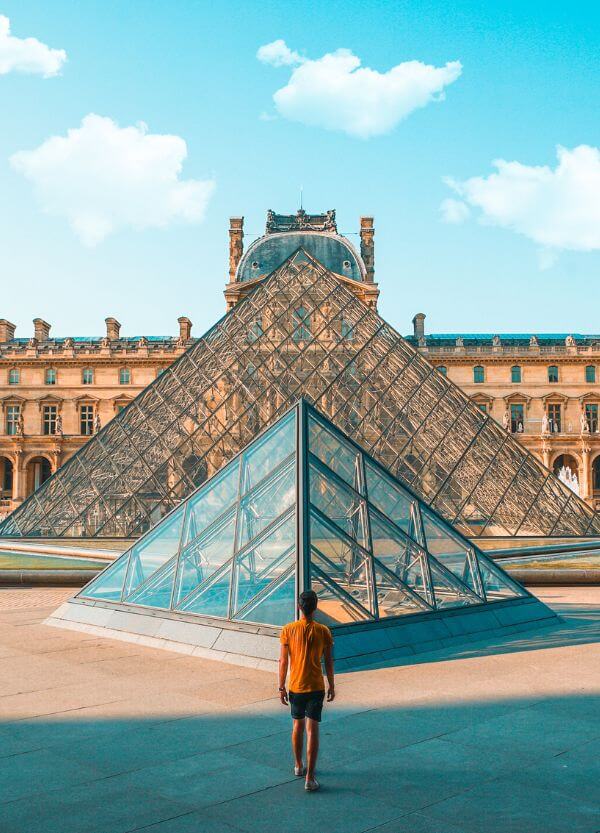 The Louvre Museum is an iconic landmark in Paris and the world's most famous museum, boasting an enormous and diverse collection that spans various eras and styles.
To make the most of your visit, it is advisable to plan ahead by purchasing tickets online in advance, arriving early or later in the afternoon to beat some of the crowds, and prioritizing what truly captivates your interest.
The museum itself is a work of art with stunning architecture and grandeur at every turn, and sometimes, the unexpected discoveries make the experience truly special.
However, navigating through the crowds can be challenging due to its popularity and the sheer volume of visitors.
To make the most of your time: Plan your Louvre visit by buying tickets online and considering off-peak hours for a peaceful experience.
Avoid feeling overwhelmed by taking your time and prioritizing specific artworks. Pre-visit research can help you curate a personal list of must-sees.
3. Arc de Triomphe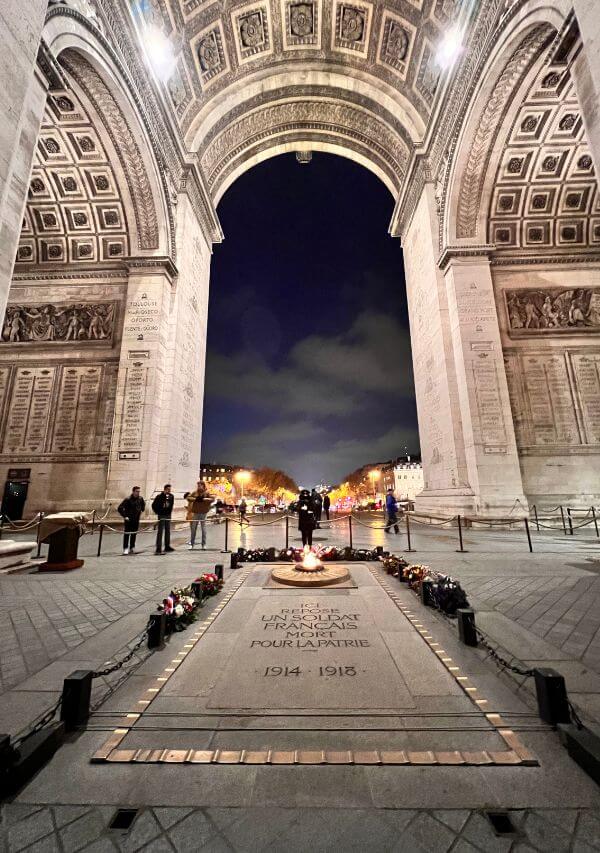 The Arc de Triomphe at the Champs-Élysées commemorates France's war heroes and offers panoramic city views.
The Arc de Triomphe impresses with its size, detailed reliefs of French history, and architectural grandeur.
Climbing the Arc de Triomphe rewards with panoramic Paris views, showcasing landmarks like the Eiffel Tower and the Louvre.
Visit the Arc de Triomphe at various times for diverse views: bustling daytime, enchanting sunset, and illuminated nights.
Check the Arc de Triomphe's opening hours before visiting and consider purchasing tickets online to avoid queues. Use the underground tunnel for safe and easy access to the Arc de Triomphe due to the busy traffic circle.
4. Champs-Elysées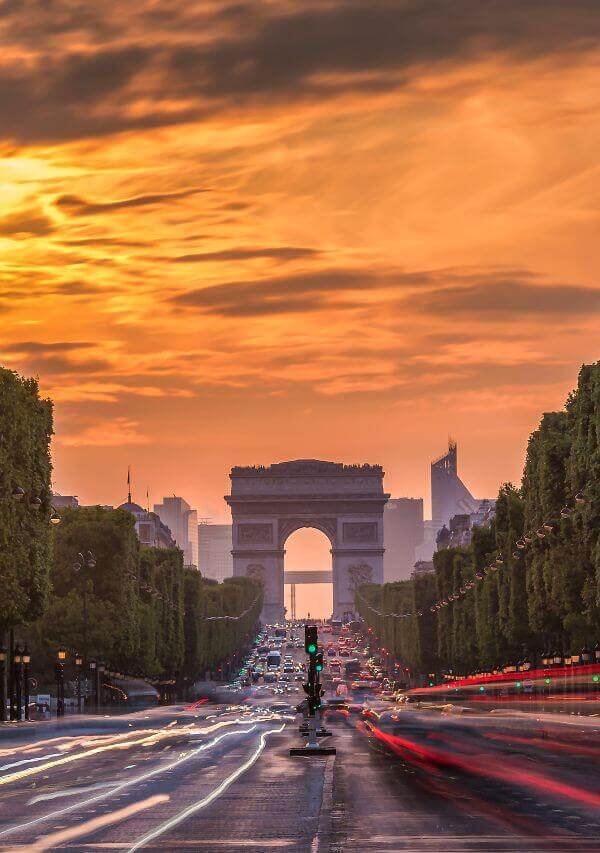 The iconic Avenue des Champs-Elysées in Paris symbolizes elegance, sophistication, and a shopping hotspot, stretching from Place de la Concorde to Arc de Triomphe.
Start at Place de la Concorde, an impressive Parisian square, and admire the grand Obelisk, a gift from Egypt, surrounded by stunning architecture.
Despite claims of over-commercialization, Champs-Elysées remains a symbol of Parisian glamour, boasting tree-lined paths, historical sites, and landmarks like the Théâtre Marigny.
Champs-Elysées offers a blend of elegance and modernity, allowing visitors to experience its vibrant energy, shop, or simply stroll.
As we bid adieu to Champs-Elysées, let's continue our journey through Paris' other must-see sights and landmarks.
5. Montmartre and Sacre Coeur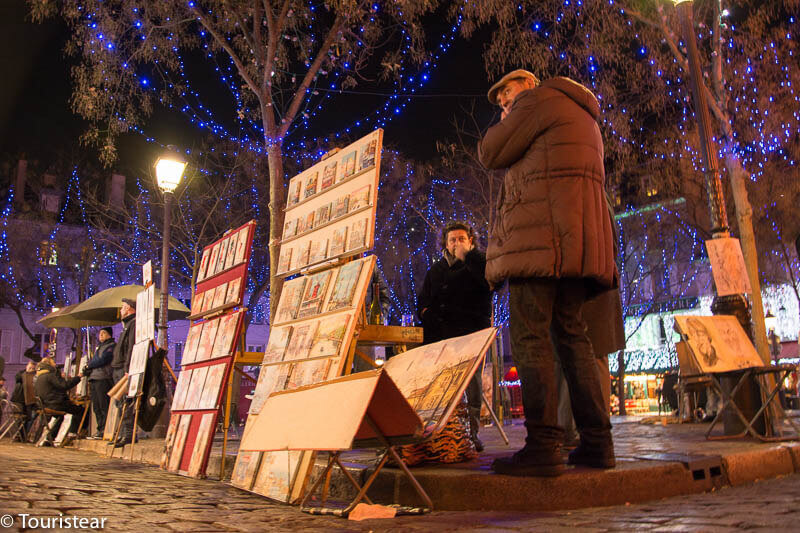 Montmartre, once an independent village, became part of Paris in 1860. However, its charming winding lanes, abundant greenery, and scenic hillsides continue to give it a distinct character.
Stroll through Montmartre's cafes and cabarets to relive its past as a hub for artists drawn by affordable rents.
The most iconic landmark is the radiant white Basilica of the Sacré Coeur, designed in the Italian Byzantine style, a prominent sight visible from various points across Paris.
Tourists often overlook Montmartre's hidden gems, like its small art museums, peaceful parks, pedestrian lanes, and historic windmills, focusing mainly on Sacré Coeur and Moulin Rouge.
Step inside Sacré Coeur to admire its breathtaking mosaics.
If visiting in October, experience the unique harvest festival in Montmartre's active vineyard.
6. Moulin Rouge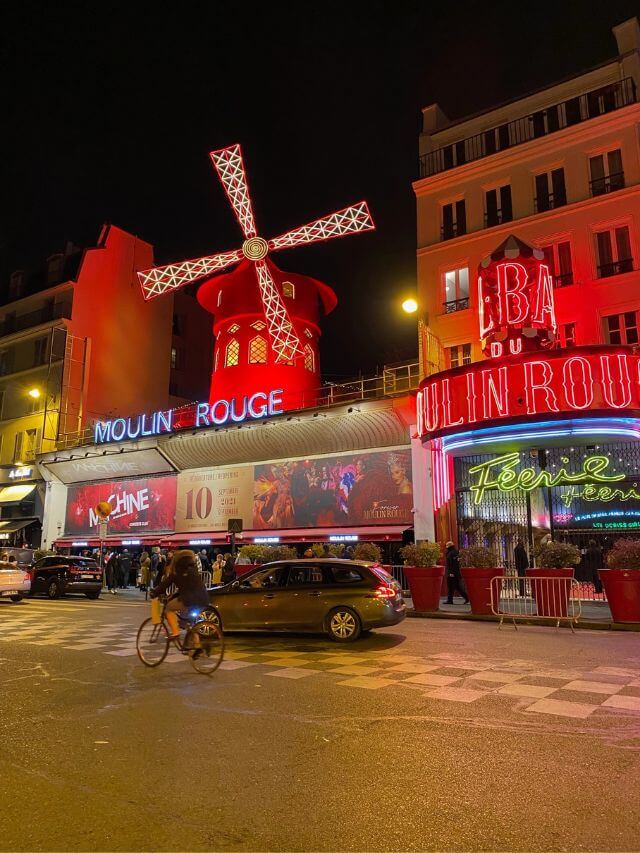 Since its inception in 1889, Moulin Rouge, the world's most famous nightclub, has hosted countless showbiz icons, despite a six-year halt from a 1915 fire.
More than a tourist attraction, Parisians cherish Moulin Rouge for its cabaret, vibrant club scene at The Machine, and rooftop haven, Bar à Bulles.
The 'Féerie' show, originating from the iconic 20th-century dance, presents 60 synchronized can-can dancers, captivating audiences for two hours.
Flamboyant costumes, high kicks, and playful intermissions paired with champagne define the ultimate French night at Moulin Rouge.
A must-visit: Explore the rooftop's hidden gem, Le Bar à Bulles, an unmissable tapas spot.
7. Seine River
The Seine River's medieval-rich Île de la Cité at its center offers numerous attractions. Stroll its banks, visit booksellers, or walk the promenade from the Bastille to the Eiffel Tower.
Enjoy a river cruise for landmarks, dine on a barge, or use a floating pool. In summer, the Left Bank's Les Berges bustles, while Paris Plages creates city beaches.
For a unique experience, cruise the 15th-century Canal Saint-Martin and Canal de l'Ourcq in the trendy northeast.
8. Luxembourg Gardens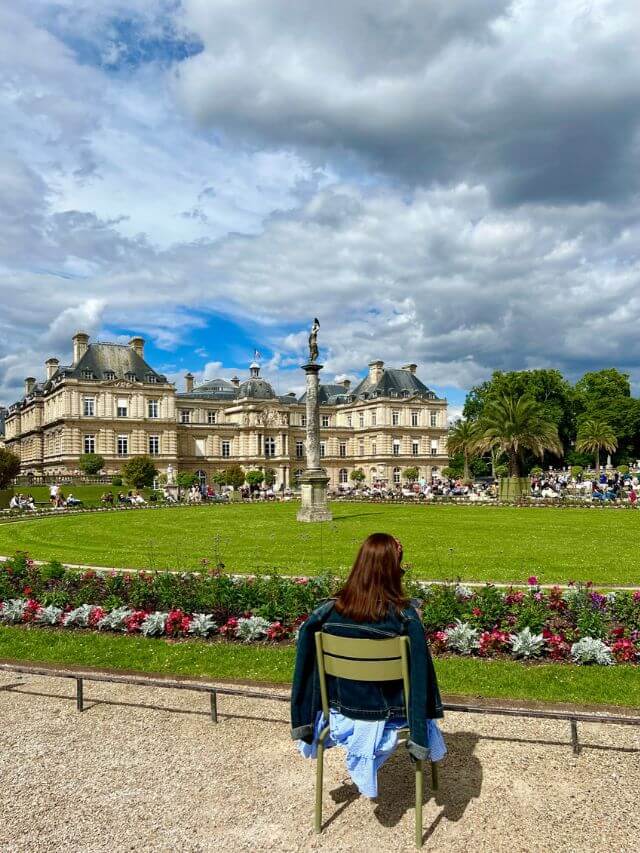 Luxembourg Garden, with its chestnut trees, serene pond, vibrant flowers, and statues, is Paris's most treasured park among its 448 parks and two forests.
Despite its popularity, Luxembourg Garden's 60 acres ensures it rarely feels crowded. It's divided into distinct zones and offers tennis courts.
Further Pleasures Await: Treat yourself to a refreshing drink or a leisurely lunch at the open-air cafe.
Traveling with children? Enjoy pony rides and puppet theater at Luxembourg Garden. For peace, relax by the Medici Fountain's pool.
9. Palace of Versailles
The Château de Versailles, once a modest hunting lodge, is now France's most opulent residence, with 2,300 rooms.
Much of Versailles' expansion was directed by Louis XIV in 1678, who added landmarks like the Hall of Mirrors.
During peak hours, the crowds can be overwhelming, so it's wise to secure a skip-the-line ticket in advance and arrive early.
If you visit in summer, don't miss the musical fountain shows on selected days.
10. Notre-Dame Cathedral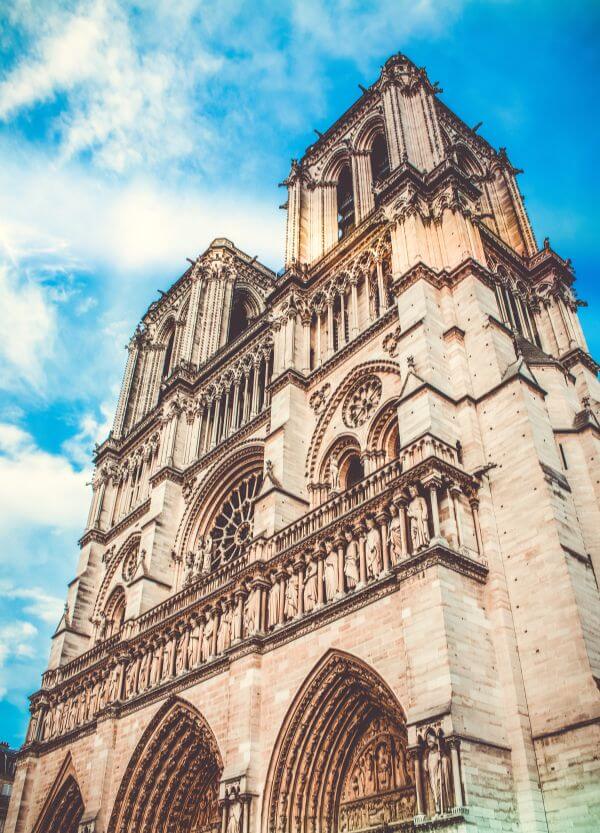 The Notre Dame Cathedral in Paris is a French Gothic masterpiece. The construction started in 1163 and took nearly two centuries, blending various styles and craftsmanship.
The cathedral's majestic façade, filled with sculptures and details, captivates visitors. The interior, illuminated by stained glass depicting biblical scenes, inspires awe.
The cathedral's renowned rose windows are visually stunning and symbolically significant. For centuries, they've inspired both worshippers and visitors.
A visit to Notre Dame's towers offers panoramic views of Paris. Despite the challenging climb, the views of landmarks like the Eiffel Tower and the Seine River are rewarding.
While exploring Notre Dame, you can appreciate its expertise and dedication. It's a must-visit for architecture enthusiasts, history buffs, and those seeking beauty in Paris.
Note: After the 2018 fire, you can now visit the archaeological crypt. The reopening of Notre Dame Cathedral in Paris is announced for the 8th of December 2024. A Te Deum is planned for 15 April 2024, exactly 5 years after the fire.
11. Sainte-Chapelle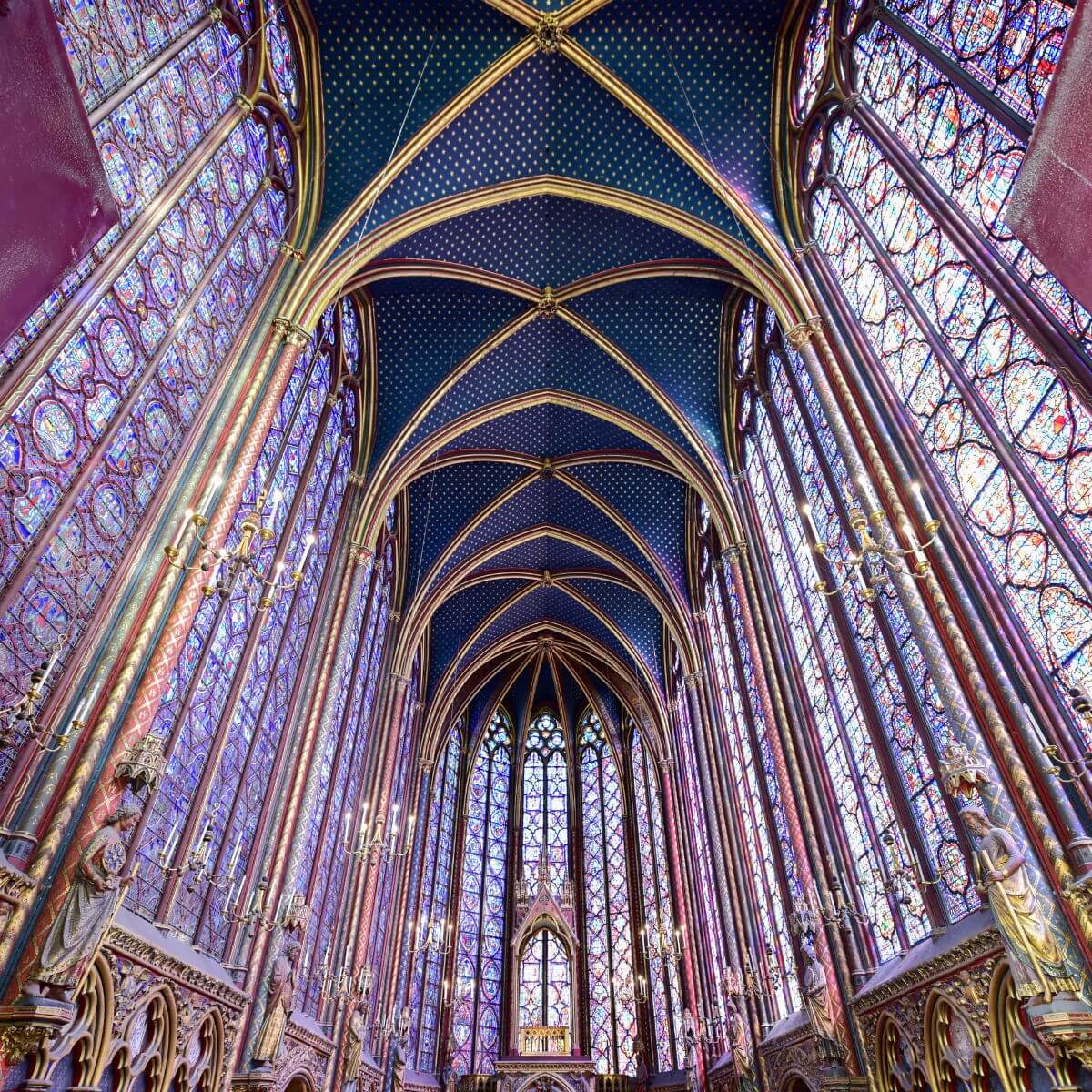 In the 1240s, King Louis IX, later St. Louis, obtained what he believed to be Christ's Crown of Thorns. He commissioned the breathtaking Sainte-Chapelle to enshrine it.
Its 15-meter windows showcase hundreds of biblical scenes, climaxing in the Apocalypse depicted in the rose window.
Don't miss the occasional concerts held here, adding a poignant ambiance to this remarkable venue.
12. Latin Quarter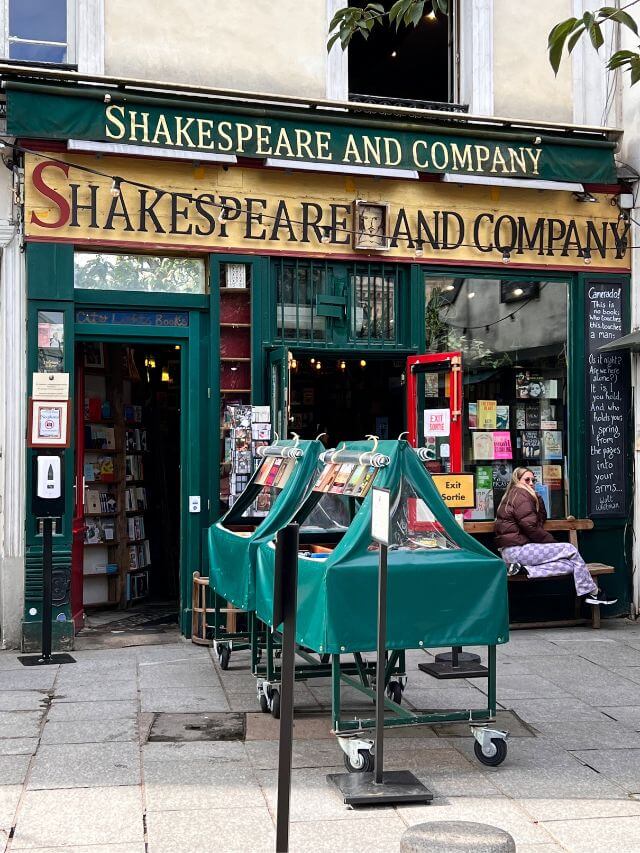 To immerse yourself in the historical essence of Paris, dedicate some time to the enchanting allure of the Latin Quarter.
Established in the 1st century by the Romans, the Latin Quarter on the Left Bank is a hub for bohemians, scholars, and political voices. Its streets hide traces of medieval Paris.
Visit the brasseries on Boulevard Saint Germain, frequented by Hemingway and others in the 1920s. Honor French legends at the Pantheon and admire the "Lady and the Unicorn" tapestries at the Cluny Museum
Discover the Latin Quarter's winding alleys filled with unique bookstores, bistros, and boutiques. Marvel at historic churches like Saint Julien le Pauvre and visit a hidden 1st-century Roman arena.
Paris Exploration Tip: Unless you relish large crowds, steer clear of the pedestrian-only Rue de la Huchette.
13. Saint-Germain-des-Prés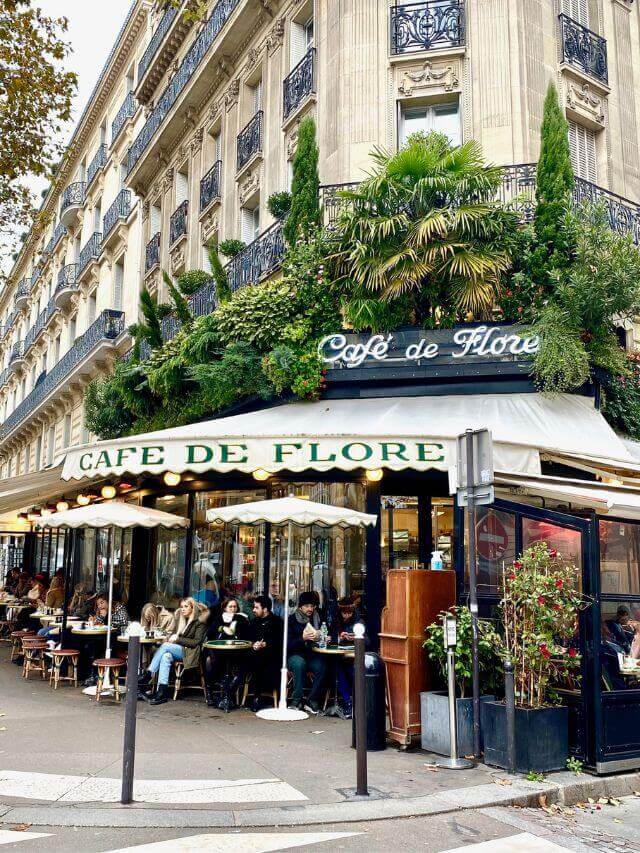 Saint-Germain-des-Prés is a historic neighborhood in Paris's 6th arrondissement known for its intellectual and artistic contributions.
Café de Flore and Les Deux Magots in Saint-Germain-des-Prés were centers for thinkers like Jean-Paul Sartre and Simone de Beauvoir.
Saint-Germain-des-Prés, with its cobbled streets and historic landmarks, is a vibrant cultural hub featuring art galleries, antique shops, and lively cafes, making it essential for Paris explorers.
14. Jardin des Plantes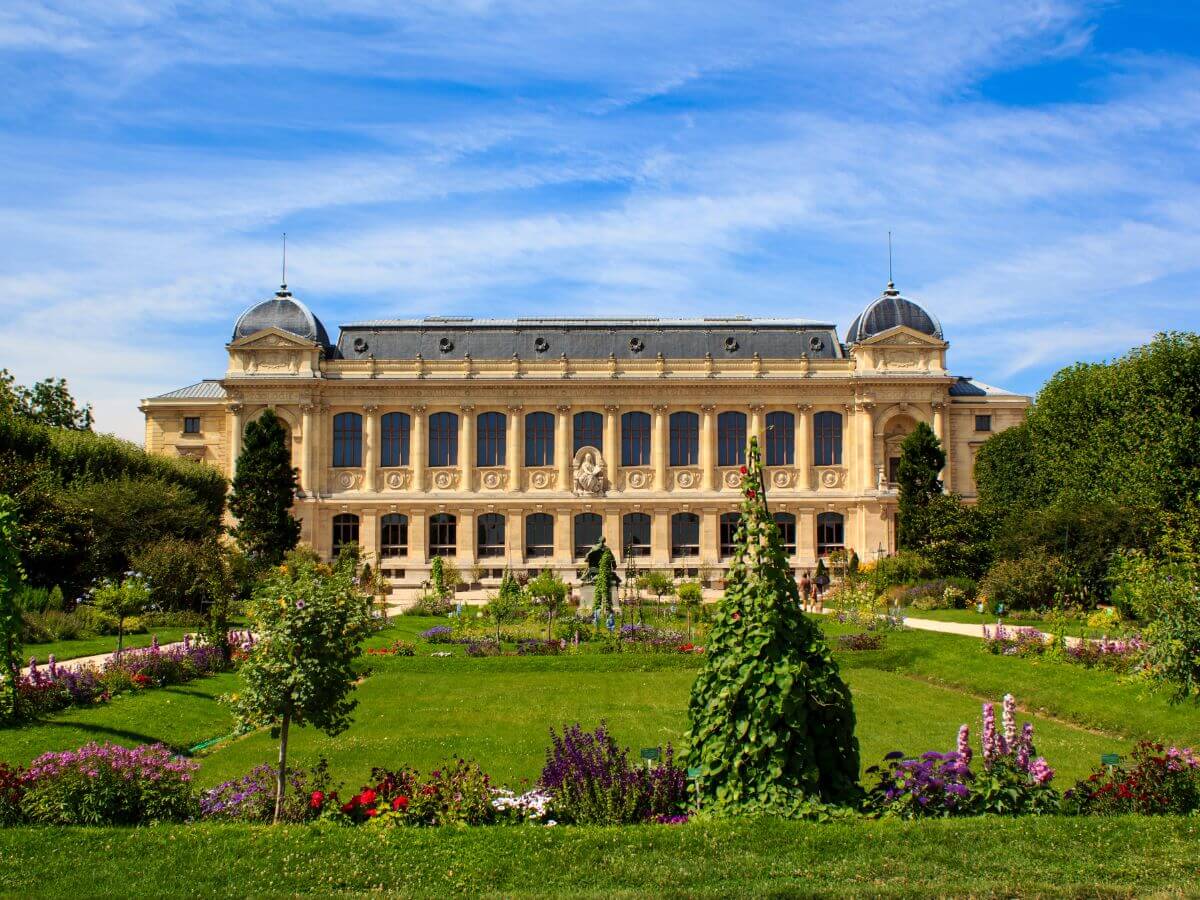 During the tumultuous period, many ownerless pets were left behind. This issue led to an unconventional solution in 1794.
The humane response to the upheaval led to the creation of the ménagerie, sheltering the homeless animals.
Today, the collection grows compassionately, housing diverse animals like vultures, monkeys, orangutans, and even a century-old turtle.
The ménagerie hosts a red panda, spiders, and snakes, a petting zoo for children, and a Microzoo for older visitors.
A must-see: Don't miss the 'spot the oldest tree' game in the botanical gardens, especially the black acacia planted in 1636.
15. Orsay Museum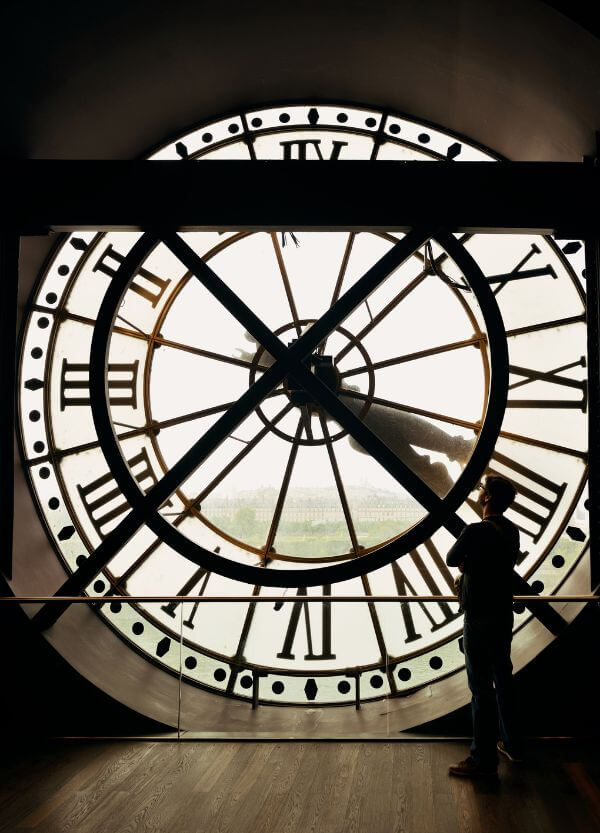 Originally the world's first electrified train station, the Musée d'Orsay was transformed by the French government into a leading art gallery due to its inability to accommodate larger trains.
Art lovers visit the Musée d'Orsay to admire renowned Impressionist and Post-Impressionist works and decorative art pieces representing Art Nouveau.
The café behind the iconic clock, designed by the Campana brothers, features submarine-themed décor inspired by Jules Verne's 'Nautilus.' It's a must-visit for a unique experience.
16. Le Marais
The Marais, once home to French aristocracy, transformed dramatically during the French Revolution.
Once historically significant, the Marais district in Paris is now a trendy hub for LGBTQ+ spots, vintage boutiques, and top art galleries.
A must-try: L'As du Fallafel, the renowned falafel haven, should be your destination if you're craving a flavorful pitta-based delight for your taste buds.
17. Fun at Disneyland Paris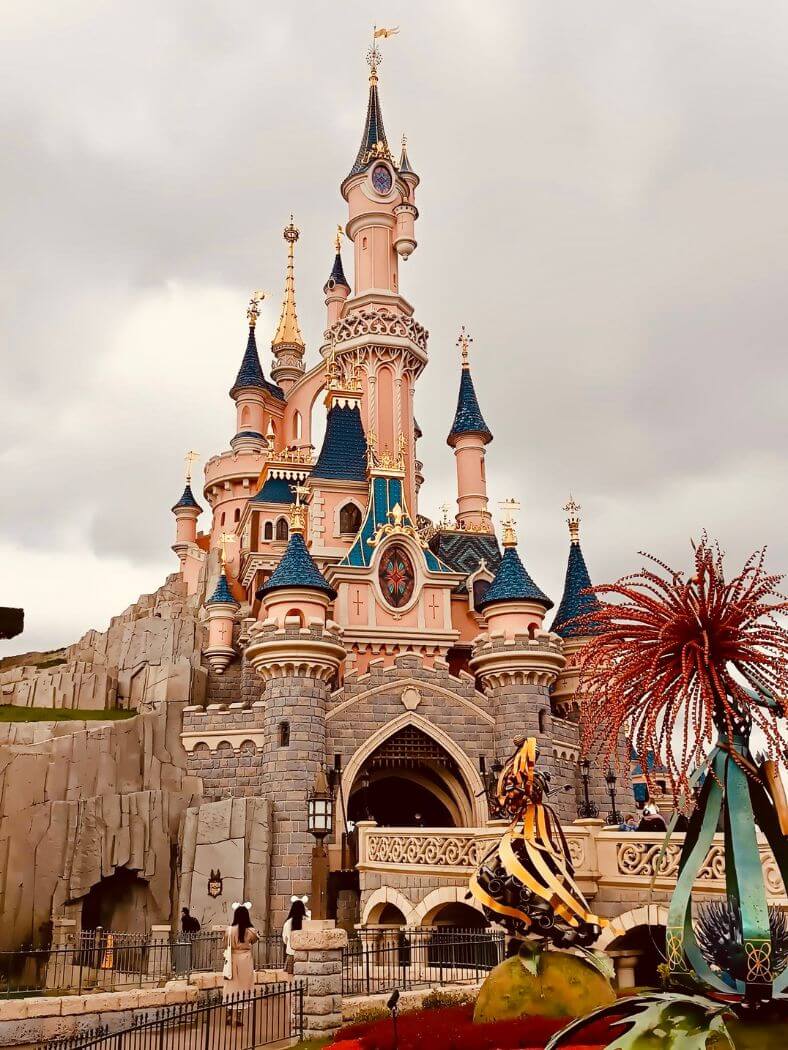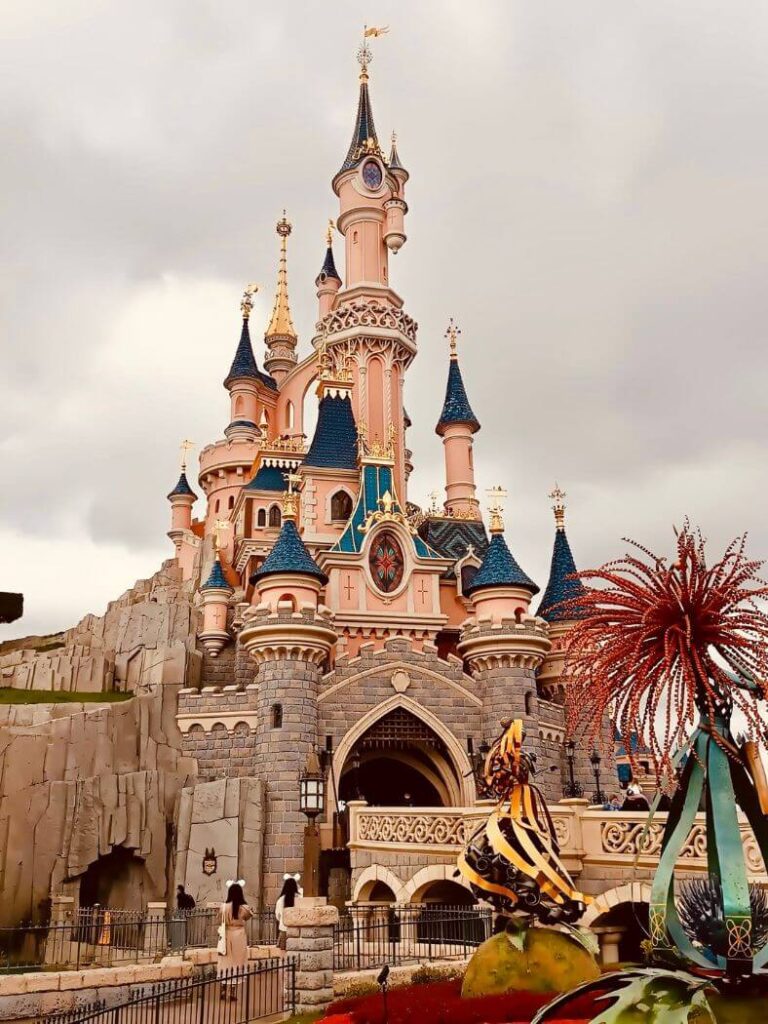 If you're traveling to Paris with family or simply want to indulge your inner child, a visit to Disneyland Paris is an absolute must. Located just outside the city, this magical theme park offers a world of enchantment and excitement for all ages.
Step into Disney's immersive world on Main Street, U.S.A., reminiscent of early 20th-century America. Continue your journey through diverse lands filled with unique experiences and attractions.
Dive into Adventureland's thrills like Indiana Jones' roller coaster and Pirates of the Caribbean boat ride. In Fantasyland, discover iconic attractions such as Sleeping Beauty Castle and Peter Pan's Flight.
Head to Discoveryland for thrilling rides like Space Mountain and Buzz Lightyear Laser Blast. Beyond rides, Disneyland Paris also captivates with its shows and parades.
Catch the vibrant parade featuring beloved Disney characters dancing throughout the park, or enjoy the stunning fireworks display illuminating the night sky.
Disneyland Paris is a dreamlike realm where imagination takes center stage, creating cherished memories.
Disneyland Paris guarantees a magical day, whether you're cherishing family moments or reconnecting with your inner child.
18. Tuileries Garden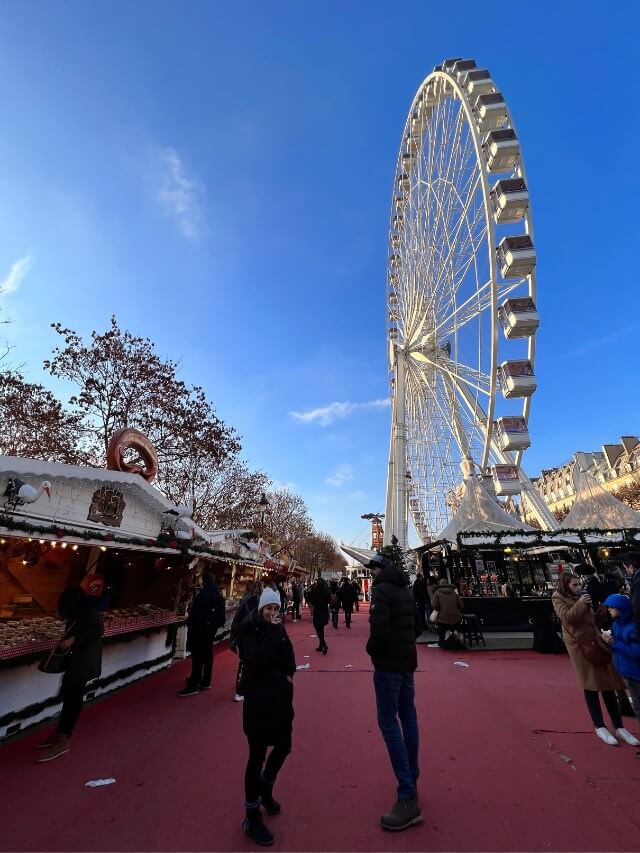 Located in the heart of Paris, the Tuileries Garden is a historical public garden that once graced the Tuileries Palace. Its manicured lawns, statues, and ponds provide a serene escape in the bustling city. A stroll here offers picturesque views, especially of the distant Eiffel Tower.
If you visit Paris during Christmas, The Tuileries Garden is a must! It's beautiful with the Christmas market and the festive atmosphere.
19. Pantheon de Paris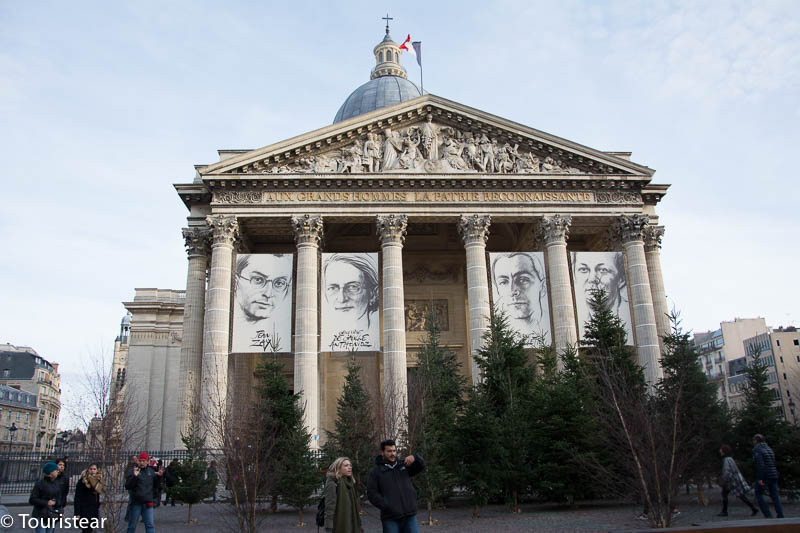 The Pantheon in Paris stands as a mausoleum housing the remains of notable French figures. With its Neoclassical architecture, it dominates the Latin Quarter's skyline. Inside, its intricate frescoes and the Foucault pendulum captivate visitors.
20. Palais Garnier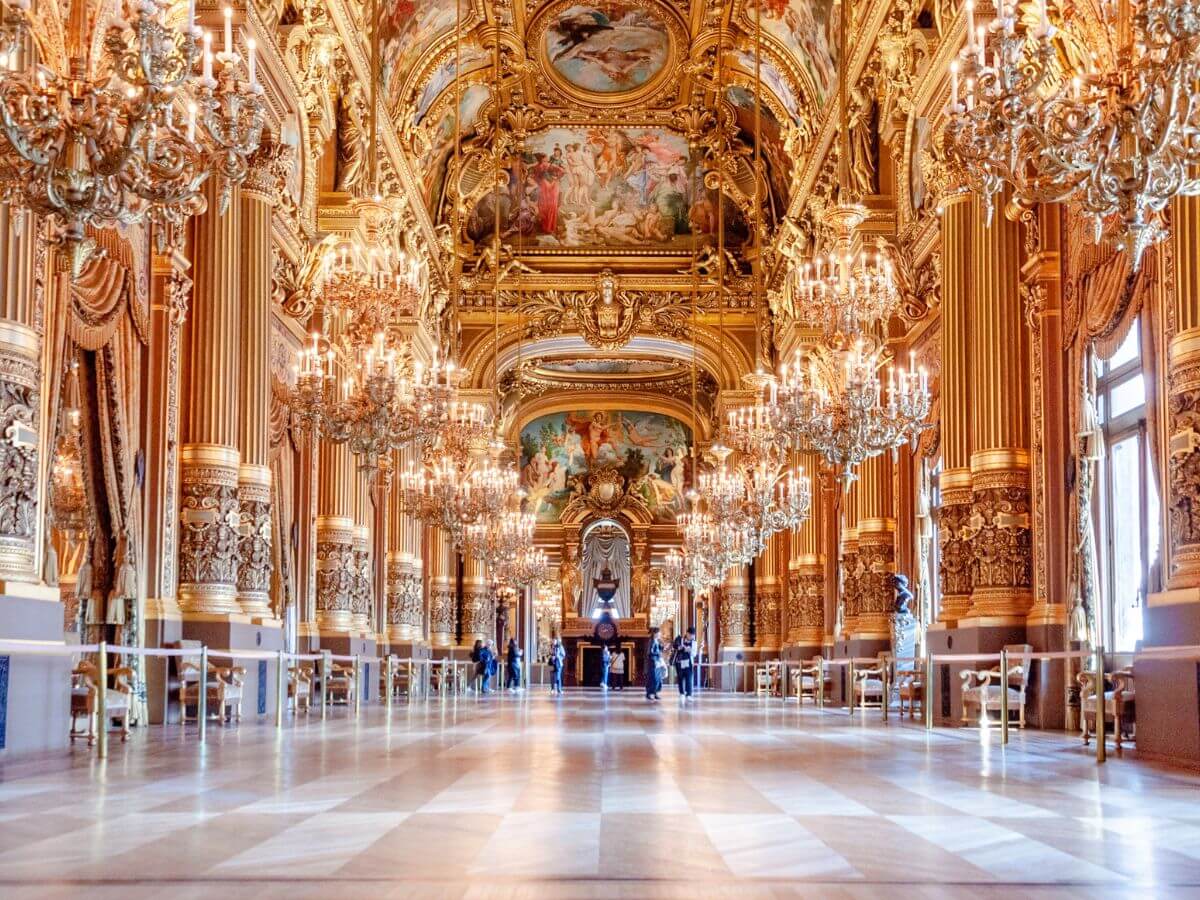 Palais Garnier, often simply referred to as the Paris Opera, is a 1,979-seat opera house renowned for its opulent Baroque-style architecture. Its marble grand staircase, chandeliers, and Marc Chagall-painted ceiling are highlights. It's not just an opera house but an emblem of Parisian art.
21. Musée de l'Orangerie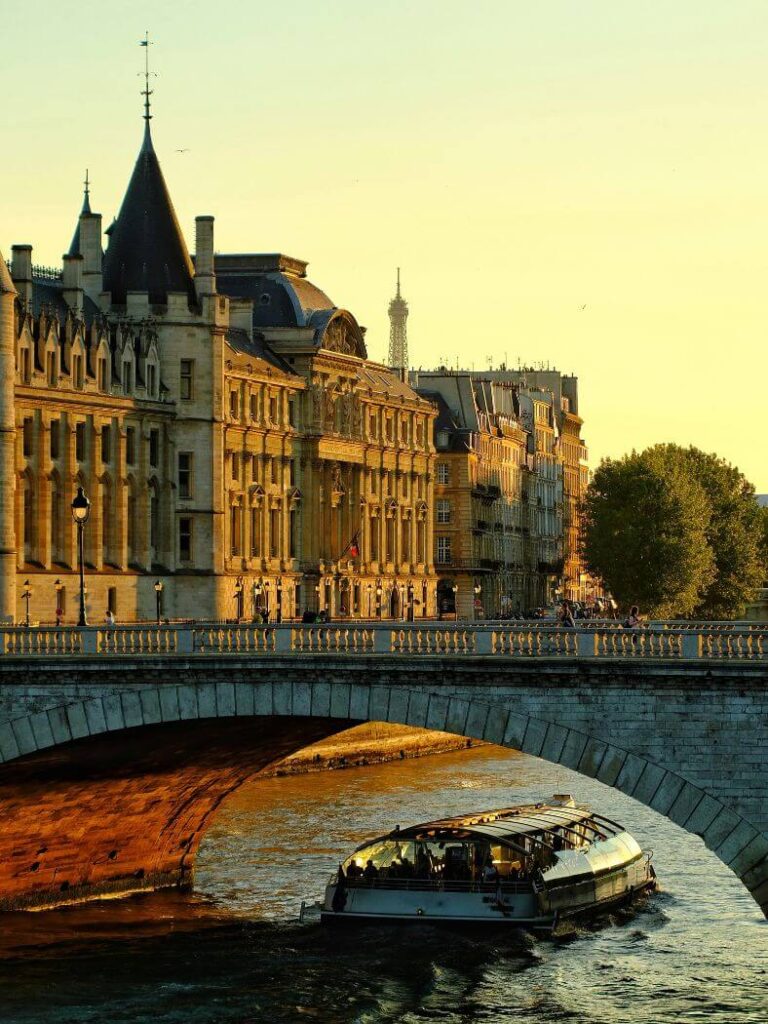 In the Tuileries Garden, Musée de l'Orangerie is best known for housing Monet's "Water Lilies" series. These large panels envelop visitors in the artist's impressionist world. The museum also showcases works by renowned artists such as Cézanne and Picasso.
22. Musée Rodin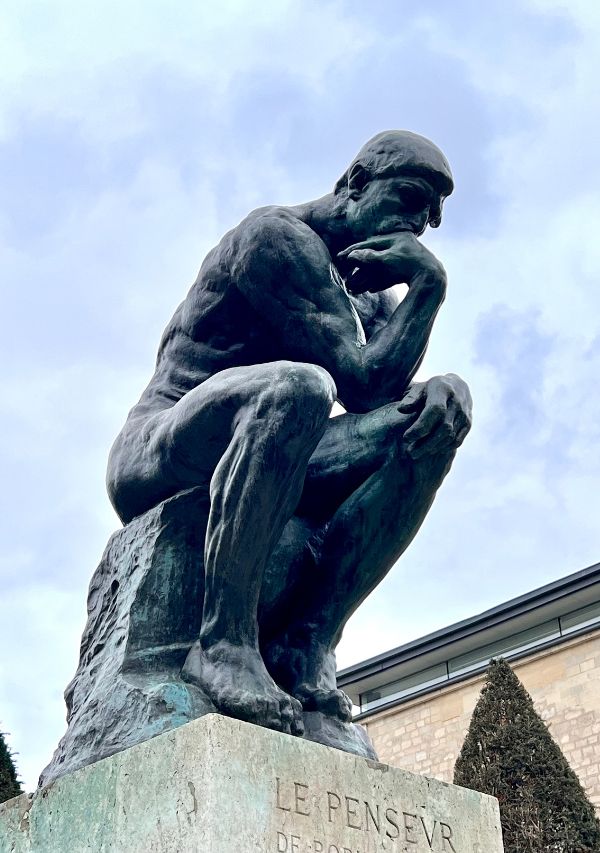 Dedicated to the works of the French sculptor Auguste Rodin, Musée Rodin boasts sculptures like "The Thinker" and "The Gates of Hell." Located in the 7th arrondissement, the museum and its gardens provide an intimate look into Rodin's genius.
23. Place de la Concorde
Place de la Concorde is Paris's most prominent public square. Rich in history, it was once the execution site during the French Revolution. Today, its Luxor Obelisk and the surrounding neoclassical architecture draw admiration from visitors.
24. Île de la Cité
Nestled in the Seine's heart, Île de la Cité is one of Paris's two natural islands. Home to Gothic marvels like Notre-Dame Cathedral and the medieval Sainte-Chapelle, it's a hub of history and architectural grandeur.
25. Les Invalides
Les Invalides, with its iconic golden dome, is a complex of buildings that once catered to war veterans. Today, it houses the Army Museum and Napoleon Bonaparte's tomb, making it a nexus of French military history.
26. Catacombs of Paris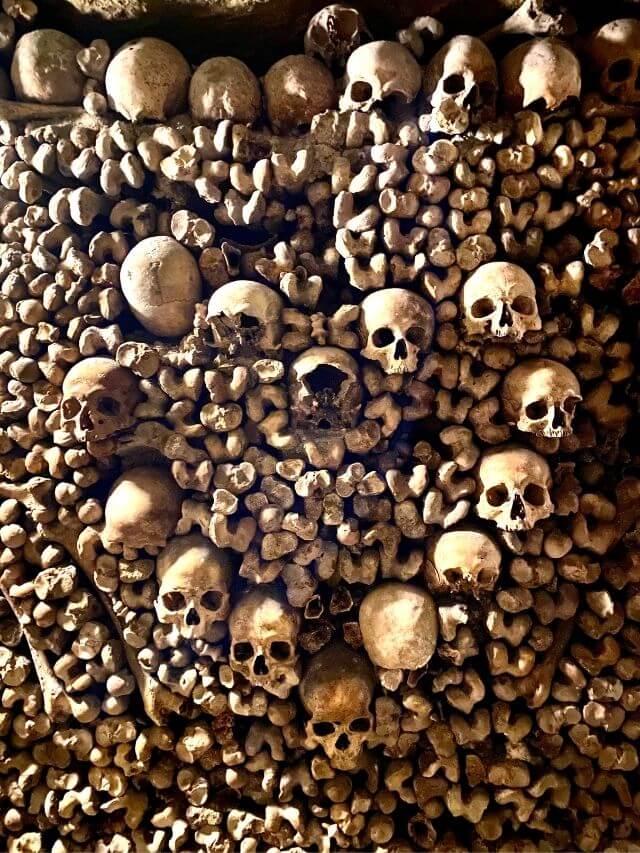 Delve beneath Paris to the Catacombs, an underground ossuary holding the remains of millions. This labyrinthine network provides a somber yet fascinating glimpse into the city's history and its handling of past epidemics.
27. Palais Royal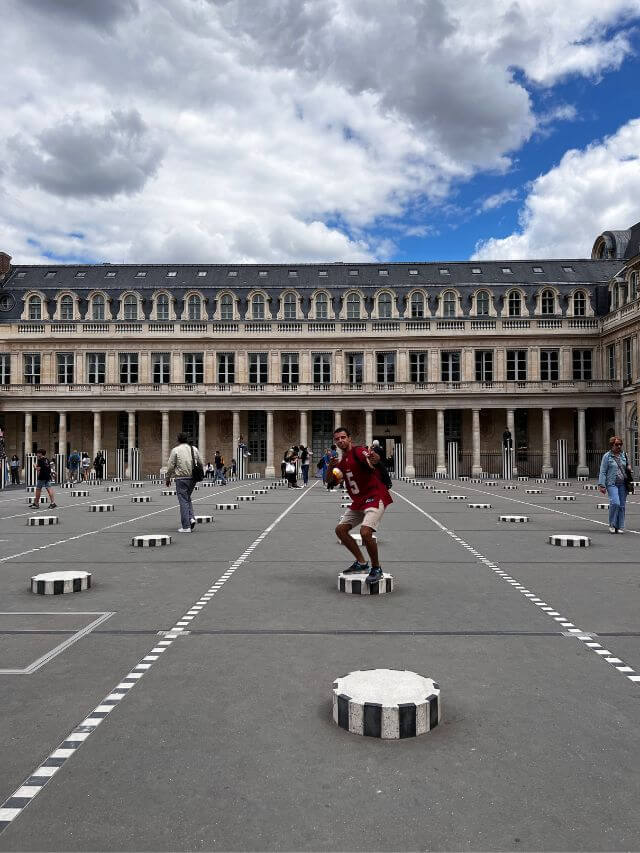 Adjacent to the Louvre, Palais Royal boasts a rich history, having housed royalty and being a hub of power. Today, its gardens, courtyards, and Colonnes de Buren art installation attract both locals and tourists.
28. Centre Pompidou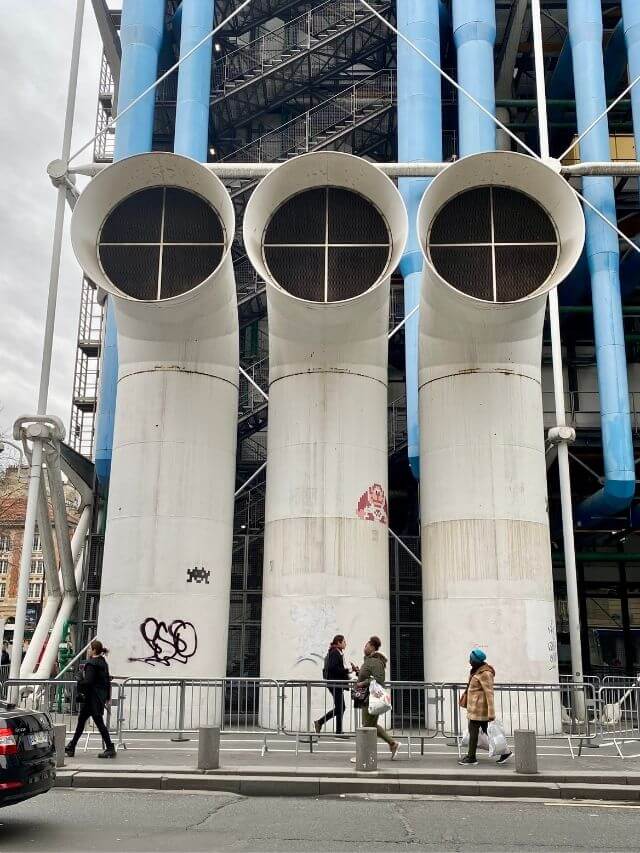 Centre Pompidou, with its avant-garde architecture, stands as Paris's home for modern and contemporary art. Its external escalators and tubular structures make it distinct, while inside, works by artists like Duchamp and Kandinsky await.
29. Musée Picasso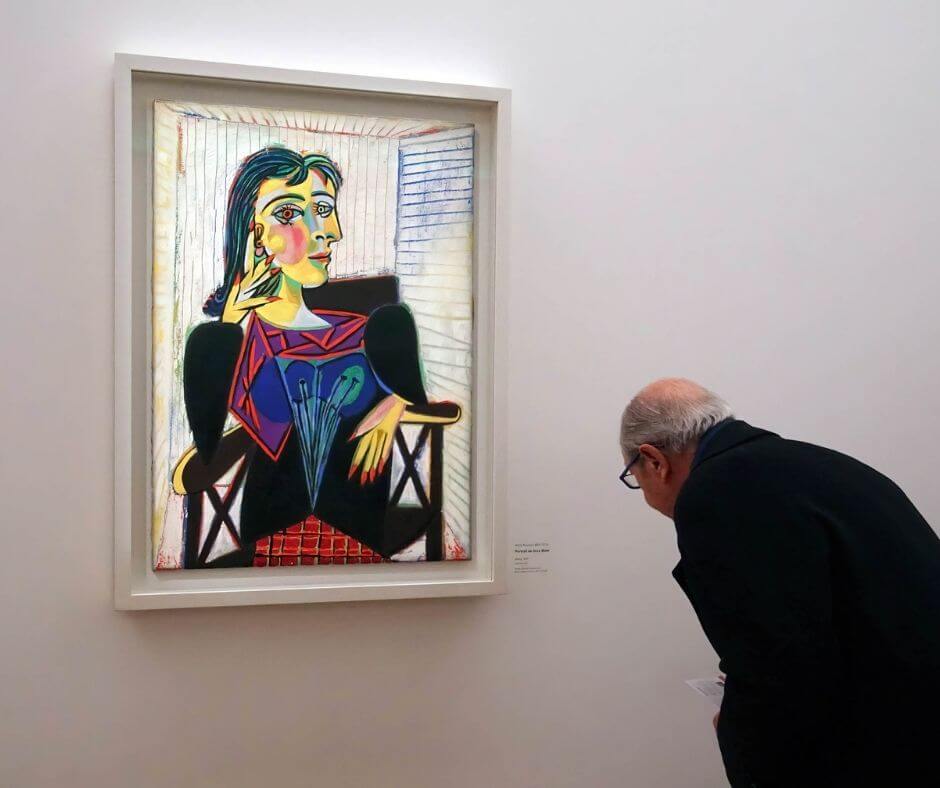 Housed in the Hôtel Salé, Musée Picasso showcases an extensive collection of Picasso's works, spanning his paintings, sculptures, and ceramics. It offers a deep dive into the artist's life and evolution.
30. Place des Vosges
Place des Vosges, in the Marais district, is Paris's oldest planned square. Flanked by symmetrical red-brick houses, its fountains and greenery make it a popular relaxation spot.
31. Canal Saint Martin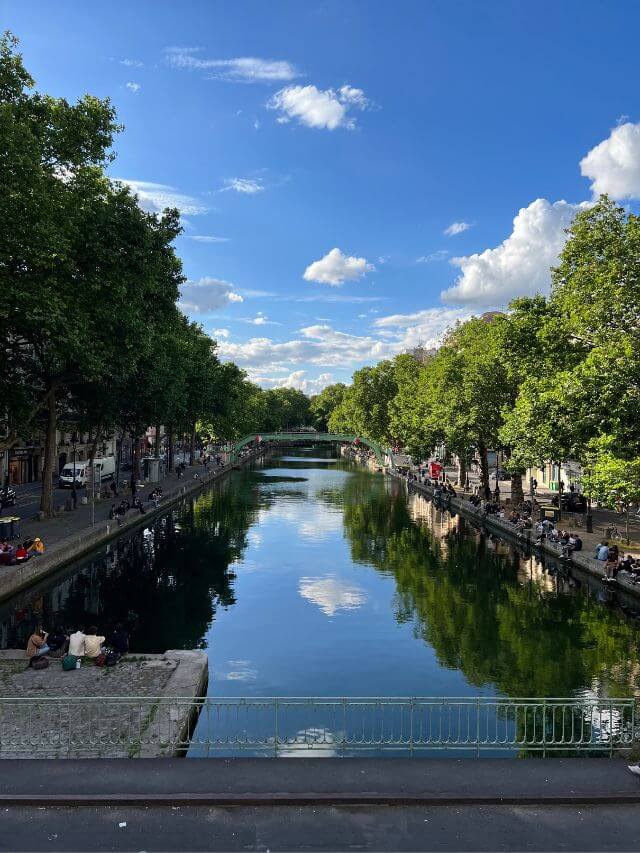 Meandering through Paris's 10th arrondissement, Canal Saint Martin is known for its iron footbridges and vibrant atmosphere. With its waterside cafes and boutiques, it's a favorite among locals for picnics and strolls.
32. Fondation Louis Vuitton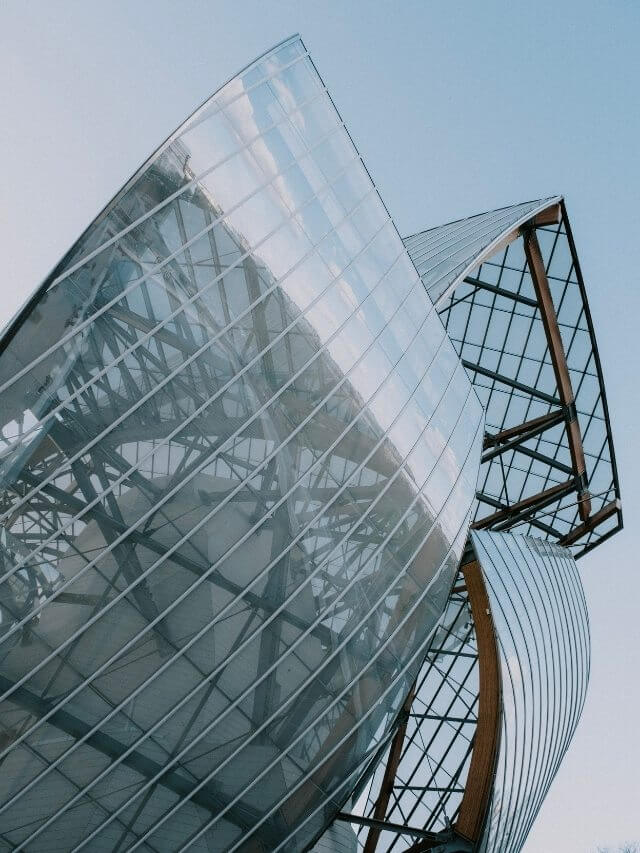 Designed by Frank Gehry, Fondation Louis Vuitton is a contemporary art museum in Bois de Boulogne. Its sail-like glass structure is as much an attraction as the art pieces it houses, from Basquiat to Hockney.
33. Opera Bastille
Opera Bastille, with its modern architecture, serves as Paris's main facility for opera and ballet. Its state-of-the-art acoustics and expansive stage make it a significant cultural venue in the city.
34. Leisure in Le Bonbon-Lilas
Nestled in the vibrant city of Paris, Le Bonbon-Lilas offers a charming and leisurely escape from the bustling streets.
Located in the 20th arrondissement, this picturesque neighborhood is beloved by locals and tourists alike for its relaxed atmosphere and unique attractions. Imagine strolling along cobblestone streets with colorful cafes, boutiques, and cozy bookshops.
The air is filled with the delightful aroma of freshly baked pastries wafting from the nearby patisseries.
Le Bonbon-Lilas is known for its dynamic arts scene, making it a haven for creatives and those seeking cultural immersion.
Le Bonbon-Lilas boasts a lively arts scene with galleries like Galerie des Lilas displaying diverse contemporary pieces.
For nature enthusiasts, Le Bonbon-Lilas's Parc de Belleville offers stunning Paris views and natural beauty, ideal for relaxation and picnics.
Le Bonbon-Lilas teems with culinary options, from traditional French dishes to international flavors.
35. Visit to Parc des Buttes-Chaumont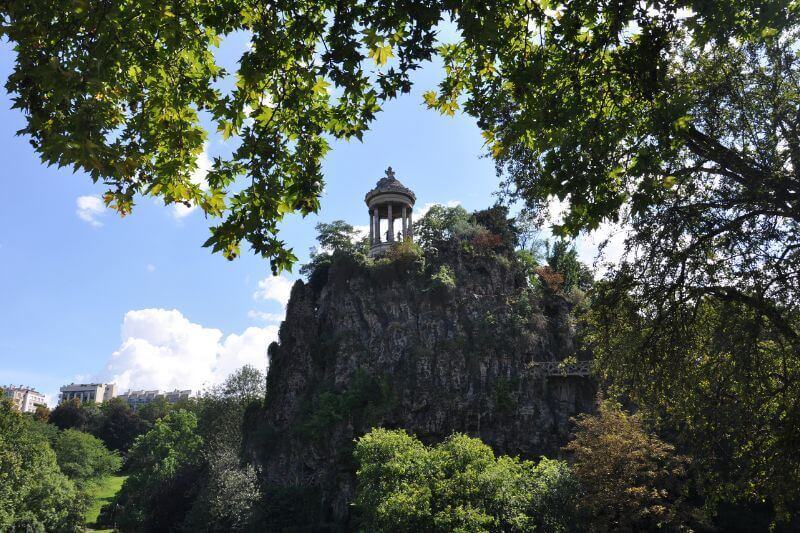 Parc des Buttes-Chaumont is a tranquil oasis in the heart of Paris with stunning landscapes. From Avenue de la Villette, visitors are welcomed by cliffs, waterfalls, and lush greenery.
The park features the Temple de la Sibylle on an island in a lake connected by a suspension bridge. It offers panoramic views, winding paths, picnic spots, and architectural sites like Pavillon Puebla and Cavea Theater.
The park offers jogging, cycling, pétanque, Tai Chi, playgrounds, puppet theater, and summer dance performances. It showcases Paris's dedication to merging nature with urban living.
36. Strolling in Parc de la Villette
Parc de la Villette, situated on the grounds of a former slaughterhouse, offers a unique blend of greenery, culture, and modern design. It's an ideal destination for a leisurely stroll enriched with art, architecture, and nature.
One standout feature is La Géode, a striking spherical building housing an IMAX cinema with an enormous dome-shaped screen that transports you to immersive worlds.
The park also features themed gardens, each offering a distinct ambiance inspired by landscapes worldwide. The Cité des Sciences et de l'Industrie, an interactive science museum, is a must-visit, providing engaging exhibits for all ages.
Parc de la Villette hosts various cultural events year-round, creating a vibrant hub of creativity and diversity.
Most Visited Places in Paris
As per TripAdvisor's analysis, the Eiffel Tower, one of the most renowned landmarks in the world, annually attracts more than 7 million visitors.
The Louvre Museum, according to its 2021 annual report, reported an estimate of over 9.6 million visitors before the global pandemic, making it the most visited art museum globally.
France's Centre for National Monuments said the Arc de Triomphe witnessed around 1.3 million visitors in 2019.
Plan Your Trip To Paris
This post may include affiliate links. This means that we will receive a small fee if you make a purchase through our links. It has no additional cost to you. It's a win-win!