15 Best Things to Do in Saignon, a Lovely Town in Provence
Saignon is a beautiful village located in the heart of the Luberon Regional Nature Park in Provence, France. The village is known for its picturesque streets, which are lined with colorful buildings and cobblestone paths.
This hidden gem will take you back in time with its medieval streets and lavender-filled landscapes. Forget the tourist crowds you often find in bigger markets and cities; you'll find authentic beauty and a laid-back vibe here.
Get ready to explore Saignon's iconic rock with stunning views, indulge in delicious Provençal cuisine, and wander through its historic alleys. For tourists, recommendations for hotels and restaurants in Saignon will be made available.
There are several hiking trails in the area, including the Sentier des Ocres, which offers stunning views of the surrounding countryside and nearby towns like Menerbes, Cavaillon, and Lacoste.
Explore the Hilltop Village of Saignon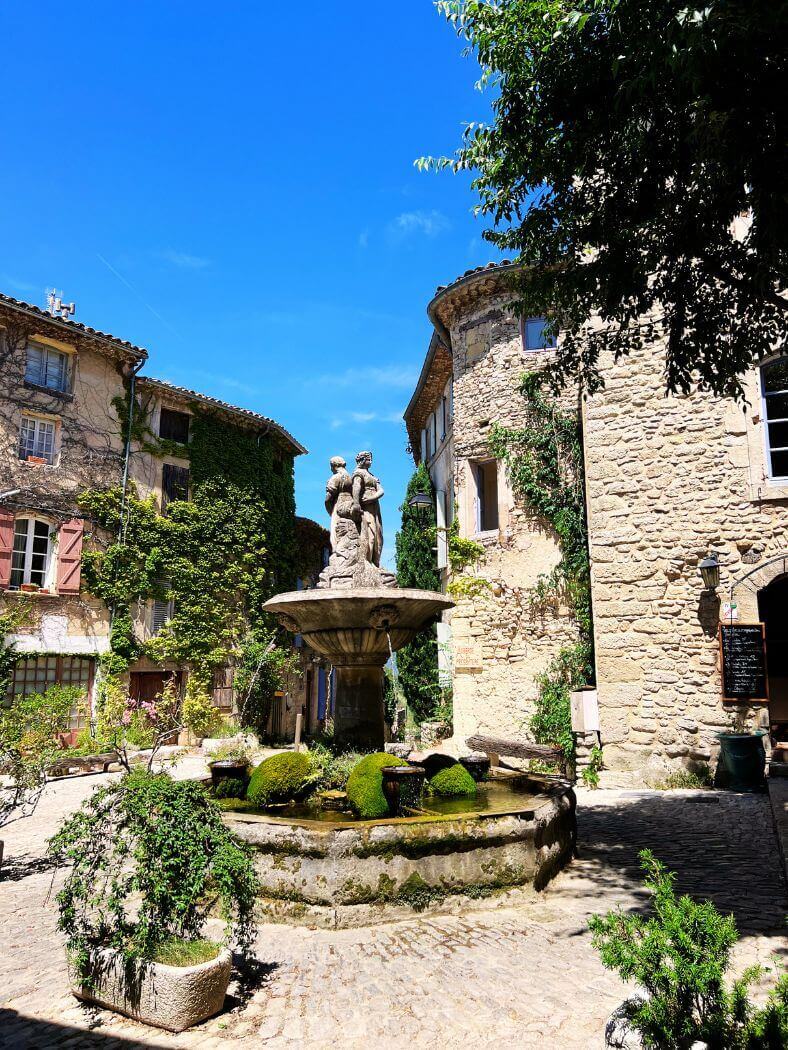 A magical journey into the heart of Provence commences here at travelfranceblog.com. Not only will you explore the charming village of Saignon, but you will also acquire valuable information about nearby towns like Menerbes, Cavaillon, and Lacoste.
A highlight not to be missed is the grand fountain adorned with sculptures by artist Elzéar Sollier, embodying the essence of agriculture and industry.
In the small streets of the village, the Place de la Fontaine invites you to enjoy the local feeling. This sweet square shows what Saignon is all about.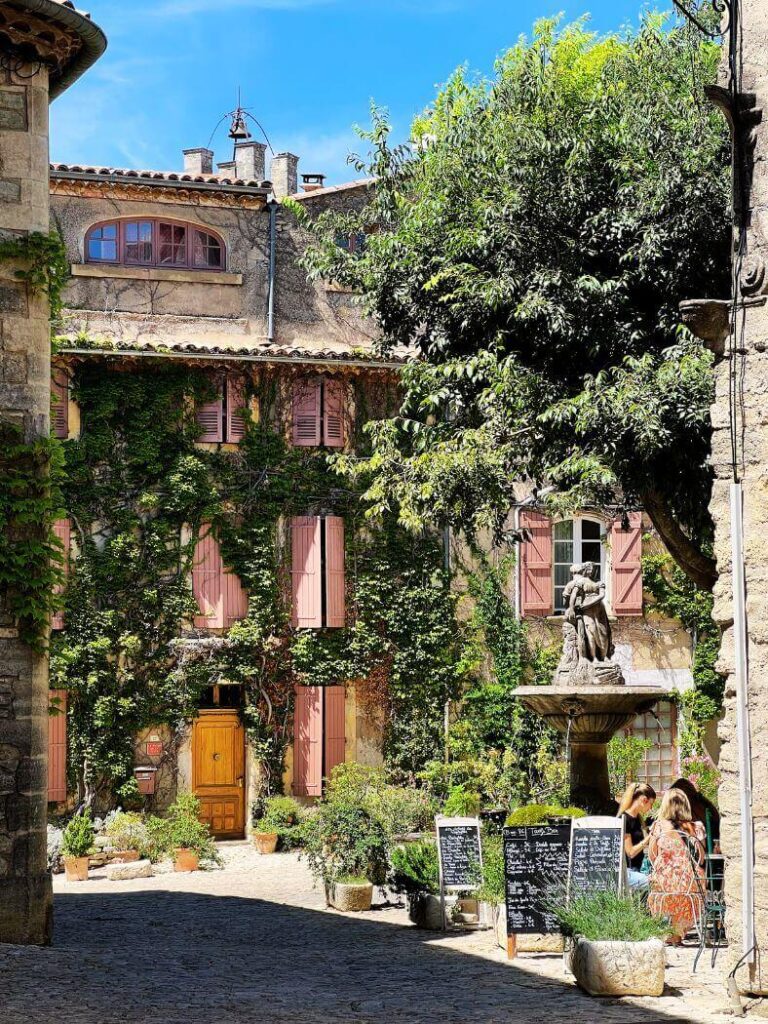 Unveiling hidden treasures, the Potager d'un Curieux beckons. Here, a dedicated gardener tends to unique, forgotten vegetables, celebrating nature's diversity. And should Easter coincide with your visit, indulge in the annual garden jumble sale by Corinne Détroyat, a treasure trove of gardening insights.
Other destinations to visit in the town and featured in our tourist information include the following:
The St-Eusèbe Abbey
Emerging from the Middle Ages, the St-Eusèbe Abbey stands as a sanctuary of contemplation and spirituality. Tracing its origins back to the 12th century, its roots extend to the year 1004, marked by the recording of a foundation or restoration act.
Founded by Saint Martian, the abbey's newly rebuilt church received consecration by Pope Urban II on August 5, 1096. Despite its transformation during the French Revolution and its current status as privately owned, its historical significance endures.
The Bishop's Palace
A living testimony to the village's intricate history, the bishop's palace showcases the interplay between religious and secular influences that have shaped Saignon.
The Washhouse with Three Basins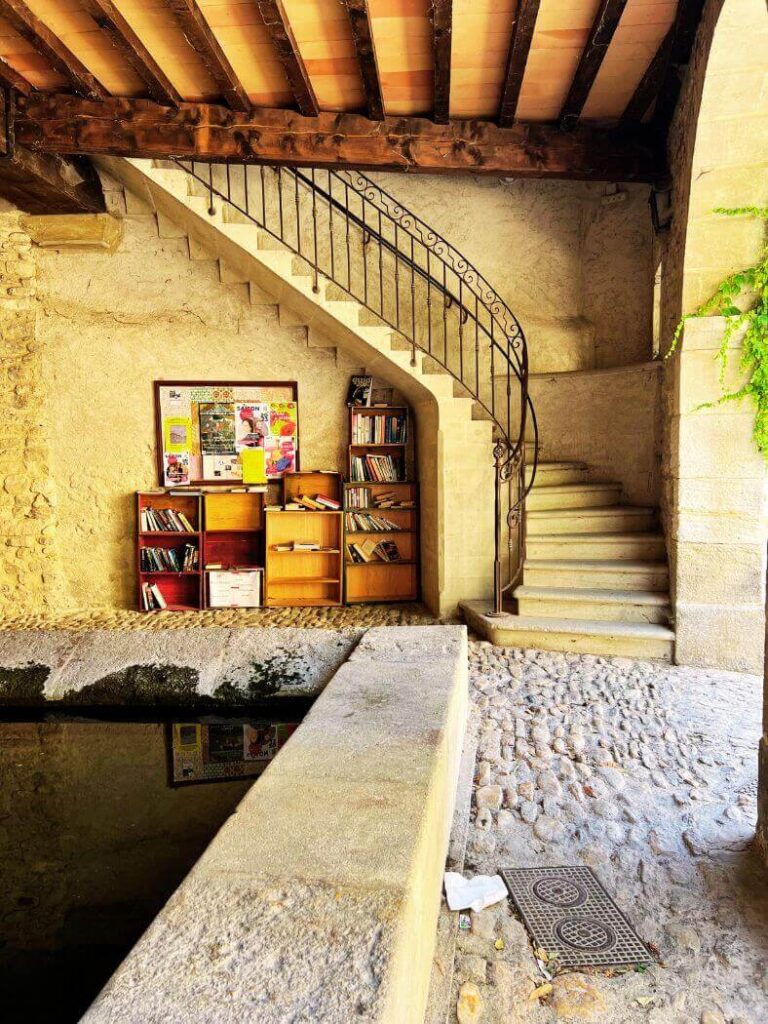 This functional structure embodies the spirit of community life, symbolizing unity and shared responsibilities that have bound the village together.
Ruins of the Chateaux
Echoes of grandeur and architectural splendor, the chateau ruins provide a window into an aristocratic era, revealing tales of opulence and history.
Visit Sainte-Marie de Saignon Church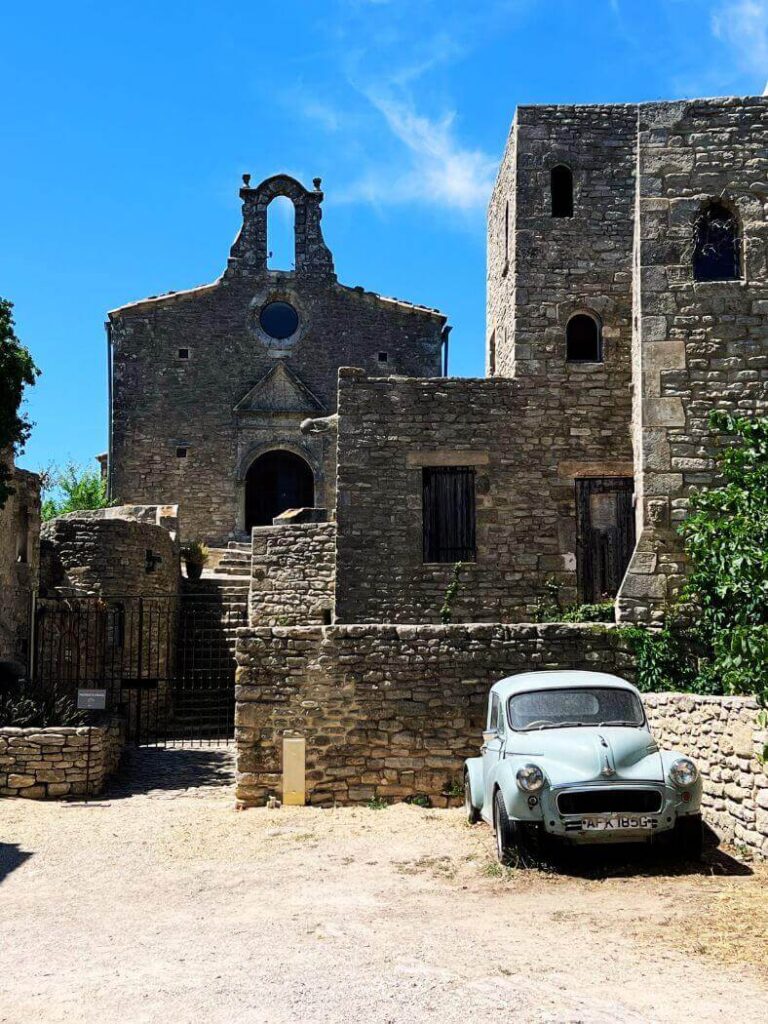 This Romanesque gem holds echoes of ages past, harking back to the early Middle Ages when pilgrims trod the Via Domitia to Rome and Santiago de Compostela.
As you step within, the walls whisper stories of Celts who once walked these paths. A precious reliquary of the Holy Cross finds its sanctuary here, a tangible connection to devotion across the years.
A beautiful touch to this tale is the year 2001, when the church's sacristy embraced documents from times gone by – 1780 and 1878 – a true gift to history enthusiasts like us, as well as information-seeking tourists.
Enjoy the Views from Saignon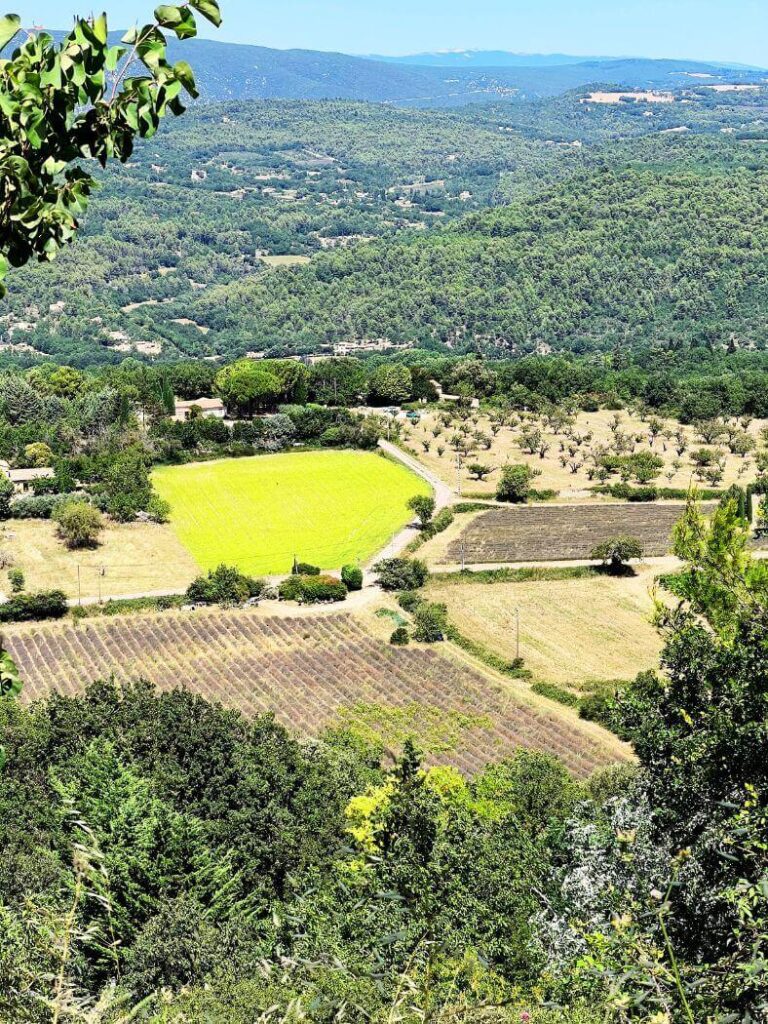 Immerse yourself in the spellbinding vistas that grace Saignon's landscape, inviting you to revel in the breathtaking beauty of the surroundings.
Begin by ascending the Clock Tower, an emblem of Saignon's history, and be rewarded with unparalleled panoramas. Feast your eyes upon endless lavender fields, neatly arranged vineyards producing renowned wines, and the majestic Luberon Mountains standing as vigilant guardians of the village.
Perched atop a rocky hill in Provence's Luberon region, Saignon is an enchanting tapestry of viewpoints that unveil the splendor of the surrounding areas. Venture to these notable vantage points, and capture a memorable photo or two 😉 and gear yourself up for an unforgettable visual experience:
Saignon Rock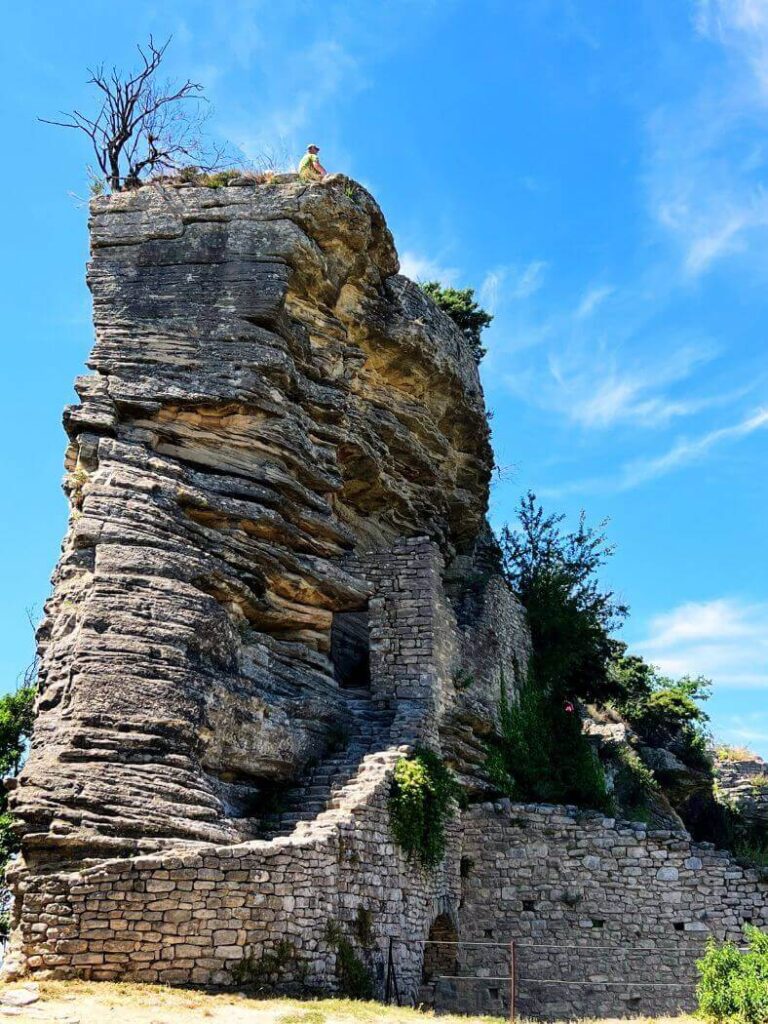 The village's most iconic viewpoint resides on Saignon Rock itself. An essential visit, it gifts a panoramic sight of the Luberon Valley and the picturesque countryside.
The journey to its peak is an adventure, and the reward is a 360-degree view that captivates the senses with views of the nearby towns, vineyards, and lavender fields, you'll not regret climbing up the rock.
Village Ramparts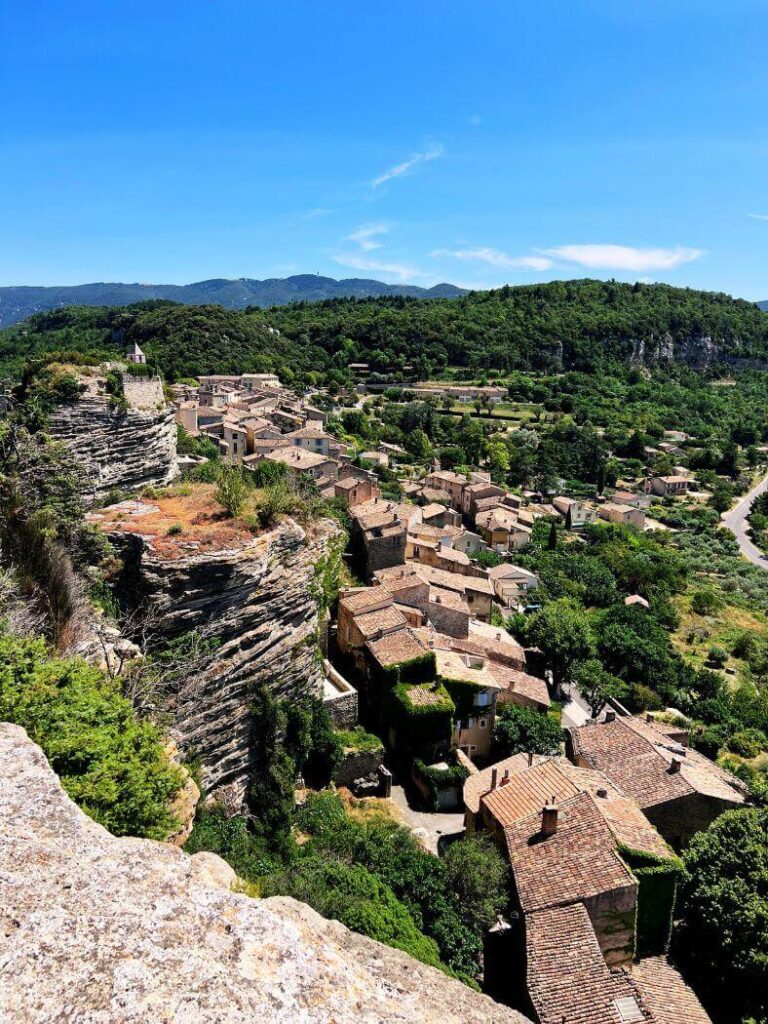 Amid village wanderings, keep an eye out for places where the countryside unfolds beyond the village walls and the roofs of the houses. Some parts of the village ramparts frame picture-perfect scenes, where verdant landscapes extend into the horizon.
The Olive Oil Mill
Echoing Saignon's deep agrarian ties, the olive oil mill stands as a testament to the village's enduring connection to the land. It offers a glimpse into the age-old traditions that have sustained the region of Provence-Alpes-Côte d'Azur through time.
Local Trails and Pathways
Encircled by picturesque countryside and numerous trails, Saignon invites you to venture along these pathways. Each trail offers a different angle, revealing diverse perspectives of the village and its scenic environment, and the iconic sites nestled within.
Saignon Cemetery
Less frequented but equally serene, the village cemetery provides tranquil countryside views from a slightly elevated position. This peaceful haven offers a moment of reflection amidst nature's embrace.
Walk to Rocher de Bellevue (Saignon Rock)
Saignon Rock, or Rocher de Saignon, resembles a grand castle from a distance, towering at 35 meters. It oversees Saignon, holding an ancient stronghold within. Offering historical gravitas, it also gifts a panoramic view encompassing Calavon valley, Mont Ventoux, and Montagne de Lure.
Nestled in this exceptional landscape, Saignon village perches on a rocky outcrop on Claparèdes plateau's edge.
A hike around reveals an intricate cluster of rocks, seemingly unified, that accommodates village homes, an old castle, and undiscovered rock formations like ramparts and an oil mill. Architecture interweaves with rock, a harmonious coexistence reflected in nested structures.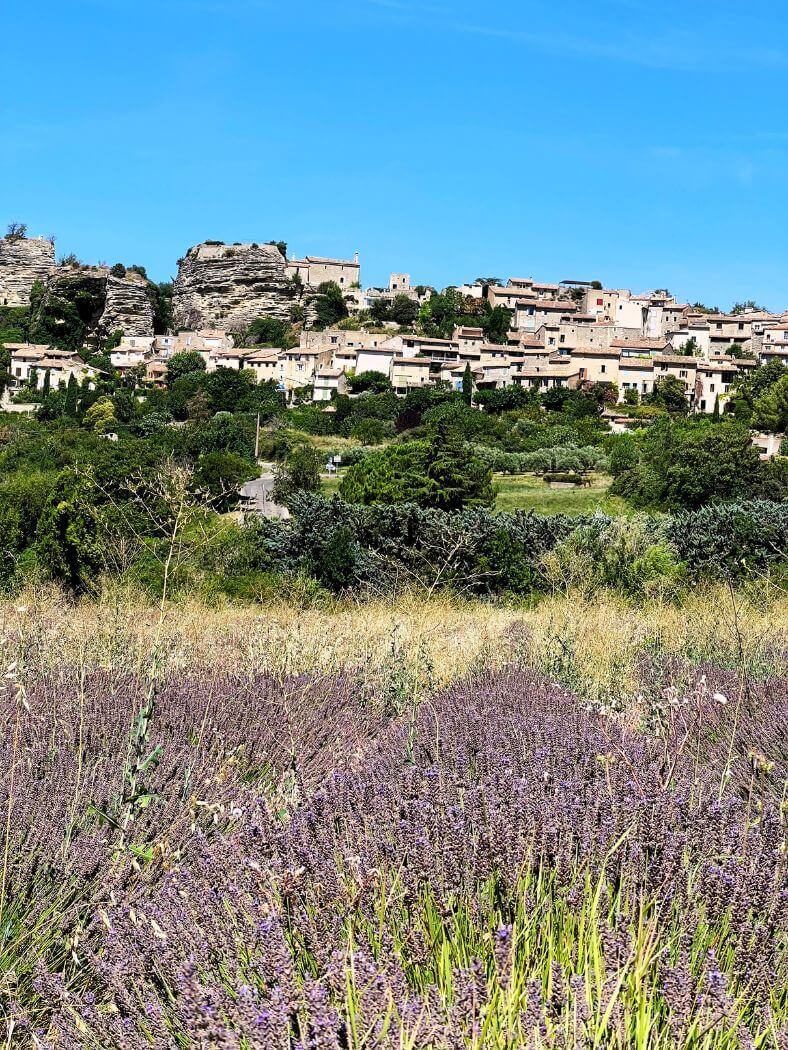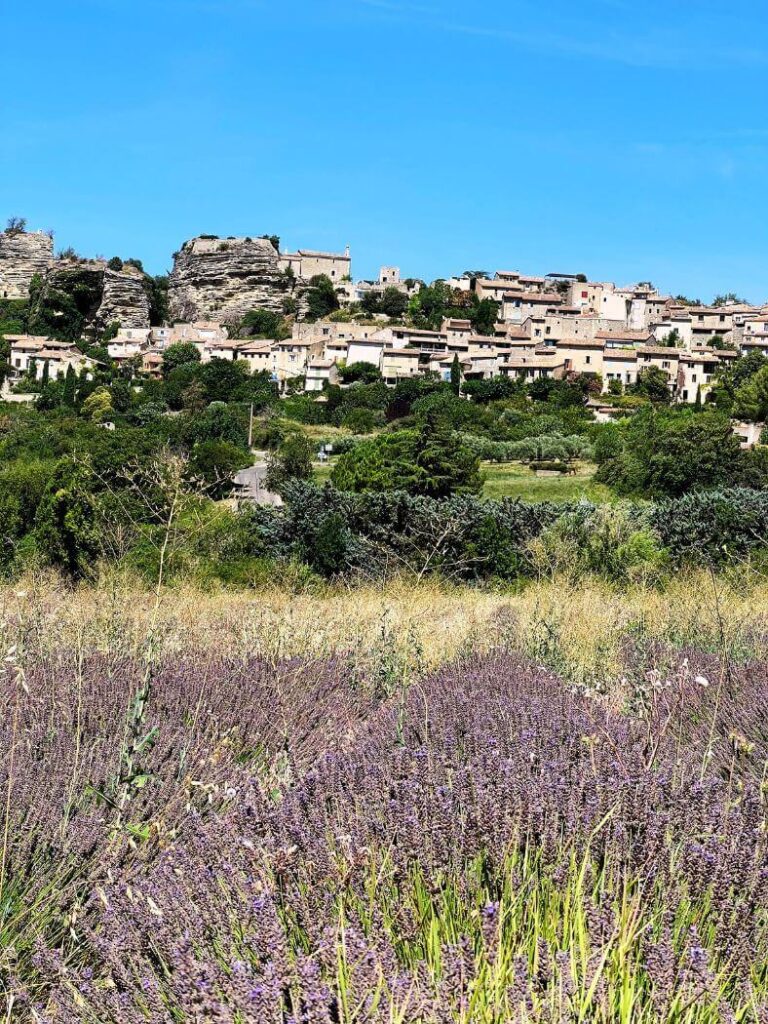 Rocher de Saignon, a remnant from the eroding Claparèdes plateau, is an emblem of the past. A reminder of the plateau's broader span, both plateau and rock share fossil-rich sandstone limestone called molasse or "Pierre du Midi."
Originating 20 million years ago from the Miocene sea, the rock displays diagonal layers, revealing underwater currents' traces during molasse deposition.
Walking to Saignon Rock, you tread through eons, uncovering tales of ancient seas, shifting currents, and time's resilience. Just as the Rock guards stories, your steps merge with those traversing ages, becoming a part of a timeless narrative.
Saignon Market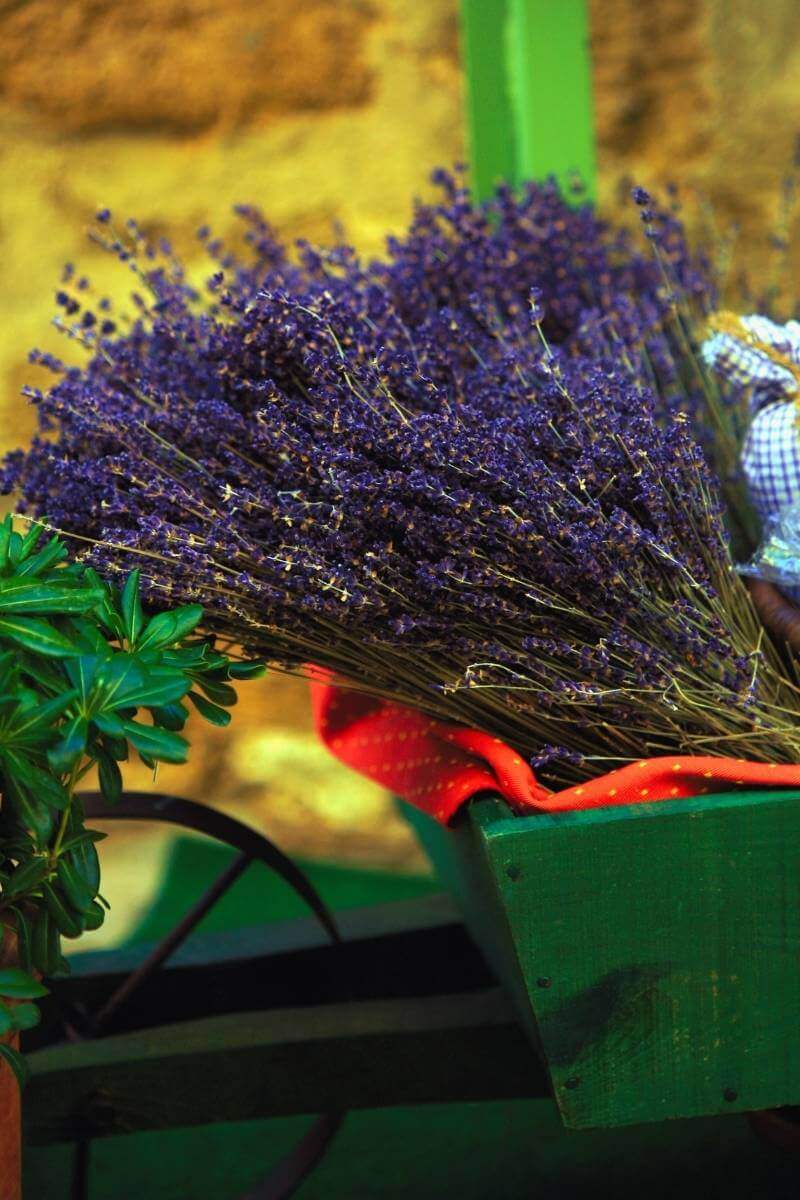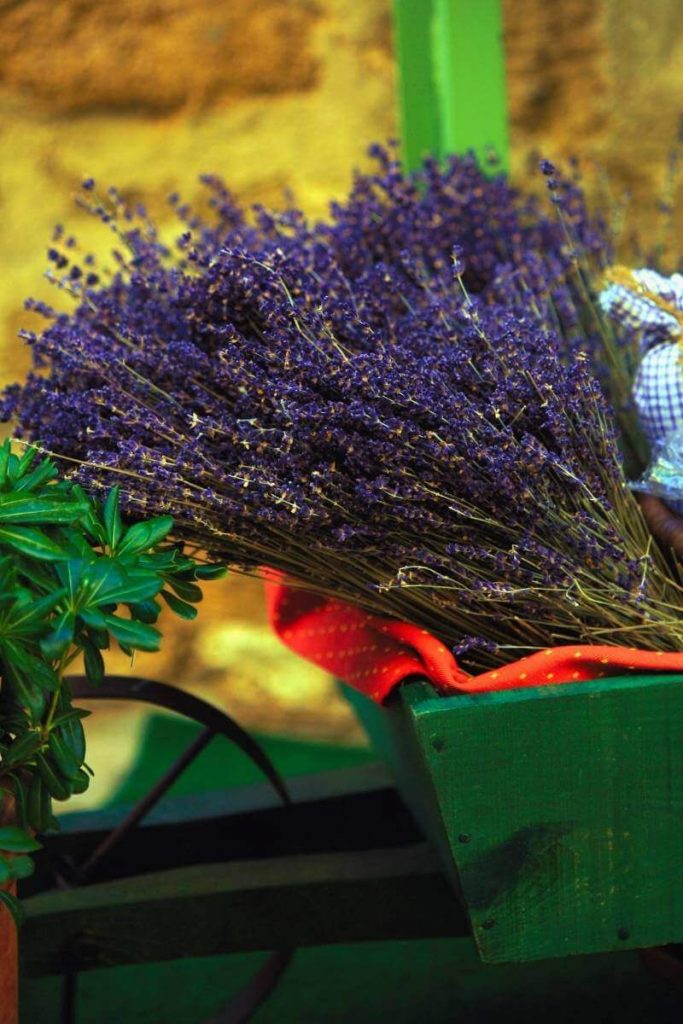 The Saignon market in Provence, France, has a long history. It started in the 13th century and was a busy place in the old village of Saignon. People came to exchange things like food and crafts. With time, more folks joined, and the market grew bigger, selling many different things.
In the 18th century, they made the market square better for more sellers and visitors by adding new sites, houses, and fountains to the surrounding area. The stone ground you see today was put down then.
The market wasn't just for buying stuff; it was also where folks met, shared stories, and celebrated their ways.
Even when things got tough, like money troubles and changing trade routes, the Saignon market, a significant ingredient to the culture of Provence-Alpes-Côte d'Azur, kept going. It's loved by everyone and shows how life is in Provence. This market is part of the village's history and keeps its special culture alive.
In the 1900s, more people from around the world came to visit, loving the charm of Provence. Today, the Saignon market mixes old and new. You'll find fresh food and handmade things, but also newer stuff like organic items and eco-friendly goods.
If you visit the Saignon market on Thursdays, you'll not just see things to buy, but also a bit of history.
Day Trips to Saignon
The journey doesn't end with the market for Saignon, Provence, France, has a lot more to offer. This charming village in Provence's heart offers a world of hidden gems. With majestic gardens and the murmur of serene rivers, Provence manages to captivate the hearts of travelers.
Avignon to Saignon: Finding Hidden Beauty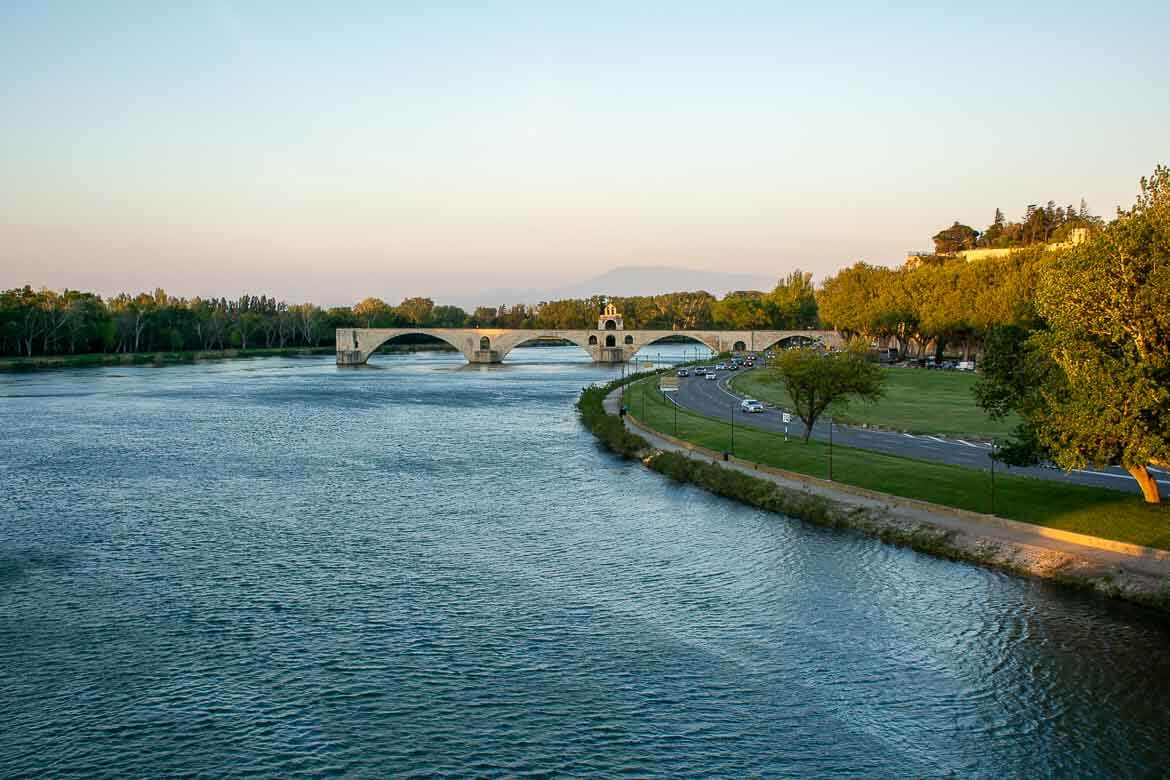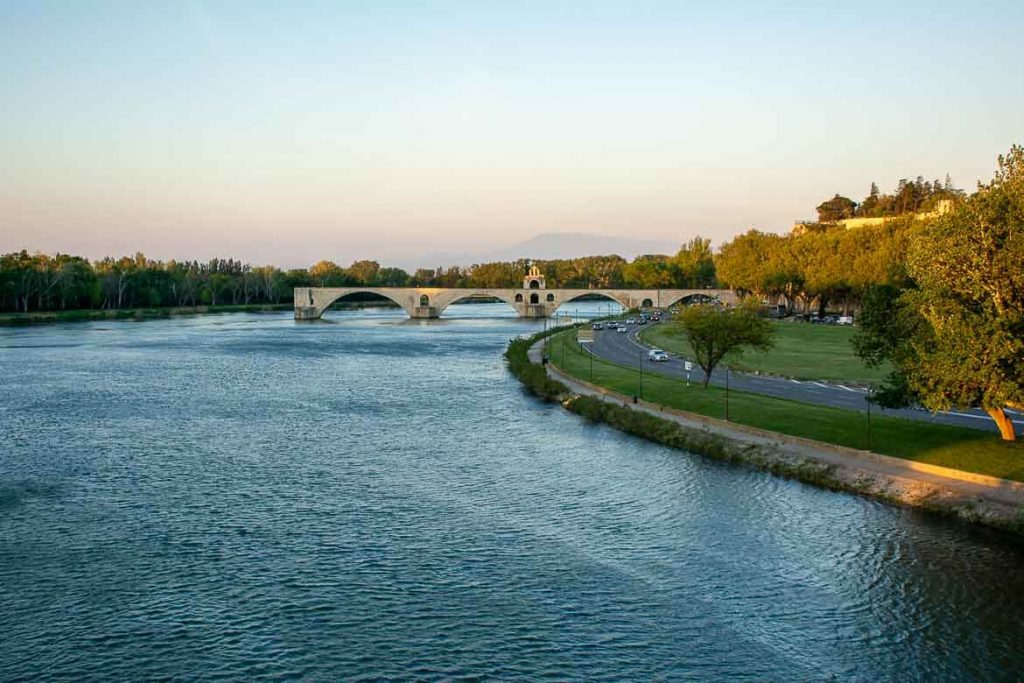 Embark on a personal journey through Luberon from Avignon. Immerse yourself in the charm of Gordes, Roussillon, and more. Savor local flavors, explore Mines de Bruoux, and sense the tranquility of Senanque Abbey. Don't miss a delightful picnic with fresh farmer's goodies.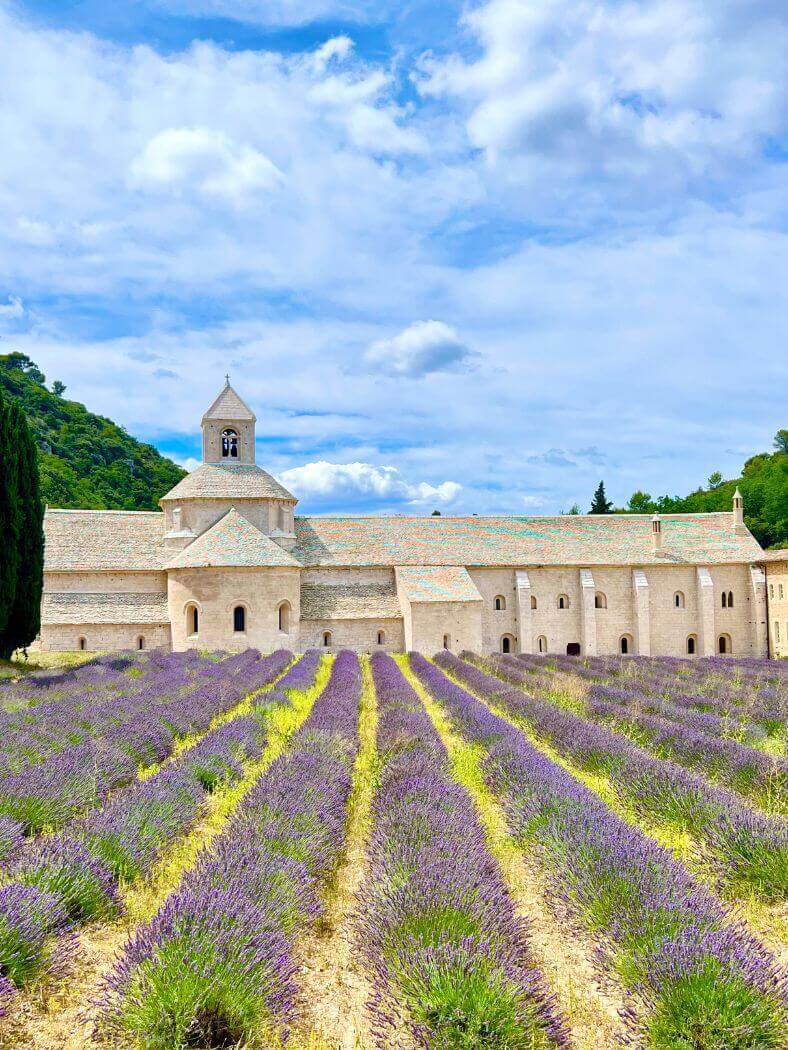 Saignon awaits with its breathtaking Rock of Bellevue view. Unveil lavender's allure at Les Agnels distillery. Full-day tours include Mines de Bruoux and winery exploration. Begin and end with ease, picked up by the Tourist Office of Avignon.
Guided Adventure in Provence: Exploring Hilltop Magic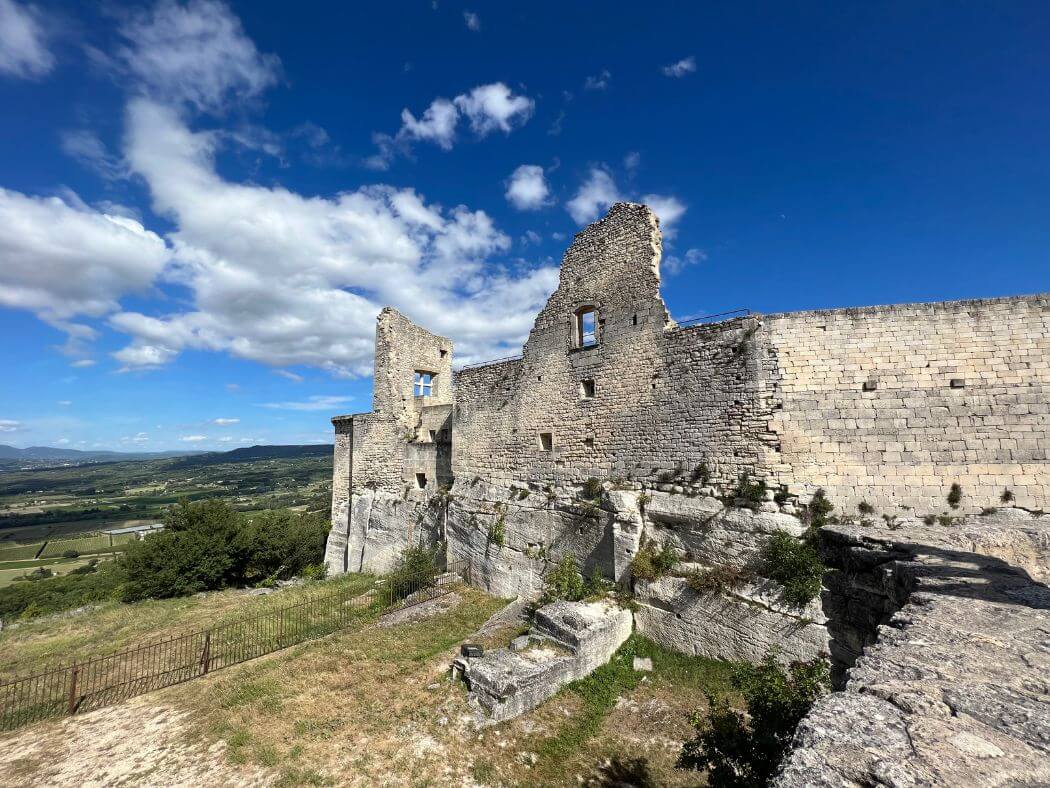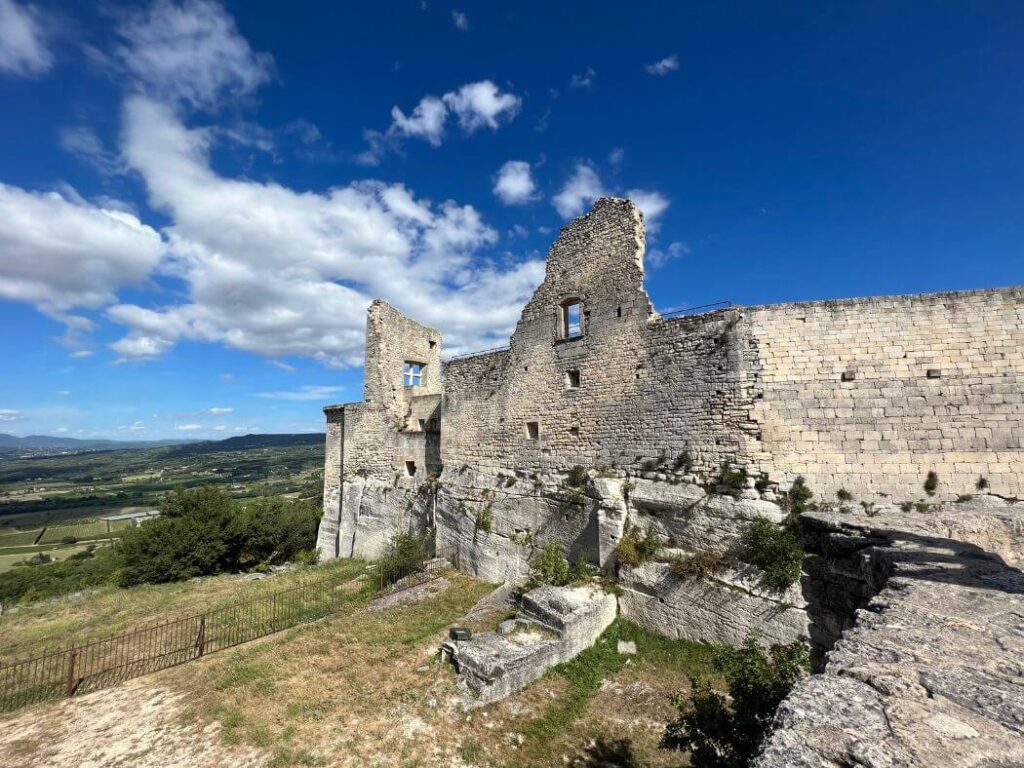 Imagine going on a guided tour in Provence, visiting Saignon and other hilltop towns. These villages are on top of hills, and when you're up there, you can see the land all around.
In Roussillon, the red and yellow ochre hues create a unique canvas. Taste the region's famous wines and enjoy a leisurely picnic with breathtaking views.
As the day continues with this tour, Bonnieux and Saignon unveil their spectacular vistas. A visit to a lavender distillery is a sensory delight.
Aix en Provence to Saignon: Trip Back in Time
Let's embark on a journey from Aix en Provence through the mesmerizing Luberon Regional Park. One of the destinations of the tour is the picturesque hilltop village of Saignon, where you'll feel like you've stepped into a storybook.
Every step you take is like following in the footsteps of people who lived there a long, long time ago. It's like a day of exploring, like going back in time and making memories in Saignon.
Provence Gastronomy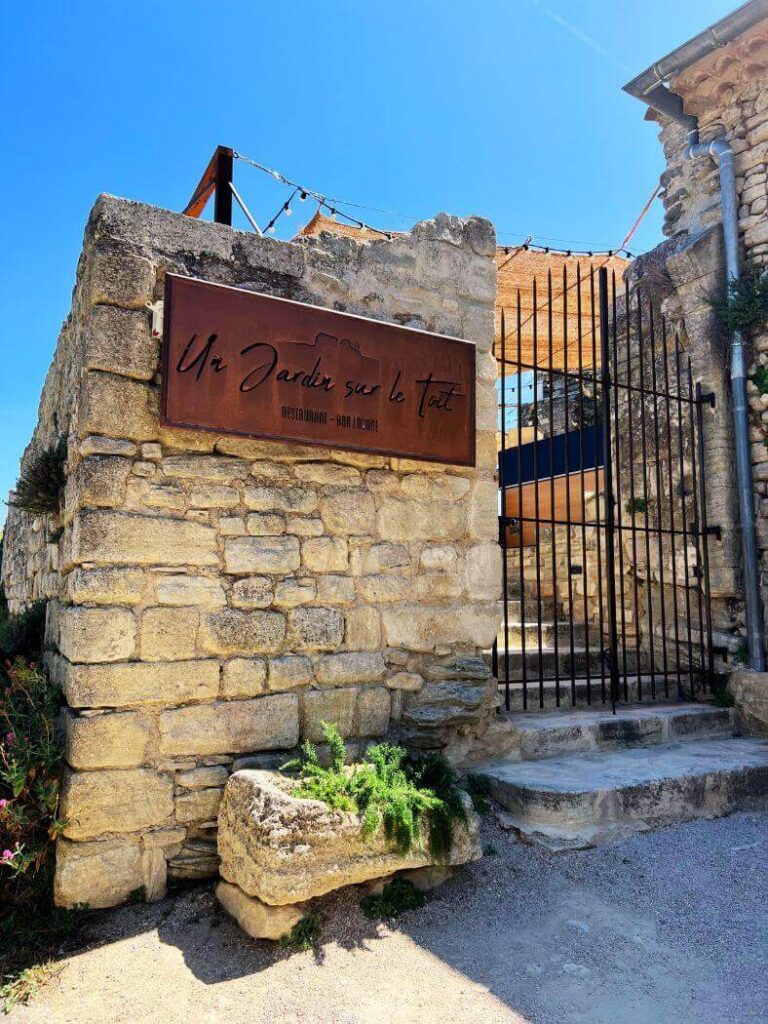 Saignon's culinary magic is like a time capsule, capturing the essence of Provence's tastes and tales. It's as if each dish carries much of the region's history, lovingly preserved on our plates.
Traveling back to the early 20th century, Saignon's culinary journey melds seamlessly with its cultural heritage. Imagine families like the Martels and the Lacroix, weaving traditions into their recipes, ensuring that every bite whispers the secrets of authentic Provençal cooking.
The iconic ratatouille in the 1930s is a hearty blend of seasonal veggies – tomatoes, eggplants, zucchini, and bell peppers – mingling with garlic, onions, and fragrant herbs. No travel to Provence would be complete without savoring Saignon's legendary ratatouille at the wholesome restaurant of Le Bistrot du Coing.
The bouillabaisse emerges as a fisherman's gift from the shores of Provence. When in Saignon, order the L'HYMNE À LA MER at Un jardin sur le toit!
It's a stew of sea bass, monkfish, and shellfish, swirling with tomatoes, saffron, and fennel – a melody of flavors generations in this city have cherished. And the rouille, a garlicky saffron-kissed mayo, whispers tales of the sea, adding that perfect touch to this culinary voyage. It's something distinctly local and absolutely delightful.
Enjoy a fantastic tour through the Luberon Region, including the Saignon village and delicious picnic treats. Think of it as a journey through a picturesque destination that perfectly blends adventure and gastronomy.
Savor products from local farmers, like pepper cream, black olive tapenade, and more, through this tour!
Photography and Painting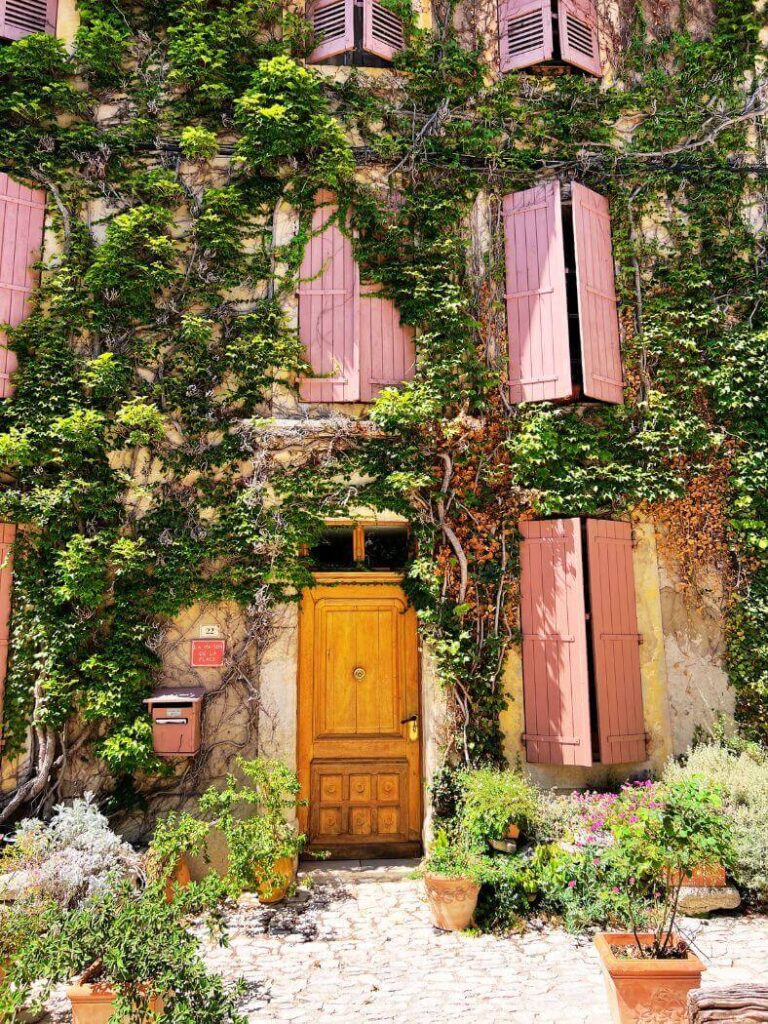 For those with a passion for photography or painting, the city of Saignon is a treasure trove of inspiration. Depending on the weather, you might even find the sunlight hitting the landscapes and architecture in a way that creates captivating subjects.
During this tour, your guide will lead you on a leisurely stroll through each village, sharing both historical and current insights, including those about local traditions and the city landscape of Saignon. And don't worry, there's time to pause, drink in the location, and capture stunning photos from elevated viewpoints!
Museums are a bit far from Saignon. But if you are touring the Luberon region, I suggest visiting other villages like Lourmarin, Gordes, Lacoste, and more to your destination checklist!
How to Get to Saignon Provence, France
To make things even more convenient, consider booking a rental car through services like DiscoverCars for your travel. This way, you can visit everything you want at your own pace.
By Car: If you're a fan of road trips like I am, driving to Saignon is a fantastic option. The freedom to stop at quaint villages or beautiful lavander fields is awesome.
By Train and Bus: If you enjoy the scenic route, hop on a train to Avignon or Aix-en-Provence and then catch a local bus to Saignon. For train bookings, Omio is a great platform to find affordable tickets.
By Air and Rental Car: Flying into Marseille Provence Airport or Avignon-Provence Airport? Once you land, consider renting a car to truly explore the region.
Guided Tours: Joining a guided tour not only takes the hassle out of planning but also adds an informative touch to your journey. Some tours offer transportation to Saignon and beyond, providing an all-in-one experience.
Getting Around Saignon Provence France
When it comes to getting around Saignon, there are delightful path to explore. From strolling its charming streets to guided tours, cycling through its scenic landscapes, and embarking on invigorating hikes, the ways to experience Saignon's beauty are as diverse as the village itself.
Where to Stay in Saignon Provence, France
Discover your perfect haven in Saignon, France. From luxurious escapes to cozy retreats, find your ideal accommodation amidst the beauty of this enchanting village.
Luxury Retreat – La Maison près de la Fontaine
Nestled amidst mountains, La Maison près de la Fontaine in Saignon welcomes you warmly. Here, in a charming city hotel, you can enjoy a room and shared lounge. Experience cozy evenings with a flat-screen TV and thoughtful bathroom amenities.
Experience quintessential French charm in the village's stone buildings and eateries. Starting at €220, your room promises more than lodging – it's an exceptional experience.
Charming Boutique – Studio 57 à Saignon and Entre Terre et Ciel
Studio 57 in Saignon is a hotel in a location rich with activities like cycling, fishing, and hiking. The apartment includes 1 bedroom, a living room, a kitchenette, and 1 bathroom. Nearby attractions include Abbaye de Senanque and Thouzon's cave.
Entre Terre et Ciel presents a charming apartment with mountain views, a terrace, and a balcony. It comprises 1 bedroom, a living room, a kitchen, and 1 bathroom. Nearby are The Ochre Trail and Village des Bories, while Avignon-Provence Airport is 48 km.
Cozy Hideaway – Suite Provençale
Discover the charm of Suite Provençale in Saignon, where mountain vistas and family-friendly accommodations await. Just 49 km from Parc des Expositions Avignon, it's a gateway to The Ochre Trail, Village des Bories, and Abbaye de Senanque.
Unwind in the cozy suite with a private entrance and enjoy the convenience of amenities, all while soaking in the beauty of the mountains.
What Is the History of Saignon, France?
Discover Saignon, a charming village in Provence, France, where history blends with the beauty of the South. The past is alive here, starting with Gallo-Roman times when people built villas and altars. The high rock of Saignon was like a lookout, giving the village its name from "signum."
In the 10th century, a castle graced the rock's peak, eventually replaced by three forts guarding Apt. The Romanesque Notre Dame church, a haven for pilgrims en route to Rome or Santiago de Compostela, bears traces of Celts and cradles a precious Holy Cross.
The 11th century witnessed the flourishing of Saint Eusebius Abbey under the watchful care of Saint Martian. Saignon's significance evolved from being a stronghold for Forcalquier County to a stage for power struggles in the 13th century.
The 17th century welcomed Georges and Madeleine de Scudéry at Valcroissant Castle, embraced by the charm of Remerville's Saint Quentin. The plains echoed with sulfur mining and farming, and even today, agriculture thrives alongside an ecological garden that nurtures rare vegetables.
Saignon's rich history whispers through every cobblestone and alley, an integral part of its soul that invites you to uncover its secrets and stories.
Is Saignon, France, Worth Visiting?
Absolutely! In the charming village of Saignon, in the French Provence, it's a destination to be enjoyed in the heart of Luberon, one of the most beautiful villages in Provence, and a place to see lavender fields, vineyards, and the medieval charm of the village.
Plan Your Trip to the South of France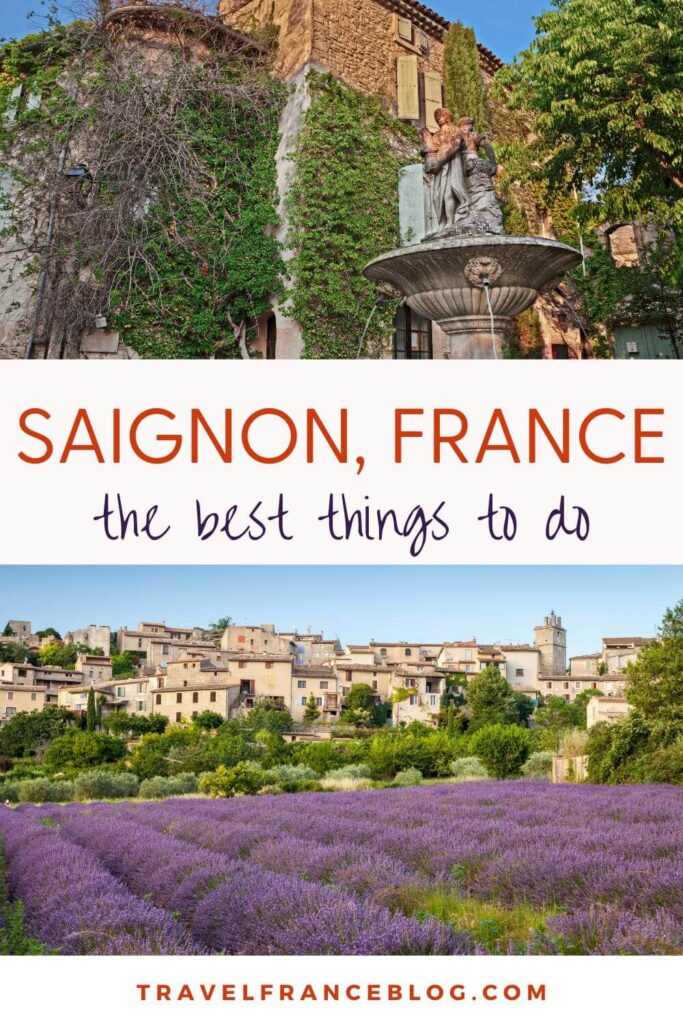 This post may include affiliate links. This means that we will receive a small fee if you make a purchase through our links. It has no additional cost to you. It's a win-win!