Road Trip Itinerary 10 days in Provence
In this post, we have prepared an itinerary to visit the Provence Region on a road trip.
Provence is France's most beautiful and attractive region for many French people and travelers.
Why? Mainly for its historical heritage, natural beauty, and Provençal markets that give color to its towns and cities.
This Road Trip begins and ends in the city of Marseille, which has a large airport that is inexpensive to travel to and very close to the city center.
To make this road trip, you could stay in Marseille for all 10 days and visit the nearby cities on the same day, but you would spend many hours on the road and probably not enjoy each destination to the fullest.
That is why I have prepared this 10-day Itinerary through Provence. It is pretty similar to ours, only that we went in our car from Madrid, and honestly, it's a little bit of a beating.
Summary 10-day Itinerary in Provence
Day 1, 2, and 3: Marseille and Calanques National Park
You will be staying in the city of Marseille, just a few minutes from the airport where you will be landing, and where you will find accommodation at a reasonable price. It is a perfect location to explore the city and its surroundings.
In addition, it is a perfect place to visit Les Calanques. It is only 35 minutes away, allowing you to arrive early at the Nationa Park and make the most of a full day in Les Calanques.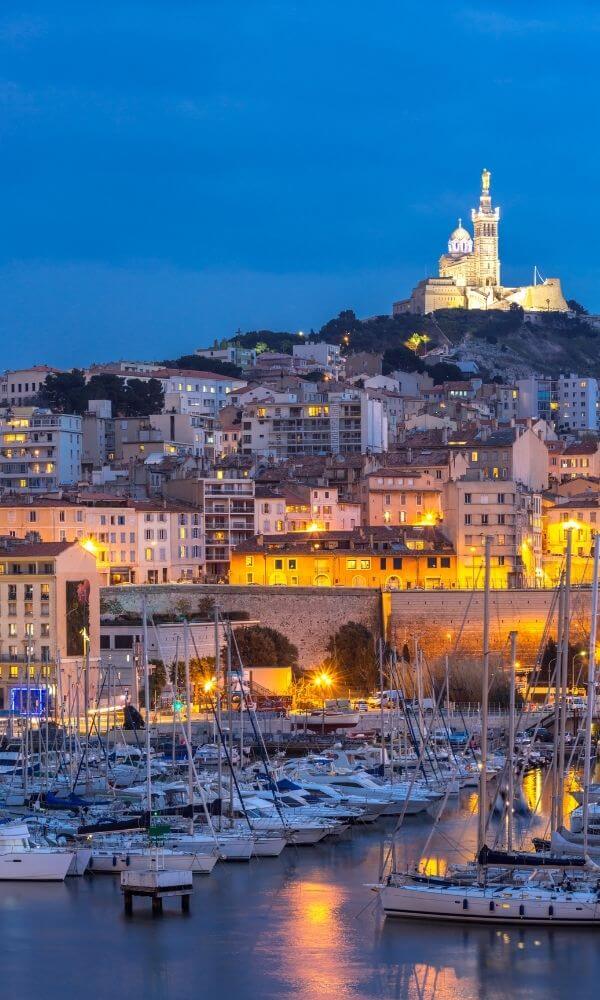 Day 4 and 5: Aix and Lavender Fields
During these days, we will focus on the beautiful city of Aix en Provence and the Lavender fields of Valensole, which are very close to the region's ancient capital.
Therefore, you can sleep two nights in Aix de Provence, where you will find the most suitable accommodation for you among the many options offered by this city so visited by the most art-curious tourists.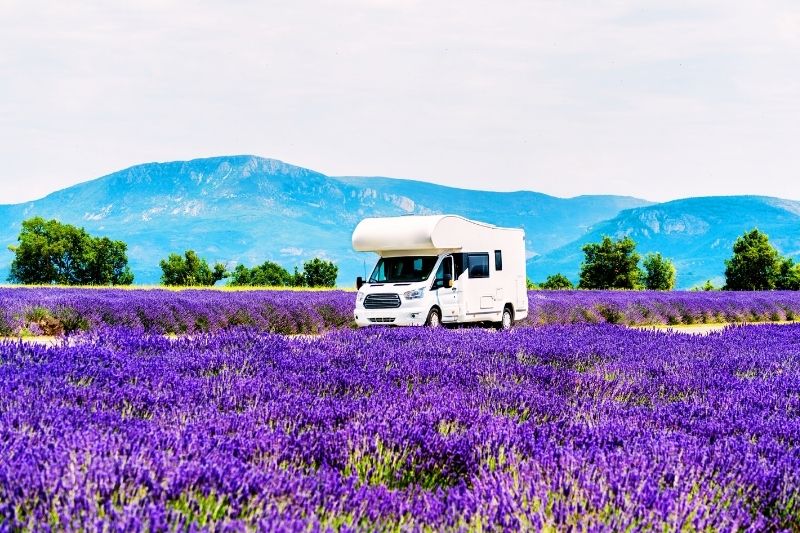 Day 6: Roussillon and Gordes
Visit Roussillon and the Castle of Gordes, where we propose you make some trails to enjoy the nature of this place.
We recommend that you stay in Roussillon. You will end up exhausted after a full day of hard walking.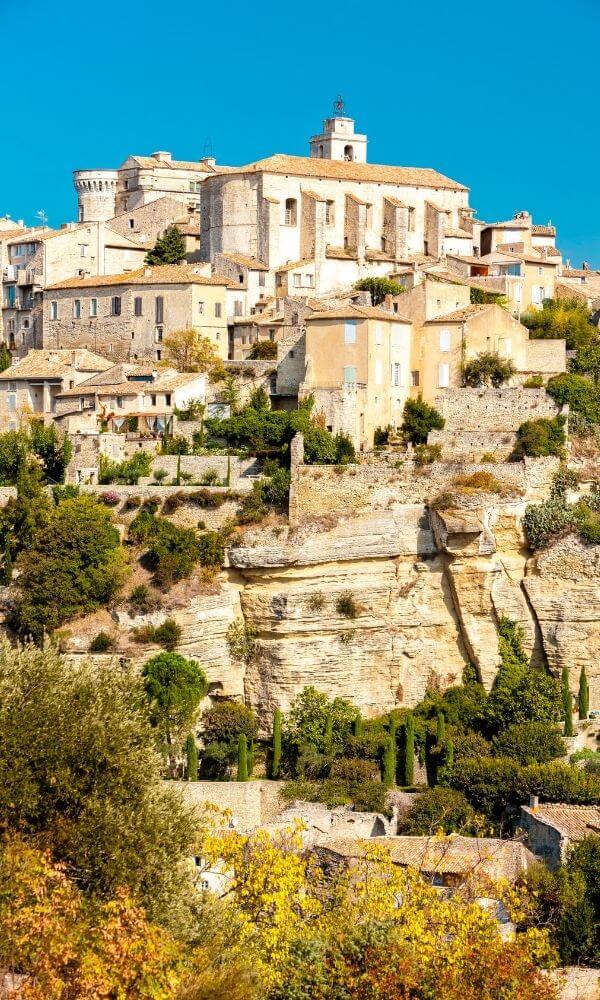 Day 7: Avignon
The time to visit the papal city of Avignon will be a day of cultural visits.
This medieval city is practically unique in Europe, and we think you should spend the night here and contemplate it for a full day.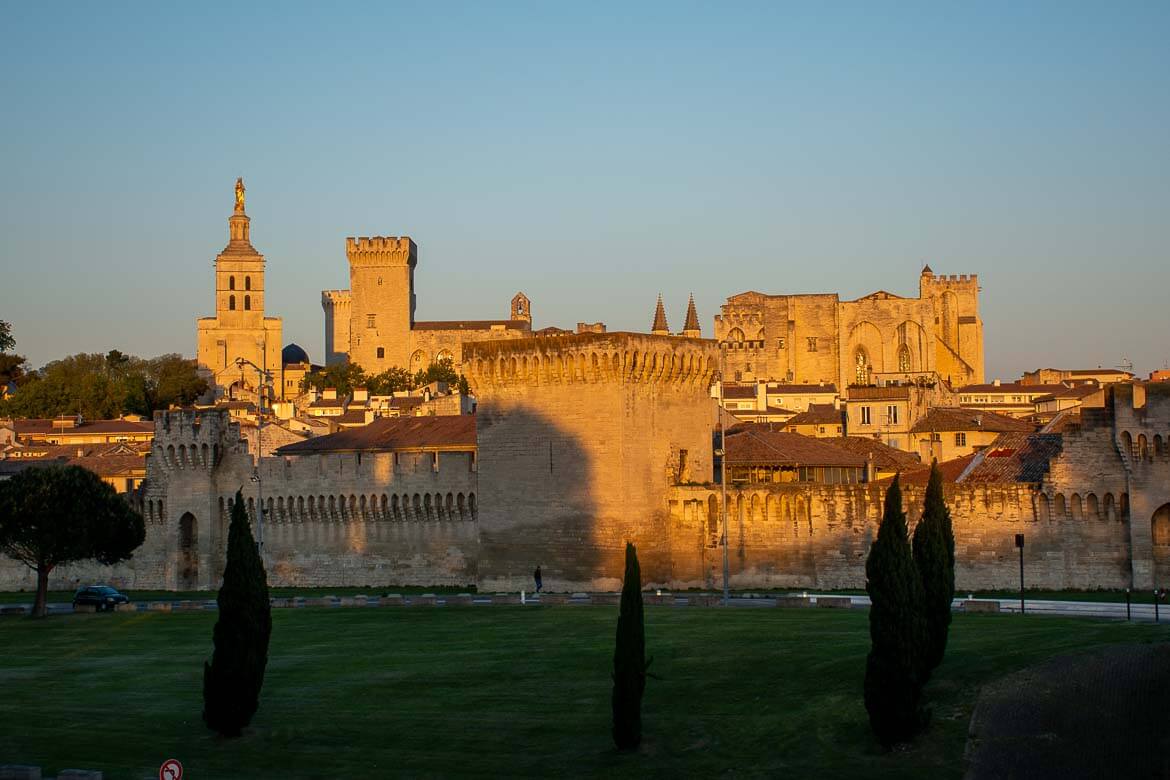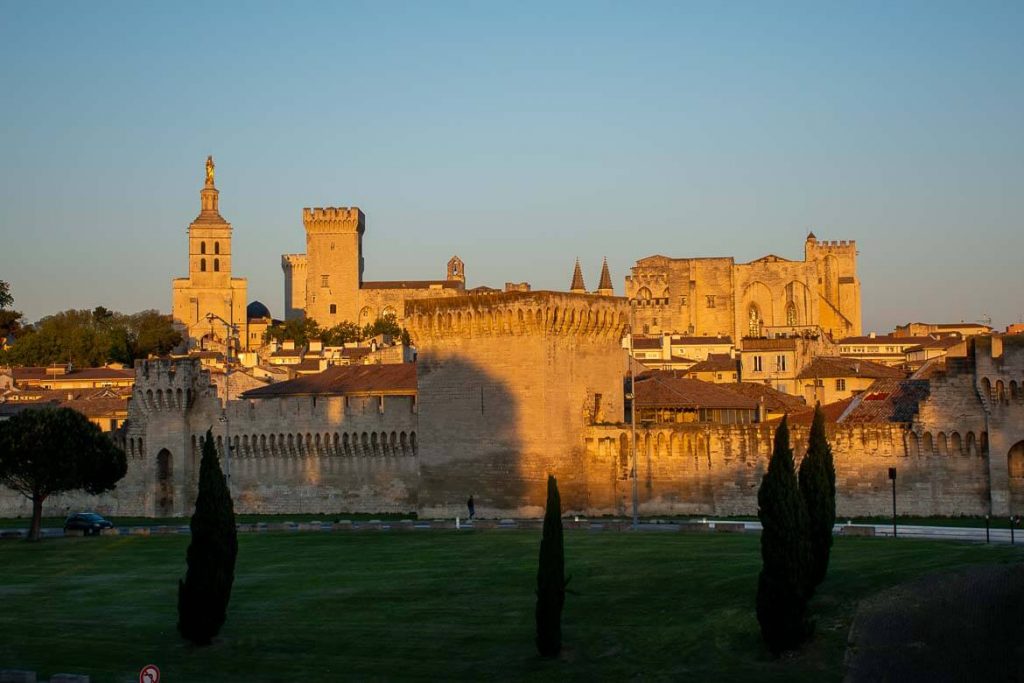 The sunset views of the city from its bridges are magnificent.
Lodging in this city is a little more expensive than in other places. But since it has a wide range of hotels, you will find one that suits your travel style.
Here are accommodations for your travel style and budget.
Day 8 and 9: Arles, Pont du Gard and Les Baux de Provence
On the way from Avignon to Arles, you will make a stop at Pont Du Gard and the Château de Les Baux de Provence.
Then you will take the car to rest in the city of Arles, where you will spend the 9th day and night, and the next day you will head to Marseille, where your trip will end.
Take a look at the accommodations in Arles.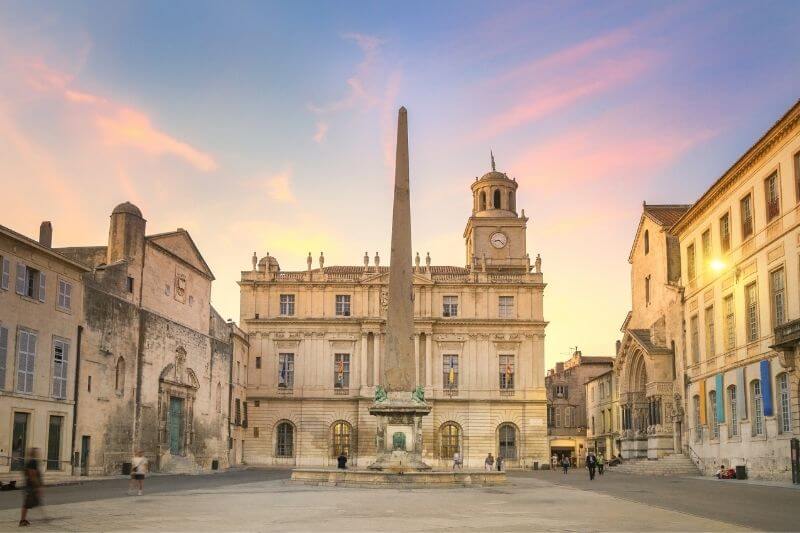 You now have two options, depending on the time you return home. You can spend the morning in Arles, a lovely city to walk around at your leisure. Or you can head for Marseille.
From Arles to Marseille is about 95 kilometers, a one-hour drive. However, keep in mind the date of your trip. High season or during rush hour can take twice as long.
Are you looking for a special accommodation? Check out this 5-Star hotels in Provence
Day 10: Back home
Depending on your flight time, you may have time to explore a little more of Marseille.
So for this day, we have proposed two different plans for you to choose the one you want depending on your time.
This is a small summary of the Itinerary we will follow, but keep reading because now I will tell you more in detail about what you will find on this trip, travel tips, prices, and valuable information about some beautiful attractions in Provence.
Detailed Itinerary to visit Provence in 10 days
Day 1 in Marseille: Pick up the rental car
Welcome to the beautiful city of Marseille, where you will begin this road trip adventure that will take you through some of the most beautiful scenery in the Provence region.
Once you have picked up the key to your rental car or van, fill your belly, head to your hotel to recharge your batteries, and be ready to start visiting the Côte d'Azur the next day.
Here are the links for more information:
Day 2 Visit to Marseille
To put you in context, Marseille is, with 859,543 inhabitants, the second most populated city in France after the Parisian capital. However, if we add the urban area, it reaches 1,605,000, not counting tourists.
On the Mediterranean coast, Marseille is one of the most important cities in Europe due to its economic power thanks to its commercial port, which is one of the most powerful on the continent.
We must add the historical value that makes it a unique region on the Mediterranean coast.
The city of Marseille was founded in 600 BC and discovered by Focaine sailors.
Today the city preserves a tremendous historical heritage full of archaeological sites, medieval forts, and even monuments that recall the events that took place in the city during the Second World War.
As an excellent revolutionary city, Marseille still stands and allows us to travel through ancient and modern history.
Marseille is a city full of culture and attractions that leave visitors speechless not only for its town and its secrets but also for its beautiful surroundings.
Marseille Must-Visit Places
Old Port
The Old Port of Marseille is full of exciting sites worth discovering.
If you approach the port early in the morning, you will see the local fishermen preparing the market to sell their products.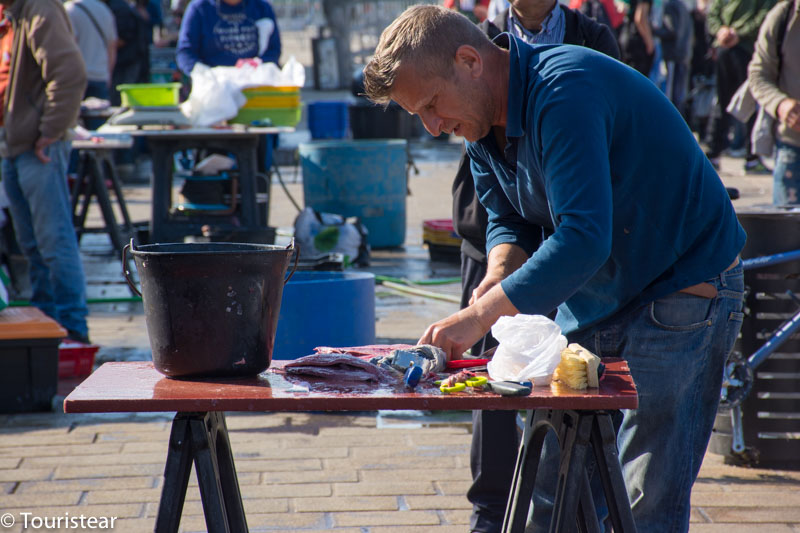 For many Marseillais, this market is part of the purity of the city and is one of the essential things you must see to connect with the Marseillais and better understand their way of life.
However, the port changes entirely in the evening and becomes a clean avenue full of restaurants and bars where you can sit and enjoy a delicious dinner.
But that's not all, as we know, the old port has great historical and cultural value, which is why some of the most important cultural points of the city are concentrated in this area.
Norman Foster's Mirror is an attraction for all those who come to port and see themselves reflected in that huge mirror.
There are also two museums in the port area:
The Museum des Docks Romains is where you can find Roman pieces found in the area.
The Museum of European Civilizations, where you can learn about the various migratory movements that have occurred throughout history in the Mediterranean.
In addition to these places, do not forget to visit the beautiful Abbey of Saint Victor, a Roman construction that remains almost intact today.
It is also worth visiting the Pharo Palace, built by Napoleon in the 19th century, and the Santa Maria Lighthouse.
It should be noted that many boats and excursions depart from Marseille to many points along the coast.
For example, if you feel like visiting Les Calanques, you should know that from the port you can take a small boat and make a day trip to the jewel of Marseille.
Notre Dame de la Garde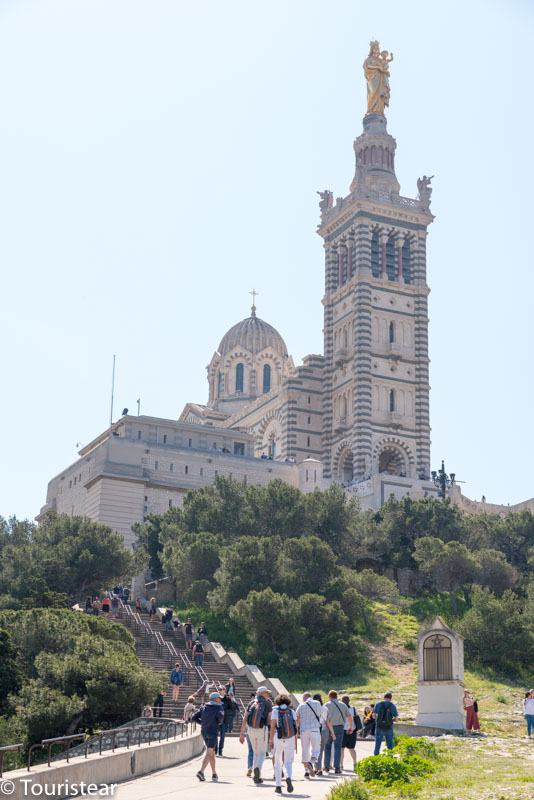 If you wonder where the best views of Marseille are, here is your answer. From the top of the hill, you can enjoy beautiful views of the Mediterranean Sea and the majestic Basilica of Notre Dame de la Garde.
A Byzantine-style temple with a monumental golden sculpture of the Virgin Mary will make you look at it and re-look at it without getting tired of its delicate architecture.
Le Panier District, The Essence of Marseille
Soccer fans will surely have already heard of this neighborhood. Le Panier is the neighborhood that carries the flag of Olympique de Marseille.
This humble and old neighborhood has become a place of cultural and artistic interest.
The arrival of migrants and a wave of creative youth has transformed this neighborhood into an open-air museum full of graffiti, craft workshops, and other exciting tourist proposals that invite visitors to stroll its streets.
Le Canebiere
Le Canebiere boulevard starts at the old port and goes a few kilometers inland. This boulevard is lined with cafes, bars, and stores with a rather elegant appearance.
In addition, there is an emblematic building of the city, the Hotel du Lovre, which dates from the 19th century and is still preserved today, although it no longer serves as a hotel.
*Note: despite having a car, we hired a tourist bus to move around the city. It was much more comfortable, and we could see the most important places.
Day 3 Calanques National Park and Cassis
Energy, hiking shoes, and a swimsuit are the things you can not miss on this day to make the most of Les Calanques. A little bit far from the city center, in the south of Marseille, is the Calanques National Park.
An extraordinary landscape of coves and trails leaves any visitor in awe. Ideal for spending an adventurous day hiking and enjoying a nice swim on the blue coast.
This extensive natural park of more than 8,500 hectares of land and 43,500 hectares of aquatic area makes it a unique place in Europe.
The combination of giant mountains, small fjords, and estuaries along this park's three municipalities makes it a magical place you could never have imagined.
Getting to Calanques from the center of Marseille will take about 35 minutes.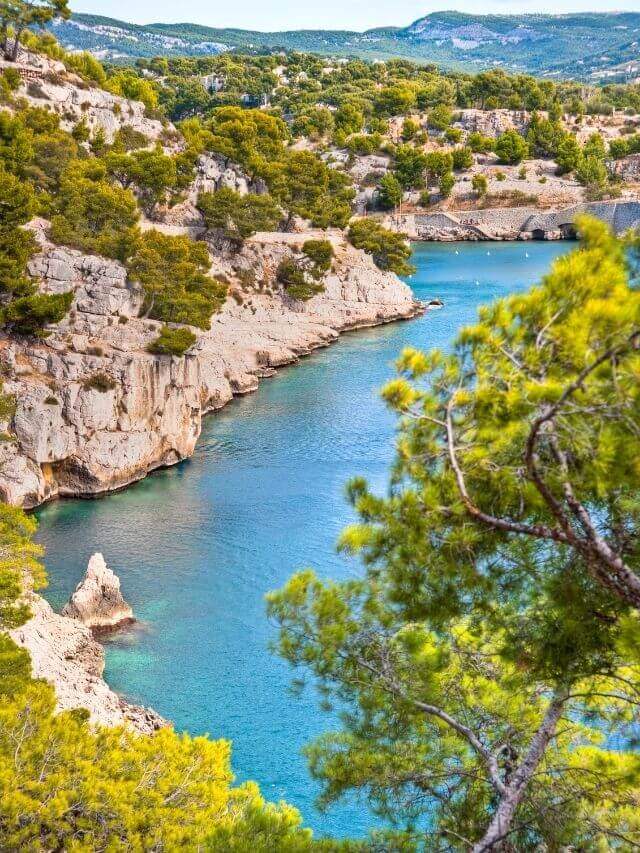 We recommend arriving early to the park, specifically to the Cassis area, where there is more parking, and even for a few hours, you will be able to enjoy the place with few visitors.
Remember that parking is a bit expensive, and we must always pay for a few extra hours since there are several trails and so many coves we can get lost or even the road can make us longer because of the heat in some periods of the summer.
However, there are other ways to get to the Calanques massif, such as by boat in one of the excursions departing from the port of Marseille or by bus.
Day 4 Aix-en-Provence
Heading inland, we will be on our way to Aix en Provence. In less than 35 minutes, you will reach the region's ancient capital.
Aix en Provence is a city full of history and beauty that opens its doors to those curious about art and architecture.
Aix-en-Provence was a walled Roman city founded in 123 BC, of which very little remains today.
However, today's Aix-en-Provence still retains a tremendous medieval heritage from the city's golden age when celebrities such as King D'Anjou and many Italian and Flemish painters moved to the area and made Aix-en-Provence a privileged city.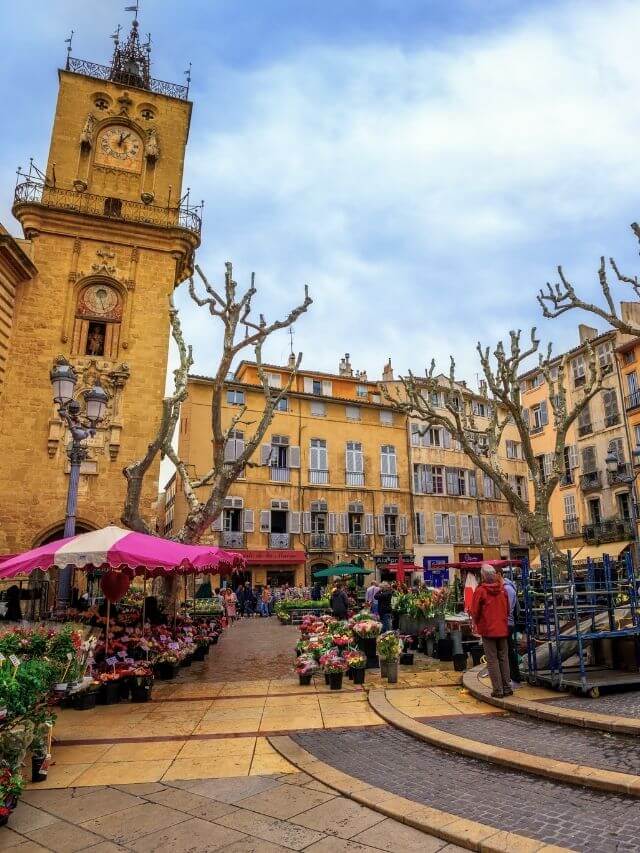 Today you can relive the city's history by strolling through its colorful streets and enjoying the beautiful facades of the buildings and museums. There are even free guided tours to enjoy Aix to the fullest.
Along your walk, you will enjoy wonderful postcards such as:
Saint Saveur Cathedral
Saint Jean de Malta Church
the Roman Baths
But that's not all; take a break and get your strength back on the Cours Mirabeau avenue, then meet the city's favorite sons, Cézanne and Vasarely.
These two artists from different eras honor the locals with their works and museums that attract thousands of tourists each year.
Day 5 Plateau de Valensole (A Day in the Lavender Fields)
As we know, in Provence, you can't miss the majestic Lavender fields that decorate the region. So on this day, you will take fresh air with the scent of flowers walking through the fields of Plateau de Valensole.
Between June, August, and September, the fields of Provence are painted purple and are the best dates to enjoy this beautiful region in all its splendor.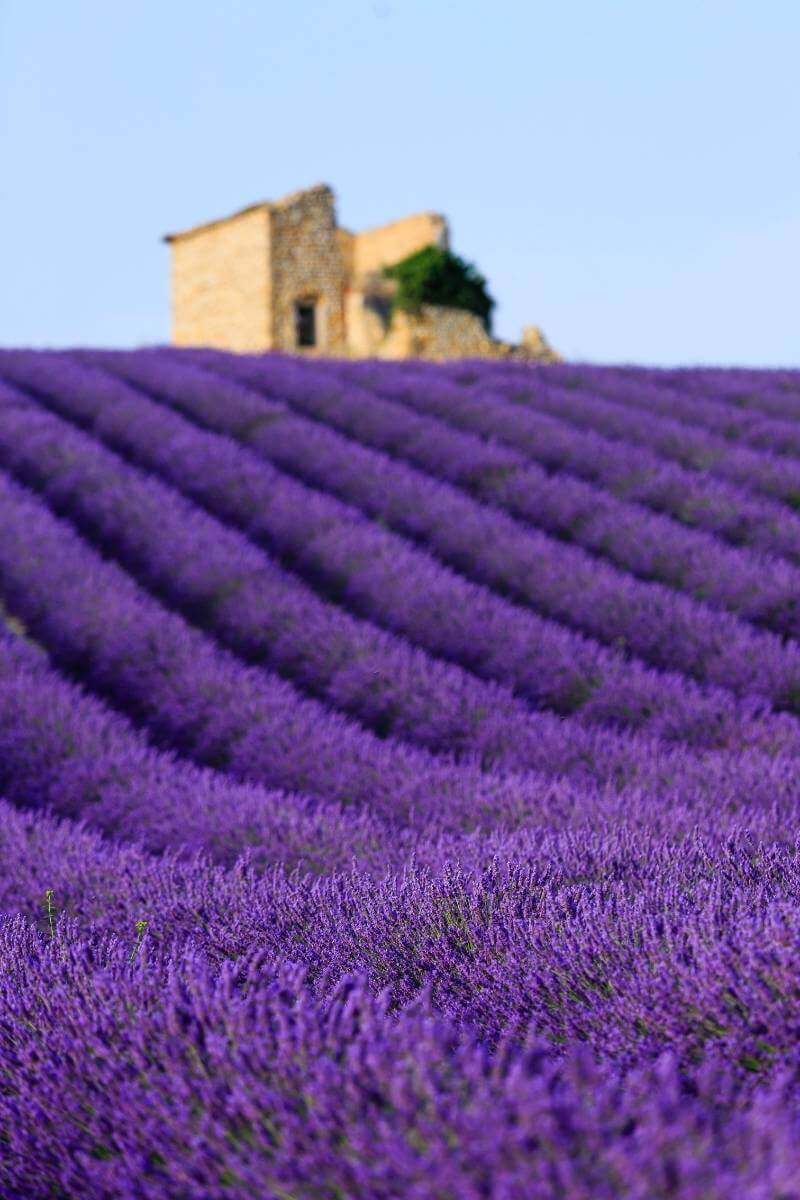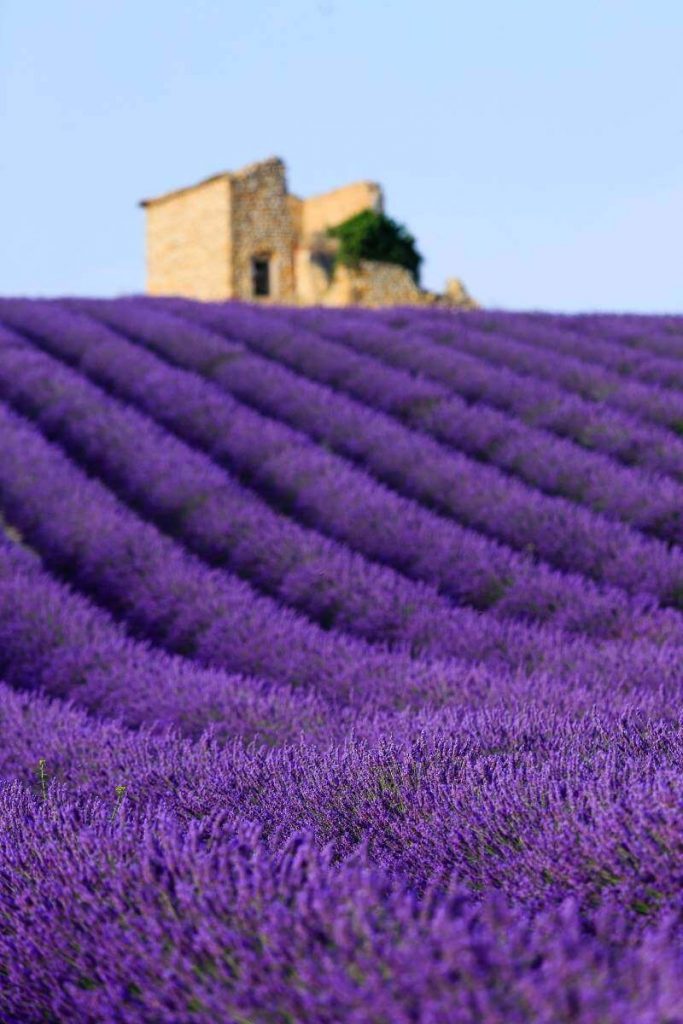 There are many villages where you will find beautiful lavender fields that make lavender their way of life since it is the primary economic source in many areas of Provence.
The Valensole route is noted for its immense lavender fields and is one of the most famous places in Provence.
Valensole is a charming village with spectacular sites such as the Plateau de Valensole, where you can enjoy beautiful views of lavender and lavandin fields.
In addition, this area is full of small family factories that make Lavender products, such as very rich honey from local bees that only release lavender in the summer.
Moreover, the inhabitants of Valensole love tourists and welcome them by showing them the whole process of Lavender production, but not only that.
They also love the traditional festivals during the flowering period where all the locals come together to celebrate with wine, cheese, and music, the blue gold nature gives them every year.
These festivities can be joined by anyone and are a perfect way to get to know the roots of the people of Valensole.
Day 6 Luberon: Roussillon – Gordes
On day 6, you go on the road. First, the route of the Ochres in Roussillon and then to the Castle of Les Baux de Provence.
Ochre Route
To do the route of the Ochres, you can park your car at the village entrance for a maximum of 3 euros per day.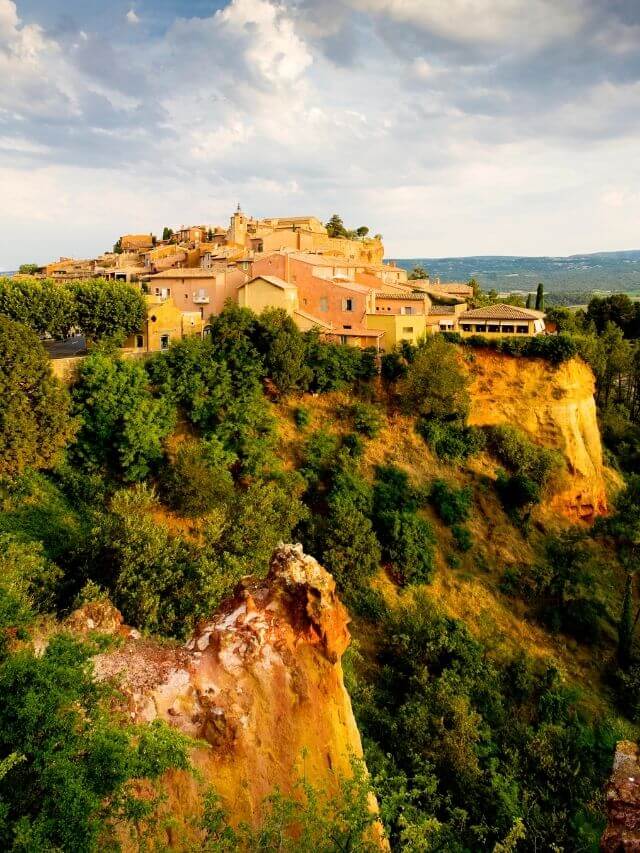 Once you are ready, you can start your route among these stones of orange tones that enchant hikers.
There is a short route of about 1 km that lasts 30 minutes and another a bit longer, around 3 km, that lasts approximately 60 minutes. Anyone can complete the trail as it is not very difficult.
In addition, we recommend you visit the Conservatory of Ochres and Color, where you can discover the secrets of this beautiful geological formation of Goethite, as well as the artistic use given to some of these natural pigments.
Castle of Gordes
The castle of Gordes was built in the 11th century and rebuilt during the Renaissance. It surprises travelers with its architectural emulsion that pleases everyone.
However, it is not only its architecture that is surprising, but also its interior, which exhibits the works of several artists with links to Provence, such as the tremendous modernist star Vasarely.
Day 7 Avignon
Avignon is the capital of the department of Vaucluse, only 80m km from Marseille.
Once an independent pontifical city, Avignon has a great historical heritage, which is why it is listed among UNESCO's top cities.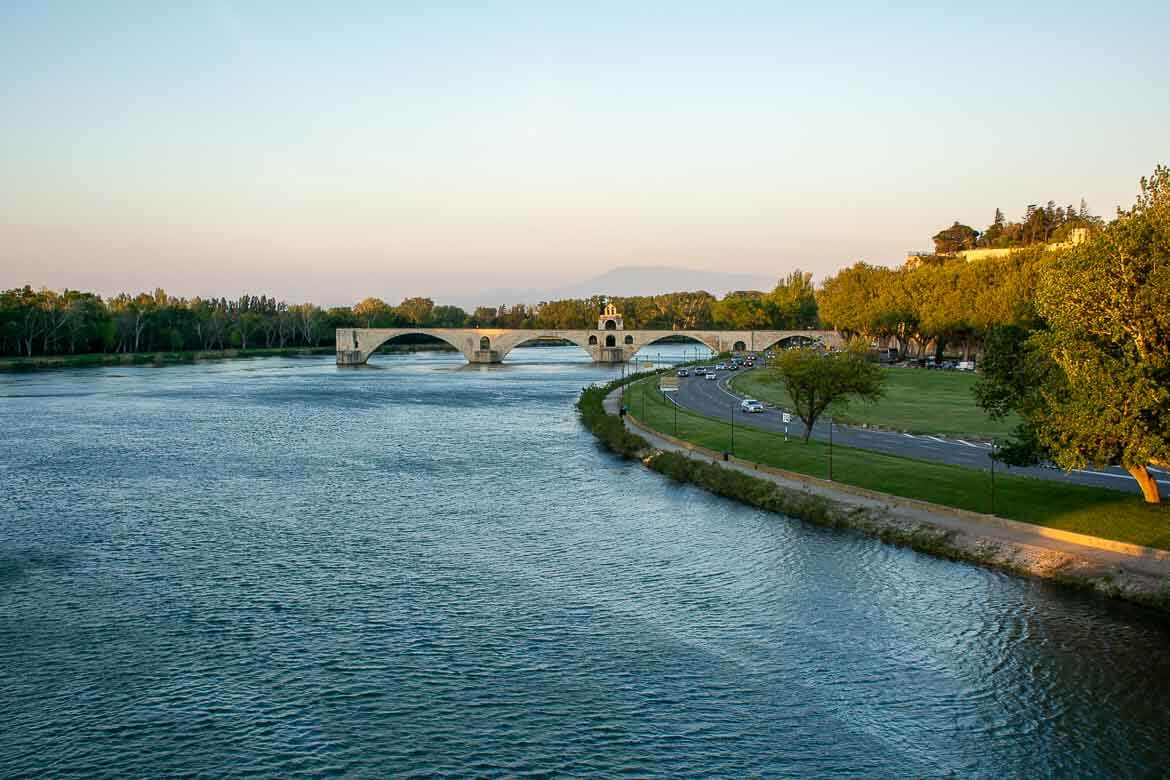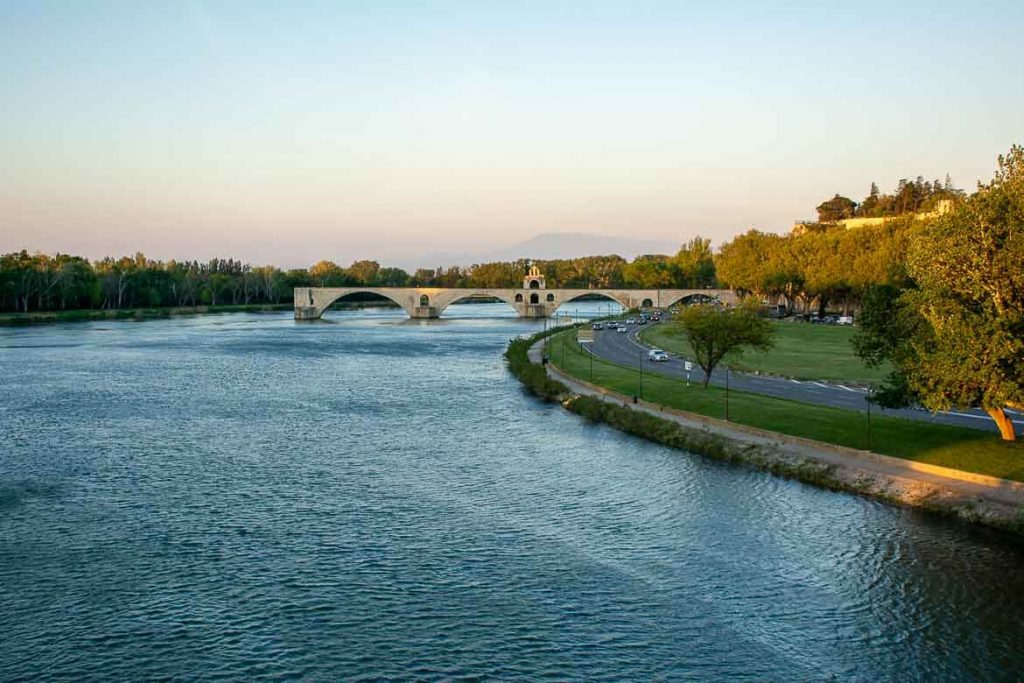 One day in Avignon is enough to see its main tourist attractions. Here is a list of some must-visit places in the city of Avignon.
Papal Palace
Built in 1335, it is the most important Gothic building in the West.
Its visit offers more than twenty locations where events of great resonance have taken place, such as the private apartments of the Pope and the incredible decorations of the Italian artist Matteo Giovannetti.
It also offers regular cultural entertainment throughout the year. It is one of the most visited monuments in France.
Avignon Cathedral
The Avignon Cathedral was built in the 12th century and rebuilt in 1425. Inside are the tombs of some of the Popes of Avignon.
It is the most important temple in the city, where important ecclesiastical celebrations take place.
Papal bridge
Also known as the Pont St-Bénézet. It is a famous medieval bridge that is currently in ruins. It has been part of the World Heritage since 1995, like the Palace of the Popes and the Cathedral.
In one of the few remaining arches of the bridge, there is a small Roman chapel, the chapel of St Nicholas.
Clock Square
Clock Square is in the historic center of Avignon. It is undoubtedly one of the most beautiful squares in the city.
It owes its name to the great clock established in the fourteenth century. In addition, we highlight buildings in this square, such as the Town Hall or the Opera House.
Give yourself the gift of sitting down to enjoy the views while having a coffee or sitting in a restaurant.
Day 8 Pont du Gard Aqueduct – Les Baux de Provence
After spending the night in Avignon, you will head south, where you will make two stops. The first is to visit the Pont Du Gard, and the second is for a quick walking tour of the town of Les Baux de Provence.
Just 26 km from Avignon is the Pont Du Gard, one of the tourist attractions that you should not miss.
The Pont Du Gard is one of Europe's most important Roman aqueducts. It is the second best preserved after the Segovia aqueduct.
After taking some pictures and appreciating the aqueduct, we will head to Les Baux de Provence.
The village concentrates all the charms of the towns of Provence in one.
Narrow streets, terraces, markets, handicrafts, and good weather are synonymous with this medieval village that thousands of tourists visit yearly.
Nestled on a rocky plateau, this town has an unparalleled heritage with 22 protected architectural monuments that give priceless historical value to this town.
The castle is the main attraction of the village. This enormous fortification with 360-degree views served as protection during multiple wars and retained much of its structure.
Day 9 Arles
The beautiful City of Arles is located in the southeast of France, just 30 minutes from the town of Les Baux de Provence.
In its architecture, you can see the great Roman heritage present in this city and for which it has been declared a World Heritage Site.
Among its most interesting monuments are Les Arenes de Arles, the Baths of Constantin, and the Theater of Arles.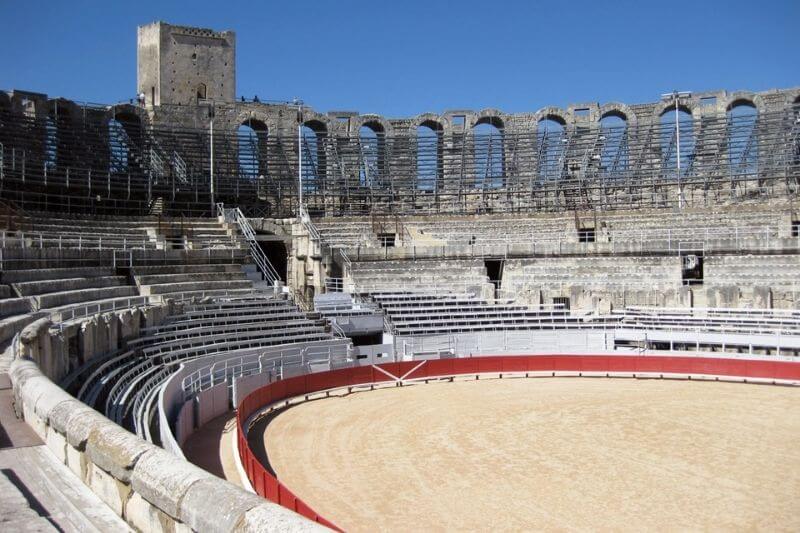 We recommend taking a pass that includes a visit to all three sites and visiting them all as it is impressive how well-preserved they are.
Day 10 Marseille
On the last day of your trip, we recommend you make some quiet plans.
Visit the Noailles Market
We first suggest spending the morning at the Noailles Market, where you will find an infinity of local products. Still, even more curious, you will be able to taste and buy a great variety of African products.
The Noailles market extends around the Rue du Marché-des-Capucins.
Here it is possible to find anything from Africa due to the large African population living in Marseille who do not leave their roots behind and share them with the rest of Marseillais and visitors.
Visiting IF Island
The second plan we want to propose is to visit the If Island. It is a small island in front of the city of Marseille, where the Château d'If is located.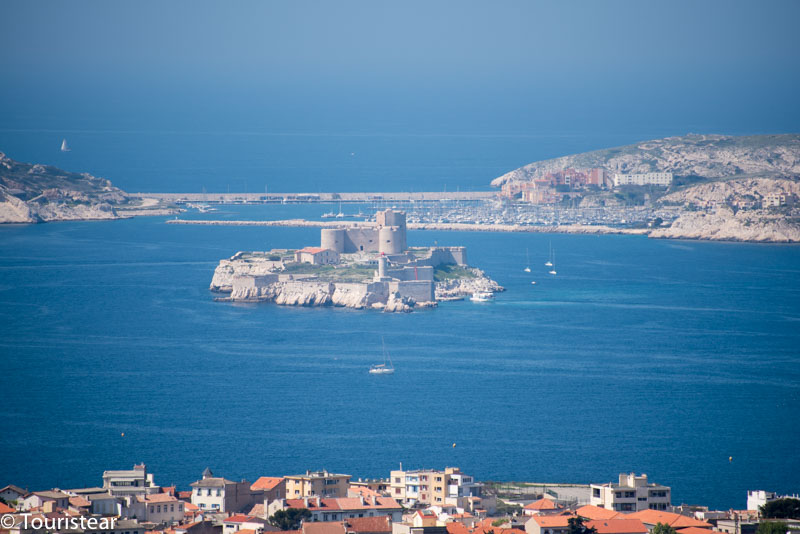 If you have read the famous novel by Alexandre Dumas, "The Count of Monte Cristo," you will know exactly what kind of place I am talking about.
If you're unfamiliar with it, you won't find a better excuse to visit this fortification, built between 1527 and 1529 to guard Marseille or, as Francis I justified its construction, to protect the city from possible attacks by sea.
In the 17th century, it began to be used as a state prison for opponents and enemies of power, and today it is an important tourist attraction.
The entrance fee is 6€., and the ferry price is about 10 euros round trip.
Both plans are ideal for the last day in one of the oldest cities on the Mediterranean coast.
So much for the 10-day Itinerary in Provence, this region is so beautiful and full of stunning places that it is impossible to see in just ten days.
However, we believe that with this Itinerary, you can soak up the Provençal feeling. So, if you like it, come back soon to visit its medieval villages or some of its beautiful turquoise water beaches.
O take a road trip on the Côte d'Azur, which is beautiful, but that's the subject of another post. For now, you can read this one from Touristear.
Plan Your Trip to the South of France
This post may include affiliate links. This means that we will receive a small commission if you make a purchase through our links. It has no additional cost for you. With this, you help us to continue creating free content for you.
This post may include affiliate links. This means that we will receive a small fee if you make a purchase through our links. It has no additional cost to you. It's a win-win!