10 Best Things to Do in Lourmarin
Visiting Lourmarin is like stepping into a postcard. Nestled in Luberon, Provence, this town bursts with charm.
It's small, but every corner tells a story. Art galleries dot the streets. Each one offers a new world of color and imagination. Charming cafes invite you in. The scent of fresh coffee and pastries fills the air. Locals chat, and laughter rings out.
The famous castle stands tall. It whispers tales of the past. Every stone, every path in Lourmarin seems to hold a secret. The beauty is simple, but it stays with you. A visit here isn't just a trip; it's a memory made.
10 Best Things to Do in Lourmarin
Lourmarin is a picturesque village in the heart of the Luberon region in Provence, France, which captivates visitors with its timeless beauty.
Endowed with rolling hills, verdant vineyards, and charming fountains, the village boasts an enchanting landscape that seems to be painted by an artist's brush. Beyond its natural allure, Lourmarin beckons history enthusiasts with various cultural treasures.
1. Château de Lourmarin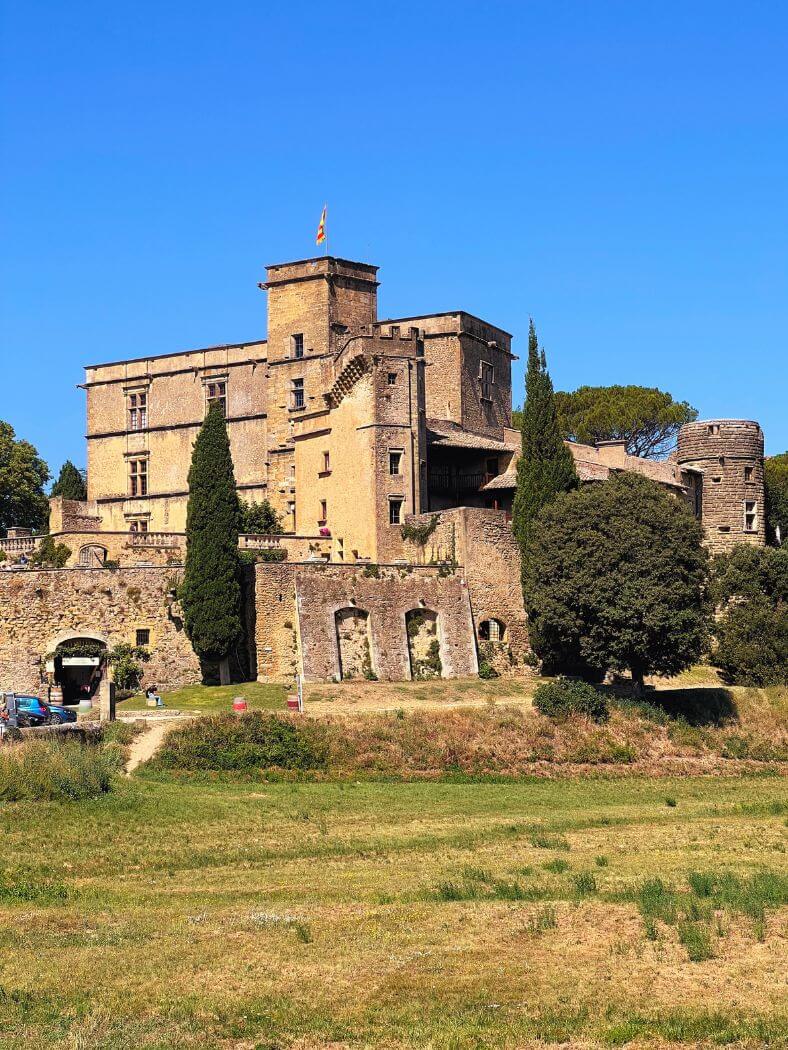 Tucked away in the charming village of Lourmarin, the Château de Lourmarin stands tall as a mesmerizing 16th-century castle, a real piece of history in the heart of Provence, France. With its strong towers and tough walls, it's like stepping into a time of knights and castles.
Inside the castle's amazing architecture, you'll find a place where events, art shows, and concerts happen all year long. When you explore its fancy rooms with old-time furniture and cool stuff, you'll feel like you're in a world of riches from way back in the 1500s.
But wait, the Château de Lourmarin isn't just a dusty old thing from the past. It's where famous writer Albert Camus lived in the 1950s, getting ideas for his stories. And if you climb up the towers, you'll see rolling hills and vineyards that make you feel peaceful and happy.
While you're in Lourmarin, checking out the history and artsy vibes of the Château is one of the top things to do. As the sun sets on this magical castle, you'll leave with stories to tell and a better understanding of the past.
2. Walking Around Lourmarin Castle's Garden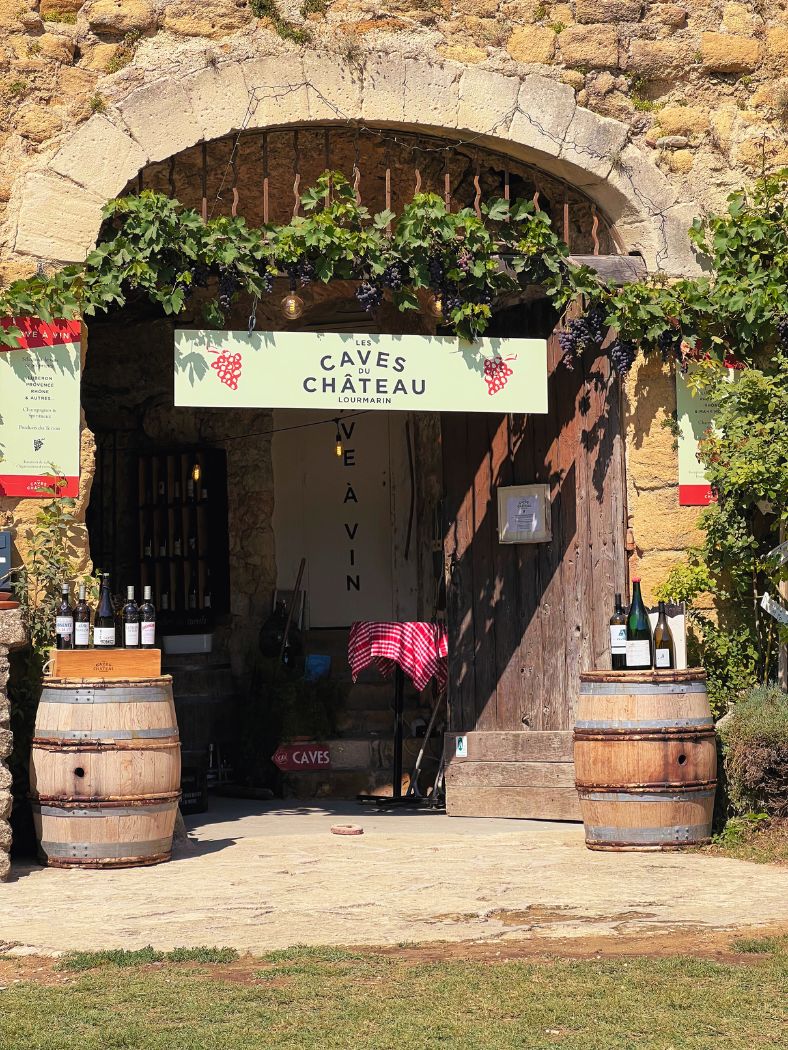 Taking a leisurely walk through Lourmarin Castle's garden is like stepping into the past. The castle, which is really old and was built in the 16th century, sits right in the heart of the village. The garden is a peaceful spot for a slow stroll.
When you enter the castle grounds, you'll see neatly arranged paths bordered by colorful flowers, lush green plants, and charming bushes. The garden's design is a mix of French and Italian styles, making it a pleasing place to look at.
The garden also has pretty fountains that add a touch of elegance and calmness to the atmosphere. The sound of the water is soothing and makes the place even more peaceful.
While you're walking around, you'll also spot sculptures and decorations that add an artistic touch to the outdoor space. Some sculptures look modern, and others tell old stories, making the castle grounds feel really special.
You can take your time, sit down on a bench, and enjoy the beauty of the castle and its surroundings. Make sure to wear these shoes to make your tour convenient.
The castle garden isn't just a quiet place; they also organize events and concerts there. Some of the events include "Garden Serenades" and "Art in the Garden" concerts.
These events add excitement to the garden and give you a chance to experience the castle's beauty in different ways.
3. Explore the Village of Lourmarin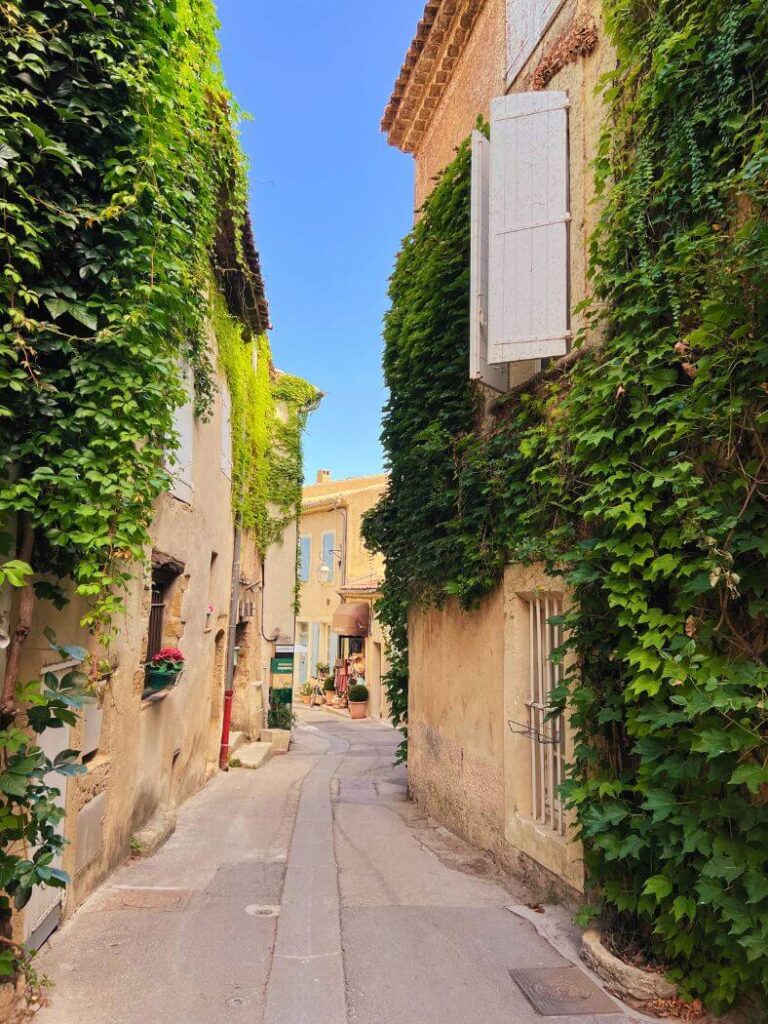 When you visit Lourmarin, it's like stepping into a real-life postcard. The village has charming narrow streets, colorful old buildings, and a lively local scene that makes it a great place to explore.
As you walk around, you'll find cute shops, art galleries, and cozy cafes where you can try yummy Provencal food. They serve things like warm croissants and dishes with fragrant lavender – a taste of the area's traditions.
In the middle of Lourmarin, there's a busy square called Place Albert Laurens. On Friday mornings, the square features a vibrant market full of local goodies and handmade crafts. I will explain more about the market below.
While you're wandering, you'll come across old landmarks that tell stories of the past. The Saint-André church, which has been around since the 12th century, is a peaceful spot to think and enjoy the view.
Nearby, there's the well-preserved Lourmarin cemetery, where famous writer Albert Camus is buried. People often leave flowers and notes to remember him.
4. Lourmarin Market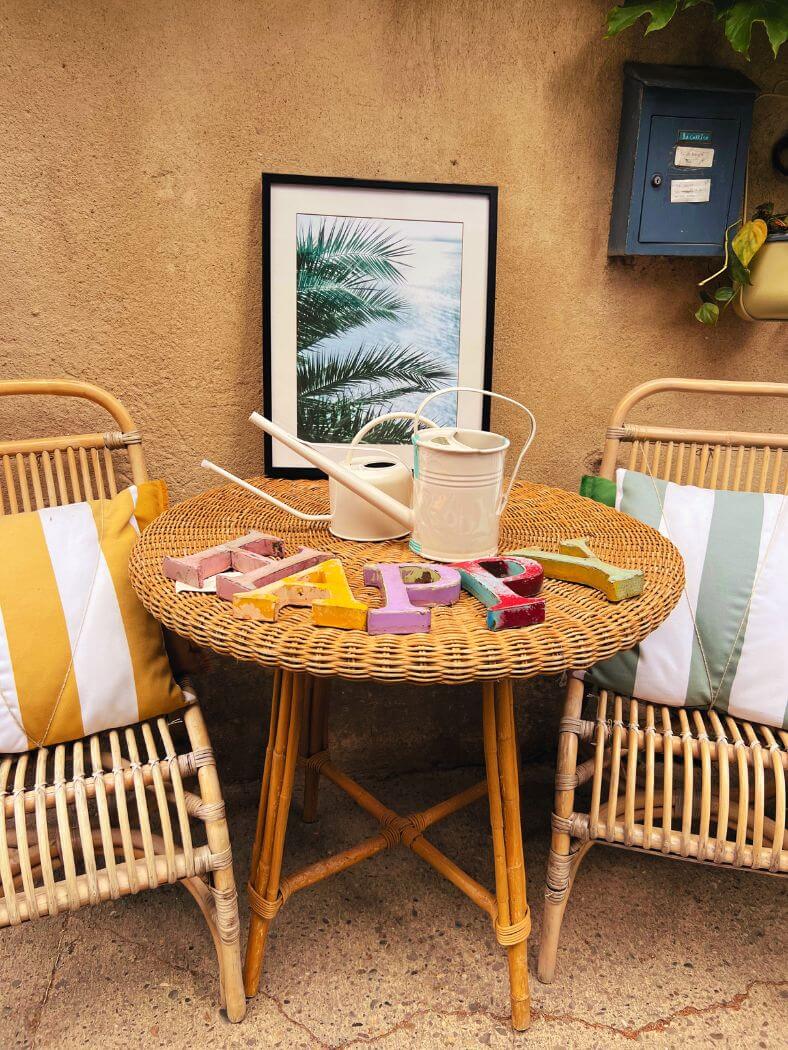 Every Friday morning in the lovely village of Lourmarin, France, the Lourmarin Market buzzes with life. It's a special place where people from the village and visitors come to enjoy the taste of Provence.
As you get closer to the market, you'll smell the yummy scents of freshly baked bread, pastries, and local foods. Colorful stalls line the streets, filled with fresh fruits, vegetables, and herbs from the nearby farms.
Inside the market, you'll find lots of cool things made by local artists and craftspeople. There are beautiful things like pottery, fabrics, and even leather goods that you can take home.
If you love cheese, you're in for a treat! There are many kinds of special cheeses to try. And if you like sweet things, there's honey, jams, and candies that are made right there. Take this tour from Avignon to experience the best of the market, food, and wine!
The market is alive with music from street performers, making it even more fun. It's not just about shopping; it's also about getting to know the friendly people of Lourmarin and enjoying the local way of life.
You can chat with the people selling things, learn about what they make, and try some delicious treats while you're at it.
5. Lourmarin Gastronomy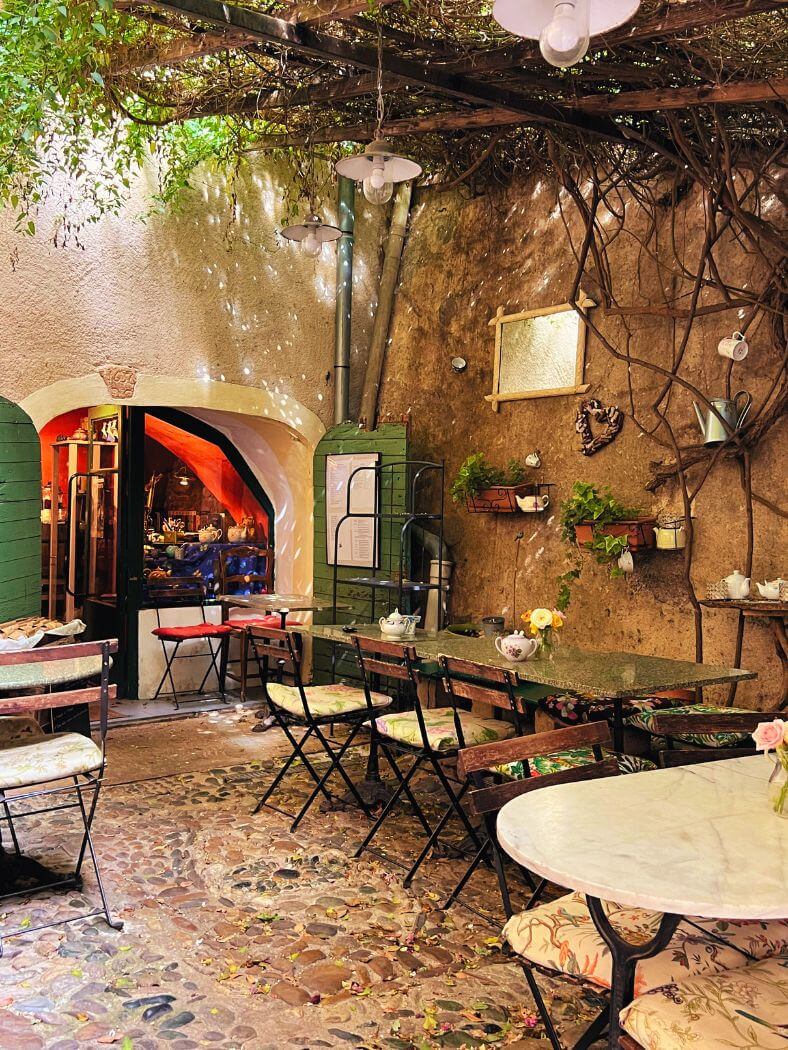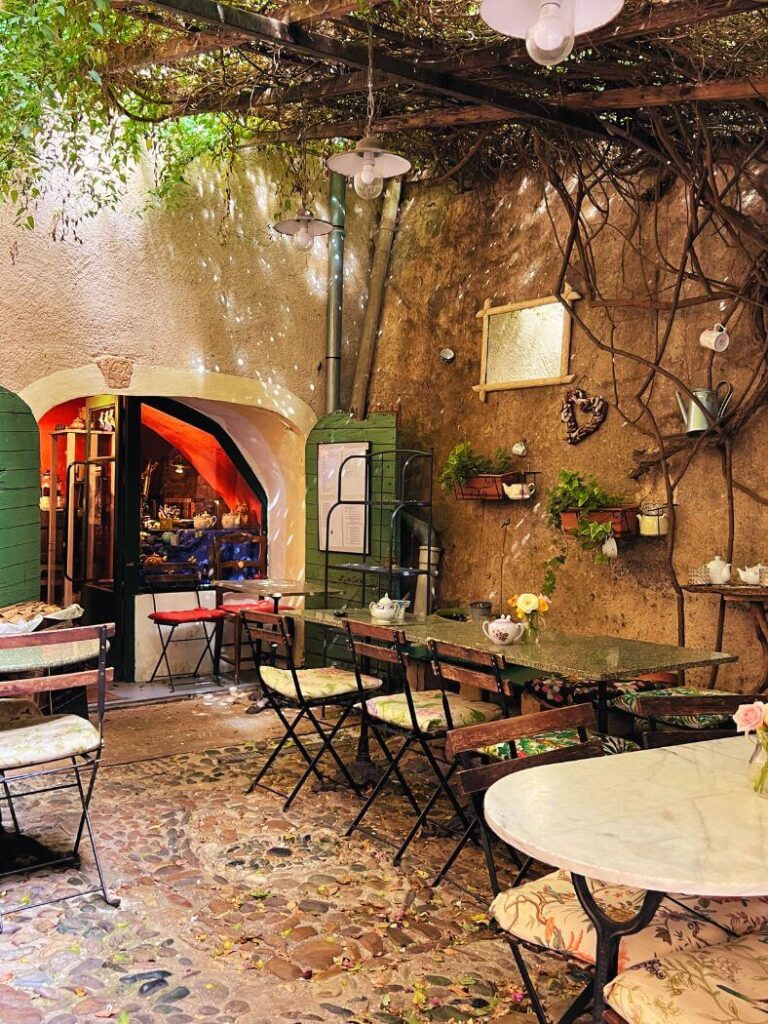 When you're looking for things to do in Lourmarin, don't miss the tasty treats! This village in Provence, France, has yummy food that reflects its sunny surroundings.
They use fresh stuff that grows nearby, like tomatoes, eggplants, and herbs. These make special dishes like ratatouille and salads that burst with colors.
Olive oil is like their secret ingredient. They use it for cooking and making things taste great. It comes from olives that grow close by.
They also make delicious cheese, especially goat cheese, that's tangy and good. And their bread, like the crispy baguette, is perfect with cheese. You'll find croissants and tasty fruit tarts too!
The food here smells so nice because they use herbs to season it. They also have wines that go well with the food, like red and pink ones.
Eating in Lourmarin isn't just about the food. It's a way to taste the village's history and the flavors of the sunny region. So, get ready to try yummy treats through a gourmet tour in Luberon!
6. Eglise Notre-Dame-de-la-Purification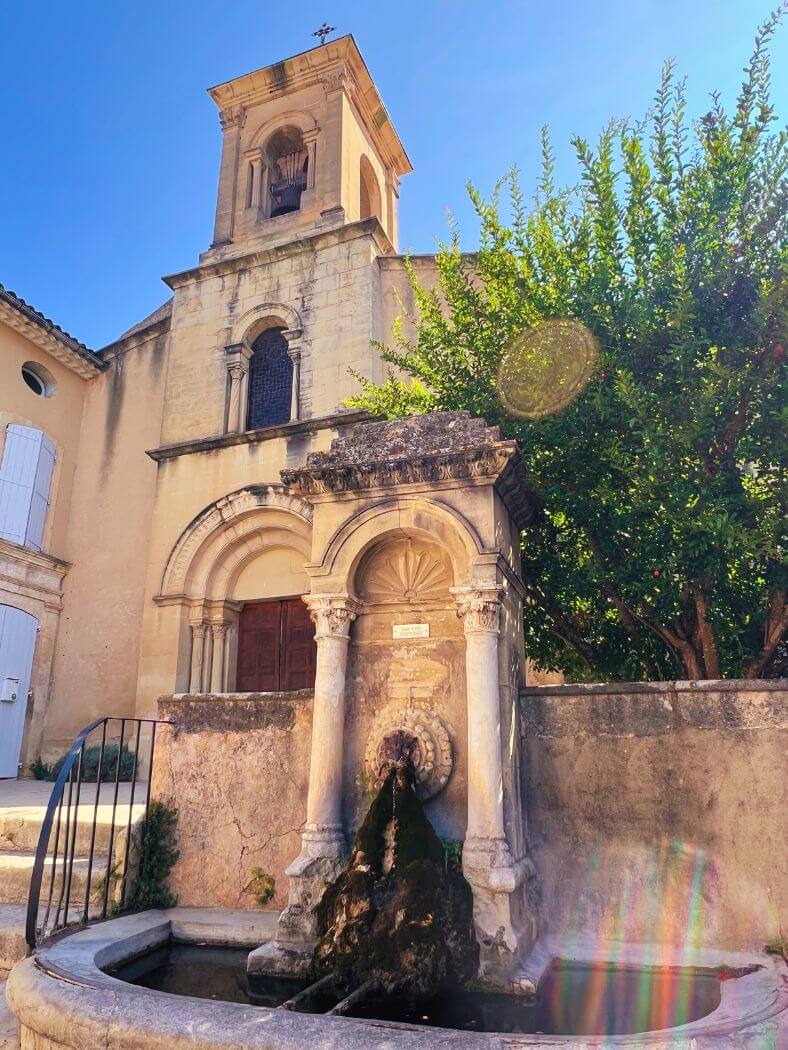 Right in the heart of the Luberon region, just a quick 8-minute drive from Lourmarin, you'll find the Eglise Notre-Dame-de-la-Purification, also known as the Church of Our Lady of Purification.
Built back in the 12th century, this church combines two different styles: Romanesque and Gothic. It's covered in impressive stone carvings that show off the incredible skills of the craftsmen from those times. The tall bell tower stands out in the village's view.
Once you step inside, you'll feel a peaceful atmosphere with high ceilings and colorful light shining through stained-glass windows. There are also fancy wooden altars that add a special touch.
But this church isn't just beautiful – it's important for the village. It's a place where locals and visitors come together for things like religious ceremonies and cultural events. It's a place to feel connected and peaceful.
7. Art Galleries
Lourmarin, in Provence, France, thrives as an art hub with diverse galleries captivating locals and global enthusiasts.
Housed in historic buildings, galleries enhance the experience, tucked in corners or amid charming architecture, fostering creativity and art appreciation. For enthusiasts, collectors, or casual visitors, the galleries offer unique art pieces.
Galerie Le Hangart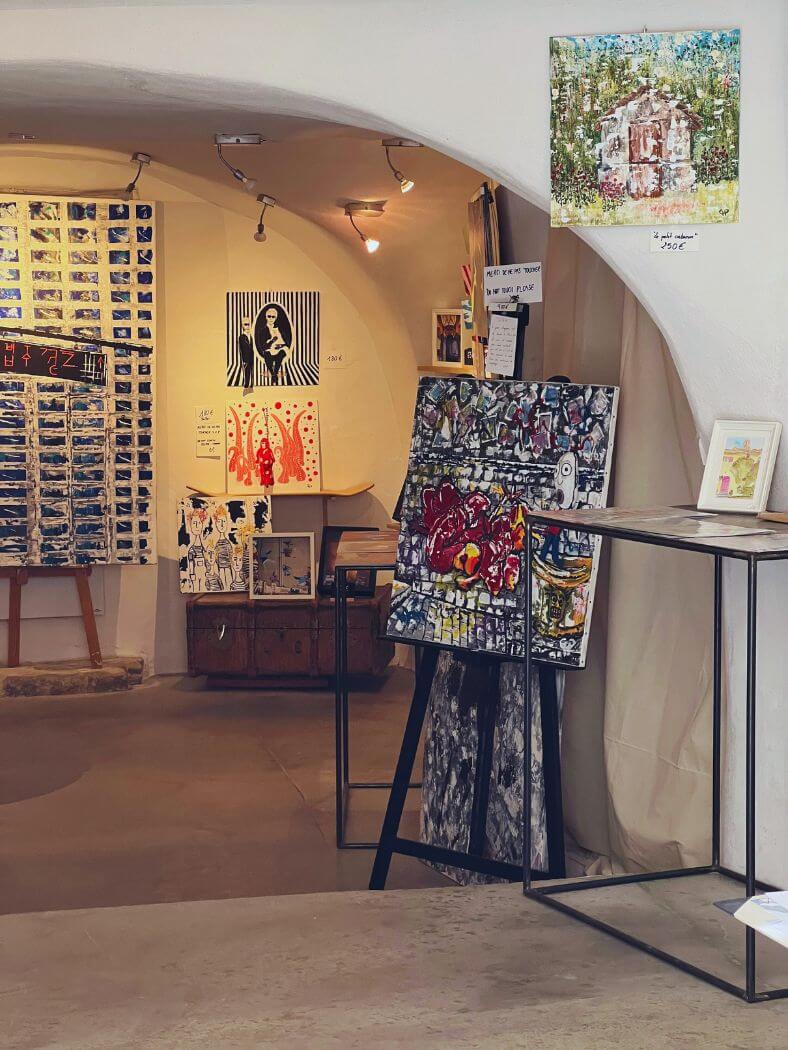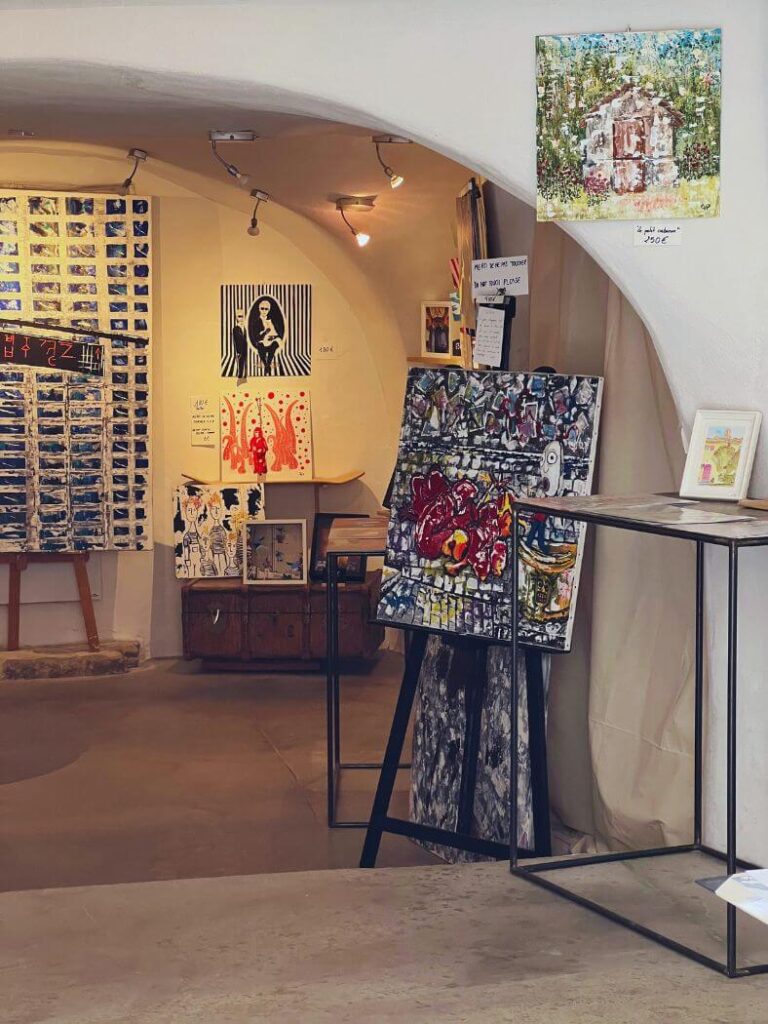 A tastefully adorned gallery that mesmerizes with vibrant colors and forms in its artworks. The owner adeptly introduces the spectrum of talents from emerging to established artists, creating an art lover's paradise.
The diverse collection features contemporary art – paintings, sculptures, mixed-media – by local and global artists, exemplifying modern artistic expressions.
Address: 7 Rue du Temple, 84160 Lourmarin, France.
JCF Art Gallery – L'araignée au plafond
Renowned for its distinctive and contemplative art, the collection features avant-garde and experimental pieces. Named "L'araignée au plafond," translating to "Spider on the Ceiling," it symbolizes boundary-breaking tendencies.
The cozy gallery houses paintings and sculptures in intimate spaces, complemented by insightful commentary on artists and creations. An exquisite find for contemporary art enthusiasts.
Address: 21 rue de la Juiverie, 6 Rue Henri de Savornin, 84160 Lourmarin, France
Galerie Catherine Dumas Perrot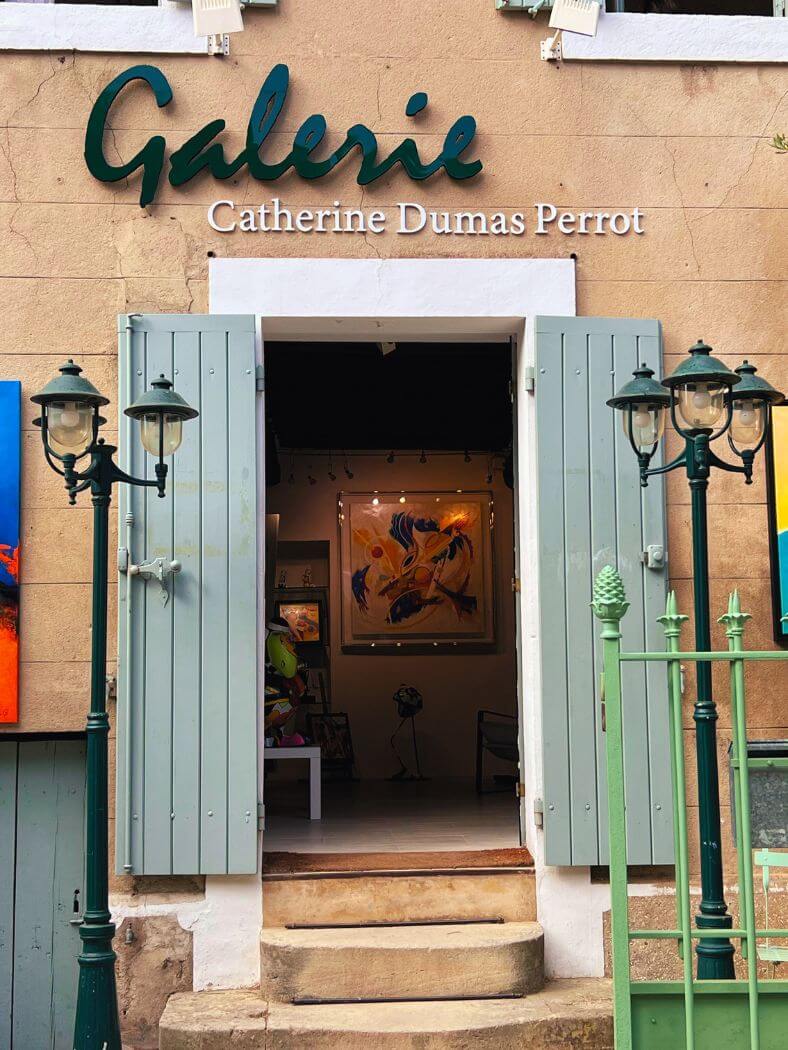 Galerie Catherine Dumas Perrot specializes in distinctive contemporary art, encompassing paintings, sculptures, and various artistic forms. The space provides a canvas for artists' individual visions.
The enchanting display of colors speaks volumes without words, each viewer interpreting uniquely. Sculptures seamlessly complement the ambiance.
Catherine, the owner, passionately elaborates on her collection, generously offering insights. Her personal tour of the gallery was a cherished experience.
Address: 4 Av. Philippe de Girard, 84160 Lourmarin, France.
Les ateliers des artistes
As the name suggests, "Les ateliers des artistes" (The Artists' Workshops) hosts a variety of creative works.
This type of space often showcases works-in-progress, experimental pieces, and projects by emerging artists, providing insight into the artistic process.
Galerie du Dome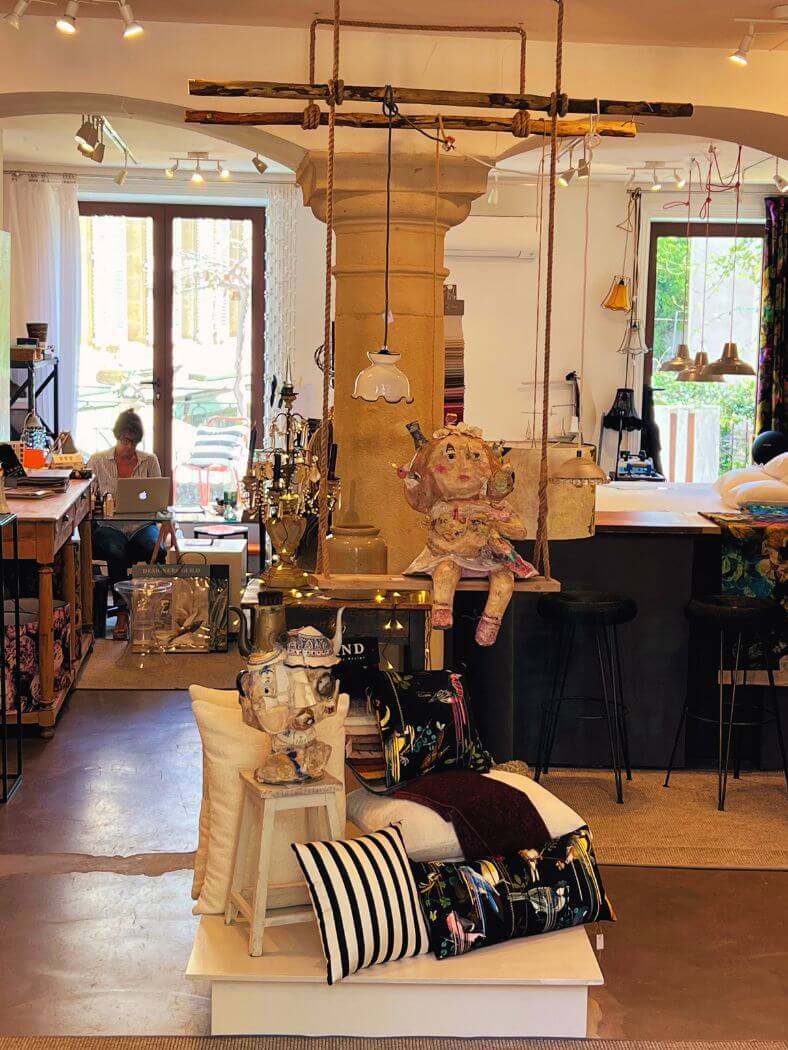 Galerie du Dome showcases diverse contemporary artworks, encompassing varied styles and mediums such as paintings and sculptures. The collection is captivating. The gallery has brought us joy and beautiful pieces.
Georges, a creative and pleasant soul, adds to the experience. Without a doubt, it's Lourmarin's finest gallery.
Address: Rue du Temple, 84160 Lourmarin, France.
Galerie Jean Michel Espinasse
Renowned for nurturing artistic prowess, this gallery is a beacon of talent promotion. The collection is anticipated to spotlight local and regional artists, embracing diverse styles and themes that enrich Lourmarin's dynamic art landscape.
Address: 13 Rue Juiverie, 84160 Lourmarin, France.
8. Take a Walk in the Countryside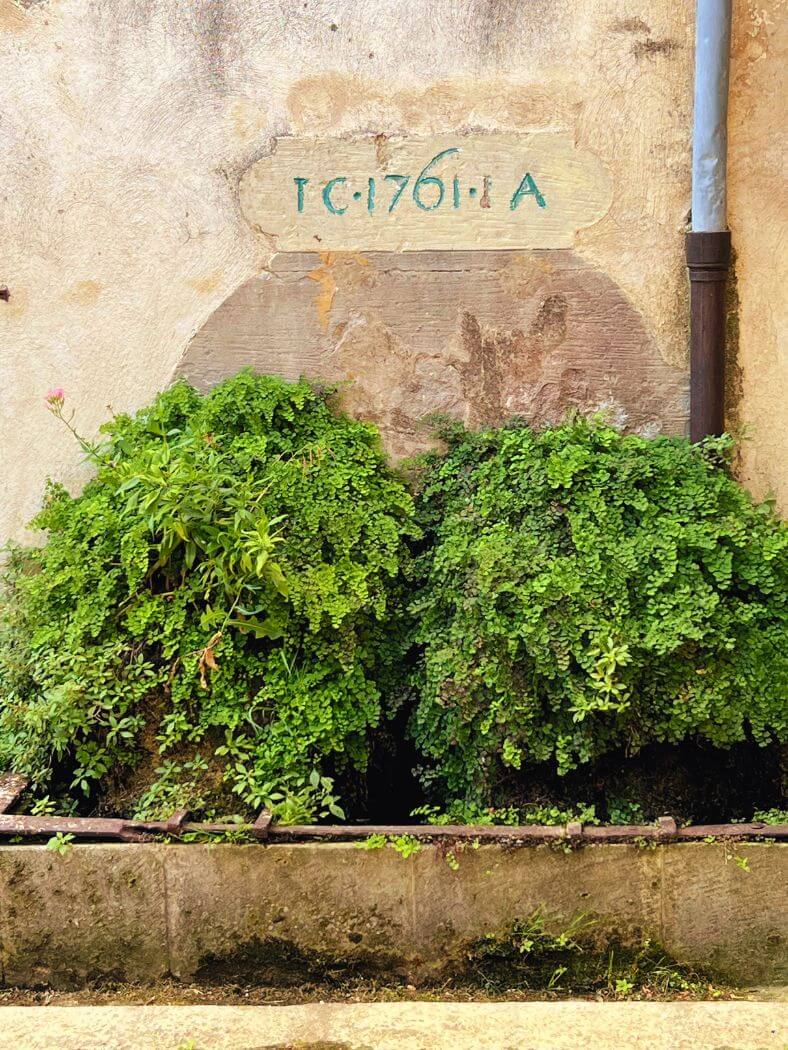 Taking a walk in Lourmarin's countryside is a great way to enjoy the pretty nature of this lovely village in France. The countryside here is known for its beautiful views of hills, vineyards, and more.
You can explore the countryside by walking on the paths. Some paths are easy, and others are a bit harder, so everyone can enjoy. The air smells nice with flowers like lavender and thyme, and the colors of the land change as the seasons pass.
While walking, you might see farms, vineyards, and old houses that tell stories about the past. If you stop on a hill or a good spot, you can see big views of mountains and the land around.
Animals like birds and butterflies might be around while you walk, which makes nature even better. For a special treat, bring some food for a picnic using this bag. Many paths have spots where you can sit, relax, and eat while enjoying the peaceful outdoors.
9. Take a Pétanque Lesson
Embark on a journey to master Pétanque – its throws, scores, and even crafty strategies – all while soaking in mesmerizing views.
Indulge in sips of Marseille's renowned Rosé and Pastis as you delve into the game. You'll not only hone your skills in boule handling and disputes but also uncover the rich history of this sport.
Engage in spirited Pétanque matches, a tradition that began in the early 20th century, with a glass of Rosé in hand and homemade Pastis to relish. It's an exceptional thing to do in Lourmarin, a place steeped in history.
The cherry on top? The winning team claims a commemorative trophy, toasted with an aperitif featuring Pastis, Rosé, and quintessential Provencal delights like anchoiade and tapenade.
Join this class for around three hours of play, set against the backdrop of a South of France castle. Whether in Lourmarin or Ansouis, you'll craft unforgettable memories, experiencing the game, local flavors, and the camaraderie of friends.
10. Day Trip from Lourmarin
Lourmarin is a fantastic base for exploring the beautiful Provence region of France. There are many charming towns, historic sites, and natural wonders that you can easily reach on day trips from Lourmarin. Here is a list of some of the best day trips you can take:
Gordes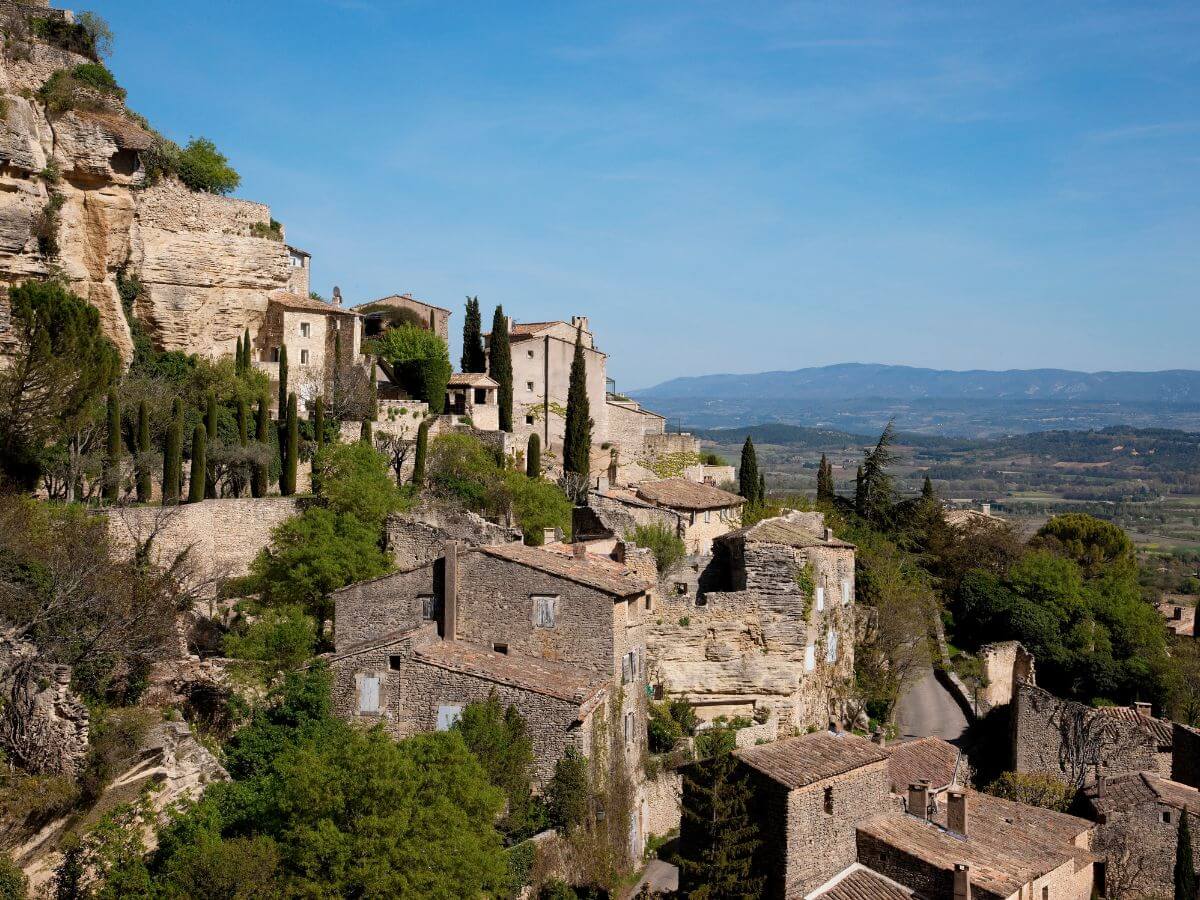 A brief drive from Lourmarin, a visit to Gordes, one of France's most captivating villages, is perched on a hilltop. Explore its charming streets, then head to the Village des Bories, an ancient hamlet of dry-stone huts, offering a unique peek into rural history.
Roussillon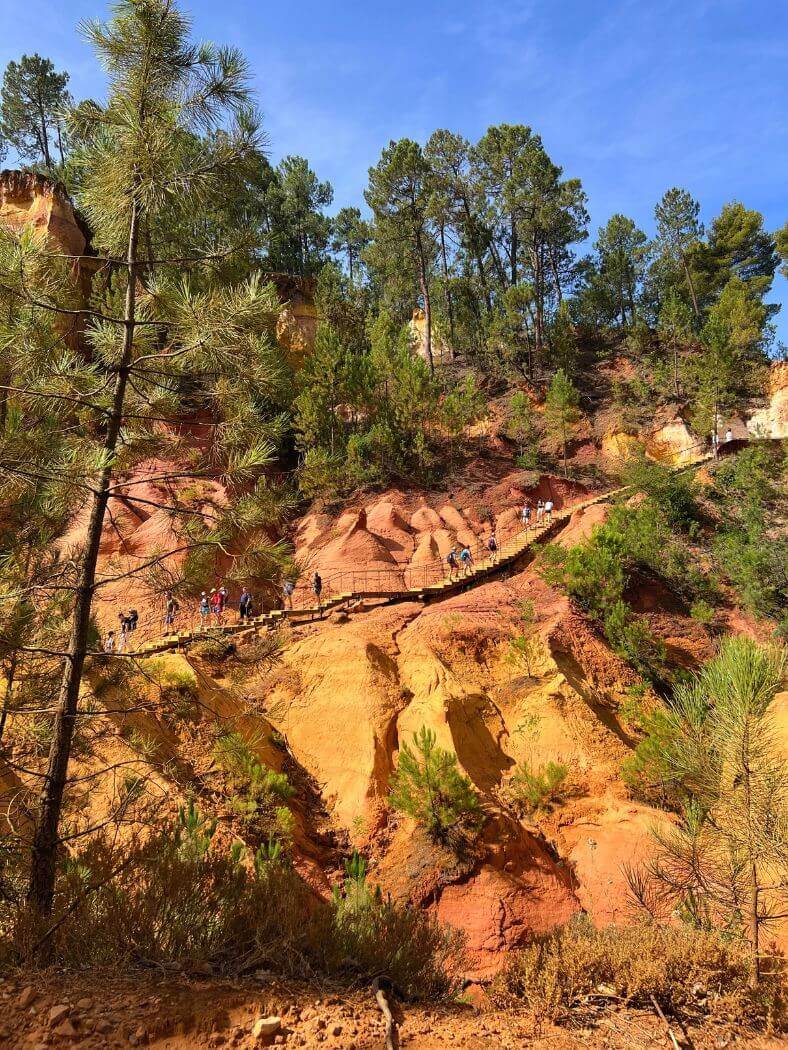 Roussillon is a picturesque village known for its ochre cliffs and colorful buildings, is worth the drive. While here, don't miss the Sentier des Ocres, a trail that winds through vibrant orange and red rock formations.
It is one of the best things to see in Roussillon!
Aix-en-Provence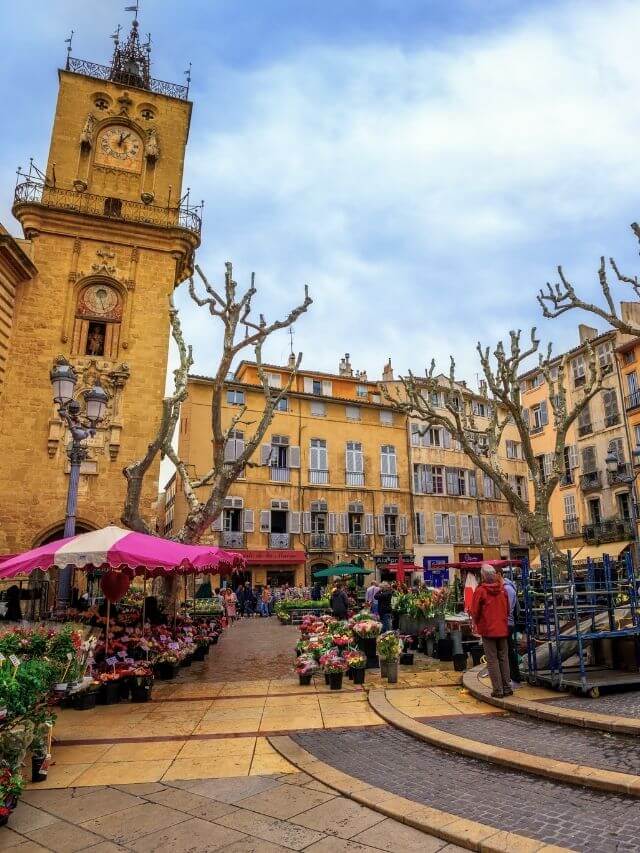 The lively town boasts an old town, fountains, and markets. Visit the Cézanne Studio, where the famous painter worked, and gain insight into his creative process.
Avignon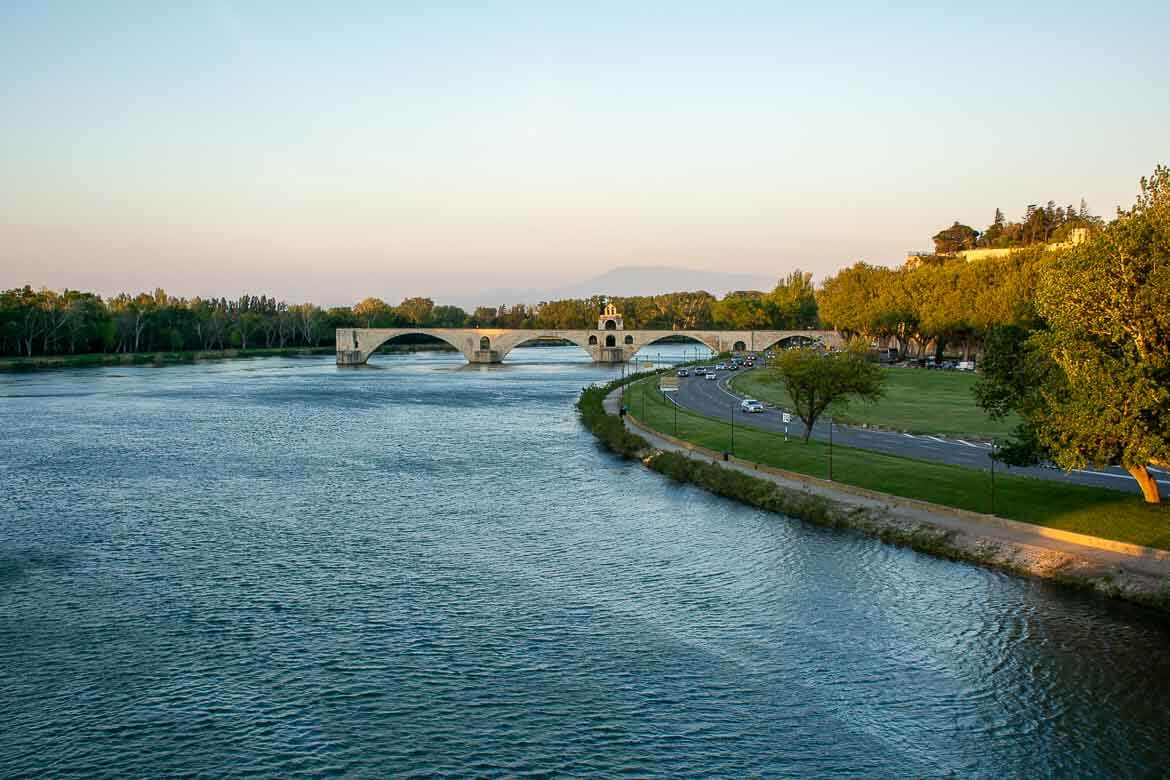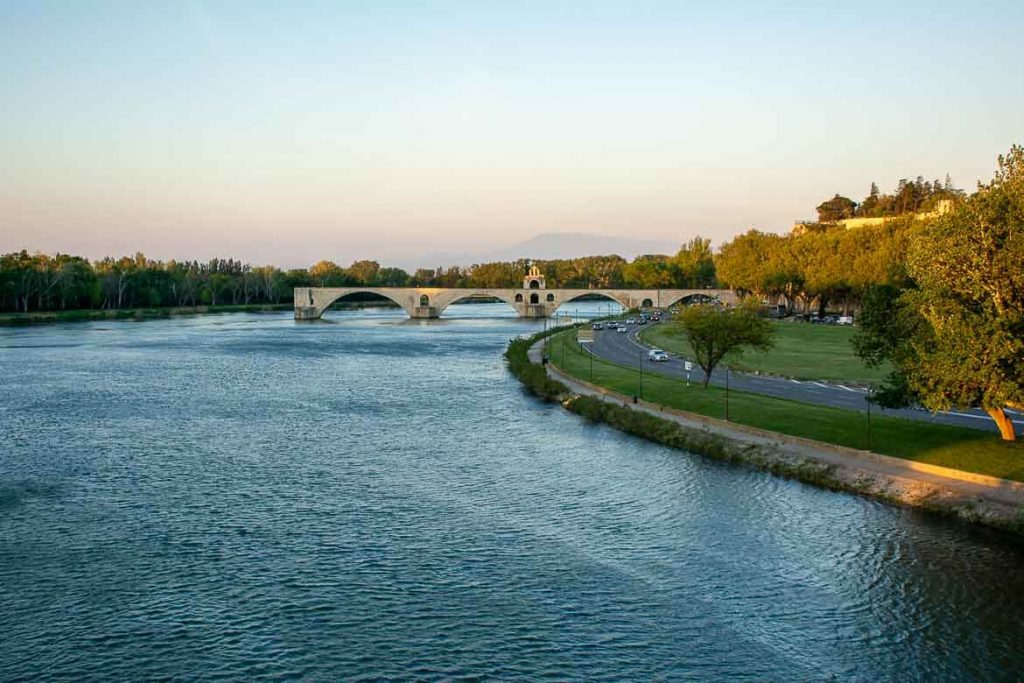 The Papal Palace and medieval bridge draw history enthusiasts. Explore the Palais des Papes to uncover the grandeur of medieval papal life.
Bonnieux
This hilltop village offers splendid views. Discover the Cedar Forest, Bois de cèdres, on the slopes of Mont Ventoux, perfect for nature walks.
Marseille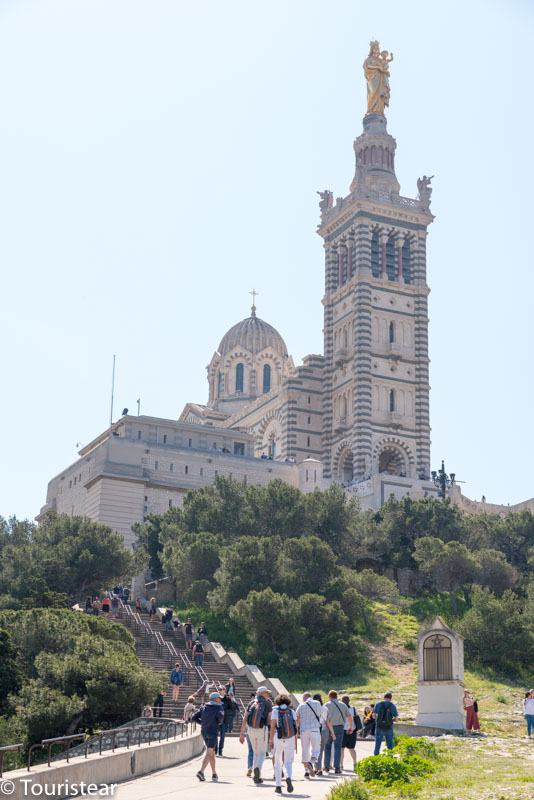 Taste coastal city life, from the Old Port to the iconic Notre Dame de la Garde Basilica. Explore the MuCEM, a museum dedicated to Mediterranean culture.
Lacoste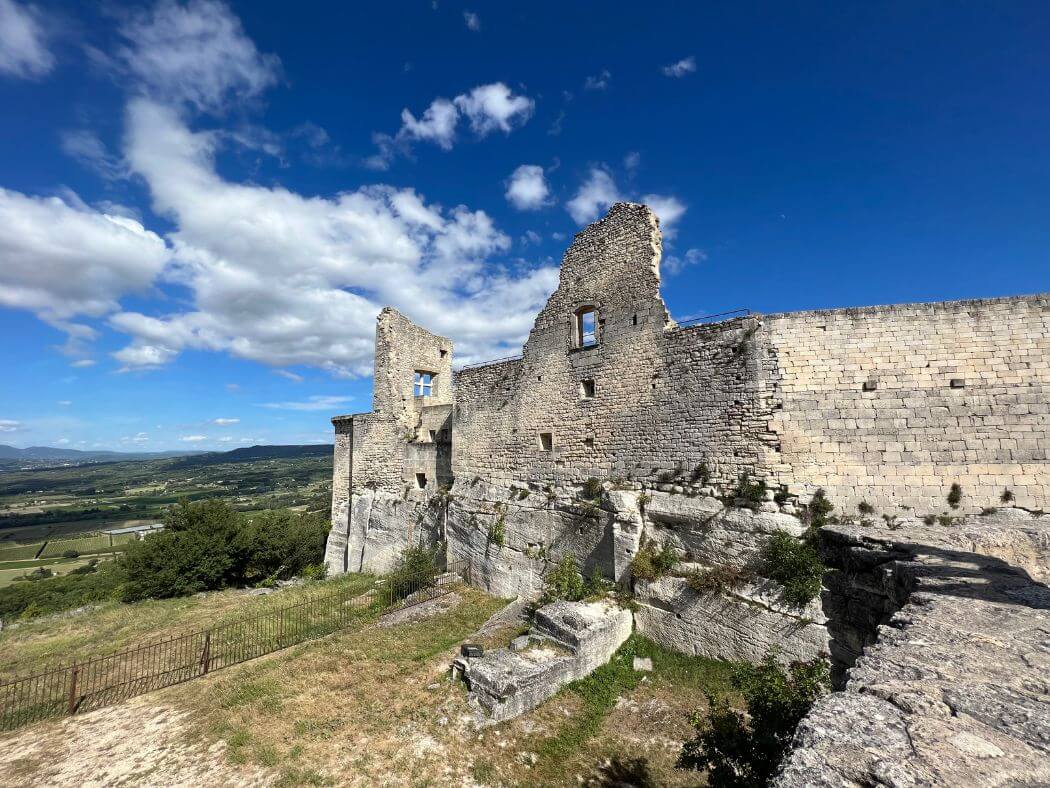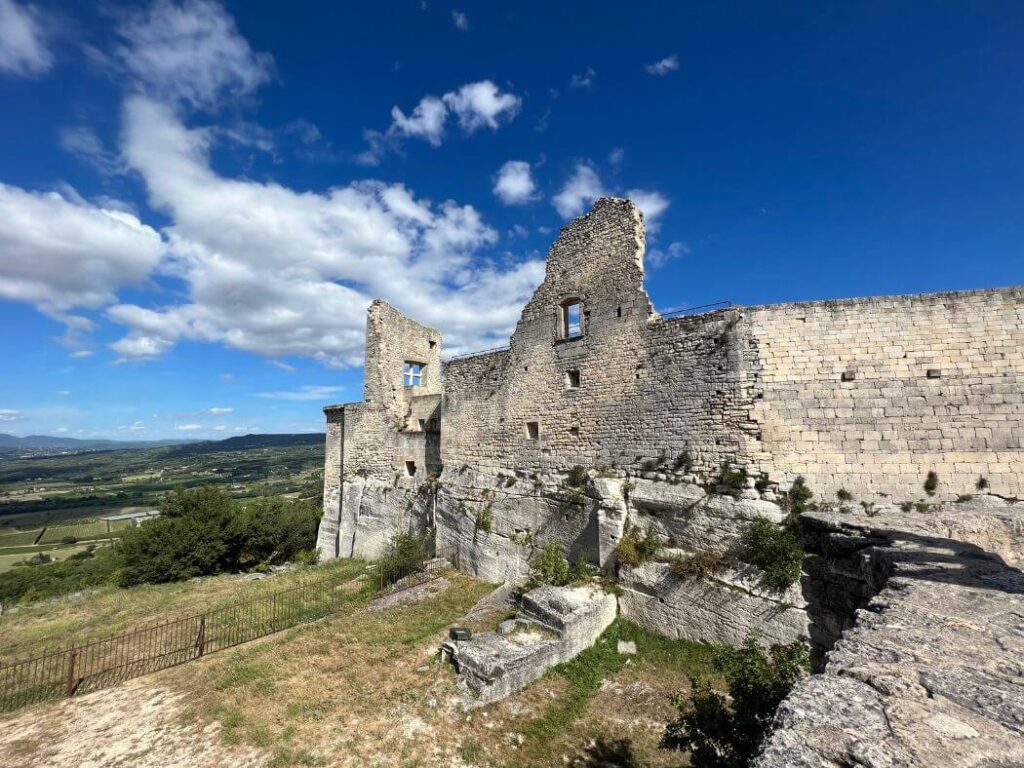 Famous for its historical castle, once home to the Marquis de Sade, Lacoste offers a unique and artistic atmosphere. Explore the Lavender Museum in Coustellet to learn about the region's lavender heritage.
Saint-Rémy-de-Provence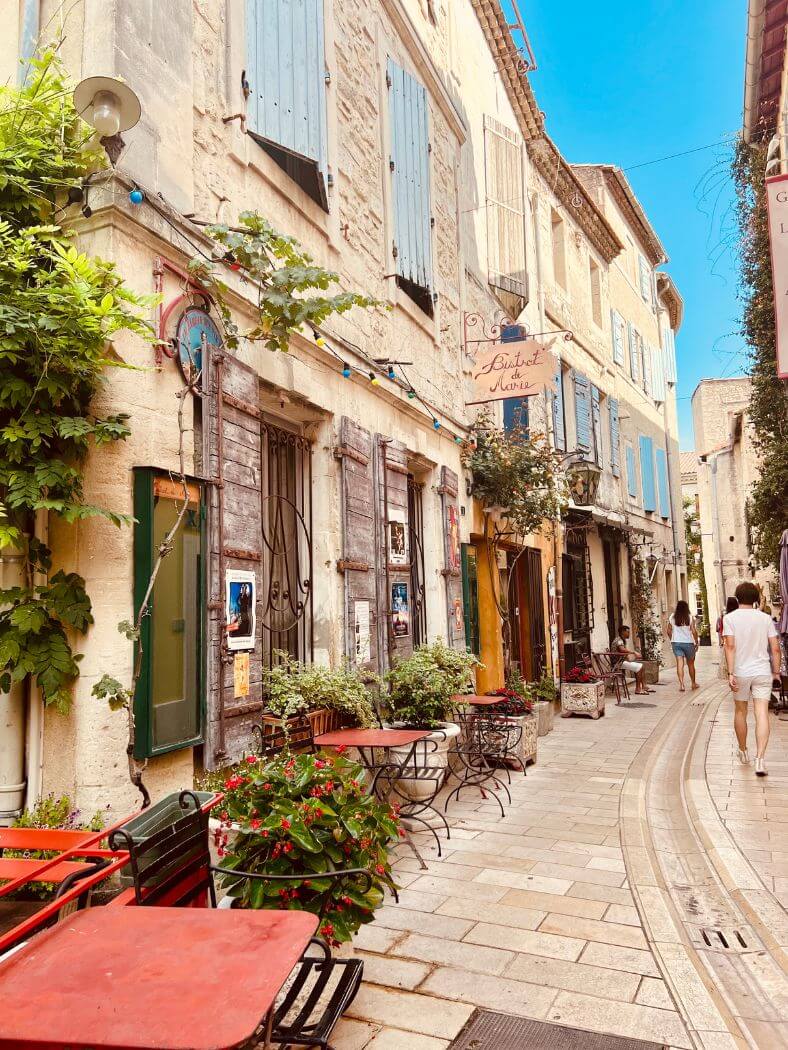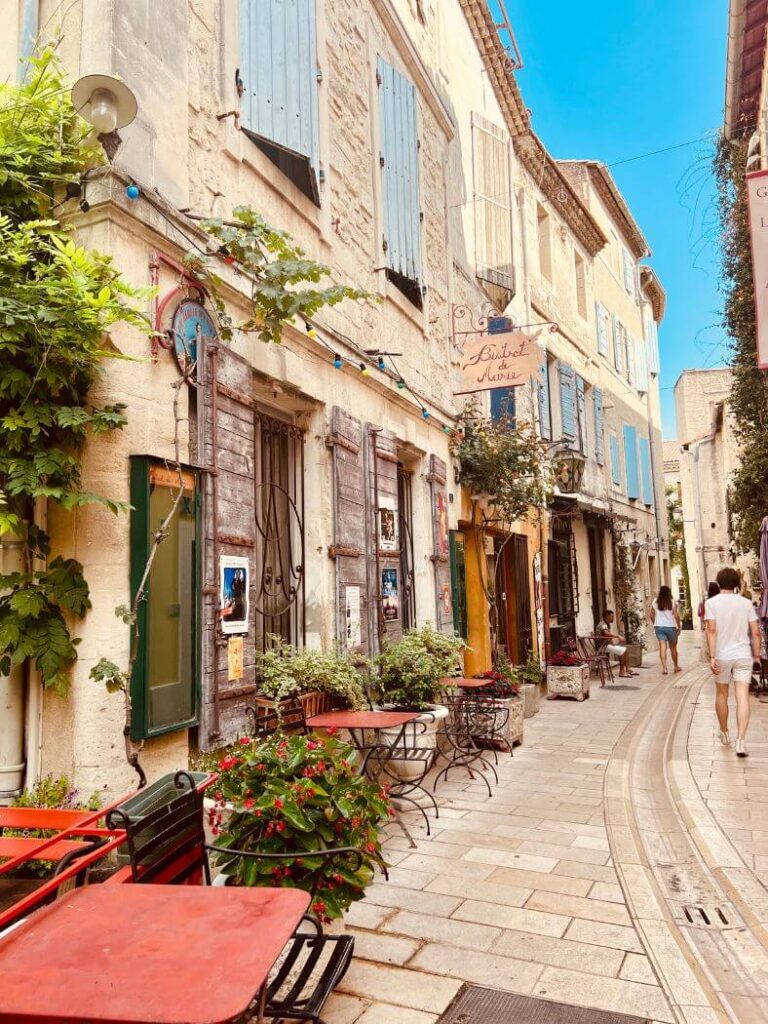 Nestled in the Alpilles mountains, this town is known for its Roman heritage and for being the inspiration for Vincent Van Gogh's works. Visit the Saint-Paul de Mausole Monastery, where Van Gogh stayed and painted.
Camargue Natural Regional Park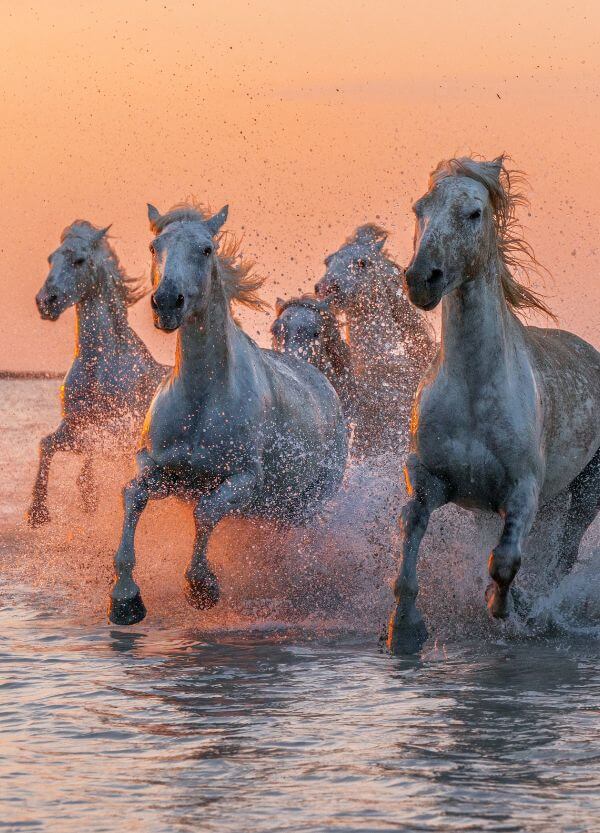 If you want to experience the unique landscapes of the Camargue region, head south to this nature reserve. Discover the Parc Ornithologique de Pont de Gau, a bird sanctuary with stunning sightings.
Getting to Lourmarin
Lourmarin is located about 60 kilometers from Avignon and 40 kilometers from Marseille. The best way to get to Lourmarin is by car. There are also a few bus routes that serve the village.
Lourmarin is well-connected to various transportation options, making it relatively easy to reach from different parts of France and even from international locations. Here are some common ways to get to Lourmarin:
By Car: For flexible travel, utilize DiscoverCars to Lourmarin is conveniently reachable via major highways like the A7 (Autoroute du Soleil) and A51.
By Train: Buy a train ticket here. Begin by arriving at the Avignon TGV station, followed by a regional train (TER) to Pertuis, the closest station to Lourmarin. From Pertuis, which is about 20 kilometers away, local buses or taxis can transport you to Lourmarin.
By Plane: Flying into Marseille Provence Airport (MRS) is a practical option, particularly for international travelers. After landing, rent a car and drive to Lourmarin, or take a combination of train and local transport to reach the village. Buy tickets online today!
By Bus: Lourmarin is served by local bus services, allowing you to travel to nearby towns and villages. From Aix-en-Provence and other cities in the region, you can find regional buses that connect to Lourmarin.
Once you arrive in Lourmarin, the village is small enough to explore on foot, and most attractions, including the castle, restaurants, and shops, are easily accessible within the village center.
You can park at the entrance of the town for free, and if you travel by van, you can spend the night in the parking lot.
When to Visit Lourmarin
The best time to immerse yourself in Lourmarin's enchanting atmosphere depends on your preferences and desired activities. Each season offers its own magic and events. Here's a snapshot of what to expect:
Spring (March to May): As temperatures rise, witness the countryside come alive with blossoms. Perfect for leisurely strolls and picnics. In June and July, Provence's iconic lavender season begins, infusing the air with its fragrance.
Summer (June to August): Embrace warm and sunny days, perfect for outdoor pursuits, local festivities, and events. Be ready for bustling crowds during this peak tourist season. Secure accommodations early to enjoy the full experience.
Fall (September to November): The weather remains pleasant, and the crowds thin out. Fall is a splendid time with vineyards adorned in golden leaves. Savor local wines, indulge in regional cuisine, and explore trails without the summer heat.
Winter (December to February): Lourmarin experiences mild winter temperatures. While quieter, it's no less charming. Immerse yourself in a serene ambiance enhanced by Christmas decorations and local markets. Make sure to keep warm with good base clothing.
For your exploration, the Canyon shoe is apt for diverse terrains.
Where to Stay in Lourmarin
Lourmarin offers various charming accommodations catering to different preferences and budgets. Whether you're looking for luxury hotels, cozy bed and breakfasts, or quaint guesthouses, here are some popular options for where to stay in Lourmarin:
Boutique Hotels: Experience luxury at its finest by staying at the Hotel Le Mas de Guilles. This charming boutique hotel offers elegant rooms, lush gardens, and an inviting pool. Indulge in gourmet dining at their on-site restaurant for a complete and memorable stay.
Bed and Breakfasts: These delightful bed and breakfasts are hosted by friendly locals who provide insider tips. Immerse yourself in the village's ambiance while savoring delicious homemade breakfasts.
Guesthouses and Gîtes: These cozy guesthouses offer modern amenities and equipped kitchens, allowing you to cook with fresh market finds. The charming interiors and proximity to local attractions make it a great choice.
Villas and Vacation Rentals: For a spacious and private retreat, consider the Villa Lavande. This Provençal-style villa offers a blend of elegance and comfort. Relax in the private garden and take refreshing dips in your own pool after exploring the village.
Country Inns: Escape to tranquility at the Auberge La Fenière. Nestled in the countryside, this country inn offers a serene setting. Enjoy hearty Provençal cuisine at their renowned restaurant and bask in the peaceful surroundings.
In Lourmarin, every moment is a masterpiece waiting to be experienced. From exploring art galleries to wandering through picturesque villages, enjoying local cuisine, and savoring the tranquility of the countryside, the best things to do in Lourmarin promise a tapestry of unforgettable memories.
Plan Your Trip to the Luberon Region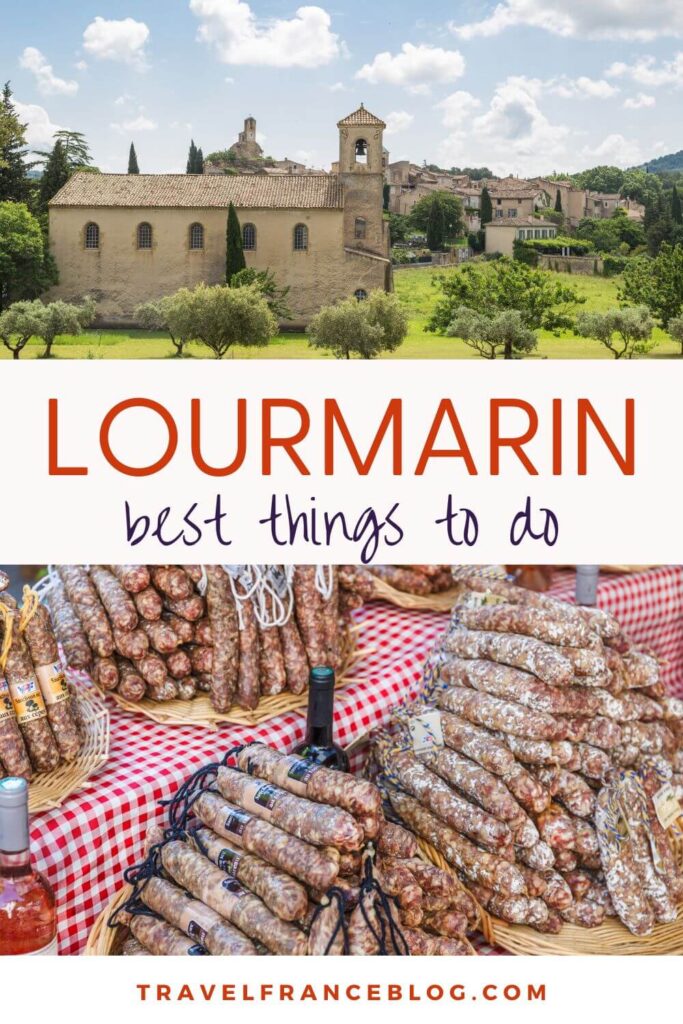 This post may include affiliate links. This means that we will receive a small fee if you make a purchase through our links. It has no additional cost to you. It's a win-win!