Best Things to Do in Paris in May
May is a beautiful month to visit the French capital. Spring is in full bloom, the days are longer, and there is plenty to do inside and outside. With the great warm weather, planning the best things to do in Paris in May is never a problem.
Is Paris Crowded in May?
May is peak season in Paris, with many public holidays but without the summer crowds.
Crowds will be present from the month of May to September, but not in the same numbers as during the high season. During the months of July, June, and August, expect long lines at Disneyland Paris, the Palace of Versailles, and other popular tourist destinations.
Best Things to Do in Paris in May
With so many events, holidays, and popular tourist destinations, planning an itinerary in the city of lights can take time and effort, especially for first-time visitors.
Even seasoned tourists want to take advantage of the pleasant weather and the number of visitors to experience the best things to do in Paris in May!
Go on a Free Walking Tour inside Notre Dame Cathedral
The month of May provides ideal weather for a stroll around the Notre Dame Cathedral in Paris. It is one of the destinations in most free walking tours in Paris.
The entrance to the cathedral was free until the fire, but you can no longer visit the interior until it reopens.
Though you can take tours around, visit the crypt and take many photos.
Be careful; on the last trips this year, I did not see them, but there used to be rats in the gardens that are next to the river, and they are not scary for humans. So please be careful and don't leave food on hand.
Visit the Graves and Discover Stories in Pere Lachaise Cemetery
Over the years, visitors have been drawn to the Père Lachaise Cemetery by its hills, cobblestone streets, and eerily beautiful graves of famous people such as Oscar Wilde, Edith Piaf, and others.
Visiting a cemetery may not be on your list of ideal Paris experiences in May, but the lush nature and stories may persuade you otherwise. From mid-March, when various flowers blossom, a tranquil green and floral canopy envelops the cemetery.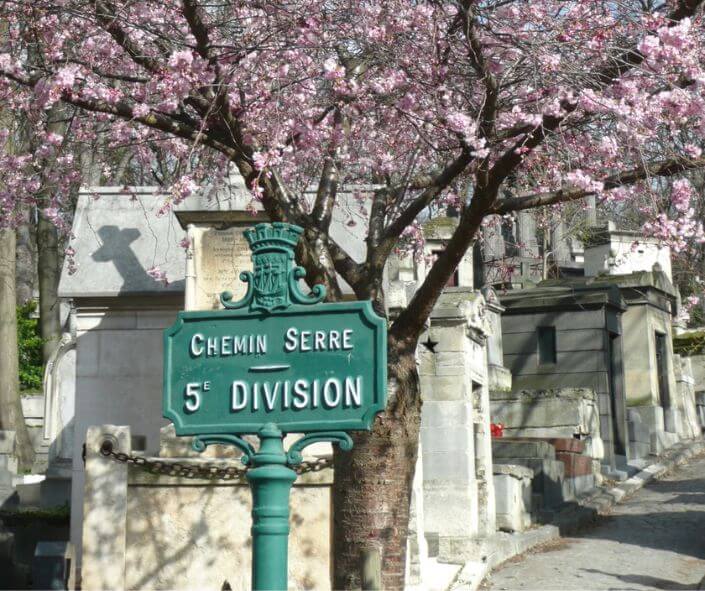 The entrance is FREE, and you can enter through the 5 gates to the cemetery. You can book a guided tour to find the graves of famous people, learn about their lives, and listen to paranormal stories.
Watch the French Open
Traditionally, the French Open takes place in late May or early June. Tennis lovers should attend this event to watch their favorite players, such as Iga Swiatek and Rafael Nadal, defend their championships.
*When is the French Open 2023? It starts on May 28, 2023, and until Jun 11, 2023.
Compared to Wimbledon, you have several options for purchasing Roland Garros tickets.
You can take a Roland Garros tour if you are in Paris during the first few weeks of May. Visit the locker rooms to learn more about French tennis players like Steffi Graf.
See the Sunset at the Eiffel Tower
Never miss out on visiting the Eiffel Tower and fulfilling your movie photos. The most beautiful panoramic views of the city make it an ideal location for photography.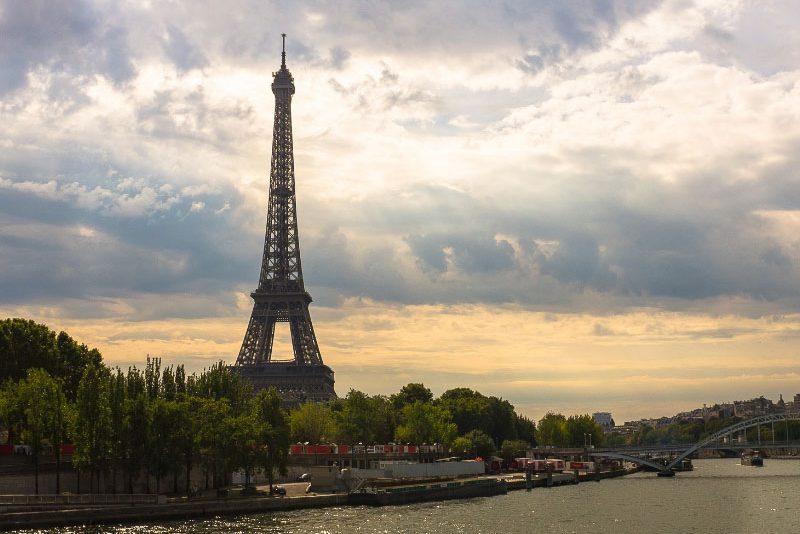 Related: Best Places to Stay Overlooking the Eiffel Tower of Paris
We recommend watching the sunset as it changes the colors of the urban landscape. Paris in May also has the perfect weather to unwind at Champ de Mars or stroll through Paris' famous streets.
Head to the other floors of the Eiffel Tower for exciting amenities and activities. We recommend stopping by the Champagne Bar with your loved one for a glass of bubbly. Or go to the glass floor for a bravery test.
Honestly, the last time I went up the Tower (I've already gone up 3 times), the glass floor was a bit dirty, and it didn't give me any vertigo. The last time I passed, I didn't even realize that it was the "transparent" floor.
It is a tradition for me to buy some Pierre Hermés macarons and eat them quietly in the tower, enjoying the views and then we go down the stairs.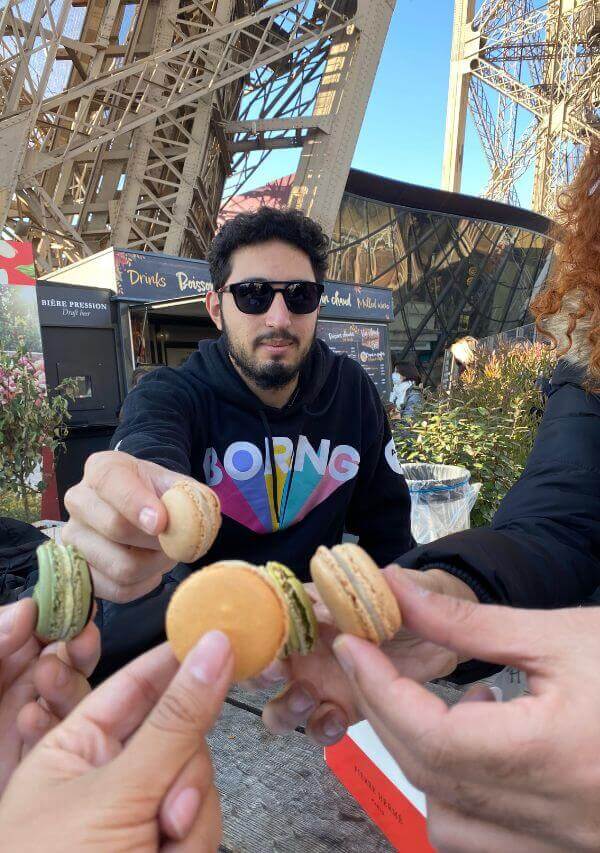 You can also go to several places when you book a day trip that includes the Eiffel Tower as the destination.
Shop at Saint Germain Paris
Saint-Germain-des-Prés has always exuded a creative, bohemian spirit.
It is the home of several of the finest authors and artists of the 19th century, and numerous museums can be found there. St. Sulpice Church, featured in the movie The Da Vinci Code, is another destination for you!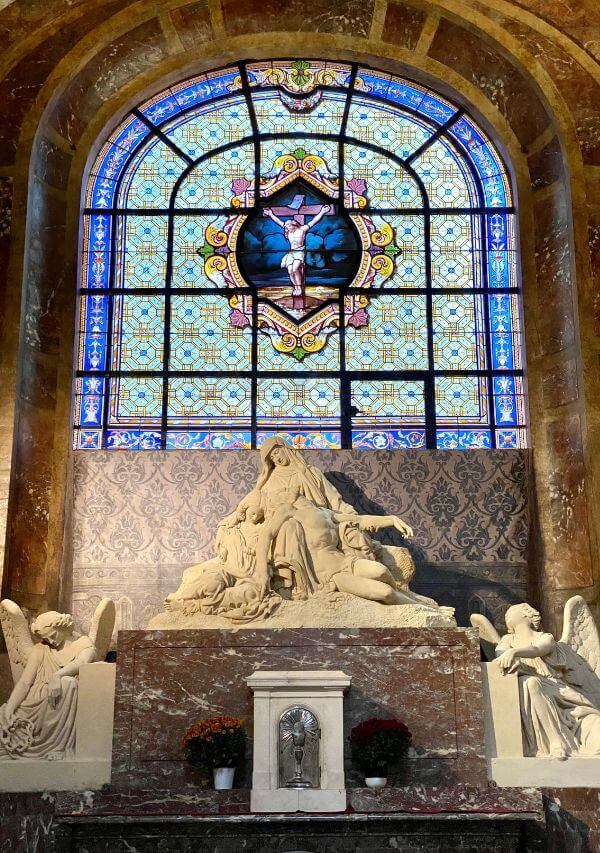 May is always perfect for a walking tour, and shopping at the Saint-Germain-des-Prés is an all-year-round experience.
In St. Germain-des-Prés, you may also discover boutiques that sell reasonably priced yet stylish items or get high-end goods from Louis Vuitton, Ralph Lauren, and Armani. Take the chance to buy one of Fragonard's lovely perfumes.
Experience a Show at Moulin Rouge
Although Moulin Rouge shows are not exclusive in Paris in May, tickets are in high demand. Buying one can occasionally take weeks or months.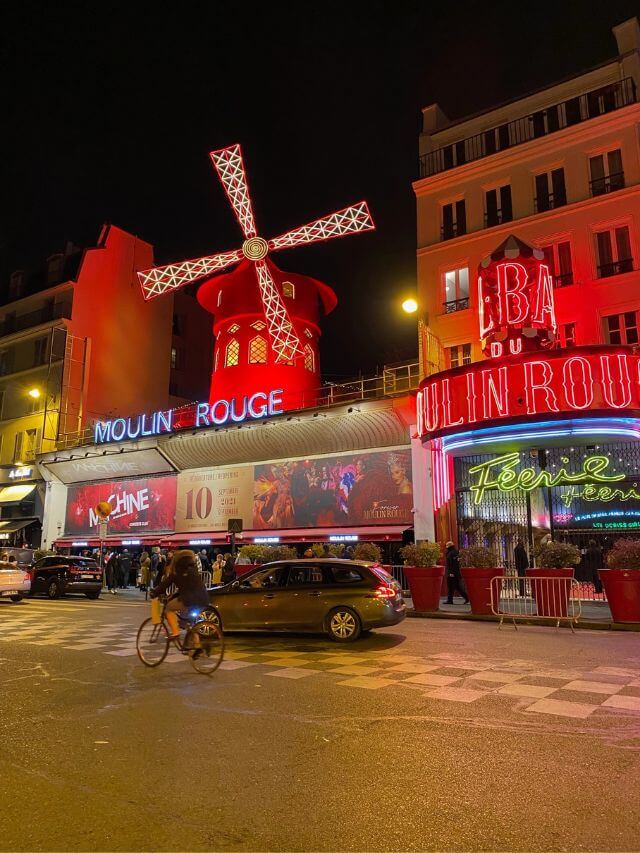 Get the chance to see feats of juggling, acrobatics, gymnastics, and other cabaret performances when you have admission to a show in May!
The cabaret treats visitors with delectable French lunches that include champagne. If this may not be a budget-friendly food place for you, there are affordable restaurants in Paris to stop by.
Take a Seine River Cruise
A river Seine cruise is delightful in May when the weather is pleasant and sunny. Before the day cools down, you can catch a glimpse of the sunset.
Going on a sunset cruise tour while listening to soothing music in the background improves the overall experience. You will see a view of the Louvre Museum, the Orsay Museum, Notre Dame, and other attractions.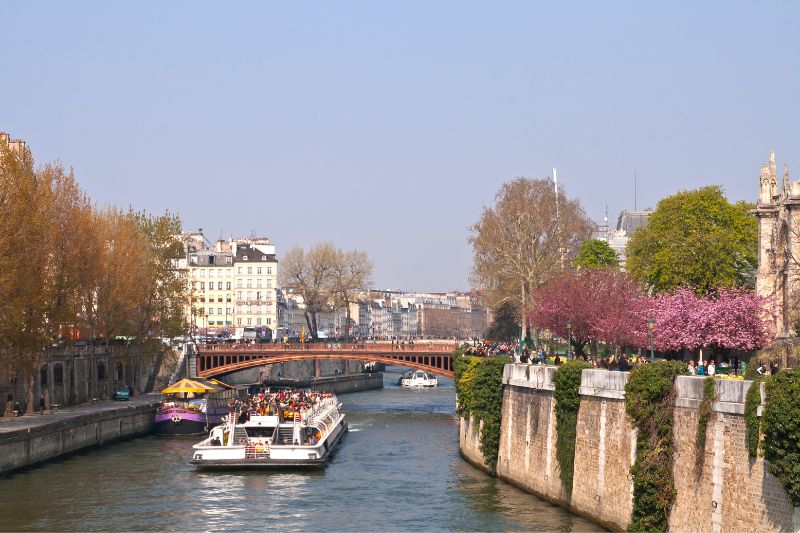 Experience Paris Street Art Tour and Festival
This annual festival honors the art of street performance along the Canal Saint Martin and in the entire 10th arrondissement. If you're in Paris at the end of May, stop by this event!
The festival is FREE, and you can see a diverse range of street performers, including clowns, circus acts, magicians, puppet shows, music, theater, and more. We also recommend watching the festivities with your kids! Check their website for schedules and activities.
The month of May is ideal for a street art tour in Paris because it is not too hot or too cold. We recommend going with a tour guide for a more immersive experience.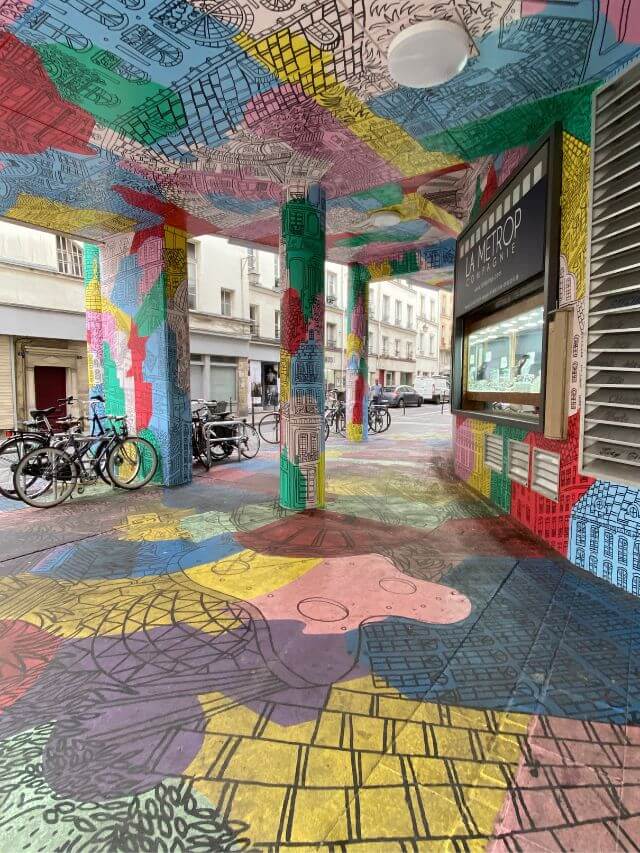 The 13th arrondissement of Paris has been home to some of the world's most well-known street art since the 1960s. The Boulevard Vincent Auriol, which has over 20 murals, should be your first stop.
Next on your self-tour is the art exhibition in Vitry-en-Scène, Belleville's 20th arrondissement, and a street art trail in the Palais de Tokyo.
Visit Parks in Paris
May showcase the spring flowers in full bloom, and we love walking around the green spaces. With so many gardens to visit in the city of lights, you can stop by our favorite places:
Jardin Des Plantes,
Tuileries Garden,
Luxembourg Garden
and Vincennes Woods.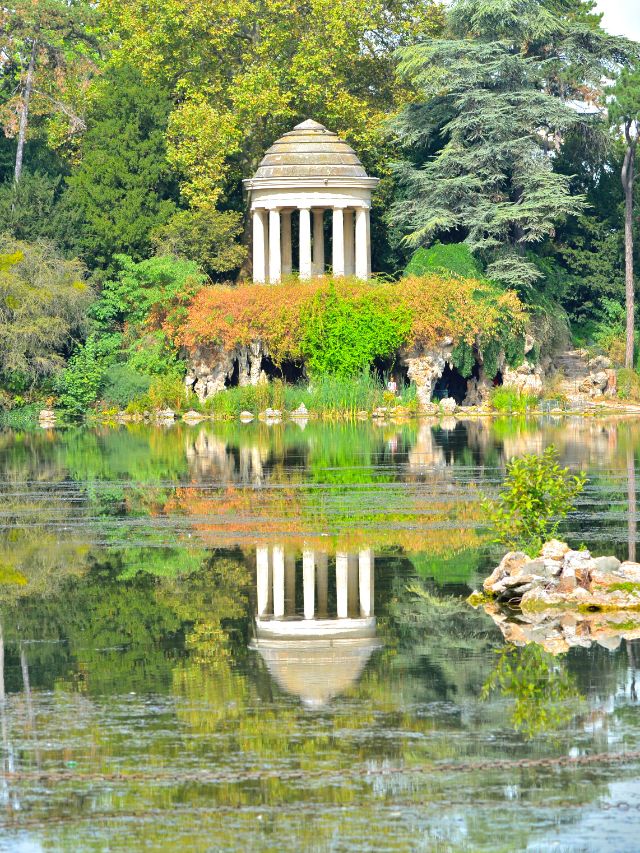 You can find 120 species of Iris in Jardin Des Plantes. Some notable varieties are the hybrid of European and North African iris. When you visit in May, the flowers bloom with blue, yellow, pink, and red hues.
Tuileries Garden is close to the Musée de l'Orangerie, Musée des Arts Décoratifs, Jeu de Paume, Porte des Lions, Seine River, and more. It is the best green space to enjoy spring flowers, visit several destinations and museums, and walk by the river.
If you want to be away from the bustling city center, you can also take a break and relax at one of the two major lungs of Paris: Boulogne and Vincennes woods.
Join Events and Festivals in Paris
In May, Paris has the most celebrations and activities. Despite the lower crowds than in the summer, the locations of the events may still have a sizable local and travelers.
Although we dislike following the crowd, we must admit that attending these festivals was worthwhile! We do not recommend bringing your children here to avoid them becoming disoriented in the crowd.
*When is the Taste of Paris Festival in 2023: May 11 to 14, 2023
One must-attend culinary event in Paris is the annual Taste of Paris Festival. Several renowned French and international chefs will congregate in Grand Palais over four days and evenings during the Taste of Paris Festival.
*When is the Bread Festival in Paris (Fête du Pain) in 2023: May 15 to 23, 2023
Visit the Bread Festival in Paris while visiting Notre Dame Cathedral. The bread festival has been held almost yearly since Jean-Pierre Raffarin founded it in 1996.
The entrance is FREE, and the aroma of freshly baked bread and warmth from the multiple ovens constantly whirling will greet you as soon as you walk into the open area. When you are on a budget, this is the best time to buy warm bread to keep you full.
*When is the Saint-Germain-des-Prés festival in 2023: May 10 to 17, 2023
Held in famous venues in the Saint-Germain-des-Prés area, there will be dozens of concerts day and night. Also, there are workshops, jazz chats, and master classes. You can buy passes for the music festivals.
I recommend walking or dining along the Saint-Germain-des-Prés during this festival, but it can get crowded.
See The Grand Paris Steeplechase
The Grand Steeple Chase de Paris takes place at the Hippodrome d'Auteuil in May, when the weather is nice. This obstacle race is regarded as mystical by the best in the business.
*When is the Grand Paris Steeplechase in 2023: May 20 to 21, 2023
This is a place where your children will have a good time with the several FREE activities available throughout the weekend. Carousel, free pony rides, giant sack race, new rocking horse, entertaining racing-themed mini-games, there is something for everyone, young and old.
Printable
Outfit Planner
EXTRA TIP: plan what you will take in advance so you take everything you need and do not have to make extra expenses at the destination. You can download the PDF here; the price is up to you!
Learn about Art during the Museum Night
In a fun and welcoming environment, both kids and adults can marvel at the abundance of cultural wealth and surprising aspects of museums devoted to art, history, folklore, science, and more.
Museum Nights encourages visitors to explore museums in new ways in addition to regular visits to permanent collections and temporary exhibitions. Some of the museums included in this event are the Centre Pompidou, Orsay Museum, and Louvre Museum.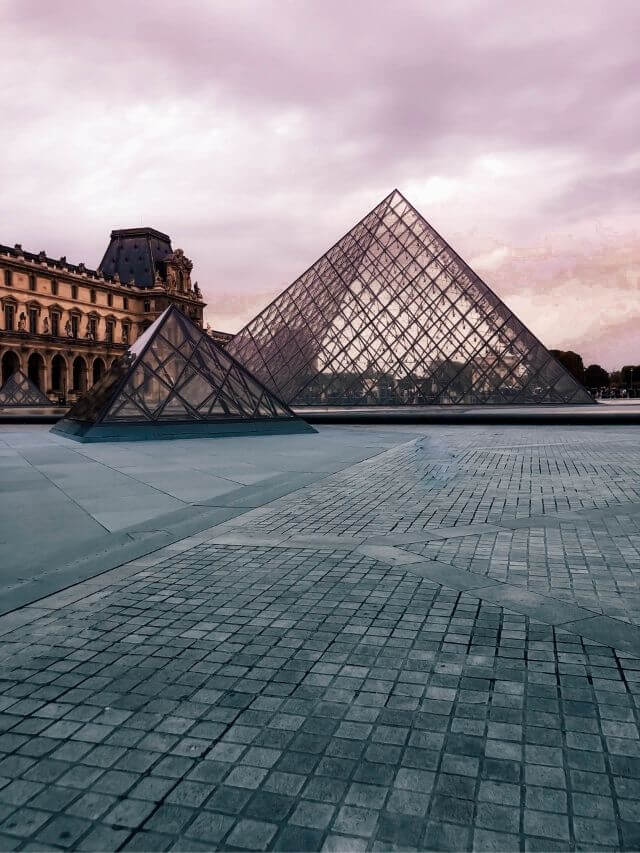 You can join the experience through various special events and activities such as guided tours, workshops, concerts, films, readings, sound or visual installations, and more.
If you travel to France before or after Museum Nights, I recommend going on a regular museum tour yourself. Get the Paris Museum Pass to see Musée d'Orsay Van Gogh's creations and other works for artists from the museums in Paris.
Witness the Blooming Wisteria in Paris
Wisteria blooms at the same time in London and Paris. While the blossoms can appear as early as mid-April in a good spring, the wisteria blooms at the end of April and peaks around the beginning of May. When the weather is bad, the flowers may bloom later and last until the middle of May.
During this time, you can walk along the Grand Mosquée de Paris, the streets of the Métro Saint-Paul, and the entrance to the Square de Deux-Néthes. We recommend these places for you to see wisterias in full bloom.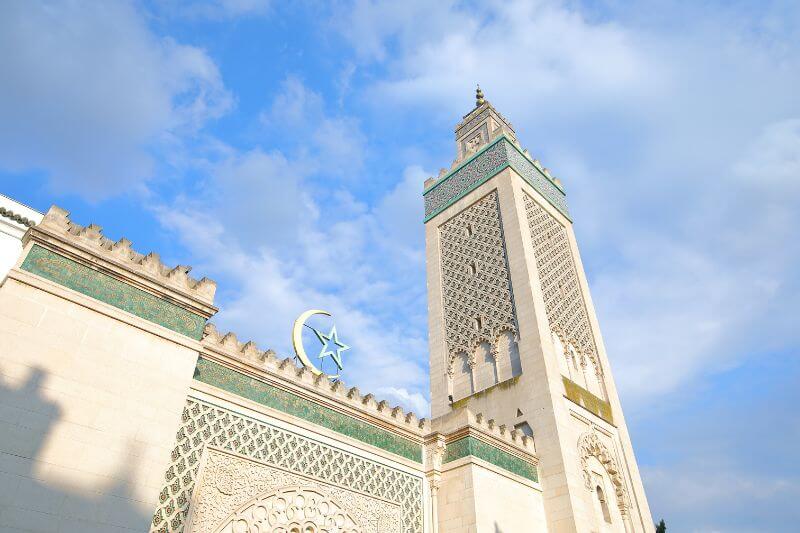 Have Fun at the Foire de Paris
For more than 110 years, the Paris Fair (Foire de Paris) has showcased innovations, goods, and services that help you make the most of your daily life.
*When is the Paris Fair in 2023? It starts on April 27 and until May 8, 2023.
With over 3,500 brands represented, this one-of-a-kind European experience allows you to learn about, test out, and compare all of the goods and services designed to improve your everyday life and the most delectable treats, all in one place!
The Paris Fair is a must-stop when you are in Paris from the first week of April to the first or second week of May. 
Getting Around Paris in May
We recommend walking around Paris or visiting tourist destinations in May to enjoy the festivities. Walking in the warm weather will allow you to appreciate the beauty of the streets surrounding the Eiffel Tower.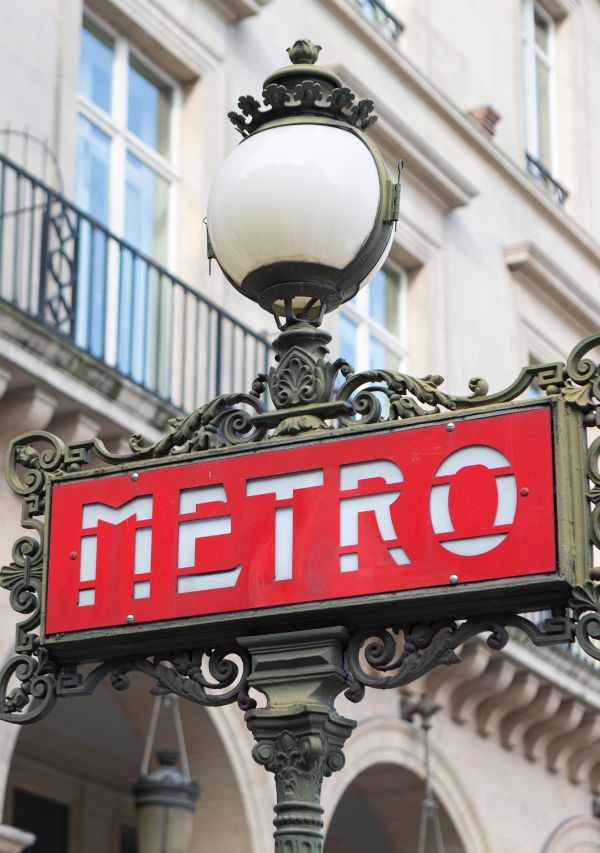 Another option for getting around the city is to take the Paris metro, which has over 300 stations, or other public transportation. However, I would not recommend taking the bus when several events occur in nearby areas. You want to stay as far away from traffic as possible.
Where to Stay in Paris in May
We always recommend staying at the Hotel Pullman Paris Tour Eiffel because it has the best views of Paris's most well-known tourist destination.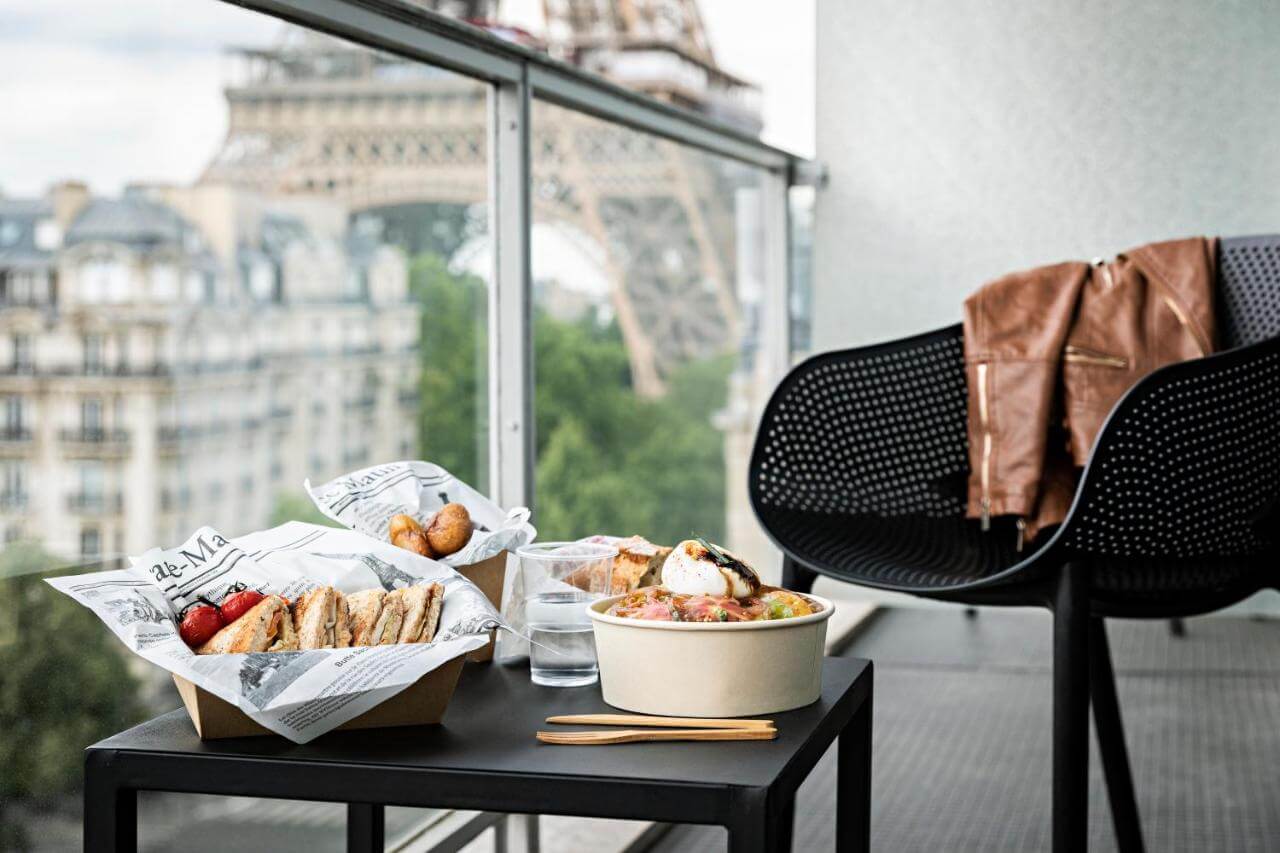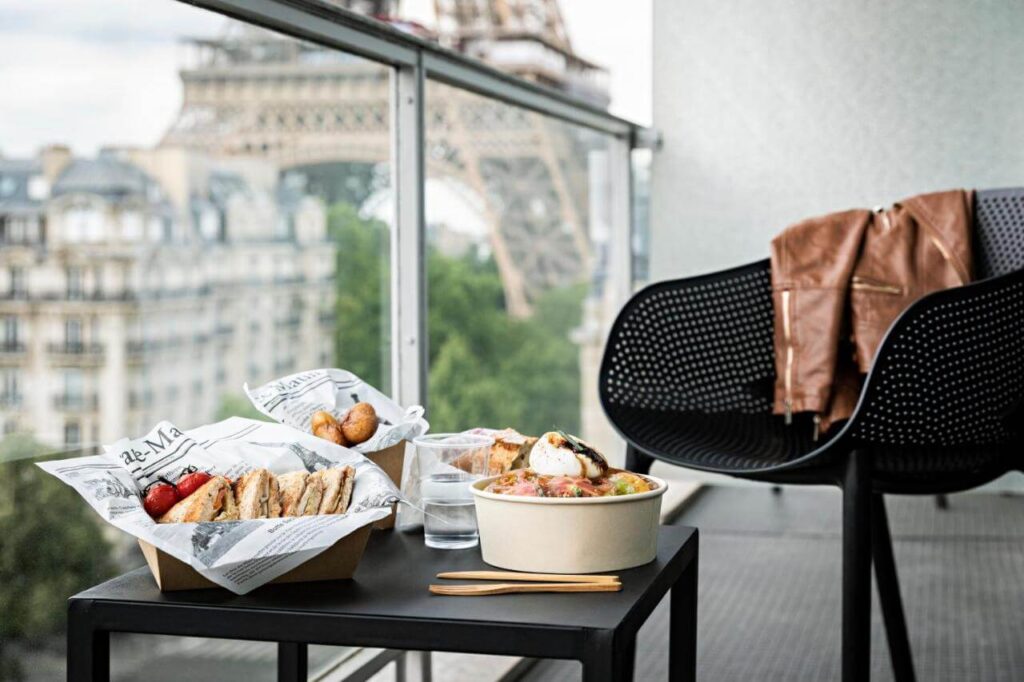 In May, the Trocadero Plaza and the Champ de Mars become popular places to relax and connect with nature. You can easily go to these green spaces from the hotel. A double room with an Eiffel Tower view costs €419 per night.
An affordable option is getting the City of Lights one-bedroom apartment for as low as € 72. In May, the garden glows in abundant colors.
Weather in May in Paris
The mornings in May are ideal for a walking tour of Paris. Although there may be a few rainy days, Paris weather will be sunny and warm.
The Temperature in Paris in May
This time of year, the average temperature has risen to 68°F (20°C), which is ideal for spending the day exploring the city's beautiful parks and gardens.
Know Before You Visit Paris in May
If you plan to visit Paris in May, make your reservations as soon as possible. The public holidays and long weekends attract local and international visitors to Paris.
Consider traveling to locations other than Paris.
Remember to stroll through one of Paris' many parks in May, when the city's breathtaking natural beauty is at its peak.
Thunderstorms are not uncommon in May, so be prepared.
Check the Paris festival schedules before you go.
What to Pack for Paris in May?
Bring various spring clothing, including coats for chilly evenings, and be prepared for a few warmer days. Windy and rainy conditions are possible, especially in Paris. On your packing list, include the following items:
What to Wear in Paris in May?
Depending on the weather, you can bring some tops and bottoms to mix and match, an outer layer, and 2 or 3 dresses.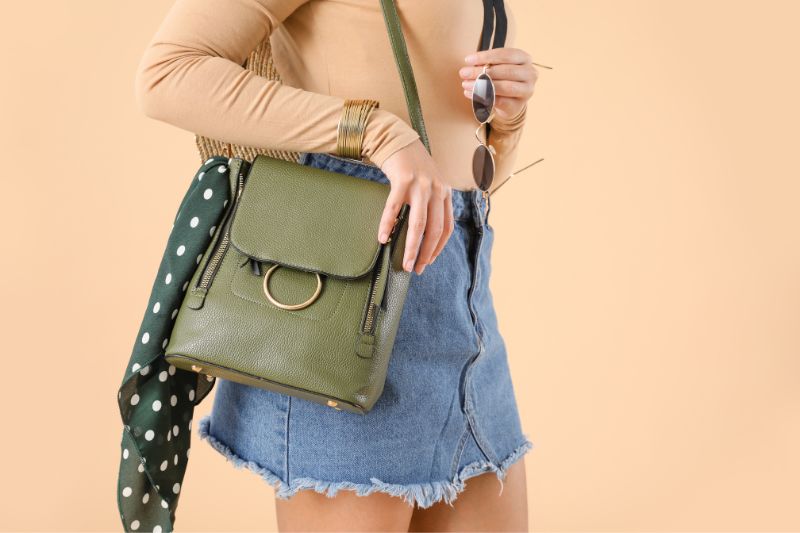 Although Parisian women prefer modest to large purses, the city offers various folding nylon totes in various colors. You will need a large, yet fashionable, storage space to accommodate your extra layer, water bottle, camera, and other necessities.
Printable
Outfit Planner
EXTRA TIP: plan what you will take in advance so you take everything you need and do not have to make extra expenses at the destination. You can download the PDF here; the price is up to you!
Plan Your Trip to Paris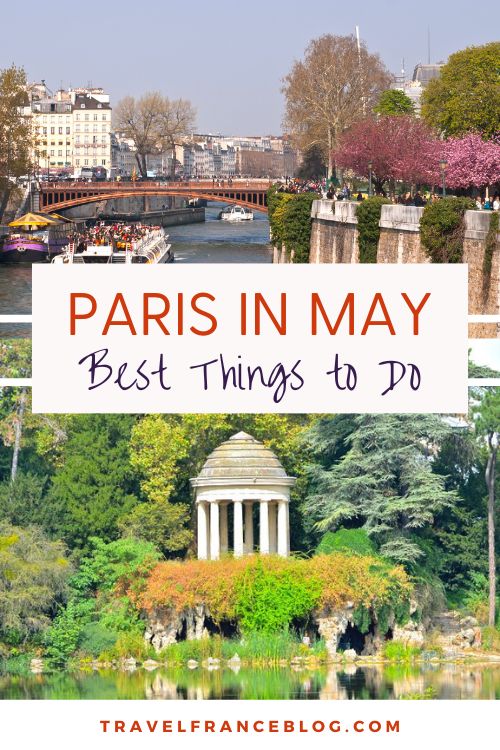 This post may include affiliate links. This means that we will receive a small commission if you make a purchase through our links. It has no additional cost for you. With this, you help us to continue creating free content for you.
This post may include affiliate links. This means that we will receive a small fee if you make a purchase through our links. It has no additional cost to you. It's a win-win!