Why Paris in July is the Ultimate Summer Destination
Escape the dilemma of fluctuating weather and wardrobe choices by visiting Paris in July. If you do not like planning a mix of spring and summer activities when in Paris in June, experience a hassle-free trip with consistently warm weather and thoroughly enjoy the vibrant summer atmosphere of the city.
Is July a Good Time to Visit Paris?
Visit Paris in July for an unforgettable experience. With pleasant weather, longer days, and a vibrant atmosphere, it is the perfect time to explore the city's iconic landmarks, savor sweet and cool delights, and immerse yourself in the events and festivals that make Paris magical.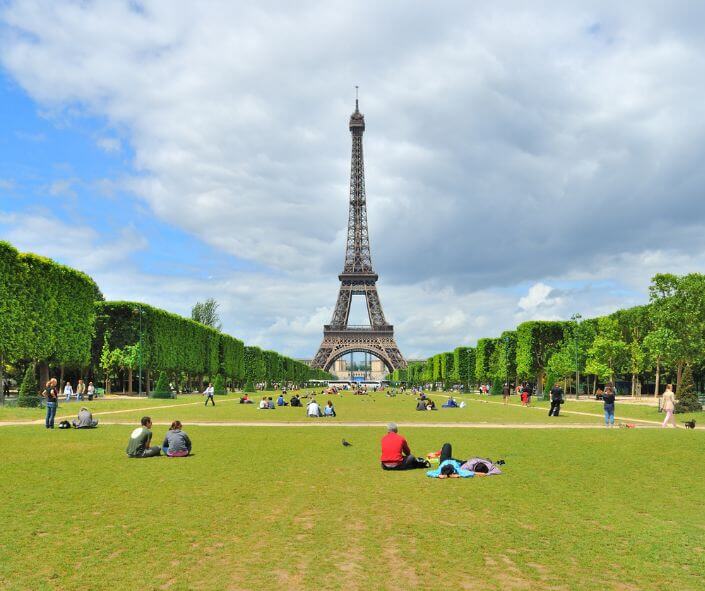 Things to Do in Paris in July
There is plenty to do in the City of Lights during this vibrant month. From outdoor picnics to exploring iconic landmarks, discover what to do in Paris in July.
Visit the Eiffel Tower
When it comes to what to do in Paris in July, visiting the Eiffel Tower is a personal favorite of mine. This iconic landmark's views are breathtaking, no matter the season. Trust me, experiencing the Eiffel Tower in all its glory on a sunny July day is an absolute delight.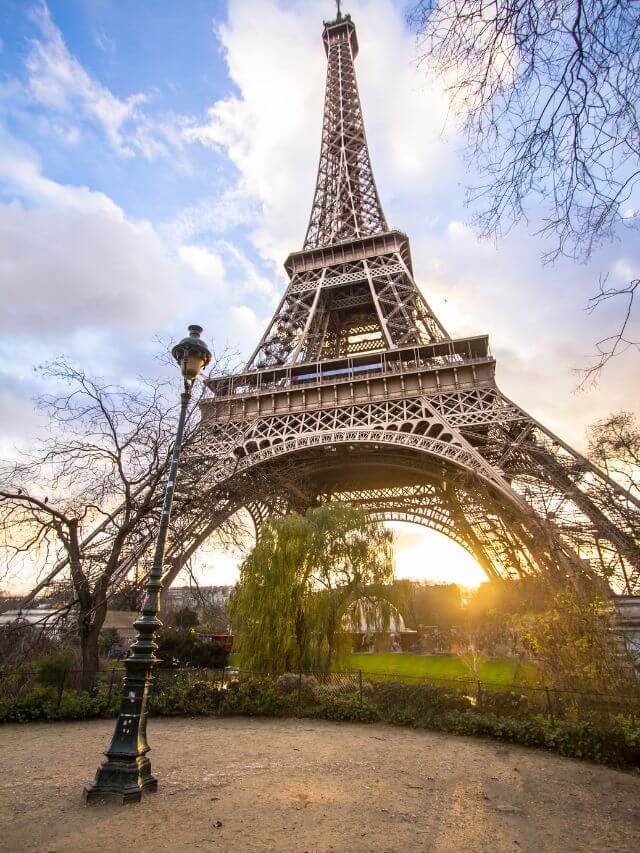 Soak up the sunshine, embrace the romantic ambiance, and capture stunning photos as you ascend to the top of the Eiffel Tower. Don't miss the chance to make unforgettable memories at the Tower while visiting the City of Lights.
Explore Indoor Attractions
While Paris in July offers delightful outdoor experiences, remember to explore the city's indoor attractions. A visit to the Louvre Museum is a must, where I had the privilege of standing face-to-face with the enigmatic Mona Lisa.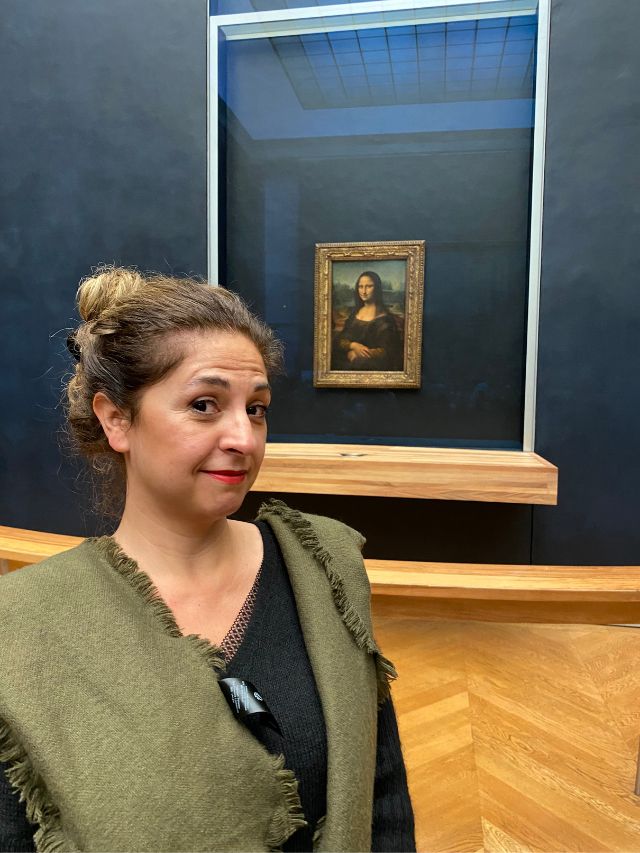 Immerse yourself in art and history at the stunning Notre Dame Cathedral and breathtaking Sainte-Chapelle. These indoor havens provide a cool escape from the summer heat, allowing you to marvel at the architectural wonders, art, and history.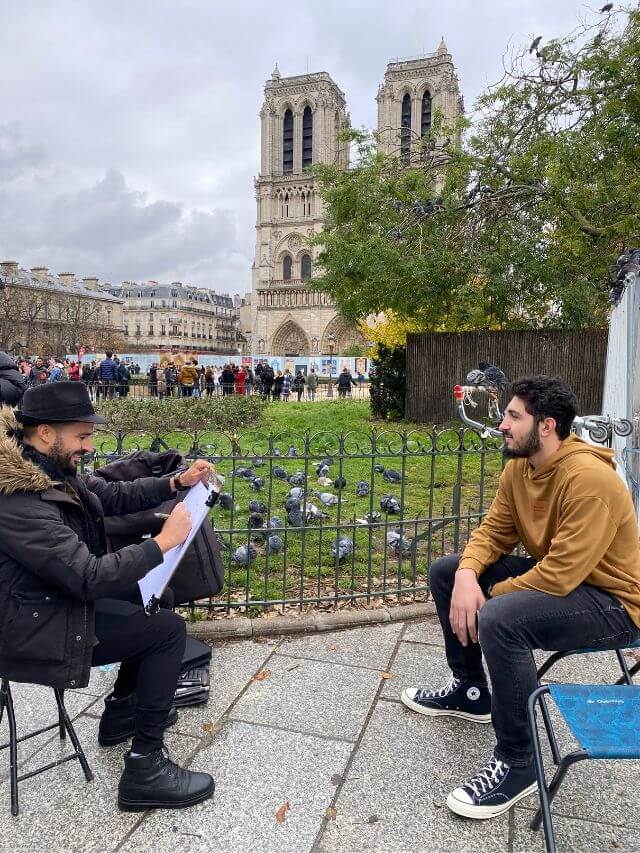 So, when planning your Parisian adventure in July, discover the treasures within the Louvre, Notre Dame, and Sainte-Chapelle. You can get a Paris museum pass here.
Indulge in Parisian Ice Cream
Indulging in Parisian ice cream during July is an absolute must for any visitor. During my own summer escapades in the city, I couldn't resist the temptation of Berthillon and Amorino, two renowned ice cream parlors.
The creamy delights offered a delightful break from the Paris in July weather. From the charming streets of Paris to the banks of the Seine, treating yourself to the delectable creations of Berthillon and Amorino is the perfect way to enhance your Paris in July experience.
Wander through Belleville
When it comes to finding hidden gems in Paris, wandering through the charming neighborhood of Belleville in July is a must for your travels.
The quaint streets are alive with the vibrant colors of street art and the bustling energy of locals going about their daily lives, a perfect place to immerse yourself in the authentic Parisian vibe.
I stumbled upon cozy cafes, quaint boutiques, and beautiful parks. As I explored Belleville, I felt as if I had discovered a secret world away from the touristy hustle and bustle of the city.
Stroll along Canal Saint-Martin
During my Paris trip, I had a similar dreamy experience strolling along the picturesque Canal Saint-Martin, offering a serene break from the sweltering heat. The scenic views, adorned with charming bridges and cozy cafes lining the banks, made for a tranquil afternoon.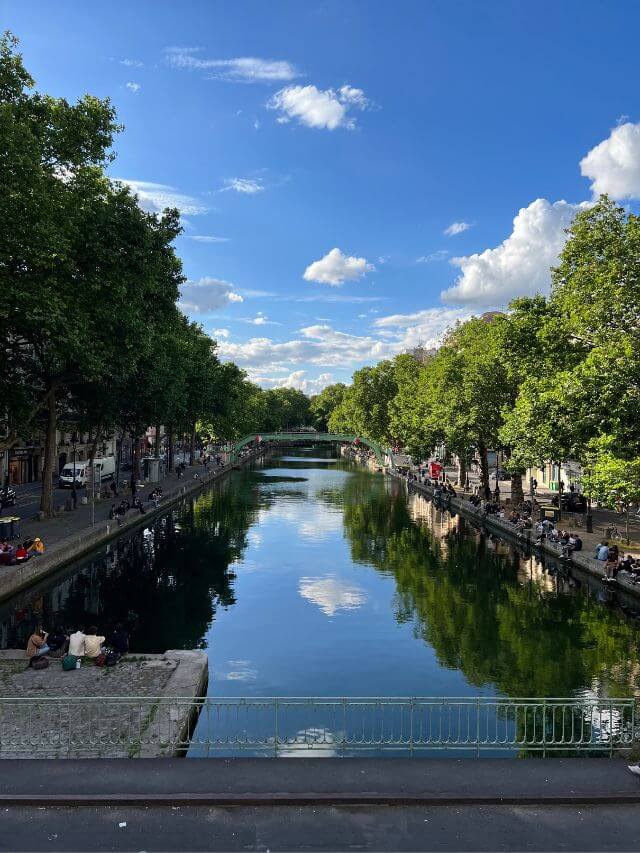 The boats passing by and the laid-back ambiance of the locals made it a perfect escape from the bustling tourist spots. Sipping on a refreshing drink and enjoying the summer sun added to the magical experience.
Embark On A Relaxing Seine River Activities
Embarking on a relaxing Seine River cruise in Paris was a highlight of my visit. We finally tried a romantic dinner cruise, savoring delectable cuisine as the boat glided along the shimmering waters. It was worth it!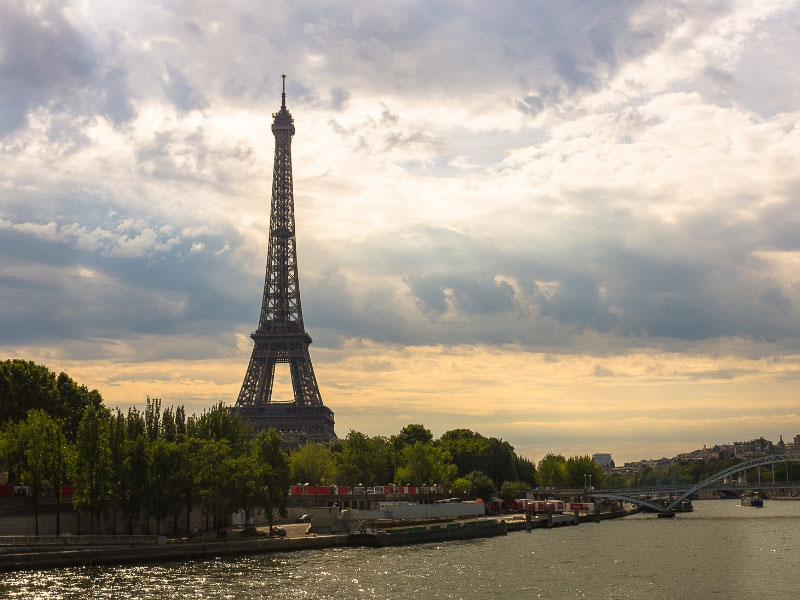 We saw the iconic landmarks, such as the Eiffel Tower and Notre Dame, from the boat, providing a different perspective. I had already experienced a daytime Seine River cruise, but the nighttime view was even more romantic!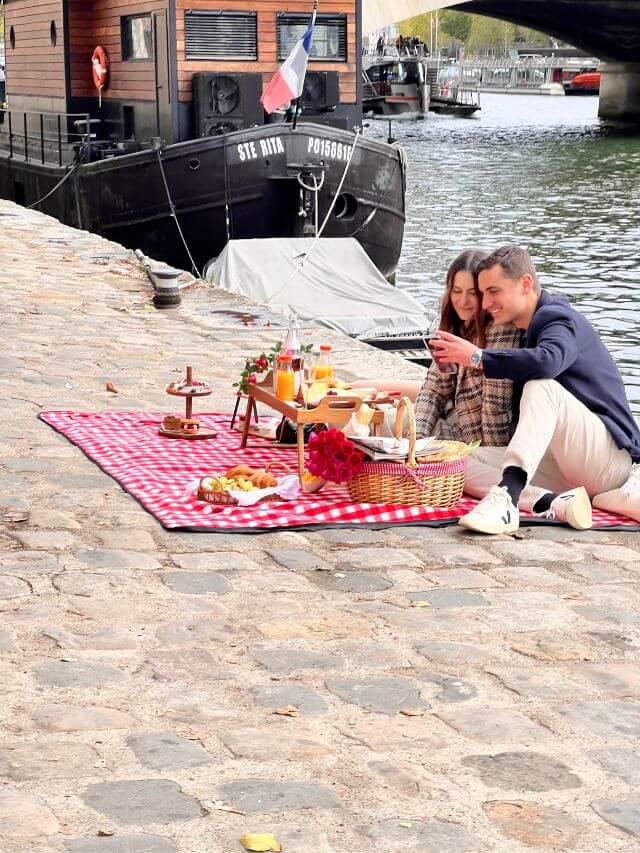 But if you suffer from motion sickness, we recommend avoiding the river cruise. Enjoy a delightful picnic by the Seine's banks instead, indulging in French delicacies while soaking up the sun.
You can buy food at the nearest affordable restaurants and enjoy some time with your loved ones or yourself for a picnic. 
Take A Day Trip to Far Locations
Taking a day trip to distant locations from Paris in July allowed me to explore the enchanting surroundings beyond the city's borders.
Visiting the magnificent Palace of Versailles was a journey back in time, wandering through opulent halls and captivating gardens.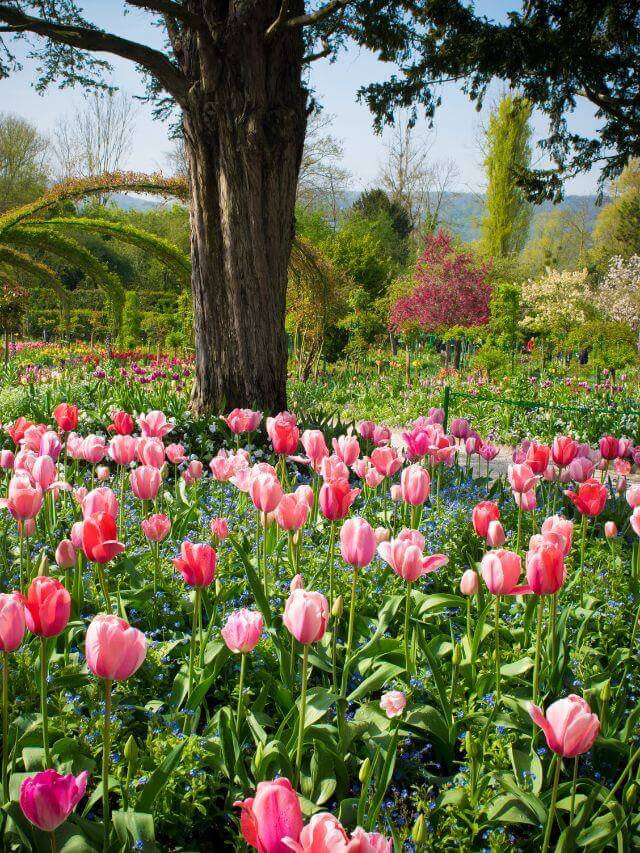 Another adventure took me to the charming village of Giverny, where I immersed myself in the picturesque landscapes that inspired Monet's masterpieces. 
These day trips from Paris in July added depth and variety to my travel experience. If you have time, I recommend looking outside Paris too and taking a day trip!
Wander Through The Charming Streets Of Paris
The Latin Quarter welcomes you with its narrow, charming lanes, each with a tale to tell. The scent of warm croissants wafts from cozy cafes, tempting you to stop and savor their deliciousness.
Montmartre, buzzing with life, offers panoramic views of the city from its hilltop perch. As I wandered, I could not help but feel captivated by Paris' rich history and undeniable charm. You can find more things to do on this beautiful street.
Experience Concerts In Paris In July
With countless events in Paris in July, there is something for every music lover. I visited Parc de la Villette and Parc de la Butte-du-Chapeau-Rouge and was blown away by the open-air concerts.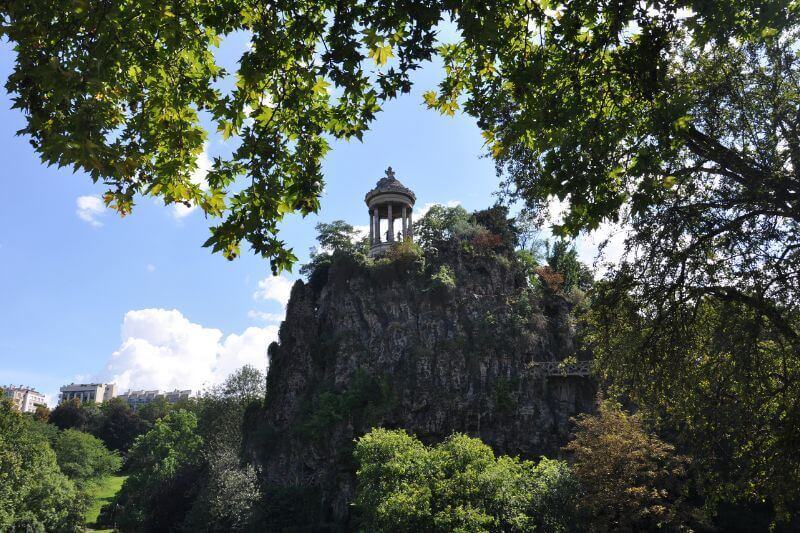 Watching classic movies under the stars on the big screen at the open-air cinema in Parc de la Villette was a truly unforgettable and magical experience, apart from the concerts.
Join Holidays and Festivals In Paris In July
Bastille Day, a significant national holiday, fills the streets with excitement and grand fireworks displays. It gave me a firsthand experience of the city's lively energy on my first Bastille Day.
Meanwhile, the Paris Jazz Festival showcases talented musicians worldwide, creating an unforgettable musical experience. 
And let's not forget Paris Plages, where the banks of the Seine transform into sandy beaches, offering a refreshing escape from the summer heat.
Best Tips for Visiting Paris in July
Visiting Paris in July is one of the best months if you love warm weather and touring outdoors, but every trip is not all sunshine. Here are 10 practical tips to make your experience worthwhile.
What To Pack For Paris In July
If you plan a trip to Paris in July, pack light, breathable clothing to keep you comfortable in the warm weather. As someone who has been to Paris in July, I recommend bringing comfortable shoes for walking, as this beautiful city has much to explore.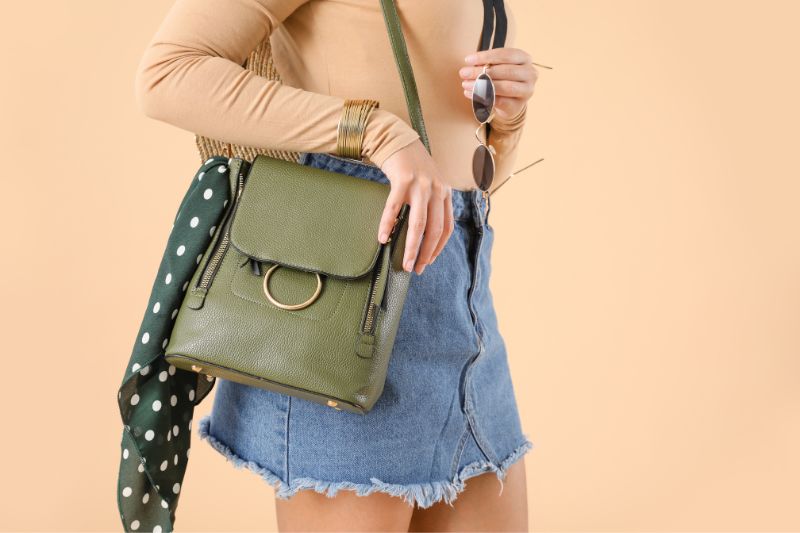 Pack short sleeved shirts, shorts, skirts, and dresses to keep you cool while sightseeing. Remember to pack a light jacket or sweater for the cooler evenings and a hat and sunscreen to protect you from the sun.
When packing for Paris in July, focus on comfortable, lightweight, and versatile clothing options.
Paris Weather in July
In July, Paris experiences warm and pleasant weather, making it a popular time to visit the city. The temperatures in Paris in July typically range from around 17 to 25 degrees Celsius (63 to 77 degrees Fahrenheit).
While occasional rainfall can occur, it usually only lasts for a short time and doesn't deter visitors from enjoying their time in the city.
Where to Stay in Paris in July
Finding the perfect place to stay in Paris in July is crucial. Choose accommodations strategically located to easily access attractions and immerse yourself in the vibrant summer ambiance.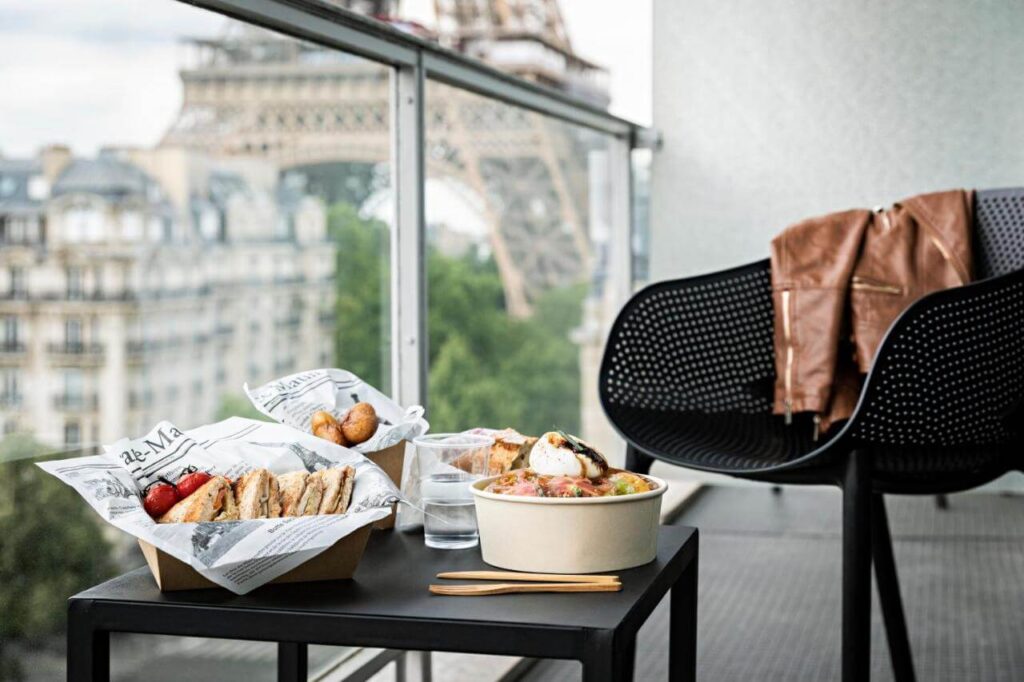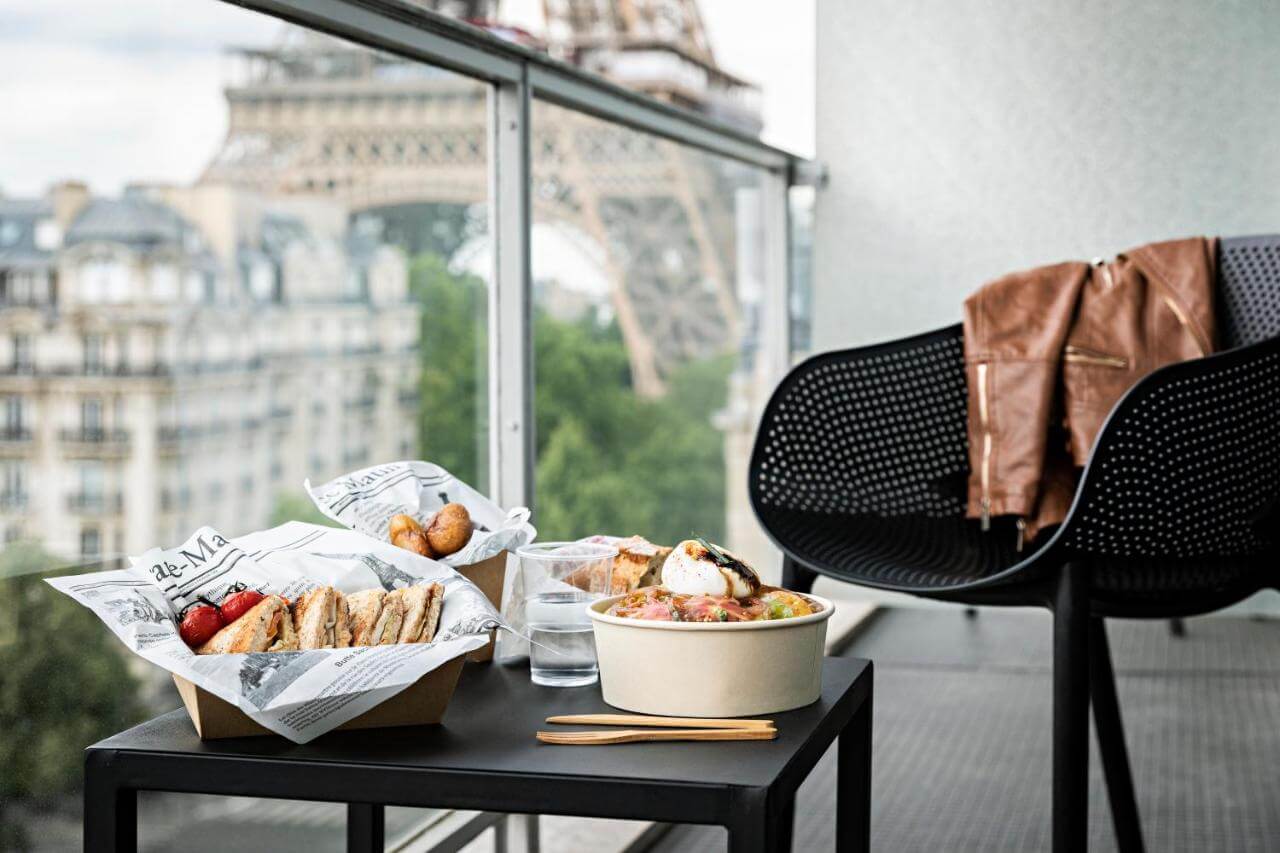 Hotel Pullman Paris Tour Eiffel: Enjoy the spectacular views, especially during the longer daylight hours of summer. The hotel's rooftop bar also provides a beautiful spot to relax and soak up the summer atmosphere while taking in panoramic city views.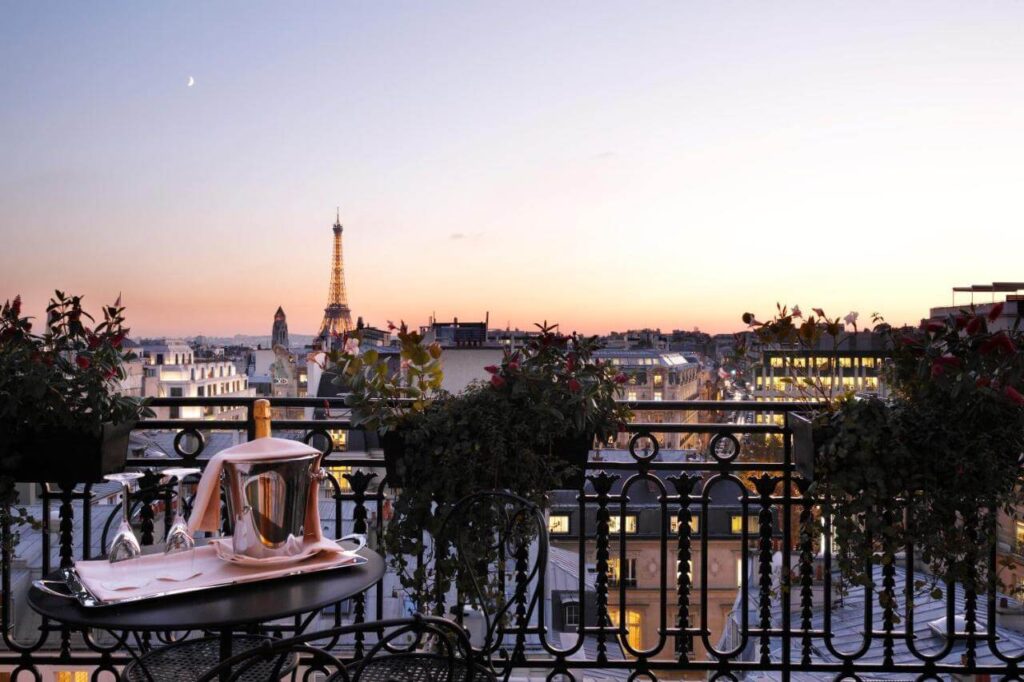 Hotel Balzac Champs Elysées Paris: Positioned near the renowned Champs-Élysées, this hotel offers the perfect base for exploring the city in July. The Champs-Élysées come alive during summer festivities, including outdoor cafes, street performers, and cultural events. Staying at Hotel Balzac allows you to be at the heart of the action, enjoying the vibrant atmosphere and the more extended evenings characteristic of the summer season.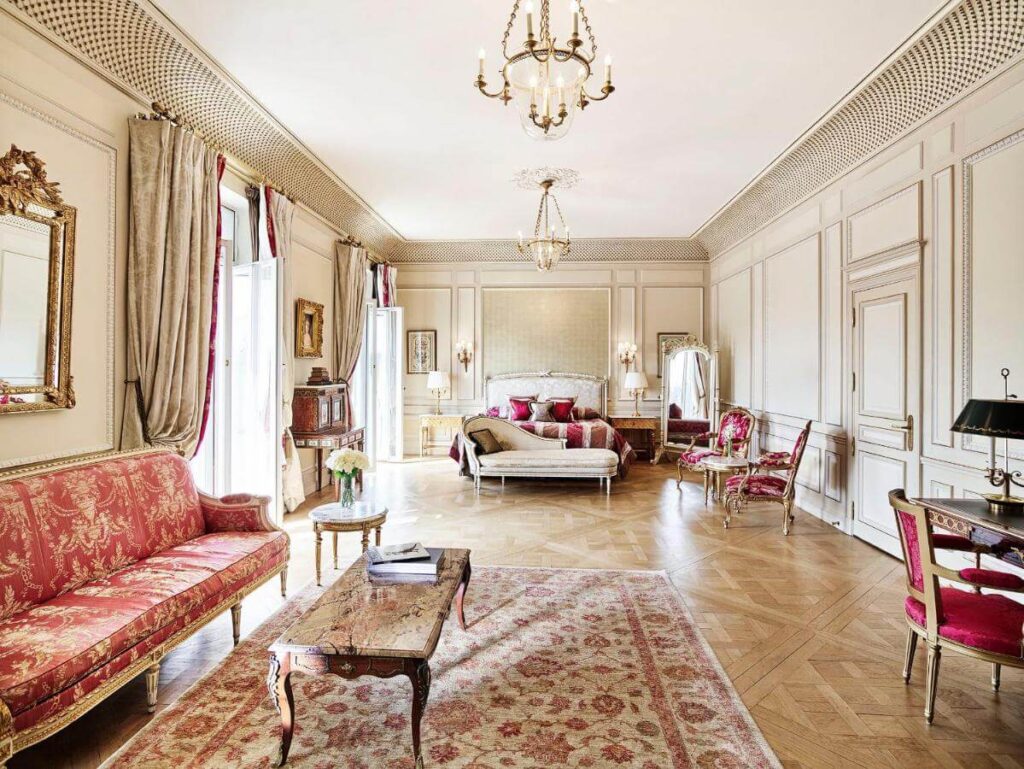 Le Meurice: This hotel is an excellent choice for a truly luxurious and memorable experience in Paris in July. You may take advantage of the hotel's proximity to the Tuileries Garden to relax and enjoy the gorgeous surroundings while admiring the rich flora.
Hope our suggestions help you with your summer plans in the heart of France. Pack your summer attire and prepare to soak up the vibrant atmosphere in Paris in July!
Plan Your Trip to Paris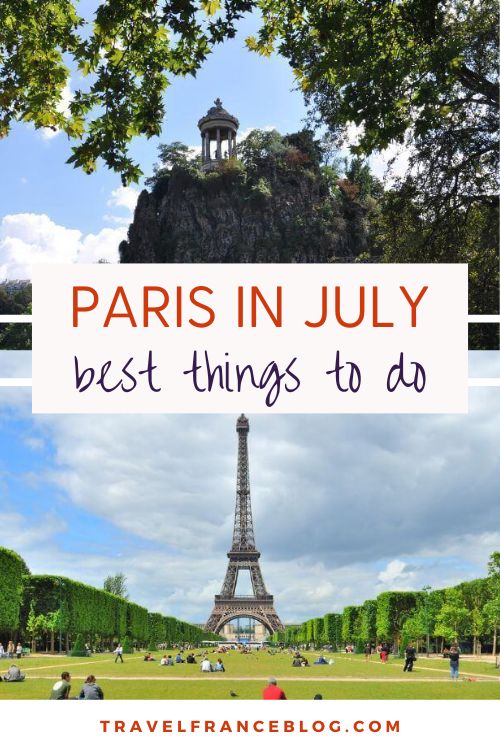 This post may include affiliate links. This means that we will receive a small commission if you make a purchase through our links. It has no additional cost for you. With this, you help us to continue creating free content for you.
This post may include affiliate links. This means that we will receive a small fee if you make a purchase through our links. It has no additional cost to you. It's a win-win!