The Best Things to Do in Paris in April
Paris is beautiful all year round, and each month offers a different landscape thanks to its parks and tree-lined avenues.
During the spring, cherry blossoms bloom, which contrast with the architecture of the city and give a special touch to the most popular places.
That's why we want to tell you what to see in Paris in April and where to find the cherry blossoms. We will also tell you what events and festivals take place during this month.
Why Should You Visit Paris in April?
April is one of the best months to visit Paris. The weather is delightful, and there are fewer tourists than in summer, as it is not yet high season.
April is one of the best months to enjoy all the city's tourist attractions (except if it is Easter).
In addition, in April, the gardens and parks of Paris are in full bloom, the perfect time to stroll and enjoy nature.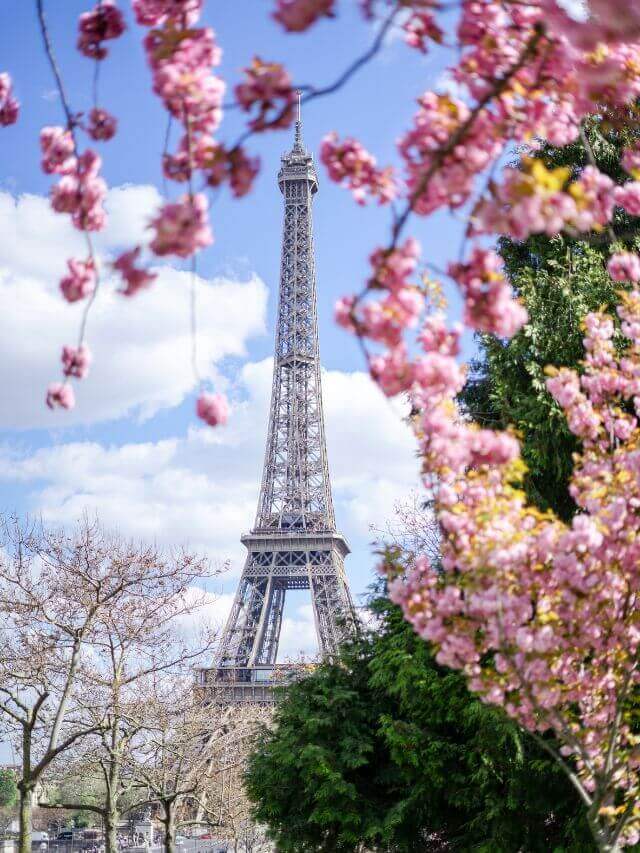 And another reason why you have to see Paris in April is that it offers a wide range of events and festivities, such as
the April Fair on the Avenue des Champs-Élysées, where you can find crafts, food, and entertainment,
and the Paris Theater Festival, which offers a variety of plays.
What to Know Before Traveling to Paris in April?
Before we tell you everything you can see in Paris in April, we'll let you know what weather you'll find and what you should wear.
What is the Weather like in Paris in April?
In April, the weather in Paris is usually warm and pleasant, with temperatures ranging from lows starting at 8°C to highs reaching 18°C.
As for rainfall in April, Paris has an average of 12 rainy days, with a total rainfall of approximately 56mm.
The longest day of the month is April 30, with just over 14 hours of sunlight, while the shortest day is April 1, with an average of 12 hours of sunshine.
What to Wear to Paris in April?
Although the weather is warm during the day, during the night, it cools down quite a bit, and, as we told you, there are several rainy days during the month.
So here is our recommendation for clothes to wear in Paris during April:
Light and comfortable clothing: jeans, cotton pants, cotton T-shirts, and long-sleeved shirts.
Coat: a light jacket or a raincoat is ideal for covering up in the evenings and protecting you from the rain. You can also include a scarf and gloves if you get colder days than usual.
Comfortable walking shoes: Take at least two pairs if you get wet in the rain.
Hat or cap to protect from the sun, umbrella, and sunglasses.
What Events are in Paris in April?
In addition to all that Paris normally has to show you, there are some special events and shows in April. Here we tell you which are the most important ones.
Concerts in the Gardens of Versailles
Every Tuesday, Thursday, and Friday from April 1 to 29 (except Friday, April 15), you can enjoy music in the extraordinary gardens of the palace.
For more information, visit the Versailles website.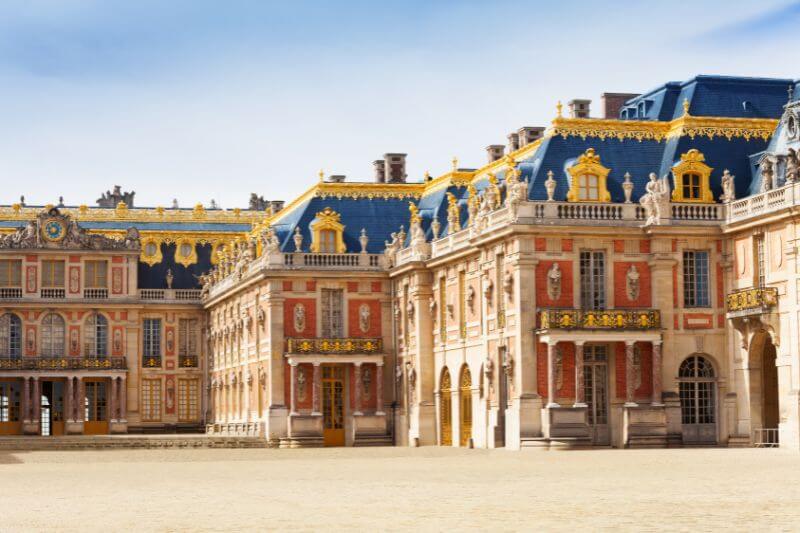 Paris Fair
One of the best events to see in Paris in spring. A great tradition that has been held for more than 110 years at the Parc des Expositions de Porte de Versailles. It will be held between April 27 and May 8, 2023.
A great opportunity to learn about cultures from different parts of the world and enjoy the different cuisines brought by each exhibiting country.
It's also a great place to discover inventions that will change our lives. Or buy home vintage items or whatever you need.
In addition, there are multiple concerts, parades, and all kinds of activities.
Here we leave you the link to the Paris Fair to see everything they have programmed.
Curiosities: What is the Poisson d'Avril in France?

.
Easter in Paris
This year Easter is celebrated on April 9, and the 10th is a public holiday in France.
During the previous days, you can enjoy several special events. One that has already become a classic is the concert of La Sainte Chapelle, but remember to book a ticket before you go.
If you walk through the Parisian streets as you cross by the boulangeries, you will see that they all make an effort to create special decorations with big eggs and chocolate bunnies in their windows.
Of course, you don't just have to see these delicacies; treat yourself and buy one to taste while enjoying a stroll through a flowery park.
The rest of Paris' tourist sites are open, so you can also enjoy the usual must-sees.
Please note that there is no Holy Thursday or Good Friday in France, so they are regular working days in Paris; only Monday is a public holiday in France.
Paris Marathon
This year it is celebrated on April 2, so you can see it if you arrive in Paris during the first days of the month.
It is one of the largest marathons in the world, attracting more than 40,000 people every year.
Competitors have the luxury of running the city's most famous and beautiful streets, such as the Rue de Rivoli, the Seine quay, and the Champs Elysées.
If you want to know everything about the marathon, this is their website.
Throne Fair
The Throne Fair, or Foire du Trône, lasts from March 31 to May 29, 2023.
It's like a giant amusement park with more than 350 rides and attractions, so it's an ideal choice to see in April in Paris if you're traveling with children.
It takes place in the Reuilly meadow.
It should be noted that it is not just any fair, it is the oldest in Paris, since its history dates back to 957, and for more than 200 years, it has had the format of an amusement park.
Paris Manga & Sci-Fi Show
An ideal event for anime and science fiction lovers. It takes place on April 1 and 2 at the Paris Nord Villepinte Exhibition Center.
At the Paris Manga & Sci-Fi Show, there will be guests, conferences, and events related to Japanese culture, cinema, TV series, comics, video games, web culture, manga, cosplay, martial arts and much more.
Guests include pop culture actors, cartoonists, creators, and publishers.
The Paris Book Festival
The Paris Book Festival is held at the Grand Palais Éphémère located in Place Joffre on April 21, 22 and 23.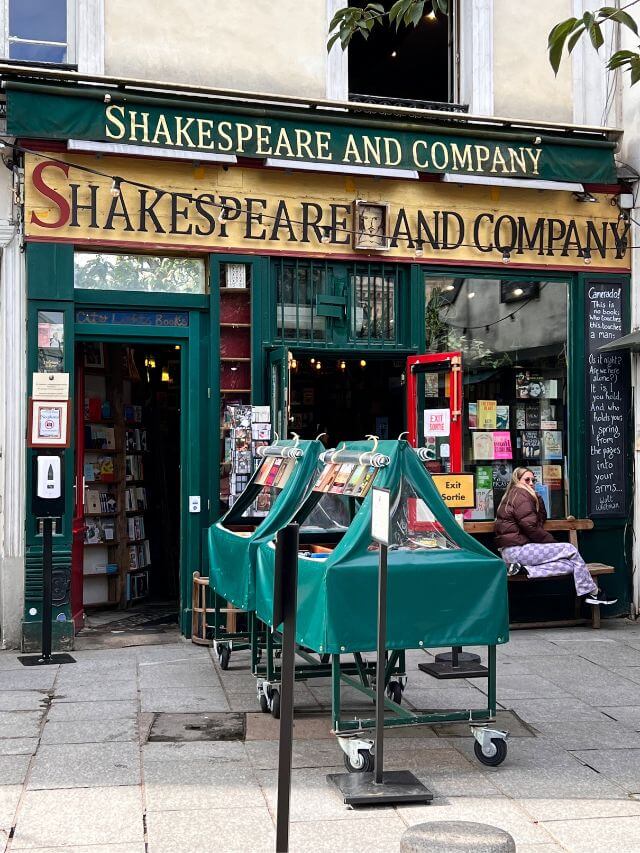 You can browse the stands of all the bookstores and publishers. You will see more than 300,000 books, so if you like to read, you will have a few hours of entertainment guaranteed.
What to Do in Paris in April?
If you travel to the City of Light, there are a few must-sees that you can see all year round.
Here's a list of things you can't miss in Paris, and then we'll tell you about a couple of special things to do in April in Paris.
The Must-Sees of the Year
The Eiffel Tower is one of the most iconic symbols of Paris and offers a breathtaking view of the city from the top.
You will love to see it by day, and at night it will take your breath away when you see it illuminated by hundreds of lamps highlighting its iron figure.
It is one of the largest and most impressive monuments in Paris. It was built by Napoleon as a testimony of his great victories.
It also features the Tomb of the Unknown Soldier, which is used to honor the French soldiers killed during World War I.
It is one of the most famous churches in Paris and offers a breathtaking view of the city from its terrace. For its style and history, it is one of the most emblematic places in Paris.
It is one of the most famous museums in the world. It houses some of the most important works of art in history, such as the Mona Lisa, the Venus de Milo by Alexandros of Antioch, and the Wedding at Cana by Paolo Veronese.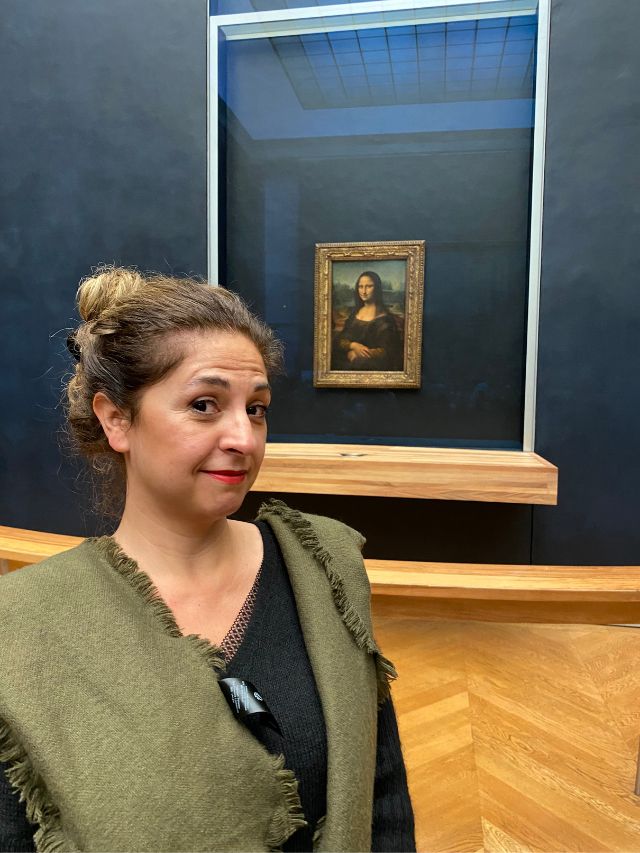 It is one of the most important museums of impressionist and post-impressionist art. It has a huge collection of works by artists such as Monet, Renoir, and Degas.
6. The Luxembourg Garden
It is one of the most beautiful gardens in Paris and offers an oasis of tranquility in the middle of the city.
You will enjoy walking under its trees, smelling its flowers, and seeing its statues and fountains. Have fun in the hedge maze and butterfly garden.
7. The Latin Quarter
It is one of the liveliest neighborhoods in Paris, full of life and with a unique atmosphere.
Among other interesting things, here you will find:
the Sorbonne, the oldest university in France;
the Jardin des Plantes, one of the oldest botanical gardens in the country, with a great variety of plants and animals;
and Mouffetard street, one of the liveliest streets in the district, with a wide variety of stores, bars, and restaurants.
It is one of the most famous avenues in the world, with exclusive stores, theaters, and restaurants.
9. The Île de la Cité
It is one of the islands in the Seine of Paris; it is home to Notre Dame and is one of the city's most historical points.
10. The Île Saint-Louis
It is another of the islands in the Seine in Paris, is a quiet neighborhood with pedestrian streets, is known for its cheese, chocolate, and wine stores, and is an excellent choice for walking and enjoying the city.
Special Places to Visit in Paris in April
The Gardens of Versailles
Because of its history and beauty, Versailles's gardens are one of France's most visited and beautiful places.
The gardens were designed in the 17th century by King Louis XIV, known as the Sun King. The design features a wide variety of flowers, trees, and ponds.
Within the gardens, you will also see the Grand Trianon, known for its architecture and decoration.
Why is it advisable to visit the gardens in April? Because between April and November, there are several night fountain shows, some musical fountain shows, visual effects, and fireworks. All accompanied by French baroque music.
You can find all the information about the gardens of Versailles on their website.
To get to the palace, you can take the RER C line train or the SNCF N or L train. If you prefer to go by bus, you must take the 171 of the RATP.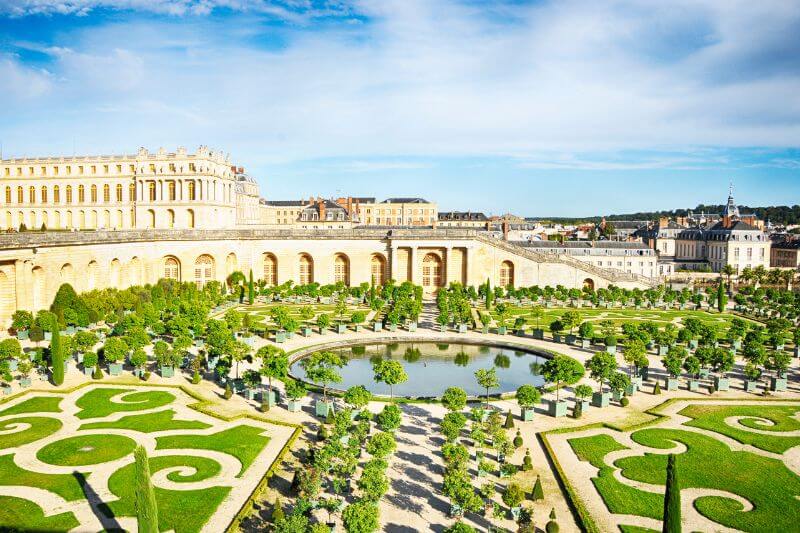 Walking along the Promenade Plantée
La Promenade Plantée is an elevated park in Paris, built on an old abandoned railroad. Nature took over the area when the tracks were no longer in use.
The park is located in the 12th arrondissement and offers panoramic views of the city while strolling through the park. It is considered one of the first examples of an elevated park in a city.
It is also known as "The Raised Garden" and "La Coulée Verte".
The Promenade Plantée is more than 4 kilometers long. It is full of vegetation, including trees, shrubs, flowers, and themed gardens.
It also has fountains, sculptures, and benches to sit and enjoy the scenery.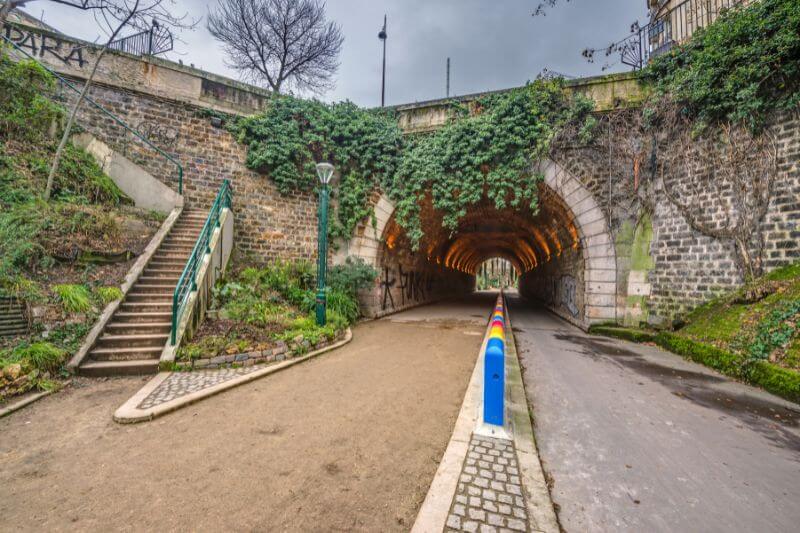 It passes through the Viaduc des Arts, the Vivaldi promenade, then through tunnels and ditches to reach the Porte Dorée and the Bois de Vincennes.
One of the main attractions of "La Coulée Verte" is the panoramic view of the city from the top of the park.
It also offers a beautiful view of the Seine River, and you can see some of the main sights of Paris, such as Notre-Dame and the Eiffel Tower.
In addition to the park's natural beauty, you will also find the Promenade Plantée Museum of Contemporary Art, an open-air theater, and a movie theater.
On your tour, you will also find several stores, bars, and restaurants where you can sit and have a drink while enjoying the scenery.
You can imagine that a park with such natural beauty looks much more majestic in spring, which is why it is one of our particular recommendations to see in Paris in April.
At this time of the year, this park is one of the best places to see the region's flowers at their best.
Go in Search of Cherry Blossoms in Paris
This is a good excuse to tour the various districts of Paris, as there are cherry blossoms everywhere.
In the 19th arrondissement you can see them in the Parc des Buttes-Chaumont. Away from the main tourist attractions of the French capital, it is an ideal place to rest or have a picnic.
It has some beautiful paths where you can observe the trees and flowers. Along these same paths, you will find a waterfall and stunning gardens.
And you will love the temple on the top of a cliff, from where you can contemplate the surrounding cherry blossom trees.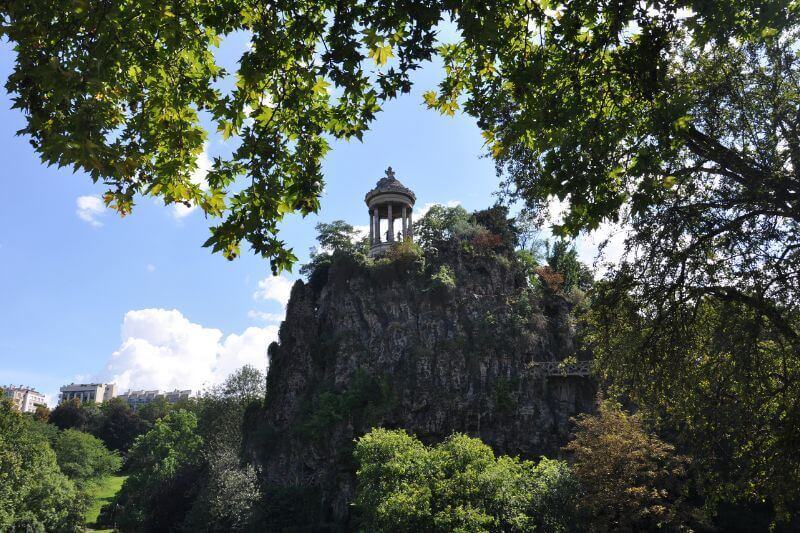 The second place where we recommend you to see this show is at the Parc de Montsouris, a public park located in the 14th arrondissement of Paris. It was built especially for the Universal Exposition of 1867.
In addition to its outstanding natural beauty and various plants and flowers, the park has an artificial lake where you can rent a boat for paddling.
Of course, the Promenade Plantée also has cherry blossoms in bloom during April.
Another option is the Tuileries Garden. It is located in the 1st arrondissement of the city and is one of the most famous parks in Paris.
It was built in the 17th century for King Louis XIV. It is an example of a French garden and has witnessed many important historical events.
If you visit this garden, take the opportunity to visit the Orangerie Museum, which houses a collection of paintings by Monet, and the Jeu de Paume Museum, which has a collection of photography and contemporary art.
You have several options if you prefer to see them on more popular sites. For example, the Champs Elysées Garden.
Imagine how unforgettable it is to see the cherry blossoms while contemplating a panoramic view of the Eiffel Tower.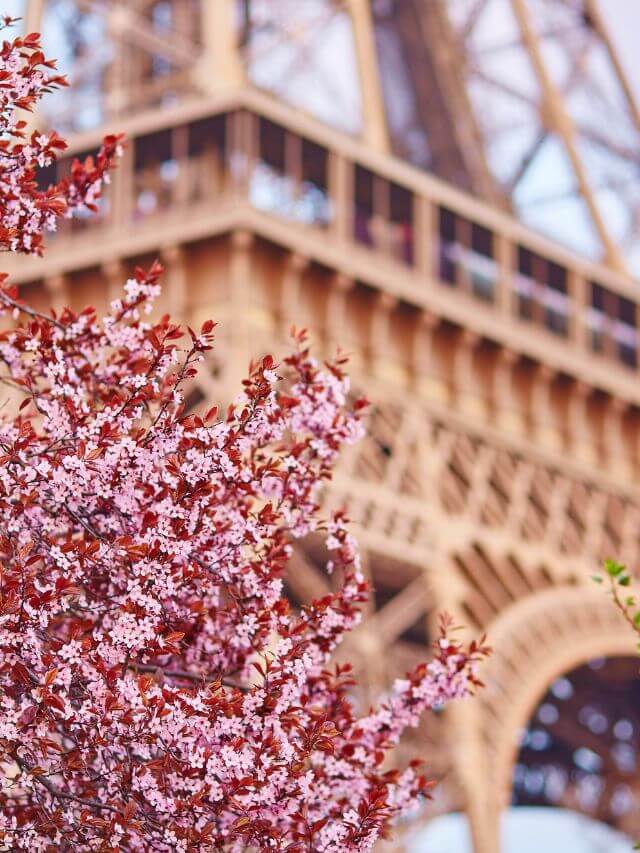 You already know that if you travel to Paris in April, you will have many alternatives. The City of Light offers activities for all tastes all year round.
Whether you're a nature lover, a sports enthusiast, or a manga fan, Paris will give you something to remember for a lifetime.
Plan Your Trip to Paris
This post may include affiliate links. This means that we will receive a small fee if you make a purchase through our links. It has no additional cost to you. It's a win-win!