Why Paris in August Perfect for Summer Adventures
Step into a world of romance and excitement as you explore Paris in August. From strolling along the Seine River to savoring delectable pastries at charming cafes, this blog post is your guide to experiencing the magic of the city during this vibrant time of year.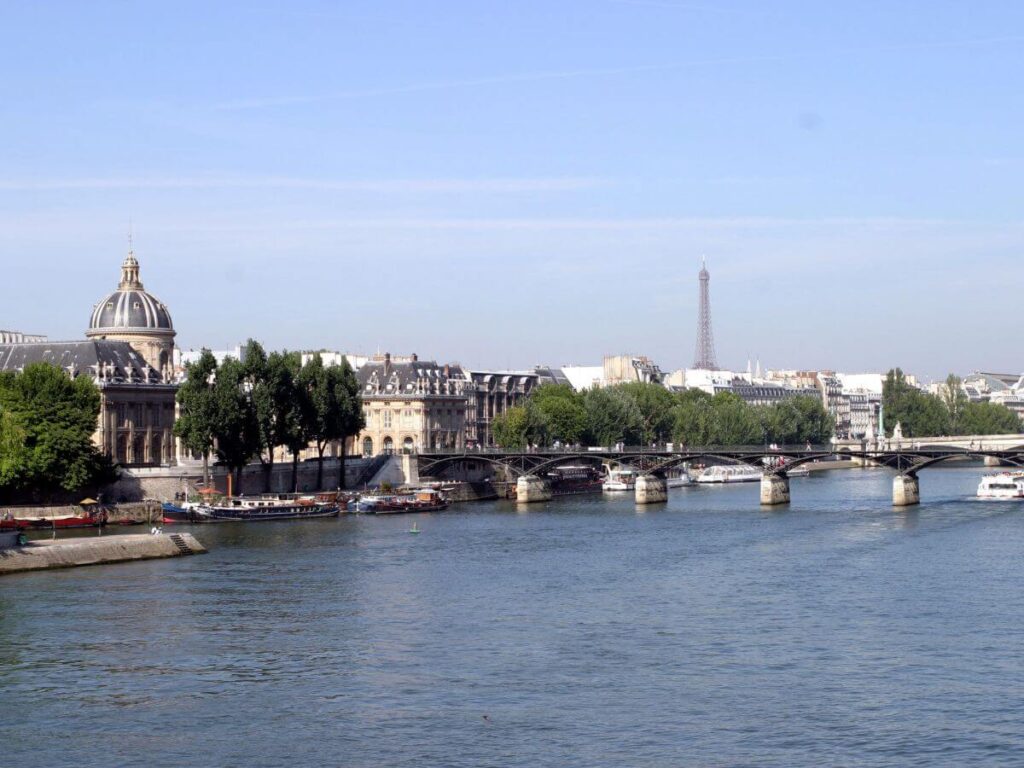 What to Know Before You Visit Paris in August
Get ready for an enchanting adventure in Paris this August! While the city may be teeming with tourists, fear not. I've got the key insights to help you navigate like a pro. Let's dive in!
Weather in Paris in August
Ah, Paris weather in August! Picture yourself strolling along the enchanting streets, basking in the warm and pleasant temperatures.
Is it too hot in Paris in August, you ask? With average highs ranging from 22°C to 26°C (72°F to 79°F), it's the perfect climate for outdoor adventures and exploring iconic landmarks.
But don't forget, August in Paris can also bring occasional showers. Just keep a light raincoat or umbrella in your bag for those unexpected drizzles. But don't forget, August in Paris can also bring occasional showers.
Printable
Outfit Planner
EXTRA TIP: plan what you will wear in advance so you take everything you need and do not have to make extra expenses at the destination. You can download the PDF here; the price is up to you!
What to Wear in Paris in August
When it comes to what to pack for August weather in Paris, it's all about finding the perfect balance between style and comfort.
For men, opt for stylish yet lightweight clothing like linen shirts, chinos, and breathable fabrics. Don't forget comfortable travel shoes for exploring the cobblestone streets.
As for the ladies, pack chic dresses, skirts, or cropped pants paired with blouses. Layering is key for changing temperatures, so bring a light jacket or cardigan. Don't forget to pack a versatile jacket or sweater for cooler evenings.
As for travel shoes, go for a stylish pair of sneakers or comfortable loafers that can withstand long walks. For a comprehensive fashion guide on dressing for Paris in August, read this ultimate fashion guide for men. Get ready to rock your Parisian style!
Events in Paris in August
August in Paris is a month bursting with vibrant events and festivals that will make your visit truly unforgettable.
Mark your calendars for August 25th, as it commemorates the Liberation of Paris, a historic moment celebrated throughout the city with parades and festivities. Take a historical walking tour.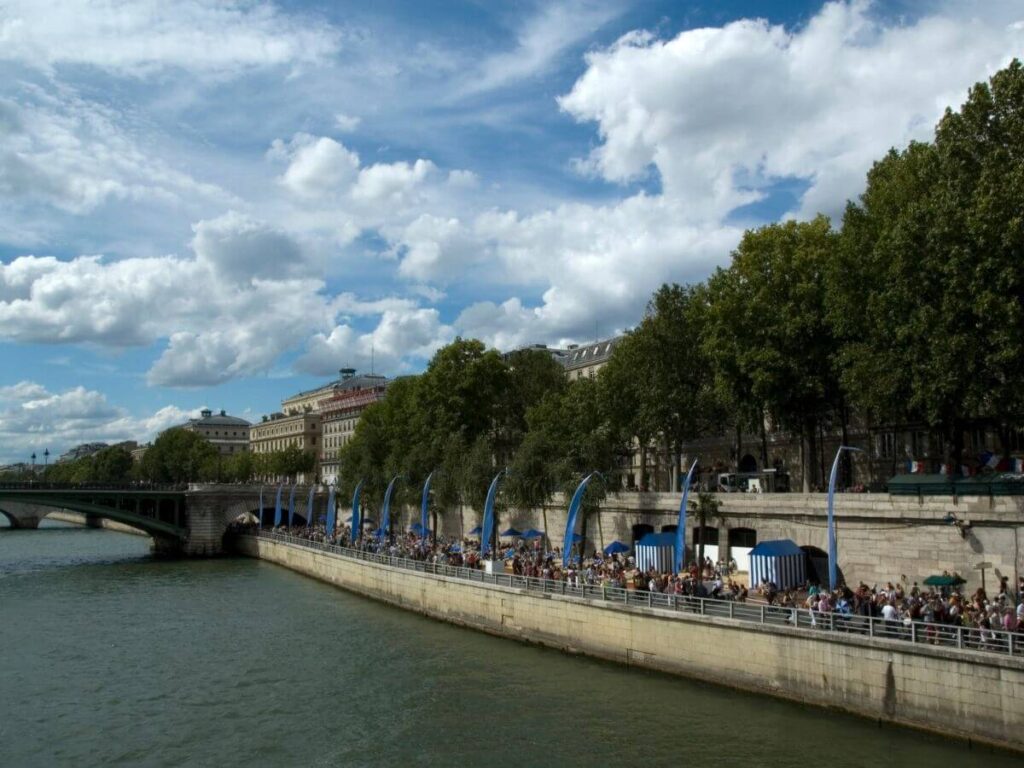 For beer enthusiasts, the Paris Beer Festival is a must-attend event in mid-August, offering a delightful selection of craft brews. Additionally, don't miss the Paris Beer Week in June, where you can indulge in tastings, workshops, and activities throughout the city. It's a beer lover's paradise in the City of Lights. Enjoy a beer tasting tour.
If you need a break from the city heat, head to Paris Plages, a temporary beach along the Seine. Relax on the sandy shores and enjoy various recreational activities.
For punk rock enthusiasts, the Paris Punk Rock Summer Festival offers electrifying performances that will leave you energized. See their website for the updated schedule.
Get ready to immerse yourself in the lively spirit of these festivals in Paris in August, creating cherished memories of your time in the City of Lights.
Best Things to Do in Paris in August
Are you ready for a summer escapade in the captivating streets of Paris? Get inspired with this handpicked list of the top things to do in August, curated for fellow wanderers like you.
Cruising along the Seine River
Immerse yourself in the enchanting allure of Paris in August as you cruise along the picturesque Seine River. Let the tranquil waters carry you past iconic landmarks like the majestic Eiffel Tower and the awe-inspiring Notre Dame Cathedral.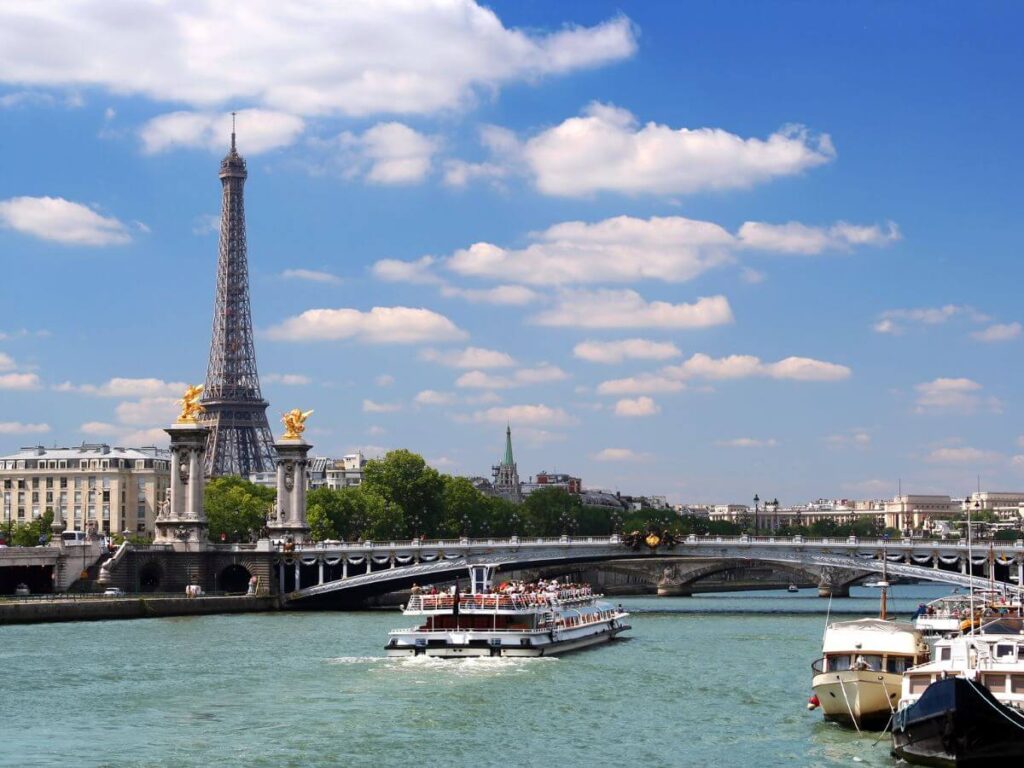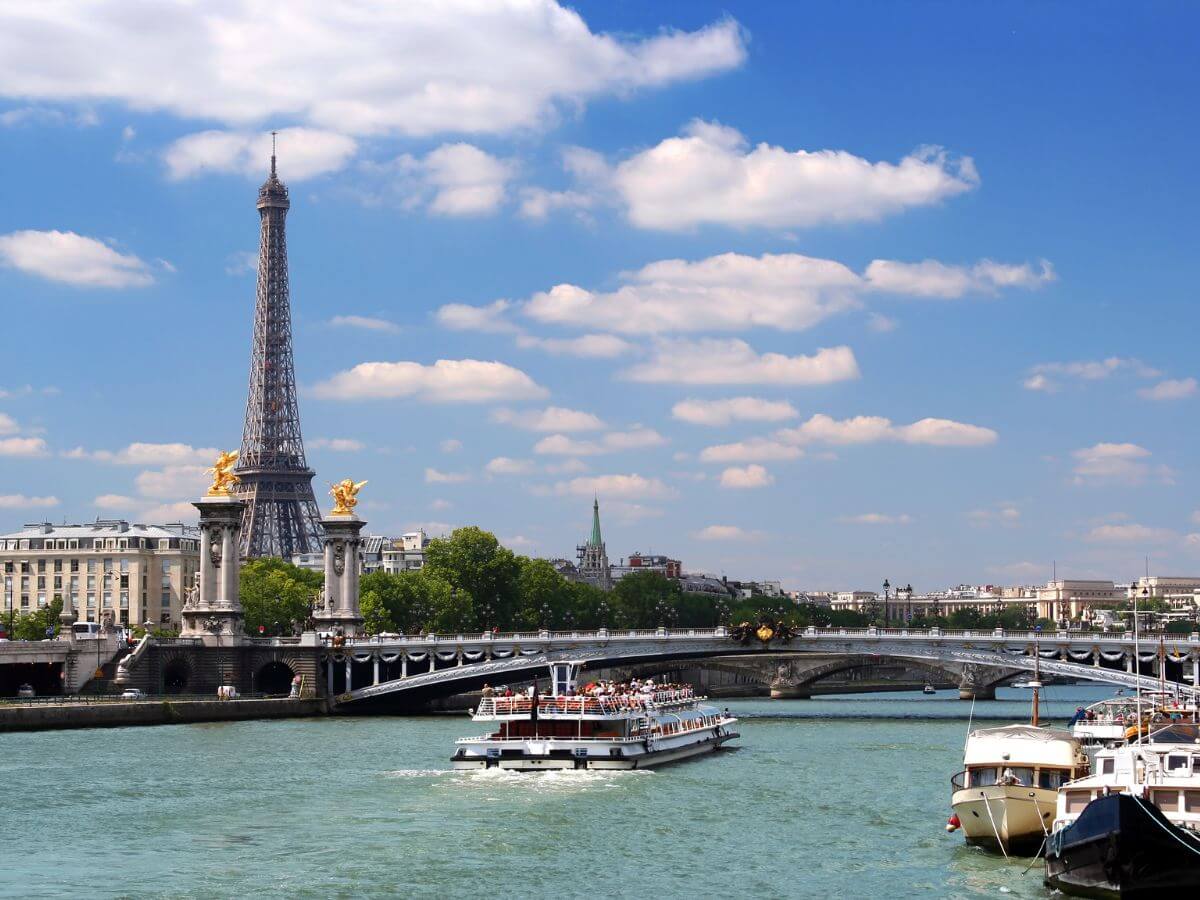 Listen to the informative commentary that unveils the city's fascinating history, and capture breathtaking photos along the way.
Whether you choose a leisurely daytime excursion or a romantic evening cruise, experiencing Paris from the Seine will leave an indelible mark on your heart.
Visiting the Notre Dame Cathedral
Step into the heart of Paris in August and be captivated by the grandeur of the Notre Dame Cathedral. Marvel at its stunning Gothic architecture and delve into centuries of history within its walls.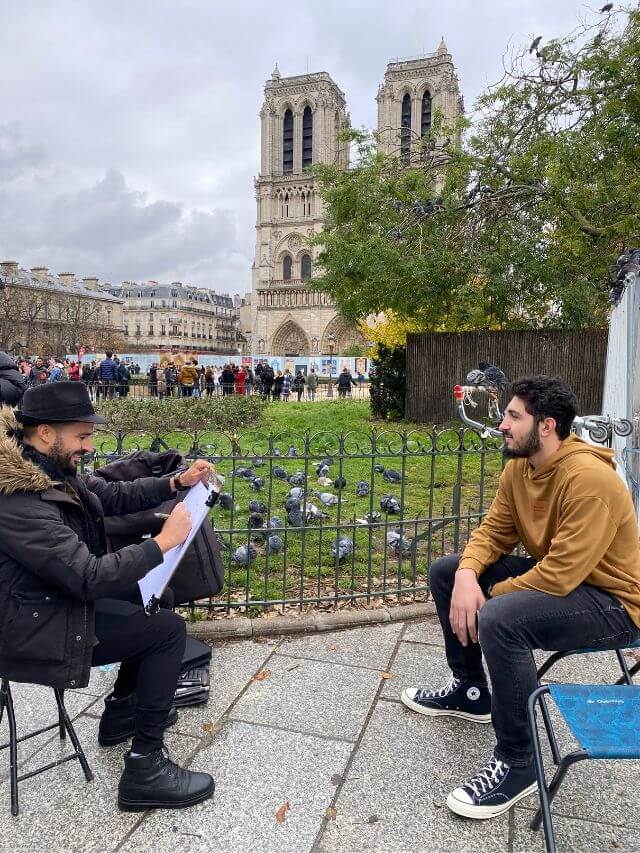 Climb the towers for panoramic views of the city, or venture inside to admire the intricate stained glass windows. Despite the tragic fire, the cathedral stands strong as a symbol of resilience and cultural heritage.
Pay a visit to this iconic masterpiece and let its magnificence transport you to another time.
Exploring the Pere Lachaise Cemetery
In August, take a leisurely stroll through the serene Pere Lachaise Cemetery and immerse yourself in its peaceful ambiance.
Discover the final resting places of notable figures from history, including artists, writers, and musicians. From Oscar Wilde to Jim Morrison, their legacies endure in this tranquil setting.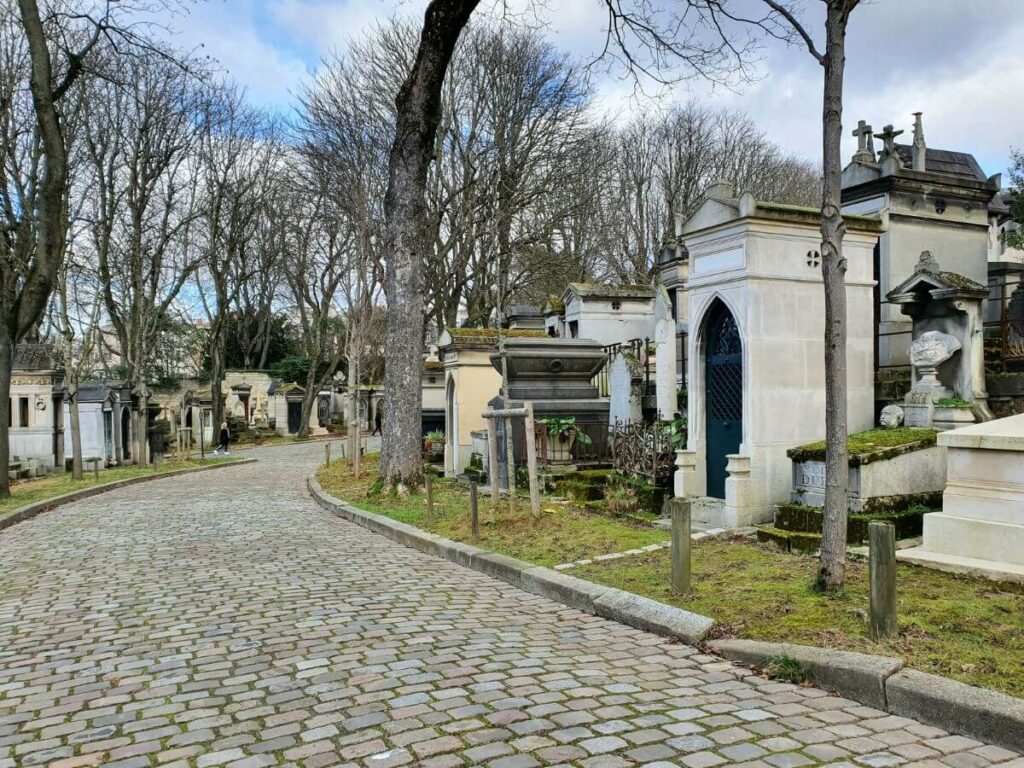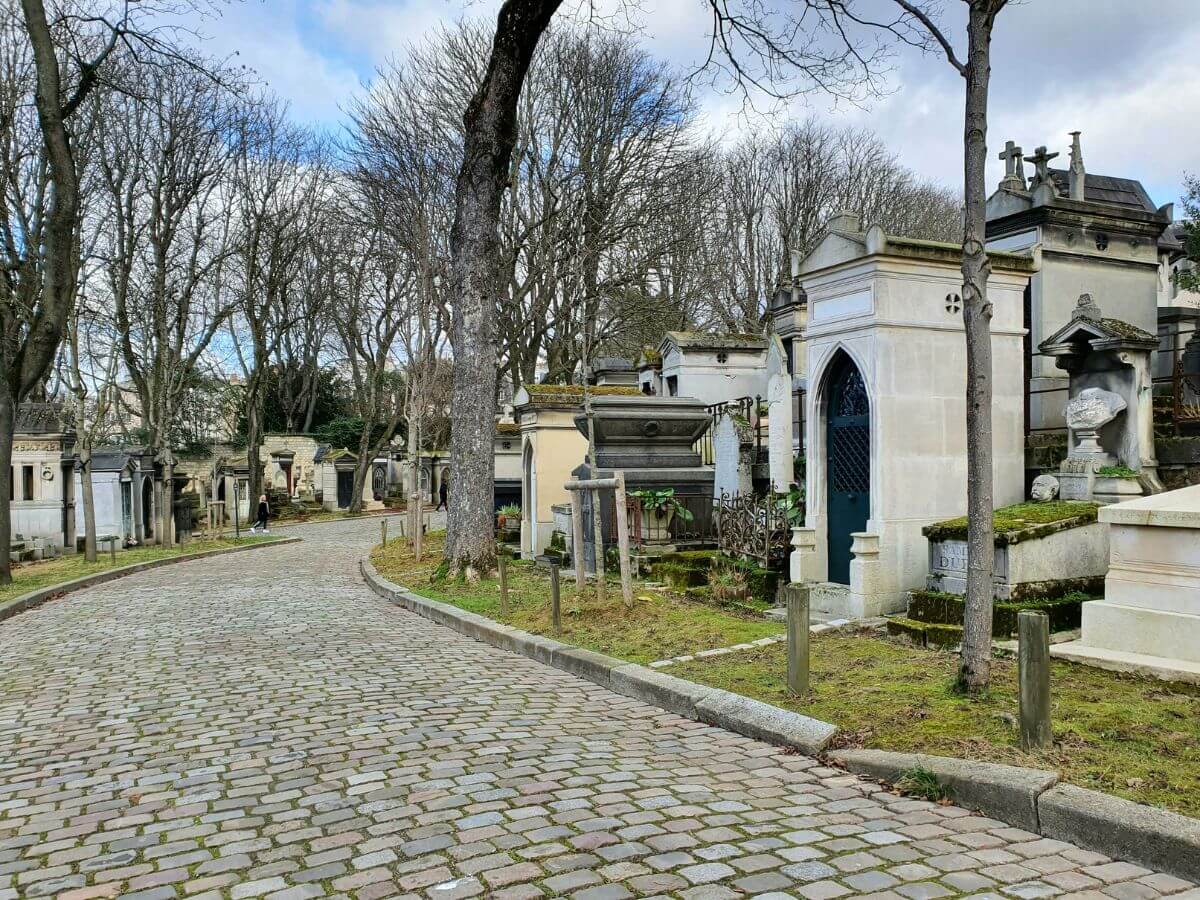 Wander along the tree-lined paths, contemplate life's fleeting nature, and marvel at the beautifully adorned tombs that dot the landscape.
Pere Lachaise Cemetery offers a unique and introspective experience for those seeking a moment of reflection in the city of love. Take a guided tour for an unforgettable experience.
Ascending the Eiffel Tower
Elevate your senses in Paris in August by ascending the iconic Eiffel Tower. Let the transparent elevators whisk you up to dizzying heights, providing panoramic vistas of the city below.
At 276 meters above sea level, soak in the breathtaking views from both indoor and outdoor observation decks.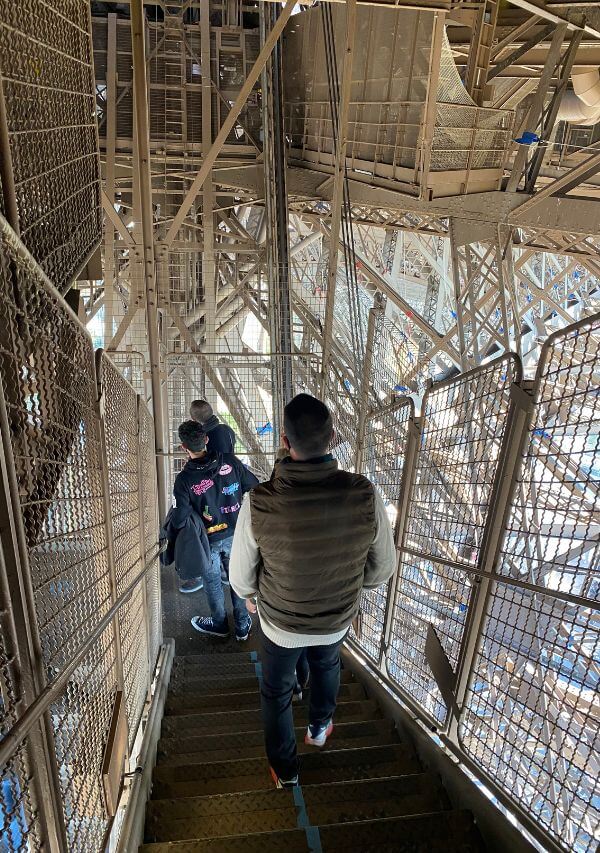 Whether you visit during the day or under the enchanting lights of the evening, the Eiffel Tower offers an unforgettable experience. Treat yourself to a glass of champagne at the bar and raise a toast to the magic of Paris.
Don't forget to explore the replica of Gustave Eiffel's office and the intriguing model showcasing the tower's original pinnacle. Book a ticket with summit access to enjoy the beautiful views.
For more information, read this guide about the Eiffel Tower.
Discovering the Louvre Museum
Escape the August heat and immerse yourself in the magnificence of the Louvre Museum. Lose yourself in the vast collection of priceless treasures, from the enigmatic smile of the Mona Lisa to masterpieces by renowned artists.
Admire the grandeur of Caravaggio's "The Wedding at Cana" and be captivated by the works of Rembrandt and other great masters.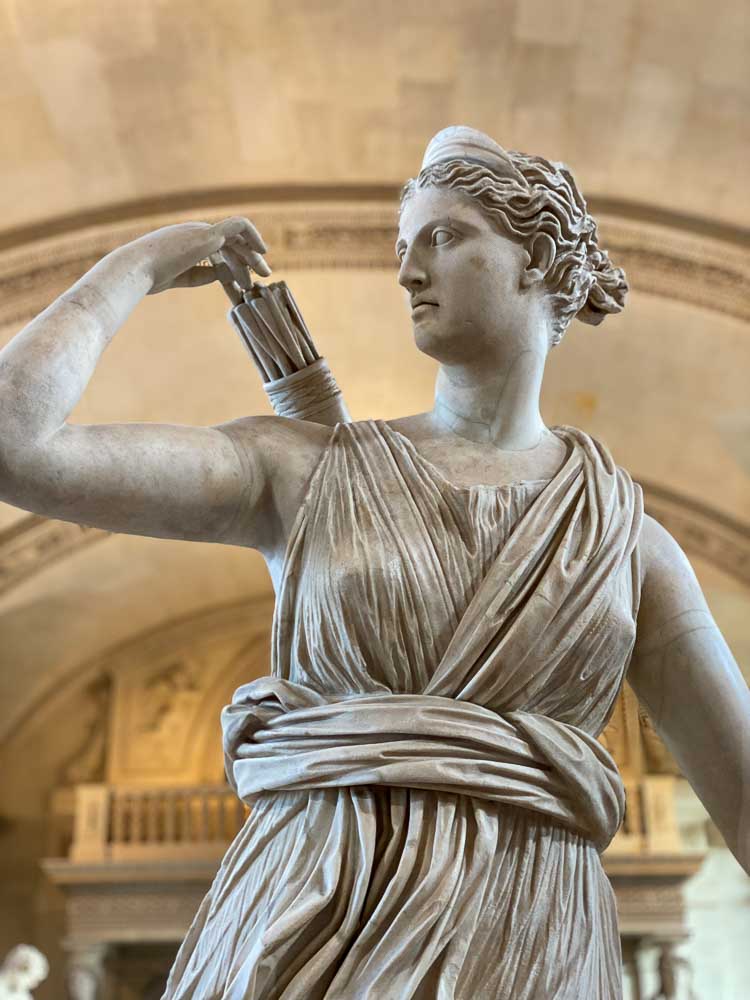 Explore the halls with the skip the line tickets adorned with ancient Egyptian artifacts, delve into captivating Islamic art, and marvel at exquisite sculptures like the Venus de Milo.
The Louvre Museum is a journey through art and human history that will leave you in awe of its sheer magnificence.
Venturing into the Catacombs of Paris
Uncover the hidden depths of Paris in August by venturing into the mysterious Catacombs. Descend into the underground realm and witness the haunting display of six million human remains.
As you navigate the dimly lit tunnels, immerse yourself in the stories of those who lived during tumultuous times, including the French Revolution. 
Let the eerie atmosphere send shivers down your spine, reminding you of the fragility of life. The Catacombs of Paris offer a unique and spine-chilling experience for those who dare to explore its depths with a guided tour.
Strolling through the Latin Quarter
Let's embark on a journey through the enchanting Latin Quarter in Paris this August. As we strolled along its picturesque streets, we'll immerse ourselves in the neighborhood's bohemian charm and vibrant atmosphere.
Explore the hidden gems and historical landmarks that await us at every turn. 
You can relax and enjoy the beauty of the Jardin des Plantes, marveling at the blooming flowers that grace the garden during the summer months.
And of course, you can't miss the opportunity to visit the renowned Sorbonne University and soak up the intellectual heritage of the area. 
If classical music is your passion, you can check the online schedule for captivating concerts at Sala Pleyel. Let's allow the Latin Quarter's lively ambiance and cultural richness to captivate your senses as you dive into the heart of Paris.
Touring Versailles
How about taking a day trip to the opulent Palace of Versailles? It's the perfect escape from the hustle and bustle of Paris in August. We'll be transported to a world of grandeur as we wandered through lavish halls and awe-inspiring gardens.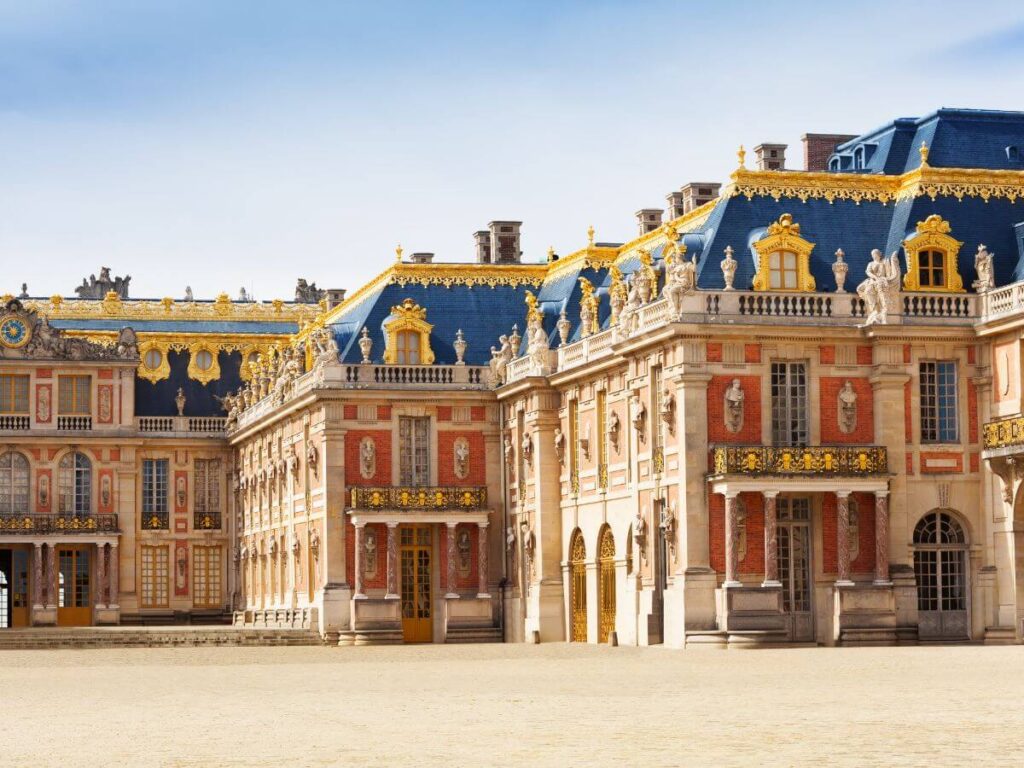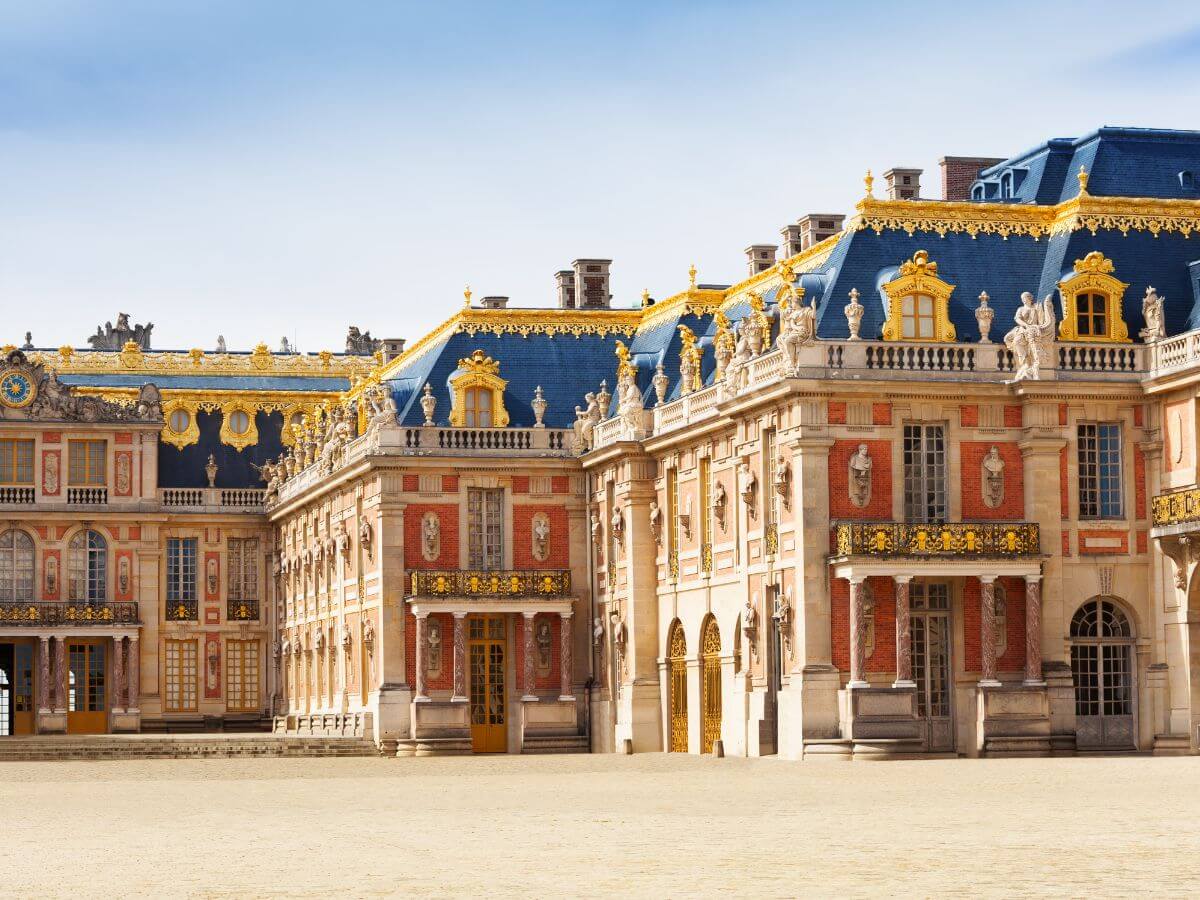 The Hall of Mirrors will leave us mesmerized by its opulence and historical significance. As we explored the vast estate, we'll get a glimpse into the lives of French royalty and their retreat from the city.
And let's not forget to lose ourselves in the enchanting gardens, adorned with fountains and meticulously manicured lawns. A visit to Versailles promises a journey back in time, leaving us enchanted by its timeless beauty.
Walking Down the Champs-Elysées
The iconic Champs-Elysées beckons us to take a leisurely walk along its elegant boulevard in Paris this August. We'll soak up the timeless elegance that fills the air as we admired luxurious shops and breathe in the irresistible aroma of freshly baked pastries from charming cafes.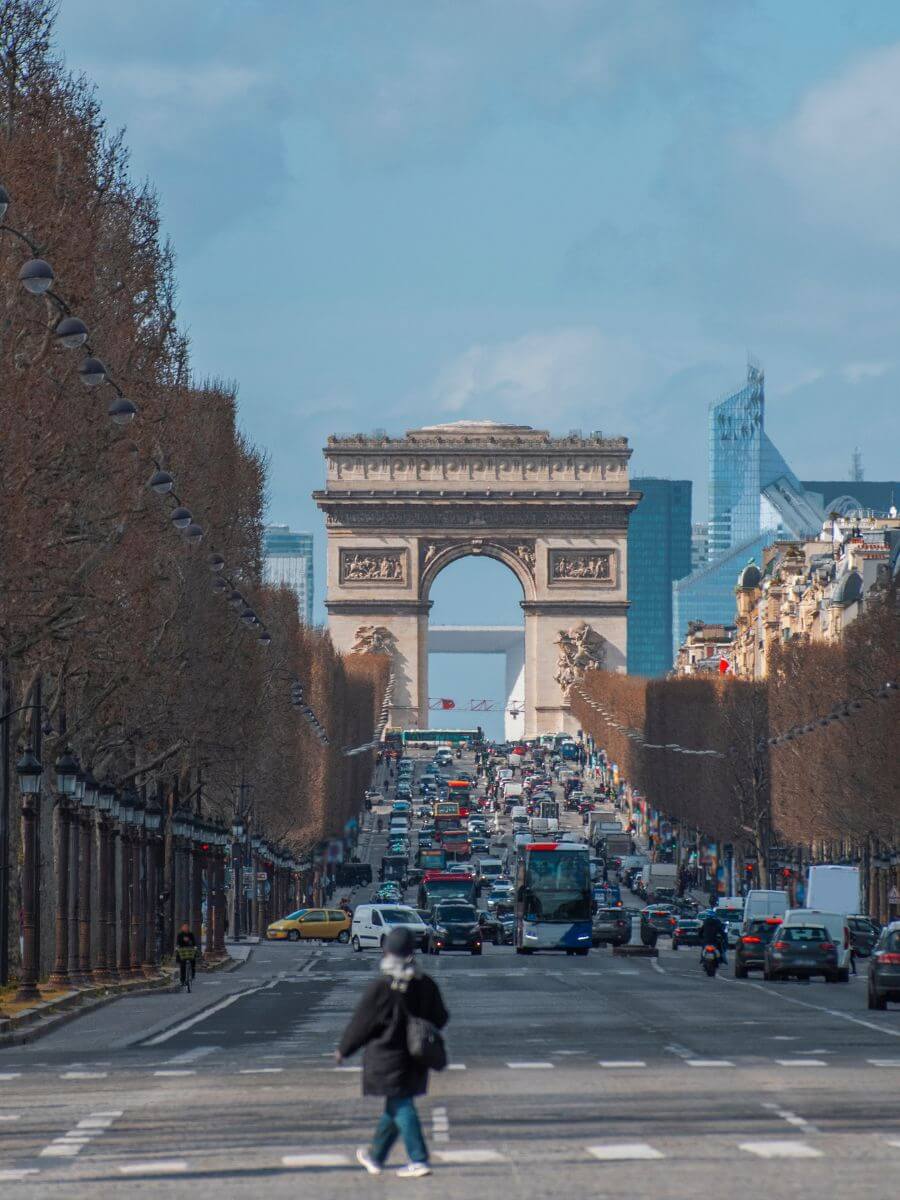 And there, we'll find respite at the majestic Arc de Triomphe, a symbol of triumph and glory. The lively atmosphere of this famous avenue invites us to indulge in retail therapy and immerse ourselves in the vibrant energy of the city.
As we walked along the cobblestone streets, we'll let the allure of the Champs-Elysées ignite our senses and remind us why Paris is the epitome of style and sophistication.
Exploring Montmartre
Let's explore the bohemian allure of Montmartre, a neighborhood that sits atop a picturesque hill in Paris this August. Our first stop will be the enchanting Sacré-Cœur Basilica, where we'll be rewarded with panoramic views of the city below.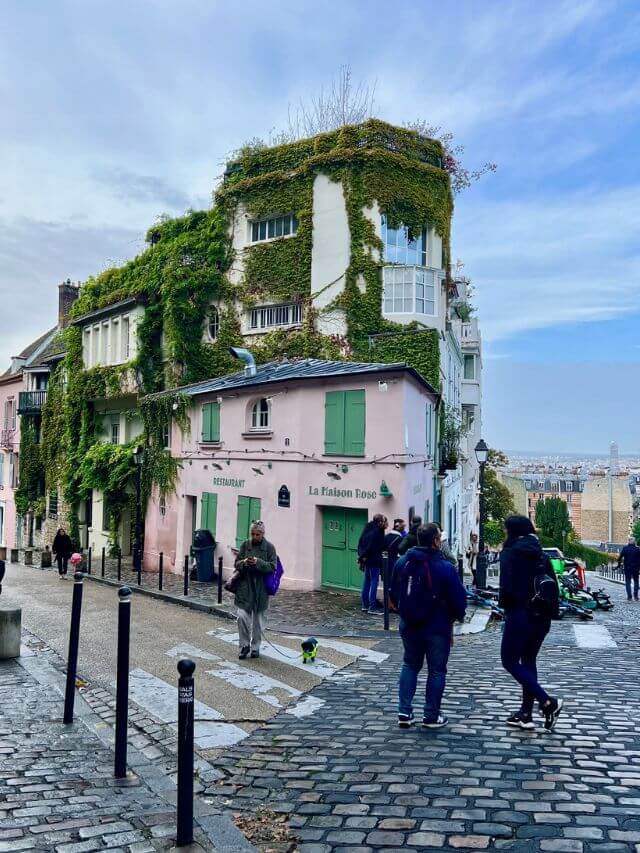 You can then meander through the charming streets, discovering art studios and lively cafes along the way. If we're feeling inspired, you might even commission a portrait at Place du Tertre.
Let's allow the whimsical ambiance and lively spirit of Montmartre to awaken our own creativity and heighten our senses. From its cobblestone alleys to its breathtaking vistas, Montmartre beckons us with its bohemian charm and captivating beauty.
Admiring the Sainte-Chapelle
Prepare to be awestruck by the ethereal beauty of Sainte-Chapelle, a hidden gem in Paris in August. As you step inside, we'll be greeted by dazzling stained glass windows that adorn this Gothic chapel.
The vibrant hues created by the sunlight streaming through the intricate designs will leave us mesmerized as if we've stepped into a magical realm.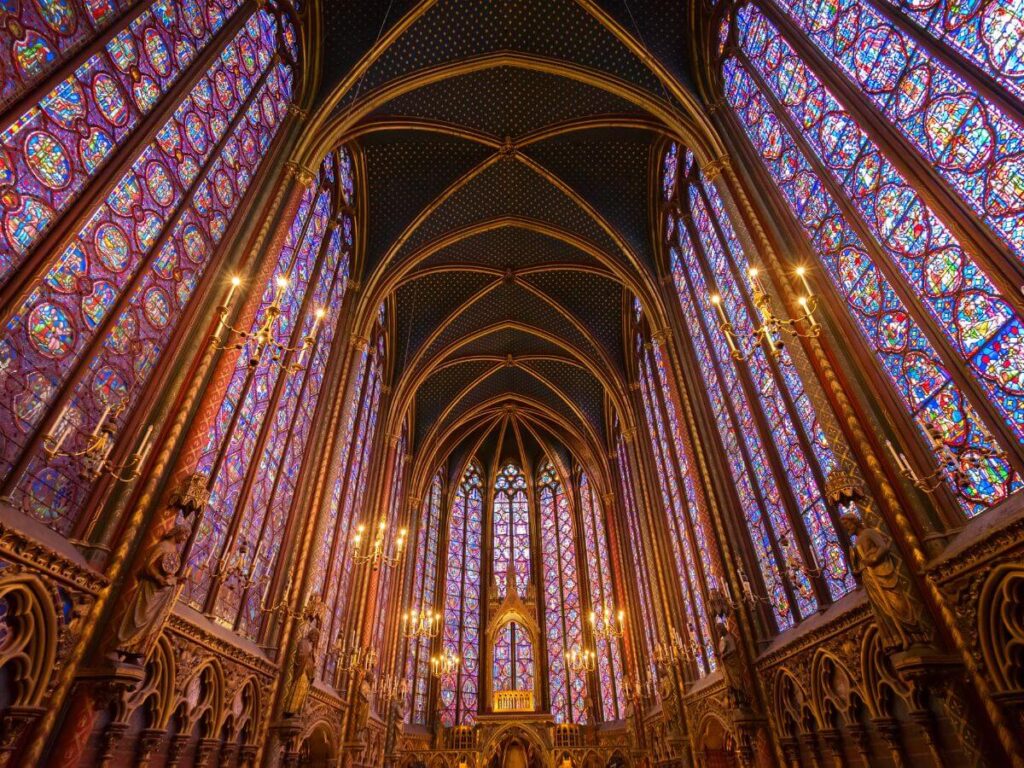 We'll allow the serenity of this architectural masterpiece to transport us to a place of tranquility and contemplation. Sainte-Chapelle's breathtaking beauty is a testament to the profound impact that human artistry and devotion can have on the soul. Get tickets here.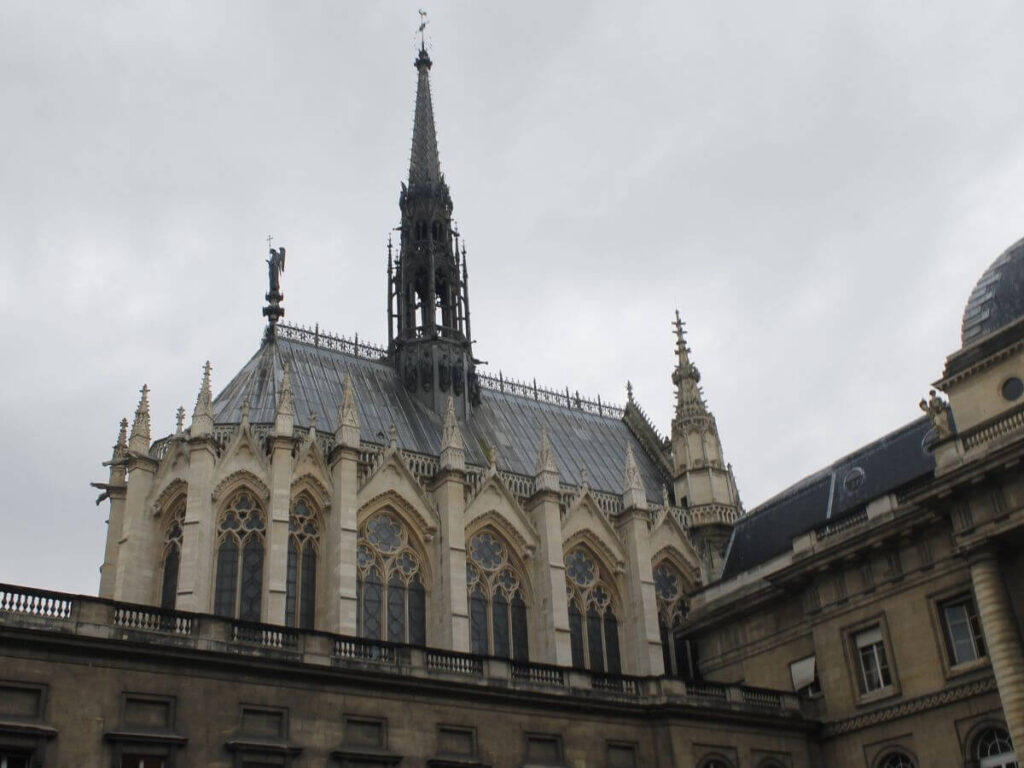 Enjoying Riverfront Dining
In Paris this August, let's treat ourselves to a memorable dining experience along the riverfront. We'll indulge in delectable French cuisine, perfectly paired with fine wines, all while immersing ourselves in the romantic ambiance.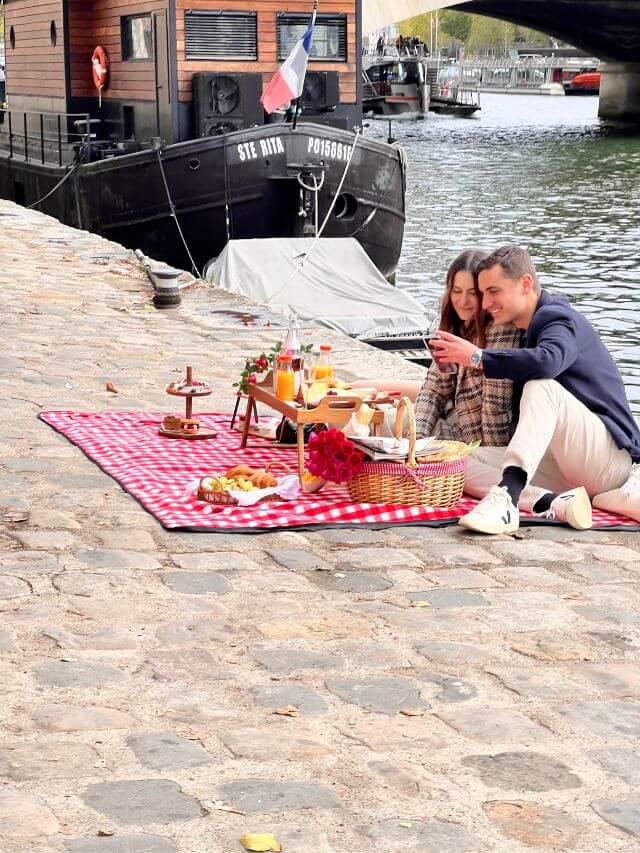 Whether we chose a charming riverside bistro or a sophisticated restaurant, the panoramic views of the Seine River will provide the perfect backdrop for our culinary delight.
As we savored each exquisite bite, we'll let the gentle breeze caress our skin and the enchanting scenery captivate our senses. Riverfront dining in Paris offers an unforgettable experience that combines delectable flavors, scenic beauty, and a touch of romance.
Relaxing at Paris Plages
Beat the August heat by seeking refuge at Paris Plages, a temporary beach along the Seine River. Here, you can embrace the relaxed atmosphere and bask in the sun's warm embrace as you lounge on sandy shores.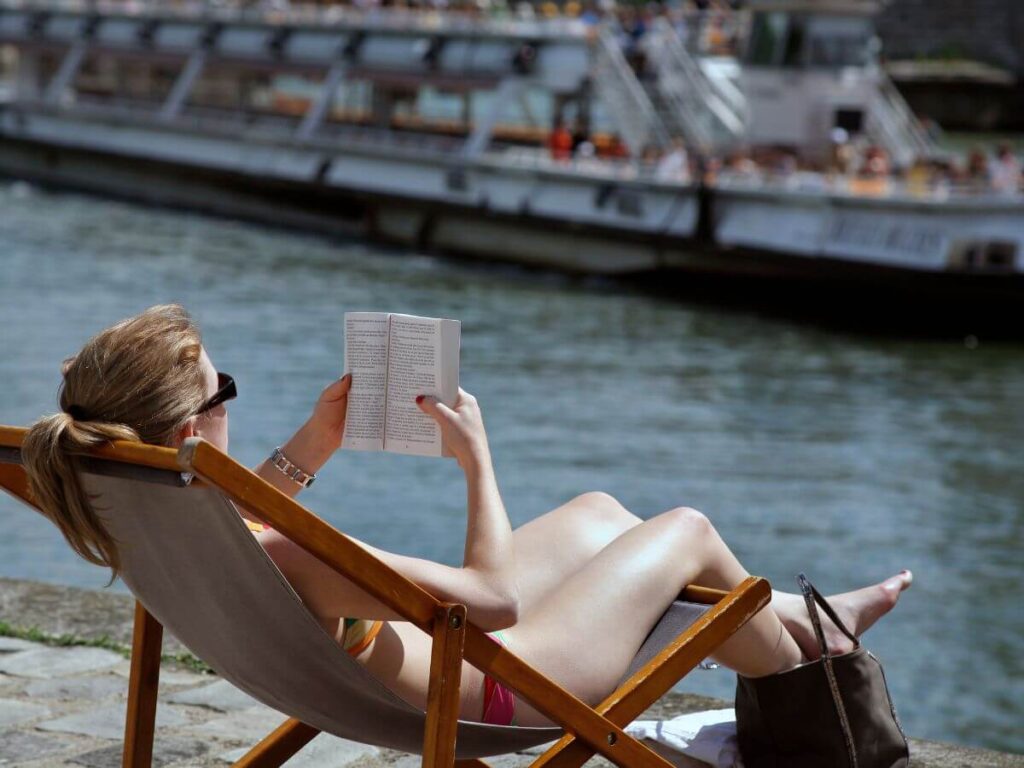 If you feel like cooling off, you can take a refreshing dip in the designated swimming areas or participate in various recreational activities offered on the beach.
Whether we're up for a game of beach volleyball or eager to try out water sports, Paris Plages offers a delightful respite from the city's hustle and bustle. 
Let's unwind, soak up the blissful ambiance, and enjoy the August sunshine in this urban beach oasis.
Experiencing Nightlife in Le Marais
When the sun sets in Paris this August, let's immerse ourselves in the vibrant nightlife of Le Marais. This trendy neighborhood comes alive after dark, offering a plethora of stylish bars, clubs, and eclectic venues to explore.
As we wandered through its bustling streets, we'll uncover hidden speakeasies, dance to diverse music genres, and have the chance to mingle with locals and fellow travelers alike. Take a wine and food tour.
Le Marais seamlessly blends historic charm with modern vibrancy, creating an electric atmosphere that caters to every taste. Let's experience the captivating energy of Le Marais' nightlife scene and create unforgettable memories in one of Paris's most fashionable districts.
Indulging in Parisian cuisine
Prepare your taste buds for a culinary adventure through Parisian cuisine this August. Indulge in the flavors that define French culinary excellence, from buttery croissants to rich coq au vin.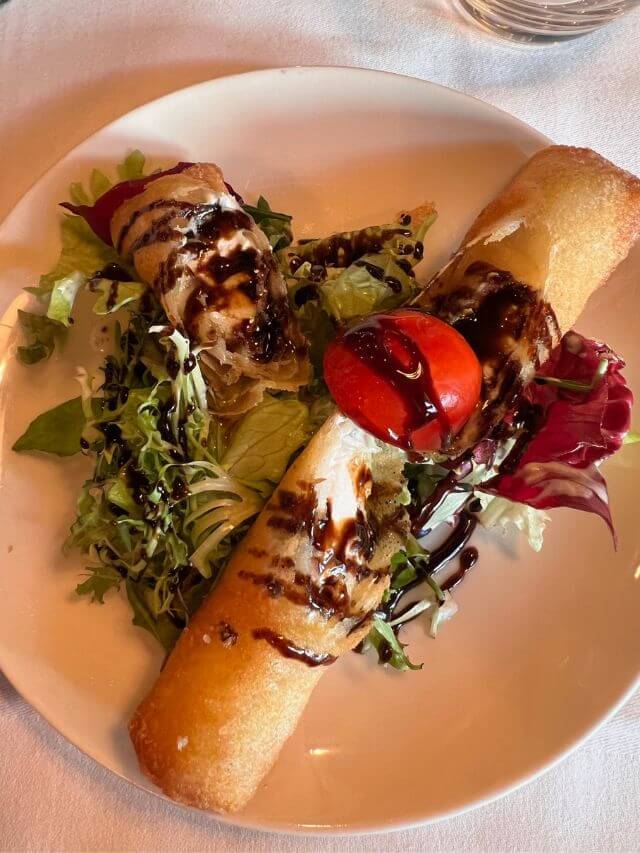 Explore local markets, where stalls brim with fresh produce, artisanal cheeses, and tantalizing treats. We'll have the opportunity to dine at cozy bistros and Michelin-starred restaurants, discovering the artistry behind every dish.
As we savored each bite, let the aromas and tastes transport us to a realm of culinary bliss. Parisian cuisine is a celebration of flavor, and August provides the perfect time to savor its delights.
Where to Stay in Paris in August
When visiting Paris in August, your choice of hotel can greatly enhance your experience. Three exceptional options await you. Hotel Pullman Paris Tour Eiffel offers stunning views of the iconic Eiffel Tower, ensuring an unforgettable stay.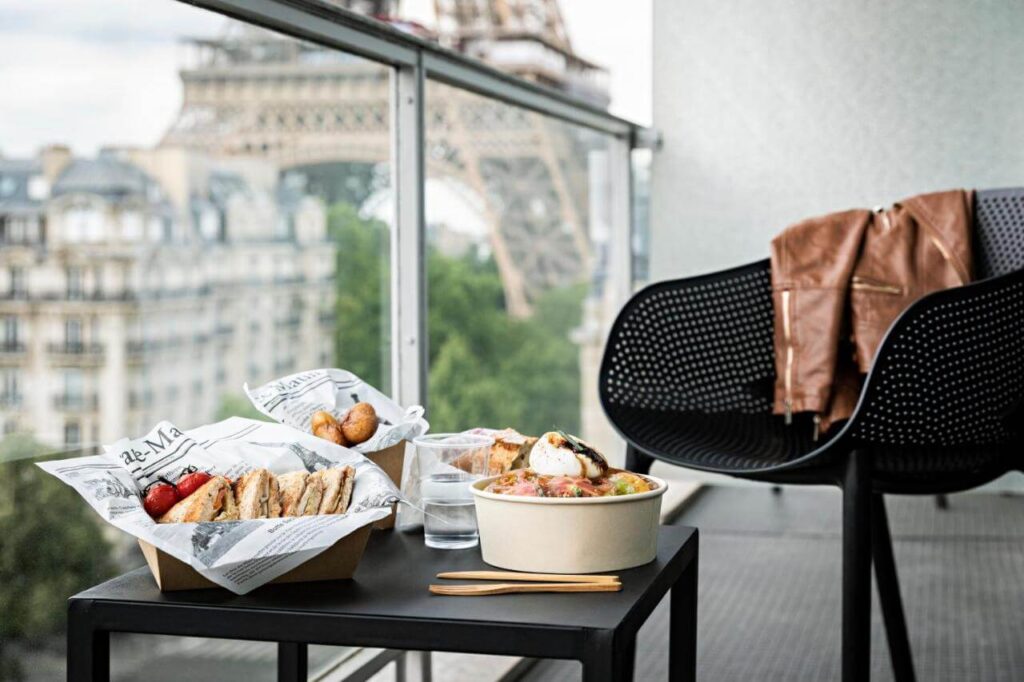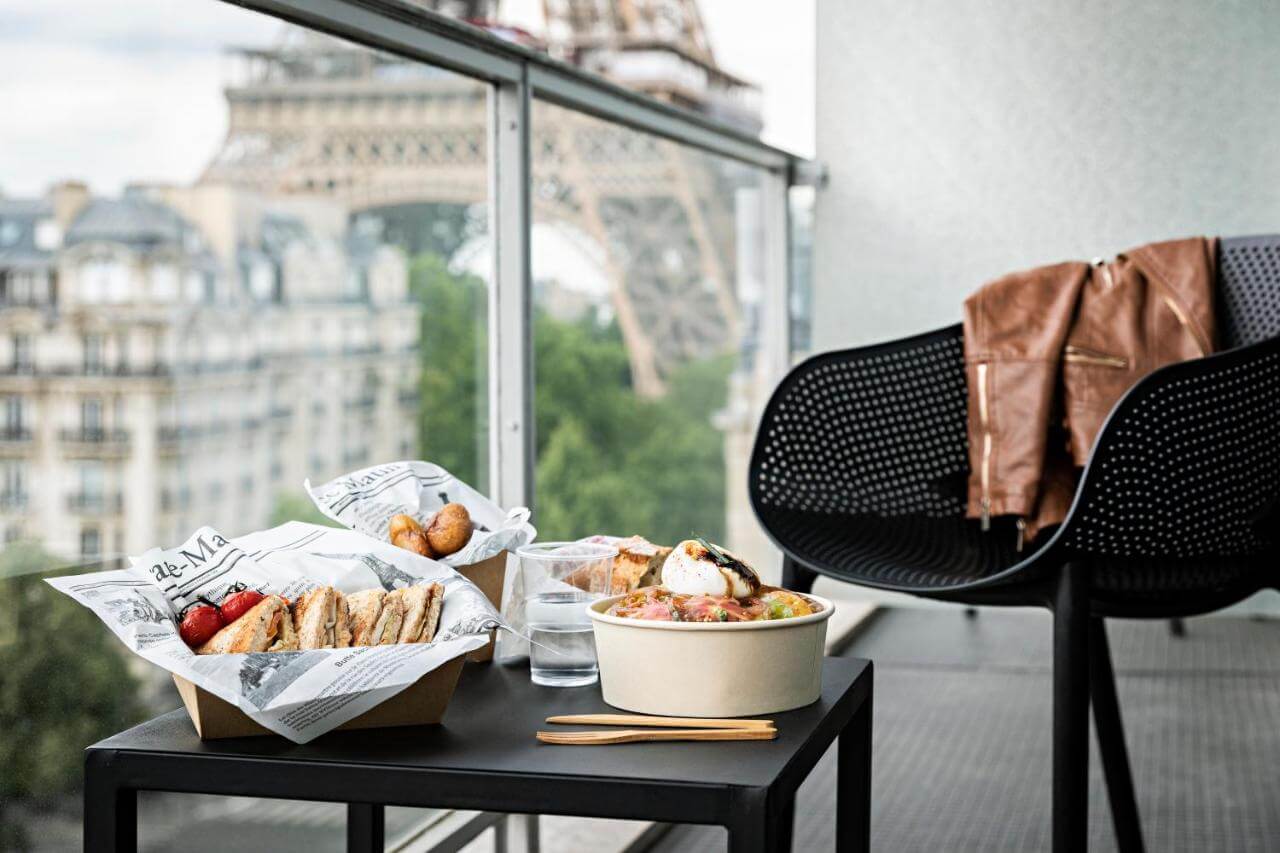 Hotel Balzac Champs Elysées Paris exudes classic Parisian charm, making it perfect for those seeking an intimate and refined atmosphere. Book a room at Hotel Balzac.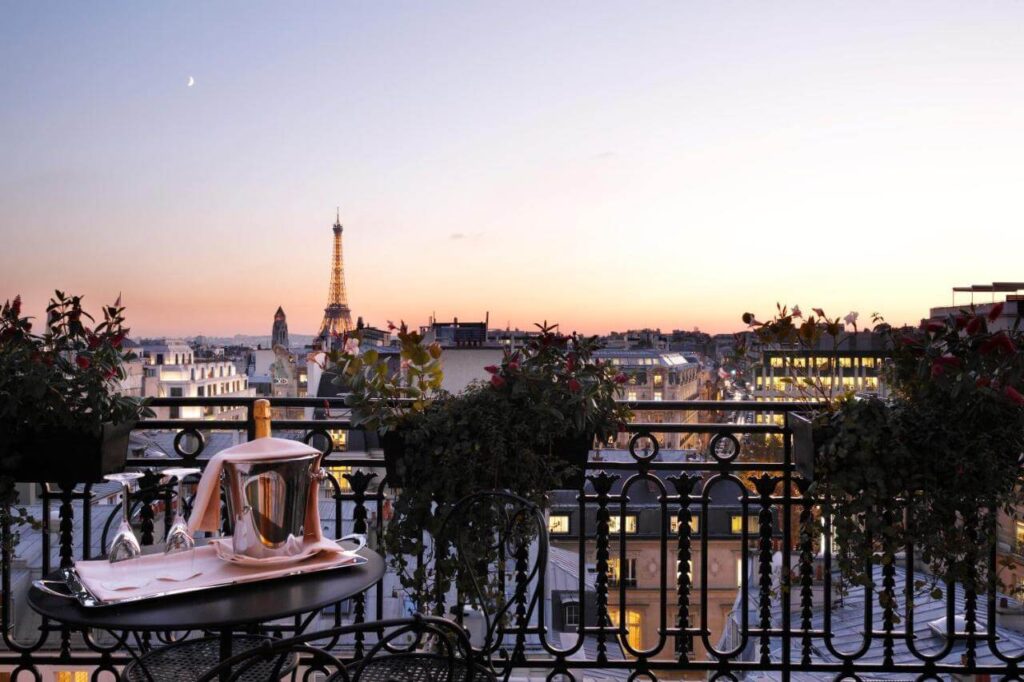 Le Meurice, a historical landmark near the Louvre, offers luxurious accommodations and a Michelin-starred restaurant.
These hotels provide unique experiences that cater to different preferences, whether it's breathtaking views, timeless elegance, or the epitome of luxury. Choose the perfect hotel and immerse yourself in the enchantment of Paris in August.
What to Eat in Paris in August
In the vibrant city of Paris, August is the perfect time to embark on a culinary journey and tantalize your taste buds with an array of delectable dishes. Let me introduce you to five exceptional locations that promise unforgettable dining experiences.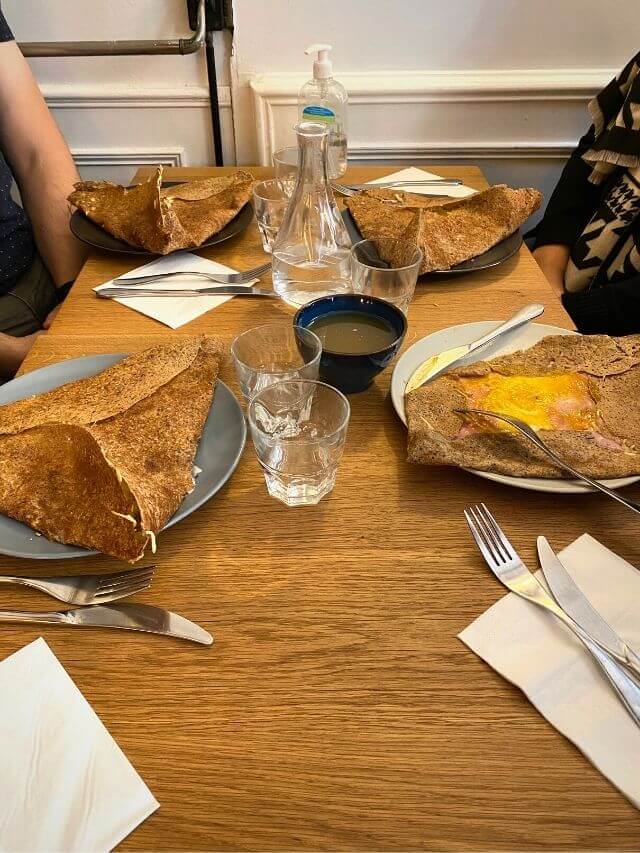 Indulge in the mouthwatering crêpes at Breizh Café. Their blend of traditional Breton recipes with Parisian flair creates a unique and delightful dining experience. With organic buckwheat flour and a variety of savory and sweet fillings, these crêpes are a must-try.
For health-conscious foodies, Bar Healthy offers nourishing plant-based cuisine. Treat yourself to vibrant salads, hearty grain bowls, and refreshing juices that will keep you energized during your stay in Paris.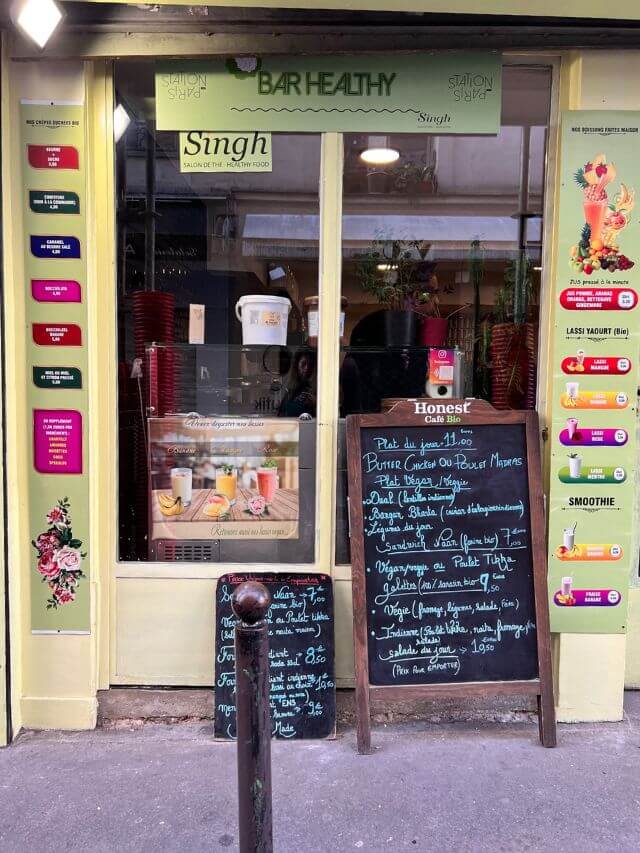 L'As du Fallafel in Le Marais is a falafel haven. Join the line of eager food enthusiasts and savor their famous falafel sandwiches, bursting with flavors and accompanied by zesty sauces and fresh vegetables.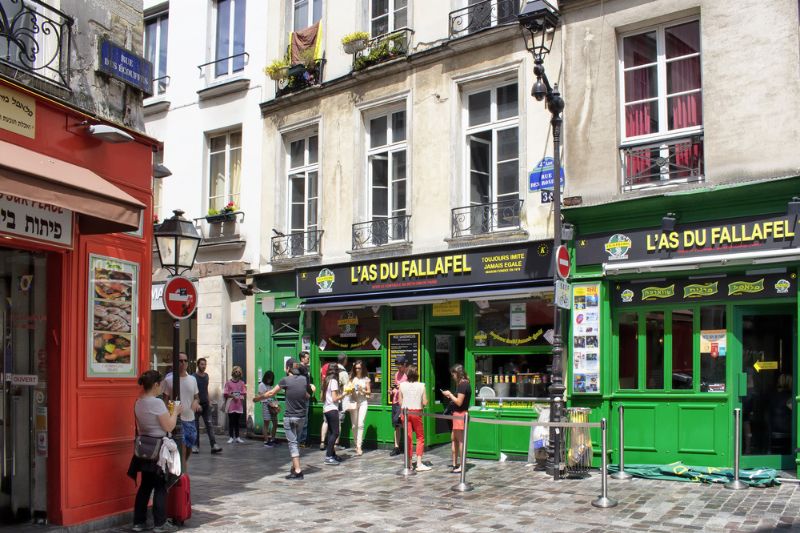 Le Comptoir du Relais is a charming bistro where you can indulge in classic French dishes. From succulent duck confit to mouthwatering escargots, each bite showcases the culinary excellence of French cuisine.
Lastly, La Pâtisserie des Rêves is a whimsical pastry shop that will transport you to a dreamlike world of confectionery delights. Delicate macarons, flaky croissants, and intricately designed cakes await, ensuring a sweet ending to your culinary adventure.
These five locations offer diverse flavors and experiences that capture the essence of Paris in August. So, treat yourself to these culinary delights and discover the richness of Parisian cuisine in this enchanting city.
Getting Around Paris in August
Navigating the beautiful city of Paris in August is a breeze with its efficient transportation system. Here are some tips on getting around and the associated costs in euros.
The Paris Metro is a convenient and affordable way to travel. A single ticket costs around €2.10, or you can opt for a carnet of 10 tickets for approximately €16.90. The metro network covers the entire city, allowing you to reach popular attractions with ease.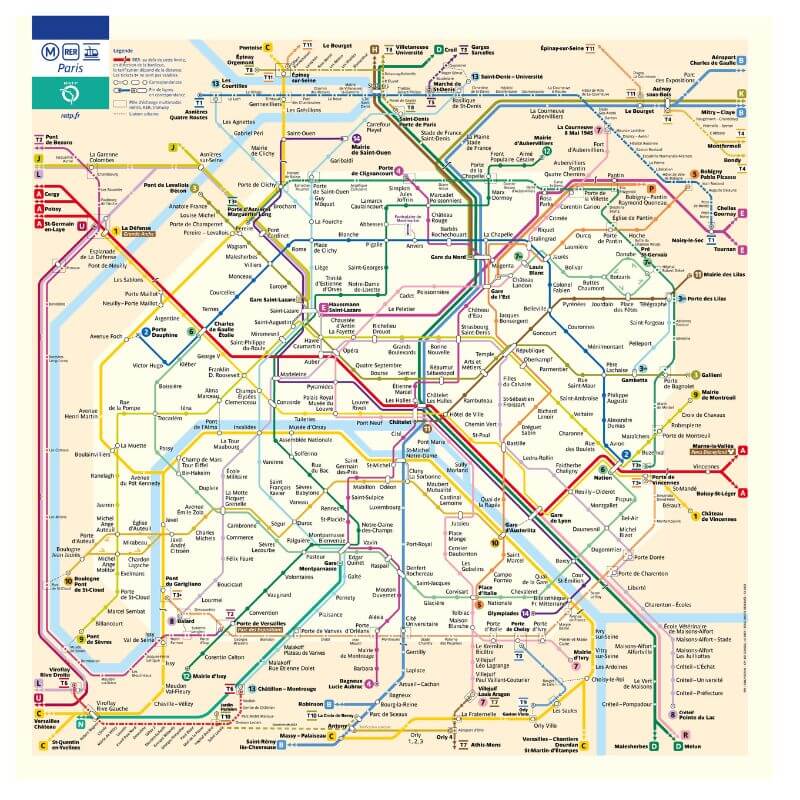 Another option is the extensive bus network, with a single ticket costing €2.00. Buses provide a scenic way to explore the city and offer a more leisurely travel experience.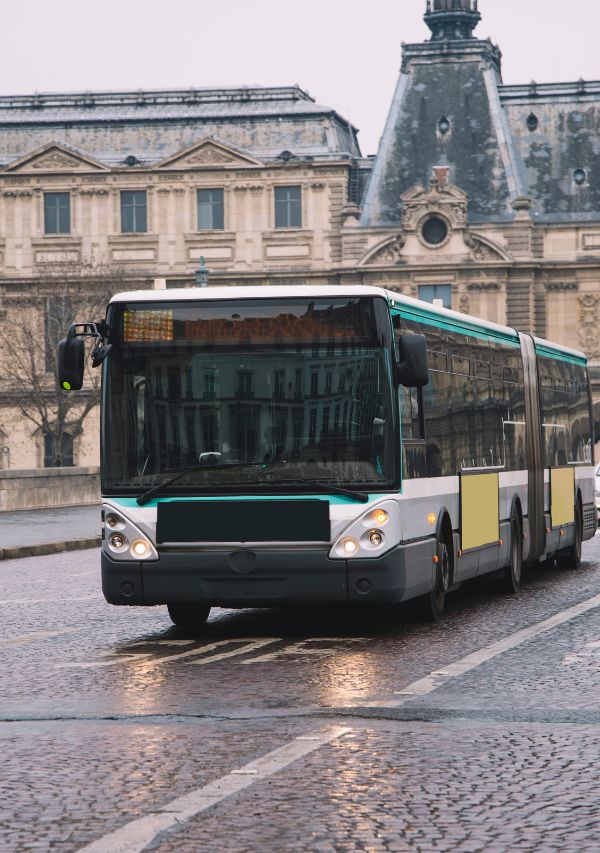 For a unique and eco-friendly mode of transportation, consider renting a Velib bike. The first 30 minutes are free, and a one-day pass costs €5.00, making it an affordable option to cycle around Paris and enjoy its charming streets.
Taxis are widely available but can be more expensive. Starting fares typically range from €3.30 to €4.00, with additional charges per kilometer.
Lastly, Uber is a popular ride-sharing option in Paris. Prices vary depending on the distance and demand.
With these transportation options and costs in mind, you can easily navigate Paris in August and make the most of your time exploring this captivating city.
Best Tips for Visiting Paris in August
Here are 10 essential tips to make the most of your visit, covering everything from museum passes to transportation and travel essentials.
Questions for Paris in August
Is Paris very crowded in August?
Paris can be quite crowded in August due to the peak tourist season. However, with proper planning and early reservations, you can still enjoy the city's charms.
Why is Paris cheaper in August?
Paris tends to be slightly cheaper in August because many locals go on vacation, causing some businesses to offer discounts or special deals to attract tourists.
Is the Eiffel Tower open in August?
Yes, the Eiffel Tower is open in August. It's a must-visit attraction, so be prepared for crowds and consider booking tickets in advance to skip the long queues.
Are Paris museums open in August?
Most Paris museums remain open in August, although some smaller ones may have shorter hours or occasional closures. It's always a good idea to check their schedules beforehand.
Are Paris restaurants closed in August?
While some Paris restaurants may close for a short period in August, many of them remain open, especially in popular tourist areas. You'll still find a wide range of culinary options to satisfy your appetite.
Paris in August is a vibrant and bustling destination, offering a blend of cultural experiences, culinary delights, and iconic landmarks. Embrace the energy of the city, plan ahead, and savor every moment of this enchanting summer getaway.
Plan Your Trip to Paris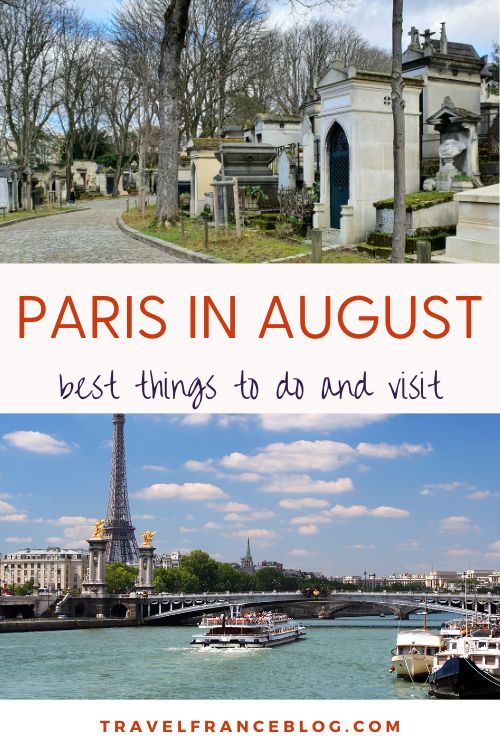 This post may include affiliate links. This means that we will receive a small commission if you make a purchase through our links. It has no additional cost for you. With this, you help us to continue creating free content for you.
This post may include affiliate links. This means that we will receive a small fee if you make a purchase through our links. It has no additional cost to you. It's a win-win!