The Best of Paris in June and Why is a Great Time to Come!
It is time for June in Paris: a lively season for picnics, boat rides, and exploring charming streets. If you are keen to visit France, you have probably read how much we adore Paris in our blog series. While Paris thrives year-round, June is just extra delightful.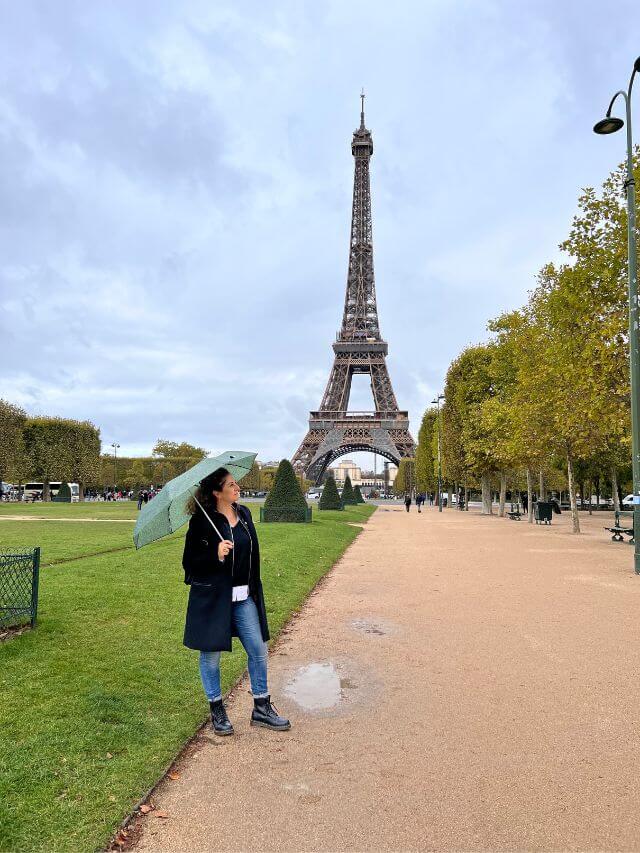 Weather in Paris in June
Are you planning a summer trip to Paris? Look no further than June, the perfect month to explore the city of love. Paris weather in June is just right, with warm temperatures ranging from 18-22°C and around 9 hours of daylight daily.
While there may be around 11 rainy days with a total of around 62mm of rainfall, the showers are usually brief and won't put a damper on your outdoor adventures.
The best part about visiting Paris in June is that it is not yet peak season, so you can avoid the crowds of tourists while enjoying mild temperatures and longer daylight hours.
Things to Do in Paris in June
Take advantage of the beautiful weather by going on picnics, strolling along the Seine River, and visiting the city's many parks and gardens. You will not be sorry if you make Paris your summer getaway this June!
Take a Seine River Cruise
A Seine River cruise in June is a must-do if you want to explore the splendor of Paris romantically. The weather is excellent, and the city appears stunning against the bright blue sky.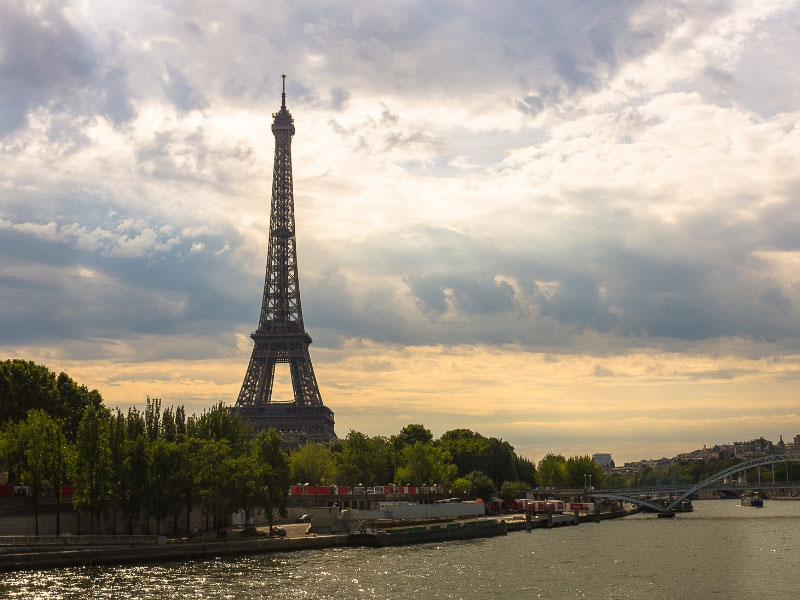 The Seine River cruise offers spectacular views of prominent sights in Paris in June such as the Eiffel Tower, Notre Dame Cathedral, and the Louvre Museum.
You will be able to relax and enjoy the pleasant breeze while listening to exciting narration about the city's history and architecture as the boat glides along the river. The night cruise is even more incredible because the city lights create a romantic atmosphere.
Climb Up To The Top Of The Eiffel Tower
One of the coolest things to do in Paris in June is to climb to the top of the Eiffel Tower. The weather is lovely, and you can enjoy amazing city views from 276 meters above the ground. Long lines are OK in June, and you can reach the summit quickly.
Ascending the steps to the first and second levels before boarding an elevator to the pinnacle is terrific. The view from the peak is breathtaking, with breathtaking panoramic views of Paris. Bring your camera since the photo opportunities are endless.
Explore The Extensive Art Collection In Louvre Museum
If you appreciate art and history, the Louvre Museum in Paris is a must see, especially in June. The crowds are thinner, making it ideal for perusing the extensive art collection without the stress and bustle of peak seasons.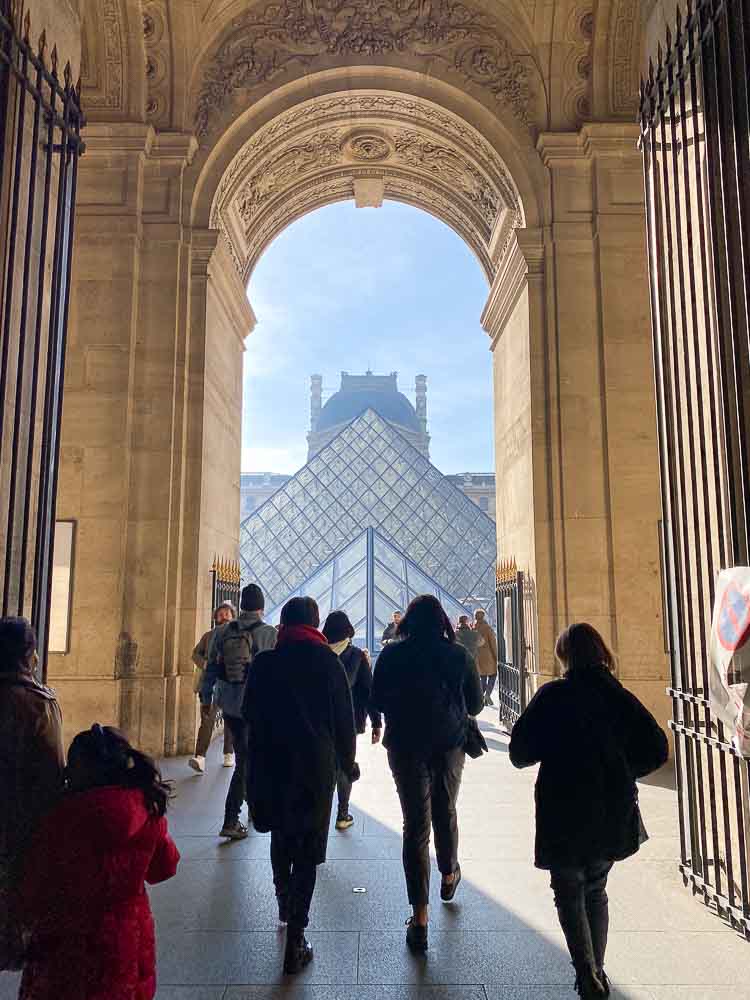 The Mona Lisa and the Venus de Milo are among the most famous works of art housed in the museum. You may spend hours roaming the galleries, admiring the amazing sculptures, paintings, and artifacts worldwide.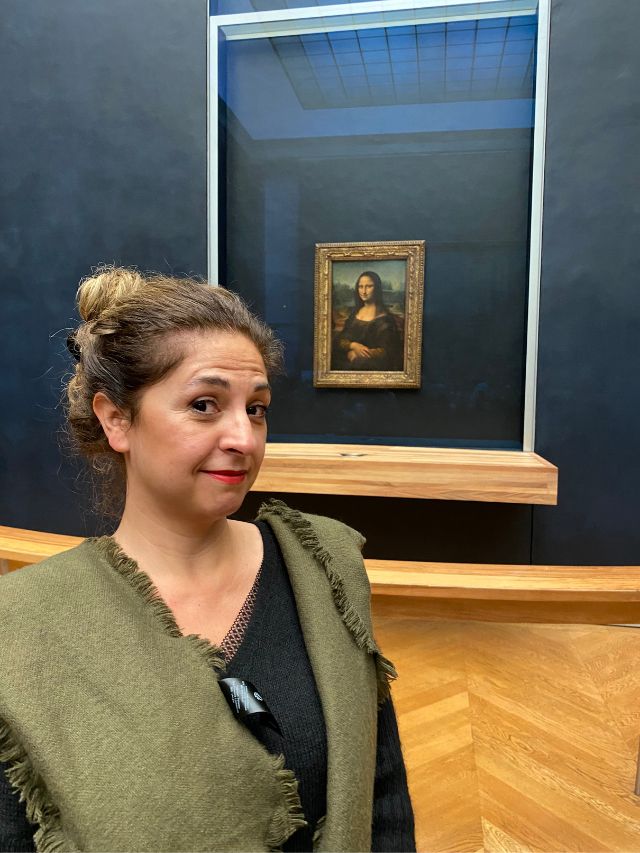 The cool, pleasant weather in Paris in June is ideal for strolling around the museum's gorgeous courtyard, adorned with statues and fountains.
Stroll Around The Charming Notre Dame Cathedral
Walking around Paris's beautiful Notre Dame Cathedral is a memorable experience, especially in June. The weather is gorgeous, and you can take your time admiring this ancient landmark's majestic Gothic architecture and exquisite embellishments.
Despite major fire damage in 2019, guests can still admire the cathedral's spectacular facade and towers dating back to the Middle Ages. Stroll outside Notre Dame and see the views of the Seine River and nearby bridges.
The Notre Dame Cathedral is undoubtedly one of the most gorgeous constructions in the world.
Explore The Trendy Marais Neighborhood
If you are searching for a character-filled district in Paris, the Marais is the place to be. This historic district's small lanes, stylish stores, and chic cafes are well-known.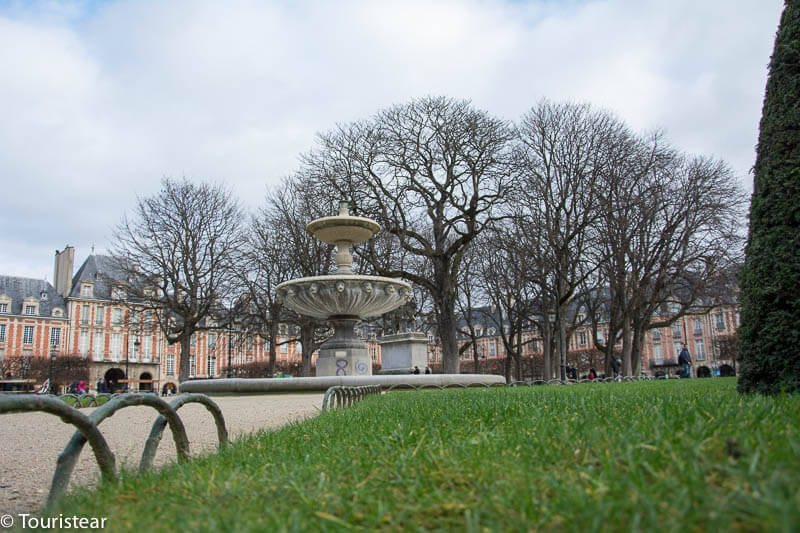 June is an excellent month to visit the Marais because the weather is pleasant and sunny, ideal for walking around. Light clothes are perfect for wearing in Paris in June, but add a light jacket or sweater for cooler evenings.
Explore The Palace Of Versailles On A Day Trip From Paris
A trip to the Palace of Versailles from Paris in June is highly advised. French monarchs and queens previously resided at this magnificent château not far from Paris.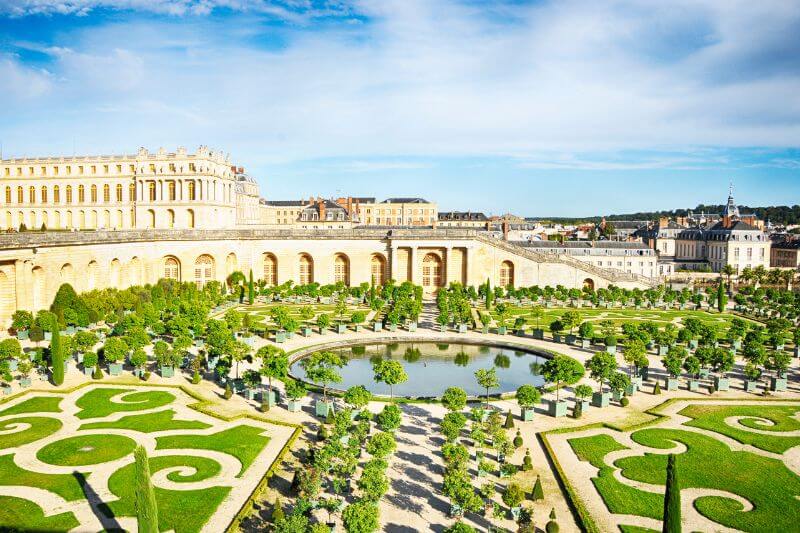 Versailles' gardens are in full flower in June, making for an unforgettable experience. Paris has mild and pleasant weather in June, so dress comfortably and wear breathable shoes. Bring sunscreen, a hat, and a water bottle to remain hydrated.
Discover Art At The Musée D'orsay
When in Paris in June, art aficionados should visit Musée d'Orsay. It houses a vast Impressionist and Post-Impressionist art collections created by Renoir, Monet, and more. Make sure to include this opportunity to view these masterpieces in person.
Because the museum is enormous and you will want to spend a lot of time touring it, you must wear walking shoes.
Attend Events At The Iconic Opéra Garnier
Head to the legendary Opéra Garnier in June for an unforgettable evening. This magnificent opera house is one of the world's most famous and a must-see for anybody interested in music and dancing.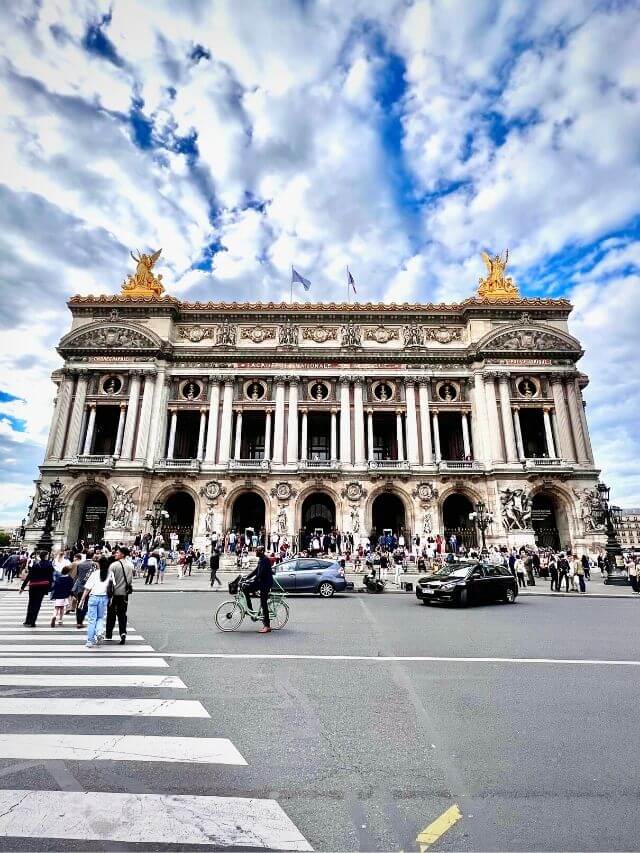 June is an excellent month to visit because the Opera Garnier frequently hosts unique performances and festivities.
Dress to impress when it comes to what to wear in Paris in June for a night at the Opera. Because this is a formal event, you should dress to impress. Bring a light jacket or shawl because the theatre can get chilly.
Enjoy A Picnic In Paris In June
In June, Paris is ideal for a picnic in one of the city's gorgeous parks. The Jardin des Tuileries, Parc des Buttes-Chaumont, and the Luxembourg Gardens are among the popularly visited parks.
Pack a blanket, some bread, cheese, and wine, and spend the afternoon lounging in the sun. Bring a light jacket or sweater with you, as the weather in Paris in June can be slightly cool in the evenings.
Walk Along Bohemian Neighborhood in Paris in June
Montmartre is one of the most lovely neighborhoods in Paris, and a must see for anybody visiting in June. The bohemian quarter is known for its breathtaking city views and is home to many artists.
Visit the Centre Georges Pompidou
The Centre Georges Pompidou, located in the city's center, is a world-renowned museum of modern and contemporary art. The building is a piece of art with its vibrant and colorful facade and distinctive architecture that exposes the structural elements outside it.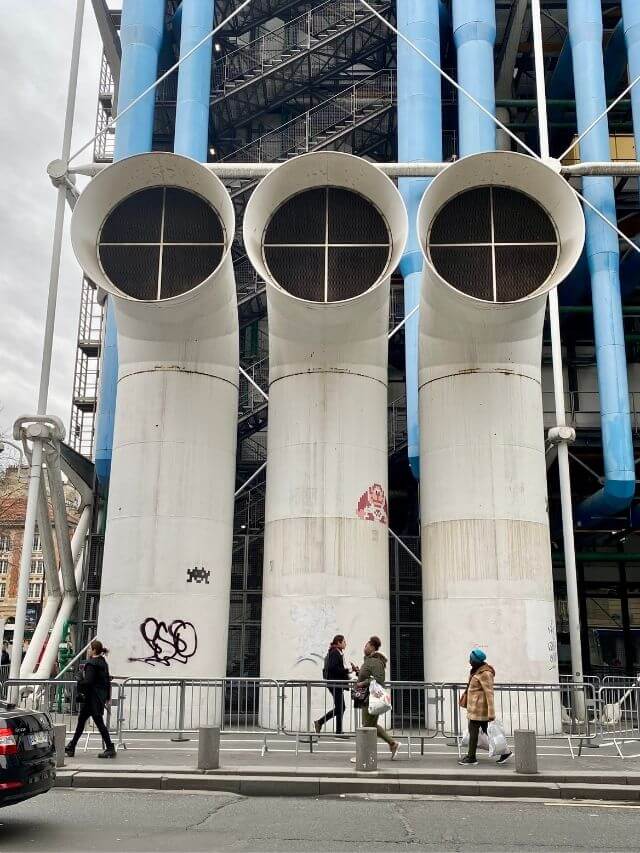 But it is not just the outside that is striking; the art within is genuinely outstanding. There are classics by Picasso, Matisse, and Kandinsky on display, as well as modern works by live artists. You could easily spend a day roaming through the galleries because the collection is vast and diversified.
The outdoor patio visits the Centre Georges Pompidou even more special in June. With breathtaking views of Paris
Cook Traditional French Dishes
Why not learn how to prepare traditional French cuisine if you are visiting Paris in June? Take a culinary class to learn how to make delicacies like coq au vin and ratatouille. You will learn new cooking techniques and sample some delectable French cuisine.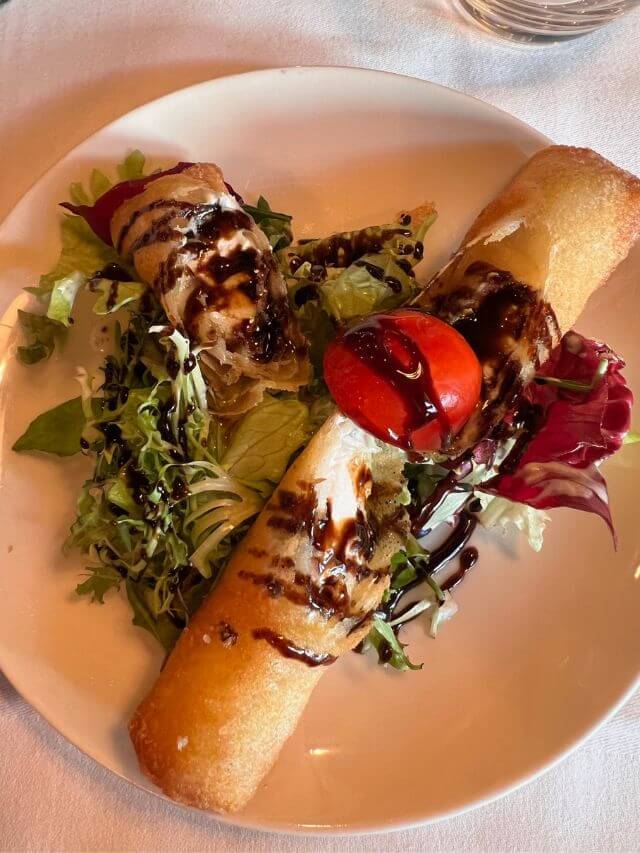 Dress comfortably for this activity. If this is your first time cooking, you would not want to ruing your dresses and special travel outfit.
Visit the Sainte-Chapelle in Paris in June
The Sainte-Chapelle is one of Paris' most beautiful churches and a must-see for anybody coming in June.
If you love sightseeing and admiring architectural and design wonders, the stained glass windows in the church are among the most spectacular in the world.
Take A Stroll Through Saint-Martin
The Canal Saint-Martin is a gem in Paris that you should visit in June. This lovely canal is tree-lined and popular for picnics and leisurely walks.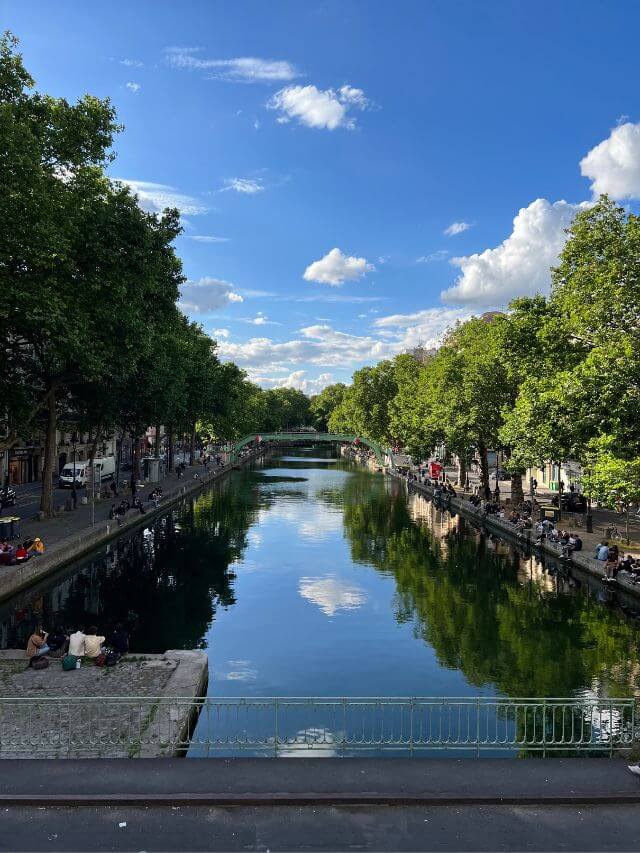 The canal is also an excellent area to escape the city's heat. In the late weeks of June, Paris becomes warm. Luckily, there are several cafés and restaurants where you may have a bite to eat or a cool drink to keep you hydrated.
You can also stroll along the Canal Saint-Martin to enjoy the shade or take a cruise.
Take A Day Trip To The Palace Of Fontainebleau
A visit to the Palace of Fontainebleau is another excellent day trip from Paris in June. The lovely chateau, located just outside of Paris, was formerly the residence of French kings and queens.
The gardens are in full bloom in June, providing a wonderfully stunning experience. Get a museum pass to visit several museums in Paris or simply buy a priority pass to the Palace of Fontainebleau.
Vaux-Le-Vicomte: Evenings by Candlelight
We're going to finish off this romantic Paris-in-winter date idea with a recommendation for a one-of-a-kind candlelight dinner in a 17th-century French castle.
Picture you and your partner in a low-lit ambiance, sharing the best full-course meal while conversing with each other intimately.
Talk about a perfect romantic night. There's no doubting the food as it comes from the renowned chefs at Les Charmilles restaurant.
The package also includes a castle tour, including the chateau, gardens, and carriage museum. They will close the night with fireworks to make it even more special.
This package is available every Saturday from May 14th to October 1st, 2022.
Events and Festivals in Paris in June
As summer approaches, the city of lights comes alive with bright celebrations, cultural events, and festivals catering to all tastes and interests. There is something for everyone in Paris in June, from music to arts, food, and sports.
Fête de la Musique
I like Paris' Fête de la Musique! Every year on June 21st. You can see the city's streets, parks, and squares filled with musicians of many genres, like rock and classical, making for a fantastic experience for FREE.
If you enjoy music (not only jazz), make time to attend the Fête de la Musique in Paris.
Paris Jazz Festival
The Paris Jazz Festival is an all-time favorite activity in the city for jazz aficionados. The atmosphere is breathtaking, and the music is consistently excellent.
Every June and July, it is held in the Parc Floral and features seasoned and rising jazz musicians from around the globe.
Festival of Saint-Denis
The Festival of Saint-Denis is a classical music festival held in the majestic Basilica of Saint-Denis for classical music aficionados and anyone who loves listening to classical music.
The stunning setting and world class artists make this music festival and experience you should never miss.
The French Open in Paris in June
For sports fans, the French Open is one of the most exciting sporting events of the year. It brings together the best tennis players in Paris every May and June.
Nothing compares to observing these exceptional sportsmen compete at such a high level than the atmosphere at Roland Garros.
When you visit before or after the French Open, you can also take a backstage tour.
We Love Green Festival
The We Love Green Festival is one of Paris' unique festivals. Every June, it mixes music, art, and ecology in the picturesque Bois de Vincennes.
The festival is the perfect event for people passionate about sustainability. I enjoy the sustainable living workshops and the great music and art. We Love Green is a must see if you search for a genuinely unique and uplifting festival experience!
Taste of Paris
If you love food, the Taste of Paris is a must-see event when you visit in June. The gourmet event occurs at the beautiful Grand Palais, featuring some of the city's best chefs and restaurants.
Paris Beer Week in Paris in June
Paris Beer Week is a craft beer festival in June and involves a variety of beer tastings, workshops, and activities all across town. Any craft beer fan should attend the festival. The atmosphere is lively and enjoyable, and there are plenty of good beers to try.
Where to Eat in Paris in June
Paris in June is also the best time to taste seasonal French cuisines! Here are some restaurants to dine during your visit and a couple of dishes to order.
Chez Gladines
This cozy Basque restaurant is known for its hearty portions of traditional Basque cuisine. In June, try their Asperges à la Basque (Basque-style asparagus) or their Agneau de lait des Pyrénées (Pyrenean milk-fed lamb).Le Comptoir du Relais
This iconic Saint-Germain restaurant is run by chef Yves Camdeborde and serves classic French cuisine with a modern twist. In June, try their fraises des bois (wild strawberries) dessert, which is in season during this time.
Le Bouillon Chartier
This historic brasserie has been serving traditional French cuisine since 1896. In June, try their Salade de Chèvre Chaud (warm goat cheese salad) or their Pot-au-Feu (boiled beef and vegetables) dish.
Dinner Cruise on the Seine in Paris in June
Take in the beautiful Parisian scenery while enjoying a delicious dinner on a boat cruise along the Seine River. Many dinner cruise companies offer special menus featuring seasonal dishes such as asparagus, strawberries, and rosé wine.
Le Verre Volé
This trendy wine bar and restaurant is known for its natural and organic wines and farm-to-table cuisine. In June, try their Salade d'asperges vertes (green asparagus salad) or their Rosé wine, which is perfect for sipping on their outdoor terrace on a warm summer evening.
Where To Stay In Paris In June
Explore Parisian accommodation options in June with our options. Discover the best areas to stay and ideal accommodations to make your trip unforgettable.
Hotel La Comtesse
This boutique hotel is located in the heart of the chic 7th arrondissement and offers stunning views of the Eiffel Tower from its rooftop terrace. The hotel has a stylish and elegant décor, making it a great option for couples or solo travelers looking for a romantic getaway.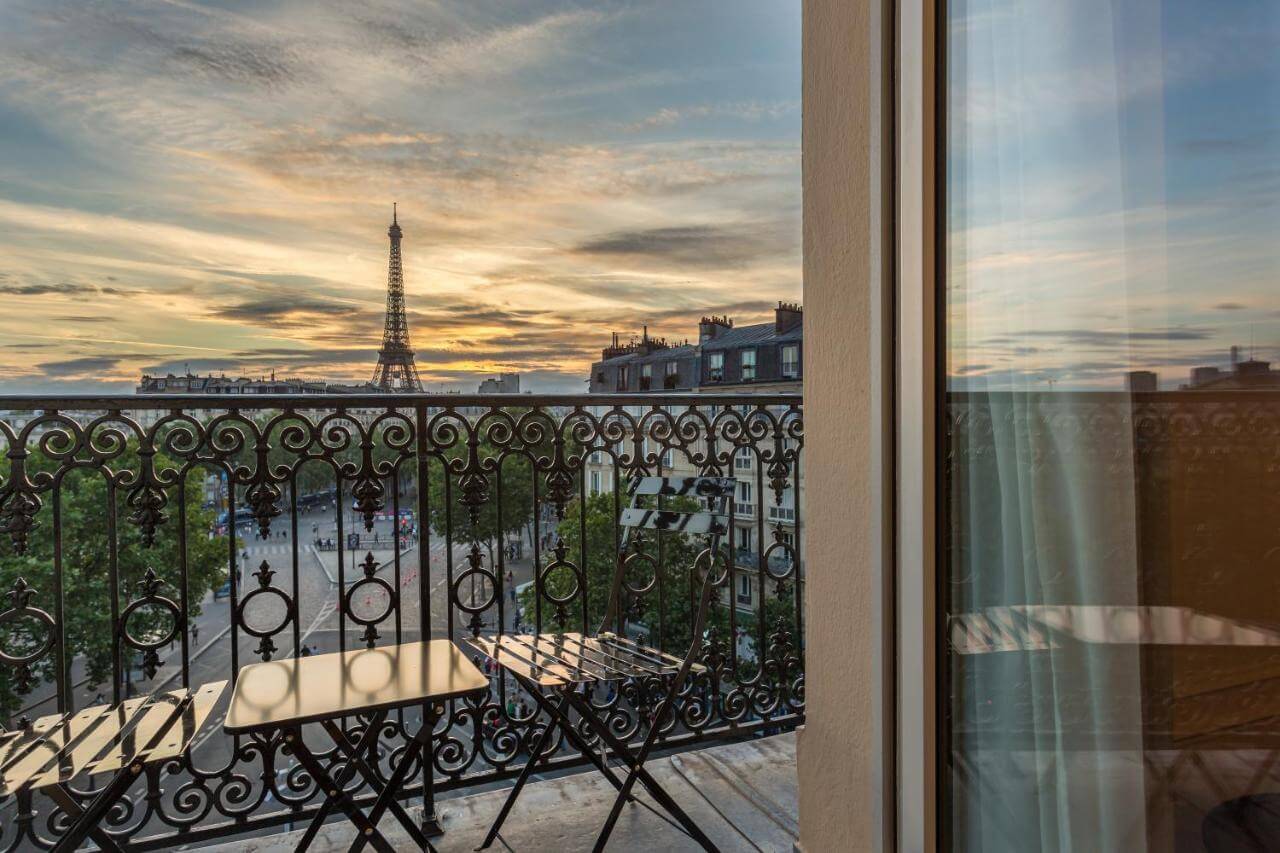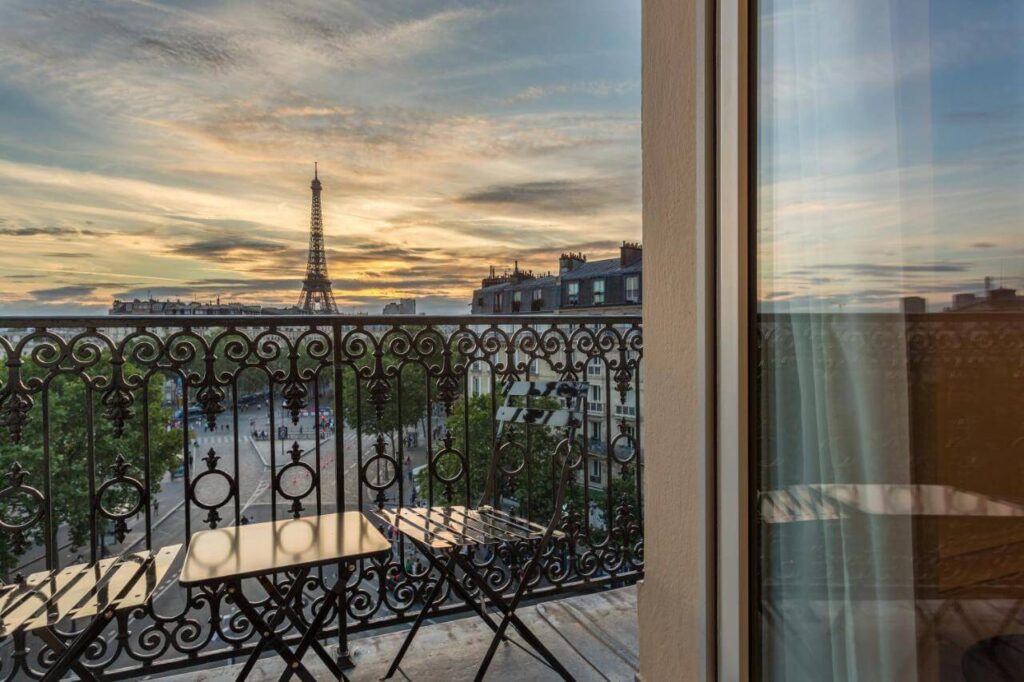 Shangri-La Hotel Paris
This luxurious hotel is housed in a former palace and offers some of the best views of the Eiffel Tower in Paris.
The hotel's rooms and suites are decorated with a mix of traditional and contemporary styles, and the hotel also boasts a Michelin-starred restaurant.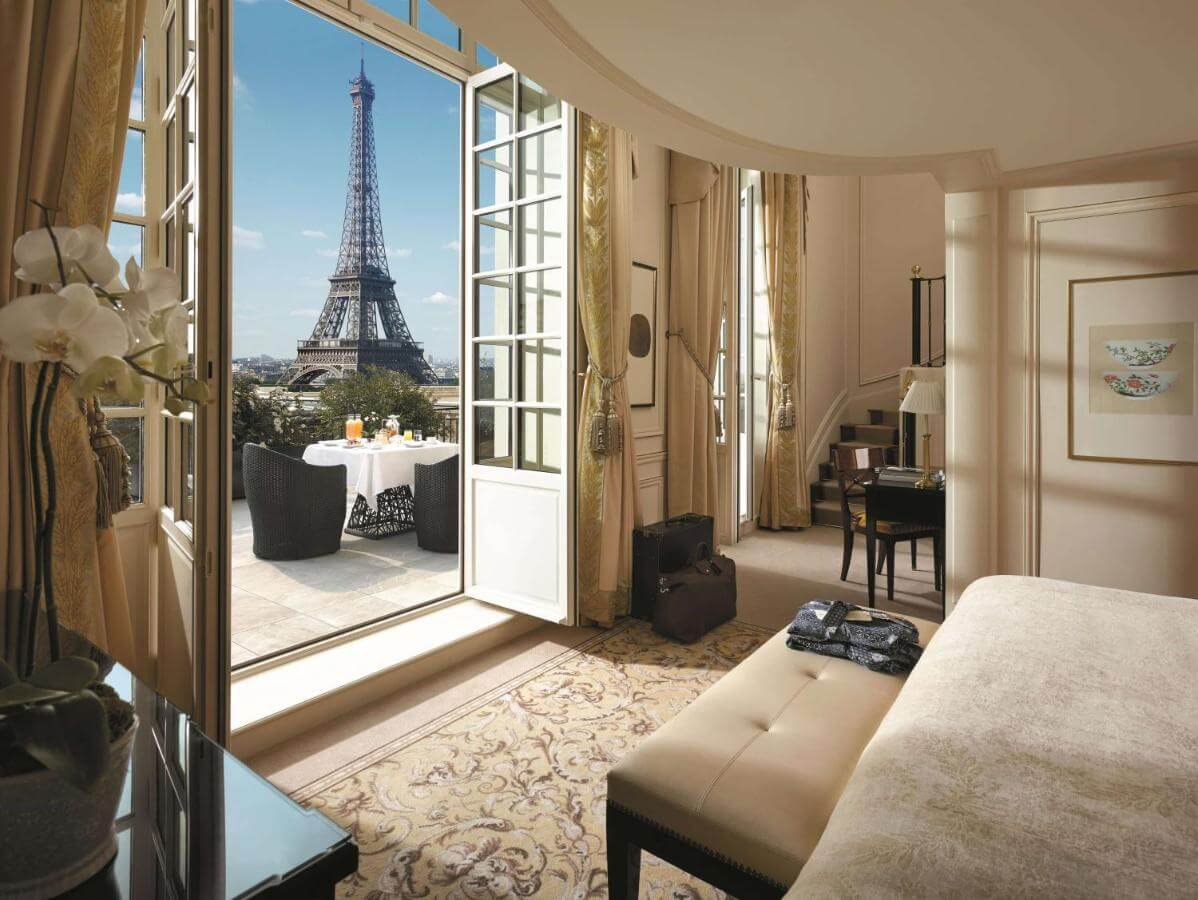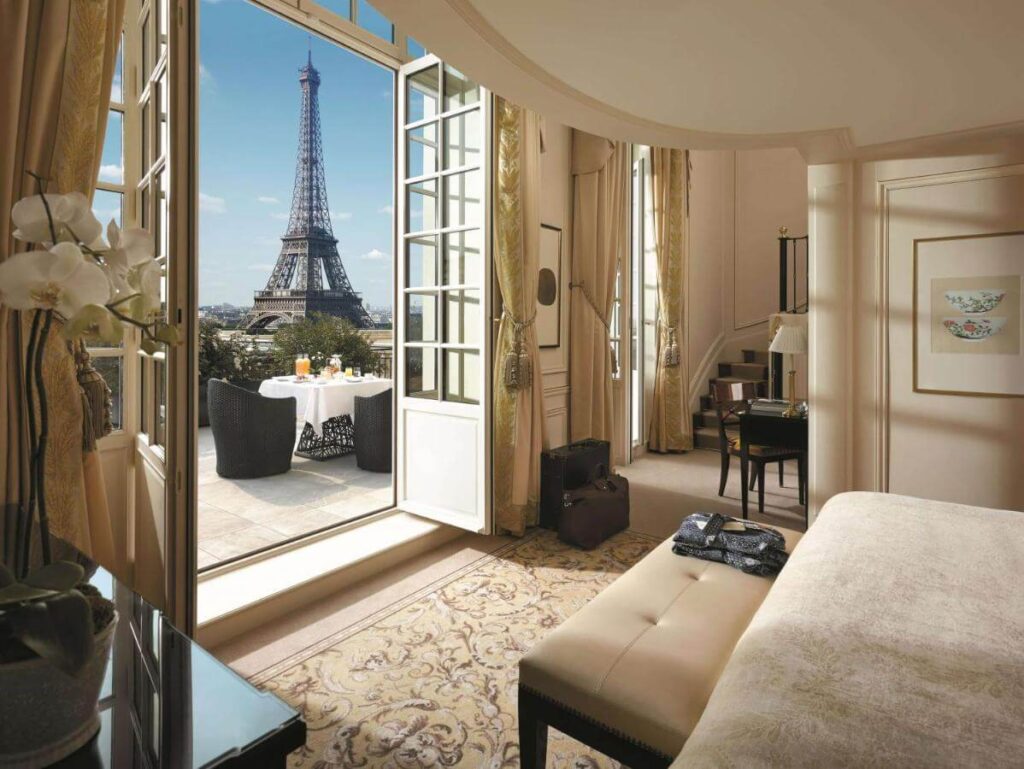 Timhotel Tour Eiffel
This budget-friendly hotel is located in the 15th arrondissement and offers easy access to the Eiffel Tower and other Parisian attractions. The hotel's rooms are clean and comfortable, making it a great option for budget-conscious travelers.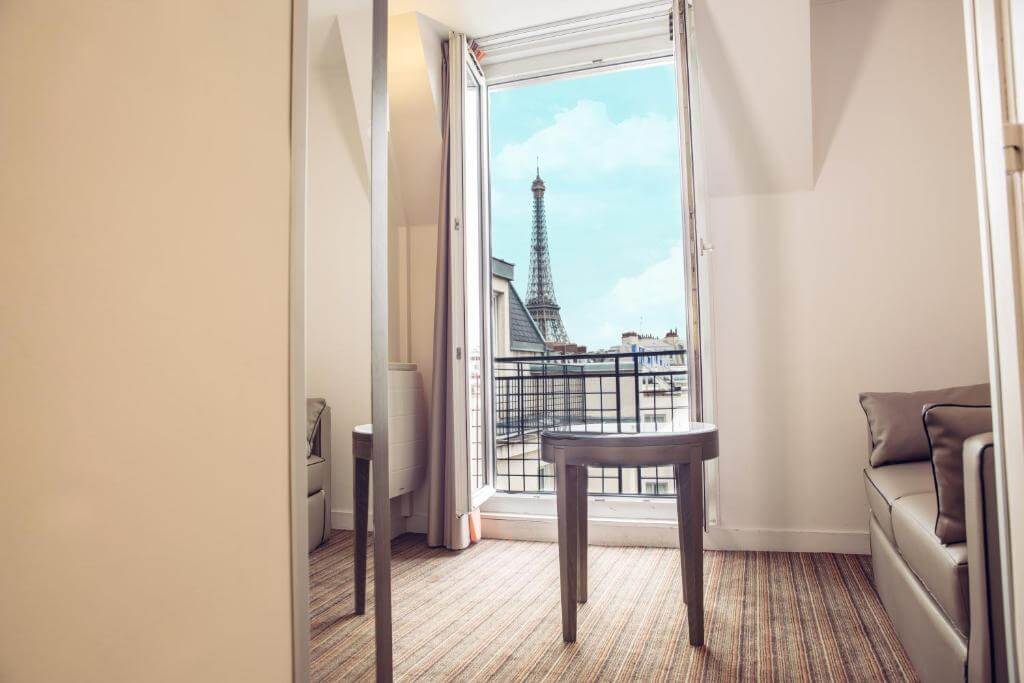 We loved every minute of our June trip to Paris and hope you do too. If you want to travel in May, read our Paris in May guide to get the most out of this lovely city before June!
Plan Your Trip to Paris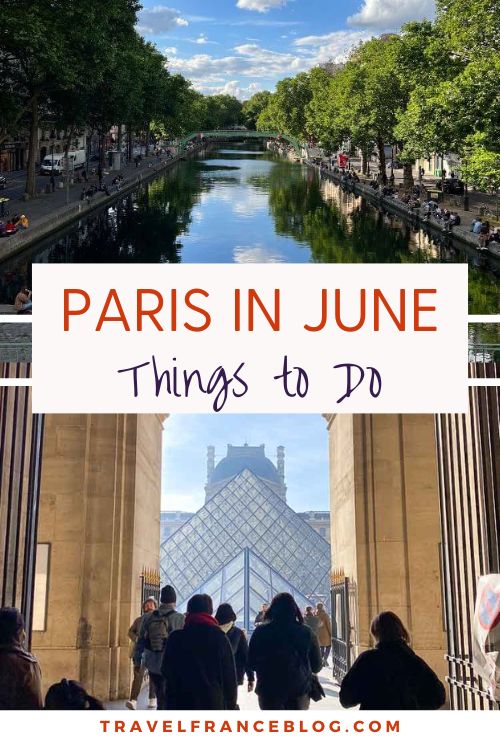 This post may include affiliate links. This means that we will receive a small commission if you make a purchase through our links. It has no additional cost for you. With this, you help us to continue creating free content for you.
This post may include affiliate links. This means that we will receive a small fee if you make a purchase through our links. It has no additional cost to you. It's a win-win!