Best Things To Do in Chartres, the 9 Essential Visits
Today we want to tell you about one of the regions that we liked the most when we toured France. We are going to tell you what are the 9 best things to do in Chartres and how to get there from Paris.
What is Chartres, France, Known For?
Chartres is a city located in north-central France, about 90 km southwest of Paris.
It is known for its magnificent Gothic cathedral, which is one of the most impressive examples of French Gothic architecture and an important landmark in the history of Western art.
In addition to its cathedral, Chartres is also known for its well-preserved old town, with cobblestone streets and half-timbered houses dating back to the Middle Ages.
The old town is divided into two sections: one is the upper part, which is where the cathedral is, and the other is the lower part, along the banks of the Eure River and its tributaries.
Combining these two sections forms an amazing ensemble of medieval and Renaissance buildings.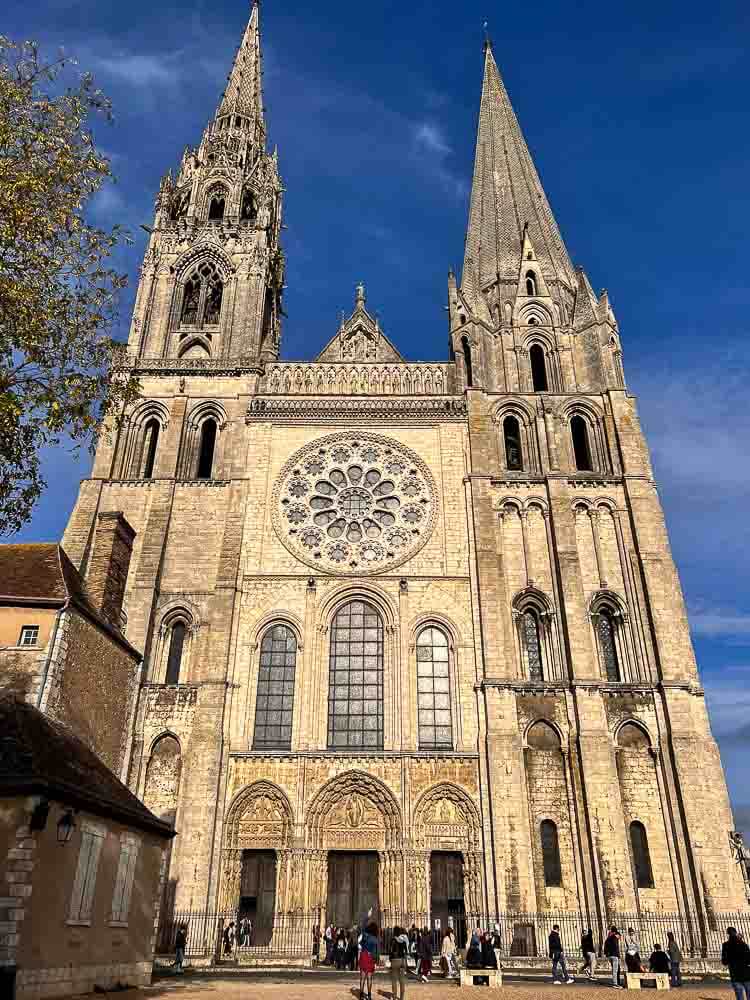 1 – Visit the Chartres Cathedral, Listed As A UNESCO World Heritage Site
Chartres Cathedral is one of the most recommended visits for those who travel to France.
It is a majestic 13th-century cathedral. It stands out, first for its enormous size, and then for its magnificent stained glass windows. The stained glass windows of Chartres are among the best in the world and create a unique and special atmosphere that will take your breath away.
Spend some time looking at the details, and don't leave until you find the Blue Madonna Window. In fact, Chartres blue is unique, as it was never made again as it was in the 12th century because it was too expensive to do so.
Undoubtedly, the most important relic kept by Chartres Cathedral is the veil of the Virgin Mary, which is located in a side chapel of the church.
The veil is considered by many to be one of the most sacred objects in Christianity, as it is supposed to be the silk veil that Christ's mother had on the day of the annunciation.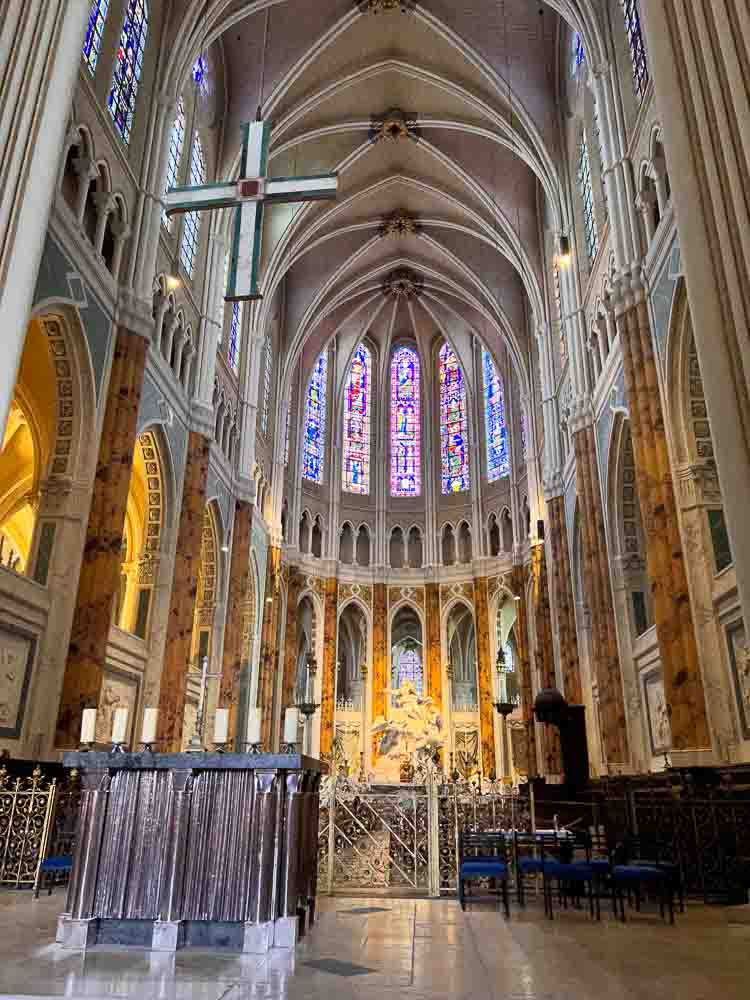 2 – Explore the Medieval Streets of Chartres
Although the city had to be restored after World War II, walking through its narrow streets, you can still find many traces of its medieval past.
Walk along the riverbank, cross the bridges and get lost in the alleys that have the old names, which corresponded to the professions that were developed in them.
The lower area was where the workers and artisans used to live, and today it is a beautiful area, offering a great view of the cathedral, which overlooks everything from above.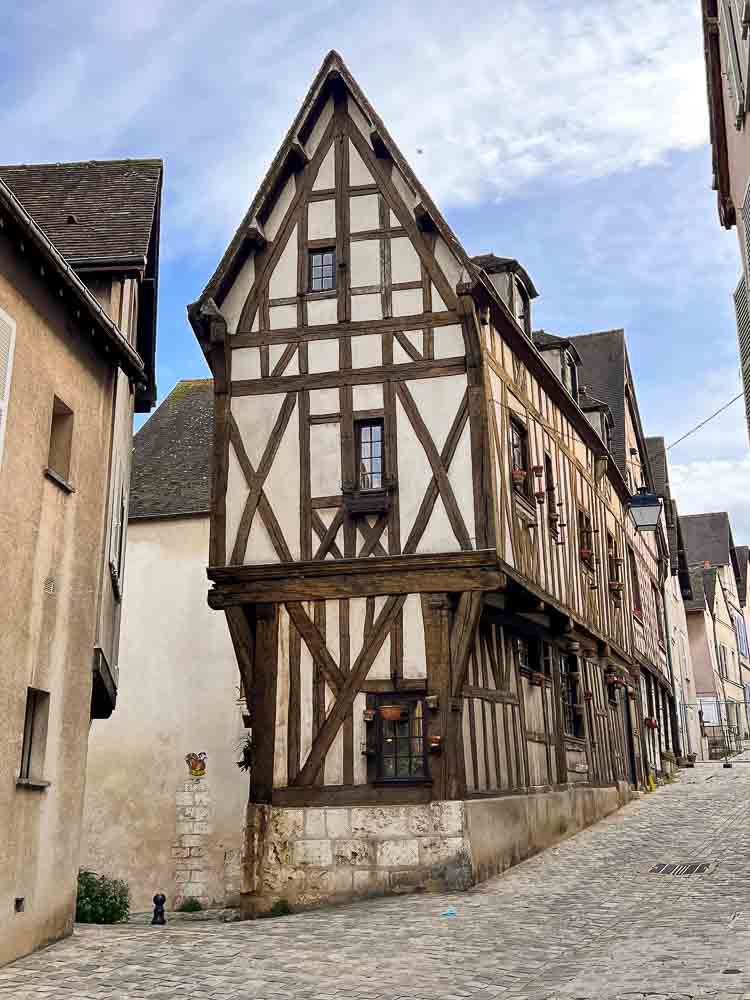 At 29 rue Chantault you will find the oldest house in the city, with an authentic romantic style.
Walking through the city you will also find remains of old mills and the old wall that protected its inhabitants.
Do not miss the rue des Écuyers, where you will find several half-timbered houses, which were built in the sixteenth century, which highlights the Staircase of Queen Bertha, a building with a spiral staircase, unique for being sculpted.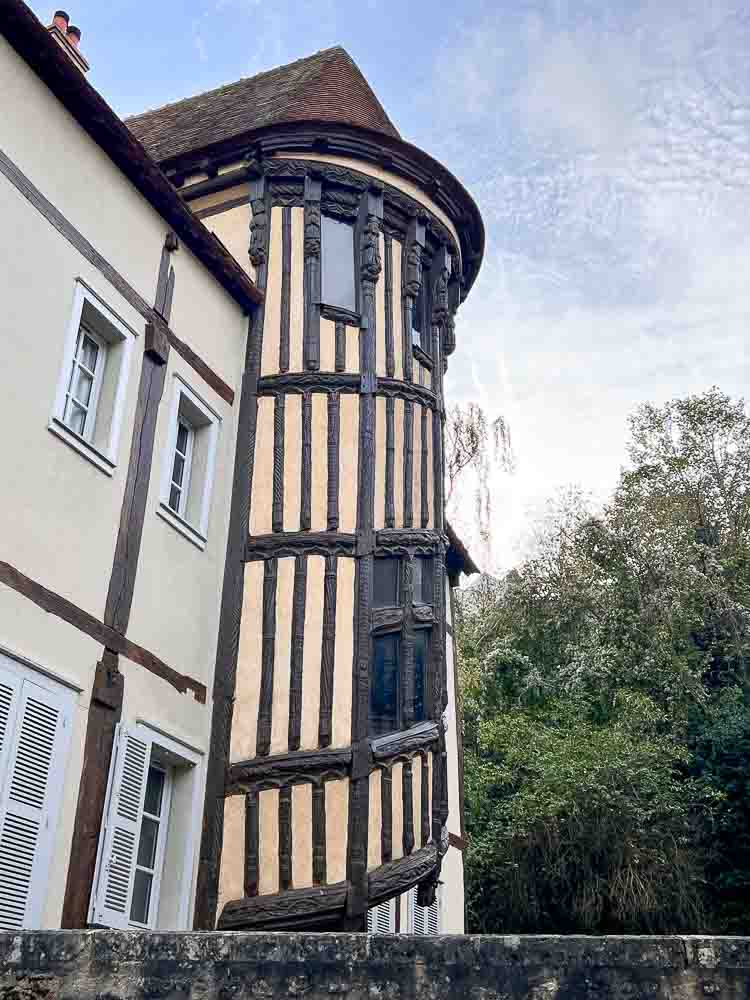 3 – Discover Medieval History in the Museum of Fine Arts
The museum has an extensive art collection ranging from the Middle Ages to the 20th century. It is housed in a historic building that was originally a seminary and was built in the 17th century.
The museum is distinguished by its impressive collection of French paintings and sculptures, which includes works by masters such as Teniers, Zurbaran, Rigaud, and Corot.
Another beautiful thing to see at the Musée des Beaux-Arts de Chartres is its architecture.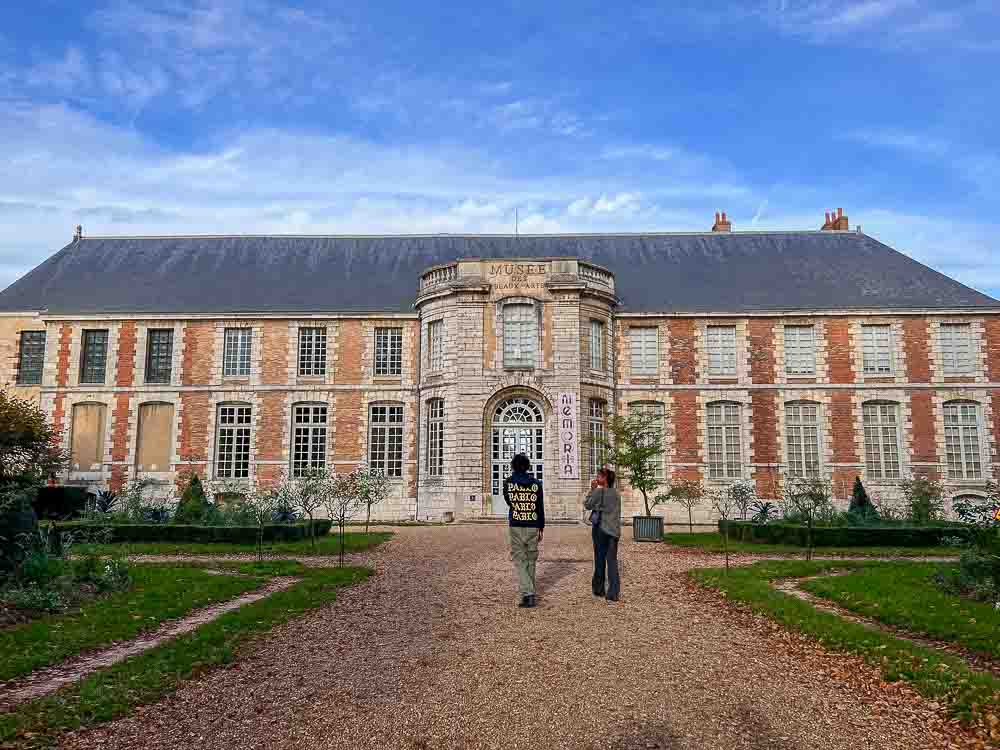 4 – Take a Boat Ride on the Eure River
The Eure river is a good place to practice different sports or to relax with a walk. You can walk along the shore looking at the old houses, or if you want something more active you can rent a pedal boat or go kayaking.
5 – Hiking Route in the Perche Natural Park
This Regional Natural Park has almost 500 plant species, 75 species of birds, more than 1000 species of mushrooms and large beech and oak forests. It is also home to old manor houses, fortified farms and villages with typical French architecture.
Within its 182,000 hectares there are dozens of hiking trails. At allTrails you can find all the routes, from the simplest to the most complex.
One of the most worthwhile hikes is the Herse pond hike, which, although long, is easy to complete and offers beautiful forest views. A shorter one, which is also very beautiful, is that of the Balastière pond.
At the other end, there is one of more than 13 kilometers, which allows you to see a medieval castle; this is the route of Castle Frazé – Le Mesnil.
6 – Try Traditional French Cuisine
A visit to Chartres is not complete without tasting the famous Chartres pâté. It is a pâté with a crust made with game meat, mainly partridge and pheasant.
Another of the typical delicacies of the region is Dreux, a cheese similar to camembert, but lighter, and which is decorated with a chestnut leaf, so it is known as the Dreux leaf.
And when it's time for dessert, you have to try the Metchnikoff chocolate covered with a thin layer of powdered sugar.
There are very good restaurants around the cathedral where you can try these and other typical dishes of French cuisine.
7 – Tour the Maintenon Castle and Gardens
This 17th century castle is a stunning example of French architecture and its gardens are simply spectacular.
Maintenon Castle is distinguished by its rich history, as it was the residence of the mistress of King Louis XIV, Madame de Maintenon.
The highlight of the castle are its gardens, which were designed by Le Nôtre and feature the Vauban aqueduct, which runs through the park. This aqueduct was commissioned by Louis XIV himself to bring the waters of the Eure River to Versailles.
In the garden you can see beautiful arrangements and flower beds with varieties of roses, peonies, lilies, lilies and other flowers, so it brings a great color to the castle environment.
8 – Cycling Near Chartres
We just told you about Maintenon, and one of the most popular bike routes leaving from Chartres takes you to the castle. It is a 21-kilometer route with 160 meters of elevation gain, so it is considered a moderate route.
Another route that can be done is a closed circuit that goes to Saint-Prest and from there back to Chartres, passing through Leves and other villages. In total, it is just over 20 kilometers long.
9 – Explore the Parc Naturel Régional de la Haute Vallée de Chevreuse
This park is distinguished by its impressive natural landscapes, which include hills, forests, rivers, and picturesque villages. The park is about 45 kilometers away, halfway between Chartres and Paris.
Among the activities that can be enjoyed in the park are hiking, mountain biking, fishing, horseback riding and visits to charming villages such as Saint-Rémy-lès-Chevreuse and Chevreuse.
There are also numerous castles and historic mansions, such as the Château de Breteuil and the Château de Dampierre, which can be visited.
In terms of scenery, visitors can explore the trails of the Rambouillet forest, or hike to the Méridon plateau.
How to Get to Chartres from Paris
If you want to make the trip by car, you have to head south, looking for the A6a exit and then take the A10 road, which then becomes the A11.
The trip from Paris to Chartres takes an hour and a half, less than 100 kilometers, so it takes the longest to leave Paris.
To go by train you have to get to Paris Montparnasse station, there you take a TER train and you will be in Chartres in one hour. The toll, depending on the day and time, costs between €10 and €20.
Where to Stay in Chartres, France
We recommend 3 hotels you might like in Chartres. We base our recommendations on hotels with good ratings and suitable for different budgets, so you can choose the one that best suits your needs.
In our case, we went by car, we were staying in Paris and on the way back, going home, we stopped in Chartres.
Ibis Budget Chartres
The Ibis Hotel, like the rest of the more economical hotels, are located on the outskirts of the city.
This is a disadvantage for those arriving by train, but a plus for those visiting Chartres by car, as it is well connected to the A11 freeway. It is about 3 kilometers from Chartres Cathedral.
The hotel has modern furnishings and decor and the rooms are large and comfortable.
The dining room offers a daily buffet breakfast and 200 meters away there are some bars and restaurants.
A double room costs 53€. (price may change depending on the season)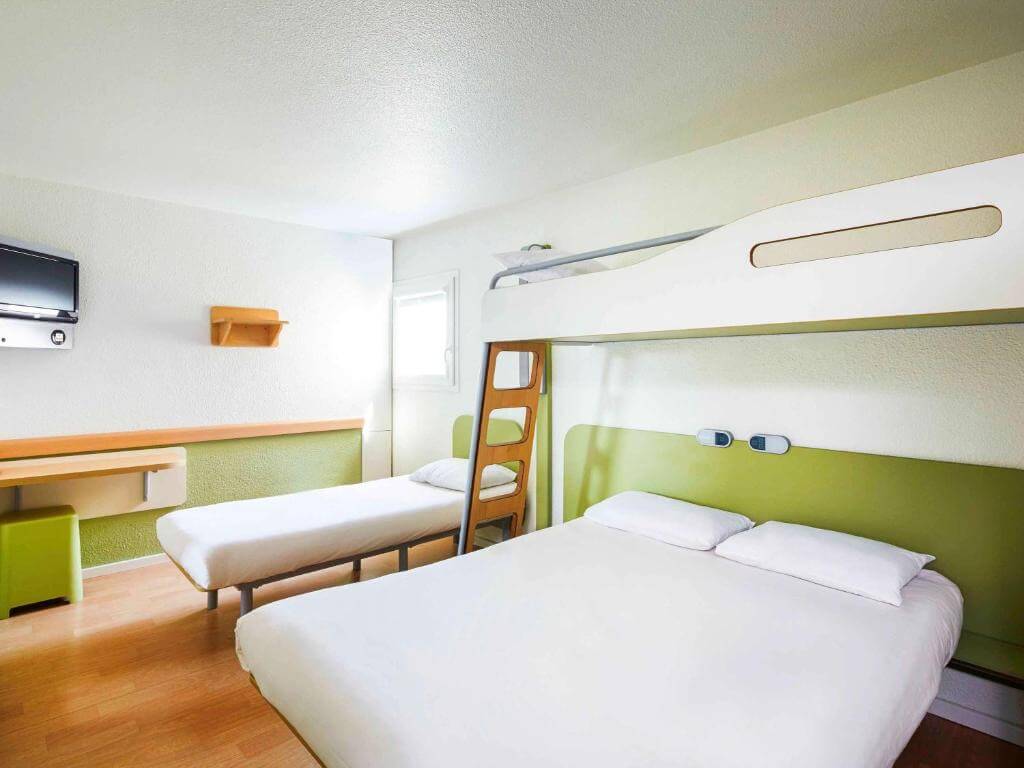 Logis L'Orée de Chartres – Barjouville
It is a very nice hotel, where you can see that they take care of every detail.
It is a 10-minute drive from the city center. The hotel also has a restaurant where you can sample the best of local cuisine.
A double room costs 92€. (price may change depending on the season)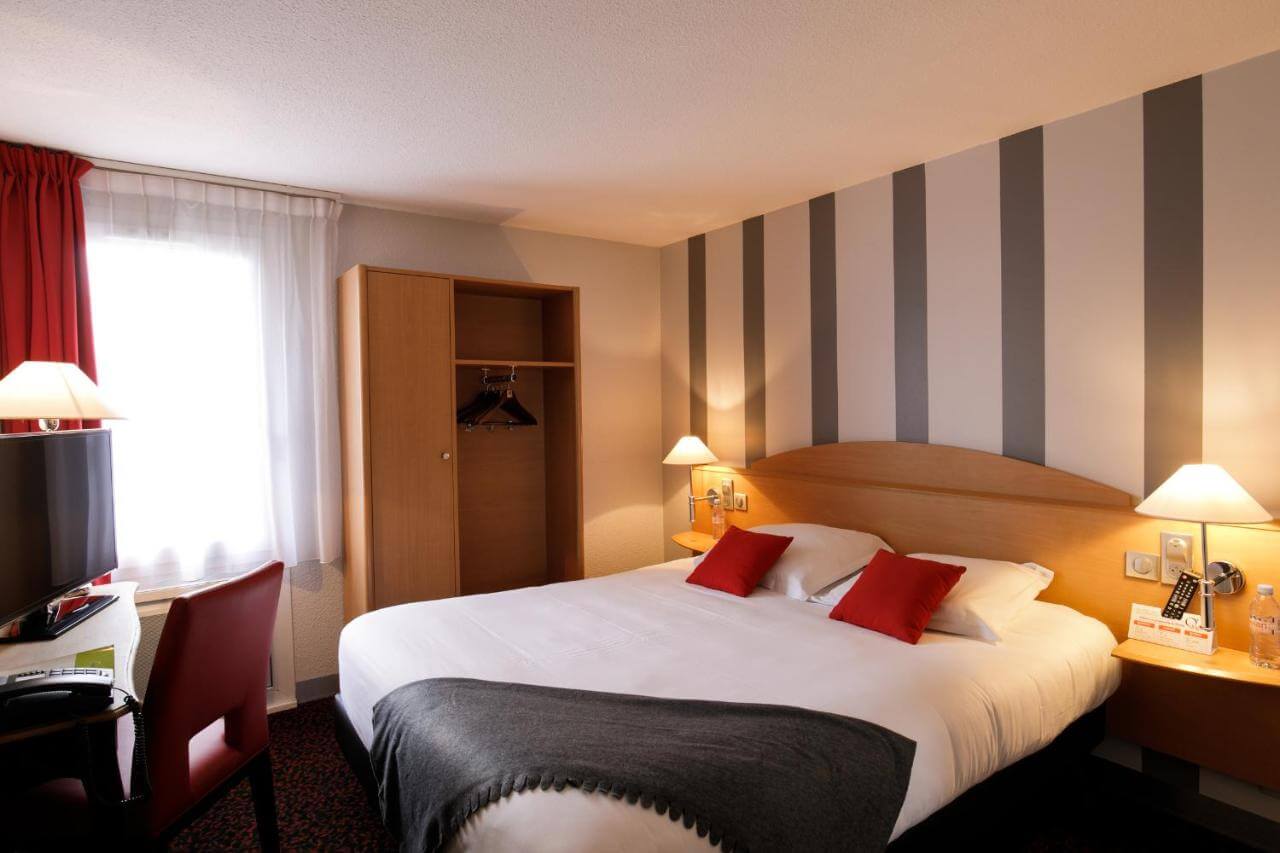 We have stayed in other Logis hotels and I recommend them. They are usually located in picturesque places and take great care of details.
Maison Blanche Chartres – Maison d'hôtes 5 étoiles
How about renting a room in a mansion? This is a 5-star mansion where you will have a balcony, huge rooms, beautiful bathrooms and breakfast included.
As if all that were not enough, the mansion is only 700 meters from the cathedral.
The double room starts at 205€. (price may change depending on the season)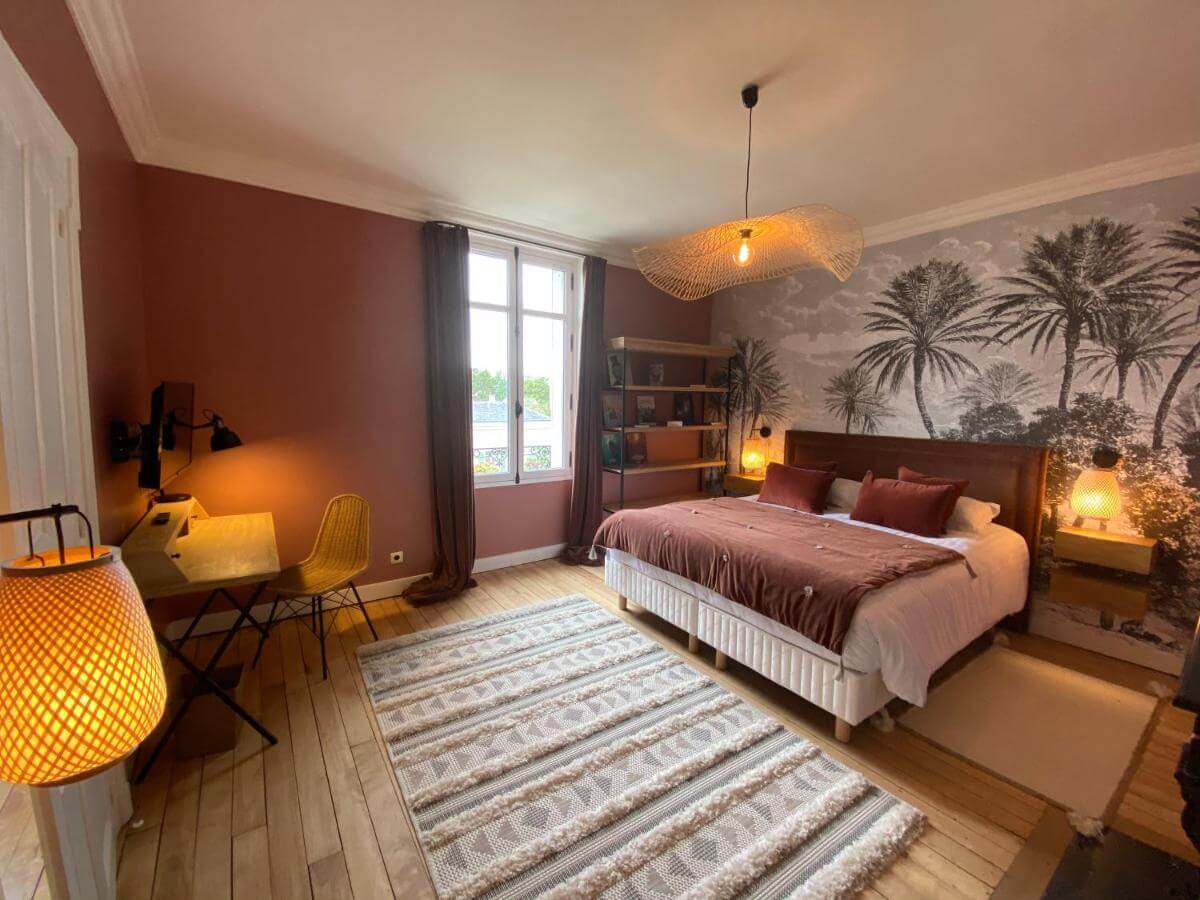 This was our tour of Chartres, a city that stands out for its famous cathedral, but thanks to its history and the charms that surround it, it has become a great tourist attraction for those who travel through the center of France.
Plan Your Trip to Paris and Chartres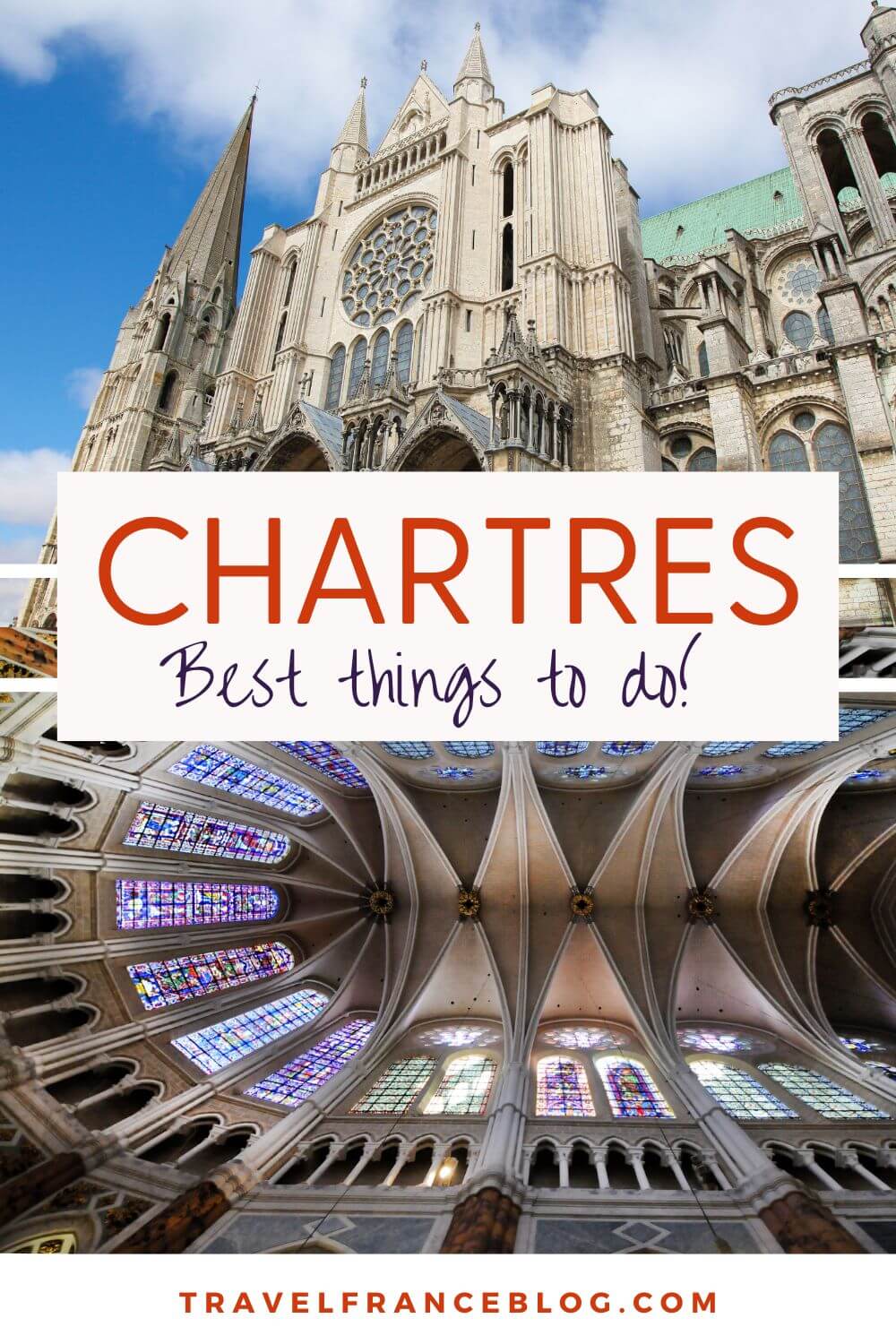 This post may include affiliate links. This means we will receive a small commission if you purchase through our links. There is no additional cost to you. With this, you help us to continue creating free content for you. Thanks for your support!
This post may include affiliate links. This means that we will receive a small fee if you make a purchase through our links. It has no additional cost to you. It's a win-win!