Discover the Best Things To Do in Bordeaux
Are you planning a trip to Bordeaux and wondering what to do while you're there? Look no further! Bordeaux is a beautiful city located in southwestern France, known for its stunning architecture, rich history, and delicious wine.
Whether you're a history buff, a foodie, or simply looking for a relaxing time-out, Bordeaux has something to offer everyone.
One of the top things to do in Bordeaux is to explore the historic city center, which has been designated as a UNESCO World Heritage site.
You can stroll along the charming cobblestone streets, admire the stunning 18th-century architecture, and visit the many museums and galleries in the area. 
Another must-see attraction is the Place de la Bourse, a majestic square on the left bank of the Garonne River, which offers breathtaking city views.
And, of course, no trip to Bordeaux would be complete without a visit to one of the many wineries in the region, where you can sample some of the world's finest wines.
If you're looking for accommodations, visit this travel blog with many options categorized by areas or neighborhoods.
Best Things To Do in Bordeaux
Bordeaux is a beautiful city with a lot of history, culture, and art. Exploring the city can be an exciting experience that will leave you with memories that will last a lifetime. Here are some of the best things to do in Bordeaux that will help you explore the city.
1 Explore the Historic Center
Take a leisurely stroll through the historic center of Bordeaux, a UNESCO World Heritage Site. Admire the well-preserved 18th-century architecture, charming squares, and narrow streets lined with boutiques, cafes, and restaurants.
Exploring the old part of Bordeaux is a great way to see the city's history and culture. The Golden Triangle is the heart of the old city and is home to some of the best restaurants, cafes, and shops in Bordeaux.
There are also several points of interest in the old city, including the Place du Parlement, the Place Saint-Pierre, and the Place Camille Julian.
Overall, exploring Bordeaux is a great way to experience the city's rich history, culture, and art. Whether you are interested in historic landmarks, bridges and riverfront, or public art installations, there is something for everyone in Bordeaux.
Here you have an itinerary to visit the old part of Bordeaux.
2 Visit Place de la Bourse
Marvel at the stunning Place de la Bourse, a grand square that features the iconic Water Mirror (Miroir d'eau). This large reflecting pool creates beautiful reflections of the surrounding buildings and is especially enchanting at sunset.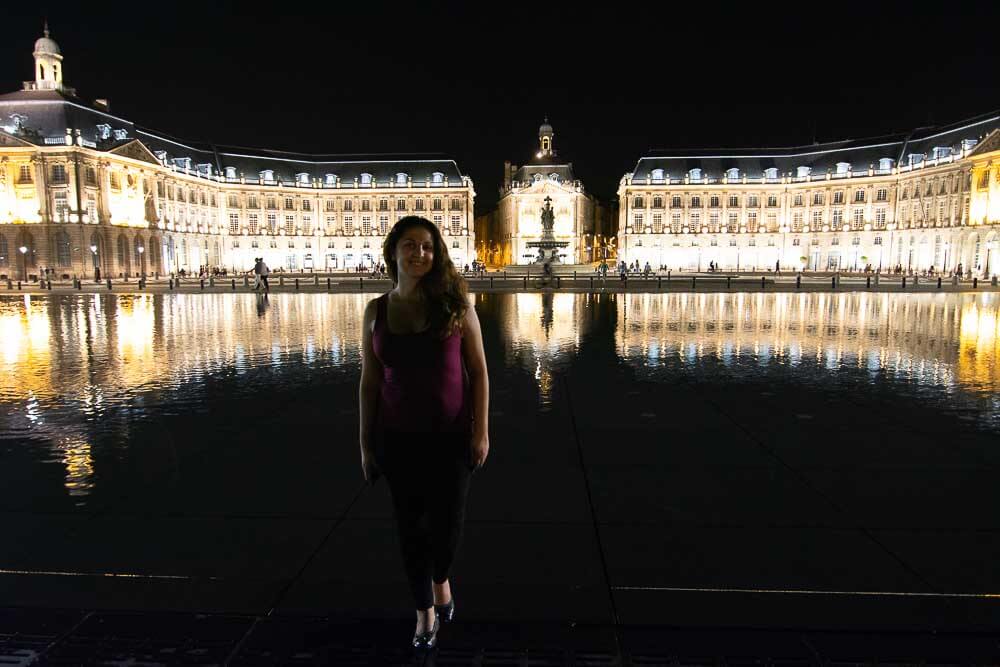 3 Discover Bordeaux's Museums
Immerse yourself in art, history, and culture by visiting Bordeaux's excellent museums. Here you have a few; pick the ones you love the most!
Musée d'Aquitaine: The Musée d'Aquitaine showcases the rich history of the Aquitaine region from prehistoric times to the present day. The museum features a diverse collection of artifacts, including archaeological finds, medieval sculptures, historical documents, and exhibits exploring themes such as the slave trade and the region's wine heritage.
Musée des Beaux-Arts: The Musée des Beaux-Arts is one of the largest art museums in France. Housed in a stunning 19th-century building, it displays an extensive collection of European paintings and sculptures spanning from the Middle Ages to the contemporary era. The museum showcases works by renowned artists such as Rubens, Delacroix, Matisse, and Picasso.
Cité du Vin: The Cité du Vin is a unique museum dedicated to the history and culture of wine. Situated on the banks of the Garonne River, this modern architectural marvel takes visitors on an immersive journey through the world of wine. It offers interactive exhibits, multimedia presentations, wine tastings, and a panoramic observation deck with breathtaking views of Bordeaux.
CAPC Museum of Contemporary Art: Located in a former warehouse. It hosts rotating exhibitions featuring works by both established and emerging artists from around the world. The museum's diverse collection encompasses various mediums, including painting, sculpture, photography, and multimedia installations.
La Base Sous-Marine: La Base Sous-Marine is a unique museum housed in a former World War II submarine base. This immense concrete structure now serves as a venue for contemporary art exhibitions and cultural events. The stark, industrial space provides an intriguing backdrop for artistic exploration and is an attraction in its own right.
Musée du Vin et du Négoce: Located in a historic building on the banks of the Garonne River, the Musée du Vin et du Négoce offers insights into Bordeaux's wine trade history. It explores the techniques of winemaking, the influence of merchants, and the evolution of the wine industry. The museum provides an opportunity to learn about the intricate world of wine production and the significance of Bordeaux in the wine trade.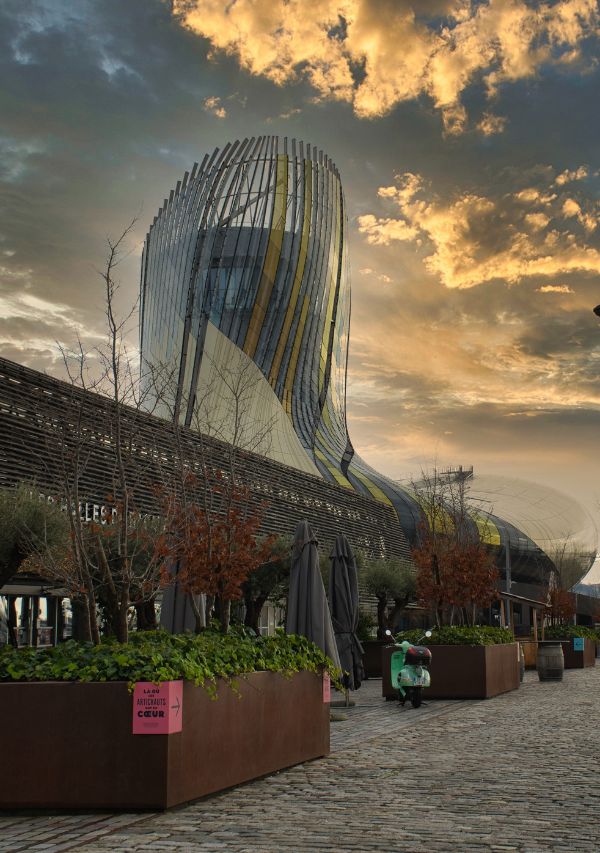 4 Explore La Cité du Vin
Delve into the world of wine at the Cité du Vin, an interactive museum dedicated to the history and culture of wine. Learn about winemaking, taste different varieties, and enjoy panoramic views of Bordeaux from the observation deck.
Cité du Vin is a museum dedicated to wine and the history of wine. It's a great place to learn about the history of wine, the different types of wines produced in the region, and the winemaking process. You can also taste wines from around the world at the museum's wine bar.
Wine tasting and visiting vineyards are a must-do activity when visiting Bordeaux. Whether you're a wine lover or just interested in the history of wine, there's something for everyone in Bordeaux. So, grab a glass of wine and enjoy the beautiful vineyards of Bordeaux.
5 Take a Wine Tour
Bordeaux is synonymous with wine, so be sure to go on a wine tour. Visit nearby vineyards, such as Saint-Émilion or Médoc, and learn about the wine production process while sampling some of the finest wines in the world.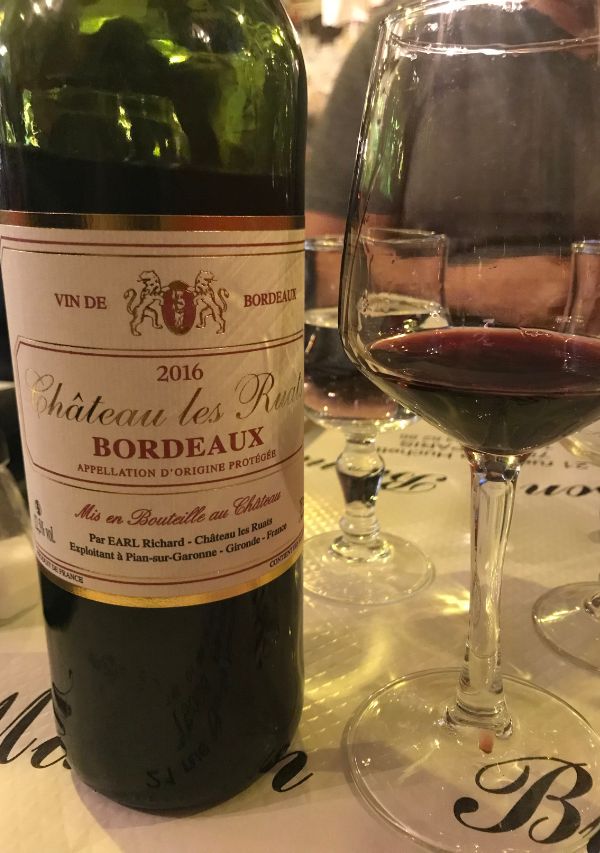 6 Explore Darwin
Visit Darwin, a former military barracks transformed into an innovative eco-system and cultural hub. Located on the right bank of the Garonne River, Darwin is a creative space that brings together art, entrepreneurship, sustainability, and urban agriculture.
Discover street art, browse through independent shops, grab a meal at one of the organic restaurants, or enjoy a drink at the skate park/bar. Darwin also hosts regular events, workshops, and markets focused on sustainability and green initiatives.
Darwin is not only a great place to explore, but it also showcases a unique approach to urban development and environmental consciousness. It's an ideal spot for eco-conscious travelers or anyone interested in alternative and sustainable lifestyles.
7 Go Cycling along the Garonne River
Rent a bike and ride along the Garonne River. The city offers many well-maintained cycling paths, allowing you to enjoy scenic views and discover charming neighborhoods like Chartrons.
8 Visit the CAPC Museum of Contemporary Art
Art enthusiasts should not miss the CAPC Museum, housed in a former warehouse. Explore contemporary artworks from both established and emerging artists in this unique setting.
9 Indulge in Bordeaux Cuisine
Treat your taste buds to the flavors of Bordeaux. Sample regional specialties like canelés (small pastries), entrecôte bordelaise (steak with red wine sauce), and fresh oysters from the nearby Arcachon Bay.
10 Relax at Jardin Public
Take a break from the bustling city and unwind at Jardin Public. This beautiful public park offers lush green spaces, tree-lined paths, and a picturesque lake. It's perfect for picnicking, leisurely walks, or simply enjoying some quiet time.
11 Take a River Cruise
Experience Bordeaux from a different perspective by taking a river cruise along the Garonne. Enjoy panoramic views of the city's skyline, bridges, and waterfront while learning about its history and landmarks.
12 Taste "Canelé"
Canelés are a delightful specialty pastry that originated in Bordeaux and has become synonymous with the city's culinary culture.
It's a small pastry with a caramelized crust and a soft, custard-like center. You can find canelés at most bakeries and patisseries in Bordeaux, but some of the best can be found at Baillardran.
The texture of a canelé is a delightful contrast between a caramelized, crunchy exterior and a soft, custard-like interior. When baked properly, they have a rich, caramelized flavor with hints of vanilla and a subtle touch of rum.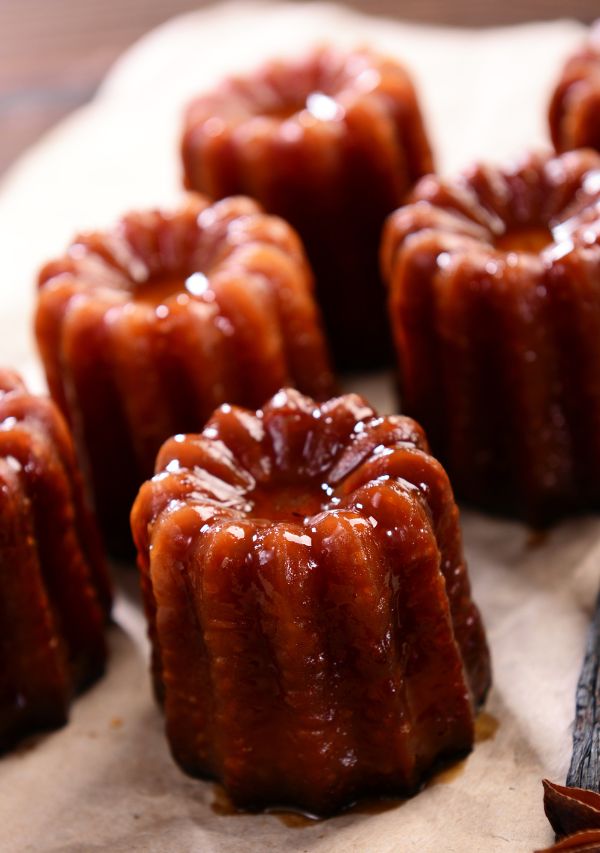 The combination of textures and flavors makes them a unique and indulgent treat.
I love canelés; I indulge myself with a canelé at least once per month; however, I understand that the texture is not for everyone. It's maybe a little sticky…
You can take a sweet tour here.
13 Bridges and Riverfront
The Garonne River is one of the main features of Bordeaux, and exploring the riverfront is a great way to see the city. There are several bridges that cross the river, including the Pont de Pierre and the Pont Chaban-Delmas.
The Pont de Pierre is the oldest bridge in Bordeaux and is a beautiful example of 18th-century engineering. The Pont Chaban-Delmas is a modern bridge that was completed in 2013 and is one of the tallest lift bridges in Europe.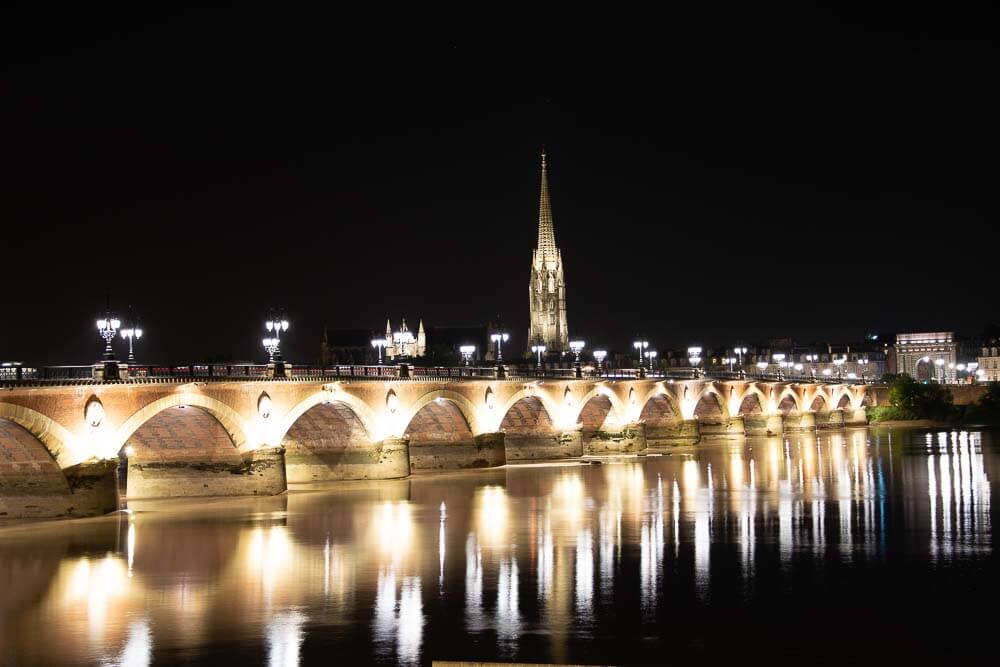 14 Visit the Capucins Market (Marché du Capucins)
The Capucins Market, also known as Marché des Capucins, is a vibrant and historic market located in the heart of Bordeaux, France. Dating back to the late 19th century, it has become one of the city's largest and most beloved markets.
The market is situated in the lively Saint-Michel district and offers an extensive range of fresh produce, seafood, meats, cheeses, spices, pastries, and more.
As you step into the Capucins Market, you'll be greeted by a bustling and lively atmosphere. The market is a sensory delight, with colorful stalls overflowing with vibrant fruits and vegetables, the aroma of freshly baked bread and pastries wafting through the air, and the lively chatter of vendors and shoppers.
It's a place where locals and visitors come together to experience the culinary treasures of Bordeaux.
Beyond the market's variety of products, it also serves as a cultural and social hub. Artisans, chefs, and food enthusiasts gather here to exchange recipes, share stories, and celebrate the local culinary traditions.
The market is not just a place to shop; it's an immersive experience that reflects the vibrant spirit of Bordeaux.
15 Free Walking Tour around Old Bordeaux
Embark on a free walking tour around Old Bordeaux and immerse yourself in the rich history and charm of this remarkable city.
Led by knowledgeable local guides, these tours take you through the winding streets of the historic center, unveiling hidden gems and sharing captivating stories along the way.
Bordeaux City Pass
The Bordeaux City Pass is a great option. It includes free access to over 20 museums and monuments, a guided tour of the city, and unlimited travel on the TBM network.
The pass is available in 24-hour, 48-hour, and 72-hour options and can be purchased online or at tourist information centers in the city. It's a great way to save money and make the most of your time in Bordeaux.
And with an efficient public transport system and the Bordeaux City Pass, getting around the city and visiting its attractions has never been easier.
Public Transport System
Bordeaux has an efficient and affordable public transport system that includes buses, trams, and ferries. The buses and trams are operated by TBM, and the ferries are operated by BatCub. You can buy tickets on board or at ticket machines located at bus and tram stops.
If you're planning to use public transport frequently during your stay in Bordeaux, it's worth considering purchasing a multi-day pass. The TBM network offers a 1-day, 3-day, and 7-day pass that allows unlimited travel on buses and trams.
Day Trips from Bordeaux
Bordeaux is a fantastic city, but you might also want to explore the surrounding areas. Luckily, there are plenty of great day trips that you can take from Bordeaux. Here are some of the best options:
Saint-Émilion
If you're a wine lover, you can't miss a day trip to Saint-Émilion. This picturesque village is located just 40 minutes from Bordeaux and is world-famous for its vineyards. You can take a wine tour, visit a chateau, and of course, taste some of the best wines in the world.
Dune du Pilat
The Dune du Pilat is the tallest sand dune in Europe, just an hour from Bordeaux. It's a unique natural wonder that you won't want to miss.
You can climb to the top of the dune and enjoy breathtaking views of the Atlantic Ocean and the surrounding forest.
You can book a day trip tour here.
Southwest of France
If you want to explore the beautiful countryside of the Southwest of France, you can take a day trip to Sarlat-la-Canéda or Rocamadour. These medieval towns are located about two hours from Bordeaux and are full of history and charm.
You can wander through the narrow streets, visit the local markets, and enjoy some delicious regional cuisine.
Other Options
There are plenty of other day trip options from Bordeaux, depending on your interests. You can visit the seaside town of Arcachon, go kayaking in the Dordogne River, or explore the historic city of Toulouse.
No matter what you choose, a day trip from Bordeaux is a great way to see more of the beautiful region of Southwest France.
Plan Your Trip to France
This post may include affiliate links. This means that we will receive a small commission if you make a purchase through our links. It has no additional cost for you. With this, you help us to continue creating free content for you.
This post may include affiliate links. This means that we will receive a small fee if you make a purchase through our links. It has no additional cost to you. It's a win-win!